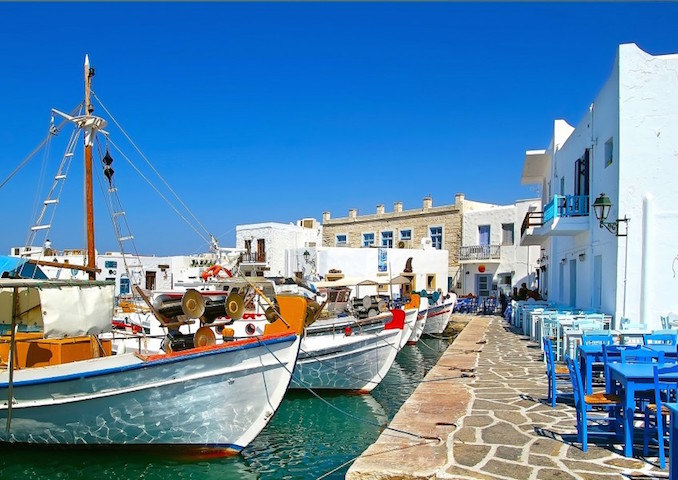 Paros may not be the Greek island your friends told you to go to, but there's a good chance you will have as much fun here as you could have had in Mykonos and you will still be able to afford to buy some gifts for your family without using the credit card you were saving for emergencies. Paros has year round daily ferry connections from Pireaus and is on the same ferry route with Santorini and Naxos which makes it the most logical island to visit with those islands. In the summer there are daily connections with most of the other Cyclades Islands as well as Crete. A large year-round foreign community make Paros a good choice for those who want to live on a Greek island and for those who want to come in the off-season and know that there will be restaurants, cafes and shops open and people to talk to. And the restaurants in Paros are among the best in Greece as are the beaches and the nightlife in the summer. And with Paros you get 2 islands for the price of one: the island of Antiparos is a 10 minute ferry ride away.
Use Ferryhopper to find all direct and indirect ferry routes for the islands of Greece, Spain, Italy & Turkey, compare ferry companies & prices, and book cheap ferry tickets with no hidden fees in one go!

For more itineraries including Paros visit Fantasy Travel's Island Hopping Page. You can also create your own itinerary combining Paros with other islands by using Matt's Create an Itinerary form. If you have any questions about Paros you can contact Matt with this form. For more hotels, apartments, villas, homes and air BnB style accommodations use the Paros Hotel Search.

Swift Rent-a-car is a car rental broker who works with several car rental agencies in Paros and finds you the best deal on the best cars available. You can also rent cars through Fantasy Travel who have an affiliate on Paros.

The Sustainable Living Paros website is a practical guide to the sustainable and zero-waste lifestyle for environmentally-aware travellers and locals on Paros and beyond. Paros is a small and incredibly beautiful island with a fragile ecosystem. Hopefully this website can help each of us play some part in safeguarding it for the future.
Join Matt Barrett's Greece Travel Guides Group on Facebook for comments, photos and other fun stuff. If you enjoy this website please share it with your friends on Facebook, Tripadvisor, and other social media. If you are appreciative of all the free information you get on my websites you can send a donation through Paypal