Getting to Paros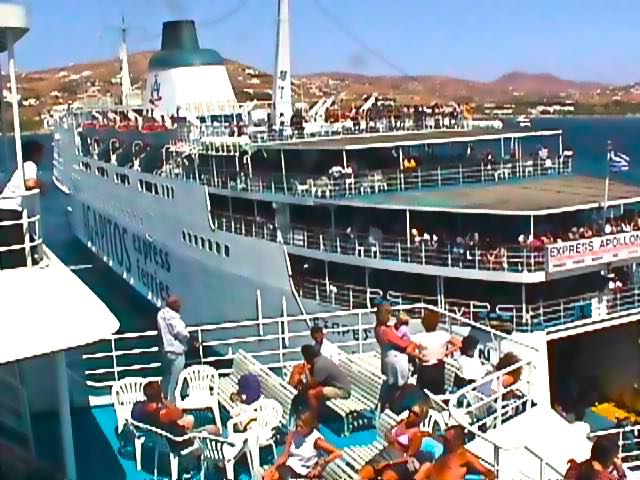 There seems to be confusion between Poros and Paros. Change one letter and its the same island. To make it even more confusing there is a beach on Paros called Parosporos, (a great beach for body-surfing when there is a north wind by the way). While we were on Poros we got an invitation to Paros from our friends Nikos and Carolina and since we only had four days left in Greece we decided that the experience, though rushed, would probably enrich us and if nothing else enable me to add another few pages to my websites. Going to Paros is easy. There can be several boats leaving the port of Pireaus a day, between 7am and 10 pm. Sometimes they all seem to be leaving at the same time but usually there are enough spread out through the day so that if you just turn up at the dock you won't have too long to wait. Because we were in Poros which not only has frequent ferries but also flying dolphins which leave almost every hour, we were able to plan our trip so we arrived in Pireaus with enough time to have lunch in one of the funky working-class restaurants's off the main street, and then catch our boat, the Santorini Express.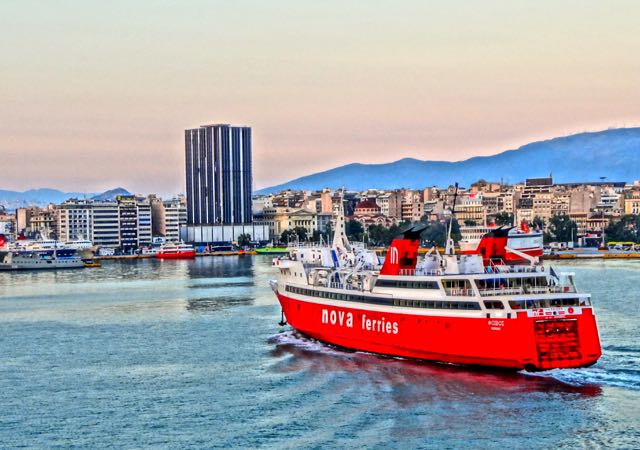 I love Pireaus. There is something romantically menacing about the back streets and working class restaurants that serve Patsa (innard soup), and the people who hang out there. Everyone looks surly and tough, like they have seen the harsh side of life and carry knives which they are not afraid to use. Pireaus is Greece's primary seaport so it's only natural that I would feel like I am in a strip joint in New Orleans, instead of a grilled chicken restaurant a block from the ferry boat. But it never fails. No matter how uptight I am about the intentions of the tough looking men at the next table, they always turn out to be good guys and I end up being torn by the desire to hang out and drink with them rather than get on the ferry. But because I have a family the ferry usually wins. There are numerous ticket offices in Pireaus. However if you are traveling in the summer you should get your tickets in advance because the boats do fill up. You can find info or buy tickets on my Ferry Boat Ticket's Page. The best thing to do is use a Greek Travel Agency to book hotels and ferry tickets to avoid any mistakes and to solve any problems you may have. You can also use my Create-an-itinerary form to book Paros in combination with other islands. Once the ferry schedules are up you can find them and book your tickets at Ferryhopper.com and pick up your tickets in the port at one of the ticket booths right by where the boat leaves from.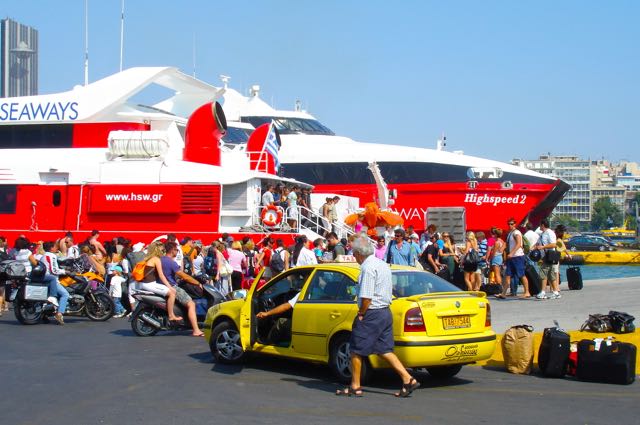 The journey by regular ferry to Paros is about 5 hours or more depending on the boat. Some, like the Blue Star Ferries, are faster than the slow older boats. But as ferry trips go, the journey to Paros is an easy one since it is the first stop on the route that continues on to Naxos and Santorini. Because they share the same ferry route these are the 2 best islands to do with Paros. Depending on when you arrive it can be a little chaotic. Sometimes there are as many as three ferries loading and unloading cars and passengers on the dock. It seems life would be a little less stressful for the port policemen who must orchestrate the whole show, if they would stagger the arrival times. I have gotten on the wrong ferry, though now they are so careful checking tickets this is pretty much impossible. What is possible is missing your stop but even that is difficult since they announce it in Greek and English before you arrive. Just make sure that when they make the announcement you get to the back of the boat because if there are not a lot of people getting off the stop can be short and you may end up on Naxos. You can also get to Paros in half the time if you take the Super High Speed Catamarans. They take about 3 hours and cost about 30% more than the normal ferry tickets. In the summer there are daily connections with other Cyclades islands, like Mykonos and also to Heraklion, Crete. But in the months between November and April you can really only count on being able to get to Santorini and Naxos or back to Pireaus. There is also a ferry that leaves from Syros and does a different route everyday to various islands in the Cyclades
Arriving in Paros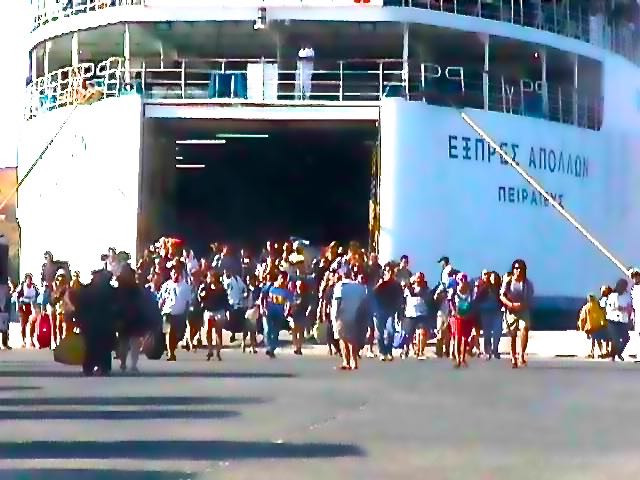 Arriving in Paros can be a little scary if you don't know what is happening. The ferry pulls into a beautiful white port town and the ramp comes down. People and cars exit the boat simultaneously and take the walk on the long dock to the exit gate, some not suspecting what awaits them. Some have been told to expect sweet little old ladies carrying signs with photos of their homes, quietly chanting "rooms? rooms? rooms?" Like some kind of travel mantra.
Things have changed in Paros. Just on the other side of the fence are the domatia kamakis, men hired for their persuasiveness who corral tourists and bring them to rooms and hotels in the main town of Paraklia, and other villages around the island. The little old ladies are a thing of the past. As the crowd of travelers from the ferry approach, the kamakis begin their chant "rooms, rooms, very nice rooms", all the while edging closer to the gate.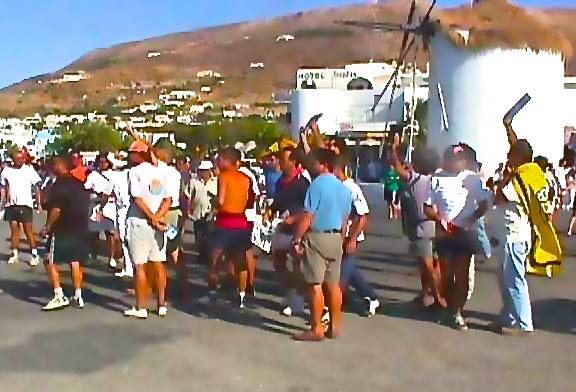 As the tourists cross the threshold and are officially in Paros, the two groups collide in confusion like two opposing armies fighting hand to hand combat. Many of the tourists know where they are staying and just want to fight their way through this mess to the shaded safety of the windmill beyond. But others are ensnared by the kamakis, with no way of knowing the difference between one room and the next or even where it is. On the periphery of the battleground are the buses to the campsites at Parosporos and larger well known hotels, their names in big letters like beacons to the travelers who were smart enough to make reservations. The crowd breaks up into little groups around the windmill, each surrounding a kamaki who describes the attributes of the rooms he represents, while at the same time keeping an eye on the time. There will be another ferry arriving soon and he must get this first group of tourists to the hotel so he can get the batch off the next boat. All this is happening while departing travelers are waiting to get on their ferries. This goes on all summer and can be a little bit frightening to the uninitiated, though it can be fun if you know its coming and you know what you want and where you want to be.

Within half an hour of the departure of the last boat things return to normal.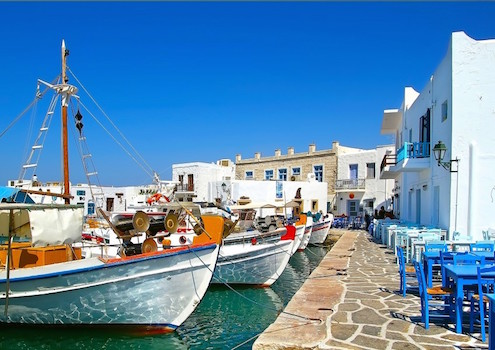 If you want to avoid pressure of having to choose between kamakis and thus be able to enjoy this island tradition purely for its entertainment value then book your hotel with a reliable Greek Travel agency like Dolphin Hellas , Fantasy Travel or Aegean Thesaurus Travel. A Greek Agency can find you discounted rates on hotels in all categories and they can arrange your transportation needs so you don't have to scour the net looking for ferry schedules. See also the Paros Hotel Page for some recommendations. If you have booked with a travel agency there will probably be someone from the hotel meeting you at the ferry. If you have not booked with a Greek travel agency you may want to ask someone from the hotel to meet you, especially if your hotel is not in the port of Parikia. Fantasy Travel has several Greek Island-hopping itineraries that include Paros that I recommend. For those who want to combine Paros with the two most popular islands I suggest their Paros-Santorini-Mykonos Program. If you are under 25 then I suggest the Paros-Ios Program and if you are over 25 or on your honeymoon their Paros-Santorini Program. You can visit Fantasy Travel's Greek Island-hopping page or use my Create-an-itinerary Form to combine Paros with any island or mainland places you want to visit.

Use Ferryhopper to find all direct and indirect ferry routes for the islands of Greece, Spain, Italy & Turkey, compare ferry companies & prices, and book cheap ferry tickets with no hidden fees in one go!