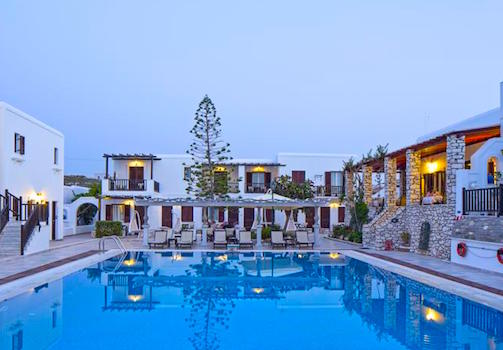 There are hotels of all different categories on the island. I strongly suggest you book them through a travel agency in Athens. You won't be paying any more than if you book directly and in many cases you will pay less since the travel agencies get the rooms for cheaper and can mark them down to be competitive. Also if you book directly with the hotel you will be on your own when it comes to figuring out the ferry and flights for getting to the island and because there is no profit in ferry tickets or flights (and a lot of labor) for the travel agency, you probably won't find one willing to book your boat and plane tickets for you unless you have booked hotels with them. Plus it is good to have someone in Greece working on your behalf in case there are any changes or unforeseen difficulties, especially if you are planning to visit more than one island.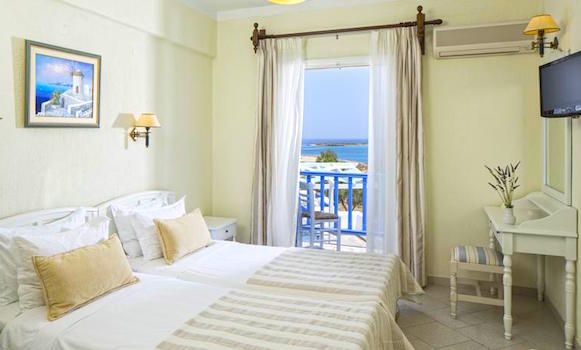 I stayed at the Hotel Conteratos Beach on my last trip and I can say that this is one of the better family run hotels I have stayed at and certainly one of the best in Paros in terms of quality, service and location. The beach which is right in front of the hotel is clean and probably the best beach within walking distance of Naoussa. The pool and area around it was beautiful and the small bar was very nice and a good place to meet our fellow guests. There is a hot tub too. All rooms and suites come with a satellite flat-screen TV, air conditioning and a safe. Going into Naousa was an easy walk and there are several routes you can take. The family who owns the hotel are friendly and very helpful with information about the island. The hotel has free wifi which is very important The breakfast was your usual hotel breakfast but really you won't find the kind of breakfast that would satisfy an American appetite at any but the most expensive hotels and then you really pay for it. I suggest using the Hotel Conteratos page to book with Fantasy Travel but for those who are comfortable booking their own hotels and ferries you can use this link to the Booking.com Hotel Conteratos Page. Both these above photos are from the hotel.
Hotel Information for Paros
For those who like to book their own hotels and ferries here are a few to choose from. Click on the hotel name for more information and booking. I have listed them from the most expensive to the least so if you are looking for a cheap hotel scroll down to the bottom. These hotels are the most popular hotels for their respective categories so if there is one you really want to stay at you should book early because it may not be there next time you look. Some of them have no cancellation fee so if you are undecided you can book it and then cancel it if you find something better. For Villas see Matt's Paros Villas page. For more hotels, apartments, villas, homes and air BnB style accommodations use the Paros Hotel Search.
Yria Resort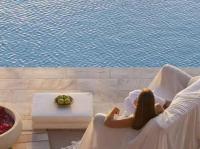 Guests are welcomed by a symphony of bright colours set against the Aegean sky, creating a feeling of joy. Located at the magnificent Parasporos bay and 3 km from Parikia on the west side of Paros island, Yria Hotel is modelled on a village of dazzling Cycladic houses. The houses are nestled among flower beds, meandering paths and covered walkways. The property captures the essence of the islandís culture and invites you to relax and enjoy. Swim in the transparent water of the beautiful Aegean Sea just 100 metres away, revitalise in the large swimming pool or simply sunbathe on comfortable deckchairs while sipping a luscious cocktail. For when you are feeling more energetic, staff are happy to assist with ticket and excursion arrangements.
Archipelagos Resort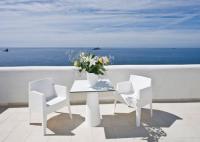 Built in the traditional Cycladic architectural style, on top of a small hill by the sea, Archipelagos Resort offers stylish accommodation, top-class service and magnificent views of the Aegean Sea. The rooms and suites of Archipelagos Resort in Paros have a modern design that exudes a luxurious feel. In-room facilities include air conditioning, satellite TV, free Wi-Fi, minibar and kitchenette. Your private veranda is the perfect spot for quiet relaxation or an intimate dinner ordered through room service. In Archipelagos Resort nothing gets between you and the spectacular sunset. You can enjoy it with a drink from the large pool area, before you move on to the restaurant for some traditional Greek cuisine. There is also a tennis court and a gym. The resort is located on the west coast of the island, a short drive from Paros Town. From here you can easily explore the islandís beautiful landscape, archaeological and historical monuments, charming settlements, sandy beaches and exciting nightlife.
Lefkes Village Hotel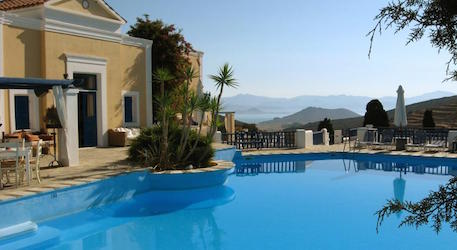 Enjoying a quiet location in the mountainous area of Lefkes in Paros, Lefkes Village Hotel boasts its own private museum, where guests enjoy free access, and a tavern. It is located only 6.2 miles from Naousa and Parikia. Built amphitheatrically the traditional hotel enjoys beautiful views of the surrounding area. Lefkes Village features a swimming pool, a 5x5 football court and a volleyball court. Each well equipped room features traditional furniture, impressive textiles, and pieces of art. All have private furnished balconies with great views to the gardens, the sea and the island of Naxos. The hotelís gardens offer fresh ingredients used to prepare Mediterranean dishes. In the hotelís tavern guests can find authentic flavours of the Aegean. The staff all speak English and the hotel has Free Wireless. The village of Lefkes is galleries, shops and lots of restaurants and cafes and offers a real Greek Island village experience.
Paros Agnanti Hotel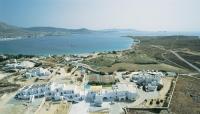 Situated just 80 metres from the beach, with beautiful views of the sea and Parikia, this luxury hotel offers a peaceful sanctuary, with excellent leisure facilities and free internet access. Each room at the Paros Agnanti Hotel is decorated in a traditional and elegant style. Guests can enjoy a comfortable sleep on beds fitted with orthopaedic mattresses. Stunning views of the sea and surrounding area can be enjoyed from the private balcony. After a delicious complimentary breakfast, guests can swim in one of the outdoor pools and enjoy the relaxing sight of the waterfall feature. The tennis and basketball courts are a great place to burn some extra energy. Guests wishing to explore the town can make full use of the hotelís complimentary shuttle service.
Margarita Studios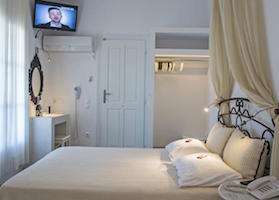 The family run Margarita Studios is located 650 feet from the sandy beach in the scenic fishing village of Abelas, just a 5-minute drive from the cosmopolitan Naoussa. It offers a swimming pool, a traditional restaurant and a hot tub as well as cooking classes, wine tastings, food tours. A flat-screen TV is included in all accommodation types at the Margarita Studios. Each unit comes with a private balcony. Air conditioning and marble bathrooms are provided. A playground and a children's pool are offered. Guests can relax on the sun terrace that features sun loungers and umbrellas. Take a stroll along the nearby beach or simply relax in the hot tub after a day of fun. In the evening, relax at the taverna, which is popular with locals and visitors, and enjoy traditional home cooking and local wine.
Manos Hotel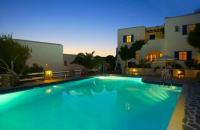 Manos Hotel in Naoussa on Paros island is a traditional Cycladic style accomodation just five minutes walk (150m.) from the beach and the picturesque harbour with its cubed white washed houses.

We serve breakfast and our hotelbar is open for you all the time. We also offer drinks and snacks at our swimming pool. The atmosphere is warm and the hotel is surrounded by beautiful gardens to give you the feeling you are in your own holiday home.
Asteras Paradise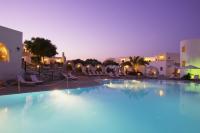 True to its name, this hotel provides an oasis of luxury and peace just 5 minutes away from cosmopolitan Naoussa and 16 km from Parikia, the main port of the island.

The surroundings are particularly quiet and in the close vicinity you will find surfing opportunities and fashionable beaches. A few of the nicest and less crowded sandy beaches of the island with clear waters and exquisite sand are located about 1 km from the hotel complex.
Hotel Naoussa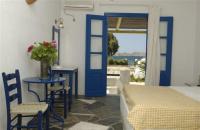 All time classic small hotel with rooms and apartments facing the bay of Naoussa, just few meters from the sea. Feel at home enjoying the local atmosphere and the greek hospitality. We can offer you all the amenities of a luxury hotel and make your holidays a unique experience. With us you are between friends who want you to be happy and forget the work and personal problems.Try our breakfast with home made products and organize the excurcions to Delos-Mykonos , Santorini , Naxos.
Hotel Polos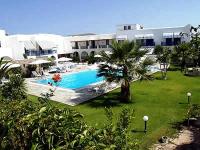 Hotel Polos offers a relaxing base with a charming garden and pool, just steps away from Livadia Beach, with excellent transport links allowing you to explore Paros and surrounding islands. Enjoy clean and comfortable accommodation at Hotel Polos, along with friendly service from the staff team. During the day, you can relax in the garden surrounding the outdoor pool and soak up the sun or visit the beach, just 50 metres away. Explore your beautiful surroundings from Polos Hotel, using the regular buses or boat trips running close to the hotel. After a day of exploring, head back to the relaxing surroundings of Hotel Polos and enjoy a coffee in the cosy lobby.
Hotel Paros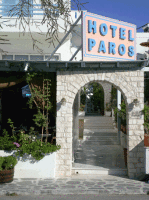 With a superb location, right on the beach and only 300 metres from the port of Paros, the Hotel Paros offers great sea views from the front of the hotel. The hotel is situated right on the beach, just 10 metres from the golden sands and the crystal-clear water. Right in front of the hotel, you can even swim through the foundations of an ancient house. Alternatively, you could take a quiet and relaxing stroll through the areaís picturesque villages, admiring their quaint narrow streets and whitewashed houses. The areaís shops, supermarkets and restaurants are within easy walking distance and you can also visit the church of 100 doors and several museums. The hotelís restaurant offers authentic Greek food and traditional hospitality and you can admire the beautiful sunsets from the terrace. Some of the rooms have balconies overlooking the sea and all of the rooms have TVs, air conditioning and refrigerators.
Paros Bay Hotel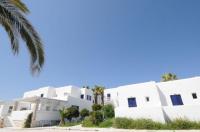 Paros Bay Hotel enjoys a privileged location overlooking Parikia Bay and features panoramic sea views from its terrace, a beautiful sandy beach and outdoor pool area for ultimate relaxation. Built in the traditional Cycladic style of the island, Paros Bay offers tastefully decorated and elegant accommodation with free internet access. Enjoy beautiful views of the sea or the garden from your private balcony. Start the day with a tasty buffet breakfast on Paros Bayís stunning sun terrace and admire the panoramic sea views. Relax and soak up the sun on the terrace or enjoy a refreshing swim. Join in with the fun games and activities provided by Paros Bayís French animation team. Enjoy a drink in the shade of the lounge and watch satellite TV. Paros Bay has direct access to the gorgeous sandy beach, where you can enjoy sunbathing and water sport activities. The vibrant centre of Parikia is just a 5-minute walk from the hotel, making it an ideal base for your relaxing break.
Hotel Helliniko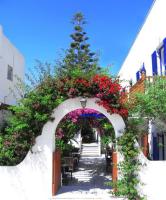 The hotel is situated in a peaceful location, by the sandy beach of Parikia, and is only a short walking distance to the centre and the Port. All its rooms are conveniently furnished, offering views to the surrounding gardens. Our service is friendly and uncomplicated. Parikia is the main town of Paros and has a traditional style, with Cycladic architecture and narrow roads paved of cobblestone. Hosting a variety of shops, restaurants and bars, Parikia has a lively social atmosphere. The sea resort also provides a variety of water sports activities and is ideal for sailing. Parikia is located on the ruins of Parosí ancient capital and has a number of landmarks. The townís principle church, located in the main square, has features that pre-date the Roman Empireís adoption of Christianity. There is also a medieval castle, built almost entirely of the marble remains of an ancient temple. Parikia also has a museum for archaeological findings from as old as 1500 BC.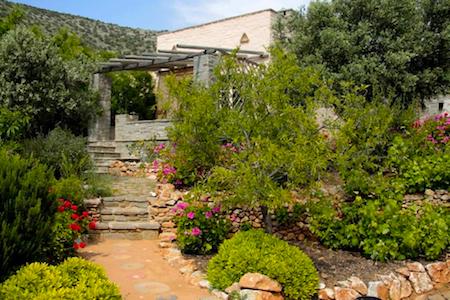 Rated as Exceptional by Booking.com and located in a secluded valley and among lush greenery in Paros Island, To The Garden is a theme property that offers holiday houses, made mainly of wood and stone. They all feature beamed ceilings, wooden furnishing and decoration in earthy tones. Opening to a patio with mountain and Aegean Sea views, the air-conditioned units come with a seating area, a wood burning oven and a fully equipped kitchen with microwave and fridge. They also have a private bathroom with a shower, hairdryer and free toiletries. An array of restaurants, supermarkets and cafťs can be found in Aliki Village within 2.5 km of To The Garden. Various art-related workshops, like stone building, ceramics and garden design take place in the propertyís premises. Islandís airport is at a distance of 5 km. Free Wi-Fi is available throughout, and free private parking is possible on site. If you are a writer or someone seeking solitude this is probably a good place for you and the owner Jim Thomas is British, while his wife Irini is Greek.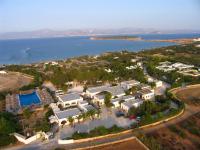 Situated 5 minutes away by car from Naousa traditional fishing village, right on the beach, surrounded by trees and flowerbeds, this complex was built according to the traditional Cycladic style and meets the needs of its discerning guests.
The one km-long sandy beach of Santa Maria is literally on the doorstep, you will find it difficult to resist relaxing by the sea or enjoying the crystal clear waters. Add some adventure to your stay by taking advantage of the water sports; there is a well-organised diving & surfing club which is fully-equipped for even the most experienced, and yet offers plenty of opportunity for those who wish to try scuba diving for the first time.
There are special room rates for groups over 5 rooms.
For all customers of this website there is a 10% discount for the surf club and the diving club.
Pelagos Studios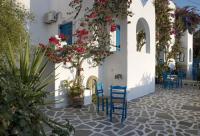 Situated in a peaceful area of Parikia, just 300 metres from the beach, these picturesque studios are the perfect place to experience authentic Greek hospitality. Pelagos Studios are built in traditional Cycladic style and combine their heritage with modern comfort and amenities. Each of the spacious rooms offers a relaxing environment and has a private balcony with views of the hotelís charming surroundings. The proud hosts of the complex are well-known for their welcoming spirit and guests can enjoy a truly authentic Greek experience here.
Pelagos is close to all the local amenities and just a short stroll from the beach. Those wishing to explore the centre of Parikia are only a 15-minute walk away from all its attractions. Guests can also rent a car from the studio and explore the surroundings. Evenings at Pelagos have a relaxing and sociable vibe, with Greek music and ouzo on the hotelís terrace.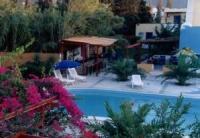 Located down the picturesque street of Parikia 600 metres from the port, this residence consists of a cluster of apartments which enjoy a central situation and yet a relaxing atmosphere. The tastefully decorated, comfortable and contemporary accommodation provides guests with the opportunity to experience the true island life. Containing bright interiors, a traditionally designed decor and a sense of simple elegance, the apartments are unique for their local colour. Set within a flowery garden, the hotel features a natural environment which creates a tranquil ambience. Despite the convenience of the nearby beach and the city centre in close proximity to the hotel, there is also an outdoor swimming pool and a snack bar where you can enjoy your stay. This residence makes for a divine place for a wonderful holiday.
Captain Dounas Apartments and Studios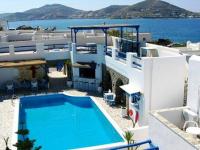 Captain Dounas Apartments and Studios are located in the village of Naoussa in Paros. Naousssa is well known for it' s picturesque fishermen's harbor and ouzeri, it's beautiful beaches (such as Kolimbithres, Santa Maria, Lageri, etc.), it's exciting nightlife and it's traditional color. The complex is built by the sea according to the standards of Cycladic architecture, enjoying a privilege location since situated right in the center of the village. The apartments and studios are waiting for you to experience it's family environment and first class service. All rooms are equiped with all moden amenities as to satisfy even the most demanding guests.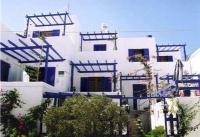 This small, quiet and clean guest house offers bed and breakfast 350 metres from Piperi Beach, 700 metres from the harbour and 750 metres from the cosmopolitan centre of Naoussa. The building, which features the traditional colours and architecture of the Cycladic Islands, is situated on the slope of hill. Each room offers modern facilities and are cleaned daily. Enjoy a peaceful, relaxing holiday with free use of the deckchairs on our verandas, where you can bask in the sun or avoid it under the sunshades. The town of Naoussa is very peaceful. We are very close to restaurants, supermarkets, a bakery and the bus station. We can pick you up from the port or airport free of charge if you tell us your arrival details (valid for stays over 4 nights).
More Paros Hotel Information

For more Hotels in Paros see Matt's Booking.com Paros Hotel Search where you can search hotels by location, price, and see photos and reviews and in many cases book and then cancel with no cancellation charge. Also see Matt's new Hotels of Greece Paros Hotels where he has picked out the best hotels, villas, apartments and holiday homes on the island.
I also suggest you use my Create-an-itinerary form where you can choose islands, category of hotels, budget, mode of transportation, tours and other aspects of travel, submit it to a travel agency and get a price back within 24 hours with no obligation to purchase. There is no charge and it is easy and I don't collect e-mail addresses so I can bug you in the future nor do I sell them.
For Travel agents I recommend:
Fantasy Travel
Dolphin Hellas
Aegean Thesaurus Travel
(especially if you are including Sifnos in your itinerary)