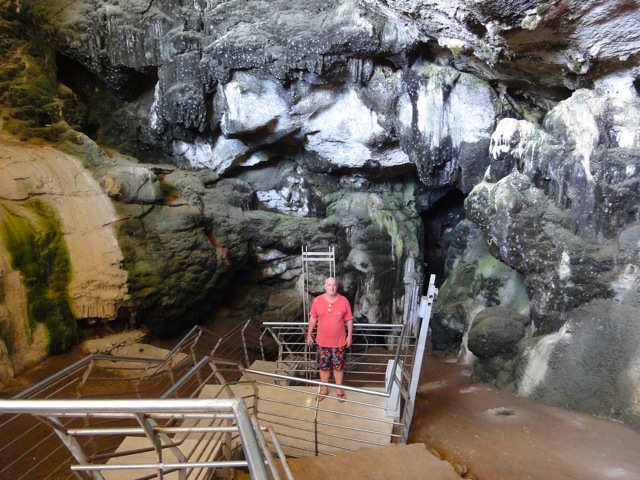 There are not many islands where the biggest tourist attraction is another island. Yes, Mykonos has Delos, a paradise for archaeologists and historians, though most of the visitors trudge around not really sure what they are looking at and eager to get back to the beach and cure their hangovers in the time tested method of continued drinking. But the island of Antiparos is a living, breathing island community with restaurants, artisan shops, colorful fishing boats in the harbor and beaches. The biggest attraction is the Cave of Antiparos though its vertical layout causes some people to admire it from the entrance and others to keep putting it off until there is no time left in their holiday to go. Those who venture down its many steps on a hot summer day will find the relief worth it, until it is time to climb back up. The good news is you don't have to go all the way to the bottom to appreciate it though I should note that the early explorers and visitors did, and without the benefit of stairs. We climbed up, passing a middle aged couple on the way who were so out of breath that I asked if I should call for an ambulance when I reached the surface. They said they were fine and as if to prove it they both lit up cigarettes the moment they returned to daylight. There is a small car and passenger ferry that goes back and forth from the harbor in Pounta, connecting Paros with Antiparos. There is regular bus service from Parikia to Pounta and from Antiparos bus service every couple hours to the cave and a few other places around the island.
Lefkes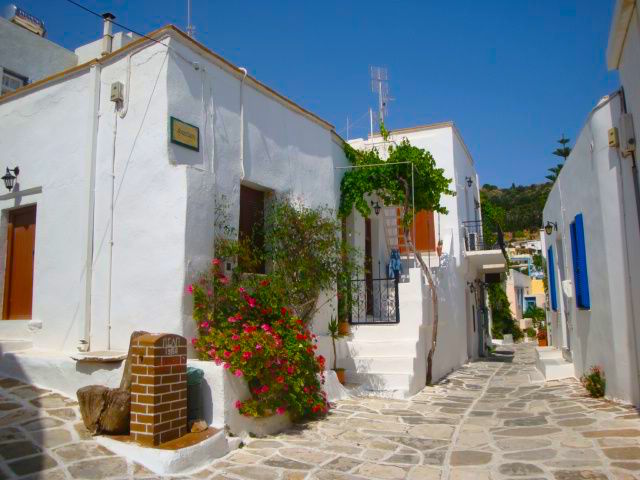 The whitewashed village of Lefkes is as close as many visitors to Paros will ever get to an authentic Greek island agricultural village. But though there are still farmers and the villagers tend their grapes, gardens, orchards, chickens and donkeys as they have for centuries, Lefkes has benefited from the tourism of Paros to become a haven for craftsmen, artists, writers, spiritual aspirants and other creative people, or people looking for an escape from the evils of modern society. Lefkes is the kind of village artists love. Once you leave the parking area every street, every house, every bougainvillea or potted plant is inspiration for a painting and chances are you will see people painting there. You might even see someone doing a painting of somebody painting. We arrived there at the same time as a bus load of French tourists. Yes it is a very attractive village with narrow stone streets of interesting traditional shops, galleries, cafes and restaurants, a bakery with excellent spanakopita; more like a sesame kolouri filled with spinach and feta. But it was impossible to take a photo without at least two French people in it. They were creating traffic jams in the narrow streets, stopping to photograph cute kittens, white churches, each other and anybody within range. So arriving when there are one or more tourist buses in the parking lot will change the experience.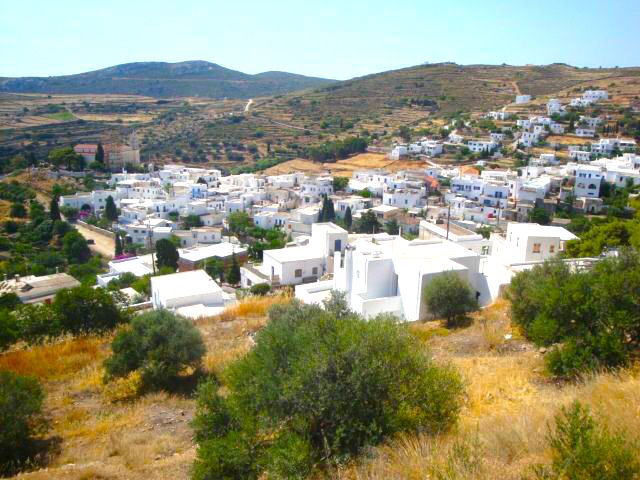 I recommend coming for lunch. Floras Taverna is a quality Greek taverna with authentic island food made with local ingredients. You may have to wander around until you find it or ask directions but once you do you should be treated well and enjoy a nice view of the village and the entire valley.
There is a Cycladic Museum in the Lefkes Village Hotel, a kind of natural history, folk and craft museum that is a labor of love and is located in one of the nicest hotels on the island. The House of Literature is a sanctuary for writers to explore their talents in a quiet Greek island village, which of course is a dream of many writers but unaffordable to most. The House of Literature makes it affordable but you have to apply. They also have seminars and workshops. Also of interest in Lefkes is the Paros Jazz Academy which hosts summer festival of classes, workshops, jam sessions and performances by local and international musicians, usually during the last 2 weeks of July.
Piso Livadi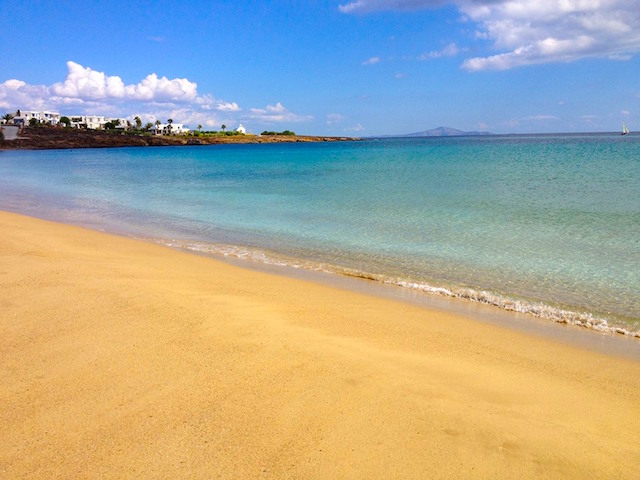 There is an Byzantine hiking trail from Lefkes to the village of Prodomos and supposedly on to Marpissa, another traditional Cyclades village with whitewashed houses and narrow stone streets and its own folklore museum. It's a short walk to the beach town of Piso Livadi and the beautiful long sandy beach of Logaras. This part of Paros which includes Golden Beach (photo), is considered by many to be the most beautiful part of the island and is the closest to the island of Naxos. In the summer there are excursion boats that go there. The channel between eastern Paros and western Naxos has some of the best wind-surfing in the world. The 16th century Monastery of Agios Antonios sits on top of the hill of Kefalos, an extinct volcano, along with the ruins of a 15th century Venetian castle. There are a number of seaside fish tavernas and also plenty of hotels and rooms which you can find on Booking.com's Piso Livadi page.
Important Parikia Sites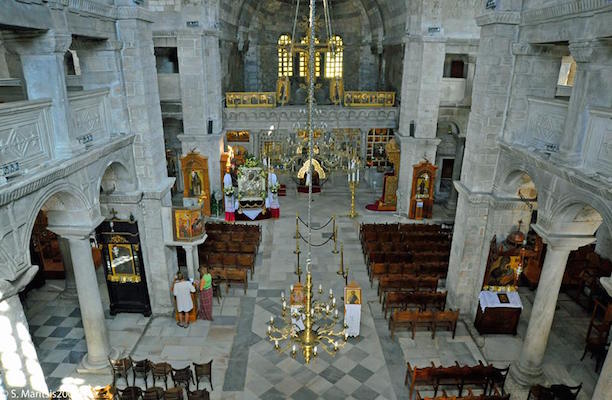 The 4th Century Byzantine complex Panagia Ekatontapyliani or Church of 100 Doors in Parikia is one of the oldest Christian churches in Greece and like many sits on the foundation of an ancient temple whose marble remnants you can see in the building. When visiting the church you should be dressed appropriately, that is no bathing suits or short shorts as it is considered a sacred site. The chursh also has a Byzantine museum that exhibits icons and other religious artifacts. Nearby is the Archaeological Museum of Paros which has ancient pieces, or copies of ancient pieces that were found in various excavations around the island. Most of the really good stuff was taken to Athens and put in the National Archaeological Museum, which poses the question, if Greece wants the Parthenon Marbles returned from the UK, isn't it fair to ask that the National Archaeological Museum returns some of the ancient pieces to the local museums of the islands they were found on? In terms of history these are the two most important places to visit if you want to do more than lay in the sun and eat and drink and for those staying in or within walking distance of Parikia you really have no excuse not to. Those staying elsewhere can come early to catch the ferry to Pireaus and visit then. Be sure to leave some time for a walk up to see the walls of the Venetian Kastro which is right in the oldest part of Parikia. (Photo by S Maritsis)
Aliki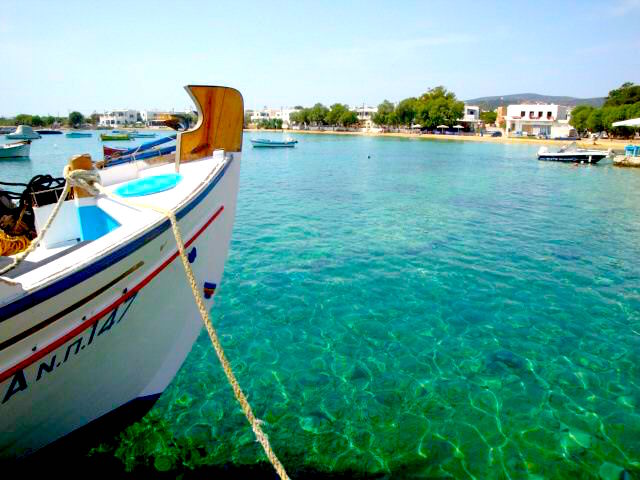 The fishing port of Aliki is located on the southwest side of Paros and his known for its fish tavernas and the nearby beaches. Being in the south means that it is cut off from the northern winds, called the Meltemi, that blow in Late July and August. Not every day, don't worry, though you may discover that when the Meltemi does blow you will welcome it. What it also means is a milder climate in the winter, being protected from the cold north wind so Aliki is a place you can visit year round and there are hotels open even in January and February. Aliki has a scuba-diving school, a yoga center, a small folklore museum, and has fishing trips with Captain Elias aboard ROFOS, his traditional Greek fishing boat, called a caique. (ky-EEE-kee). He also does excursions around the island to isolated coves and beaches that are inaccessible by car, and spots for snorkeling. Aliki has a local festival on August 6th with music, dance, food local wine and souma. There are lots of hotels and rooms which you can find on Booking.com's Aliki page. I have received great feedback for a small hotel/apartment complex called To the Garden which is owned by and Englishman and his Greek wife which besides being a lovely setting also has various classes and activities for their guests.
The Environmental and Cultural Park of Paros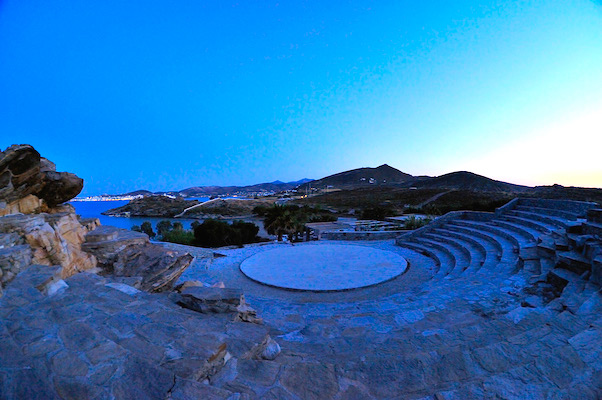 The Environmental and Cultural Park of Paros is a protected area on a peninsula at the northern end of the bay of Naoussa. Within the park there are several beaches, the remains of a prehistoric settlement, hiking trails, the 17th century Monastery of Saint John, a museum, a working boatyard, a restaurant, beach-bar and umbrellas, a water-skiing school, and an outdoor cinema. The Cine Enastron is an open air movie theater venue, for film watching under the stars. The Environmental and Cultural Park of Paros holds a summer festival that begins in June and goes into October with music, art, sports and cultural events put on in various locations including its 700 seat open air theater, a replica of the Ancient Greek amphitheaters known for their acoustics, named after the great ancient Paros Island poet Archilochos. The park also host the Paros Triathlon and Mini Aquathlon, a multi sport event held in late September for adults and kids, an International Science Film Festival in the beginning of September, and various concerts by established Greek and International stars.
Dance, Meditation, Healing and Horses in the Sea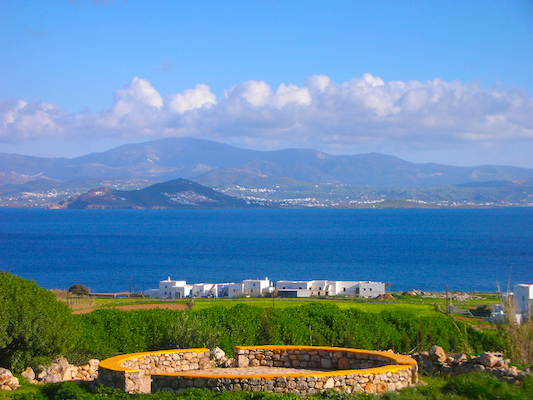 Among the popular activities for locals and visitors to Paros are the various classes and workshops held at Tao's Retreat and Meditation Center. The center offers daily classes, therapies, workshops, retreats and long-stay programs, dedicated to the practice of awareness and wellbeing including yoga, meditation, Chi Kung, mindfulness, movement, dance, creativity, healing, treatments, music, Osho/Rajneesh/Gurdjieff active meditation, Pilates, A Course in Miracles, and activities for children. Tao's Center offers various massages, therapies, healing and personal counselling sessions. All are given by Tao's home teachers and therapists as well as by visiting high-level professionals. These include Holistic treatments, Acupuncture, Ayurvedic and Thai massages, Healing, Reiki, Aromatherapy, Astrology and many more. The center also has a very good Asian restaurant. There are other classes, teachers and therapies on the island which you will see advertised in posters, cards and brochures left in your hotel and cafes and shops.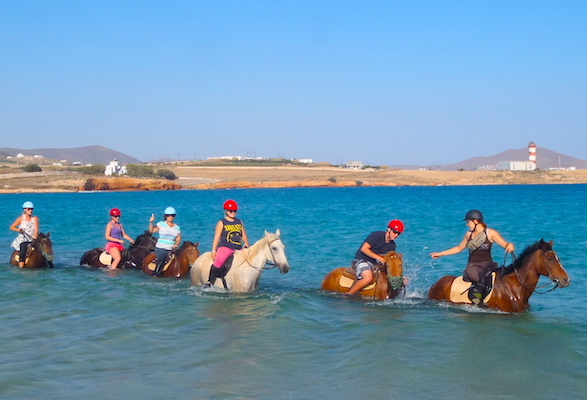 For many years I have been getting e-mails from people asking me where they could ride horses in the sea. It seemed like an odd question like the two did not go together. Well, in Paros you can ride horses in the sea. The Kokou Riding Center and Thanassis Farm both offer daily tours and lessons, (Thanasis is recognised as a natural 'horse-whisperer'), and at least one of them lets you ride horses in the sea. For those who have no desire to ride horses in the sea, or anywhere, there are plenty of other organized activities that can be found in Paros include sea kayaking, scuba and snorkeling, windsurfing, waterskiing, sailing excursions to nearby islands, ceramic and sculpture classes and workshops, tennis, and two famous Art Schools, The Aegean Center of Fine Arts and the Hellenic International Studies of the Arts, both offering accredited courses, workshops, and semester abroad programs. Both are located in Parikia.
And finally, a few miles west of Parikia near the Monastery of Christos sto Dasos or Agios Arsenios is the Valley of the Butterflies. There is a small entrance fee but it is a beautiful place with paths through the forest and swarms of Panaxia quadripunctaria which is officially a moth, but a colorful one. The park is open from June to September from 9AM to 8PM. These are the same species that you will find in Petaloudes, the Valley of the Butterflies on the island of Rhodes.