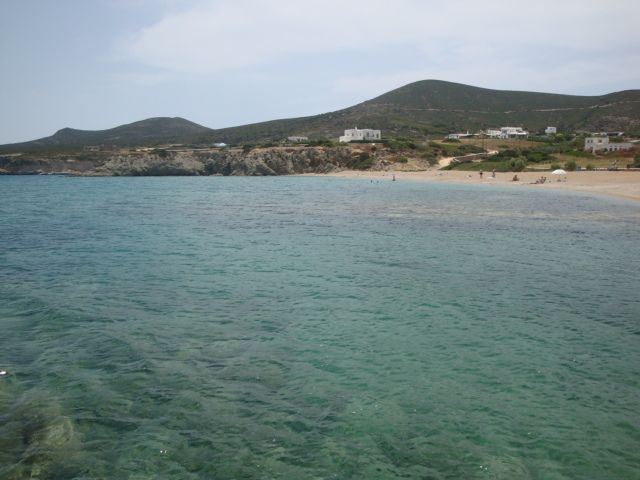 Antiparos is not a spectacular island. It is not a particularly beautiful island. It is somewhat touristic though the reason it is now touristic is because it wasnít before. Antiparos was one of those islands that the artists and free-spirited entrepreneurs went to when the islands they had discovered, like Mykonos, Santorini, Ios, and Paros became saturated by tourists and the rents became unaffordable. Now it is one of those 'unspoiled' islands that many people who love Greece but hate tourism look for, to the point where it has become touristic from all the people who come here because it isn't. Does that make sense? Anyway the point is that by the standards of the above islands it is not touristic but by the standards of someone who likes islands such as Kythnos or maybe Kea, then Antiparos will seem touristy to you. There is a waterfront with cafes and fish restaurants and a street that leads into the village lined with cool cafes, boutiques, Greek and Italian bistros and restaurants, gift shops, craft and art galleries, many of them owned by young people who are counter-culture but still have to make a buck. The village is flat and spread out and the best mode of transportation is bicycle and you see them all over. In fact you could live on Antiparos quite comfortably with a bicycle as your only transportation. In the center of the town is a Genovese fortress from around the 14th century, pretty impressive once you figure out what you are looking at, and there is a small museum in the center of it.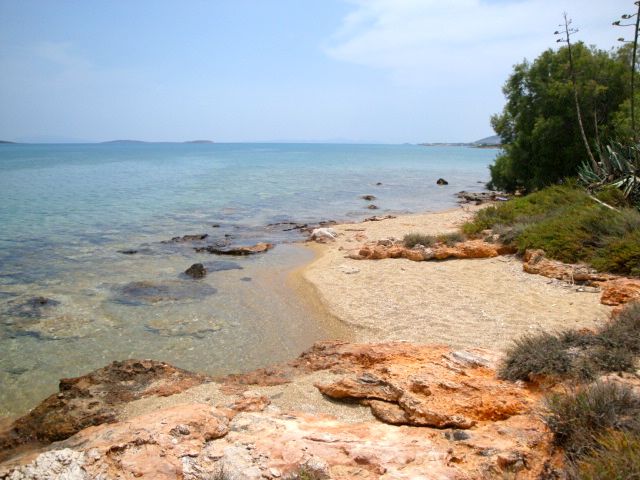 By the way, Tom Hanks, Bruce Willis, Pierce Brosnan and several other famous people all have villas on the island. I asked my friends why they would choose Antiparos for their villas in Greece when there are so many islands that are more beautiful and have more to offer in the way of... well just about everything. It is because they are left alone in Antiparos. Nobody is in awe of their stardom because, well most people donít even know who they are, at least among the year-round residents. So even though I assume most people who read my site are not the star-oogling autograph-seekers, (mainly because people who use my site that see me in restaurants and cafes donít ask for my autograph), should you see one of these famous people it is OK to say hi, or smile, or tell them which of their movies you liked the best, because they are stars and they appreciate a sincere compliment. But donít pitch your novel or movie script to them.
Antiparos, a quiet and pristine island set adjacent to busy Paros, is a beautiful place to chill out. With its gorgeous beaches, variety of activities and lively nightlife, itís suitable for young singles, couples and families. It was known in ancient times as Oliaros, which means a wooded mountain. Once you arrive on this island paradise, youíll lose track of time. In the summer, every day is languid, whether you are strolling the streets of Antiparos town (also known as the chora or the village), swimming off long sandy beaches with crystal-clear water, sailing around the island with one of the local captains or exploring Despotiko, an uninhabited nearby island that is the home of an important archaeological excavation. Antiparos lies one nautical mile southwest of Paros. Once you get to Paros, you can reach Antiparos by ferry from Paroikia (30 minutes) or from Pounda (seven minutes). Renting a car or scooter is recommended, as the buses do not run at night.
Hotels
The Cycladic style Marianos Apartments are located just 80 metres from the beach. It offers apartments and studios with fully equipped kitchens with refrigerators. The simply appointed studios and apartments are air-conditioned and have private balconies with views of the sea. Some also have kitchenette facilities. Marianos Apartments are situated just 50 metres from the port of Antiparos, allowing easy access to Paros island. Click here for photos and booking information
You can find more Antiparos hotels by using the Antiparos Hotel Search
Right across the straits, a short (7 minutes) ferry trip away in the town of Pounta on Paros, very convenient to Antiparos is the 4 Star Best Western Holiday Sun
Most people who come to Antiparos are staying in Paros and there are plenty of hotels there. Click here for Paros Hotels
Restaurants
For Greek food of home cooking quality visit Argo, hidden north of the port and ask for Damianos and also Statheros on the waterfront and ask for Nikos, or Taverna Yiorgis on the main street. For Breakfast and after dinner try Nautica Caffe on the waterfront. For authentic Italiano go to Lollos and ask for Sabrina. For lunch combine swimming and eating at Perigiali on Panagia Beach and ask for Xaroula. For an upscale treatment and maybe see some celebrities visit: The Beach House at Apandema beach about 10 miles south of Port. (Sorry celebrities.) For Ouzo/Octapus and other mezedes go to Captain Pipinos, at Aghios Georgios. Considered the best fish taverna on the island, Pipinos is a spectacular place to eat at night, with tables right over the water. By moonlight youíll see the silhouette of Despotiko looming across the channel like a sleeping giantess. Tel: 22840-21823, 6976-686-728
Stores
There are many charming boutiques on the main street in Antiparos town. One of the standouts is Ifadi, which sells a variety of hand-made linens, curtains, pillows, and mats. Many of the products are made by locals and by the Greek family that runs the store. In operation for 12 years. For all your supermarket needs visit: Marianos and ask for Grigoris - He is one of a kind and he carries over 15000 items. For all your bakery goods Aspronissi Fournos is two stores up from the supermarket and ask for Katerina. This place is always busy and you may feel neglected at times but be patient for good things come to those who wait. Both are on the main street about 50 meters up from the port.
Sailing Trips
Captain Ben. Daily cruises with swimming and barbecue. Very popular, perfect for large groups. Contact: 6976-409-344, 6974-872-942
Captain Antonis runs the M/S Alexandros, daily boat trips around the island with stops for swimming and barbecue. Contact: 22840-61273, 6972-026-585
Captain Giorgos Marianos. Giorgos goes by the nickname O Sargos, which is a prized Mediterranean fish. Based in Aghios Georgios, he takes visitors across the channel to Despotiko. There are several choices: he will drop you off near the archaeological site, on a small sandy beach on the channel, or at Livadi, a long sandy beach on the south side of Despotiko. When youíre ready to leave, call him on his mobile and heíll show up shortly. Once you get to the harbor at Aghios Georgios, ask anyone for O Sargos. Remember to take water, as Despotiko is uninhabited. And be warned, on windy days, he doesnít make the crossing. O Sargos contact: 6973-794-876.
Nightlife:
From the harbor in Antiparos town, follow the market street until you reach the main square, or plateia. If you are unsure, ask someone, ďWhere are the bars?Ē Surrounding the main square, and down the side alleys, youíll find several popular bars that play dance music including Boogaloo, Remember and Soul Sugar. Lucky Luke is named after the cartoon cowboy, its walls are covered with drawings of Lucky Luke in action. ďWe grew up reading that comic,Ē says the owner, Damianos Viazis. Once you leave the bars there is a telescope between Antiparos town and the campground, open only at night, from which you can gaze at the stars.