The "Quaint Fishing Village" of Naoussa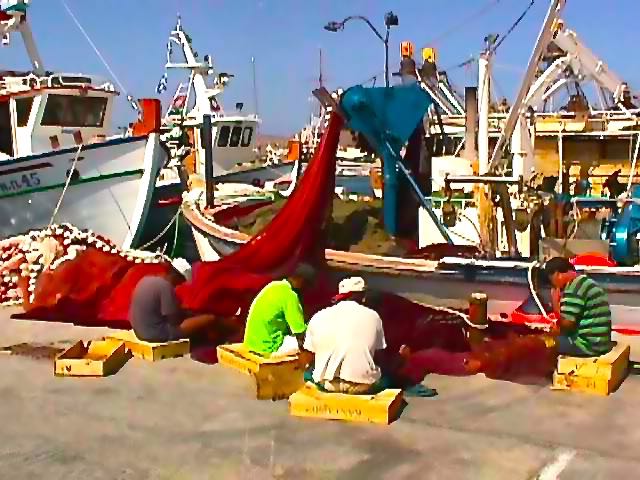 I saw a brochure that described Naousa as a 'quaint cycladic fishing village'. Upon arriving in the town one late August day I realized that Naousa is about as quaint as Myrtle Beach on Labor Day weekend. The outskirts of the town is a vast collection of rooms and hotels and finding a spot in the huge parking lot by the port took some pretty clever maneuvering by our friend Carolina. But it was early in the morning and we were actually able to wander around and appreciate the beauty of the town center without bumping into the tourists who were either still in bed after another night of celebration in the many clubs and bars, or were on their way to the surrounding beaches, by car, or the excursion boats that seemed to be leaving frequently from the main fishing dock.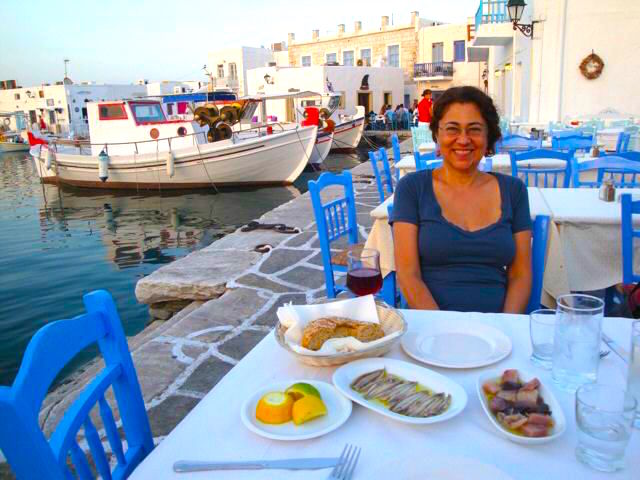 The spiritual center of Naousa is the tiny fishing harbor, packed tightly with traditional fishing boats and surrounded by restaurants and cafes. Its almost postcard perfect. I say almost because in the afternoon you practically have to wait on line to take a picture if you are here in August. According to Andrea, who visited Naousa several years ago, if you came here at night you did have to wait on line if you wanted to walk the little promenade around the port, past the cafes, bars and restaurants. But at 9am the port of Naoussa is perfect and you can take great pictures without some tourist with a camera ruining your shot. If you come in May, June or September you may not have the place to yourself but there are a lot fewer tourists and finding a seat at one of the restaurants in the harbor is not a problem.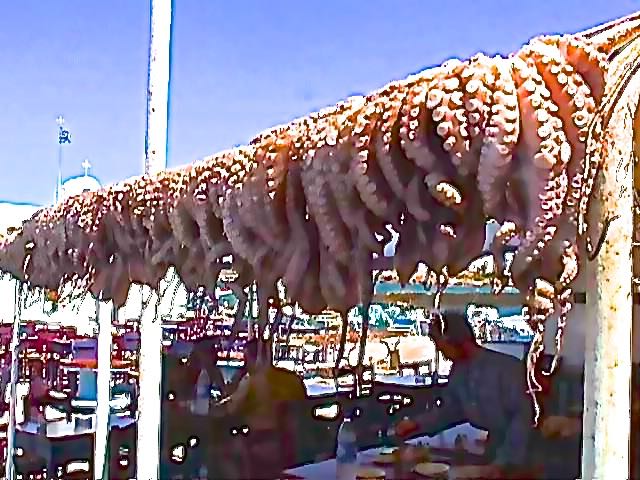 There are so many octopus drying, strung across the fronts of the restaurants that I wonder if they are actually catching them or manufacturing them. Each restaurant has what would amount to a years catch on any other island and after looking around to make sure nobody is watching, I squeeze the tentacle of one to make sure it is not made of rubber. It is real. And as I find out later when I eat it grilled on charcoal, quite delicious. The story, as I found out later, is that during the summer the restaurants in Naousa sell so much octopus that they have to import them from China. There are not enough octopus left in the Aegean sea to supply the island. What makes this even more sad is that octopus are very intelligent creatures and we as civilized human beings should not be eating them at all no matter how well they go with ouzo. I used to catch and eat them myself but several years ago I had an epiphany and decided to declare a moratorium on octopus consumption, and killing obviously. If you read Soul of an Octopus by Sy Montgomery you probably won't eat another octopus either.
However I don't have a problem with eating mackerel which is just a dumb fish and not even endangered (yet). And Naousa is famous for its sun-dried mackerel. Laid out in the sun near the small church in the harbor are tables of kolios (mackerel), seasoned and grilled and then served with ouzo at restaurants and ouzeries like Barbarossa and the psarotaverna-ouzeri To Naftikon. The dish is called gouna and they taste incredible and go especially well with ouzo. Even better than octopus. Despite the fact that popular tourism has won the battle for Naoussa, the food here is excellent. We spent the entire afternoon drinking ouzo and sampling dish after dish of Parian specialties and even some dishes like the Kritiko or Dakos salad, served on paxamadia (dried bread), which as the name implies, originally came from Crete. Just when I thought it could not get any better a plate of sardeles pastes, fresh salted sardines like they have in Lesvos, appeared magically in front of me, a gift from the owner who was obviously impressed by my knowledge of Greek cuisine and my ability to drink ouzo while keeping pace with the toughest of the fishermen. As I finished the last delicious fish I heard the owner ask his friends at the table next to us "How did you like the sardeles pastes?"
"What sardeles pastes?" They replied.
I hid the empty dish under the Parian Potato Salad.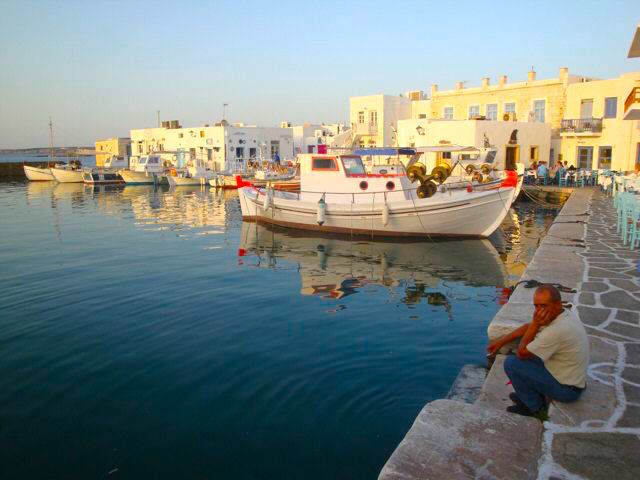 When I looked around at the other tables I realized that we were the only foreigners. In fact, as Carolina explained it to me, what keeps Naousa and these seaside restaurants and ouzeries authentic is that the village is a popular destination of Athenians. Had Naousa been completely swallowed up by mass tourism we would have been eating mousaka and squid-rings (tourists get weirded out by tentacles). Because the Greeks come to Naousa these restaurants serve high quality food at reasonable prices. Sitting there in the shade, with the wind blowing, watching the Egyptian fishermen mend their nets, I realized that despite the commercialism of the place, I could easily spend my summers here, sipping ouzo, eating grilled sun-dried mackerel, living life to the fullest, while occasionally being asked to help out a tourist couple by taking their picture in front of the small church.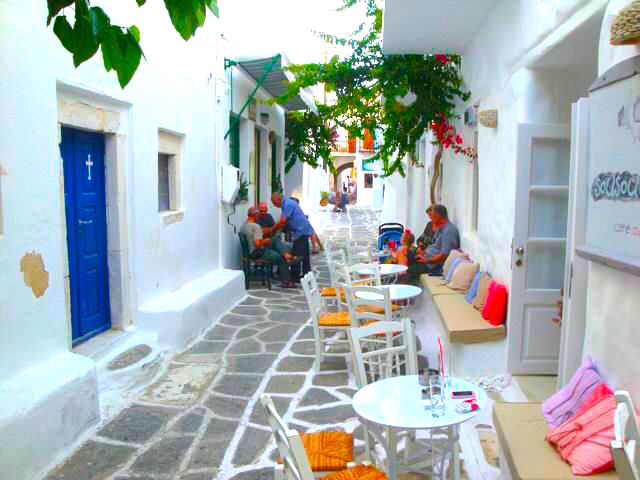 OK. So Naoussa has been exploited. Its not a quaint traditional fishing village any more than Monterey, California is. But who cares if the fishermen have hired Egyptians to work their boats while they tend bar or play tabli (backgammon) in their restaurants? Who cares if the old men cafeneons have been replaced by art galleries? This is the new Greek island reality and you can no longer look at it as a visit to a pleasant little island when you come here in the peak summer months. You have to see it for its entertainment value, like a trip to Disneyland. And Naousa, like the rest of Paros, rates very high on my quality tourism meter. Maybe my six year old daughter would disagree but I would rather be here than in Disneyland, any day. I'd even rather be here than in Mykonos. And when you walk through the beautiful back streets of Naousa past whitewashed buildings and little shops do you really care what surrounds it, whether it be a sea of hotels or even an expressway? (No there is not an expressway in Paros, just a sea of hotels). Naousa is what it is. A nice tourist town. Not a resort. Not anything that phony. But not a quaint fishing village either.
Moraitis Winery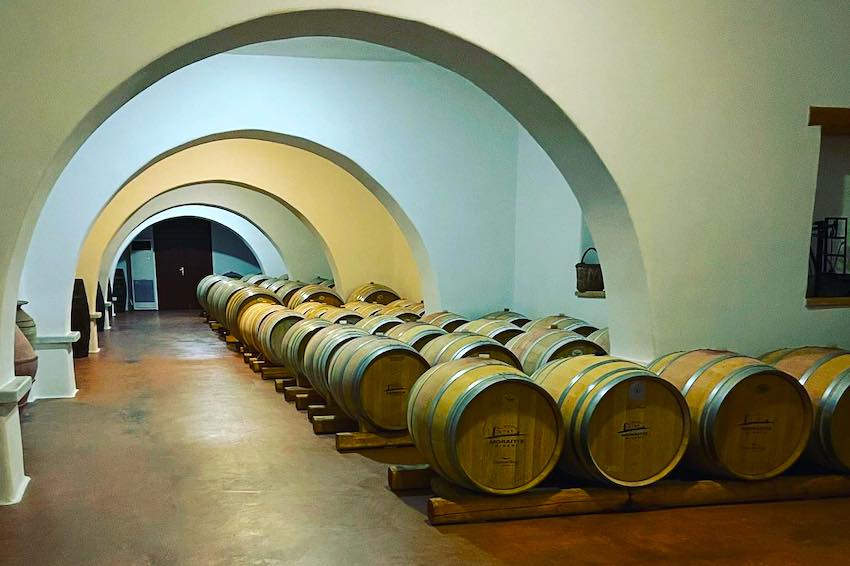 The winery of Moraitis family is located in Naoussa near the beach of Aghioi Anargyroi. It was founded in 1910 by Manolis Moraitis. He cultivated his own vineyards, while he gathered and vinificated grapes from selected vineyards of the island.
Nowadays, in the private vineyard, the family cultivates well known and rare indigenous varieties of Paros, combining the long tradition with modern technology to produce high quality wines. (This is one of my favorite wines in Greece. Especially the white-Matt).
Visiting hours are Monday-Saturday from 11 to 5. E-mail for more information
Hotels in Naousa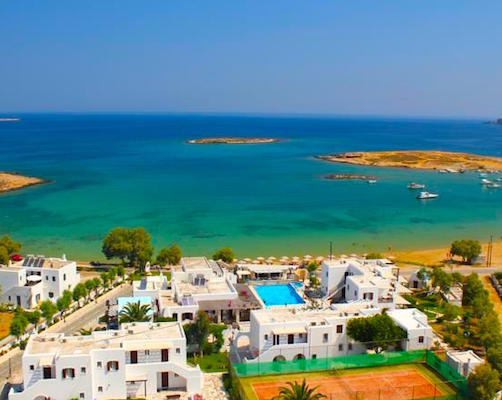 There are a couple resort-style hotels on the coast outside of Naousa, on or close to the beaches. But these are usually family run and not the giant resort complexes you will find elsewhere in Greece. The Saint Andrea Resort Hotel offers luxurious 4-star accomodation overlooking Kolympithres Beach and Naoussa Bay and is rated highly by guests. The Cycladic-style Contaratos Beach Hotel (photo), where I stayed one trip features a swimming pool with a sun terrace, and a hot tub, free wifi and has its own beach and is right in town. maybe a 15 minute walk to the scenic harbor. Right next door is the very popular and highly rated Roussos Beach Hotel. The popular Senia Hotel has a seafront location and only a few minutes walk from Naoussa harbor and offers luxurious rooms and suites with stunning views a heated, infinity pool and pool bar. Naousa is also made up of small inexpensive family run hotels like the Hotel Madaki right in the middle of town, or the nearby Pension Anna, and the Hotel Christina as well as several others, all within walking distance of at least two beaches. You can find these and more on Booking.com's Naousa page where you can use search and map options to find exactly the hotel you want, where you want, at the price you can afford.
Maybe eventually they will have big resorts for the package tourists that may one day invade and change the Greece we love. But for now it's all OK. And even though I have spent most of this page talking about the food, there is a lot more to Paros than sun-dried mackerel and the question of whether or not it is ethical to eat an octopus. There are lots of interesting gift shops, jewelry stores, boutiques and galleries and cafes. But it is the nightlife that makes Naoussa a mini-Mykonos and for more on that I introduce you to Mr. George Papadakis.