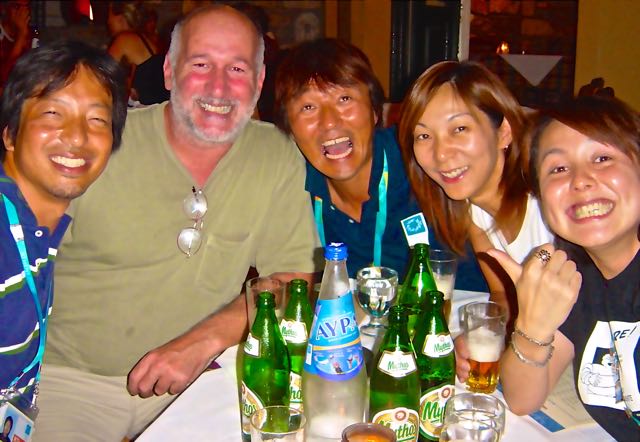 In the summer months Paros fills up with young Greeks and Europeans and the nightlife of the island reflects the clientele. Throbbing electronic drum beats fill the night air with a smattering of reggae, a dash of salsa and in a few isolated corners maybe some jazz. Some rock and metal may be heard too but it is mostly about dancing. And drinking. And dancing some more and if you are luck and aged between 16 and 36 maybe meeting someone and being in love for a few days. Being too old to go out and do the research, or perhaps not wanting to face the fact that anywhere I went I would be the subject of the question "Who is that old guy in the corner?" I have taken the most rational approach to writing about nightlife on the island of Paros. I used Google and Trip Advisor and utilized my own experience from my youth, combined with the wisdom that age has bestowed upon me, to differentiate which of these bars and nightclubs were actually enjoyed by people like me or you, and which places got great reviews by people we might describe as intellectually, socially or culturally challenged (aka idiots). This was not as easy as I had hoped. Some people could write quite poetically on the merits of various shooters and cocktails, yet fall short on their description of what music they had to listen to while drinking these wondrous concoctions that made life worth living once again. What I am saying is that if you are over 40 it may take several shots before you become immune or desensitized to the alien music that envelopes you. You might be better off staying late in a taverna where they play old Greek laika or Rembetika music or a cafe bar where you can put on your headphones and listen to your Beatles and your Stones or even Leonard Cohen, and watch the fishing boats or the young people parade by on their way from one bar to the next. Who knows? You may look at the next table and see the new love of your life, also wearing headphones and looking out to sea. And you have an opening line to break the ice:
"Hi. Are you using Matt's website too?"
Paros Nightlife for Young People (written by an old person)
As for those of you who are several generations removed from me or those who have no idea what I am talking about, here is my page on Paros Nightlife, written entirely on my iPad while laying in my bed in Carrboro, North Carolina one snowy Sunday afternoon.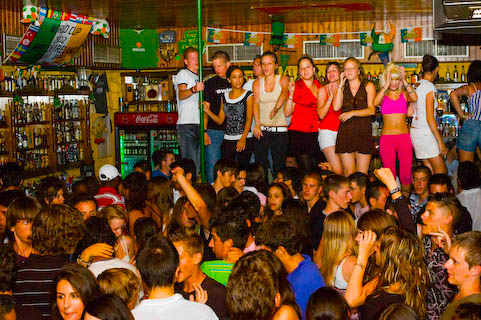 Most of the nightlife of Paros is centered in Parikia but there are bars, clubs and other hangouts in Naoussa, Aliki and various beaches and settlements around the island. The Dubliner Irish Bar in Parikia is the most well known, meaning it was the only bar in Paros I had head about before going to Paros. They feature dancing that lasts all night, Guiness, big-screen TVs for important or unimportant sporting events, and college aged guys and chicks getting as drunk as they want knowing they don't have to drive or go home to face their parents. Except for those who have to drive and came to Paros with their parents or even live here. All their photos have people dancing on the bar so watch your fingers when you get your drink. Salon D Or has been popular since the eighties. Young people have been dancing since then to all kinds of music including pop, house, rock, reggae, R&B, hip-hop and techno.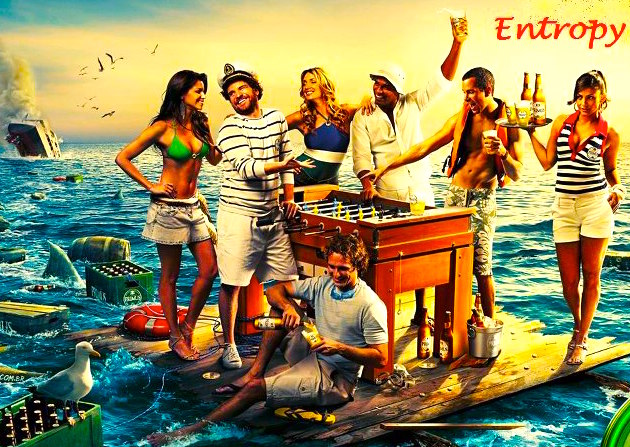 The most popular bar in Parikia, if not all of Paros may be Entropy, mainly due to inexpensive and creative cocktails made by innovative bartenders and friendly owners who make you feel like this is where you were meant to be. Entropy is in the old part of town just one street up from the sea and is open year round. They have large screen TVs for sports events, darts, bar games, music and dancing. They are famous for their shooters and themeed nights like Tequila Tuesdays which of course features various Mexican concoctions as well as special prices for tequila and mescal shots, margaritas, Corona and other Mexican beer, soaked up by Mexican food. Come Saturday and Sunday for football and hot-dogs and you will feel like you never left home. Or you have found it.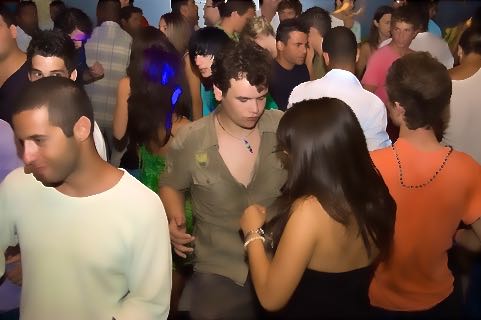 Envy is a popular cafe bar in Parikia that is a Paros version of the popular Athens club of the same name. This is where you come for a snack or a semi quiet drink before, after, or between dance clubs. They also have coffee, sweets, snacks and other things to energize you and help you last the night if you are not used to the level of partying found in the Greek Islands. The Envy Club plays mainstream and Greek dance music and is the kind of place I would love if it didn't make me feel so old and they played music I liked. But chances are that if you are my age you will be fast asleep by the time Envy and most of these places get going. Down Under as you might have guessed, is the bar for Australians and New Zealanders to feel at home in, which means anyone who likes to drink is welcome as long as you behave like Australians and New Zealanders. (Just act like you come from Texas but speak with your best Mel Gibson accent and you should be ok).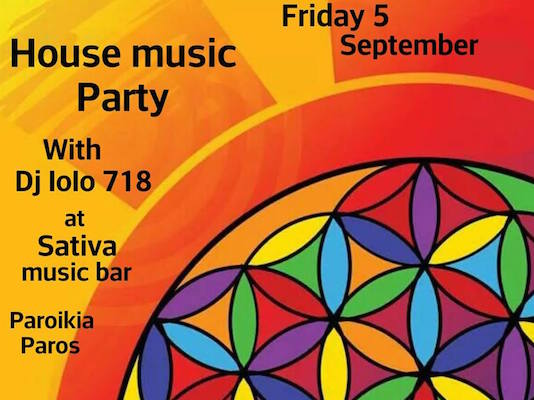 Sativa is located on the Market Street in Parikia and is known for its large cocktails and DJs who play lounge, rock, house, funk, techno, dub, reggae and more. They even have live music on occasion and they serve food during the day. Look for posters advertising themed parties. It is open year round too. Nearby, the legendary Pirate Bar is known for its delicious drinks and the Jazz, swing, soul and atmosphere in a beautiful Greek island setting. Salsa is the South and Central American bar where you dance to Latin rhythms, drink tequila and Sol, and fall in love with beautiful girls from Costa Rica and Queens. No, I don't mean it's a gay bar. I mean the place in New York. But since I mentioned it there is no exclusively gay bar in Paros, though there are plenty of gay men and women who live here and visit regularly and every bar is gay friendly inasmuch as they are not gay unfriendly. If you are looking for a bar where the chances of meeting another gay person is increased there are two, Fotis, a small bar/art cafe and Tonic. Both are quiet low key bars in Naoussa where you can actually have a conversation if you want to.
Insomnia is a popular dance club in Naoussa with a second story dance floor with a view of the sea and the fishing port. It is open late in the summer, thus the name, which could equally apply to anyone staying in a hotel within earshot. Fouska is a popular bar with a beautiful outdoor are and a cozy indoor, serving interesting cocktails and playing "excellent" music according to its patrons. Though one person's excellent maybe your definition of hellish in this case it has also been described as tasteful. Anyway you are on your own. I have never been here but it was the highest rated bar in Naoussa by Tripadvisor so I thought I would mention it.
As for bars and clubs in other parts of Paros, actually if you are staying anywhere near them you will hear them and in some cases they may be the only show in town as they say. If you are staying in Parikia or Naoussa then you may as well enjoy the bars and clubs I have written about, and if there is somewhere out of town that is worth going to, someone will tell you about it.
The George Papadakis Interview
George Papadakis has been coming to Naoussa for a month every summer for the last decade. A successful entrepreneur and expert on the Greek stock exchange, George is also well known in the clubs. Recently I sat down with George and he gave me the inside story on the nightlife and some of the day life in the quaint fishing village of Naoussa, Paros.

| | | |
| --- | --- | --- |
| "For early evening go for coffee or ouzo at the small port of Naoussa in restaurants and Ouzeries like Barbarossa, Tsahpinis, and Papadakis." | "For dinner go to Minsa, or Christos" | "Bars to drink at with good music Sofrano(60's-80's), Cafe del Mar(house), and the Agosta Bar(90's)" |
| "After 4am the places to be is Linardo Night club with progressive house music. But for Greek music lovers Nostos-Club or Vareladiko is another option" | "For Breakfast go to the Cafe Sante. It has delicious omelets and all kinds of coffees." | "For swimming opposite Naoussa City are the marvelous beaches of Kolimbithra and Monastiri. Also a short distance from Naoussa is Lageri and Santa Maria with lots of sea-sport facilities and bars with nice music." |