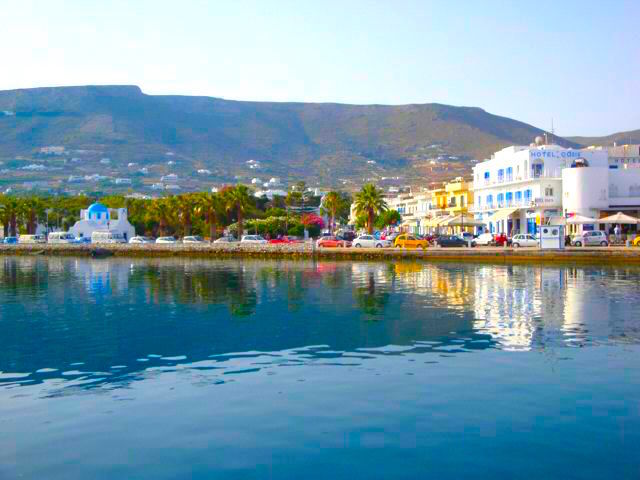 The main port of Parikia is for many, the first and only place they see in Paros. That is because for most people it is the first stop on the way to Santorini from Pireaus. For those who are actually going to Paros, their first impression of Parikia might be one of chaos as their boat empties and converges with the crowd waiting in the port. But if you wait for the crowds to clear, you find that Parikia is not a bad place to base yourself. First of all it is the capital of the island which means it has all the important shops, some of the best restaurants and cafes, and much of the nightlife, and with a year round population to support them many of these businesses are open even in the winter. It is also within easy walking distance of a number of nice beaches and it is relatively flat so anywhere to far to walk you can reach by bicycle which are available to rent, and even provided for free at some hotels.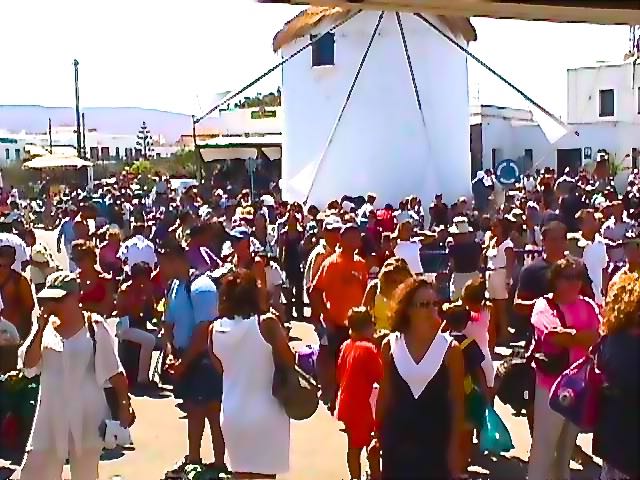 The center of town is the windmill which used to serve as the tourist information center, but now serves only as a windmill in the scenic sense. What the windmill does exactly, I am not sure, but I am fairly certain it is not milling anything or providing electricity. If you want information on ferry boats there are at least half a dozen ticket agencies within fifty meters. Each agency posts the weekly schedules on boards in front. Don't book your ferry until you have gone by all the agencies and seen what is available in case some agents are just representing a particular ferry company and does not list the other boats. If you have booked with a Greek Travel Agency or are staying in another part of Paros and the hotel has provided transportation,(ask if you haven't already), then probably the only time you will see Parikia is coming or going, unless someone has recommended a restaurant here or you are coming to see the sites, which are basically the 4th Century Byzantine complex Panagia Ekatontapyliani or the Church of 100 Doors, one of the most impressive Byzantine churches in the islands and I am guessing one of the oldest in Greece. Near it is the Paros Archaeological Museum, which displays any of the ancient finds that were not carted off to Athens. On the highest point of Parikia is the remains of the Venetian Kastro or fortress and on the waterfront is the Ancient Cemetery from the 8th Century BC.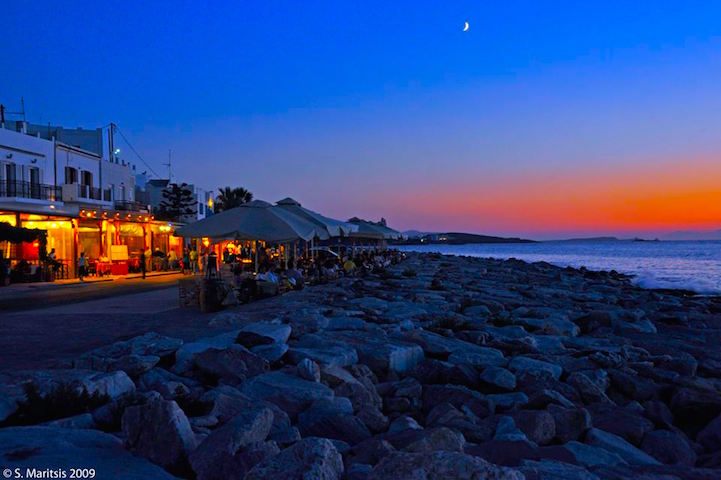 There are many cafes along the coast and up the main street that leads out of town where you can get frappes and espressos and a variety of fast food. If you are waiting for a ferry, the best cafes to sit at are southwest of the ferry dock because of their view of the entire bay. If you are leaving you have about 10 minutes to get to the dock once you sight your boat, unless it is a high speed which get in and out of the harbor a little faster. The Windmill cafe owned by a guy named Jimmy, not only serves really good espresso, but it is close enough to the dock so you don't have to panic if your ferry should happen to pull into the harbor unnoticed by you. With a good run you can still make it. If not, there will probably be another soon enough. The rocks along the coast are also a good spot, especially with a bottle of retsina, some cheese and a loaf of bread. These cafes along the coast are also the best spots to watch the sunset, particularly the Glass Cafe which still resembles an old style cafeneon. There are also a number of fish tavernas, psistarias (grilled meat restaurants) and cafes.
Try To Spitiko which serves homemade dishes made with local products, lots of interesting mezedes (appetisers) and creative main dishes. (Thank you to Socrates Maritsis for the above photo)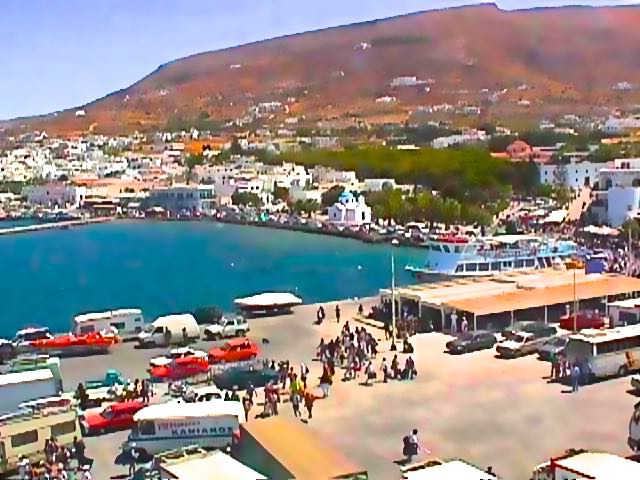 The whole waterfront of Parikia is a promenade of people in the summer evenings, past all the tavernas, cafes and bars. On the eastern side of the dock is where much of the nightlife is. This is also where you can catch the buses to the other parts of the island too. Further on is the town beach, called Livadia. Aroma Traditional Taverna on the waterfront by the fishing boats serves a large variety of interesting Greek dishes and on weekends they feature international dishes. The restaurant is popular with locals and with travelers who come to Paros every year. Best of all they have live Rembetika music on special nights. If you manage to walk as far as Livadia Beach, on the edge of town, Cactus Restaurant is not only the best Mexican restaurant on Paros, it is the only Mexican restaurant on Paros. But it is more than that because it also serves Thai, Greek and what you might call contemporary bistro food. As you might guess they sell a lot of margaritas too. Ephessus Restaurant, is right on the beach at Livadia and serves Anatolian, food from Asia Minor, cooked in a wood oven.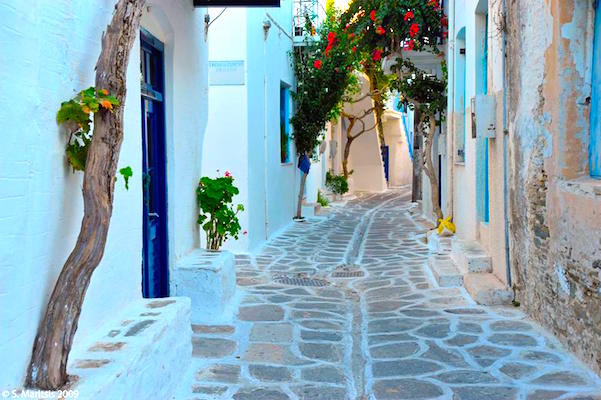 If you get away from the waterfront, the interior of the town of Parikia is a labyrinth of narrow streets and alleys, small hidden churches, whitewashed stone Cycladic houses and neo-classical mansions with small shops, cafes, restaurants and anything that you would find in a capital city on a mid-sized Greek island including a supermarket, not a small convenience store they call a supermarket, but a real supermarket as most of us define the word. (I love exploring Greek supermarkets). One of the most popular back street spots is the Sativa Cafe-Bar which has a beautiful courtyard and serves breakfast and interesting Greek and international food all day and becomes a bar with DJs and live music at night. The Wired Cafe is one of several internet-cafes in Parakia, but acknowledged by most people as the best and one of the first internet cafes in Greece. There are numerous clubs in Parikia, from jazz bars to rock, disco, and Greek music, many of them doubling as snack bars in the daytime. For those who crave Italian food Cuore Rosso serves wood-fired pizzas and Italian pastas, salads and appetisers in a very friendly atmosphere. Below the Kastro at Levantis Restaurant chef Giorgios Mavridis, combines Greek traditional dishes with contemporary Mediterranean in a courtyard garden shaded by a two hundred year old grape vine and has been praised by Fodor, Lonely Planet, Trip Advisor, Condé Nast Traveler & more. (Thank you to Socrates Maritsis for the above photo)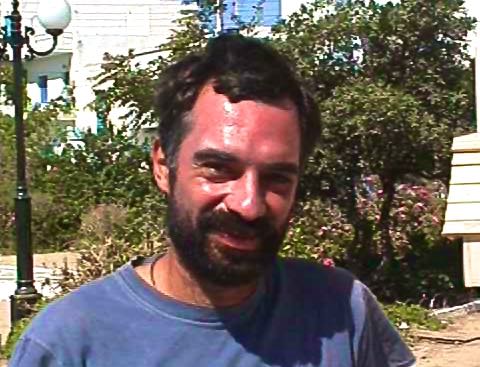 The main square in Parikia is a busy place and if you follow the people through the back streets they will most likely lead you to it. Otherwise it is just behind the coast road west of the dock. It was there we met Marios who runs the Wild Animal Hospital on the island. Staffed by himself and volunteers, the hospital takes in injured birds from all over the island and the rest of Greece as well. Though not as popular with migrating birds as Lesvos, Paros has many wetland areas that are attractive to them as they make their way from Africa to northern Europe. For information on volunteering, contributing or visiting the Wild Animal Hospital click here. Also of interest is the Hellenic International Studies in the Arts which offers accredited University courses, who have their campus, studios and gallery in a large neoclassical mansion in Parikia close to the square. This is not to be confused with the The Aegean Center for the Fine Arts also located in Parikia and offering courses in the arts. If you wander the streets of Parikia you will see signs and ads advertising yoga, Pilates and various spiritual and new age classes, reatreats, workshops and services.
Hotels in Parikia
The Panagia Ekatontapyliani or the Church of 100 Doors is dedicated to the Virgin Mary so every August 15th brings hordes of pilgrims and party-goers to the island to celebrate the name day of the Panagia. What this means is if you are planning on coming to Paros around then, book well in advance because just about every room will be taken. Paros is busy from mid-June until mid-September and if you show up during that time you may have to take whatever you can find in Parikia and if you don't find something at the dock you will probably have to do some walking. Parikia is the most popular town to stay at in Paros and there are plenty of places to stay. If you want to stay right in town the Argonauta Hotel is about the best location you will find and for that reason sells out quickly. That is code for book it now. The traditionally decorated Hotel Dina is also right in the center of town on a quiet street. The Casa Di Roma features tastefully decorated apartments around a lush garden and pool right in town and a short walk to the beach. The Hotel Paros is on the beach of Livadia, close enough to easily walk to the center of Parikia. A few steps further is Alexandra's Apartments and Parian Village, with a swimming pool and a view of Parikia, both of which are popular and sell out quickly. The Paros Bay Hotel is a 20 minute walk to the center of Parikia, has a pool and is a 2 minute walk to the nearest beach. You can find more hotels on Booking.com's Parikia page where you can see guest reviews, photos, and search by price, location and type of hotel. You can also use my Create-an-itinerary form to put together your own plan that includes Paros and other nearby islands.
If you are planning on seeing the entire island by using the buses or the excursion boats, your best bet is to base yourself in Parakia. If you are renting a car then it doesn't matter.