By Stephanie Kordas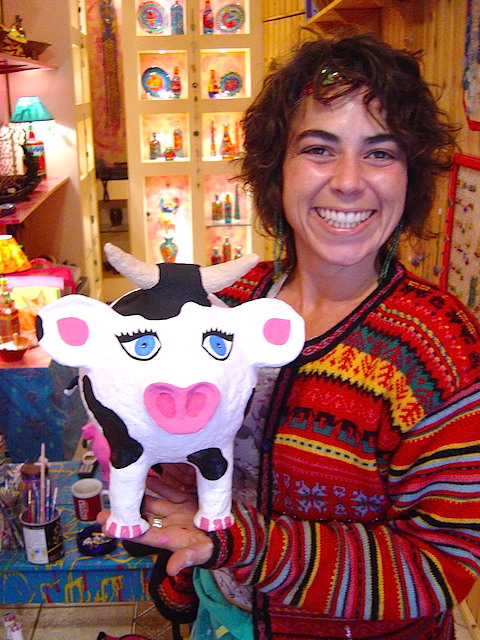 Trying to survive as a crafts-person in Athens is, well, rather difficult. For a country so rich in history and culture, there is surprisingly little appreciation for handcrafted treasures in Greece today. While there are still a few who seek out original objects of art, cheap has become the operative word in this economically struggling country, and the smart ones have learned to take advantage.
Struggling to maintain my optimism in the oppressive heat of Athens where business has been dead for months as we all quietly prepare for the great Olympic event, I decided to take a vacation. Locking up my miniature shop and leaving the dug-up, dusty streets of Athens behind, I boarded the boat with painted rocks, paper mache piggy banks, my dog and my last 60 euros. I was going to go to Paros for a week to swim, get a tan, meet the man of my dreams, and make some money at the bazaar where my friends have a booth. For months that song had been going around in my head, "It's all about money, ain't a damn thing funny…" often followed by the tearful conclusion, "No money, no honey." It was time to remember what Greece is all about: sun, fun, a hot summer romance, and easy money from tourists ready and willing to spend.
The boat docked in Paros at daybreak. I bought cheese pies for my dog and me, sipped a cappuccino (Italian coffee is in style now), and looked around Parikia. A bit touristy for my tastes, Parikia, the capital of Paros, is a pretty little town, a nice place to drink a coffee and do a little shopping by day, or, if you are so inclined, to party at night. As with most Greek tourist towns, it is full of cafes, bars and clubs where you can drink, flirt, and dance away until dawn. But this time I have come to see a different part of Paros…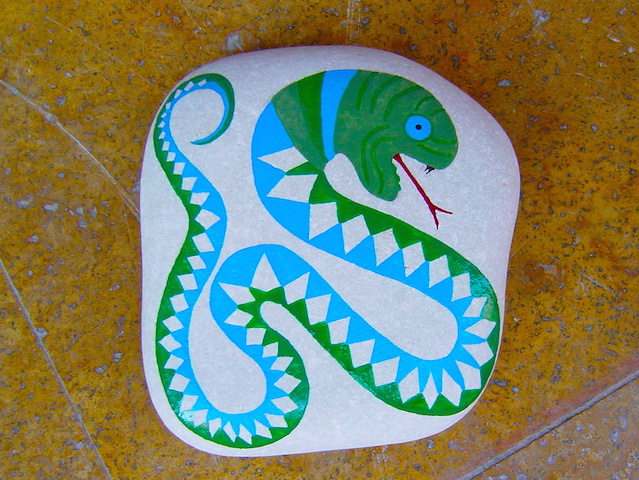 At 7:00 am my ride arrived and we set off for Marpissa, the village where I would be staying with some friends. The half-hour drive to the other side of the island gives a nice introduction to the typical dry Cycladic landscape of small hills and winding roads against a backdrop of the deep blue Aegean. Marpissa stands proudly at the top of a hill from which you can see across the east side of the island all the way to the neighboring island of Naxos. The town's center is a large white church with a tiled dome resting majestically in a quiet square decorated with flower beds and surrounded by the simple white houses for which the Cyclades are famous. Cobblestone streets too small for cars wind through this traditional Greek village, offering a most delightful walk beneath tiny archways veiled in bougainvillea, past blue shutters that look like sleeping eyes on peaceful white faces. It is a quiet town, not only in the morning, but throughout the day and night, because it is one of the few villages left that does not cater to tourists. There are no rooms for rent and only a handful of tavernas and grocery shops to serve the needs of the few locals who continue to live there year-round. Quiet and bright from the summer sun, Marpissa is one of the most charming Greek villages I have ever visited, and it left me with a feeling of utter piece and tranquility never to be found in the jungle of Athens.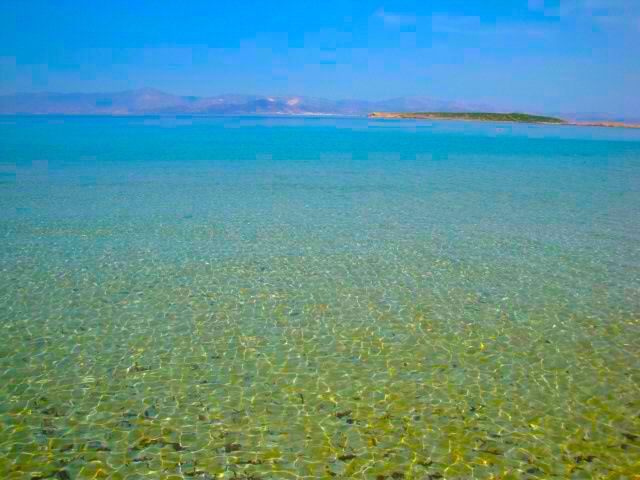 But no matter how lovely the village, the first order of business is to have a dip in that delicious sea and work on that tan! As I'm also going through a mid-life crisis, I decide to take my dog and go the 30 minute walk to Kalogeros, a small beach that is mother to one of the secrets of youth. From a distance you see a beach surrounded by brown and grey cliffs. Upon closer observance, this grey substance looks very much like cement in a chunky powder form, but in fact it is a natural clay called argil (Argilos). After 20 minutes of digging into the mountain side, mixing the argil with water and grinding it on a boulder, I am rewarded with enough of this thick clay mixture to spread over my entire body, even in my hair. (I must say, at this point my dog was frightened stiff! It took a few seconds for her to recognize this grey monster as her owner!) Half an hour later when the clay is dry, I dip into the sea, massage the argil into my skin (it works as a natural body scrub as well), finishing with a swim… and skin as soft as silk! While this year the beach has been defiled with a few sun-beds and umbrellas, it is still relatively unknown, and a treat well worth the labor involved!
In the afternoon, I venture from the house to Punda Beach, another half hour walk but in the opposite direction, and to a completely different kind of place. In contrast to the solitude of Kalogeros Beach, Punda Beach is a well-advertised hang-out complete with swimming pool, loud pop music, various cafes and snack bars, and one of Greece's most successful annual bazaars. (Please note that Punda Beach is not to be confused with another seaside area of Paros called "Punda", which rests on the west side of the island, across from Antiparos.)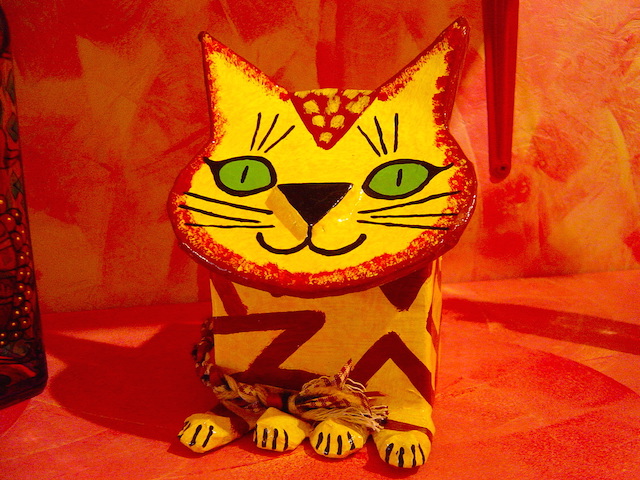 The entrance to Punda Beach is strategically placed. To get to the beach you have to pass through the bazaar. The first set of booths are primarily run by the hippy generation of the 21st century. They play trance music and sell various colorful goods they have themselves imported from India (mostly Goa and the surrounding areas), where they spend each winter. In the same area, there is also a large booth run by a group of young women from Thailand selling simple hand-beaded jewelery along with other items they have imported from their homeland. I wonder how they cope with that music all day?
As you continue on your way towards the beach you are forced to walk through several kiosks selling a variety of clothing and accessories, all inexpensive (few items have price tags of over 20 euros at this bazaar), and almost all imported from Asia where labor is still extremely cheap. In this part of the bazaar the sound of the trance music is overridden by the loud pop music coming from the pool area below. The bazaar curves around into a large corner where you can find a variety of handcrafted and imported items such as silver ethnic jewelery, handbags, and other accessories. This is the area where I plan to show my crafts as well, and I look around to see how much traffic I can expect back here.
To the right are the steps leading down to the pool, cafes, and ultimately the beach, and, to the left, are the stairs going up to the rest of the bazaar. It is also at this point that you see signs for the restrooms. The men's is conveniently placed for easy access, while the women's bathroom is smartly placed to encourage spending. Since women always need to use the restroom, to get there they must go up the stairs, past several more shops selling swimsuits, handbags, hats, and more clothes and accessories from Asia. What woman won't end up buying something after walking past so many bargains?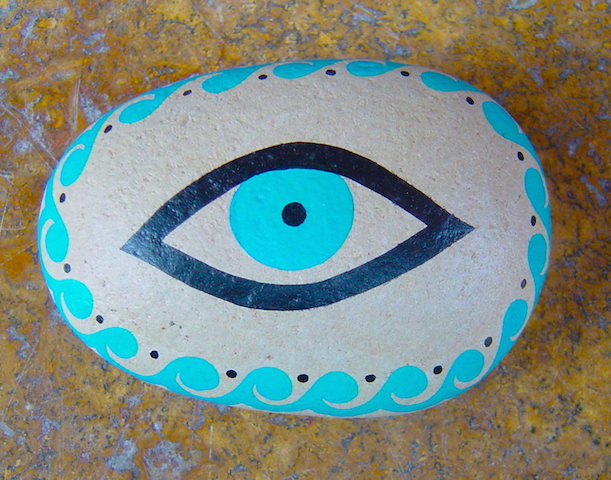 What makes Punda Beach interesting for me is the fact that the complex doesn't depend on tourists at all for its bread and butter. Punda Beach is, and has been since 1987 when it first opened, a hot-spot for Greeks on summer vacation. During the two-month season of July and August, Greeks of all ages traipse through the complex on their way to the pool or the lovely beach below (well, it would be lovely without so many umbrellas and sun-beds!). The day quickly goes by between swims, a drink and snack at the bar, and a little dancing by the pool. As one vendor explained to me, Greeks go to Punda Beach on the short vacation for which they have waited all year, with a certain amount of money to spend, and spend it they will! This is welcome news as I start calculating the possible money to be made here.
My education continued, however, and I learned that while these fun-loving Greeks spend willingly, what they are mostly after is fashion, and what they mostly want is cheap. My mind starts ticking, how many rocks can I paint and how many will I need to sell? Should I paint dolphins and other Greek motifs, or should I try some of the psychedelic phosphorescent frogs I saw painted on the pareos hanging in front? Can I sell the piggy banks any cheaper? What else can I make, and can I make them fast enough for this short, 6-week season that's going to begin in less than 10 days…?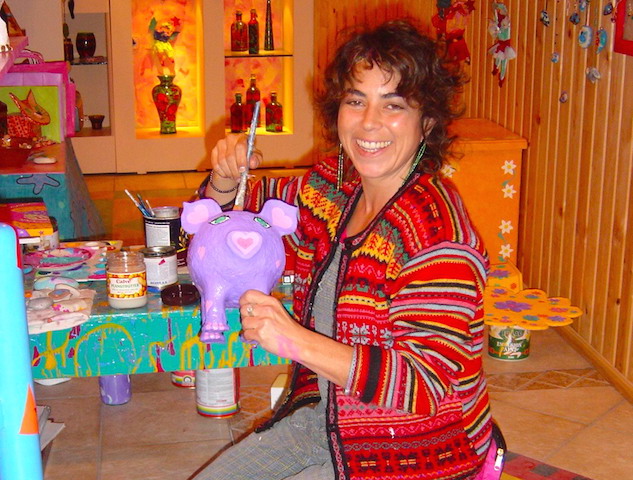 With all this whirling around in my head, I had to get away from the noise and bustle and have a quiet swim. One of the things I have always loved about Greece is that amidst all the commotion of summer vacationers, one can always find a secluded spot for a swim, and Paros is no different. I quickly found my friend and we wandered off over the rocky hillside at the south end of the beach. Just a short distance away lies another beach called Messada, a smaller cove with no umbrellas at all, only a few nudists enjoying their privacy. We found a corner of our own beneath a kind, shady tree and passed the rest of the afternoon quietly until hunger took over.
I would never have known that just 150 yards above the beach, hidden among the olive groves, was a great little restaurant with good home cooking at excellent prices. But my friend knew where to take me. Soon we were seated on a large balcony peeking through the silvery leaves of the olive trees to the impressive mountains of Naxos resting beyond the blue line of the Aegean. The view alone makes this place worth a visit, but the good food and friendly service make it a must. Known to the locals as Miss Despina's place, its proper name is 5 F (the meaning of which I failed to learn on this visit!) and it is located just above Messada Beach (Tel. 22840-41790).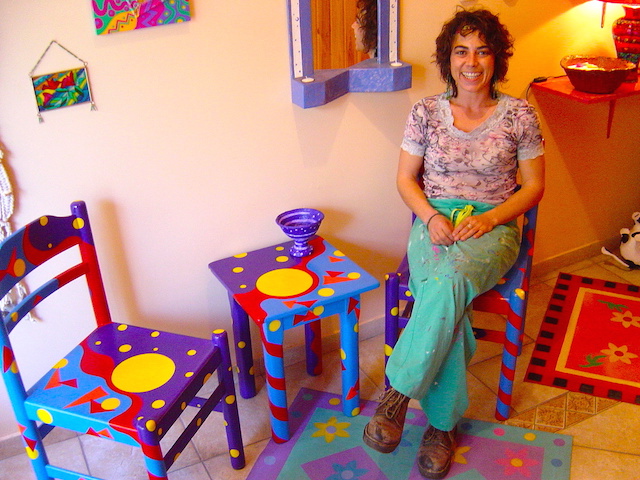 There are also other places to enjoy a relaxing evening in the areas surrounding Marpissa. Just one kilometer away rests the tiny seaside village of Piso Livadi. With its picturesque landscape, what was only a simple fishing village less that 20 years ago is now a popular evening spot. Fortunately, it has been well-preserved and maintains a great deal of charm. The few taverns and bars are tasteful, and the view from all is fantastic. A pleasant place for a drink or a tasty icecream is Captain Yannis, located at the end of the tiny harbour (Tel. 22840-42920). Piso Livadi also offers rooms for rent and is a wonderful choice for a family with small children or a couple in love! (Okay, I'm still hoping…)
Only five kilometers in the opposite direction is another quaint village called Drios. This seaside town runs along a beach lined with Alikes, those special trees of the Cyclades that thrive along salty shores, offering shade and a cool breeze in even the hottest weather. Like Piso Livadi, it is a delightful place to go in the evening.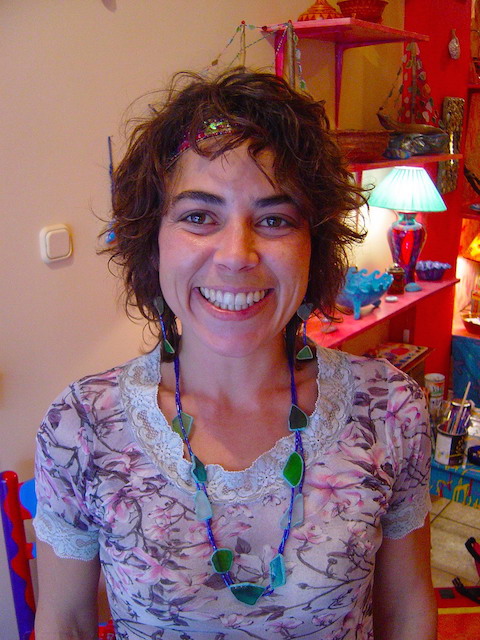 Drios offers a choice of several tavernas. For good fish, try Markakis Restaurant, right there on the waterfront of Drios Beach (Tel. 22840-41913). What can be more relaxing than a delicious seafood dinner with the sound of the waves only a few feet away and the smell of the sea in the air? After dinner, a nice place for a nightcap is Resalto, a pleasant bar at the far end of the waterfront that plays classic rock, jazz, and blues. It, too, has a fantastic view, especially during a full moon!
If you are up for a longer drive, in addition to Parikia, there is also the well-known town of Naoussa on the north end of the island. Naoussa is famous for its charm. Home to the largest fleet of fishing boats in the Cyclades, its small harbor is truly beautiful, especially at sunset. However, Naoussa, like Parikia, has become a busy tourist attraction, and like all similar towns it is full of restaurants, cafes, bars, clubs, tourist shops and street vendors ("…should I try and sell some stones on the streets of Naoussa when I come back?" I wonder as I pass them by on my last night of vacation).
While I must admit that I didn't sell much while on Paros this time, and I sure didn't meet Mister Right (I didn't meet many interesting misters at all, actually), I did discover that Paros is a great place for a summer vacation. It has quiet spots for those moments when you need to get away, and busy places where you can let loose and party when the urge strikes. For those of us who like a little of both, it's the perfect place!
And there's much more to Paros, but there wasn't time to see it all this go-round. There's Kolymbithres, a breathtaking beach, unique for it's large boulders from which swimmers dive. And the islands of Naxos and Antiparos are just a stone's throw away. Just 45 minutes to the east by ferry, Naxos is the largest Cycladic island and home to the temple of Dionysus, the god of wine. Antiparos is a tiny little island just a ten-minute, 60-cent boat ride from Parikia. I'll have to visit next time…
On my way back to the heat and noise of Athens, I reflect upon my trip to Paros. Still no money and no honey, but hey, I got a permanent spot for myself at this summer's bazaar, and the pangs of my mid-life crisis ease a bit as I look at my smooth, newly-tanned skin.

Stephanie Kordas 1967-2005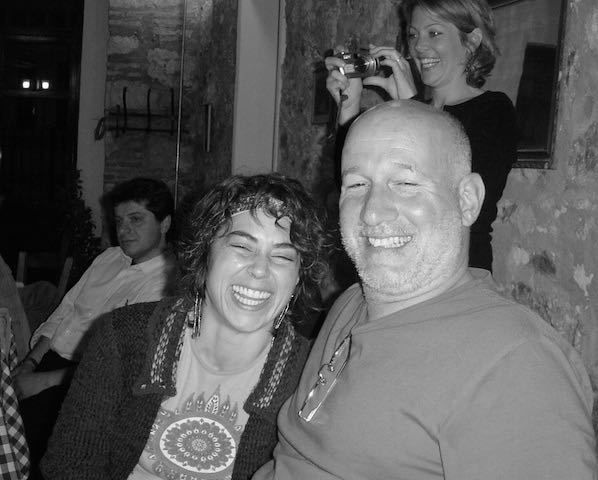 I met Stephanie Kordas in Carrboro, North Carolina in the mid eighties. As two Greek-Americans in a southern town we hit it off and became instant friends. We lost touch with each other until 2003 when she contacted me through a travel agency on my website to tell me that she was living in Greece and had opened a shop in Psiri where she was selling her art. I went to her shop and she gave me a synopsis of her last 10 years in Greece, working for a newspaper, selling painted rocks on the islands and paper-mache animals and colorful painted furniture in Athens, while hanging out with her big German shepherd. In 2004 she realized the life of an artist in Greece is a hopeless one and moved back to the states. She got a real job, met a guy she really liked and was happy. But on May31st Stephanie died in Santa Fe, New Mexico.
I always believed that Stephanie was one of those people I would know for the rest of my life, that she would drift in and out and our talks would pick up wherever we had left them the last time we saw each other. I will miss her. All I have to show for our years of friendship are two terrific articles she wrote for my website and a page I made to advertise her shop in Psiri. (Now I wish I had bought one of her paper-mache cows or pigs which I was worried would not survive the flight. If I had known she would die I would have held it on my lap for 12 hours.) For those of you who knew her, the thought that she is no longer with us is hard to accept because when she was with us she was so alive. For those who did not know her and never got to look at her beautiful face and listen to the animated way she would talk of an experience she had that day or last month or 5 years ago all I can offer you are these photos and the two articles which were to be the first of many but are unfortunately the only ones she got to write for me.
Bye Stephanie
Read Stephanie's Article What Greece is Really Like for Women