Paros has some of the best and most innovative restaurants in the Greek islands and answers the question "who needs ancient ruins and museums when you have nice beaches and great places to eat?"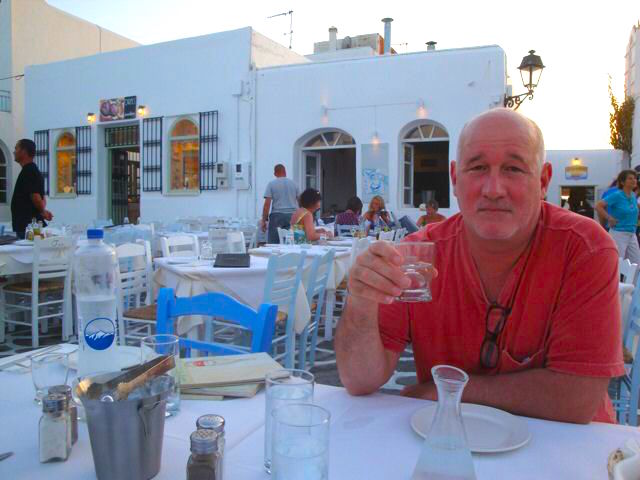 To understand the culinary transformation that has taken over Paros one only has to look at Barbarossa which was just a hole in the wall ouzeri with a dozen or so tables when I visited Paros in 2001. Since then it has become fancier and trendier like something you would find in Mykonos. That is because in 2007, they brought in chef Joseph Sykianakis, who had studied at Culinary Institute of America, and the restaurant was transformed into the kind of upscale Greek taverna that you would find in Manhattan or London, only instead of looking at photos and paintings of Greece you are surrounded by a beautiful harbor, fishing boats and white Cycladic architecture while breathing fresh sea air. With an imaginative menu full of fish appetisers, another menu of shellfish, a sushi menu, and some fresh grilled and oven baked fish, not to mention fresh lobster and even some meat dishes, this place has come a long way from the little place where the fishermen got drunk on ouzo and souma, eating grilled octopus and gouna (sun-dried and grilled mackerel) and you were likely to spend the day buying and being bought carafes of wine, beer or ouzo from the guys at the next table. Yes, it has gone as upscale as a Greek restaurant can go. But that should not stop you from eating here or at least having an ouzo and meze for old times sake. If you don't find a table there is also Ouzeri ton Naftikon which is in the harbor too, if the harbor is where you want to be. And why not? It is a beautiful experience. The type many people come to Greece for.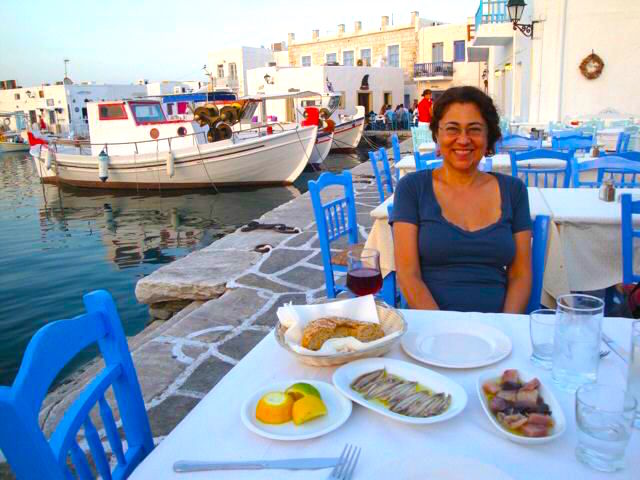 Sigi Ihthios, located on the Naoussa seafront, is another acclaimed seafood restaurant, the best in the port according to some. Like any seafood restaurant it is as expensive or inexpensive as the fish you choose to eat. If you have the money to spare then go for the barbounia, fagri, sargos, jumbo shrimp and lobster. If you want to eat cheaply go for sardines, kolios (mackerel), gavros (fried anchovies) or fried kalamari. This goes for any seafood restaurant in Greece. If they sell it by the kilo it is probably expensive. If they sell by the plate it is probably cheap. And always go inside and see the fish you are ordering and make sure it is fresh. If you don't know what fresh looks like just act like you do because it is unlikely they will show you a fish that is not fresh. (They save those for the people who don't go inside to look at the fish).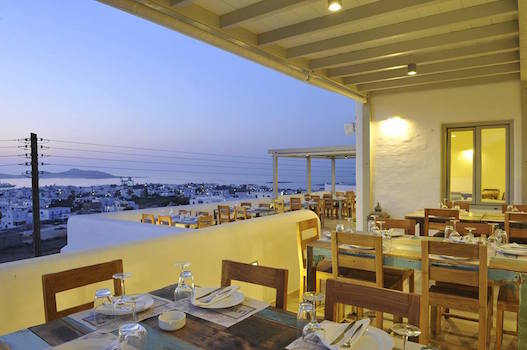 Matzourana features a terrace with a beautiful view of Naousa (photo) as well as nice modern yet traditional Greek food. Yemeni, located in the back streets of Naoussa, despite its name, is not an African restaurant, but a traditional Greek mezedopoulion which serves an amazing number of appetizers (meze) to go with your ouzo, souma, wine, beer or whatever you drink, as well as your favorite Greek dishes and a pasta menu too. They use fruits and vegetables and olive oil grown on their own farm or from local farmers, all free from chemicals. Their bread is made at home in a traditional wood oven.
Karina's All Day Taverna in Naoussa is a very special Greek restaurant owned by a Belgian woman. It has been a favorite of travelers to Paros and the X-pats who live on the island. Karina is a wonderful hostess and the word is to eat here early in your trip because you will probably want to come again. And again. And again. It is outside of the tourist area of Naousa, near Pipiri Beach, so walk in that direction and ask someone. Soso is a small Greek restaurant on a small street in Naousa that is a favorite among travelers and visiting Athenians.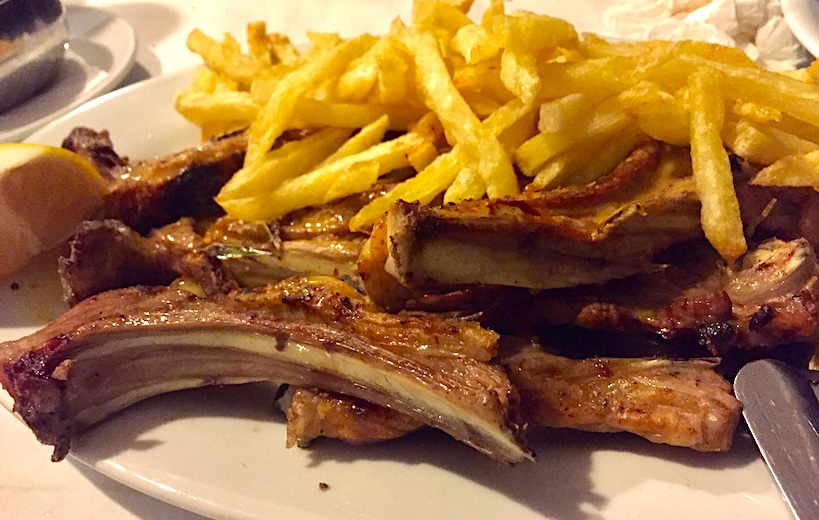 My favorite restaurant in the Naoussa area is actually in Kolymbithra, just above the beach with all the neat rock formations. It is called the Kolymbithra Taverna and despite having the pastas, Roka-Parmesian Salad and grilled plevrotas that every hip new Greek restaurant has to have on the menu, it is at heart a traditional Greek restaurant, a taverna/psistaria. If you are going in a fish direction start with the gounas and get whatever other fish is fresh, either fried or grilled. Sardelles is always a good choice. But for my money this restaurant has some of the best and meatiest paidaikia (grilled lamb chops) you will ever eat, and the lamb is home grown, literally. They have a farm right next to the restaurant. Most people come here in the day so it is usually quiet at night, which is when you should eat tis oras, the food they make right then and there, rather than the stuff in pots and pans that is made in the morning and whatever is not eaten at lunch has had a long day before dinner time. So come at night, order the paidaikia, and get an order of grilled mushrooms and a pasta carbonara and you should be fine. Oh, and get a carafe of the house wine. It is as good as anything you will find in a bottle.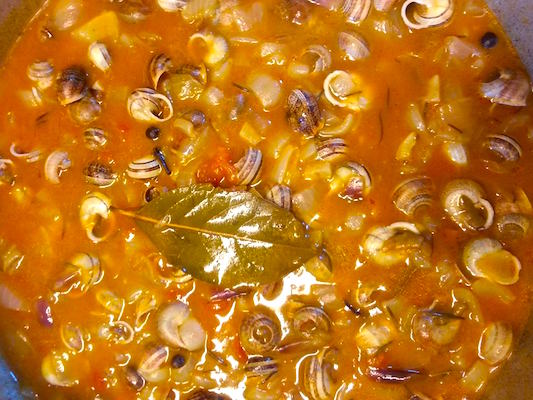 Anna and Giorgos Taverna between Piso Livadi and Marpissa is one of the most popular family run Greek tavernas on the island, serving classic Greek dishes to both tourists and locals. For those who love meat, this is a psistaria, which means a grilled meat restaurant. Come here for paidaikia (lamb-chops), brizoles (steaks), beefteki (like a hamburger but the size of 3 and no bun), loukaniko (sausage), kondosouvli, rotisserie chicken, whole suckling pig, lamb, and you get the idea. They even have kokoretsi every night in the summer! You don't know what kokoretsi is? Go and find out. They also have a large number of oven cooked dishes like roast lamb and potatoes, saligari (snails!), stuffed tomatoes and all the popular dishes as well as some you may not know. They also feature plenty of salads, appetisers and vegetarian dishes all cooked by Anna. If you are looking for a Greek taverna that will remind you of the way Greece used to be come here. People even get up and dance.
Floras Taverna in the beautiful village of Lefkes is a quality Greek taverna with authentic island food made with local ingredients. All dishes are homemade. You may have to wander around until you find it or ask directions but once you do you should be treated well and enjoy a nice view of the village. Ephesus Restaurant in Livadia, Parikia serves traditional Anatolian food, that is the food that the Greek refugees from Asia Minor brought with them when they were expelled from Turkey in 1922. They also serve pizza.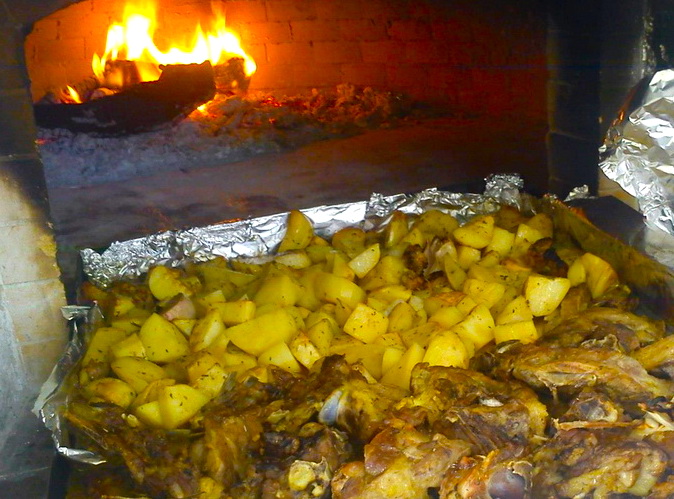 Aroma Taverna, in Parikia right by the fishing boat harbor is a traditional Greek taverna with a wide variety of vegetables, meat and fish dishes and a number of dishes that are more eastern in nature and appearance. Lots of nice salads and appetisers but you will probably look at this photo and put on your bucket list to come here to eat oven roast lamb and potatoes. To Spitiko is a small family run Greek restaurant on the waterfront in Parikia and as the name implies, (spiti means home), serves Greek home-style cooking, like you would get at the home of your friend's Greek yaya (grandmother). Everything, or almost everything, is made with local, or at least Greek products and they serve local wine, ouzo and souma. I was going to mention this before. Souma is the Paros version of raki, tsipuro, tsikoudia or if those words mean nothing to you grappa. Try it.
In the centre of the old Agora of Parikia Town, Daphne's Garden Restaurant is a beautiful restaurant. The chefs have international experience, are often Cordon-Bleu trained, and bring their own special style and expertise to the modern Mediterranean cuisine served at the restaurant.
Margarita's is a traditional Greek restaurant run by mother and daughter and is part of the Margarita Studios in Ambelas. It is an ideal place for families with children because not only do they have really good food but they have pool. They also hold cooking classes, food tours and wine tastings.
Aqua Marine in Aliki is owned by Denis and Patricia, two Belgians, so along with classic Greek dishes, beef braised in beer, and fresh season fish they also have waffles and Belgian pancakes. Ask for the meatballs, a recipe passed down by Denis' mother and praised far and wide.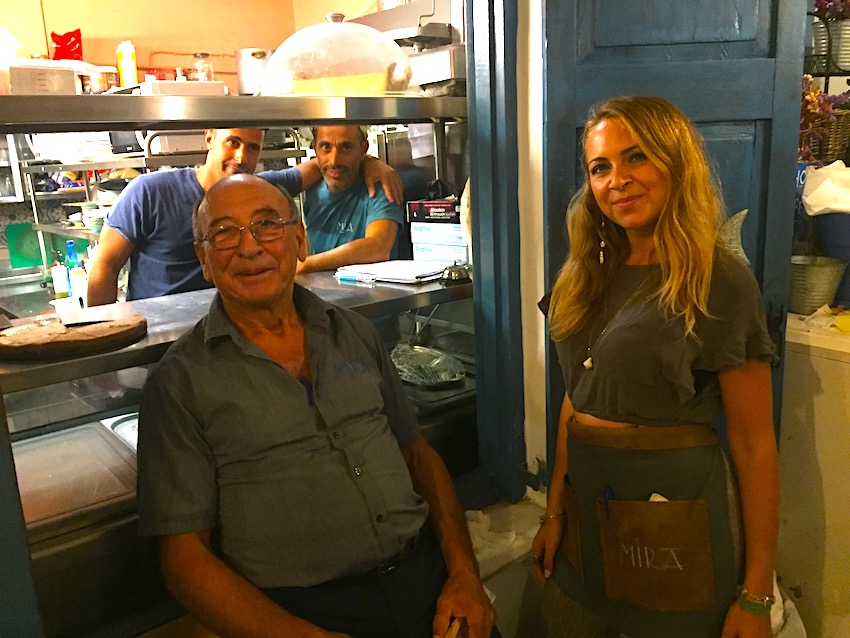 About 10 years ago my wife and I arrived on Paros on a late boat, met our friends Niko and Carolina at the dock, and drove all the way around the town to park on a back street in the rema that channels the winter rains to the sea, to go to a restaurant that was about 2 blocks from where we got off the boat. The restaurant was called Christos Taverna, and we had a great meal there. In the course of the evening we discovered that Christos was from Molai, a town in the Peloponnesos close to my grandmother's village of Kyparissi, and we talked about all the friends we had in common. Unfortunately because of health issues Christos closed the restaurant and now has a business collecting botanicals from the hills of Paros. Fast-forward 10 years and we were looking for somewhere to eat and a restaurant called Mira jumped out at me, mainly because moira means fate. So we arranged to meet some friends and we had to do the same drive through the rema and parked the car to walk to the restaurant which was a couple blocks from the harbor. The food was traditional but modern, not so modern that everything looks weird, in fact it all looked very traditional but the plates and glasses were fancier than your typical taverna. After dinner and some great house wine, which is typical of Paros restaurants from what I could tell, I spoke to the owner who was also from the same area of the Peloponnesos as me and i asked him if he knew Christos. "Know him??!! I came here to Paros with him 50 years ago. We were working in a restaurant in Mykonos and decided to open our own place in Santorini which was cheap at the time. But the deal fell through and we came here instead." So.... order the melitsana salata, the caperisalata, and the lamb kleftiko and if it is night any of the grilled meats, and if it is day the grilled sardines or whatever fish appeals to you. Vegetarians try the grilled haloumi souvlaki. Oh, and the names does not mean fate. The owner's names is Yannis Mires. Anyway it seemed like a much cooler story while it was happening.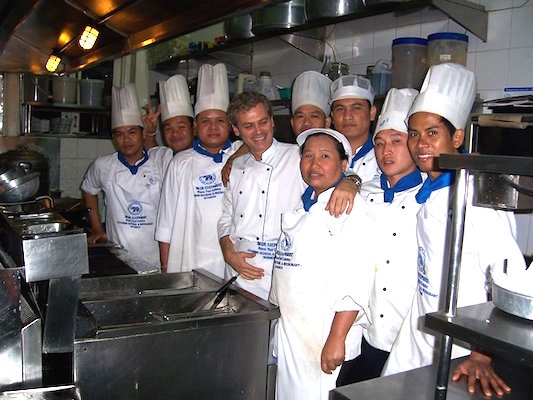 Oximama Paros (formerly Cactus) is owned by Vanessa from Sheffield and Yannis, (in photo without hat), from Paros. It has been open since 1993. Originally they were a Mexican restaurant but they have expanded to Thai and even have some pasta dishes and Greek specialties. Why not? We are in Greece, right? Great place to come to watch the sunset and drink margaritas or sip tequila and eat nachos, guacamole, cerviche, chips and saltsa as well as tsadziki and tarama salata and whatever Asian mezedes they have. If you are like me with an affinity for international dishes this is the place for you. Throw in a Greek beach and this is what people mean when they say they feel like they have died and gone to heaven. Plus they serve breakfast! Where else in Greece can you get juevos rancheros?
Tango Mar at the end of Livadia Beach in Parikia has traditional and original Asian and international dishes and features incredible deserts.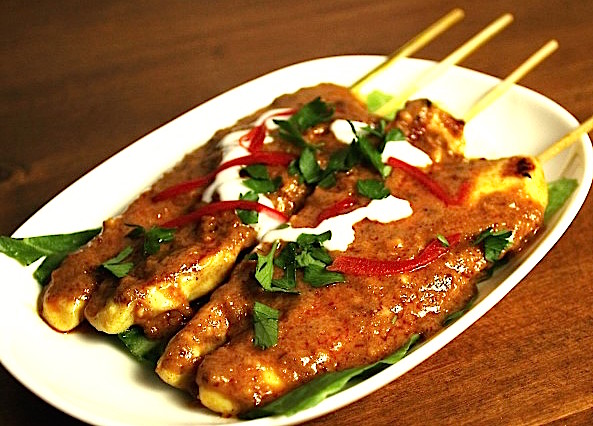 Tao's Bar-Restaurant offers delicious Asian food, and is part of Tao's Center in Ampelas, a multifaceted spiritual center where you can take classes or do workshops in anything from Chi Gung, Yoga, Pilates, Osho-Rashneesh Dance Mediations and even a Course in Miracles. The restaurant Menu offers the very best of Asian Cuisine: Satay Chicken (photo), Salmon Teriaki and Sushi from Japan, Shrimp Szecuan, Chicken Pineapple and Dim-Sum from China, Pad-Thai Noodles, Mango Salad and Curry dishes from Thailand, all made from fresh and local materials.
The Little Green Rocket in Parikia specializes in Asian Street food including sushi but they also have bits and pieces from other cultures including Mexican and pizza.
If I did not mention Magaya Beach Restaurant on Souvlia (or Delfini) beach, south of Parikia, locals who read my site would question my taste in food. The restaurant is one of the most popular beach restaurant-cafes in the Greek islands and has been for years, offering a variety of contemporary Greek and Asian dishes, nice cocktails, friendly service and beautiful sunsets.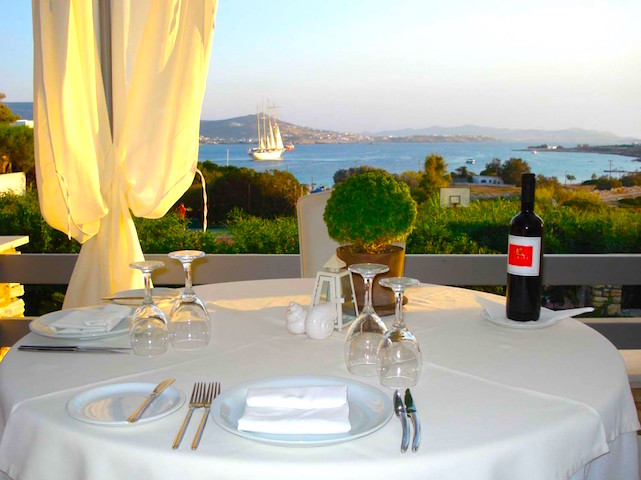 Peri Orexeos restaurant is in Aligaria Square, just behind the port in Paroikia. Owned by George Peikos from Thessaloniki, who runs it with his Bulgarian wife Ivanga, son Ivan and daughter Sophia, his famous for his rotisserie chicken and his patsa and podi, the soups that are the elixer of the working class and able to cure anything from a minor cold to the worst hangover. Patsa is tripe and podi is made from the foot of a cow. But don't let that deter you from trying it. Many people have converted to the religion of patsa and podiafter one spoonful.
On the other side of the food spectrum, located on the hillside above Krios Beach close to Parikia, Agnanti Restaurant,(photo) which is part of the highly acclaimed Agnanti Hotel, boasts spectacular views of the bay of Paroikia and a gourmet restaurant that offers guests and other lovers of fine food a high quality dining experience at affordable prices using organic foods from the hotel's garden and other farms around the island. They have a cellar full of wines from Paros, Greece and other wine producing countries as well, and a staff that is well versed in wine pairing. They are also famous for their breakfasts which includes omelets and other types of eggs and a buffet table of local products.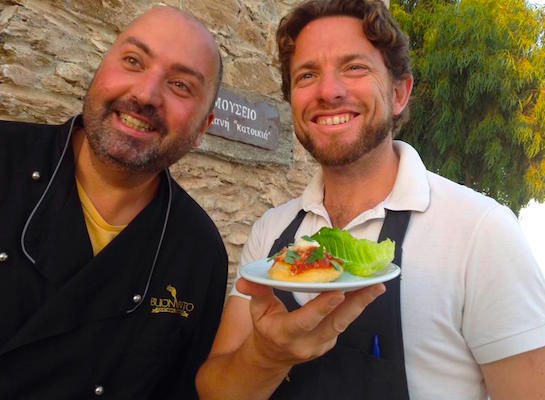 Buonvento is an Italian restaurant owned by two Italian chefs, Massimiliano Ruocco and Gianluca Maggiulli. It is located on a hill overlooking the bay of Mesada near Piso Livadi and Chrisi Akti beach. They serve simple Neapolitan recipes using mainly organic products from Paros and some top quality Italian products. The restaurant has gotten great reviews from the Greek press. It also has a small museum dedicated to the katikies, the small stone farm houses that are all over Paros and the Cyclades. Cuore Rosso is another Italian restaurant located in the old town of Parikia that is known for its wood-oven pizza, generous portions, inexpensive wine and its Italian family atmosphere, being owned by an Italian family. Located in the backstreets of Naoussa, a short distance from the harbor, Le Sud is one of the best French restaurants in the Cyclades Islands and is known for having excellent wines, not only French but Greek as well. The Aegean Deli is a combination Mediterranean-style bistro serving traditional yet modern Greek dishes, and a bakaliko, a food store (like a deli) selling the best local products like honey, capers, olive oil, figs, herbs and spices. Levantis Garden Restaurant is located in the Kastro area of the old town in Parikia. It has been open for over 50 years and serves contemporary Greek cuisine created by chef, Giorgios Mavridis, who combines traditional dishes with modern Mediterranean.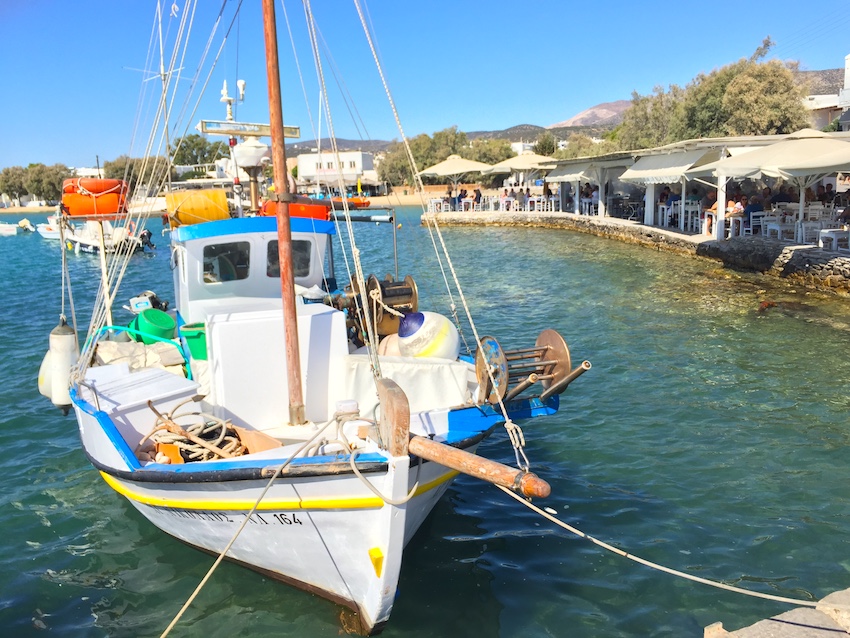 Finally, drive to Aliki and in the harbor there are two excellent fish tavernas on the water, practically in the water, called Mouragio and To Balkoni tou Aki where you will get fresh fish, probably better than anything you will find in Naoussa and Parikia, and less expensive. It is kind of a long drive for a meal at night but there is a very nice beach, a couple actually, within walking distance so you could come here for lunch. Or you could stay in Aliki which is probably a nicer town than you were planning on staying at. Which reminds me of what I was planning to say about where to stay in Paros. Whether you are staying in a nice hotel or a villa or holiday home this is probably the most important thing I can tell you: Don't stay anywhere that does not have at least one good taverna within walking distance. Staying in a villa on a hill overlooking the sea may seem romantic when you are dreaming about your Greek holiday. But it is even more romantic (and sensible) to be able to walk home from your local taverna than to have to get in your car, or motorbike or call a taxi.
Thanks to Vicki Preston, the publisher of Paros Life and Naxos Life magazine who helped me choose some of these restaurants since I have not spent enough time in Paros to eat at all the good places there. For those who have ever thought about living on a Greek Island Paros Life will give you an idea of what it is like for the people who are actually doing it. With restaurant reviews and articles about a number of island topics there is no better way to be introduced to an island community. For information on subscriptions e-mail Vicky at info@paroslife.com
For more on eating in Greece see Matt's Guide to Greek Food. and for those who plan to spend time in Athens be sure to read my Athens Restaurant Guide.