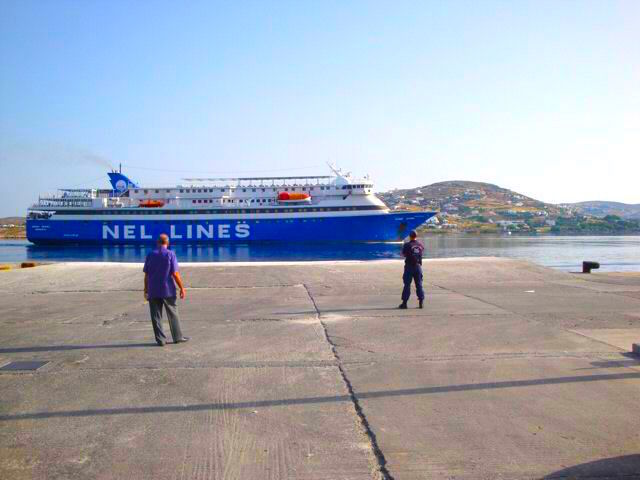 When it is time to depart Paros, once again you will be faced with the chaos of the port, only this time it will be different. The first thing you need to know is to buy your ticket in advance, especially if you are planning on getting a cabin, bringing a car, or taking one of the high speed boats. Even though the ferries are often late get to the port at least an hour before because you never know. The most confusing aspect of leaving is that when three boats come in simultaneously, how can you tell which one is yours? Even I, self proclaimed expert of the Greek ferries, one time got on the wrong boat and instead of going to Ios, found myself in Pireaus at three in the morning with nowhere to go.
When you get to the dock you will see a big cage that looks like something they put cattle in. Each gate has a number and a chalkboard with the name and time of the departing boat written on it. Find your boat and go into the cage. When it is time to go they will open the cage at the other end and all the people will be herded to the correct ferry by the port policemen dressed in white. If you have any questions you can ask them.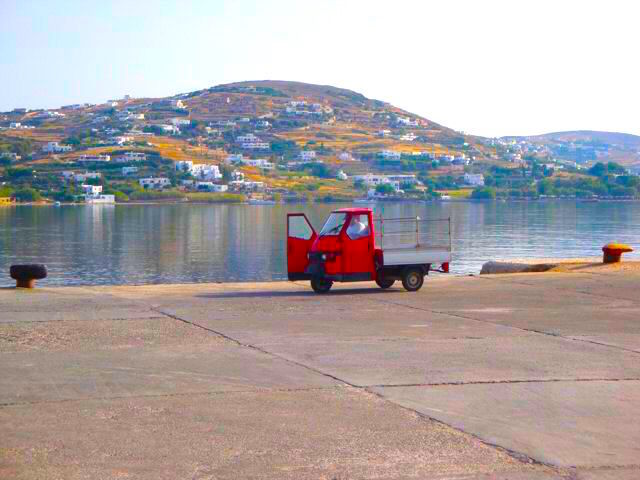 Leaving Paros, like leaving any island you become attached to is sad. You never know when you will return, or if you will have ever return. As the island recedes in the distance you think of the people you have met, the friends with whom you will hopefully remain in contact for the years to come. You think about the wild nights in the clubs, the wonderful meals, and maybe the romance that has made an unexpected return to your life.
Unfortunately I was not in Paros long enough to develop any of these feelings. It was a jam-packed 36 hour crash course on an island that it would take a month on to make a really good website. I mean I learned a lot about the island and had some great fun with my friends, and it was certainly a place I will return to for a longer period of time, but my final thoughts upon leaving Paros had to do mostly with the fact that I had run out of film just as the ferry was leaving the harbor and there would be no dramatic farewell picture to close this website.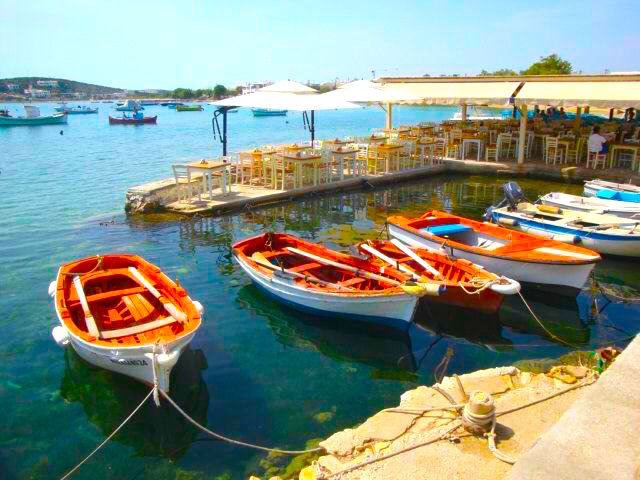 My final thoughts on Paros? If I was going to live on a Greek Island this would be near the top of my list. There are enough interesting people living here year-round, artists, writers, Greeks and foreign, to keep from slipping into the Greek Island winter melancholy that many people experience and fear. There are great restaurants, bars and cafes, and of course the Wired Cafe and Parosweb make doing business here easy. If I was an artist there is plenty to paint and in the spring, the wildflowers and birds must be simply amazing. For a tourist Paros offers a lot of options. Obviously with more connection to the islands then any port other then Pireaus, its a great place to base yourself if you are coming to Greece for a holiday that lasts more than a week. If you want to make Paros, your island for the whole holiday then I would miss it in August and let the Athenians and the package tourists have it. If you are an intelligent, sensitive, culture seeking individual looking for the 'real Greece' but want to temper it with modern conveniences like clean hotel rooms, frequent ferry connections and a daily espresso or two, then Paros in the off-season could be what you are looking for. If you are the type of person who likes to party all night, sweat out your hangover on a beach filled with other people doing the same and a nearby bar for emergency treatment, and 'crowd' is another word for 'more options', then Paros Rocks, especially in August. If you like windsurfing and diving and see a beach as an adventure then Paros won't let you down. I guess you could say that Paros is for everyone and in case you think my pages tell anything but a fraction of the complete story keep in mind that I essentially visited two places; Parakia and Naoussa, leaving 90% of the island for you to explore. There are remote beaches, mountain villages and more old monasteries and churches then you can see in one visit or even in a year.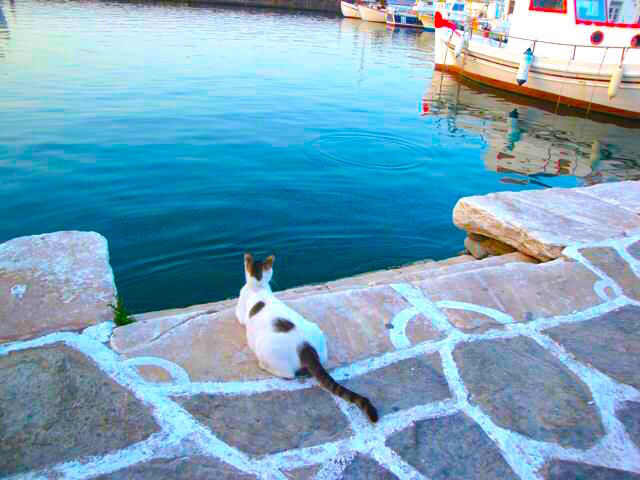 I have to be honest here and tell you that I am not one of those people who mourns the passing of the 'old Greece'. I don't spend my holidays seeking out pockets of this lost civilization that existed before the influx of mass tourism. I mean when I come across it, in a remote village in Lesvos or even a back street in Pireaus then I am very happy to be able to experience it. But I like the mixing of cultures. I like sitting at a dinner table with a group that includes Greeks and foreigners and I love when someone visiting Greece, to whom everything is brand new, points out something to me that they find amazing and that I have taken for granted. I like seeing the old with new eyes which is what happens when someone experiencing Greece for the first time, describes their impressions, with excitement.
I have heard the complaints that tourism has destroyed Greece, at least what we who have lived here used to know as the real Greece. Its not that simple. Certain types of tourism and tourists do harm to Greece, that is for sure. People who don't give a crap for culture, beauty, tradition or even that they are in another country are in Greece because it is sunny, has nude beaches and the booze and sex flow freely. The only thing you can do about these people is contain them and control the damage. But many people come to Greece because they have a passion. They are drawn here. "I have always wanted to come to Greece" is perhaps the most common expression from those who visit Greece or hope to. These people do no harm to Greece and what they take home from Greece benefits themselves and the culture they return to.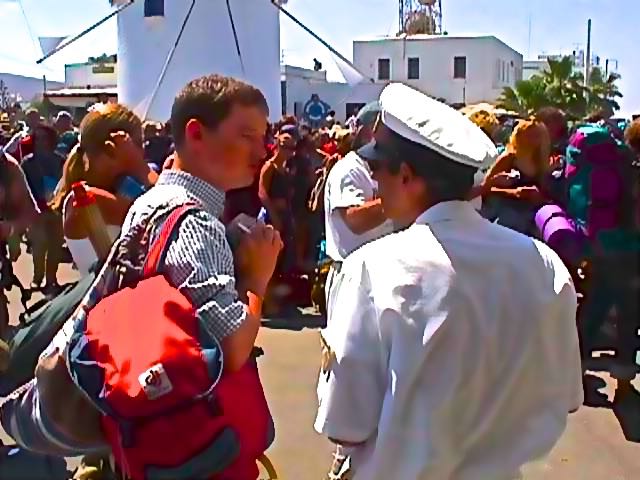 They say that Greece gave the world Democracy. They say Greece gave us western civilization. The fact is that Greece is still giving. Greece is giving life. A two week holiday in Greece has the potential to awaken someone whose existence has grown stale from the mediocrity of their jobs and the lack of romance in their lives. What does Greece receive in return? Well obviously money and all the good and bad that comes with it. But places like Paros which labored as an agricultural society that could no longer support its inhabitants are experiencing a level of culture and prosperity that they could not have dreamed of fifty years ago. Is it good or bad? It's both or neither. It's the present Greek Island reality. Maybe if and when the bubble bursts, the people who stuck to farming and refused to destroy their fields to build rental rooms will have the final laugh. But for the present and foreseeable future what islands like Paros have to offer are beautiful beaches, sunshine, Greek hospitality, excellent food and nightlife. Paros offers to travelers a window of opportunity to live life to the fullest. Hopefully they can take a little of this back home and make it last. What is Paros getting in return? A free ride to the 21st century for whatever its worth. Good or bad this remains to be seen. But its the Greek Island reality.
Final Helpful Paros Information

See Hotels for booking your holiday in Paros. For more Hotels in Paros see Matt's Booking.com Paros Hotel Search where you can search hotels by location, price, and see photos and reviews and in many cases book and then cancel with no cancellation charge. Also see Matt's Hotels of Greece Paros Page and Matt's Villas of Greece Paros Page
Fantasy Travel has a number of Greek Island-hopping programs that include Paros on their Greek Island-hopping page. You should take a look at those because they make booking your trip a whole lot easier. You can also use my Create-an-itinerary form and click on the islands you want to visit, tours, mode of transportation and budget, and in 24 hours get a price for your itinerary with no obligation to book.
Paros has a monthly English-language magazine called Paros Life, available on the street and on the web. For more information you can e-mail Vicki Preston at info@paroslife.com
If you arrive from abroad and you need to get to Pireaus to catch the ferry to Paros I recommend George the Famous Taxi Driver. Plus if you have some time to spare, as some of you will, you can do a little tour of the city. For your return to Athens from Paros I also recommend using him to get to your hotel or the airport.
Once the ferry schedules are up you can find them and book your tickets at Ferryhopper.com and pick up your tickets in the port at one of the ticket booths right by where the boat leaves from.