This page is a general overview of a few of the Greek Islands, how to get there and how to book hotels and transportation. For more information on all the islands see my Greek Island Guide which gives a short description of each island and has links to more detailed information, plus hotels, travel agencies, stories and lots of photos. It also tells you which islands have daily connections from Pireaus and to each other. You can read hotel reviews at Hotels of Greece

Islands

DONATIONS: If you enjoy my website and wish there was some way you could show your appreciation and at the same time help Greece: Click Here
Part 1. Introduction to the Greek Islands
Booking Hotels on the Islands
I strongly suggest using the Greek travel agencies to book hotels particularly when you plan on going to more than one island and will need to make a ferry connection. Many hotels on the internet are offering special rates to book directly with them, but they won't help you with the ferries and if you can't get to the island because there is no ferry you still have to pay for the room. If you book with the agency, getting you to the island becomes their responsibility. It makes traveling a whole lot easier and a lot less stressful when you don't have to spend hours searching for accurate ferry or flight information (which is nearly impossible to find more than a couple weeks in advance). People who use the automated booking sites often have problems connecting the islands they have booked hotels on to the existing ferries. Work with a knowledgable human at a reliable Greek travel agency and don't be afraid to ask questions. There is no reason you can't stay in a hotel that is perfect for you at a price that is right and there is no reason for you to be standing on a dock waiting for the ferry that never arrives. For those who are just booking a simple itinerary and are on a budget or like to put their itinerary together themselves without the help of an agency there are thousands of hotels and descriptions at www.hotelsofgreece.com and you can also use my hotel search site done in cooperation with booking.com
More questions about Greece? You can e-mail me at matt@greecetravel.com
---
Ferryboats to the Greek Islands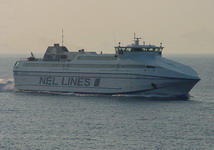 The best way to the Greek islands is by ferry boat.They are cheap and relaxing with restaurants, snack bars and beautiful scenery. The boats to the far Greek islands like Crete, Rhodes, Lesvos & Kos leave in the evening. With a cabin it's like going to sleep in a hotel and waking up in a new place. The new ferries are like airplanes on the sea. You sit in comfortable chairs, they show movies on the TV and there are snackbars with decent food. Frequency of boats vary from island to island. To get to the port of Pireaus from Athens take the metro from the stop closest to you (probably Monastiraki or Omonia) to the last stop: Pireaus. The boats are across the street. There is a map on the dock that tells you where to find the ferries for each island. If you don't have a ticket you can buy them at the boat too though if you want a cabin you should get it in advance. Also if you are traveling to the islands on the days preceding Easter and the 15th of August or any Friday in July and August you should buy your tickets in advance. The same goes with returning after those dates and on Sundays.

There's a shuttle bus in the harbor that can take you to the further boats. Ferry Schedules come out in the Kathemerini insert in the International Herald Tribune every day but infortunately by the time you wake up half of them are gone since the majority leave between 7 and 8am.
Read my primer on "How to go to a Greek Island" which gives step by step instructions.

For more detailed info on the Ferryboats click here
Important: Not every island is easily accessible from another. You must keep in mind when planning your Island itinerary that moving from one island chain to another can be difficult and in many cases you will have to return to Athens to do it. Generally travel within an island chain is easy but there are times when even a connection from Mykonos to Santorini has to be done through a third island.
People have written that they have heard the ferries are unreliable. This is not entirely true. But they can be delayed or cancelled due to mechanical failure and bad weather. For this reason you should save Athens for the end of your trip to give yourself a buffer period so if there are any problems with the ferries at least you won't miss your flight home, though there are worse things than being stuck in Greece for a few extra days. (Unless you have to wait at the airport)
---
Domestic and International Flights

Do you know you can book a flight from your home airport all the way to your Greek island destination, with or without an overnight stay in Athens? Well, not all islands have airports but the main ones do, including Mykonos, Santorini, Naxos, Paros, Crete, Rhodes, Lesvos, Corfu, Skiathos, Chios, Samos, Kos..... and a few more. See www.greeceflights.com and ask David about booking a flight all the way to your island destination. If you are staying that first night in Athens it may be easier to take the ferry from Pireaus the next morning, than to go back to the airport to fly to the island, especially if you are going to Mykonos, Paros or Naxos.
---
Island-Hopping and Combinations
For people traveling to the Cyclades (Mykonos, Santorini, Paros, Naxos) and the more popular islands like Crete and Rhodes, choosing an island package is often the best way to go. On Fantasy Travel's website you can pick your hotels and choose which islands you want to visit. You can go to from one to five islands and they will take care of the details of getting you from one island to the next. These are not tours and you are not with a group. You can also customize your trip to suit your individual needs.

For Island Combinations see Fantasy Travel. They have a section where you choose from a number of islands in two-three-four and five island combiantions. Also be sure to take a look at Dolphin Hellas' Island Hopping Page
Another great idea is the Create Your Own Itinerary page where you click to choose the islands and they number of days you want to spend on each, category of hotels, days in Athens, land tours or whatever and submit it to the travel agency. They come back with a price within 24 hours. Actually not only is this a great idea, it was my idea! See www.greecetravel.com/create-an-itinerary and save it in your favorite places.
I have also put together a page of island combination suggestions at www.greektravel.com/suggestions which will make planning your trip a lot easier.
Far from the Maddening Crowd: In response to the travelers who worry that recent demonstrations in Athens may disturb their sleep pattern, at my request Fantasy Travel has put together a 10-Day Athens-Mykonos-Santorini package which includes a tour of Athens and all transfers and ferry tickets. The package starts at 790 euros per person. What makes it unique is for the Athens part of the trip you will be staying by the beach in Faliron, just 20 minutes from downtown by taxi or 30 minutes by bus or coastal tram. Or you can stay in the leafy suburb of Kifissia or in one of the beautiful resorts on the Athenian Riviera. For more information see www.fantasytravelofgreece.com/farfromcrowds.html
Economical Island Packages
I recommend Fantasy Travel's program The Pursuit of Pleasure which is 12 Days and 11 nights in Athens, Mykonos and Santorini including hotels, ferries, transfers, tours, admission to archaeological sites and breakfast starting at 940 euros per person. These are in good centrally located hotels in Athens and the islands. You can't beat this price for these hotels and this itinerary. Or their 8 day package that includes a 4-day cruise plus Athens-Delphi-Meteora which starts at 595 euros per person. For these and more visit Fantasy Travel's Special Offers Page
---
Sailboats and Yachts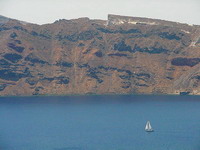 Of course you won't have to worry about the ferry if you have your own boat. As many people will tell you this is the way to go and it is cheaper than you might think.Throw in a Captain and you have your own personal tour-guide and translator. You can get together with a couple friends or family and have your own boat or if you are traveling solo or are a couple you can share with other couples or soloists or even join a flotilla *. Sound like fun? It is! I did it one summer and it was the best part of my holiday. Much better than a cruise or dealing with the Greek ferry schedules because of the freedom it gives you. Plus the boats range from comfortable to luxurious. David Econopouly has a company based in the USA called GM Charters that works with several sailboat companies and individual skipper-owners in Greece to find the customer the best and most suitable boats at the best price. Whether you want to charter a large sailboat with some friends with a skipper or on your own, or join a group of boats called a flotilla, he does the research and gives you the choices. A great service and very helpful whether you know little about sailing or are an experienced skipper bringing a group and looking for the right boat. He also does power yachts and sail cruises. See www.greecetravel.com/sailing/gm-charters
Be sure to read my articles about Sailing in Greece at www.greecetravel.com/sailing
Economical Cruise Packages
Fantasy Travel's Smart 7 cruise allows you to spend 3 nights in Mykonos at the beginning of your cruise and 3 nights in Santorini at the end of your cruise. The cruise is 4 days and includes Kusadasi, Turkey, Patmos, Rhodes and Crete. See http://www.fantasytravelofgreece.com/smart7.html
Check out the Greek Island Cruise video below.
Greek Island Cruise: You can get discounted rates for this cruise by going to the cruise page at www.fantasytravelofgreece.com or if you want an inexpensive package that includes a cruise see their 3 Day Cruise and 4 Day Cruise pages
Part 2: The Greek Islands

This is sort of a short version of my Greek Island Synopsis but on this page I will list my favorite islands first and then move on to the popular islands. There are a lot more islands listed in the Synopsis so after you read this don't forget to go there too.
Island Of Sifnos

This is a nice way to start your trip to Greece. It's a quiet and beautiful island that has retained its Greek character where you can relax and get yourself acclimated to Greek life. You may never want to leave. And with the new High-Speed Cats you can be there in a little more than 2 hours! I have spent at least two weeks here every summer since 1984 and before that my parents used to go here. If you are traveling with children this is my first choice. The beach at Kamares is shallow, with cafes and restaurants right there on the sand. Platiyialos is one of the most beautiful beach towns in Greece. The photo is of the village of Kamares taken from the balcony of the hotel Stavros. See my Sifnos page at www.greektravel.com/sifnos

Aegean Thesaurus Travel Agency


What began as the island's only travel agency has now become one of the most respected and reliable full-service agencies in the Cyclades. Not only can they arrange your trip and accommodations in Sifnos but they can take care of your hotel needs in Athens and on any of the other Cycladic islands. They will have the best prices on hotels for Sifnos. For Info on accomodations, car rentals, transportation, weddings, honeymoons, and more go to their webpage at www.greecetravel.com/aegean
Hotel Stavros and Eleonas Apartments
Hotel Stavros is in the port of Kamares a few steps from the ferry and a long beautiful beach. Stavros and Sarah both speak English (She's British). They also rent cars and can help you make connections and find accommodations on other islands. The Eleonas Apartments are in Apollonia with a fantastic view of Paros and Antiparos and close to the nightlife.
See www.greektravel.com/sifnos/stavros
Elies Resort Hotel
If you are looking for a full-blown resort hotel in a small island setting the Elies Resort Hotel in the village of Vathi is made up of individual Cycladic-style houses so you have plenty of privacy, like you are living in a Greek village. Not only does the Elies compare with the world-renown resorts of Crete and Santorini, the village of Vathi is car-free. Drivers leave their vehicles in a parking lot at the entrance of the village. Great place for families with children, right on the beach and with an Olympic-sized swimming pool right next to a kiddie-pool. Lots of excellent fish-tavernas in the village and bus service to the rest of the island make this in my opinion one of the best resorts in Greece. You can't beat the rates that Aegean Thesaurus Travel has either.
See www.hotelsofgreece.com/cyclades/sifnos/elies
---
LESVOS: More Than Just Another Greek Island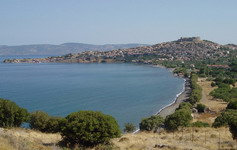 Lesvos is in my opinion, the most interesting and beautiful island in Greece, almost a country in itself. Food and accommodations are less expensive then the more popular Cyclades islands. Lesvos is fertile with pine forests, olive groves and an abundance of fish. It is the third largest of the Greek islands with a variety of landscapes, including some fantastic beaches, mountains, and two large inland seas that are rich in marine and bird life. (It is one of the finest places in Europe for bird watching with an amazing variety of birds and wildflowers.) There are medieval castles, ancient Greek ruins and Mytilini is a very enjoyable city that is alive with cultural events and a city market that is like a Turkish Bazaar.The coast of Turkey is close enough to take day-trips. But the best thing about Lesvos is the people of the towns and villages who have not been impacted by mass-tourism and are courteous, generous and friendly. If you are looking for a truly special holiday in Greece, this is the place to go. Most people who visit Lesvos return. Many make it a yearly trip and with hotels and food half the price of Athens and the Cyclades it is a Greek holiday destination that is affordable. If you only have a couple days in Greece then it's best to go somewhere else but if you have a week to ten days to explore then Lesvos is the place for you.
Eressos is the birthplace of Sappho and popular with gay women, but it's also a popular family and honeymoon destination. Beautiful sandy beach and village, a wonderful place, perhaps the best kept secret in Greece. Hotels and apartments available as well as island tours to Mytilini, Molyvos (photo above), thermal springs and spas, monasteries, traditional villages, donkey treks and day trips to Turkey. Excellent and inexpensive restaurants on the beach where you can watch the best sunsets in Greece (after Santorini). For a true off-the-beaten-path destination check out the village of Sigri where there are half a dozen great beaches, several excellent tavernas and they say it never gets so hot that you need the air-conditioning. Try the spanking new Sigrion Villas, owned by a Greek-American family from Mississippi. If you have high-school aged kids and want to give them a cultural/education experience this summer send them to Hyphenology: an English language, academic/cultural program on Lesvos for teens. If you are traveling with children Sigri has the safest most child-friendly beach on the island and you may also find that when the rest of the island is full there will still be rooms in Sigri.
The Hotel Aphrodite Beach is run by a Canadian family and is right on the beach at Vatera which has to be one of the longest and most beautiful beaches in Greece. See www.lesvos.com/vatera.html and visit the website of the hotel at www.lesvos.com/aphrodite . Great family hotel because there are lots of children around (English speaking too!) They also have an excellent taverna with live Greek music on weekends. They have their own travel agency and car rental agency and give discount rates to their hotel clients. They also have a special Easter in Lesvos program in which they invite you to celebrate Greek Easter with their family.
Travel Agencies
To make travel arrangements for Lesvos visit www.lesvos.com/travelagents.html or you can work with Fantasy Travel in Athens.
Visit my website:
Lesvos: More then Just Another Greek Island at www.Lesvos.com

Combine Sifnos with Lesvos? Yes is can be done though it takes a little research and a few phone calls from a travel agent! See www.greecetravel.com/tours
---
Santorini: # 1 Destination in Greece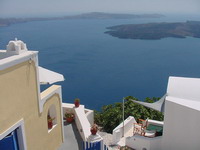 They say it's the one essential Greek island and Santorini should not be missed. Take the ferry and sail into a giant volcanic caldera that is as dramatic, or more so, then the Grand Canyon. Most people stay in or near Thira where the nightlife is or Oia where it is a little quieter, and go to the beaches by bus, car or bike in the day. Others stay on the beach and go to Thira at night or to watch the sunset. The sunsets in Santorini are like nothing you have ever seen before and for that reason many honeymooners want to stay in a hotel overlooking the volcano in Thira or Oia. A car is useful but not essential because there are buses and taxis. Watch out for motorbikes.
See my Guide to Santorini at www.greektravel.com/greekislands/santorini
Fantasy Travel specializes in Santorini and the Cyclades with discounted rates on hotels and island-hopping packages so see their offerings at www.fantasytravelofgreece.com They also specialize in weddings and honeymoons.

See the amazing Hotel Volcano View Villas on the Cliffs of Santorini, with 3 swimming pools and a view so spectacular you may never leave the premises or see the individual Volcano View VIP Villas. You can see videos of both hotels at www.greecetravel.com/videos
The Ether Traditional Houses are in the beautiful village of Oia is inexpensive with Caldera View rooms for 115 euro and sometimes cheaper when there is a special. If you are on a budget but still want a room with a view this hotel is for you.
I recommend Fantasy Travel's program The Pursuit of Pleasure which is 12 Days and 11 nights in Athens, Mykonos and Santorini including hotels, ferries, transfers, tours, admission to archaeological sites and breakfast starting at 940 euros per person
For Houses and Villas on Santorini see www.greecetravel.com/villas
For other travel agencies dealing with accommodations, transportation and other services contact Kiki and Aliki at Dolphin Hellas Travel or visit Giorgios and Apostolis at Aegean Thesaurus Travel
For a listing of Hotels on Santorini with photos, descriptions and where to get the best rates see www.hotelsofgreece.com/cyclades or search Booking.com
Captain Ted Stathis offers day and night sailing trips and overnight cruises in his catamaran. Its a great way to explore the caldera and his trips feature a gourmet lunch or dinner in some beautiful setting. He and his wife are gourmet chefs. See www.greektravel.com/greekislands/santorini/sailing/
For backpackers and budget travelers there are plenty of cheap hotels and rooms at www.hotelsofgreece.com/cyclades if you look at the two-star hotels and the section below on rooms, apartments etc.
New Last Minute Deal:4 nights in Santorini in the 5 star Petit Palace Luxury Boutique Hotel at super low prices starting at 400 € per person. The package includes Maison Suite with private pool and caldera view, and also includes ferry tickets and transfers in Santorini and Athens. Click For more information
---
Ios: Where Spring Break lasts all Summer

I know there are some of you of college age who are going to Greece to get a little culture, but mostly to meet similar young culturally minded students, exchange ideas and then party wildly every night in the bars and discos. If that is your intention then Ios will not disappoint you. Great beaches, great nightlife and nary a human over 25 years old. If you thought you had fun this past spring break get ready for it to be eclipsed. It's the international Mecca for youth. If you are traveling to Ios and are on a budget or want to save your money for some of the other things this island has to offer take a look at the Markos Holiday Club in Ios Town, close to the nightlife and still easy walking distance from the beach (and it has a pool). Visit the site of an old pro at www.greektravel.com/greekislands/ios
For backpackers and budget travelers there are plenty of cheap hotels and rooms at www.hotelsofgreece.com/cyclades if you look at the two-star hotels and the section below on rooms, apartments etc.
---
Mykonos is the Most Elegant and Exciting Island in Greece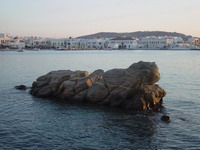 Mykonos has been visited by just about every famous person on the planet. White cube houses and amazing beaches including the famous Paradise beach where clothes are optional and a beautiful body if not essential is certainly to be desired. The best nightlife in Greece and some of the best restaurants too. In the summer this island never sleeps and in the off-season life can actually be quite sane. If you have dismissed Mykonos as just a party-island forget it. The 20 minute boat trip to Delos will give you more history than you will find on all the other Cyclades combined (with the exception of Santorini)
For my Guide to Mykonos with lots of cool photos see www.greektravel.com/greekislands/mykonos
Fantasy Travel has some great itinerary choices to Mykonos in combination with other islands and cruises so visit www.fantasytravelofgreece.com
See the very lovely Princess of Mykonos Hotel which has low rates forJ une and maybe July and August too!) For those who want to stay in town I recommend the Hotel Adonis and ask about their special rates through Fantasy Travel. Great hotel with guests who return year after year just a 5 minute walk to all the restaurants, shops and nightlife of Mykonos town. You can see HD videos of hotels in Mykonos at www.greecetravel.com/videos
I recommend Fantasy Travel's program The Pursuit of Pleasure which is 12 Days and 11 nights in Athens, Mykonos and Santorini including hotels, ferries, transfers, tours, admission to archaeological sites and breakfast starting at 940 euros per person
For Budget travelers, backpackers and students you can still go to Mykonos without spending an arm and a leg. Check out the C-catagory hotels and below at www.hotelsofgreece.com/cyclades or search Booking.com
---
Rhodes: Where Summer lasts all Year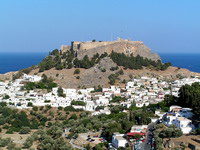 Great beaches packed with beautiful Scandinavian women and nightlife not to mention some of the most beautiful scenery in Greece. Amazing history too. The old city is a walled fortress and contains the famous castle of the Knights of Saint John. The time to visit Rhodes is anytime. Even in the winter. Southern Rhodes, where the Aegean and the Mediterranean seas meet is like Mecca for windsurfers. The whole south-western coast is an endless beach with few people on it, while the northern beaches are like Rio. If you are on a cruise and only have a day to see the island NICHOLAS & MICHAEL AXARLIS and their crew of drivers can give you the most bang for your bucks (or euros) See www.greecetravel.com/rhodes/privatetours
For more info visit my extensive Rhodes website at www.greecetravel.com/rhodes

For Budget travelers, backpackers and students you can still go to Rhodes without spending an arm and a leg. Check out the C-catagory hotels and below at www.hotelsofgreece.com/dodekanese or search Booking.com
---
More Greek Islands

Paros
There must be a reason the island of Paros is mentioned in the same breath as Mykonos and Santorini, besides the fact that nearly every ferry stops here. For one thing it is the Windsurfing Capital of the Greek islands and is famous for its watersports. For another reason it is a beautiful island with lots to do and see. For a great island to base yourself from have a look at www.greektravel.com/greekislands/paros
Poros
The island of Poros is only an hour from Athens by highspeed. What that means is that you can make it your base to see the sites of the city and still be home for dinner and a swim. It's also a three minute boat ride from the Peleponessos.
See www.greektravel.com/greekislands/poros (Check out their Easter Celebration at the Saga)

Syros
The capital of the Cyclades, an island that does not miss a beat even in the winter when some hotels are full, and one of my favorites. Cosmopolitan Hermoupolis will keep you occupied for days, shopping, eating, drinking and sitting in cafes as it is the busiest port in the Cyclades and was once the most important port in Greece. Architecture students have to come here to see a 19th century city almost totally intact. Nice beaches and villages too. See www.greektravel.com/greekislands/syros
Aegina
Even closer than Poros, from the beach town of Agia Marina you can see the city of Athens and even a slow ferry gets you to Pireaus in an hour. The highspeeds do it in twenty minutes. Great place for day-trips, overnights or basing yourself for visits to Athens. See www.greektravel.com/greekislands/aegina
The Agistri Club on the small island of Agistri , a few miles from Athens is like a private party that has been going on for 20 years. It seems like everyone who stays there has been there before and keeps on coming back. See www.greektravel.com/greekislands/angistri
Crete
The beautiful island of Crete is the largest of the Greek Islands and almost a country itself. The Porto Elounda Deluxe Resort is considered one of the top resorts in the world. But if you are on a budget there are also smaller and less expensive hotels all over the island. See my review of this island at www.greecetravel.com/crete . My favorite part of the island is Chania so be sure to visit www.greecetravel.com/crete/chania and see all the photos I took during my last visit.
Tinos
The easiest island to get to from Mykonos and as different as two islands can be from each other. Tinos could be called the antidote to Mykonos, with traditional white cycladic villages, beautiful beaches, many of them empty, great food at lower prices and over 1000 churches. A great combination would be the quiet religious island of Tinos combined with the jet-set Mykonos. See www.greektravel.com/greekislands/tinos
Chios
Secluded coves with beautiful sandy beaches, medieval villages, mastika and souma make Chios one of the most fascinating islands in the Eastern Aegean. Close enough for day-trips to Turkey but you may never want to leave Chios. See www.greektravel.com/greekislands/chios
Some of my other island Guides include Samos, Hydra , Spetses, Crete , Skiathos , Kea , Corfu, Kefalonia , Kos, Kythnos, Andros, Folegandros, Zakynthos, Evia, and Naxos with more on the way. You can see them all at www.greektravel.com/greekislands

Remember that if you know which islands you want to visit you can use my Create-an-itinerary form to work out your trip with the help of a reliable travel agency.
For Budget travelers, backpackers and students you can visit these islands without spending an arm and a leg. Check out the C-catagory hotels and below at www.hotelsofgreece.com/
---
Part 3. A few more Greek Island odds and ends
CULINARY TOURS of KEA: Join famous Greek chef Aglaia Kremezi and friends on a culinary experience on the island of Kea . And while you are there you may as well do the Walking Tours of Kea with Kostis Marulis. Kea is one of the best hiking islands in Greece with most of the ancient footpaths still intact. There are also the ruins of 4 ancient cities. See www.greektravel.com/greekislands/kea
Edipsos in Evia: Health Spas and Therapuetic Hot Springs!
Imagine a 3000 year old health spa that combines the most modern hydra-therapy technology with over 75 natural hot springs. Though unknown to many foreigners, Edipsos was frequented by Winston Churchill, Omar Shariff, Grete Garbo, Maria Callas, Aristotle Onassis and the Byzantine Emperors Constantine the Great and Theodosius. Only 90 minutes from Athens many older Greeks go there for rejuvenation. For more info on this amazing place visit www.greecetravel.com/edipsos which includes a section on driving in Greece and how to get lost in Athens while searching for the National road.
Bike Tours
There are bike-tours (as in bicycle-not motorcycle) of the islands through Cycle-Greece.
---
Greek Hotel Directory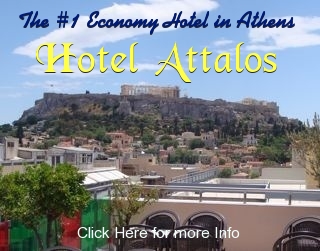 I put this together with the help of the travel agencies on my website and it includes all the islands they recommend, plus those that I have stayed at. It looks something like an automated booking site but when you fill out the form it goes to a human and the human replies and you can ask him/her anything you need to know about the hotel. Let's face it. If you had a hotel and you were making a web-site wouldn't you write everything good about the hotel and leave off some of the bad things? Like if your hotel was on a beautiful golden sand beach with clean azure seas but it was next to a disco that blared music until 5am wouldn't you leave out the disco part? That's why you should use a Greek travel agency. For hotels in Athens and all the islands (well some of them anyway...probably the ones you want to go to) see www.hotelsofgreece.com
I have recently added a lot of hotels which can be booked individually without an agency and these are in all catagories including hotels so inexpensive that the agencies don't book them because it is not worth it. If you go to www.hotelsofgreece.com and find your island chain and the island you are interested many hotels in the C-catagory and below are very affordable if you are on a budget.
Hotel Search: You can also find hotels and search by category, location, amenities, and price by using my Booking.com site which has excellent rates, photos and reviews

You can find over 3000 hotels in Greek Islands by location, price, whether or not it has a swimming pool or is on the beach, and see photos, maps and customer reviews by using this link to booking.com. Excellent prices and many hotels you can book and then cancel with no cancellation fee. For those who want to book without using a travel agency this is the best way to do it.
---
Greek Islands and Turkey
Planning to do the Greek islands and Turkey? You can get daily boats from Rhodes to Marmaris, from Kos to Bodrun, from Samos to Kusadasi and from Chios to Cesme and Lesvos to Avalik.
Hahathakis Tours in Lesvos specialize in the North Aegean Islands like Lemnos, lesvos, Chios, Samos, Ikaria, Thassos and Samothraki combined with Turkey. Their website is at www.greecetravel.com/hahathakis-tours
The easiest way to see the Greek Islands and Turkey is on a cruise. See www.greecetravel.com/cruise and also have a look at this short video: Greek Island Cruise
---
Information Overload Remedy
Too much info here? Can't make a decision? Don't fret. You are not alone. That is why I have created a page for you. See www.greektravel.com/suggestions for what I suggest you do on your trip to Greece. Or see www.greecetravel.com/tours which is a brand new page of itineraries that I have created because I got tired of suggesting the same thing over and over again by e-mail. They are not the typical trips you will find in any package brochure. They are a lot more fun and more interesting too.Or you can just throw your hands up and send me an e-mail and tell me what kind of person you are and what you are looking for and I will tell you where I would go if I were you. Write to me at: matt@greecetravel.com
---
Travel Agents: An Endangered Species?
What is the best way to book your holiday to Greece? Can you really save by using auto-booking systems or by booking directly with the hotels? Are Travel Agencies a thing of the past? Read my article Endangered Species about the internet and the disappearance of the small personalized-service travel agency.
Remember to visit these Greek Island guides: Mykonos, Santorini, Rhodes, Sifnos, Naxos, Kea, Lesvos, Paros, Ios, Crete, Skiathos, Syros, Aegina, Angistri, Hydra, Poros, Kos, Kefalonia, Corfu, Delos, Samos, and of course you can find these islands and more in my Greek Island Synopsis
Remember... if you book through a travel agency transfers to and from the port and hotels are included. But if you do it on your own here is my advice. You can take the metro to Pireaus or you can get a taxi through the hotel concierge or George the Famous Taxi Driver. See www.greecetravel.com/taxi
DONATIONS: If you love my website and wish there was some way you could donate, well, there is and all donations small or large are appreciated and they don't go to me but to children in Greece. See www.greecetravel.com/donations
OK. You made it through the fourth page. But there is lots more. Return to the menu at the top.