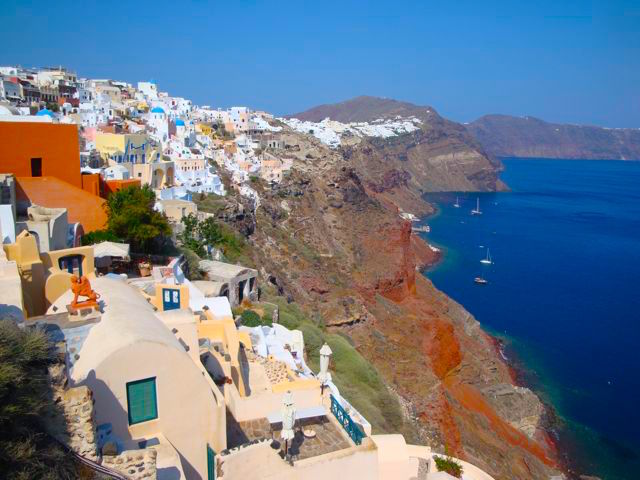 Many people e-mail me and say that they want to stay in a quiet village and so they have booked a hotel in Oia. By Greek island standards Oia is not a quiet village. It is not even a quiet village by Santorini standards. What Oia is, is a very photogenic town, a maze of small shops, restaurants and cafes, almost all with spectacular views of the rest of the island and the caldera, and the remnants of a counter-culture community from back in the day when Oia actually was a quiet village. There are a couple notable restaurants in the town, like the Golden Chef's Hat award winning 1800 restaurant which is in a beautiful restored 19th century mansion on Oia's main street which serves Santorini inspired dishes using local products and has an outstanding local wine list. Also Ambrosia serves a Greek infused menu that has unique flavors. Both restaurants are of the 'special occasion' category but I am guessing that for many people being in Oia will be a special occasion. Ochre is known for its sunset views and hundreds of wines from all over the world, though if you are in Santorini and not drinking Santorini wines there is something seriously wrong with you. For a more typical Santorini meal there are several fish restaurants in the small port of Amoudi just below Oia which you can reach on foot or by car. Dimitris and Katina were the two most highly recommended by our friends on the island and if you go down for lunch there is a nice area to swim just beyond the seawall.
The main street of Oia has plenty of tourist shops and some pretty nice galleries, some of which have big signs that say 'No Photo' which is pretty silly when you consider that every photo that gets posted on Facebook is an advertisement for the island or whatever shop or gallery the photo is of. Actually if there were not a sign that said 'No Photo' I would have taken some photos and advertised the gallery for free. But being petty or paranoid should not be rewarded so the gallery will remain unnamed (since I did not even dare to take a photo of the sign) and instead I will write about my biggest discovery in Oia which was Atlantis Books, on the road to the Kastro. For those who love those X-pat book shops like Shakespeare and Sons in Paris or Robinson Crusoe in Istanbul, you can add Atlantis Books to your list of bookshops to visit before you die. I think it is the most creative use of space that I have seen, at least in a book shop, not to mention the best selection of used and new English language (and other) books in Greece, particularly books about Greece or written by Greeks. The staff was friendly, in other words they said I could take photos, and the clientele was interesting and it was the kind of place you could hang out for hours while the rest of your family wastes their time buying tourist stuff or trying on bathing suits and summer dresses. Anyway it is a pretty cool place and they have different events and it is well worth visiting and certainly worth a link to even if they don't link back. See Atlantis Books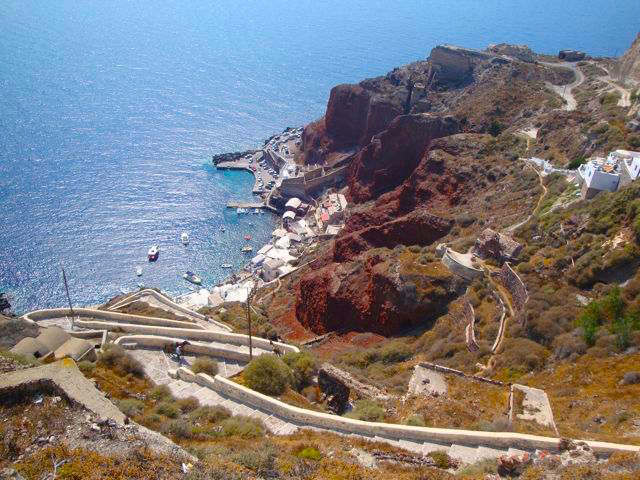 For those just visiting Oia with no interest in books, shopping, drinking or eating, walk to the end of the village (with the sea on your left) until you see signs for the Kastro and you will be rewarded with a spectacular view of the caldera (what else) and the village of Oia itself and even a glimpse of the port of Amoudi below. If you have a camera this is probably the best spot to be and you can take a dozen or so photos without anybody realizing you took them all from one magical spot and not from all over the island. If you are a ferry and cruise ship lover this is a great spot for watching the boats go by on their way north to Athens and Istanbul. The Kastro, known as the Skaros, is actually an old Venetian castle, that is people from Venice and not from Venus. As this is a windy area you will notice a number of windmills, some of which have been turned into houses and rental units and probably none of them being used to grind flour. Also don't miss the Maritime Museum, established in the 1950's and the nearby Weaving Mill where you can buy woven products as well as traditional canned and bottled agricultural products. This is also where all of humanity comes to watch the sunset. Oia is the Woodstock of sunset-watchers and it happens every day. There are nicer places to watch the sunset, your hotel for example, if you have caldera view and you have not invited 2000 people to watch it with you. Or the lighthouse in Akrotiri, or just about anywhere on the caldera between Fira and the lighthouse. But for some reason Oia is where everyone goes and it has become a sort of pilgrimage so you may as well do it too or your friends will make you feel like you missed something spectacular because they did it. Give yourself an hour or so in high season. It is a large and slow moving crowd.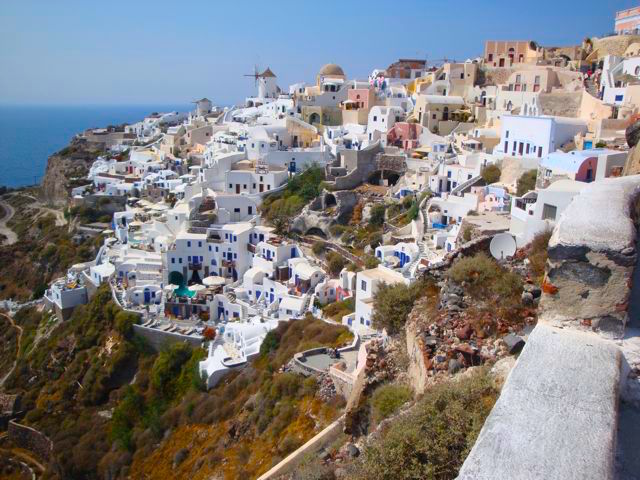 As for hotels in Oia you have a lot of choices as some of Santorini's most popular hotels are here. Katakies consists of 21 suites, studios and rooms all with terraces and dramatic sea views and individually furnished in a stylish way with Greek island antiquities and of course has a swimming pool which is important if you love to swim and don't feel like driving for half an hour to go to the beach. Perivolas is a 5-star hotel, with an infinity pool with magnificent sea view, in 17 private houses in restored 300 year-old caves. Canaves Oia Hotel provides luxurious accommodation in spacious suites and rooms beautifully appointed with antique furniture and art objects, and of course, a pool. These hotels will cost an arm and a leg but if you have an arm and a leg to spare then why not? Otherwise staying down below at Amoudi Villas will cost a lot less and you will be closer to the sea. Expect to pay a lot if you are on the caldera and if you are not paying a lot you are probably not on the caldera. If you are looking for something inexpensive try your luck on Booking.com's Oia page.
More Oia Photos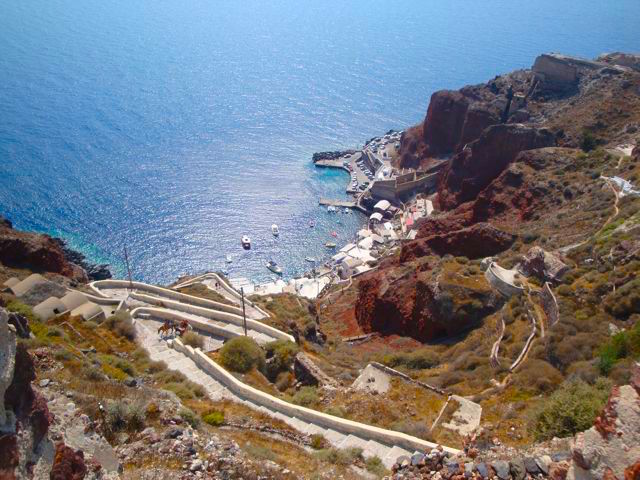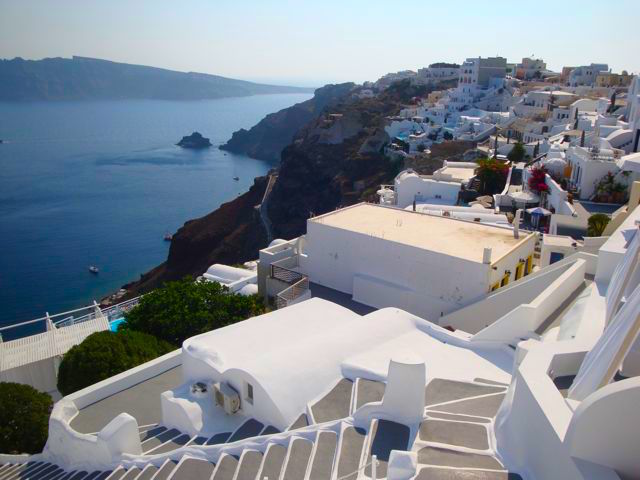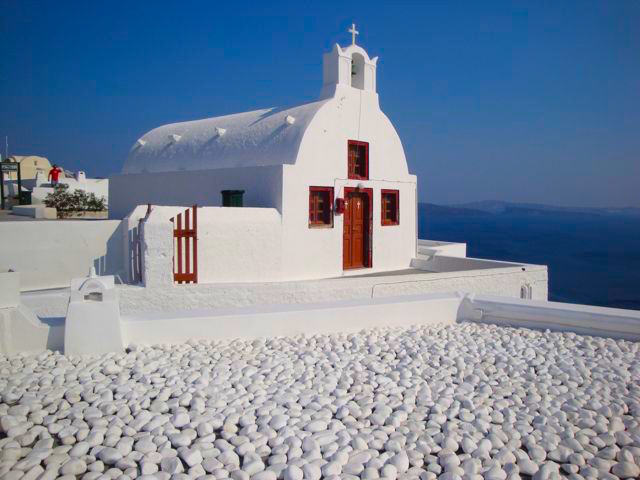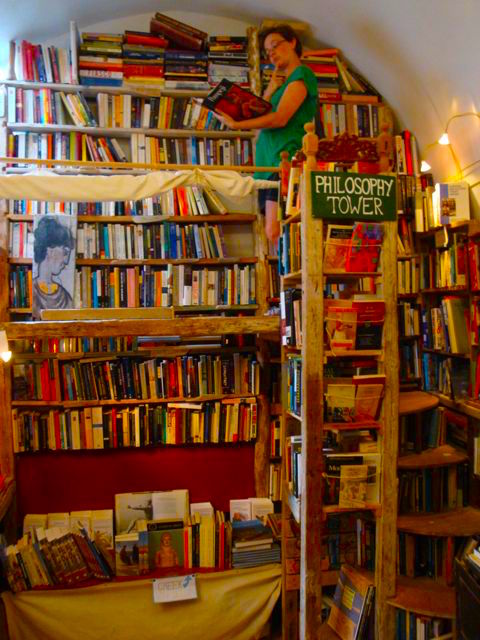 Atlantis Books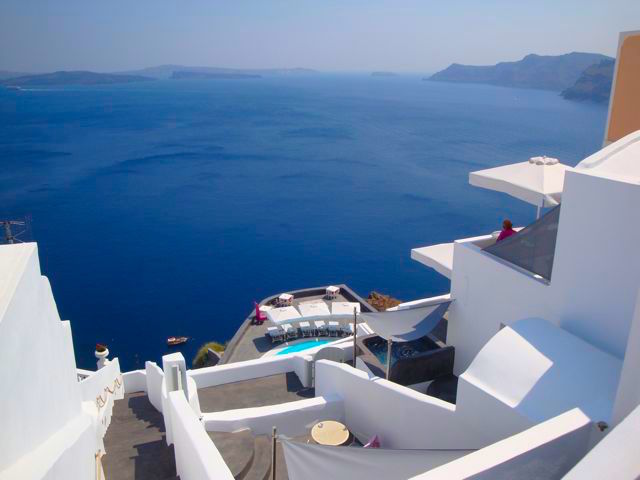 Help Support Matt's Greece Guides
Do you enjoy using my site? Have you found it entertaining as well as useful? If so please show your appreciation by booking hotels through the travel agencies who contribute to my website when you book or on my Hotels of Greece website. If you are appreciative of all the free information you get on my websites you can also send a donation through Paypal or Venmo
Join Matt Barrett's Greece Travel Guides Group on Facebook for comments, photos and other fun stuff. If you enjoy this website please share it with your friends on Facebook and other social media.