Mikrés Kykládes – The "Back Islands"
By Marc Dubin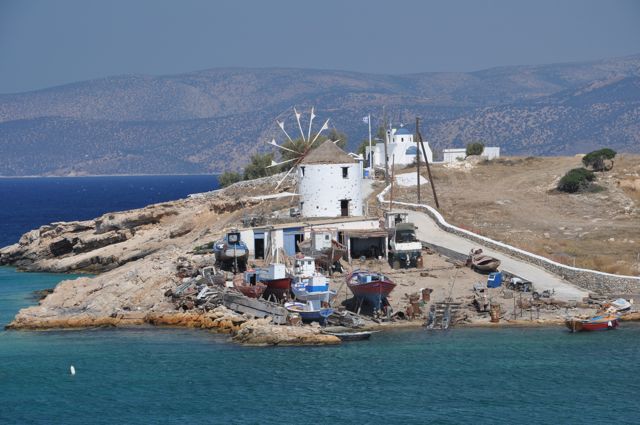 I first heard about the Mikrés Kykládes (Little Cyclades, alias the "Back Islands" for being behind Náxos) from my rooms proprietor on Náxos in 1981. With a classically tragic tinge of pity and terror in her voice, she described them as being "horís révma, éhoun móno lámbes ekeí (no electricity, they've only oil lamps)". The junta, in one of its few worthwhile initiatives, had provided mains current to many benighted corners of Greece in the early 1970s – including nearby Amórgos, which together with Náxos bookends these four islands – but they only got it in 1982.
Intrigued by this intimation of primitivity, I'd always wanted to visit, but I only got around to it in 2010 – long after the "golden years" for this little group, according to aficionados, many of whom first arrived back in the oil-lamp days. But at least that means what you're reading is far more up-to-date than anything in a guidebook, or another website for that matter.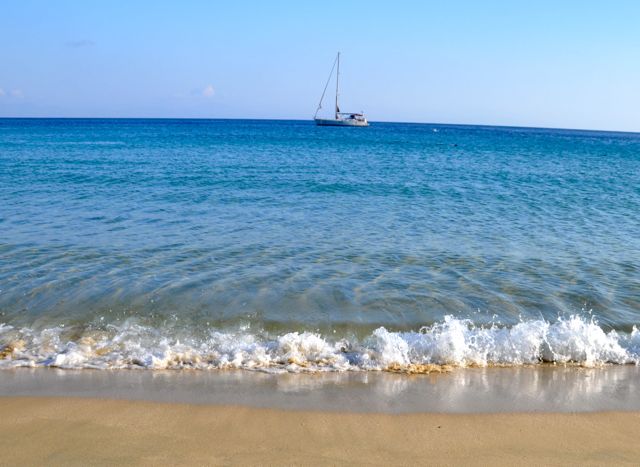 There are actually about a dozen baby Cyclades, but only four are inhabited in our times: Donoússa, Páno Koufoníssi, Skhinoússa, and Irakliá. They are strikingly different from one another, each with their particular clientele – though none now rank as undiscovered, and all of them, given limited accommodation, are no-go areas from mid-July to September 1 unless you have a rooms reservation – or are happy to camp out. Athens agencies are unlikely to be able to help with advance lodging reservations, except on Páno Koufoníssi and Skhnioússa which have some luxury complexes. Páno Koufoníssi also has the best beaches, with Donoússa not far behind; Irakliá has the best walking, with again Donoússa running second. Accommodation can be on the cheap side, but dining out is definitely not – little islands do not mean little prices. While all four have a bank ATM apiece, best not rely on these but come equipped with plenty of cash.
DONOUSSA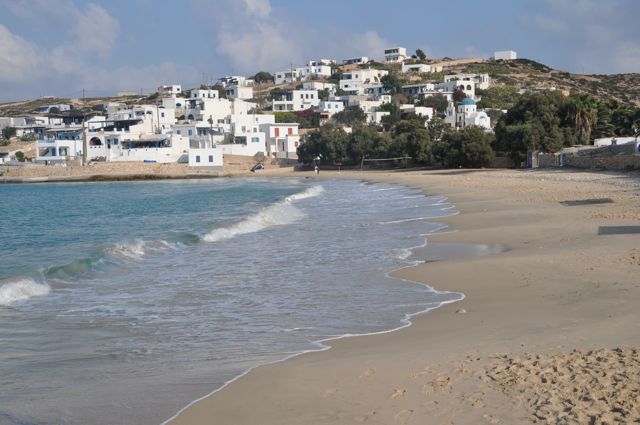 Lonely Donoussa, second largest of the quartet, possesses exceptionally dramatic coastal scenery once you're away from the port. Besides two Caribbean-standard beaches (with tamarisks standing in for palm trees), there are good walking opportunities – a virtue of necessity, as there are no scooters for rent but there is a bus service. (The hopeful guy with bikes couldn't get a permit to keep petrol in jerry cans). The hiking should be great, better than Irakliá's, but the islanders drove away their faithful walking clientele in 1998 by bulldozing the spectacular cobbled kalderími between Stavrós port and Mersíni hamlet to build the new main road, and damaging the old path from Stavrós to the other hamlet of Kalotarítissa with a pointless, now-unusable jeep track, a textbook example of wasted EU funds.
Stavrós, home to most of Donoússa's population of 160, brackets the island's largest if not best beach, popular with families (so no nudism or camping). The only particular sight is the church (festival 13–14 September). All island accommodation is here, which doesn't amount to much more than 100 beds. Among the better ones is To Iliovasilema (tel 22850 51570, www.iliovasilema-studios.gr) on the bay's east flank. Eating out, best of the three full-service tavernas above the yacht quay is To Meltemi, though others prefer Captain George. The in-house diner of To Iliovasilema (May 10–Sept 1 only) is probably your best bet both value- and quality-wise. Shops are surprisingly poor but there is a greengrocer's shop selling fruit and vegetables.
BEACHES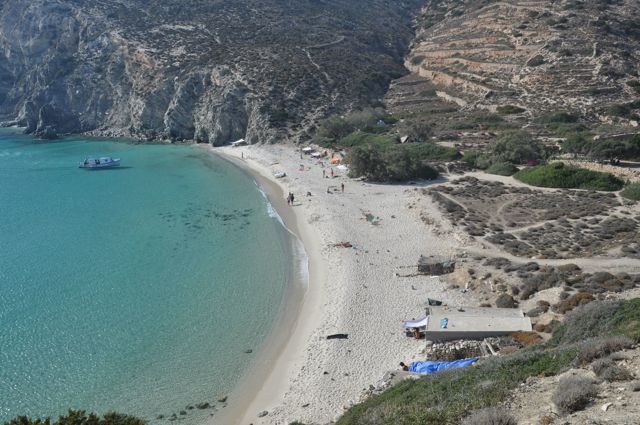 Taxi-boats to/from Stavrós are only reliable in July and August, so you should count on walking to/from the beaches otherwise.
Some 25 minutes' walk east of Stavrós, beyond the helipad peninsula, lies Kédros bay, 150m of blonde, fluffy sand, beloved of naturists and free campers alike – mostly Italians and Greeks, plus a few Scandanavians or Brits. Tents – up to 200 of them in August – are no longer allowed on the beach but are required to be in the scrublands beyond the stone fence separating the beach from the snack bar–café here, adequate for salads, sandwiches and a daily special. At mid-bay in shallow water lies a wrecked World War II boat (German), though little remains of it other than some ribbing.
Kédros' only rival, an hour's walk east, is Livádi, fractionally bigger and more dramatically set, with the same fine sand but no facilities apart from five disused boat-houses, squatted by nudists and free campers who muster up to 70 tents in the vegetation just inland.
Civilisation is 20 minutes uphill from Kédros in Mersíni, whose houses cling for dear life to a steep slope, staring out to Amorgós on the horizon. Free-ranging chickens far outnumber the 15 resident people, including owners of the two tavernas – Tzi Tzi and Kori tou Mihali. Both have knockout terrace views, affordable starters but jaw-droppingly priced main platters.
Mersíni's raison d'être – and the campers' source of water – is a flowing spring just below, amidst a conspicuous oasis of plane trees, calamus reeds and orchards. The old laundry trough now has carp in it, and a festival takes place here each September 17, after liturgy at Agía Sofía church.
WALKING ON DONOUSSA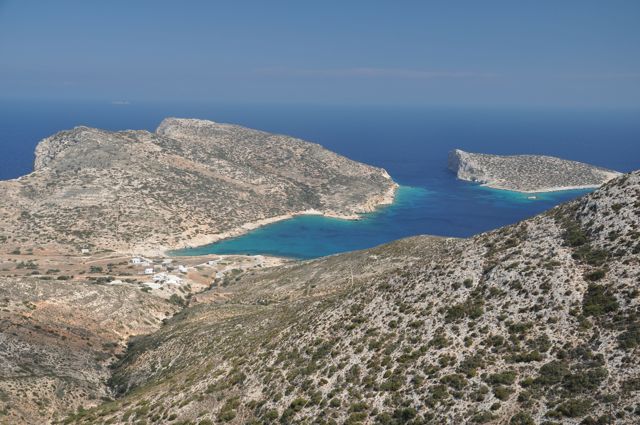 Remedies for the damage to the island trail system are just beginning – most notably dubbing the path to tongue-twistingly named Kalotarítissa in the far north as Route #1. Follow red-and-white markers out of Stavrós to the ring road and a builder's yard where the old trail resumes in earnest along the west side of a ravine. About half an hour out of town you're forced to adopt the newer track, though true path resumes after 15 minutes just before the summit of the route, with dramatic overlooks of your destination – and soon, as the path describes a gently descending arc, spindly Asprokávos to the west. Getting to Kalotarítissa, 1hr 15min from Stavrós, is definitely more than half the fun – its ten houses and three shadeless nearby coves are hardly compelling, ditto its single overpriced taverna; try and hold out for lunch until reaching Mersíni.
To continue southeast around the island perimeter, follow the dirt track from the southernmost cove 15 minutes to an oasis-with-well (potable, retrievable by bucket-on-a-rope) and the start of a stone-paved path remnant which climbs to the Kalotarítissa-Mersíni road. After a few minutes there's another stretch of old path on the right, but sadly you're forced onto the asphalt again about 45 minutes from the start, and must stay there for the 25 minutes more to Mersíni.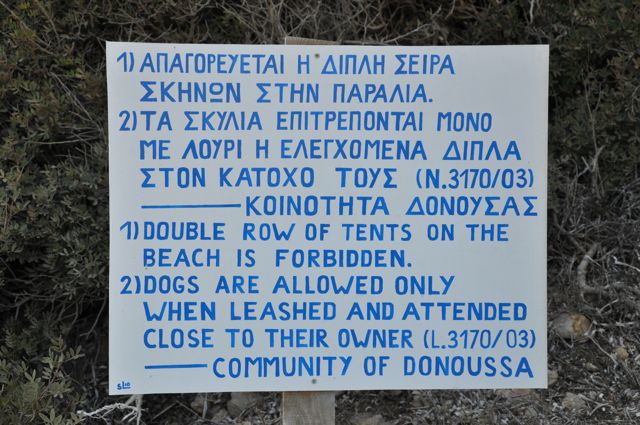 From the environs of Mersíni's spring, the path down to Livádi – revamped in 2010 – is pretty unmissable and somewhat pointlessly labelled as Path #3. The onward bit from Livádi to Kédros is trickier but perfectly feasible. At the west end of the beach, follow the cairned trail uphill 10 minutes to a stone wall, bear right for at most 20 yards, and then left over the brow of the hill, onto what quickly becomes a corniche route high above the Aegean. Soon this broadensinto a track which skirts a crumbled farmstead and curls around a canyon to just touch the asphalt road. Leave this almost immediately at another cairn to traverse a neck of land dipping gradually towards Káto Mýlos, over terraces and through a fence-gate to intersect the old contour path hugging the coast. Bear west to follow this across the heads of two inlets to end up at the Kédros café in under an hour from Livádi. Time for a Náxo-distilled rakí (psiméni with herbs and honey in the cooler seasons) and maybe a final swim before the tramp back to town.
From Kédros you can also walk most of the way to Mersíni without hardly touching the road, using secondary paths and stretches of the old kalderími that weren't destroyed in 1998. Follow the dirt access drive inland to the paved road, and just past the gully bridge pick up the path – signposted unless someone's knocked markers down – to largely desolate Messariá hamlet. This is reached after some 35 minutes' climbing, but sadly the onward path has been cut and one must descend to the road for a while before bearing down and right onto path resumption between the sharp ravine curve and a lone farmhouse. Once past a well and clump of trees, use old path extents to avoid being pushed up onto the road, forcing your way around wire-mesh fencing, to arrive at the "car park" by Agía Sofía chapel on the outskirts of Mersíni some 40 minutes beyond Messariá. All this is set to be properly waymarked and cleaned up in the near future.
For Hotels in Donousa see Booking.com's Donousa Page
PANO KOUFONISSI
With its beautiful people a-tanning, villas projects going up inland and luxury yachts anchored at Porí bay, Páno Koufoníssi is definitely the odd one out among the Mikrés Kykládes – the most populated (around 300 souls) and commercialised, separated by a narrow strait from uninhabited Káto Koufoníssi. Áno is a favourite with families owing to gently shelving, protected beaches, and overall a trendy babel: Spaniards, Italians, French, Scandanavians, a few Brits and Americans, and even Greek tour groups from the mainland. If you're looking for a calm bolthole, this isn't one, except in early June or mid-September. While there can be crowds, the island is blissfully free of motor scooters, and there's no bus – one walks everywhere, rents a push-bike from one of two outlets (subject to caveats) or uses the taxi-boat service.
THE TOWN (HORA)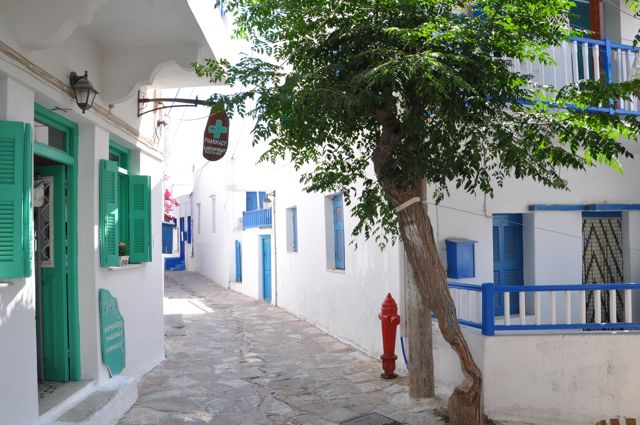 Like Stavrós on Donoússa (albeit on a much bigger scale), the Hóra is divided by hard-packed Ámmos beach, with bathers segregated from the many anchored fishing boats, which also berth at Parianoú bay in the far west – though an energetic fishing fleet is no guarantee of seafood on your taverna platter. Still, there's an active boatyard above Loutró cove flanking town to the west, surmounted by a windmill that's become Koufoníssi's trademark.
The older quarter just uphill from where you disembark, dominated by Ágios Geórgios church, is home to all shops and most restaurants, while the newer district straggling east of Ámmos for several hundred metres contains most lodging. Their proprietors tend to meet arriving boats in vans, though in cooler weather it's not a big deal to walk there if lightly laden. If you just want simple, cheap domátia in the old center, head straight up from the jetty, past the Neo Remezzo taverna, turn right at the pharmacy, then look left. There are a few fancy hotels here as well, though somewhat uninspiringly positioned; for my (or rather, your) money, it's better to be well on the way to the beaches, past the eastern edge of town at Pórta cove.
Resort Hotel Paradise is a conventional but attractive outfit with pool and sea views. I stayed further out, above Fínikas beach, at the mid-range Hotel Anatoli, all units here with verandas facing the knockout view of off-limits-for-archeological-reasons Kéros Island. The Koufonisia Hotel is big enough to host Greek society weddings, and boasts four-stars. Just 100 metres from Porta Beach, the newly built Portes Houses complex features stylish rooms, and a terrace with views of the Aegean Sea.
Incidentally, the island campsite at Harokópou has closed down, though a few tents still sprout free-lance fashion outside its fence.
Eating out on Koufoníssi ought to be better than it is – I had some uninspiring, overpriced meals best passed over in silence. The most normally priced establishment is ever-popular Karnagio at quayside on Loutró cove, an ouzerí with a good line in píttes, properly grilled fish and rakí from Náxos – in season you have to reserve ahead (22850 71694). In the heart of Hóra, Melissa is the oldest taverna on the island, and uniquely in town open for lunch, with good magireftá dishes, seafood and psychedelic chair colours. If your accommodation doesn't do breakfast, an excellent solution is the self-serve beachside restaurant at Fínikas. The top café, with much-sought-after tables in the lane or out on the terrace, is Kohyli, with desserts to die for – anything (especially their brownies) can be ordered with a scoop of kaymáki.
THE BEACHES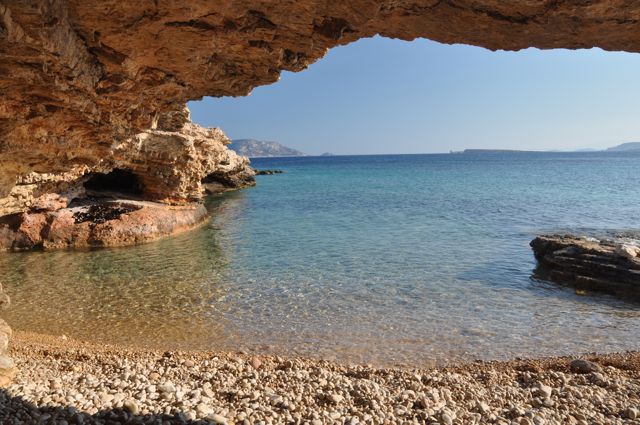 All the fabled beaches line the more sheltered southeast coast, facing Kéros. In season, about 4 daily taxi-boats call between noon and dusk from the base of the town jetty. Fanós marks the end of the paved coastal road; if you try to continue by bike you face a punishing hill between here and Porí, or a hazardous, tire-risking trajectory along the onward coastal path. Few of the island beaches have any significant shade – the foresightful come with pop-up shelters, which can be bought in Athens' central bazaar.
First notable beach and first stop for the taxi-boats, Fínikas has its aforementioned restaurant, some tamarisks for shelter and an islet for the fit to swim out to. Fanós, at the start of the coastal path, is longer and narrower, while Italída beyond is "fatter" and tolerates naturism. Beyond lies Platiá Poúnda headland, its margins indented with the fabled pisínes, sculpted inlets which occasionally do support small pools or even sea-caves, and much prized for their overhang shade – they will all be spoken for by noon on a summer's day. From Italída it's about 15 minutes' walk around the cape to Porí, the most celebrated beach, with low dunes at the south end and some wind exposure. There are two snack-cafés here, though at my visit only the north-end one was operating, doing a decent job of light lunches and drinks at affordable prices.
Finally, there are about 5 daily taxi-boats to Káto Koufoníssi, returning much later to allow folk to patronize the single, reportedly mediocre taverna here. A trail network leads to various swimmable if shadeless coves. I confess I didn't go – was too busy staking out a hard-won spot in a pisína near Italída!
You can find hotels and rooms in Koufonissi on Booking.com's Koufonissia Page
SKHINOUSSA (SCHINOUSSA)
Halfway between Káto Koufoníssi and Irakliá, jagged-outline Skhinoussa is accordingly popular with yachts and has some spectacular seascapes around even smaller islets to the southwest. This is the one baby Cyclade I haven't personally been to; I was put off the idea some years ago by a travel journalist for one of the Athens weekend papers, who claimed the island had been ruined by yacht-borne posers (mostly Greek) slumming it here from Mýkonos and driving up prices. I think he possibly got it mixed up with Koufoníssi, and other Greek acquaintances have assured me Skhinoússa is quite normal ambience- and cost-wise. But it's true that there is at least one stiffly priced nouvelle taverna (Margarita) and that access to two bays is blocked by locking gates to accommodation grounds or large private villa complexes.
Boats dock at Mersíni, from where it's a one-kilometre uphill walk (or a van shuttle) to attractive Hóra (aka Panagiá), home to most tourist facilities, including the aforementioned Margarita.
There are claimed to be 16 beaches around the island's convoluted perimeter, but some are exposed and/or flotsam-strewn; by consensus the best (and sandiest) are Tsigoúri, closest to Hóra; Alygariá in the far south; Almyrós on the east coast; and Psilí Ámmos in the northeast. None are more than 25 minutes' walk from Hóra, mostly along dust-tracks.
You can find hotels and rooms in Schinoussa on Booking.com's Schinoussa Page
IRAKLIA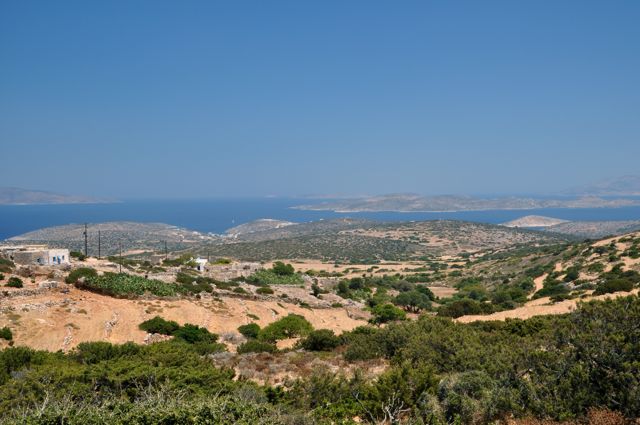 The most southeasterly, and largest, of the inhabited "Back Islands" (population 120), Irakliá has two substantial villages, and a seasonal minibus service. In the past it was the most traditionally agrarian of these islets, though events have conspired against that. There's little enough of the excellent local thyme honey in good years – and none at all if the spring rains don't come; the vineyards have mostly fallen victim to large flocks of untended, abandoned goats; and squadrons of greedy crows hundreds strong devastate most attempts at agriculture. Under the circumstances, tourism has proved a life-saver, and the locals have remained exceptionally friendly. EU funding has seen to signage and maintenance of some meaty walking trails, numbered from 1 to 8 and best tackled in spring or autumn. Beaches are scarce, and on the functional side.
Boats call at Ágios Geórgios, where most tourist facilities are. It's a pleasant settlement draped on either side of a vegetated ravine descending to the smallish but sandy harbour beach; Ágii Anárgyri church at the rear of the village is the only real sight. There are theoretically scooters to rent but I saw nobody using them.
Compared to Skhinoússa, there's a fair amount of accommodation – see all the choices on Booking.com's Iraklia Page – though still scarce in mid-summer. I stayed at the Gavalas family's basic but very quiet Sohoro Rooms (tel 22850 71565), at the start of the path system. Among several tavernas, To Perigiali is ace for fish washed down by good, cheap Parian bulk wine, and one platter of chips feeds two; To Syrma, overlooking the beach, is popular for lunch and quite okay with nice touches like chilled beer mugs, though portions could be bigger. There's also the long-running Maïstrali, with a view terrace, and the very popular Ypovrihio ouzeri which also does cheap souvláki.
WALKING ON IRAKLIA
The best hike crosses Irakliá to the cave of Ágios Ioánnis, largest in the Cyclades; head out of Ágios Geórgios following Trail #7 markers. Some 10 minutes along, this becomes a fine, broad kalderími, clearly once the island's major thoroughfare. Turn hard right upon reaching a cluster of cistern-wells, where the lone local cowherd may be watering his charges, and climb slightly to the nine houses of Ágios Athanásios hamlet, with just three inhabited; go past the last one to find the start of onward Trail #4. Just over an hour along, this reaches the high point of the route with great views over Náxos and other "Back Islands", a major trail junction indicated by a veritable forest of signs.
For now, descend on Trail #3, with great views over Vourkariá bay towards Íos, to the celebrated cave, reached 90 minutes out of the port. It's the right-hand one, not the shallow livestock overhang to the left (the so-called Polyphemos cave); you have to stoop to enter through a low entrance, with cheap throw-rugs provided against the dirt. The interior proves long and narrow, with more stalagmites than stalagtites, a little ikonostásis on one side, and hundreds of flat votive candles left behind. Candles or no, you'll need a good flashlight to see much.
Returning to the Seládi junction-saddle takes about almost half an hour – a stiff climb not for July or August – and then it's nearly as much again to the sleepy inland village of Páno Horió (Panayía). The main attraction here is the central taverna To Steki tis Annios, with great views from the upper terrace and small-portioned dishes like xinomyzíthra cheese and stuffed goat. They're open year-round; you'll need to reserve peak season by phoning 22850 71596. The big local panigýri is 28/29 August, including a liturgy in the cave and events in the village; outsiders are most welcome and not considered a nuisance as on some larger islands.
From Páno Horió you must road-walk to Livádi or Tourkopígado beaches.
BEACHES
About 1500m southeast of the port, Irakliá's best beach is Livádi, 300m of gently shelving sand, though with some rock in the shallows. The far end is naturist, and you have a reef to swim over. Oddly, there's no taverna, only a single rooms establishment and an official campsite inland (May–Oct, French management) rather ignored by knots of rough campers. Overhead is a small medieval castle to explore.
Flanking Ágios Geórgios on the southwest is the almost landlocked bay of Voriní Spiliá. Trail #8 goes there, from just beside the village's last, big house with cars and a boat in the fenced front yard. It's about 25 minutes' hike down to the bay; what lovely water and sand, and what a mountain of washed-up garbage on the beach that the locals can't be bothered to collect. All it would take is one or two boat trips a month.
The third beach is pebbly Tourkopígado, east of Panagía. The summer-only, free minibus ends its run from the port here. Alimniá, beyond Ágios Ioánnis cave, has a sandy bottom and the remains of a crashed World War II plane.
You can find Hotels in Iraklia on Booking.com's Iraklia Page
Helpful Information

RECOMMENDED MAPS
There's just one commercial map available, at 1:25,000 scale, for all four islands, issued by Terrain (www.terrainmaps.gr). Coverage ranges from tolerable for Irakliá to poor on Donoússa, where a wall-mounted placard-map just below the bakery gives a far better idea of the surviving trail network. An accurate topographical placard map of Irakliá is also posted at several points on the island, but again it's unavailable for distribution – click on our photo of it to enlarge and print out.
GETTING TO THE MIKRÉS KYKLÁDES
All four islands are well served by ferries based on Náxos, Amorgós, Sýros and Piraeus, albeit Donoússa less frequently due to its somewhat inconvenient position off towards Ikaría. From Piraeus, Blue Star Ferries call most of the year several evenings weekly (leaving at 5.30pm), via Páros, Náxos – sometimes Sýros – and arriving at Donoússa (2 to 3 weekly) or the other three (2 to 3 weekly) between 12.30 and 1.20 am – pre-book your room and proprietors will fetch you. The same boat continues to Amorgós and Astypálea before turning around immediately at 4am, so that's the Dodecanese connection.
Twice a week, a conventional ferry leaves Sýros at 7am, calling at Páros and Náxos before cycling through all four islets. Once or twice weekly a high-speed catamaran stops at Koufoníssi, but these are expensive and tend to call absolutely everywhere in the Cyclades before ending up back at Sýros or Piraeus.
Finally, the little Skopelitis Express leaves Náxos most days between 2 & 3pm, bound for most of the Back Islands (but Donoússa only 3 times weekly), en route to Amorgós, whence it returns early the next morning. It's cheap and reliable, but slow and nicknamed the skylopníkhtis (dog-drowner) by the unkind owing to a buckety ride in rough seas, more common than not hereabouts. Arrive in a big boat if you can, or just use Skopelitis for short inter-island hops within the group.
There are few travel agencies that can assist you with booking these islands but times change and it is worth asking a recommended travel agency in Athens. See www.athensguide.com/agency.html
Marc Dubin first visited Greece in 1978, fell in love with it, and returned almost yearly until he began living much of the time on Samos in 1989. He has written for numerous travel publishers – notably Rough Guides and Insight Guides – and on a variety of topics ranging from renovating old Greek houses and Greek cuisine to back-country trekking and Greek music. Marc has also compiled two CDs for World Music Network, Rough Guide to Rebetika and Rough Guide to Greek Café. He is an accomplished photographer and most of the pictures accompanying the articles on greecetravel.com are his. (You can click on his photos above to see them full size.) To contact Marc with offers of writing jobs or praise you can e-mail him through matt@greecetravel.com