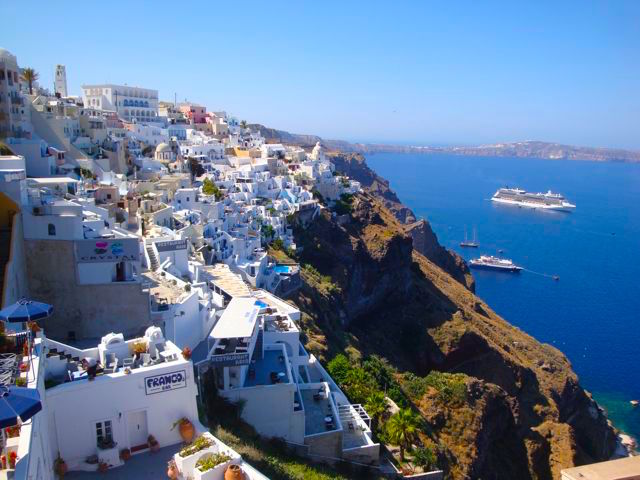 Fira is the capital of Santorini. On the caldera side you get one of the best views of the island and the activity level is enough to keep you entertained for hours. There are cafes, bars, restaurants, all with views and some with several levels of patios and balconies to make the most of the space they have and the fact that when there are several cruise ships sitting below the town is packed with tourists. Just walking down the street is laborious. The cafes fill up with tourists. Hundreds of them. Thousands of them. Like Leiningen vs the Ants they are unleashed on the town consuming everything in sight, stopping only to take photos of themselves with the view behind them. But the ships come and go and when they go they take the population with them and Fira can actually be a pretty nice place. If you enjoy shopping or eating or drinking or hanging out and watching the view then Fira is worth visiting for a few hours in the day or evening. The port of Fira below is where the cruise ships dock, though they don't actually dock. They just anchor and the tenders come and get the passengers and take them to the small port where they have two choices. Well three actually. The first choice, and maybe the most sensible one is to take the ski-lift up the mountain. I think they call it a cable-car but you and I would call it a ski-lift. The second choice is to go up by donkey, which is what a lot of people end up having to do because they promised their kids that they would do this to get them excited about coming to Santorini. The third choice is to walk which is done only by people who are in terrific shape and like a challenge or have something to prove. My suggestion is to take the lift. If you are overweight don't take the donkey (mules actually). Someone will take your photo and put it on the internet and you will be famous in the worst possible way. If you promised the kids they could ride on the donkeys then OK. I get it. And carrying a child is no big deal for a donkey and even less for a mule. But if you weigh more than 150 lbs you should walk alongside if you don't want to leave your child with a mule-driver while you take the ski-lift, something I am guessing few parents would do. Or instead of letting your kids ride the donkeys take them to the Santorini Donkey Sanctuary instead.
Most of the restaurants in Fira are tourist restaurants. Well probably all of the restaurants are tourist restaurants but some the tourists don't know about because they are hidden away on back streets and have only a local clientele. But these would be tourists restaurants too if they could figure out a way of getting tourists into them. But the vast majority of tourists, particularly the ones from the cruise ships, do not eat in restaurants anyway. They eat souvlakia and there are plenty of souvlaki shops around the main square and the other streets that are not on the caldera. Restaurants with caldera view are going to be expensive and though I would not say they are bad, they don't have to be good since most people will eat there once and never come back again whether the food was good or bad because next summer they will be in Brighton, or Atlantic City or even Alaska. So they serve what they believe the tourists will want and make a whole lot of money in the summer and then close in October and go on holiday cruises themselves. The best restaurants on the island are those that are open year round for the obvious reason that if they are not any good the local people will not eat there and they will cease to exist. Anyway I wrote about them in the restaurant section. In Fira Nicolas is your best option for good, simple, Greek food of the kind you might find on any island with reasonable prices and a clientele that includes locals, which is what you want. If you are in Fira for one day and you want good food and a view go to Archepelagos, housed in an historic cave building and even though the food is not traditionally Santorinian that does not make it any less delicious. Pricier than Nicolas but that is to be expected.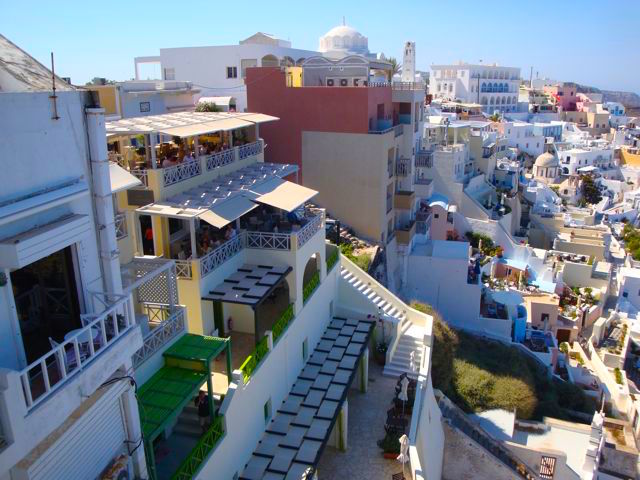 Many people stop for a visit at the Santorini Archaeological Museum which has artifacts mostly from ancient Thira as well as stuff from around the island from the various historical periods from the 5th Century to Roman times. It is also where I first discovered that you can photograph the exhibit, however you can't photograph a person standing next to the exhibited piece. It seemed silly to me so I asked the guard why you could take a picture of an ancient vase but not a picture of an ancient vase and a modern person? She thought about it for a second and then said never mind, do whatever you like. You don't often find this kind of flexibility in Greek museums and it should not go unrewarded so please take some time to visit the museum. It is open daily from 8:30 to 15:00 and closed on Mondays. The cost is 3 euros. There are several other smaller museums in town including the Megaro Gyzi Museum, near the cable-car entrance, which has old Santorini photos, paintings and manuscripts in a 17th Century mansion. Open daily except Sunday from 10:00 to 16:00 between May and October. The Lignos Emmanuel Folklore Museum is in a cave home and is only open in the summer from 10:00 to 14:00. Santozeum is an artist run museum-gallery cultural center open daily from May through October from 10:00 to 18:00. The Museum of Prehistoric Thira contains most of the stuff found in Akrotiri as well as other artifacts found around the island from different periods of history. It is open from 8:30 to 15:00 and closed on Mondays. If you only have time for one then that would probably be the one to see.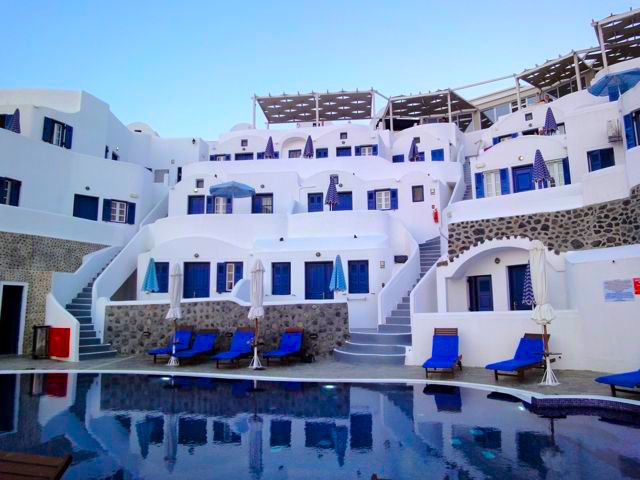 As for hotels in Fira for my purposes and probably yours, the Volcano View Villas was as close as I wanted or needed to be. Like the Volcano View Villas, the most impressive hotels are generally located outside of town for the obvious reason that to create an impressive hotel with a swimming pool, cafe, restaurants and so on you need a lot of land and the cheaper the better and there is simply not a lot of cheap land in the middle of a popular tourist city like Fira. If you are interested in an actual villa, the kind with a kitchen, caldera view and your own personal swimming pool then I suggest the Volcano View VIP Villas.
The Petit Palace Hotel and the Caldera's Liliam Villa are both in the same area as Volcano View Villas, a five minute drive or half hour walk (on an actual sidewalk) to the center of Fira. If you want to be right in Fira expect to do some climbing instead of horizontal walking. The Tzekos Villas offer an excellent option for those who want a quiet hotel, easy access to the town and its night life, and a splendid view of the volcano and the sea, with a swimming pool of course. If you are looking for a bargain with a view and can live without a pool there are a few choices. Caldera Studios offers Cycladic-style rooms with unobstructed views of the Aegean Sea, the volcano and the famous Santorini sunset with doubles for as low as 100 euros. Perhaps the oldest hotel is the Hotel Atlantis which sits right on the main street on the caldera in Fira in a location that could not be more convenient to the restaurants, shopping and nightlife.
If you are looking for more choices in and around Fira you can visit Matt's Suggested Santorini Hotels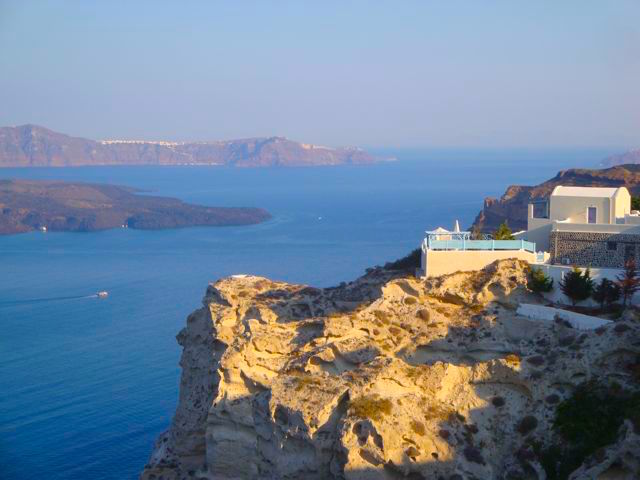 People staying in hotels outside of the towns may find themselves in precarious situations walking down dark roads with cars whizzing by on their way to or from dinner and the bars and they should consider the possibility that many of the people in these cars are drunk on the delicious Santorini wines or even something stronger. If you stay in hotels outside of town wear white when walking at night. If you are driving home be careful of people on the road who are not wearing white. Most of the time when I get an e-mail from someone who found a "really great hotel in Fira for really cheap" the hotel is located outside of town and you take your life in your hands when you go out at night. One thing people may not factor in when they get a cheap hotel is that the distance may require them taking a taxi and that could be the difference in the cost of another hotel right in town. Then again if you are run over and killed while walking back to your hotel you probably won't get charged at all if saving money is your primary objective.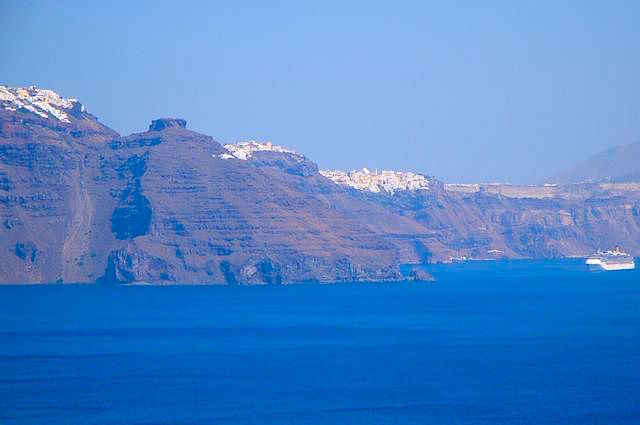 The next two towns are Firostefani and Imerovigli which are almost like suburbs of Fira and which are walkable from Fira on a footpath along the caldera (no I did not do it) or by public road by car or bike. Both are much lower key than Fira and because they are not as easily accessible to the shiploads of tourists most of the people you will see here are staying in the nearby hotels or coming to eat at a particular restaurant. The taxi from Volcano View Villas cost 7 euros to the entrance of Firostefani (which means the point at which the cars can go no further) and you can walk in either direction and find restaurants and bars and some shops. There is also a large parking lot at the entrance to the village. There are several beautiful hotels in Firostefani including the Ellinon Thea Hotel which is recommended because the entrance is at street level and so there are no steps to climb and yet it has caldera view, which is not that common and very useful for people who have difficulties with steps. For those willing to spend a little more the Dream's Luxury Suites combines 5-star villa-style one hundred year old houses each with its own terrace with a swimming pool or jacuzzi overlooking the caldera.
If you are having trouble finding something in your price range check Matt's Hotels of Greece Santorini Page or use the Aegean Thesaurus Hotel Request form because they are proficient at finding good value for money hotels.
Help Support Matt's Greece Guides
Do you enjoy using my site? Have you found it entertaining as well as useful? If so please show your appreciation by booking hotels through the travel agencies who contribute to my website when you book or on my Hotels of Greece website. If you are appreciative of all the free information you get on my websites you can also send a donation through Paypal or Venmo
Join Matt Barrett's Greece Travel Guides Group on Facebook for comments, photos and other fun stuff. If you enjoy this website please share it with your friends on Facebook and other social media.