Where to Stay in Santorini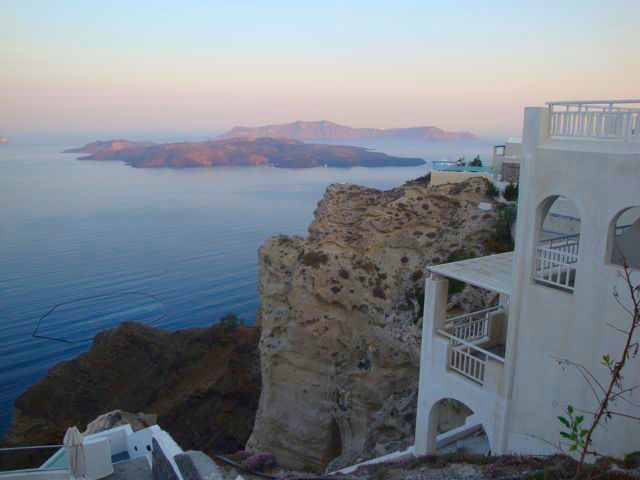 This is the big question for many people. Should we stay at the beach and visit the towns of Thira and Oia and the fantastic views of the volcano, or should we stay on the volcano and make the trek to the beach by bus, taxi, rental car or motor-bike? First of all let me say that almost everyone wants to stay in Thira and Oia. They have seen the pictures and imagine waking each day to a glorious view. But if you have children this is not practical. Who wants to stay somewhere that you are on edge all the time because you imagine your kids falling off a 1000 foot cliff? Not me. Plus kids usually want to go to the beach and getting them there on a daily basis can be a strain. But if you are staying at the beach what if you want to make the nightly visits to Thira? Another hassle. So it is a matter of making the choice of whether you want to be near the beach and rely on public transportation or a rental car or bike to see the sunsets and experience the nightlife or do you want to stay in the cliff side towns and take the trek to the beach.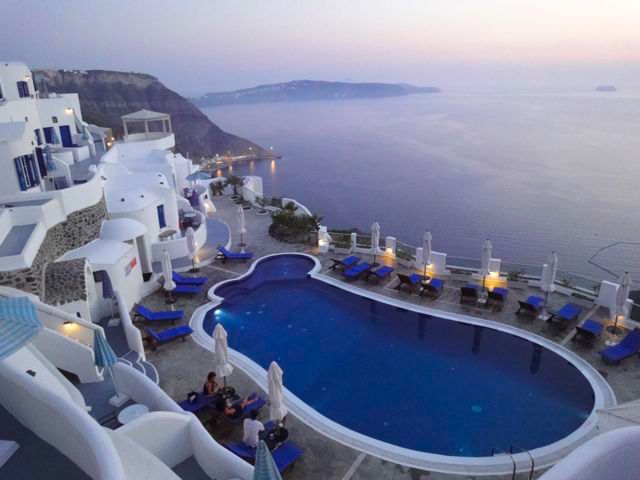 Many people e-mail me in disbelief at the cost of some of the caldera view hotels on Santorini, ready to cancel their trips because they think the island is unaffordable. I used to think this was nonsense. But now they may be right. The cost of hotels during the tourist season, especially those with caldera view is now out of many people's price range. Especially those who are used to not paying more than 100 euros a night. The Volcano View Villas Hotel where I have stayed for as little as 100 euros now costs several hundred and the price goes up as the rooms become more scarce. However in the off season you can still find relatively inexpensive rooms there. The Volcano View Villas Hotel offers an incredible view of the caldera, very nice rooms and excellent service, a couple swimming pools, a bar and restaurant and because it is outside of Fira and not in the middle of all the hubbub it offers something else. Peace. Some might say they would rather be in town, and I understand. But on our first night we took a taxi to Imerovigli and it cost all of 7 euros. We could have taken the free hotel shuttle that goes to Fira at ten o'clock or walked on the sidewalk that goes there. But if you can't afford a taxi then why are you even thinking about caldera view? Of course we decided to rent a car the next day because if you really want to see the island you need one, so the location of the hotel did not matter, in fact it was better because we did not have to worry about parking. We could park right in front of the hotel and from there get anywhere on the island quickly.
If you have money to burn and you want to stay in a luxurious hotel with a caldera view you have lots of choices. You will also discover that many people have made their choice before you did and there are no rooms or the existing ones are way beyond what you planned to pay. The Celestial Grande VIP Villas are five stylish, individually designed luxury villas, each with its private swimming pool and a balcony with a breath-taking view of the caldera. Other popular caldera view hotels include Pervolas Traditional Houses and Hotel Katakies and Oia Mare in Oia, Dreams Luxury Suites in Imerovigli, Petit Palace in Agia Irini, Caldera's Liliam Villas and the Hotel Atlantis in Fira. These are among the hotels that everyone wants to stay in and if you find a room during the summer you will be lucky and you will probably be paying a lot for it. If you are having trouble finding availability at any hotel try Fantasy Travel's Hotel Request form and maybe they can get you the hotel you want or something similar.
You can find more hotels, villas and holiday homes on Matt's Suggested Santorini Hotels page and on Matt's Santorini Villas Page.

Santorini Hotels: Best of the Rest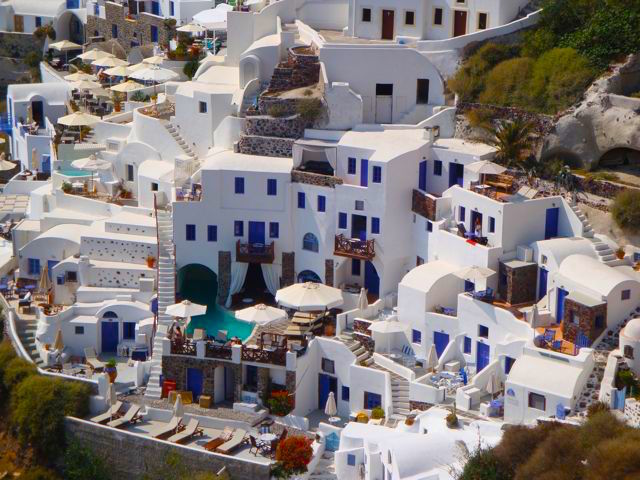 Santorini is a popular island. The most popular island in Greece if not the world. And these are among the most popular hotels. Which means if you want to stay in one of them you have to book it before the other ten million who want to stay there do. If a hotel you like is not available use Matt's Create-an-itinerary Form and in the comments section request that particular hotel. Otherwise the hotel pages will tell you what other hotels are similar in the area, and which, if any, are available. The hotels listed below start with the more expensive ones, most of which have caldera view and swimming pools. These are followed by the cheaper ones, some of which have pools and caldera view, and then the hotels on the beach, mostly in Perissa and Kamari, which most of them have pools but no caldera view, because there is no caldera to view. But if you are a family you may be a lot happier being able to walk to the beach, rather than take a bus, taxi, or walk down 5 million steps and then back up again.
Pay to Play Caldera View Hotels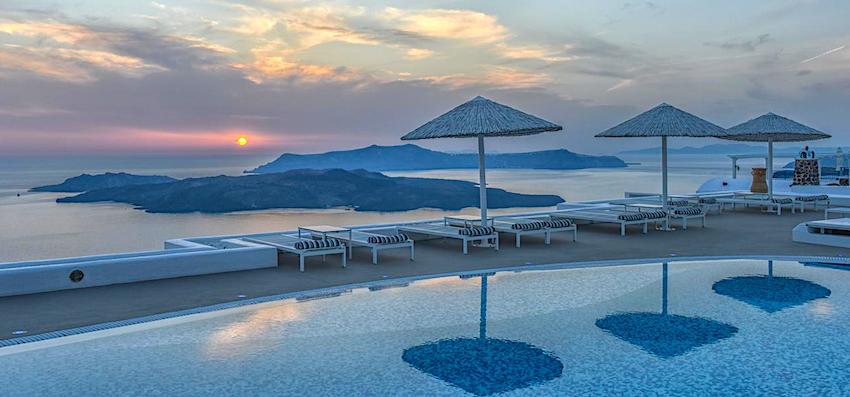 Lilium Santorini Villas
Atlantis Hotel is in the town of Fira, at the top of the caldera cliffs, looking down towards the endless Aegean Sea and just a few steps away from the main pebbled street. Lilium Santorini Villas also has an amazing view and is highly regarded by people who have stayed there. Tzekos Villas offers a swimming pool and 22 rooms in the traditional Cycladic style. Though they call themselves villas they are really hotels.
The 4-star Tholos Resort is in Imerovigli, one of the most beautiful villages in Santorini, on the cliff of the Caldera. Nearby is the Andromeda Villas and Spa Resort, built amphitheatrically on the steep rocks overlooking the Aegean Sea. The Avaton Resort & Spa is situated on the edge of cliffs in Imerovigli. This luxury boutique hotel enchants its guests with a privileged Caldera and sunset sea view.
Nearby in Firostefani on the cliff of the caldera, the Cycladic-style Agali Houses features a swimming pool and panoramic views of the sea and the volcano. Belvedere Suites is tastefully designed with touch of minimal elegance, located on the cliffside 900 feet from the sea overlooking the magnificent Caldera. Built in accordance with the local architecture of Santorini, the Anteliz Hotel is a complex of traditional luxurious Suites, apartments and studios. Anteliz Hotel is located along the famous Caldera Path connecting Fira and Firostefani, overlooking the Caldera, the Volcano and the Aegean Sea.
In Oia the Oia Mare Villas is an A' class hotel situated on the caldera cliffs of the Island, on the top of Amoudi, the old port of Oia. All the rooms have a magnificent view of crystal clear Aegean sea and the famous Oia's sunset. The houses are traditional cave houses, decorated in the traditional style. With an outdoor pool and sun terrace, the famous Canaves Oia Boutique Hotel is located on the cliffs of Oía along with their sister hotel Canaves Oia Suites and Spa. You can get the celebrity treatment with world-class service at Katikies Kirini Santorini from The Leading Hotels Of The World Group. This 5-star hotel, with its traditional architecture and its multi-leveled terraces, perches from the cliff, overlooking the blue waters of the Aegean Sea and the dramatic volcano island or you can stay in the famous original Katakies Hotel.
These are among the most popular hotels in Santorini and chances are unless you are very lucky or very early they are booked already. And because the travel agencies reserve rooms months before the season even started you may find yourself in one of these hard to get hotels by booking a Greek Island Package through Fantasy Travel or using Fantasy Travel's Hotel Request form.
You can find more hotels, villas and holiday homes on Matt's Suggested Santorini Hotels page and on Matt's Santorini Villas Page.
More Economical Santorini Hotels


Kalimera Hotel
If you are looking economical hotels and rooms your best bet is away from the main towns, or at least not on the caldera. However there are some hotels that do have caldera views that won't force you to come home from Greece wondering how you will ever pay off your credit card. The Hotel Ether in Oia has what comes close to caldera view rooms for under 100 euros a night. I say they come close because they don't face the center of the Volcano but are off to the side, but the view is still spectacular. Also the Delfini Rooms in Oia comes highly recommended. Keep in mind that if you want caldera view you will probably have to climb some steps somewhere along the way. If you don't like steps then the small Ellinon Thea Hotel has an entrance at street level and the rooms and balconies face the caldera with a splendid view. No steps to climb.
For the price it would be tough to beat the Villa Kalimera Hotel in Akrotiri which is highly praised by their guests and by Dolphin Hellas Travel. But there is no caldera view. You have to cross the street to see it. The archaeological site of Akrotiri is nearby as is Red Beach but it is quite a hike. You will need a car if you stay here. In general you can get more hotel for your money in Akrotiri and the town is relatively unspoiled, at least by Santorini standards. If you want a view in a beautiful house with a pool then I recommend the Hemera Holiday Home which combines spectacular views with Greek hospitality.
I am hesitant to mention Villas in the more economical section but many of them are holiday homes and are relatively inexpensive, especially compared to the popular caldera view hotels. For example in the village of Mesaria in the center of the island, Santorini Secret Spot is a fully renovated cave house with 2 living rooms, 2 kitchens, 4 bedrooms 4 bathrooms, 2 jacuzzis and is perfect for 2 families traveling together.
You can find many more on Matt's Villas on Santorini Page.
These are all good value for the money hotels, which means they may not even be available by the time you read this. But if they are full use Matt's Hotels of Greece Santorini Page. You can also use the Aegean Thesaurus Hotel Request form because they are proficient at finding good value for money hotels.
Best of the Beach Hotels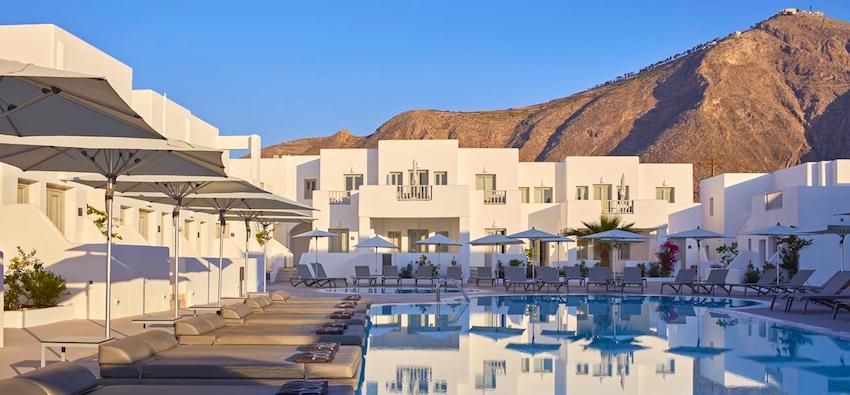 Aqua Blue Hotel
If you want to stay on the beach because you have kids, or you like beaches or you heard somewhere that the beach hotels are a lot cheaper than the caldera view hotels then you might consider one of these. In Kamari Beach the Boathouse Hotel, is a family run, waterfront hotel about a 5-minute walk from the center of Kamari. The Kamari Beach Hotel offers a restaurant, a large swimming pool, a pool bar, television/reading room, children playground, fitness room and boutique. Polydefkis Hotel is just 50 meters from the black sandy beach, close to a marvelous coast line full of restaurants, cafes, bars and all kind of shops. The 52 guest rooms, studios and apartments, all tastefully decorated and fully equipped, offering comfortable accommodation with great value. The Rose Bay Hotel is located just 50 meters from the sea and has been a popular and well run hotel for over 25 years. The Roussos Beach Hotel located on the beach in Kamari is a modern building, that harmoniously blends the traditional Aegean architectural style of Santorini with modern facilities. The A' category, Aegean Plaza Hotel is based on the traditional and unique cycladic architecture of Santorini, combining modern facilities with strict specifications even for the most demanding of guests. Blue Waves Suites and Apartments is just a few steps from the beach and features a pool, a sun terrace and a poolside snack bar. It offers free WiFi in public areas and accommodations overlooking the Aegean Sea or the mountain. Located on the beach of Kamari the Hotel Sunshine is a traditional Cycladic hotel with a swimming pool. The air-conditioned rooms feature a balcony free WiFi, satellite TV.
In Perissa Beach recommended hotels include the Drossos Hotel, the newest in the group belonging to the Drossos family. The superior design and local architecture of the Drossos hotel are combined with modern facilities to ensure the best living conditions for your visit to Santorini. The Gardenia Hotel is a typical example of Cycladic architecture, situated next to the recreational Water Park. The Aeolis Residence Holiday House is a beautiful 5-bedroom home with a swimming pool larger than most of the hotel swimming pools on the island. It is a few steps away from the beach, shops, restaurants, cafes and bars and the owner is known for being helpful and hospitable and has great reviews. With its authentic and idyllic Greek charm, Kouros Village Hotel embodies the true traditional nature of Greek hospitality. All while combining it with a modern-day contemporary twist to create a genuine guest experience. The Marianna Hotel is located just 300 meters from Perissa beach and is famous for its family atmosphere and friendly environment. The Santo Miramare Beach Resort is right on the beach and has the biggest pools area of all hotels in Perivolos - Perissa, and its own private area on the black sandy beach of Perivolos with lounge chairs and sun umbrellas free for hotel clients. Just a few steps from the beach, the family run Villa Aretousa offers friendly and clean accommodations with wireless internet, and air-conditioned rooms with a balcony or terrace with pool or mountain view. All rooms are equipped with fridge, while most units also include a kitchenette.
Perivolos is actually the same beach as Perissa but is less built up and in my opinion the best place to stay if you want to stay at the beach. We stayed at the Smaragdi Hotel which was about 100 yards from the sea and the line of restaurants, cafes, beach chairs and umbrellas which you can use just by ordering a meal or a drink from whatever business owns them. The hotel is a clean, well run, family owned and run and everyone is very friendly. There is a pool, bar and restaurant and they play great music (Motown, 60's classics, etc). This is a very good hotel, as good as many of the hotels people are paying 600 euros a night for the caldera view but a double will cost less than 100 euros. Bella Santorini offers self-catered rooms with balcony. Features include a pool with hydromassage corner and sun-lounger terrace and Wi-Fi is free throughout the hotel. Decorated in contemporary Cycladic style, Bella Santorini's spacious rooms offer a furnished seating area, and a kitchenette with kettle and fridge.
There are a few hotels, holiday homes and villas by the beach of Monolithos which compared to the above beaches is like being on another island, cheaper, less spoiled, but with a really big airport. Memories Beach Hotel is a modern hotel offering great accommodations right by the Sea. Hotel DL Santorini provides accommodations with a restaurant, free private parking, a bar and a garden. Featuring family rooms, this property also provides guests with a terrace. The hotel features an outdoor swimming pool and room service and free WiFi throughout the property. Almyriki Beach Villa offers an outdoor swimming pool and air conditioning, a private pool, a garden, barbecue facilities, free WiFi and free private parking. The villa has 3 bedrooms, a flat-screen TV with satellite channels, an equipped kitchen with a dishwasher and a microwave, a washing machine, and 2 bathrooms with a shower.
For Hotels, Villas, apartments and holiday homes use Matt's Suggested Hotels in Santorini where I have listed the best hotels of all categories at the top and the rest below having gone through the effort of eliminating the hotels the many people considered lousy regardless of the category. If you have not found a decent hotel that won't cost an arm and a leg you should find one on that page.
Charming and totally independent Sienna Resort is located 4 km from Fira, near Exo Gialos beach with a majestic sunrise view. The complex consists of 6 private villas surrounded by well-maintained greenery and flowerbeds. All villas boast private entrance and secluded inner terrace. Also a private swimming pool for each villa with sundeck and umbrellas. Sienna Resort is the perfect accommodation for a single family with children or 2 couples looking for a little privacy outside the hustle and bustle of the centre. It is also ideal for honeymooners searching to create that special retreat that only seclusion can offer.
These are all for the most part small family run hotels with 15 to 20 rooms. Many of them you will feel like you are a guest of a Greek family, which is how most hotels are in Greece. If they are full use the alternative hotel suggestions or the maps to find something nearby within your budget. Or use Matt's Hotels of Greece Santorini Page. You can also use the Aegean Thesaurus Hotel Request form because they are proficient at finding good value for money hotels.
Hotels for Honeymooners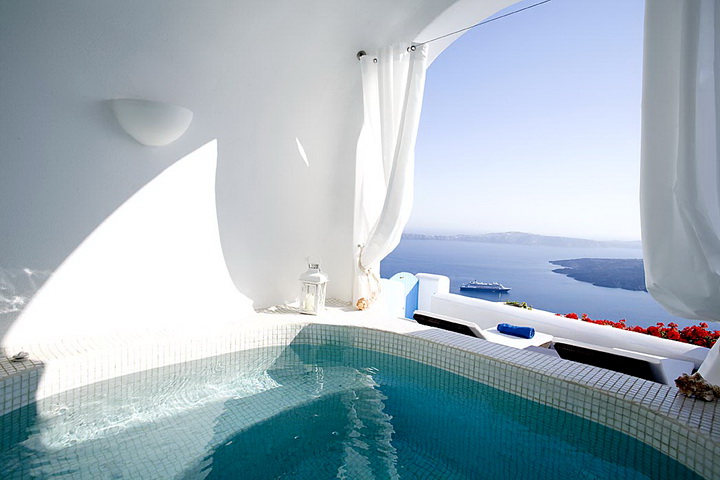 Most newlyweds and couples stay in Fira or Oia as well as Firostefani and Imerovigli which are all large towns on the rim of the volcano where you can find hotels suspended in space that have private swimming pools, hot tubs, Jacuzzis and other forms of entertainment that will keep you occupied. Hotels, villas and apartments as well as food and beverages are a little (or a lot) more expensive in Oia and Fira, particularly if you want to be in a room overlooking the caldera. But like most places in Greece with a little effort and some assistance you can find good deals at hotels that are not on prime real-estate or are undiscovered or even specials at the well known hotels through a Greek Travel Agency or by learning how to use the various tools available on Booking.com's Santorini Page.
That being said the A-Category Porto Fira Suites are 22 individually designed Suites in Fira town. Built on a 14th century Venetian mansion, in the most exclusive area of Santorini, Porto Fira Suites are perched on a cliff, with a panoramic view of the bay of Fira and the surrounding islands. Dana Villas is a group of studios and apartments perched on the rim of the cliff in Fira, the capital of the island, yet, away from the noisy center, facing the sea and the Volcano island. If you are looking for something really special and have money to spend on your honeymoon or weekend escape with a beautiful movie star check out the Dreams Luxury Suites on the cliffs of Imerovigli(photo). You can also get celebrity treatment along with spectacular romantic views at Canaves Suites and Spa and dozens of other "Honeymoon Hotels" on Matt's Hotels of Greece Santorini Page.
But honestly if this is your honeymoon do you really want to be poking around looking for hotels and booking ferries and hoping it all works out? Wouldn't it be smarter to put your plans in the hands of a professional who will make sure that everything is perfect and may have availability at hotels that are booked full on the hotel booking sites? My suggestion is to visit Fantasy Travel's Honeymoon page.
How about just showing up?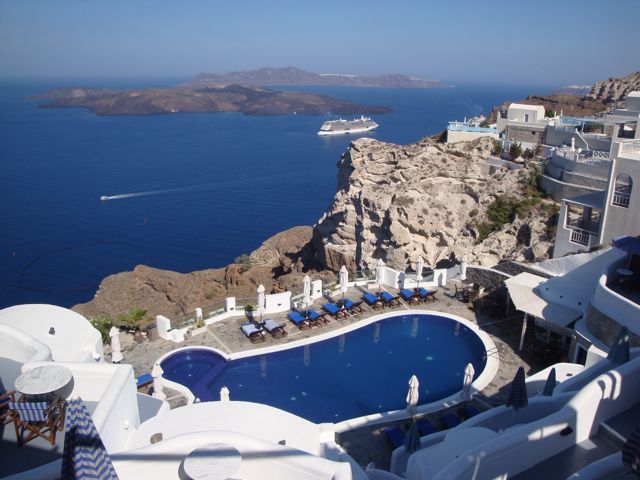 There are people who come to the port to rent rooms on the island. The days of the little old ladies advertising a room in their house are over. They have been replaced by professionals whose job it is to get you to a hotel and they are paid by the head. They are called kamakis and the word means harpoon. You can find cheap rooms and if you are a backpacker this is a hit or miss situation because if the room is lousy you can leave and wander around and find something else or even go to Perissa Campsite. Many hotels are outside of town or some distance from the beach and you have to walk on roads that were not meant to be shared by automobiles and pedestrians. Also in July and August it is entirely possible that you will show up on Santorini and find nothing available.
If you are a family, honeymooners or a little older you can find accommodations to suit your budget by working with a reliable Greek travel agency like Fantasy Travel or Aegean Thesaurus or Dolphin Hellas. In the end when you factor in things like ferry schedules and the information you can get from the agencies you come out way ahead. A knowledgeable travel agent will know the best place for you to stay out of the hundreds of hotels on Santorini. They also receive better rates with hotels they book in advance (called commitment) and can offer bargain prices at certain times since they would rather put you in the room they have already paid for and break even then have it empty and lose money.
For more hotels see Matt's Hotels of Greece Santorini Page.
More Santorini Hotel Information

If you have been using the automated booking sites you may have wondered why so many of the hotels you are interested in are full. In most cases they aren't. But the booking site only has a certain number of rooms in each hotel and when those are gone they send you to some other similar, or sometimes not so similar hotel. But they sure make an excellent tool for finding exactly the hotel you want if you know how to use the filters properly. And with thousands of guest reviews, photos and many hotels with free cancellation it can be hard to resist. Anyway if you book early enough you should be able to find what you want before the rooms fill up and if you look at the alternatives they offer you can sometimes find better hotels for cheaper than the popular ones that everybody wants to stay at. See Booking.com's Santorini Page.
To find a room in a hotel that is supposedly booked full that you are absolutely determines to stay at use Fantasy Travel's Hotel Request form or contact any of the travel agencies on Matt's Greek Travel Agencies Page. Not only will they hopefully be able to find room in the hotel you want but they can also book ferry tickets, transfers and hotels in Athens and if you have any problems they will be a lot more helpful than the automated booking site. And if they can't find a room in the hotel you want they will find something else as good or better, and explain to you why it is as good or better. And there is nothing wrong with using the automated hotel booking sites to read reviews and look at photos and maps, and then book through a reliable Greek travel agency that will not only work harder to make your holiday a success, but is also more deserving of your support.
You can also visit my new page for booking directly with the hotels through my partnership with Webhotelier, the company that creates the Booking software for many of the hotels in Greece. Visit Matt's Direct Booking Santorini Hotels Page
For Villas on Santorini visit Matt's Greek Villas in Santorini Page
For Hotels, Villas, apartments and holiday homes use Matt's Suggested Hotels in Santorini
To get assistance with hotels, ferries, tours and transfers try Matt's Create-an-itinerary form which enables you to choose your islands, your budget, the number of days you want to spend in each place and the method of transportation and get a price from a reliable Greek travel agency with no obligation to purchase.
If you have a question about hotels, villas or anything contact Matt
Be sure to ask your travel agent or the hotel about transfers from the port or airport. Santorini is not the kind of place you can just show up and easily find your hotel like smaller Greek islands.