Naxos
Another overlooked gem in the Aegean, Naxos is big, green and may have the best beaches in Greece. It's close to the popular islands of Mykonos, Ios, Paros and Santorini with frequent ferry connections. Lively harbor town with restaurants, cafes, clubs and shops. Rent a car and see the whole island. Beautiful valleys that are like paradise if you enjoy walking, particularly the area known as Tragaia. The best beach they say is at Plaka with other nice ones at Agios Prokopios, Agia Anna, Mikri Vigla, and Kastraki, any of which would be the prized beach on any other island. The fishing village of Apollon is a popular location for day trips, with good seafood restaurants and a giant unfinished statue of the God Apollo laying in the ancient marble quarries since 600bc. The ferry trip is about 7 hours from Athens and stops in Paros and there can be five or more a day in the summer, fewer in the winter. Summer highspeeds take around three hours to get here. There are daily connections to Mykonos, Ios and Santorini. There are also less frequent connections to Crete, the Dodekanese, Ikaria, Samos, Amorgos, the small Cyclades islands, Skiathos, Crete and Thessaloniki.
See my Naxos Guide at www.greektravel.com/greekislands/naxos
For hotel bookings and rates and island hopping itineraries visit www.fantasytravelofgreece.com or Aegean Thesaurus Travel
For more descriptions and photos of hotels see www.hotelsofgreece.com/cyclades or search Booking.com
---
Paros
Grand Central Station of Aegean ferry system, many boats stop here and Paros (along with Naxos) is a good island to include on your itinerary since you can easly get to Mykonos, Ios and Santorini. Town is full of foreigners, many who live here and there are plenty of cool bars. The tiny idealic fishing village of Naousa is so crowded in August that you have to stand in line to walk past the cafes that surround the port so come in June or early or July, or even better in September. The beaches of Paros though popular are also quite nice. Paros is known for its windsurfing. The beach at Parosporos (or is it Porosparos) has incredible body-surfing when the wind is coming from the north (I think). Paros is a very popular island and people who visit are pretty happy there.

The ferry trip is about 6 hours from Athens and continues on to Naxos and Santorini. There are several daily connections to Mykonos, Ios and Santorini in the summer. There are also less frequent connections to Crete, the Dodekanese, Ikaria, Samos, Amorgos, the small Cyclades islands, Skiathos, Crete and Thessaloniki. There are also Hydrofoils, Catamans, sea-jets and other strange and speedy craft that stop at just about every island around. The travel agencies in the port list the daily boats and this is about the only accurate way to keep track of them all.

See my Guide to the Island of Paros at www.greektravel.com/greekislands/paros
For programs that include Paros with or without other islands see www.fantasytravelofgreece.com and see their Island Hopping section. For bookings you can also contact Aegean Thesaurus Travel or Dolphin Hellas Travel
For hotel descriptions and rates visit www.hotelsofgreece.com or search Booking.com
Antiparos has nice beaches and cafes and is more relaxed then Paros. There is also the gigantic Cave of Antiparos which is the most popular site on the island. There are ferries connecting the two islands leaving every half hour or so from the town of Pounta, plus excursion boats that leave every morning from Parikia.
Summer of 2004 brought many celebraties to Antiparos including Brad Pitt and Tom Hanks so who knows what the future holds for this small island. See my guide for Antiparos at www.greektravel.com/greekislands/antiparos
For Hotels and transportation visit Aegean Thesaurus at: www.greecetravel.com/aegean
---
Santorini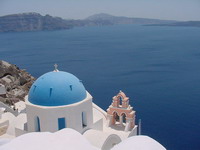 Visually spectacular. Thira is touristy, Oia is a little quieter but the island is the most popular in Greece and for good reason. The daytime action is at the beaches, Perissa and Kamari. Good Raki and domatokeftedes (fried tomato-balls) are culinary favorites. Ruins of Ancient Thira are worth the trip if you are unimpressed by the most spectacular sunsets on this planet. Most people want to stay in the beautiful hotels overlooking the caldera but if you have children you will sleep a lot easier a few meters inland rather then on the edge of a 1000 foot cliff and save money as well. Great nightlife, excellent beaches, spectacular scenary and romance make this one of the world's top destinations for honeymooners and weddings too. The ferry ride from Pireaus is about 8 hours with stops along the way at Paros, Naxos and Ios and sometimes Sifnos. The highspeeds only take about 5 hours. Daily connections to Mykonos and Crete and other Cyclades in the summer by Highspeeds. There are less frequent ferry connections to Crete, Thessaloniki, Kos, Rhodes, Karpathos, Milos, Folegandros, Kassos and Halki. There is also an international airport. They say this is the one essential island. They may be right if this will be your only trip to Greece though I spent several happy summers in Greece before my first trip to Santorini. Santorini is a very commerical island and with that in mind I am going to shamelessly promote some tours and programs that I believe are among the best you will find anywhere...

Honeymooners! Before you commit to anything (besides each other of course) take a peak at Fantasy Travel's Honeymoon Programs. Santorini is also the island that everyone wants to get married on since it is one of the most beautiful and romantic places in the world. To learn about Greek weddings see my wedding pages or See Fantasy Travel's Wedding Programs. Happily married but want to do something special in a special place? Check out Fantasy's Renewal of Vows page

Keep in mind that because of the popularity of Santorini, the hotels with caldera view that have received endless praise on sites like Tripadvisor, can charge astronomical rates. Lesser known hotels that may be just as good can cost half as much. The Volcano View Villas on the Cliffs of Santorini, with 3 swimming pools and a view so spectacular you may never leave the premises. This is a lot of hotel for the price. Also have a look at the new Petit Palace, also on the caldera, with private pools and the Caldera's Liliam Villas. But the smartest thing to do is ask a Greek travel agent to find you the best caldera view hotel for the money.

The Ether Traditional Houses are in the village of Oia which is a little quieter. If you are looking for an affordable house to rent on a weekly basis check out the selection at www.greecetravel.com/villas

Far from the Maddening Crowd: In response to the travelers who worry about recent demonstrations in Athens, Fantasy Travel and I have put together a 10-Day Athens-Mykonos-Santorini package which includes a tour of Athens and all transfers and ferry tickets. The package starts at 790 euros per person. What makes it unique is for the Athens part of the trip you will be staying at the beach and commuting to the important archaeological sites of Athens by taxi or 30 minutes by bus or coastal tram. For more information see www.fantasytravelofgreece.com/farfromcrowds.html

I recommend Fantasy Travel's program The Pursuit of Pleasure which is 12 Days and 11 nights in Athens, Mykonos and Santorini including hotels, ferries, transfers, tours, admission to archaeological sites and breakfast starting at 940 euros per person. These are in good centrally located hotels in Athens and the islands. You can't beat this price for these hotels and this itinerary.

How about a 13 day program that features 3 nights each in Mykonos, Santorini and Athens plus a Greek Island/Turkey cruise? Check this out... you get on the cruise in Mykonos and get off in Santorini. For those who want to go on a cruise but also want to spend more time on an island than a cruise usually allows this is the answer. See Fantasy Travel's Smart 7

If you want to combine Santorini with other islands I suggest using my Create-an-itinerary form

Visit my Santorini page at www.greektravel.com/greekislands/santorini


For hotel descriptions, bookings and rates visit and programs that include Santorini visit Fantasy Travel or Dolphin Hellas or to work with a small local Travel agency specializing in Santorini, Sifnos and the Cyclades visit Aegean Thesaurus Travel (especially if you want to combine Santorini with a less touristy island like Sifnos which many people do).

For more hotels on Santorini with reviews and photos see www.hotelsofgreece.com/cyclades or search Booking.com
---
Sifnos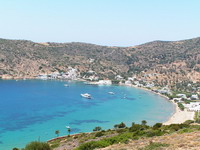 Visually attractive and still Greek. For the thirty and older crowd, single or married with children. Apollonia, in the center of the island, has fun nightlife. Great beaches all around the island. Fantastic food and wine. My favorite island for almost 30 years. Port of Kamares is nice combination of beach, restaurants and a few bars all within walking distance. The newly rennovated Stavros Hotel is great place to stay with a view of the beach and harbor from your balcony. The cleanest port in the entire Aegean. Houses and villas for rent all over the island. Pension Morpheas is a small family run hotel on the beach and it is a bargain. Vathi is quiet with excellent food at Manolis Taverna. Kamares is one of the best beaches in Greece for families because it is a long sheltered bay that is very shallow so you don't have to worry if you turn your head for a few moments while your child is playing in the sand (and you are sitting in the Kima Cafe a few feet away.) People who visit Sifnos come back year after year. My Sifnos Guide was the first website I ever made and it is still one of my favorites. There are daily ferries doing the 5 hour trip from Pireaus and there are daily connctions with Serifos, Kythnos and Milos.During the summer there are daily or almost daily connections to Santorini, and in good years to Paros, Naxos, Mykonos, Ios, and Syros by Highspeed. There is also a daily or almost daily highspeed that gets you from Pireaus to Sifnos in just over two hours.
Visit my Sifnos page at www.greektravel.com/sifnos (It is one of my best sites because I go here often)

Aegean Thesaurus Travel Agency


What began as the island's only travel agency has now become one of the most respected and reliable full-service agencies in the Cyclades. Not only can they arrange your trip and accommodations in Sifnos but they can take care of your hotel needs in Athens and on any of the Greek islands. They can also do weddings on Sifnos. For Info on accomodations go to their webpage at www.greecetravel.com/aegean
For my suggested itinerary that includes Sifnos and Santorini see www.greecetravel.com/tours
---
Serifos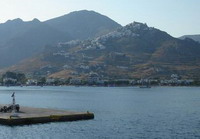 Less wealthy neighbor of Sifnos. Relatively undeveloped outside of main port. Really beautiful beaches. Like Sifnos, Milos, and Kythnos, for older travelers though they have an excellent campground at Livadakia near the port. I finally went there summer of 2006 and loved it and have returned since. I stayed at the Hotel Maistrali right in the port. Great location and very friendly owner by the name of Babis Bobolis whose passion happens to be Serifos and can give you directions to some of the best beaches in the Cyclades. Their main village on a mountain overlooking the bay is one of the most spectacular villages in the Cyclades. Serifos is about 4 hours from Athens by ferry and there are daily connections to Sifnos, Milos and Kythnos.
See my Serifos page at www.greektravel.com/greekislands/serifos
To meet Babis Bobolis and stay at the Hotel Maistrali see www.hotelsofgreece.com/cyclades/serifos/maistrali
For bookings contact Aegean Thesaurus Travel
---
Sikinos
Not ready for Prime-time.That's more then enough reason to go there. Very little tourism, it is an island of mostly fishermen and farmers. There are rooms to rent in the twin villages of Kastro and Chora situated in the mountains and in the quiet port town of Alopronoia.
---
Syros
A working class island and the most unique in the Cyclades since it is the capital. Hermoupolis has a century old ship yard servicing ocean going freighters and tankers, right in the harbor. Beautiful town, more like a small city. Two or three of the best restaurants in Greece. Extremely nice beaches too. I am convinced that the town of Hermopoulis, will one day be a popular destination in the off-season. The reason is the architecture. In the late 1800's the town was the main port for Greece and is full of old buildings, churches and mansions that have now been restored. It has cobblestone streets and great cafes. If you love old buildings and good food, come here. Great old hotel called the Hotel Hermes right on the waterfront. Ask for a room with a balcony and you will never want to leave. There is a pebble beach right in the back yard and the port in the front. It is also a few steps from the excellent Yaninea taverna-psistaria. There are daily ferries from Pireaus and the trip is about 4 hours or 2 hours by highspeed. There are daily connections to Tinos and Mykonos and a ferry which originates here goes to all the Cyclades islands doing a different route every day. There are also Flying Dolphins and a High-speed ferry from Rafina. The ferry fast Aeolis Express of the NEL Lines is your best bet to get here quickly and comfortably though the Hellas Flying Dolphins are good too. The Blue Star are somewhere between a ferry and a highspeed.
For hotels on Syros see www.hotelsofgreece.com or search Booking.com
For reliable travel agencies that book Syros contact Aegean Thesaurus Travel or Dolphin Hellas or Fantasy Travel
Take a look at my Syros web page at www.greektravel.com/greekislands/syros
---
Tinos
Beautiful island close to Mykonos with excellent beaches, traditional villages, beautiful landscape and a rich history. Perhaps the most spiritual island of all, the wonder-working icon in the church of the Panagia Evangalestria attracts people from all over Greece in need of a miracle and around the 15th of August the island is packed with pilgrims, as is every boat going to Mykonos that stops here. Hotels are so full that people sleep on the streets. But except for the two weeks around that date, Tinos is generally a quiet island and is not only worth a visit, you could spend your entire holiday here and be quite satisfied. (And if you crave a little action, Mykonos is 15 minutes a way by highspeed ferry.) There are daily ferries from Pireaus, about 4 hours away and also Rafina. Daily connections to Andros, Syros and Mykonos.

Don't stay in Tinos town. Go to the area of Ag Ioannis Porto on the eastern tip of the island an area of small farms, summer homes and a smatering of hotels and fish tavernas. We stayed at the Porto Raphael Apartments and it would be hard to imagine a better run, friendlier, clean, well located place to stay, right above the beach. See www.hotelsofgreece.com/cyclades/tinos/porto-raphael
For more hotels or rooms in Tinos see www.hotelsofgreece.com or contact Aegean Thesaurus Travel or Dolphin Hellas or search Booking.com
Be sure to visit my website for Tinos at www.greektravel.com/greekislands/tinos
---
There are actually about a dozen baby Cyclades, but only four are inhabited in our times: Donoússa, Páno Koufoníssi, Skhinoússa, and Irakliá. They are strikingly different from one another, each with their particular clientele – though none now rank as undiscovered, and all of them, given limited accommodation, are no-go areas from mid-July to September 1 unless you have a rooms reservation – or are happy to camp out. Athens agencies are unlikely to be able to help with advance lodging reservations, except on Páno Koufoníssi and Skhnioússa which have some luxury complexes. Páno Koufoníssi also has the best beaches, with Donoússa not far behind; Irakliá has the best walking, with again Donoússa running second. Accommodation can be on the cheap side, but dining out is definitely not – little islands do not mean little prices. While all four have a bank ATM apiece, best not rely on these but come equipped with plenty of cash.
For more on these islands see Marc Dubin's Guide to the Little Cyclades
---
Many of these islands can be included in an isand-hopping itinerary in the summer. It gets harder in the off-season though. If you know which islands you want to visit try using the Create-an-Itinerary page and you can find out what is possible and also how much it will cost.
If you are a budget traveler and you think you are too poor to go through a travel agent think again and see this page: www.greecetravel.com/budget-travel
I recommend Fantasy Travel's program The Pursuit of Pleasure which is 12 Days and 11 nights in Athens, Mykonos and Santorini including hotels, ferries, transfers, tours, admission to archaeological sites and breakfast starting at 940 euros per person. These are in good centrally located hotels in Athens and the islands. You can't beat this price for these hotels and this itinerary.