Aegina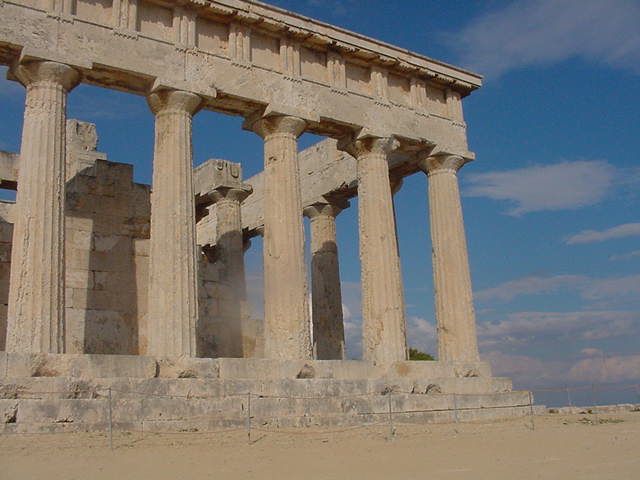 A nice day trip from Athens. Take the ferry rather then the Flying Dolphin(hydrafoil) so you can relax and enjoy the scenery of the short trip. You can sail to the main port or else the resort town of Agia Marina. Nice island for bicycling and the small coastal village of Perdika has some good seafood restaurants but should be avoided on weekends when it is busy with visiting Athenians. Visit the Temple of Aphaia above Agia Marina. Surprisingly Aegina is one island which has really retained it's 'Greekness'. Maybe because it is too close to Athens to be attractive to mass tourism. It is a great place to go in the winter and the off-season. Agia Marina is a beach town with some tavernas a view of Athens and a nice hotel owned by a very friendly and hospitable young woman named Sophia. Check out the Hotel Karyatides. This is a good place to stay for people who want to see Athens but not necessarily stay in Athens because you can get to the city in an hour or less.
For hotels see www.hotelsofgreece.com or search Booking.com or contact Dolphin Hellas
See my Aegina Guide
I used Aegina as my sample island in my lesson on How to Visit a Greek Island
See also www.athensguide.com/aegina.html for info on going to Aegina and other nearby islands on daytrips.
Angistri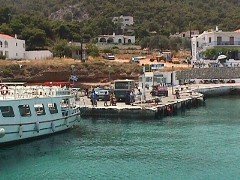 Angistri is a small island near Aegina with beautiful sandy beaches and a devoted following. Famous for being one of the first places in Greece to experiment with naturism, (or in plain English it was one of the first islands to have a nudist beach, and in fact it still does.) Some nice tavernas and the famous Agistriclub Hotel , a favorite for people who have made a career of visiting Greece every summer, make Angistri an excellent place to stay and still be able to zip into Athens to see the Acropolis. The far side of the island is mostly agricultural and in the village of Limineria, named after its lake, the inhabitants devote themselves mostly to farming and fishing. These islands near Athens are also a good choice for the winter months when weather is unpredictable and you don't want to be too far from Athens.

See my Review of Angistri
For hotels see www.hotelsofgreece.com or search Booking.com or contact Dolphin Hellas
Hydra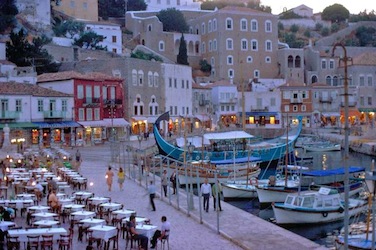 Former home of Leonard Cohen and jet setter haven. No beaches but who cares? Magnificent village and swimming off the rocks is good enough for recovering from the previous nights festivities. Restaurants and cafes on waterfront are for people-watching. For good inexpensive food search the back-streets or walk down the coast. No cars on the island. Lots of donkeys. Suitable for families or jet-set nightlife lovers. There are excursions to Ancient Mycenae, Epidavros and the beaches of the Peloponnesos. The town has been restored and preserved exactly as it appeared in the 1800's when its inhabitants built it during a period of prosperity gained from piracy and blockade running. The Hydriotis made a name for themselves during the war for Independence. Nice seafood restaurants in the village of Kamina. When you tire of walking there are water-taxis. My father took this photo in 1968. It has not changed a bit. Well, maybe a little but compared to the rest of Greece, not at all.

See my Guide to Hydra
For hotel descriptions, bookings and rates visit www.hotelsofgreece.com or search Booking.com or contact Dolphin Hellas
For Villas in Hydra see www.greecetravel.com/villas
Poros

Imagine staying on an island so close to Athens that you could wake up in the morning and in a little more than an hour, be walking around the acropolis, shopping in the flea-market or wandering around the Plaka looking for gifts or a nice place for lunch. Imagine an island that is a three minute boat ride to the Peloponisos and places like Naphlion, Myceneae, Epidavros. Imagine an island that is less then an hour from Pireaus, where you can make ferry connections to Mykonos, Ios, Santorini, Crete, Paros, Naxos, Lesvos, Rhodes and almost every island in the Aegean sea. And if this island was blessed with beautiful forests that came right down to the beach, inexpensive accommodations, great restaurants, water sports and cafe life on par with the best Greek islands, then why would you bother staying in Athens? (Unless like me you love cities)
See my Guide to the Island of Poros
For hotel descriptions, bookings and rates visit:
The Saga Hotel at: www.hotelsofgreece.com/saronic/saga
Villas of Greece at www.greecetravel.com/villas
or see www.hotelsofgreece.com or search Booking.com or contact Dolphin Hellas
Easter in Poros! Spend Friday Saturday and Sunday on the island of Poros, one hour from Athens, taking part in the church celebrations and ending with a dinner of lamb roasted on a spit, wine, dancing and more with hosts Takis and Zefi Alexopoulos of the beautiful Saga Hotel . If you are planning to be in Greece around Easter and are looking for something to do and want to celebrate Greece's most popular holiday in a magical way this is the way to go. Read about Greek Easter and Easter in Poros at www.greecetravel.com/easter
Salamina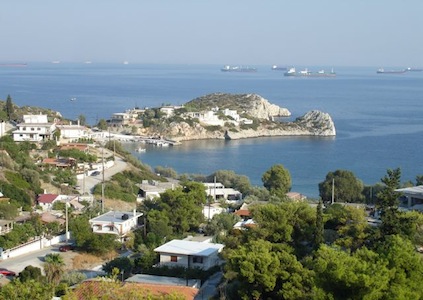 The Jewel of the Saronic. Well maybe a couple thousand years ago. It is now more of a suburb of Pireaus with ferries doing the 10 minute commute every 20 minutes or so from Perama, an industrial area that is worth a visit for people who like shipyards, factories and things like that. The island of Salamina itself makes an interesting day trip if you have many days to spare (like a year). There are restaurants and beaches on the far side and a few derelict ships and wrecks scattered around. There are also boats from the big harbor in Pireaus but something tells me that not many people will make the trip after reading this. Still, I went to check it out with George the Famous Taxi Driver and I kind of liked it. After all, if it were not for the Battle of Salamis we might all be speaking Farsi. Check out the weird organic house near Peristera. There are some nice spots as any local will tell you. The trouble is finding a local who will tell you.
Spetses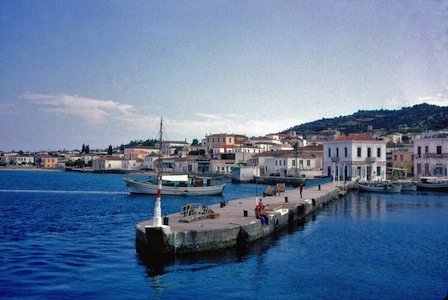 Nice beaches. Pine trees. Water-taxis and Nightlife in the old harbor plus one of the oldest wooden boat building yards in Greece. Spetsi is most famous for being the setting for the John Fowles book, The Magus which is suggested reading for your visit here.You can travel all around the island by bicycle or water taxi and there are excursion boats and buses to the various beaches. Flying Dolphin service to Naphlion and points south make Spetsi a doorway to the Peleponisos.

For hotels on Spetses see www.hotelsofgreece.com or search Booking.com or contact Dolphin Hellas
There are also houses and villas available at www.greecetravel.com/villas
See the Diana Farr Louis Guide to Spetses

You can find hotels in the Saronic Islands by location, price, whether or not it has a swimming pool or is on the beach, and see photos, maps and customer reviews by using this link to booking.com. Excellent prices and many hotels you can book and then cancel with no cancellation fee. For those who want to book without using a travel agency this is the best way to do it.