You can find hotels in Dodekanese Islands by location, price, whether or not it has a swimming pool or is on the beach, and see photos, maps and customer reviews by using this link to Booking.com. Excellent prices and many hotels you can book and then cancel with no cancellation fee. For those who want to book without using a travel agency this is the best way to do it.
Astypalia
Looks like two separate islands connected by a narrow isthmus. Most of the visitors are Greeks. The island is more like a Cycladic island then the Dodecanese chain which it is a part of. Beautiful geometric white houses and a labarynth of a village crowned by a Venetian castle. Many coved beaches, it is remarkable that the island does not get more tourists. It could be the boat schedule. By my count there were only three a week last summer. Go! (and then write and tell me about it). I have not made a website yet but Booking.com has a number of hotels on their Astypalia Pages
Halki
Small island which caters to package tourists looking for an unspoiled island. For that reason it is tough to find a room. When the sponge in the area died out many of the inhabitants moved to Tarpon Springs Florida and the old Horio is deserted. There is a daily caique connecting the island to Rhodes and a hydrofoil once a week to Kalymnos, Kos, Nisiros and Tilos, but no ferries since there are no cars on the island.
Kalymnos

Spongefishermen's island. The main port of Pothia is lined with cafes and as home to Greece's spongefishing fleet is a working town. There is a sponge museum there too. There are resort beaches around the island and several other small ports and towns worth visiting. There are small excursion boats from Pothia to the small islands of Nera and Pserimos and from the resort town of Myrties to Telendos where there are rooms to rent, tavernas and beaches. People who visit regularly rave about Kalymnos. Kalymnos is connected by an almost daily boat from Pireaus to the other major islands of the Dodecanese chain and also a ferry and hydrofoil to Samos. There may even be an airport there by the time you read this. It takes around 12 hours by ferry from Pireaus and a little less on the Blue Star Lines. If you have been to Tarpon Spring Florida then you probably have met someone from Kalymnos. See Gill Collins review of Kalymnos
You can book this island through Fantasy Travel and you can find hotels for Kalymnos at www.hotelsofgreece.com or search Booking.com
Karpathos
Another world. Don't come here to party but to watch, listen and learn. Very traditional, especially the mountain village of Olympos which was isolated for centuries and still carries on many medieval customs and crafts.One side of the island is rocky while the other is more fertile and green. A line of mountains seperate the two sides. Many nice beaches some with hotels and restaurants but tourism has not gotten out of hand here...yet. The port town of Pigadia is the island's capital and has hotels, restaurants and cafes on an active waterfront. There are only a couple ferries a week from Pireaus and perhaps one or two a week to Rhodes, Crete, Santorini, Milos, Kassos, Halki, Paros, and Naxos. There is an airport and most people come here that way. For hotels see www.hotelsofgreece.com or search Booking.com or contact Aegean Thesaurus Travel
Kassos
A great island for walking and witnessing the vanishing tradions of Greek island life. One of the least visited islands in Greece. You can walk from the main village of Phry to all the other villages and beaches on the island or to the two monasteries. There are only 2 boats a week from Pireaus. There is an airport though with flights to Athens, Karpathos and Rhodes. My favorite restaurant in Athens is called Bakalogatos and the owners are from Kassos and so they serve a lot of food from the island and if the food on the island is as good as the restaurant you should go.
Kastellorizo
Tiny island made famous by the film Mediterraneo, a must-see for anyone visiting Greece. Also called Megisti, the island has no beaches but has instead the rocky coves that make it one of the best islands for snorkling. The island has a dramatic history and has been occupied by just about everyone and was even bombed severely during WWII. There are also excurson boats to the islets which surround Kastellorizo including the island of Ro whose last inhabitant, Despina Achladioti, died in 1982. Every day she would raise the Greek flag over the small island, clearly visable from the Turkish coast and she became a symbol of the Greek Spririt in the face of adversity. There are daily flights to and from Rhodes to Kastellorizo in the summer and ferries twice a week to Kalymnos, Kos, Rhodes, Symi and Tilos. For hotels see www.hotelsofgreece.com or contact Aegean Thesaurus Travel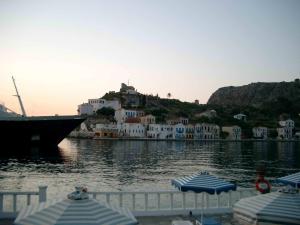 Megisti Hotel is a 4-star hotel located on the east side of Kastellorizo's beautiful natural harbour between the cape of Agios Stephanos and Nifti. Because of its incredible location, Megisti Hotel boasts the only private area for one to enjoy swimming or snorkelling in Kastellorizo's crystal clear waters. Alternatively, just relax in the sun and bask in the feeling of being a whole world away. Designed in absolute harmony with the island's breathtaking natural surroundings, this hotel provides spectacular views of the cape and the harbour. Click for photos, reviews and booking information
Kos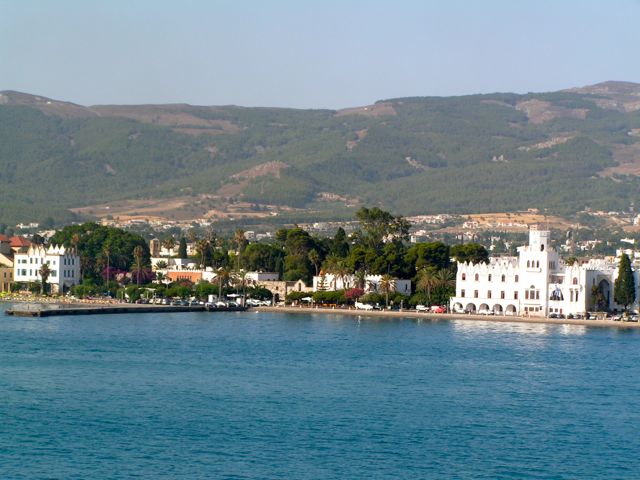 Very popular with Scandinavians in the past, Kos is rich in archaeology including Hellenistic, Roman, Byzantine and Venetian sites. Many of the islands beautiful beaches used to be quite crowded just as they are in Mykonos and Santorini and the other popular islands, but a drop in the number of package tourists mean there are bargains to be found. The interior of the island is still undeveloped, fertile and agricultural and best of all, largely flat so that riding bicycles (and of course motorbikes) is a fun way to get around. There are daily ferries to and from Pireaus and the other large islands of the Dodecanese, daily boats to Bodrun in Turkey and three flights a day to and from Athens. There are also several boats a week going to the smaller islands. If you are coming in the summer better book in advance (as anywhere).

See Guide to Kos: Island of Hippocrates
For bookings and more information contact Fantasy Travel at www.fantasytravelofgreece.com
For hotels on Kos see www.hotelsofgreece.com or search Booking.com
Leros
The main port of Laki is one of the best examples of Art Deco Architecture. It was designed by Mussilini's architects in 1923, though in defiance of the dictator, the capital was moved above to the village of Agia Marina.The rest of the island is green with stunning beaches and large bays. It is also the base for sailing trips to the coast of Turkey and the other Dodekanese islands. Daily or almost boat from Pireaus make the overnight trip and then continue on to the other larger Dodecanese islands. There is also a daily flight from Athens in the summer. You can find hotels for Leros at www.hotelsofgreece.com or search Booking.com
You can book holidays on Leros through Aegean Thesaurus Travel.
Lipsi
Few people had heard of the small island of Lipsi until 2002 when the leader of the Greek terrorist group November 17th was captured here in his villa where he had been quietly living for the last 15 years or so. But Lipsi is one of the most interesting of the small islets that sit between Patmos and the coast of Turkey. Despite it being a relatively unknown island there is some package tourist activity here and just showing up because you assume you will find a room may be unwise in July or August. There is really only one town which is the port. With a number of good tavernas in town, a few hotels and a dozen beaches within walking distance and a few ouzeries on the waterfront, this may be the quiet island you are looking for, if you can get here. A travel agent can help but finding one that books Lipsi maybe tough. Try Aegean Thesaurus Travel who seem to be willing to book the islands that other agents have no interest in.
Nisyros
This fertile island is actually a dormant volcano and even though there is little water it is rich in agriculture because of the mineral rich soil. The colorful port of Mandraki is host to and ancient acropolis, a monastery and a black stone beach. There is a thermal spa at Loutra. The volcano itself attracts many visitors and the villages of Nikea and Emboreios sit on the rim with spectacular views of the caldera. An excellent island for walking, the volcano has created and altered some incredible landscapes. There are several ferries and hydrofoils from Kalymnos, Kos, Rhodes, Symi, Tilos and Kastellorizo.
Patmos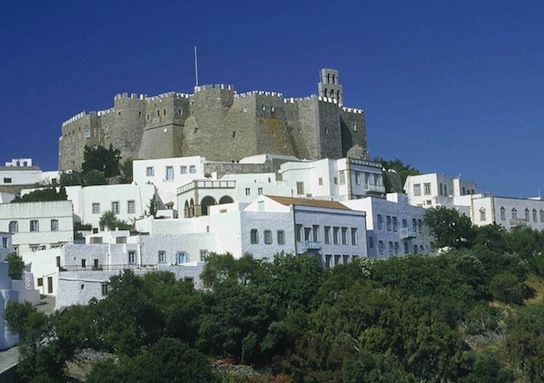 Quiet island at night but busy stop by day for Cruise ships. Great beaches and landscape this is where the Apocalypse of John, or Revelation was written. The main town of Skala caters to the many people who arrive on cruise ships but is still a comfortable enough place to base yourself to see the rest of the island. A place you have to visit is the monastery of Saint John the Theologian above Skala and the Monastery of the Apocalypse built around the cave where John had his vision of the end of times. A popular island with spiritually minded people, there is no denying the feeling of sacredness here. There are daily ferries from Pireaus for the almost overnight trip, continuing on to kalymnos, Kos, leros and Rhodes. There is a daily hydrofoil in the summer to Ikaria, Samos and Fourni and another small boat to the picturesque island of Lipsi.
Because the ferries from Pireaus get in after 2am probably the best way to see Patmos is on a cruise ship and just about all the Greek Cruises stop here. For more info on Greek cruises see www.greecetravel.com/cruise
Read Marc Dubin's Guide to Patmos
Read about my father's visit to Patmos in 1964
For hotels on Patmos see www.hotelsofgreece.com/dodcanese or search Booking.com
For hotel descriptions, bookings and rates contact Dolphin Hellas or Fantasy Travel
Rhodes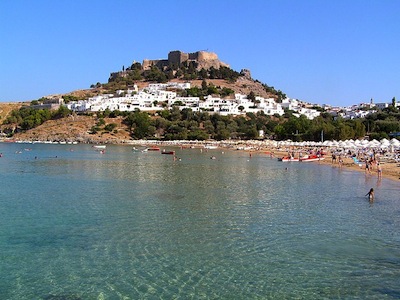 The most popular island in the Dodecanese and rivals both Santorini and Mykonos as one of the most popular islands in Greece. Rhodes town is more of a city but a nice one, in fact I could easily live here. The old town is something special, a medieval walled city and one of the most important historical sites in the world. Fantastic castle built by the Knights of Saint John. Lots of nightlife, and plenty of archaeology to get through the days if beaches packed with beautiful women (and men) bore you. Try Sticky Fingers or the 60's bar. Check out the rest of the island which is agricultural with great beaches and some fancy resorts, villages, mountains and the longest summer of any Greek island. Lindos is picturesque and packed during the season but go early or late and share it with the locals. Plenty of undiscovered spots but you will need a car to find them. Don't forget the Valley of the Butterflies. Well they are moths actually but nonetheless impressive. I loved it here on Rhodes and actually shopped for a house here. I stayed at the Hotel Mediterranean in town right on the beach where the Aegean sea meets the Mediterranean.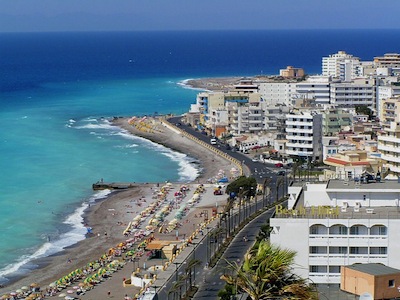 Several boats a day during the summer from Pireaus do the overnight journey and a cabin is recommended. These boats stop in Patmos, Kalymnos, Leros and Kos along the way. As the hub of the Dodecanese islands, there are boats to all the islands in the chain as well as several a week to other islands in the Cyclades and NE Aegean islands and Thessaloniki, or at least there was before the economic crisis. There are daily boats to Marmaris in Turkey, only an hour or so away so you can go there for the day. There is an international airport too.There are daily boats as well as to the nearby islands of Symi, Halki, Tilos and the other Dodecanese. Many people do day trips to the other islands.
Rhodes is on the itinerary of just about every cruise so if you are going on a Greek-Island Cruise you will be stopping here. If not, you should probably find another Greek Island cruise. Check out Fantasy Travel's Greek Island Cruise Page for itineraries and timetables.
See my Guide to Rhodes (One of my better pages)
For a travel agency specializing in Rhodes see www.fantasytravelofgreece.com
For hotel descriptions, bookings and rates visit: www.hotelsofgreece.com or search Booking.com
If you are coming to Rhodes on a cruise and want a private tour of the island by comfortable air-conditoned Mercedes visit www.greecetravel.com/rhodes/privatetours
Symi
Beautiful bays and pebbled beaches, best reached by small boats that leave frequently. Daily boats between Symi and Rhodes and many people come for the day to eat in the restaurants and wander around the beautiful town. There are several ferries a week to Kalymnos, Kos, Kastellorizo, Rhodes and Tilos as well as a hydrofoil twice a week. There are a couple ferries a week to and from Pireaus. See Symi: A Local Perspective. You can find hotels for Symi at www.hotelsofgreece.com or search Booking.com
Tilos
A great island for walking, with deserted villages, dramatic landscapes, a spectacular monastery, a medieval castle and uncrowded beaches. There are plenty of places to stay in Livadia and camping is permitted on the beaches.There are several ferries a week to Kalymnos, Kos, Kastellorizo, Rhodes and Simi as well as a hydrofoil twice a week. For the past 16 years, Tilos, has banned hunting and has as a result become a paradise for birds, some of them endangered. Animal protection groups and the Mayor of Tilos are attempting to create an official natural park in Tilos which will guarantee a long term hunting ban. However, local hunting clubs are putting pressure on the Greek Government and islanders to lift the ban and are thereby jeopardising efforts to shift the island economy to conservation uses of their natural resources. If I am not mistaken, Tilos was the first island to legalize same-sex marriage in Greece.
You can find hotels for Tilos at Booking.com

You can find hotels in Dodekanese Islands by location, price, whether or not it has a swimming pool or is on the beach, and see photos, maps and customer reviews by using this link to Booking.com. Excellent prices and many hotels you can book and then cancel with no cancellation fee. For those who want to book without using a travel agency this is the best way to do it.