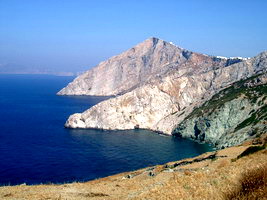 Looking for a quiet Greek Island where you can get away from package tours and holiday-makers? Folegandros may be just the place but you better hurry. The word is out.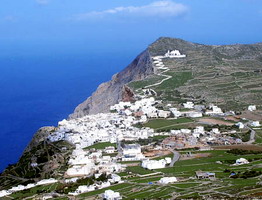 In 2005 an article appeared in Conde Naste Traveler which called Folegandros 'Greece's most beautiful undiscovered island' or something close to that. This created a stampede of American travelers interested in combining Folegandros with the other islands they had heard of which were of course, Mykonos, Santorini, Crete and Rhodes. This led to a travel agency nightmare of trying to find ferry connections from these islands to Folegandros of which there were none (Mykonos), a few in the summer (Santorini), rarely (Crete) and none (Rhodes). Those travelers who had opted for the less touristy islands of Sifnos and Milos had it a little easier though those traveling in the non-summer months of any except July and August found even these connections unreliable. Nonetheless some travelers who were not talked out of it and kept searching found that a small, but very high-tech travel company on the island of Sifnos, Aegean Thesaurus Travel, was willing to take the time and use their resources to find a way for travelers to visit this unspoiled Cycladic island that has been called "an untouched piece of true Greece".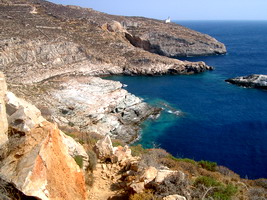 Folegandros has little in the way of package tourist amenities or major roads and those who come to the island looking for organized water-sports, discos and wild nightlife will be disappointed. But a lack of nightlife does not mean a lack of good restaurants and cafes for after all, on a quiet island, once you have walked through the hills in solitude, smelling the wild thyme, oregano and the array of colorful wildflowers in he spring, what better way to end the day than with a nice meal and some good wine? Like its neighbors Sifnos and Milos, Folegandros cuisine has not been gentrified yet.
Villages on Folegandros
There are three main villages on the island Karavostasi, Hora (Folegandros town) and Ano Meria.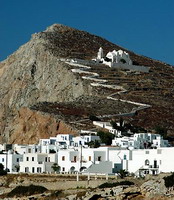 Hora is one of the oldest traditional medieval towns in the Cyclades; the buildings stand close to one another creating the external wall of the castle (kastro). The Hora, closed to car and motorcycle traffic, has a unique centre of three squares in a row, with trees under which to enjoy a drink or a bite to eat in a quiet, romantic atmosphere. It is no exaggeration to describe Hora as one of the most aesthetically picturesque, traditional villages of its kind. The view is said to be second only to that of Santorini, though fans of Plaka on the island of Milos might argue. The Kastro is a medieval fortress at the top of the town which dates from the 13th Century. Despite being a 'quiet island' there actually are some music bars so if you need that thumping beat to make conversation you are in luck.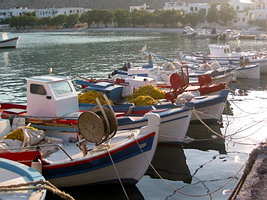 Karavostassis is a small seaside settlement 3 km southeast of Hora with whitewashed houses in the Cycladic style of architecture and a pebbled beach for nudists or not. Karavostassis is the island's port, where you will find fishing boats intermingled with and yachts and the visit of the ferry from Athens which comes only two or three times a week in the off-season. From Karavostassis, you can go on foot to Petoussis and Livadi to see the cave of Georgitsis.
The rural village of Ano Merià with it's typical "kafeneio" and taverns, is spread over cultivated fields with a myriad of dry stoned walls. Here you will find the Ecological and Folklore Museum with exhibits that reconstruct the farming practices of the island. It includes a rural residence with out-buildings, an orchard and vineyard, utensils used in daily life, as well as local costumes.
Beaches on Folegandros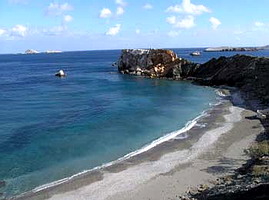 There are a variety of mostly quiet beaches around the island many of which require some hiking to get to. You can find some small beaches around the port area of Karavostasi. About 1 km from Karavostasi is the beaches of Vardia (photo) and Livadi with its beach and camping area. From Ano Meria you can walk from 40 to 90 minutes to reach many beaches, the finest being Agios Georgios, towards the northeast. From Hora a road heads north, hugging the cliff top and offeringbreathtaking views before descending sharply to the lovely sandy beach of Vathi Bay and the beaches of Angali and Agios Nikolaos.
Getting to Folegandros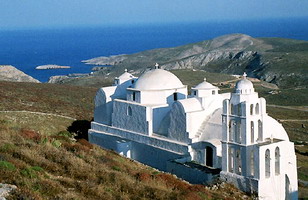 In the off-season there are only two or three ferries a week. There are more in the summer though how many more one does not know until the summer actually arrives which makes booking hotels a little difficult. But you can estimate that if there is not a daily boat there will be one 5 days a week. As for making connections to other islands, Sifnos, Milos and the Western Cyclades are your best bet and Santorini, Sikinos, and Ios are good possibilities if the Super-jet or one of the small companies has a high-speed doing this route. Because most businesses on the islands will have to go to the Cyclades capital of Syros for licenses, permits, fines or court you can assume that there will be a boat to and from that island a couple times a week. The most accurate ferry schedules are the ones that come out in the Athens News every Friday or in the Naftemboriki daily shipping newspaper (if you read Greek). Unless you are a free spirit with a one-way ticket to Greece and no schedule then you may want to hook up with Aegean Thesaurus Travel and let them take the responsibility of getting you on and off Folegandros and finding a hotel. Also see Fantasy Travel's Folegandros Program which can be combined with other islands.
ALEXANDER TECHNIQUE ON FOLEGANDROS
June 18 - 23, 2017.
This six-day workshop is a unique opportunity to combine travel to a Greek island, with an in-depth, experiential look at how the body and mind work together in movement. The classroom experience extends as you hike, swim, relax and enjoy Folegandros with the new information and body awareness that you gain from the Alexander Technique.. For more info e-mail: jkgrod@earthlink.net or visit her website
Hotels on Folegandros
There are a number of family run hotels and what we might call B&Bs on Folegardros that compare favorably with higher category hotels on other more popular islands. Folegandros like any island can get crowded in the summer so arriving expecting to find a place to stay may just be wishful thinking. I recommend using a travel agency that knows the island, for a number of reasons. First of all you will want to know that you can get on and off the island when you need to and if there is a ferry system in the world with more question marks on the schedules than he Greek ferry system it is probably in Bangladesh. The second reason is that even the quietest island has some nightlife and to book yourself into a hotel on a quiet island defeats the purpose if the hotel is next to the island's only disco. Aegean Thesaurus Travel on the nearby island of Sifnos can help you with hotels on Folegandros, ferries and can book you on other islands and Athens as well. The easiest islands to combine with Folegandros are Milos and Sifnos. The most difficult? Probably Rhodes or any island except Sifnos and Milos.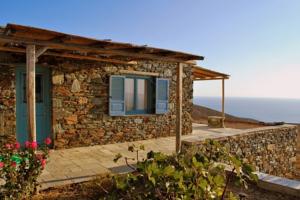 Perhaps the most unique place to stay on Folegandros is called Notos and is the only accommodation which is energetically self-sustained (with photovoltaics and a noiseless wind turbine). That's why it is literally in the middle of nowhere, on the west side of the island beyond the village of Ano Meria. It consists of 5 independent stone houses, built on a large plot of land, surrounded only by empty beautiful golden fields where goats, cows and donkeys graze. One has beautiful views of the sea and sunset and a huge night sky above, which makes you feel you're in deep space (as there are no nearby lights). The houses, despite being self-sustained, are rather luxurious and furnished minimally, with a Zen touch. A priceless advantage is that, except for the occasional animal noises, the place is in absolute silence since no TV, radio or phone is provided. Also, cell phones have a hard time establishing a link. AND THERE IS NO POOL!!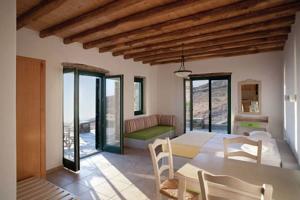 You get to the houses from the main road after driving on a wide stone lane, built initially in Roman times. I don't think anything comes closer to the true Greek Summer experience B.T. (Before Tourism), as exemplified, for example, by Jacques Lacarrière's book "The Greek Summer: a 4000-year-old everyday Greece ", beautifully describing the Greek islands of the 50's.

Besides the very friendly and extremely helpful owner/host (Loukas), another advantage is that you can hike to 2 beautiful beaches (Ampeli and Livadaki), both without any tourist furniture (umbrellas, chairs and the usual paraphernalia). Livadaki is quite isolated, in the sense that you can only hike there, since there is no road. It is a tough hike (about 1 hour), but in tune with "Notos" philosophy. One can drive to the other beach (Ampeli) on a dirt road, and reach after a short hike. One can also visit both by regular boat excursions. Click here for photos and booking information
Other recommended hotels include the Kalisti Hotel, a small A-Catagory Hotel in Folegandros (Hora) with a swimming pool for those who don't mind spending a little more. The B-Catagory Anemomylos Studios, also in Chora on a cliff face looking towards the north with a magnificent view of the sea, also has a pool. For economy-minded travelers in the C-category hotels you will be happy at Odysseas Hotel, Folegandros Apartments ,a friendly-family run hotel with a pool, or Hotel Polikandia with its beautiful gardens. For those who don't mind paying a little more for the sake of comfort there is the 5-Star Hora Resort Hotel and Spa which features a swimming pool, jacuzzi, mini-golf and free wireless internet. A step below is the 4-Star Anemi Hotel, a contemporary-design luxury hotel, inspired by traditional Cycladic architecture, overlooking Karavostassis bay. The 3-star Vardia Bay Hotel provides comfortable self-catering studios along with free internet access overlooking the sea and the village of Karavostasi.
You can find these and other hotels in Folegandros on Booking.com's Folegandros Page