Is Santorini Wine the Best in Greece?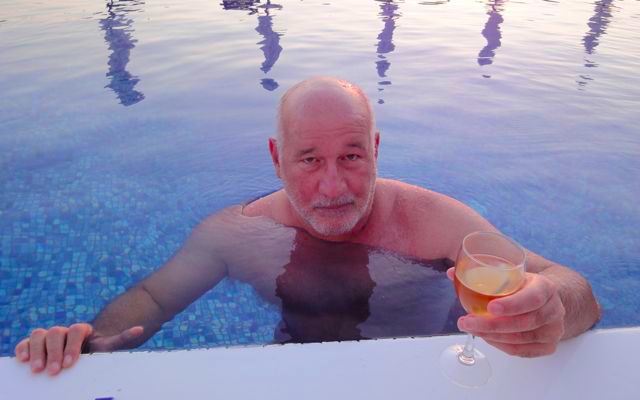 They say the wine from Santorini is the best wine in Greece. OK. I am using the expression 'they say' to avoid responsibility for saying it myself. In reality every time I have heard the expression "they say the Santorini wine is the best wine in Greece", it has been from someone from somewhere else. For example "They say the wine in Santorini is the best wine in Greece but I believe our wine in Nemea is better". Or "They say the wine in Santorini is the best wine in Greece but our wine in Lesvos comes from a bigger and better volcano than the one in Santorini". Or "They say the wine in Santorini is the best in Greece because that is the only wine they know because they live in Santorini and that is all they drink." So every time I have actually heard someone tell me that they say the Santorini wine is the best is because they were trying to tell me that Santorini wine is not the best.
Well now I have to weigh in on the subject, having just spent several days drinking my way around Santorini and I have to say that it just may be possible that the wine from Santorini is the best wine in Greece. Maybe there are some individual wineries around the country that make exceptional wine. Methymnaos of Lesvos comes to mind since I drink that pretty much every day (because my wife is from Lesvos), or the Monemvasia Kidonitsa from Lakonia, (where my family comes from). But I can honestly tell you that I did not have a bad glass of wine in Santorini whether it was at one of the many wineries on the island, in a restaurant, or even in my hotel. Santorini, because of its unique climate and the mineral content of its volcanic soil, probably has the best wine in Greece, no matter what they say.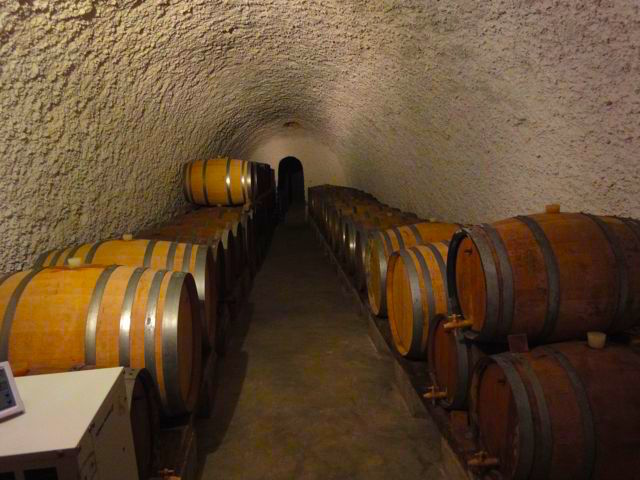 This is good news for anyone traveling to Santorini because while in some islands you exhaust the archaeological sites and museums in a day or so and spend the rest of your holiday on the beach, soaking up the sun and waiting for dinner hour, in Santorini you are in a Greek version of the Napa Valley, with lots of wineries to visit and lots of wine to taste. Only this is not the Napa Valley. This is Santorini, one of the most visually spectacular places in the world, with not only hundreds of restaurants, bars and cafes to drink wine in, but even little old men on the street selling their home-made wine in plastic water bottles. Not surprising on an island that has been making wine for over 3000 years. There are about forty native varieties of grapes in Santorini and it is one of the few self-rooted vinyards in the world. The vines lay low to the ground in round baskets made from the vines themselves and this protects them from the high winds.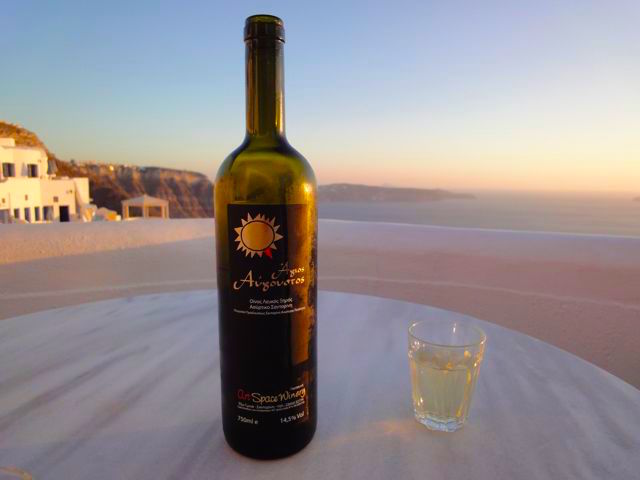 Assyrtiko is the most popular variety, rich in minerals and very tasty and used in most of the white wines. Mantilaria is the most popular grape in reds and are also dried and used to make sweet red wine. Another popular red is the rich and dark Mavrotragano which is not native to Santorini but is to the Cyclades. The Assyritiko are also dried in the sun to make Vinsanto which is a very strong sweet wine and in some cases aged in French oak barrels for five years or more, served as an apertif. Nykteri is another white wine, named for the practice of picking the grapes at night to avoid oxidation and spoiling. These are the primary wines but you will notice that there are a large variety of wines produced that are mixtures of different native grapes, (and some imported Greek vines) and aged in different ways, some in oak barrels and some in stainless steel tanks.
Santorini Wineries
Art Space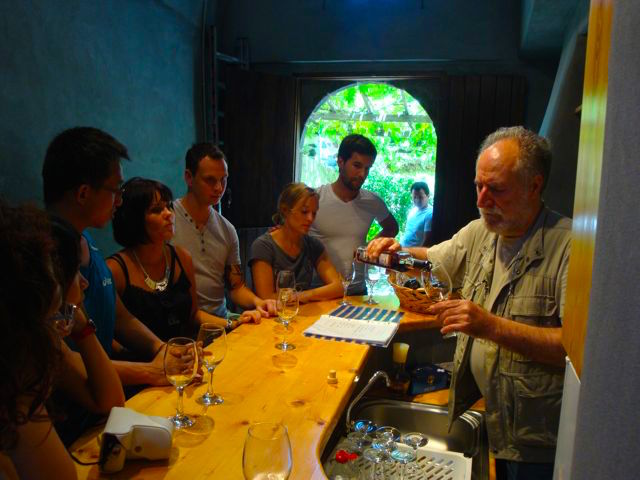 When we came to Santorini several years ago we went with a friend to Artspace, a small winery in Exogonia owned by Antonis Argyros that was also an art gallery who only produced about a thousand bottles a year. We returned in 2012 to find that he had expanded to about ten thousand bottles and had added a few new wines and even raki, which for those who don't know is like ouzo without anise. The building, which contains caves dug into the soft stone of Santorini, was formerly a tomato paste processing plant, owned by his father and a winery back in 1861. Antonis has turned it into a museum with traditional wine-making equipment much of which he actually uses, and new modern equipment and he produces perhaps the best wine we had on the island. His grapes are organic too. If you can only visit one winery then I would suggest this one. Make sure to get a bottle of his Saint August and his Saint August Reserve which have become our staples after leaving the island with a suitcase full of them. These grapes are harvested in August, thus the name. The Art Space gallery has some really nice pieces by some well known artists and even someone with no interest in wine, but loves art would enjoy the visit. And the caves and cisterns of the winery would be worth seeing even without the art. It is an amazing place. You can see more at Art Space Winery
Estate Argyros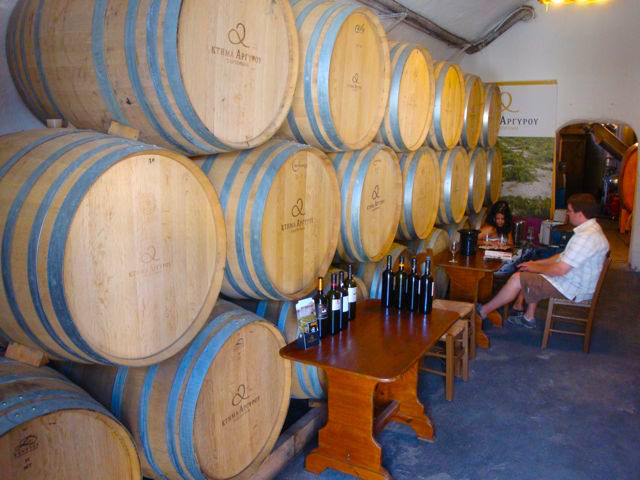 Just down the street is the Estate Argyros Winery which was established in 1903 by Giorgos Argyros, whose grandson Yiannis and his son Mathios still run it. The winery has been awarded as one of the best 100 wineries in the world in 2005 and 2006 by Wine and Spirits magazine and they make some delicious wines, some of which you can buy in the USA, which makes it a good winery to visit since you won't have to carry it back with you. Unless of course you want to buy one of the bottles that they produce in limited quantity that are only available on the island which you probably will after tasting them. They are also known for their Vinsanto, aged in French oak barrels for 12 years but their other wines have won all sorts of awards and the winery is featured in just about every wine magazine.
More Santorini Wineries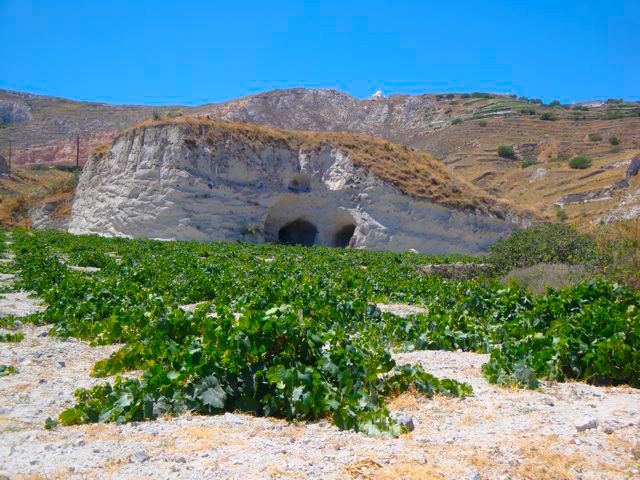 There are other small wineries that you can visit, such as Hatzidakis Winery whose facility is in a cave outside of Pyrgos has tours by appointment only. There are tours and tastings at the major wineries like Boutari in Megalohori, who have a modern facility that has been called one of "The Ten Architectural Wonders of the Wine World", with organized tours in 5 languages, a multi-media show, wine tastings and even food tasting daily from 10am to 6pm. Santo Wines is actually a cooperative and the largest winery on the island, right on the rim of the caldera on the road to Pyrgos outside of Fira. They have turned their wine tours into a full blown industry with wine gift boxes, traditional products like Santorini tomatoes, fava beans and capers, a wine tourism center, a documentary film about their company and they even rent out the winery for weddings and special events. (You can get more info from Fantasy Travel). The oldest winery on the island is Canava Roussos on the road to Kamari in Mesa Gonia. They offer wine tastings with traditional Santorini food every day from 11am to 7pm. Sigalas Estate is probably the most famous wine outside of Santorini and their winery is located near Oia in the area called Baxedes where they offer tastings and food samplings from April through September. Gavalas Winery in Megalohori has been making wine for 5 generations, focusing on Assyrtiko, as well as Aidani, Mandilaria and Mavrotragano. They are also the only winery making the indigenous rare varieties of Katsano and Voudomato. Their award winning wines are distributed all over the world including their Asyrtiko in its distinctive blue bottle. You can sample their wines on their daily tours of their historical winery. Venetsanos Winery is on the cliffs above Porto Athinaos and has wine tastings, a museum, and a cafe-restaurant with a spectacular view. Great place to go for wine and to watch the sunset. (Much better than Oia)
Santorini Wine Museum
The Koutsoyannopoulos Winery, also known as The Santorini Wine Museum is located in a cave eight meters below ground and 300 meters long. The museum presents the history of wine and the life of vine-growers in Santorini since the 1600s. The stages of the winemaking process and the whole range of machinery are presented in chronological order. The visitors experience the stages of pruning and ploughing of the vineyards, harvesting , stomping and weighing of the grapes. The exhibits include winemaking machinery and tools and visitors will have the opportunity to taste four of the best wines produced by the Koutsoyannopoulos family. An automatic audio guide is available in fourteen languages, and a guidebook is also available in twenty-two languages. You can get more information or make reservations by e-mailing: (info@wine-museum.info) or phoning from your hotel (22860 31322).
My suggestion is to read this page, take some notes, and then go to Art Space Winery first and if you have time visit some of the others. They only make about ten thousand bottles a year, it is not sold off the island and even on the island in very few locations so it may be your only opportunity to get some, and the Agios Agustos (Saint August) was our favorite wine in Santorini. The other wines we tasted were all good but Art Space seems more intimate, less commercial and special. And if there is better wine on the island then Santorini definitely does have the best wine in Greece, if not the world.
If you can't get to Santorini to buy their wine or you bought some and have run out, all is not lost. You can buy some of your favorite Santorini Wines from Greece and Grapes. Beer too. That reminds me: Be sure to try Santorini's own microbrew Donkey Beer from the Santorini Brewing Company, also available from Greece and Grapes.