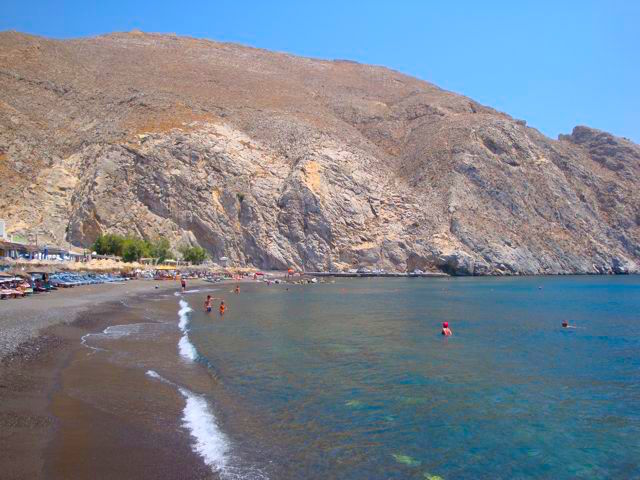 The beach towns of Perissa and Kamari are almost identical, though they are separated by a huge mountain of rock, and attract to their black sand beaches thousands of suntanned boys and girls with perfect bodies. I remember hearing of these marvels of nature (the sand, not the tanned bodies). Black sand to me was like white whales or purple mountains majesty. Something that was considered beyond special and had to be seen to be believed. What the tourist guides don't tell you about black sand which would be fairly obvious if I had thought about it is that it's hot as hell. On a summer's day you cannot walk from your towel to the sea without your flip-flops. You can look down the beach and see the heat rising in waves off the black sand and the shore is lined with flip-flops, waiting like patient dogs whose masters have gone for a swim. In the most popular areas, the places that are lined with beach beds and umbrellas where loud Euro-disco-pop blares out of beach-cafe speakers they have put down wooden sidewalks that can get you from the road to the sea and even a row or two parallel to the sea so you can reach your umbrella. But if you want to be away from the crowds you will most likely need your flip-flops to make it to the sand without feeling like one of Tony Robbins' unsuccessful firewalkers.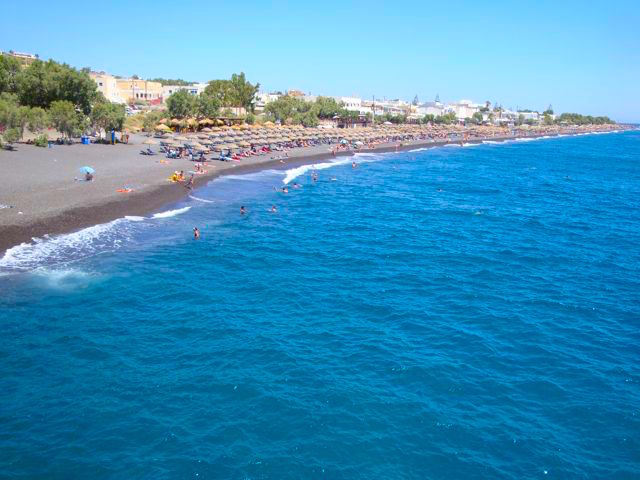 Perissa and Kamari are full of restaurants, bars, cafes and shops. There are supermarkets, campsites and even some kind of water park or mini-golf for kids in Perissa (I am not the kind of travel writer that investigates these things in great detail). Both Kamari and Perissa have diving centers where even if you are a beginner you can get lessons and do an actual dive and maybe find an ancient vase placed there for you to see, or an old fishing boat that was sunk when the EU paid the Greek fishermen to destroy their boats and do something else for a living. On the way to these beaches you pass through towns like Megalochori and Emborio which are agricultural communities that held out til the last minute before only slightly giving in to tourism, where you can still find restaurants that are filled with mostly Greeks.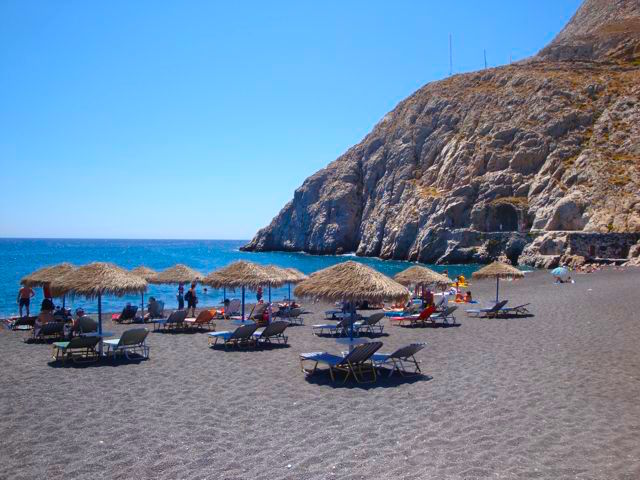 You will find that staying in a hotel in Perissa or Kamari will enable you to do two things. The first is to swim regularly, and in the sea, not in a pool, though many of the hotels will have pools. The second thing is save a lot of money which will enable you to spend more money on food in areas that restaurants are actually cheaper than in the main villages on the caldera. If you have a car it is no big deal to get in it and drive to Fira or Firostefani or even as far as Oia for dinner or to have a drink and watch the sunset. I would suggest that if you are on a budget then you should consider looking into hotels in Kamari and hotels in Perissa. There are a couple other beach towns but in my opinion these may appeal to people from places where they don't have internet and you don't have any idea what it is like until you get there and by then you probably don't have enough money to go somewhere else. I don't mean Perivolos which you can think of as just an extension of Perissa so you can look into Perivolos Hotels too if you are bargain hunting and there are several on my Santorini Hotels page. In Perissa Beach recommended hotels include the Aeolis Residence Holiday House, a beautiful 5-bedroom home with a swimming pool larger than most of the hotel swimming pools on the island. It is a few steps away from the beach, shops, restaurants, cafes and bars and the owner is known for being helpful and hospitable and has great reviews. Smaragdi Hotel in Perivolas, basically the same beach, is where we stayed. It's a family run small hotel with a nice pool, right off the beach. In Kamari Beach the the Boathouse Hotel, is a family run, waterfront hotel about a 5-minute walk from the center of Kamari.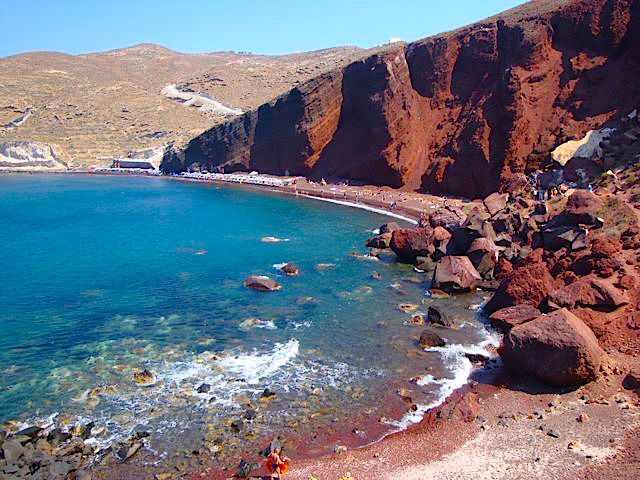 If the idea of staying in Red Beach or White Beach or any other color beach forget about it. There is nowhere to stay and if there were you probably would not want to stay there. But they are certainly beautiful places to go and swim. Monolithos and Exogialos face the north (northeast actually) and when the wind blows from the north you can be walking down the street and run over by a wind-surfer or impaled by a beach umbrella. Of course for that reason you can get a lot of hotel for almost nothing in Katerados though you may find yourself isolated and feel like some kind of misfit. Still if saving money is of utmost importance then you probably don't care. The same goes for Hotels in Monolithos and if nothing else it is close to the airport. Near the black sand beach of Vouvoulos I recommend the family owned Anema Residence which is actually several villas overlooking the Aegean Sea with stunning views of the islands of Anafi and Amorgos and a short walk from the beach and several fish tavernas.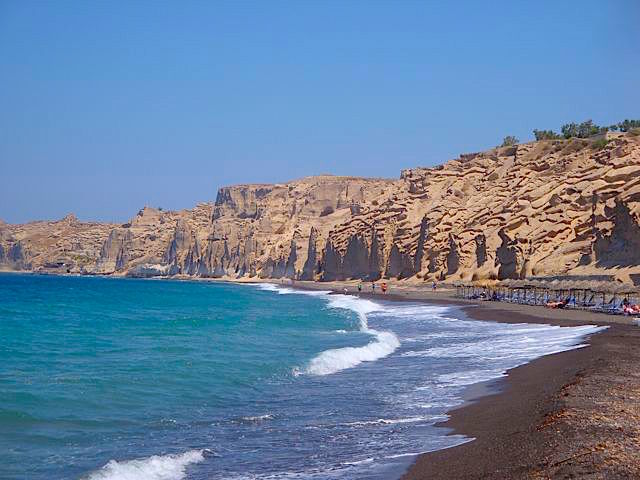 The beach at Vlichada is also pretty spectacular and there are several good fish tavernas within easy walking distance and a restored old tomato factory on the beach that just looks amazing. The benefits to staying here are the fact that it is relatively untouristy, yet on the sea, with most of the buildings being summer homes. The restaurants are inexpensive and good, the beach is rarely crowded and if you keep walking you don't even need your bathing suit. You will need a rental car though if you want to see the rest of the island or have a night or two in one of the caldera towns and it is only a fifteen minute drive to Fira. Another plus is that the Catamaran Caldera Cruise leaves from here so you can explore the caldera from the sea. Anyway if you want an inexpensive hotel in these beach towns you can check Matt's Hotels of Greece Santorini Page or use the Aegean Thesaurus Hotel Request form because they are proficient at finding good value for money hotels.
More Santorini Beach Photos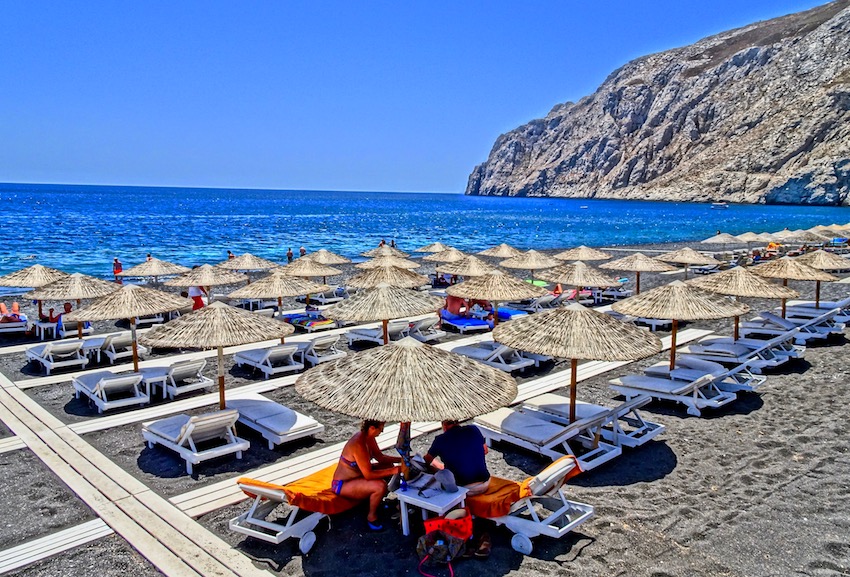 Kamari Beach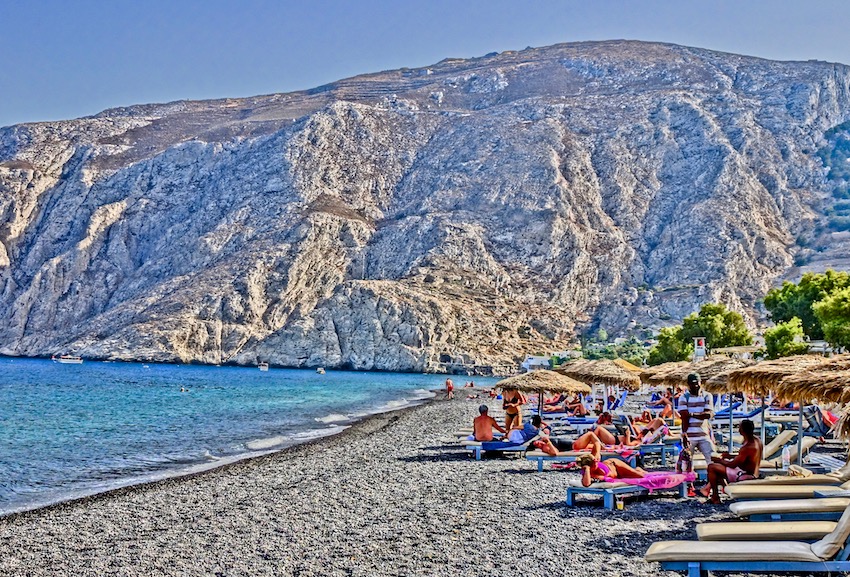 Kamari Beach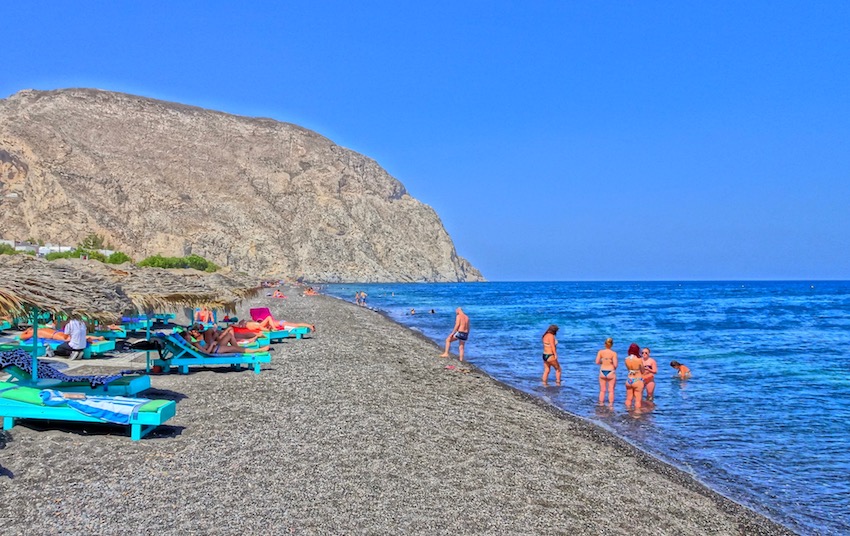 Perissa Beach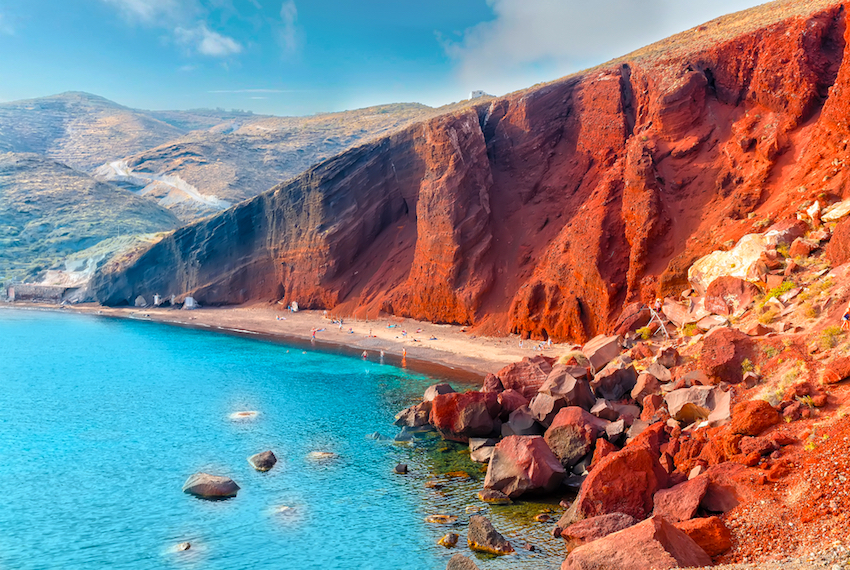 Red Beach if you are early, late or lucky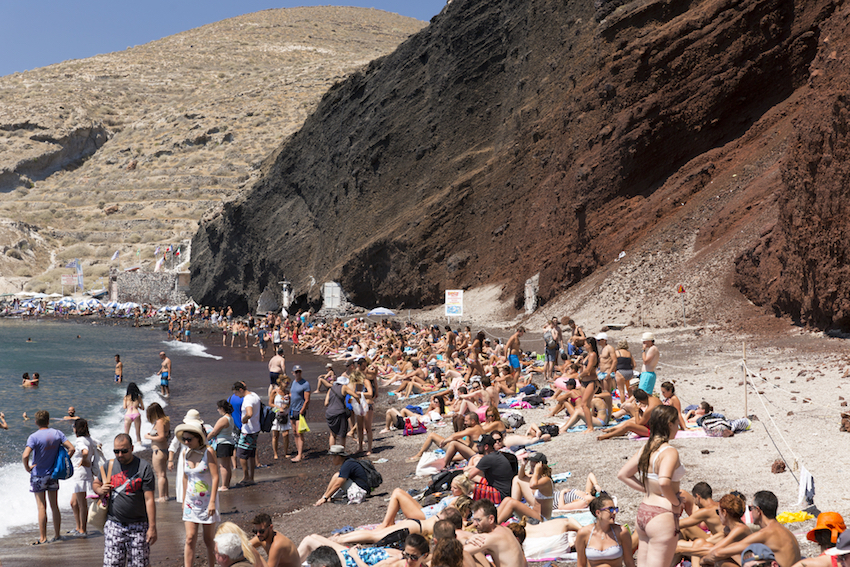 It will probably be more like this.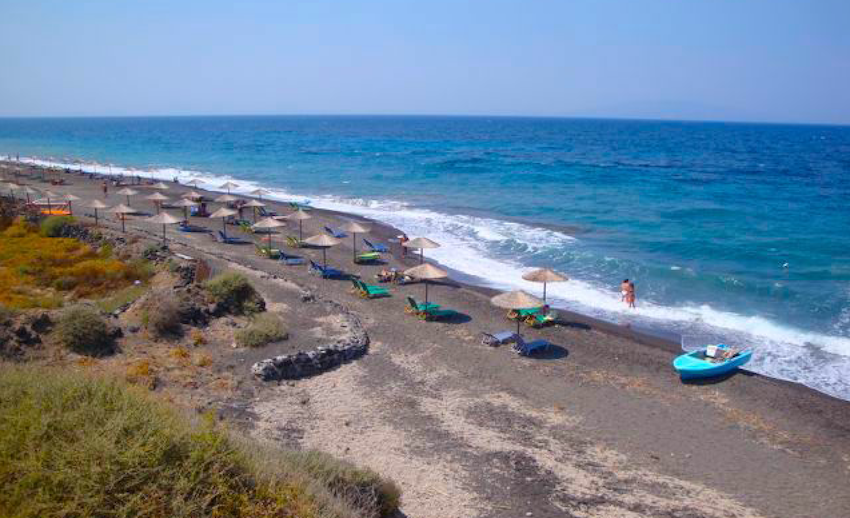 Koloubos Beach is pretty far north, easier to get to from Oia than anywhere else and windy and wavy when the north wind is blowing.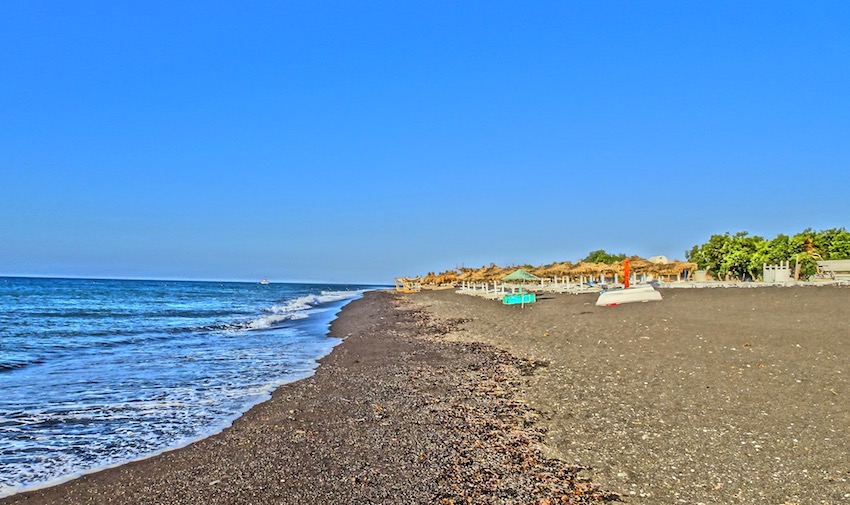 Perivolos Beach is an extension of Perissa with less people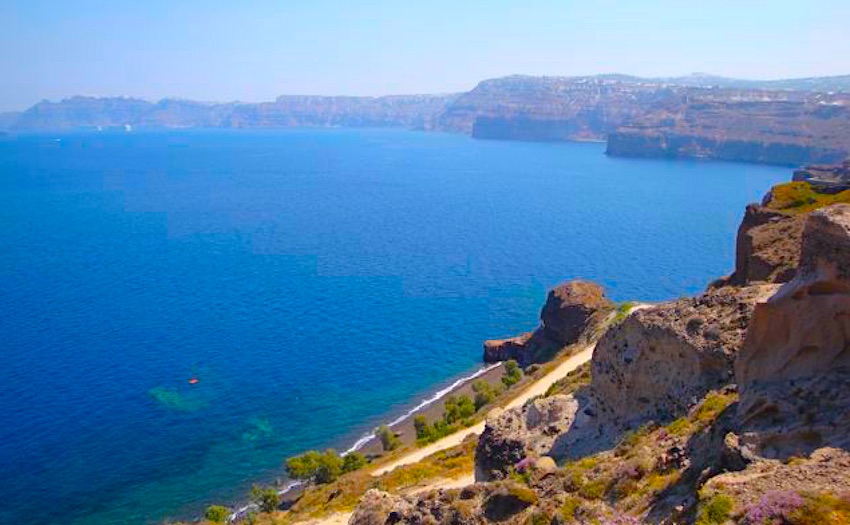 Caldera Beach: I didn't go here but it is in the bay and faces north which means every napkin and water bottle that has blown off every table in Fira and Oia will probably end up here.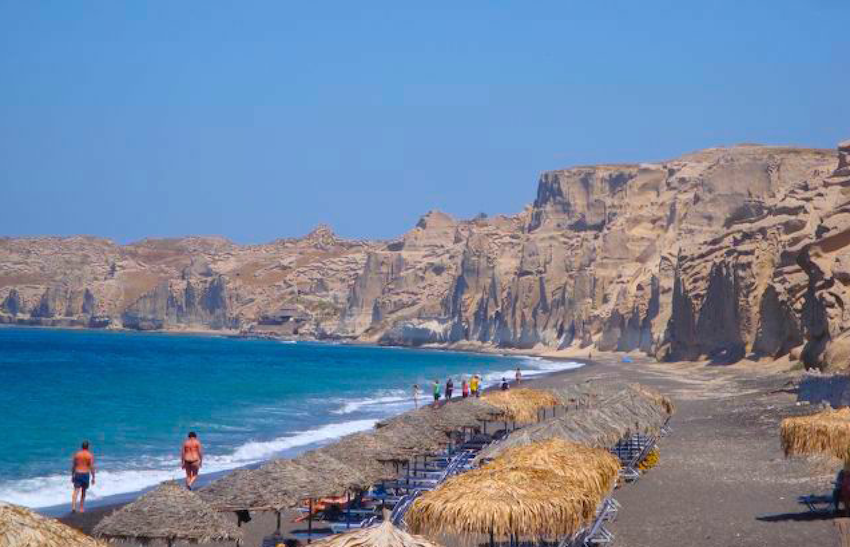 Vlichada Beach: Swim here and then go eat at Psaraki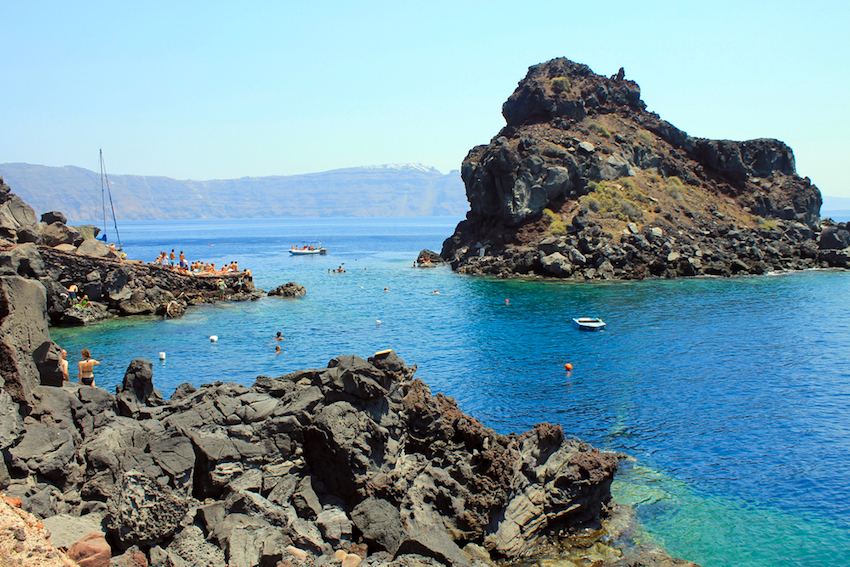 Ammoudi, below Oia, is not really a beach but people swim and snorkel here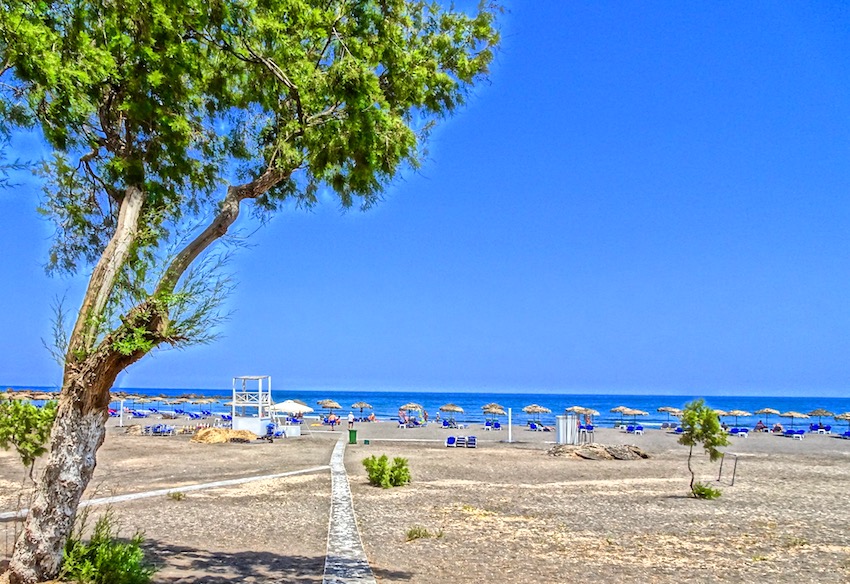 Monalithos Beach can get very windy which is great for wind-surfers or you like sand blowing in your face. But it is not always windy.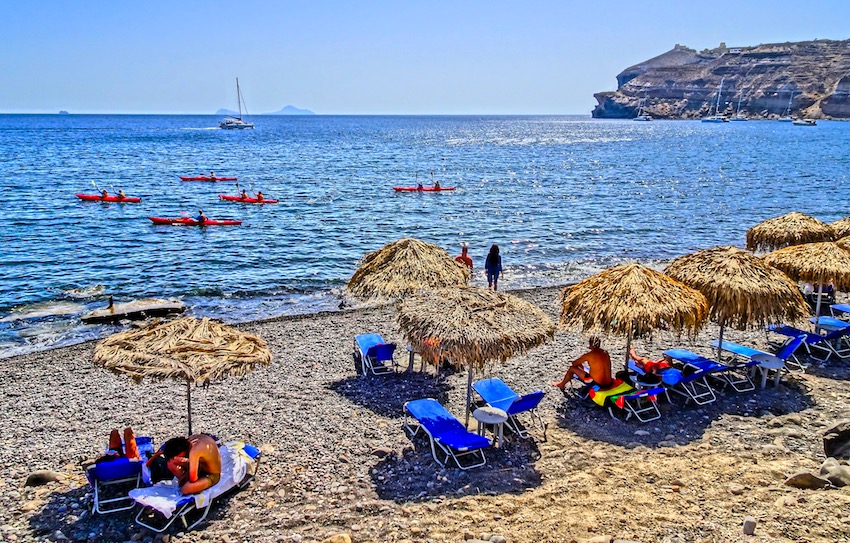 Mesa Pigadia Beach. I hated this beach. Don't come without water shoes. I didn't have any and my feet still hurt 6 months later.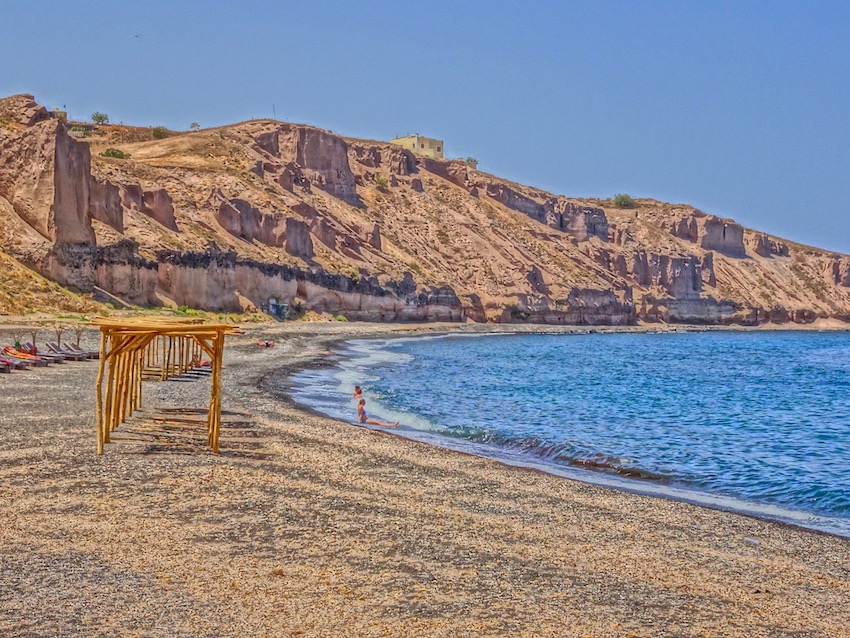 The black sand (pebbles really) beach of Vourvoulos is a little rocky in spots but has a nice cafe and a taverna or two and a lot fewer people than Perissa and Kamari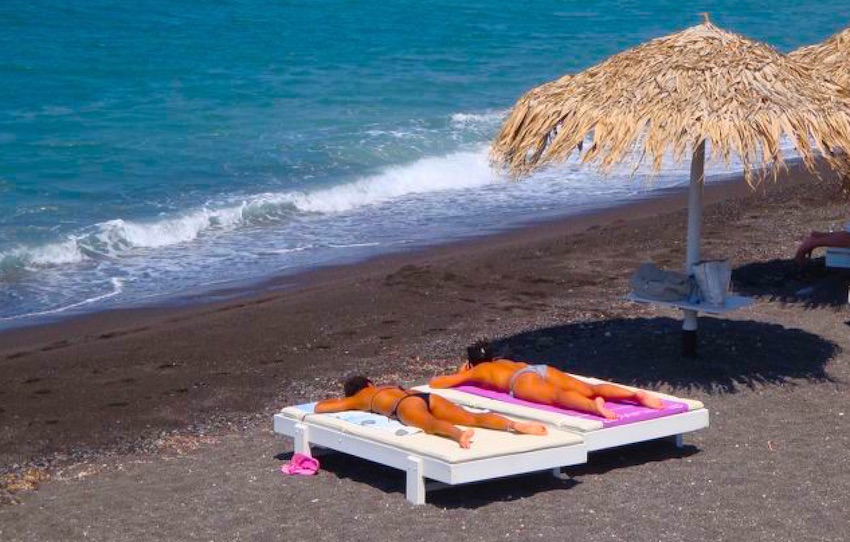 I forget where this is or why I even took this photo