Some travelers to Greece have a fear of getting on a ferry boat. Maybe they got seasick once and don't want to do it again, or maybe they know someone who got seasick and it sounded like something they never want to experience. Maybe they saw the films Poseidon Adventure or Titanic and worry about the ferry sinking. Maybe they can't swim. It's OK if you are one of these people because I am going to show you the Greek Islands that you can drive to, the places in the Greek mainland that are like islands but arenít, and the islands that the ferry trip is so short that if you are still terrified you probably need psychiatric help.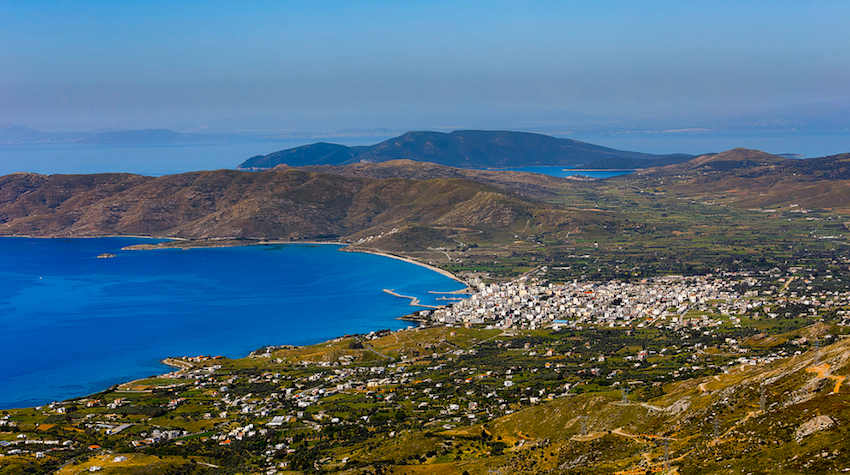 Evia
I will begin with Evia, the second largest island in Greece, which not only can you reach by bridges (unless you are afraid of bridges too) but also by several ferries that take from 20 minutes to an hour. The topography of the island is as varied as anywhere in Greece, with sparkling Aegean beaches and coves on its east coast, a mountainous interior with rivers, streams and forests, a west coast that is a mix of beaches, the city of Halkida, large towns, industry, agriculture, beaches and wetlands. And in the northwest the town of Edipsos is the most popular spa in Greece, with hot water gushing from rocks and crevices into the sea and pools of the many hotels and healing centers. See Matt's Evia Page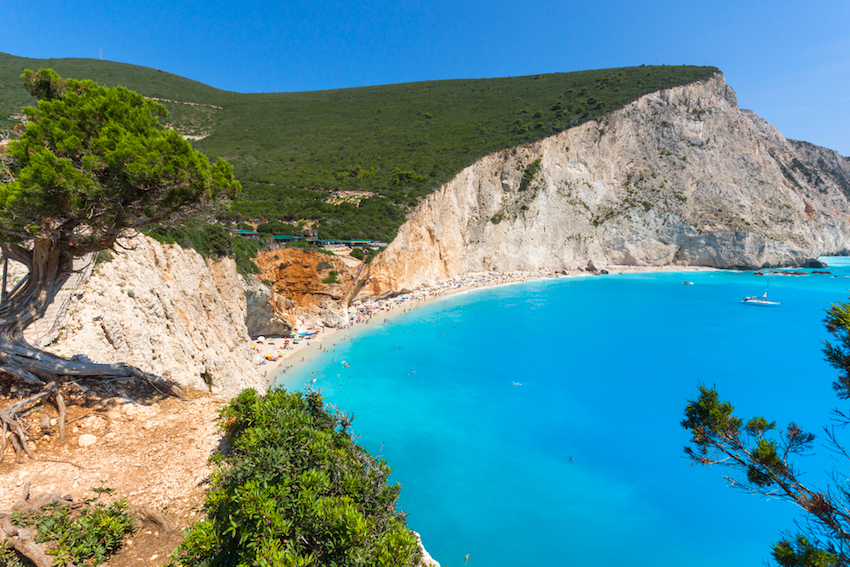 Lefkada
Yes! There is a bridge to Lefkada and it is not even a scary one. Unless all bridges are scary to you. Some people criticise Lefkada as being the island that is not really an island because it is actually joined onto the mainland by a narrow causeway but in my book that simply facilitates getting there and the minute you reach the other side, the contrast from Sterea Ellada (mainland Greece) opposite is unmistakable. See Nick Edwards Lefkada Page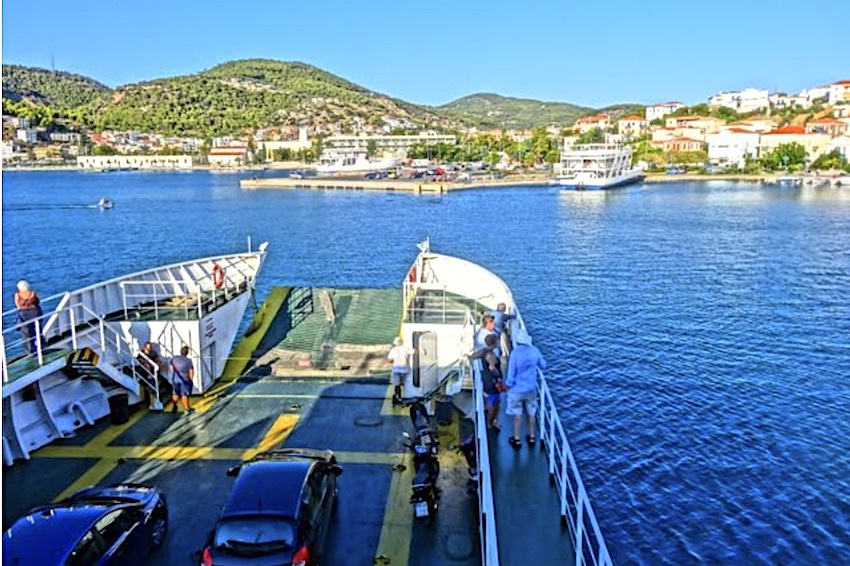 Poros
The word Poros means a strip of sea, narrower then a strait, uniting two minor bays. The closest distance between the two bodies of land is 300 meters and during ancient times, according to the author Pausanias, you could walk across it. You can drive to Galata in the Peloponnesos and take a 5 minute ferry to Poros or even get some guy in a little putt-putt boat to take you over. See Matt's Poros Page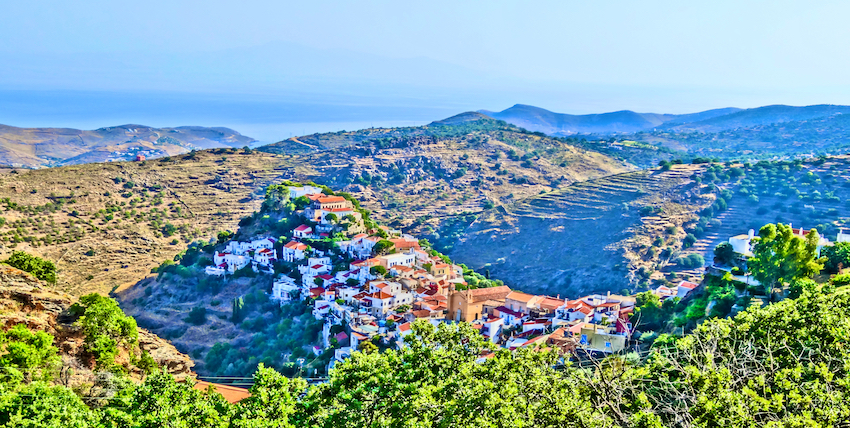 Kea
If you are looking for an island that is close to Athens but has the feeling of an island much further away, then Kea may be the place for you. The ferry to Kea from Lavrion takes an hour. The bad news is that it can be rough. The good news? There are powerful mind numbing drugs that last that long. See Matt's Kea Pages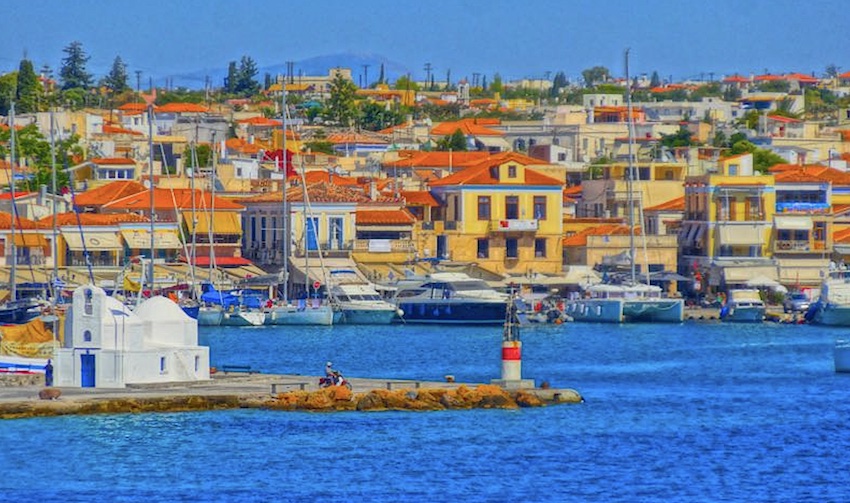 Aegina
So you want to go to a really Greek island? Look no further than Aegina, just an hour from Athens by ferry, where you will find great seafood tavernas, beautiful beaches, small fishing villages, popular tourist resorts, cafes, nightlife, archaeological sites, museums and everything you would expect to find on a Greek island and more, and so close to Athens you can go for the day. The ferry to Aegina takes an hour and is rarely rough. See Matt's Aegina Page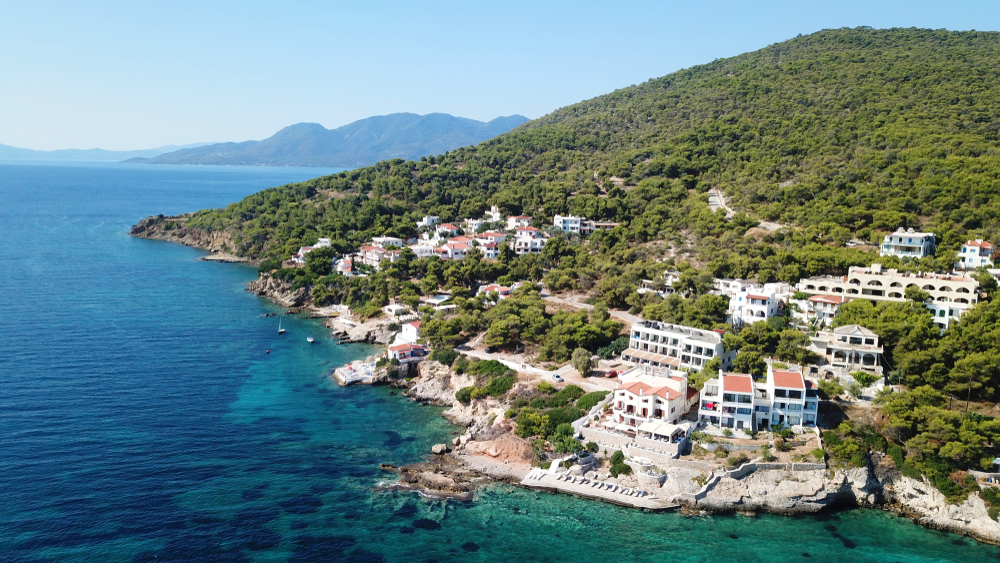 Angistri
Angistri, one of the prettiest of the Saronic Gulf islands, is just a short ferry trip from Athens, about an hour, and has beautiful beaches, great restaurants, and the type of tourists who come back every year.. See Matt's Angistri Page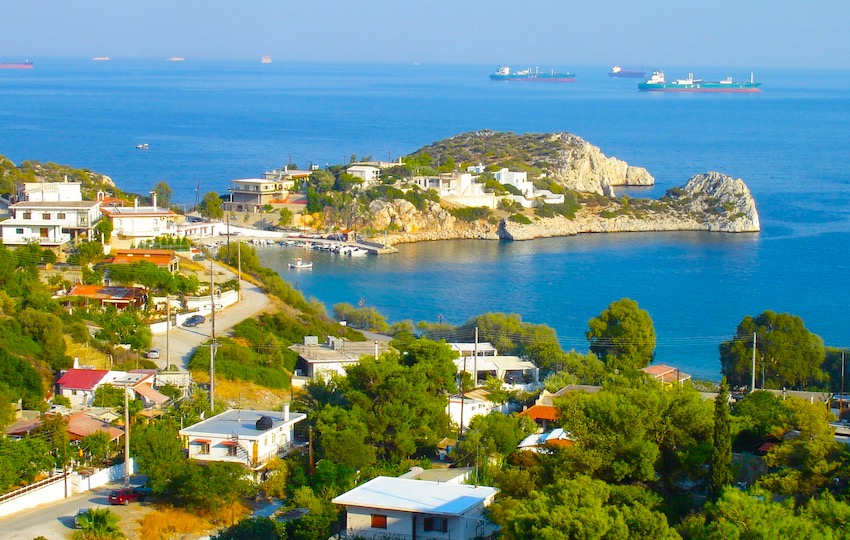 Salamina (Salamis)
Itís hard to think of Salamina as a normal Greek island. First of all it is so close to Piraeus that it would seem to be almost a suburb of the port city. But it is a large island and much of it is more similar to its neighbor Aegina than it is to Pireaus. The 15 minute ferry ride begins in Perama, a town of shipyards and oil storage facilities with working and middle class residential neighborhoods of single family homes and modern apartment buildings overlooking the sea. The coast of Salamina that faces Perama is not that much different. See Matt's Guide to Salamina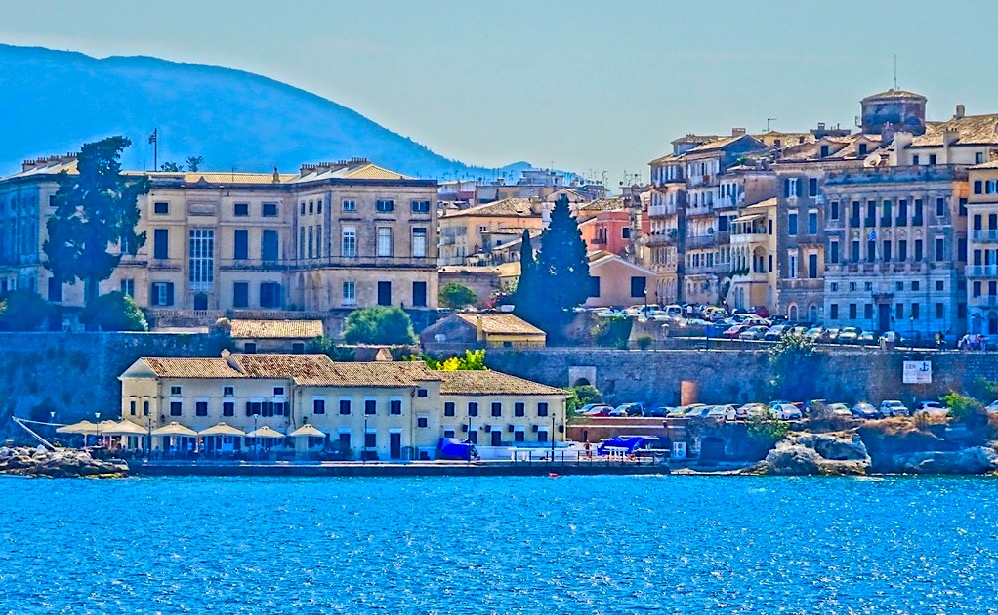 Corfu
The island of Corfu in the northwestern corner of Greece is among the greenest and in the eyes of many, among the most beautiful islands in the country. The ferry from Igoumenitsa to Corfu takes a little more than an hour. OK, you have to drive about 6 hours to get to Igoumenitsa but you can stop in Meteora or Ioannina on the way. See Matt's Corfu Guide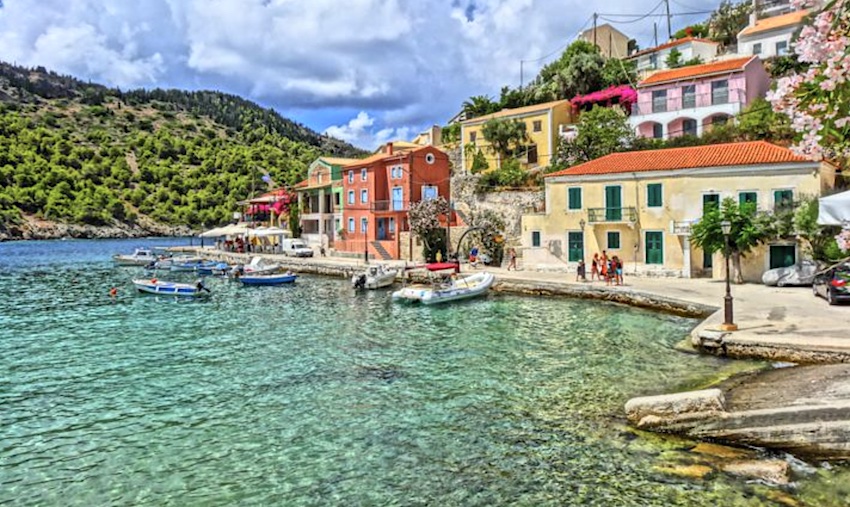 Kefalonia
From the town of Killini in the western Peloponnesos you can take the ferry and be in the town of Poros, Kefalonia in about an hour and a half. If you are on Lefkada you can go from Vasiliki to Fitskardo, Kefalonia in less than an hour. See Matt's Kefalonia Guide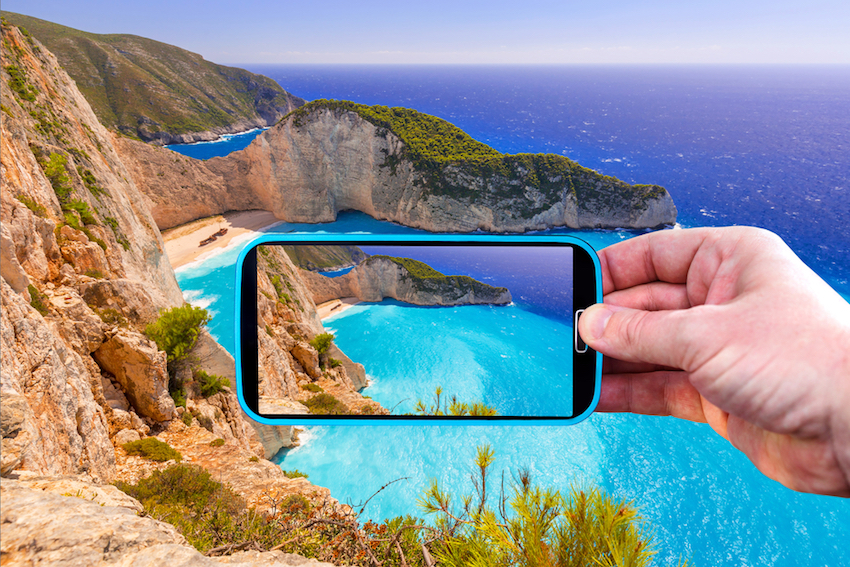 Zakynthos
Also from Kylini you can be in Zakynthos by ferry in and hour and 20 minutes. Certainly not a life threateneing amount of time to be on a ferry. See Matt's Zakynthos Guide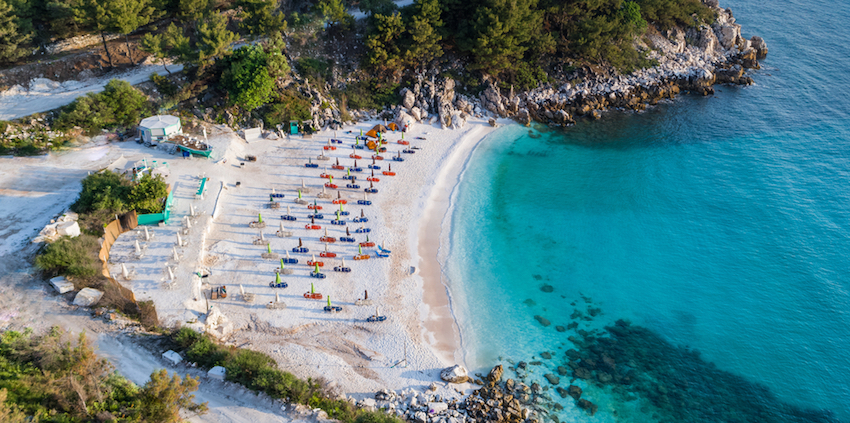 Thassos
From the small port of Keramoti which is about half an hour from Kavala you can take the ferry to the island of Thassos and be there in 35 minutes. See Matt's Thassos Guide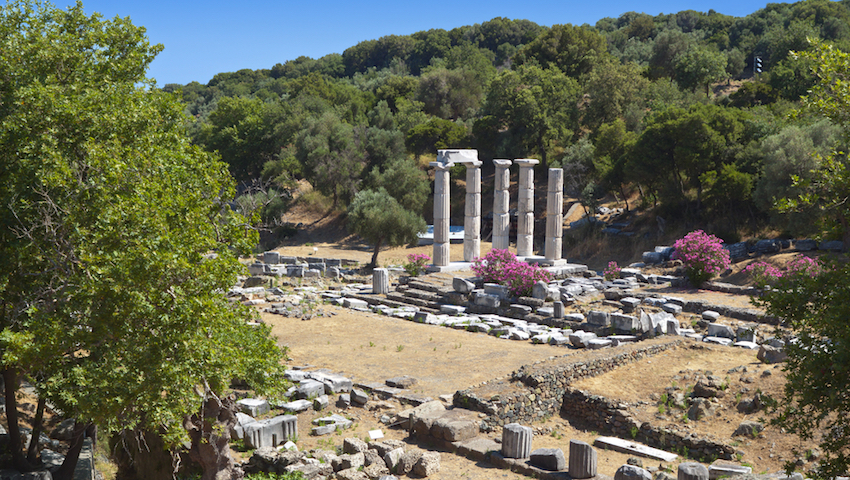 Samothraki
From the northeastern city of Alexandroupolis you can take the ferry to Samothraki and be there in under 2 hours. See Matt's Guide to Samothraki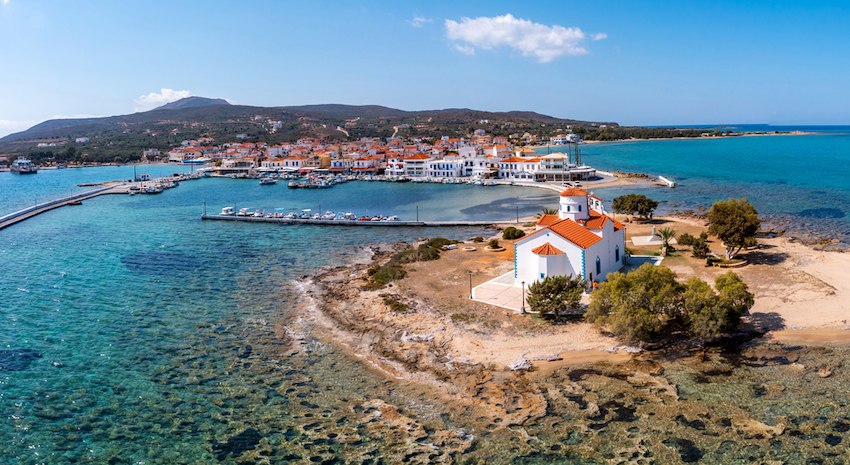 Elafonissos
The ferry to Elafonissos in the Peloponnesos takes about 15 minutes and is almost never rough. But you have to drive almost all the way to Neapolis to go there. See Matt's Elafonissos Page (Photo from Depositphotos.com)
Not Islands but feel like it...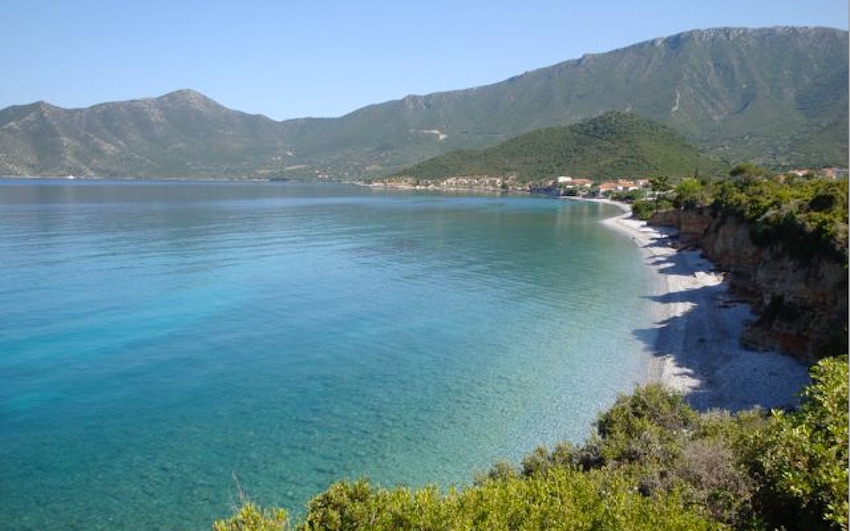 The Peloponnesos
The Peloponnesos is not an island, or wasnít until they made the Corinth Canal. So by definition it is an island and there are about 500 coastal towns and villages that are exactly like being on an island except you drive there. See Matt's Peloponnesos Guide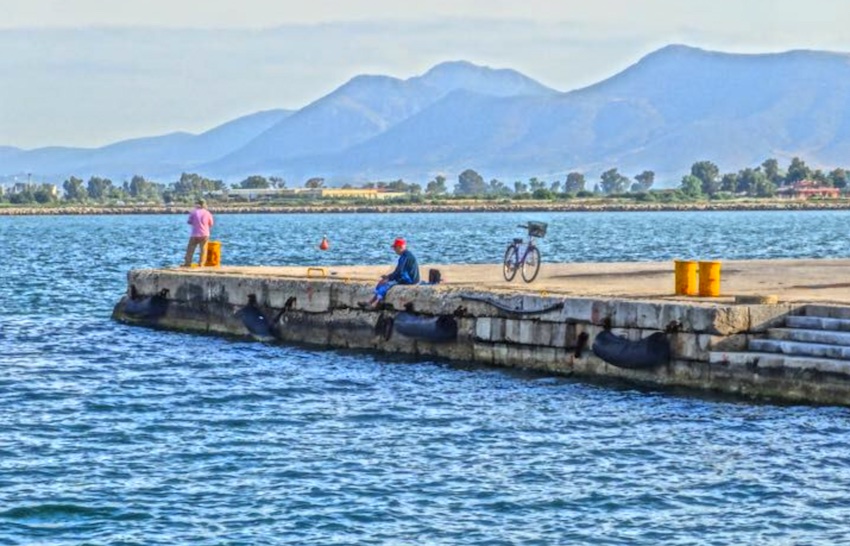 Nafplion
After the first few hours in the old city of Nafplion you will probably feel like you are on an island that is very similar to the old towns of Chania, Rethymnon, Rhodes and The Plaka of Athens. See Matt's Nafplion Guide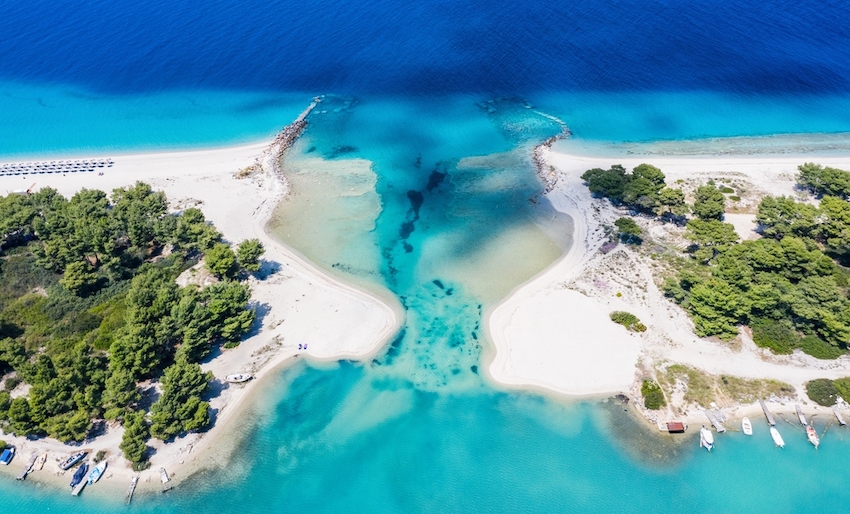 Halkidiki
Halkidiki is a lot like being on an island, or several islands, though it is a peninsula. Three actually. Some of the best beaches in Greece are in Halkidiki and you can get there easily by flying to Thessaloniki. See Matt's Halkidiki Page

Parga
Parga is so much like being on an island that you will probably forget you are on the mainland and be surprised when it is time to leave that you are not taking a ferry. But if you rent a car you can explore Epirus and even drive to Lefkada and Meteora. See Matt's Parga Guide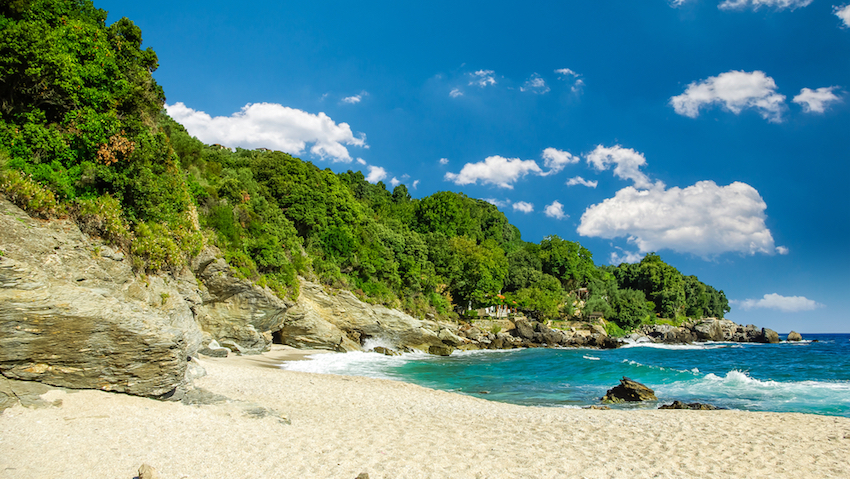 Pelion
Almost anywhere on Pelion where you are on the sea or can see the sea will feel like you are on an island. And how many islands have a capital as cool as Volos: See Matt's Pelion Page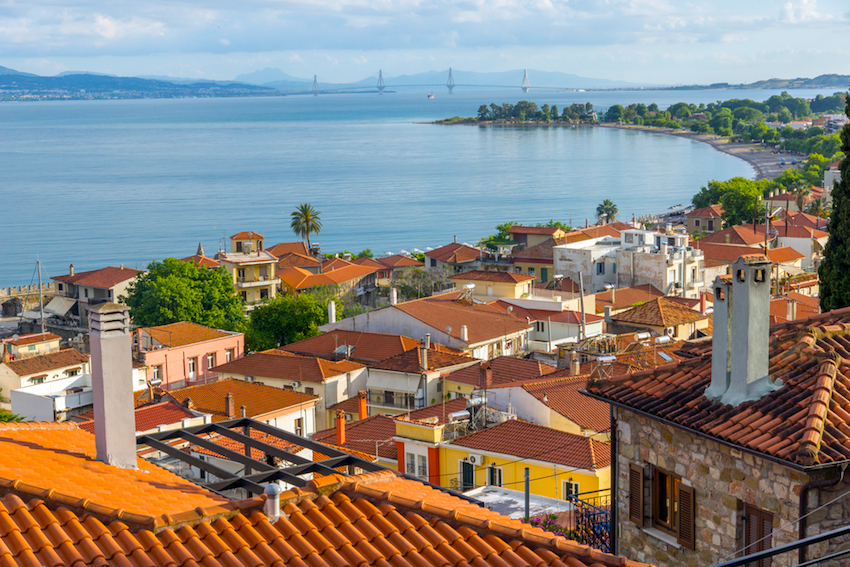 Nafpaktos
Nafpaktos is a large seaside town on the north shore of the Corinthian Gulf with a long beach and an impressive Venetian castle that includes a small fortified harbor. See Matt's Nafpaktos Guide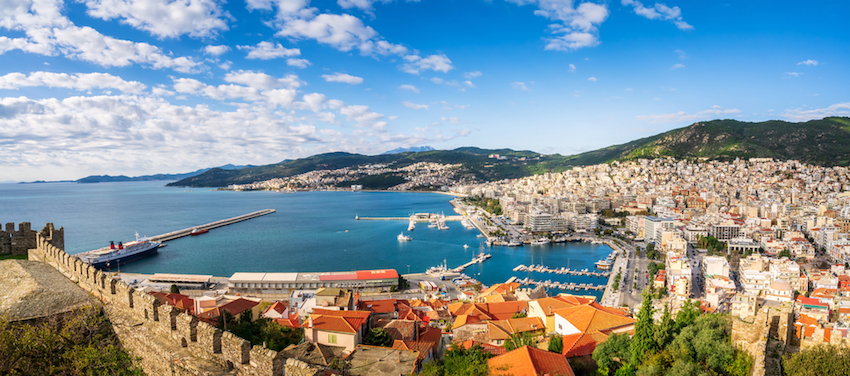 Kavala
Kavala is like being on an island and it even has big ferries for those who like looking at them but not being on them. Kavala is one of the most attractive of Greece's largest cities, rising like an amphitheatre from the beautiful harbor up to a huge Byzantine fortress, built on the ancient city of Neopolis. See Matt's Kavala Page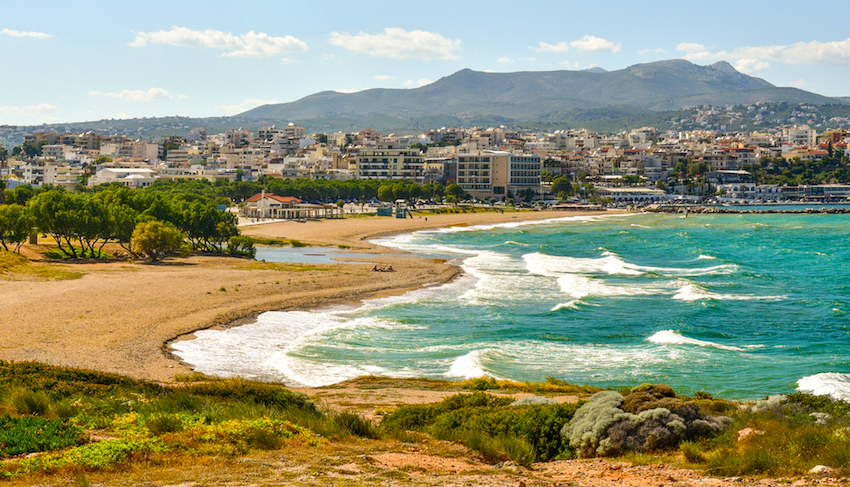 Rafina
Rafina is a port town, almost a city, just outside of Athens, with fish restaurants, beaches, hotels and ferries to the popular islands, and has a feel like you are actually on an island already. The nearby towns of Porto Rafti, Mati, Nea Makri, Marathon and Schinias are even nicer and if you rent a car you can explore all of Attika. See Matt's Rafina Page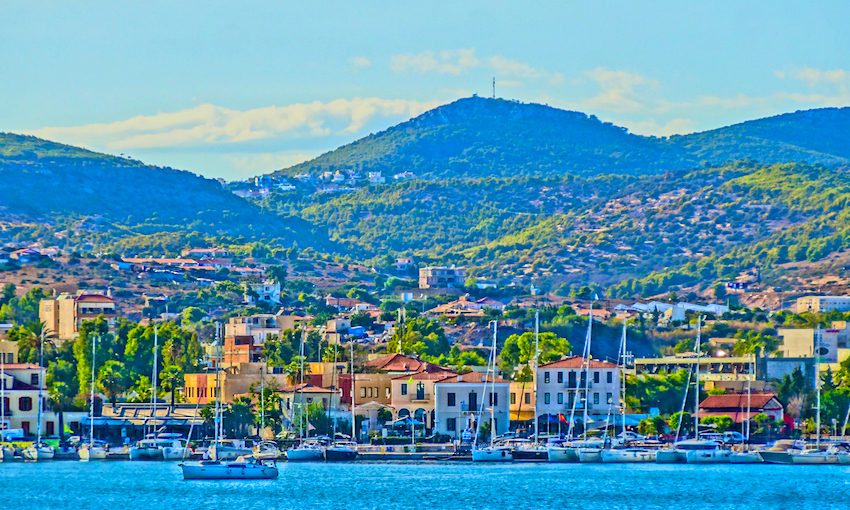 Lavrion
No longer a place to be avoided, the port of Lavrion is changing faster than any town in Greece, opening tavernas, mezedopouleions, cafes and shops while becoming an important ferry boat hub for the Cyclades Islands and home port for several cruise ships and sailboat companies. It is also a 10 minute drive to the Temple of Poseidon at Sounion and the one hour ferry to Kea. There are also some really nice beaches hidden away within striking distance if you have a car. See Matt's Lavrion Page
And don't forget that these islands all have airports!
For those of you who want to overcome your fear of ferries visit my Guide to Greek Ferries and also see How to Visit a Greek Island by Ferry