Kassos is a small rocky island located next to the island of Karpathos, midway between Crete and Rhodes. It has a year round population of about 1200 people which swells in the summer when the island fills up with returning Athenians and those who left the island to find work abroad but come as often as they can for their summer holidays. The island also sees some tourism, though only the most adventurous make it here.
Originally settled by the Myceneans and Minoans, Kasos was mentioned by Homer for contributing ships during the Trojan war and later became a small maritime power in the eighteen and nineteenth centuries, providing nearly 100 ships during the 1821 Revolution against the Turks. They became such an annoyance to Turkish shipping as well as their raids on the Turkish coast, the Levant and Egypt that on June 7 1824 an Egyptian fleet, commanded by Ismael Gibralter, invaded the island, slaughtering many of the inhabitants and burning everything. This is referred to as the Holocaust or the Kasos Massacre and the date is observed by the islanders every year. In 1948 Kasos became a part of Greece.
Because of the difficulty and time involved in getting here, Kasos has kept it's identity as a simple non-touristic island despite having many of the things that tourists come to Greece for, like beautiful beaches, traditional villages, friendly people and a cuisine that has made its way to some of the best restaurants in Athens through the efforts of George Kantelis of the popular O Bakalogatos restaurant on Fokionos Negri in Kypseli, and Panagiotis Papanikolau who is something of a food guru and has opened or been involved in many of the best restaurants in Athens and the popular islands.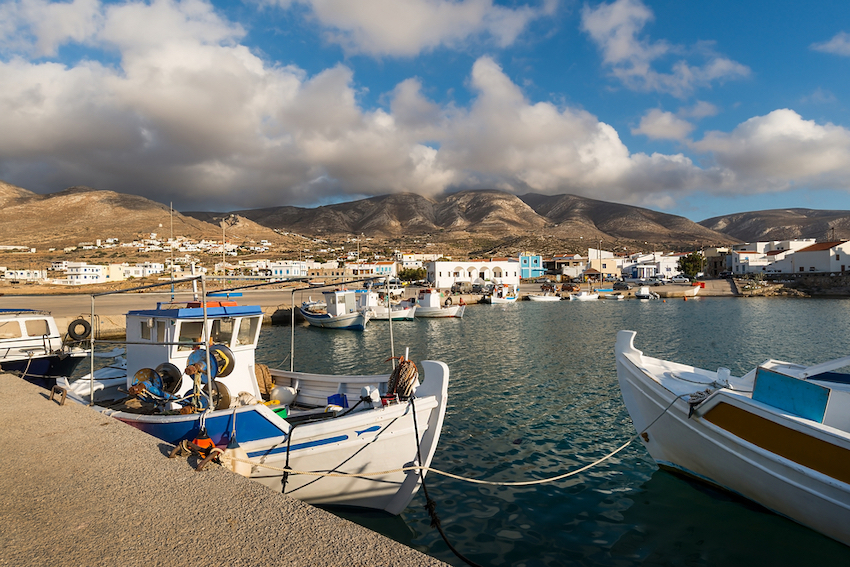 The port of Fry is the capital of the island and where you will arrive if you come by ferry. With a dozen or so cafes, restaurants and bars, a number of small family run hotels, a swim-able town beach and a nicer beach a short walk away this is where most people stay. The center of activity is the old harbor of Mbouka with its fishing boats, about a 10 minute walk from the main harbor. There are several restaurants overlooking the sea including Giali which serves everything from traditional dishes to burgers, waffles, coffee and cocktails. A few steps away the taverna H Orea Mpouka serves home style Kassos cooking by the famous Kyria Sofia. The two Kafeteria/restaurants Perigiali and Zantana are good places to go for coffee, cocktails, breakfast, desserts of which waffles qualify as both, and music at night. Be sure to visit both the Archaeological Museum and the Nautical Museum, both easy to find. For those who are self-catering you can find whatever you need to make meals in the supermarket.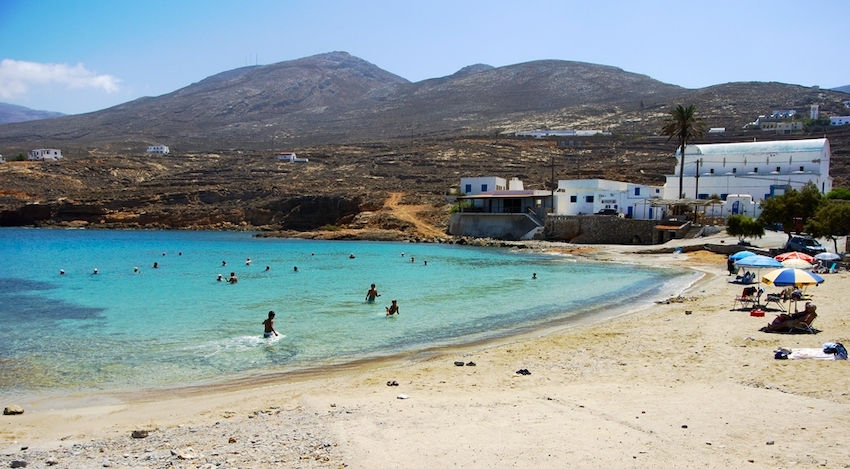 Emborios is the old commercial harbor of Kasos, located about a kilometer east of the port with a decent beach, a couple of the best restaurants and a few places to stay. There is an early Christian Church dedicated to the Panagia which is the biggest on the island. Nearby in the village of Panagia is the 18th Century Church of Pera Panagia where the 15th of August celebration of the Virgin Mary takes place. In the town of Poli, the former capital of the island are the remains of the ancient fortress and the Church of Agia Triada with its orange domes and blue walls.
The village of Agia Marina has several interesting churches and a number of beautiful old houses and the popular Michalis Psistaria and Oi Kathistres, two a traditional grill houses where you can get anything from Paidaikia to Cheeseburgers and of course souvlakia. O Kathistres also has a non-meat fasting menu which should please vegetarians. The neaby Elinokamara Cave has an EU built road to it but not much else. Still it is an interesting trip and an easy walk from Ag Marina. There are stones from prehistoric through the Byzantine period so whether or not you can get into the cave it is still worth a visit. The islanders used the cave to hide in during raids by pirates.
In the southwest of the island is the Monastery of Agios Giorgos, the Patron Saint of Kassos, where they have a two day festival in April. You can spend the night here by contacting the Municipality of Kasos (Tel. (+30) 22450.412.77). The Monastery of Agias Mammas in the Northeast part of the island has a spectacular view of the sea and a festival on September 2nd.
Restaurants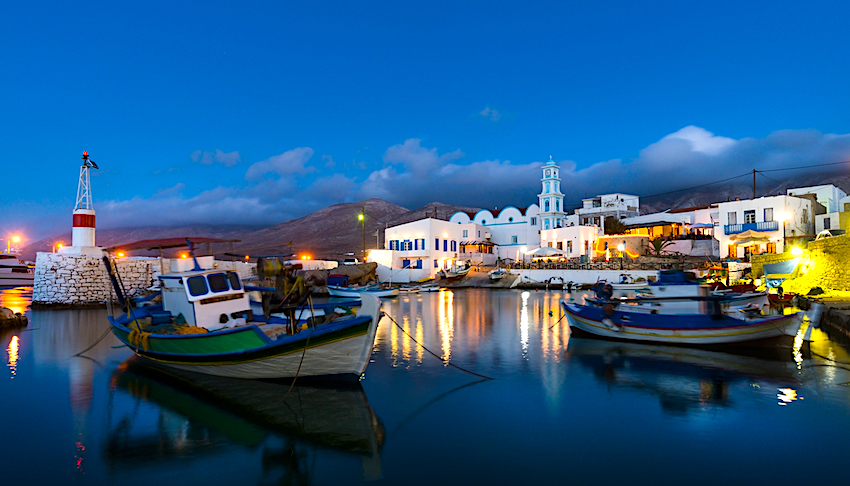 For a small island Kasos has a diverse and somewhat international cuisine due to its location and trade with other cultures of the Eastern Mediterranean and the fact that so many of its people left the island, traveled the world and returned. There is a strong Egyptian influence in many dishes. Also because so many of the men took to the seas and learned to cook on the ships.
Depending upon who you ask, the best restaurants in Kassos are Kiki's (Taverna Emborios) and Meltemi, both located in Fri. Kiki's is a family run taverna like you would have found everywhere in Greece 20 or 30 years ago but very professionally run by Giorgos Kikis and Mihalis Aspras who also perform on the lyre and sing when inspired. They specialize in fresh fish, grilled or fried, including locally caught grouper, red snappers, red sea bream, red mullets (barbounia). Thrapsalo, (a type of large squid that is grilled or fried) among others. Try Soupiopilafo, a local ink risotto with cuttlefish or Soupia Makarounes, cuttlefish made with their local pasta and sitaka, a local creamy cheese topped with sautéd and caramelized onions. Some people eat here and never try anywhere else, which is to say that there are people who say Emborios is the best who have never been to Memtemi and vice-versa. It is located on the beach in Emborios.
Meltemi is closer to the port, on the road to Emborios, and specializes in mezedes and local dishes from Kassos and even though it does not have a sea view it makes up for it with the quality of the food. Try their skate with skordalia, their stuffed kalamari, or any of the traditional appetisers and main dishes.
George Kantelis loves Pizza di Kassos as do many of the locals. They make fantastic thin crust pizza using pretty much all local ingredients and they also have some traditional mezedes from the island. But there is probably not a bad restaurant on the island so if you have time to spend here try as many as you can and go back to the ones you like the best.
Kassos is known for its cheeses and dairy products and you can find many of them in Athens, in particular at Bakalogatos Restaurant in Kypseli. The Vonaparti family is the largest business on the island, producing local cheeses and exporting all over Greece. Kasian cheese includes almirotiri, elaiki and sitaka which are made by shepherds with milk from sheep and goats. Be sure to try the Makarounes with Sitaka, a cheesey handmade pasta with carmalized grilled onions that you will eat once and probably order it everywhere you go. Also their take on dolmades, which are smaller than the ones you usually see, (about the size of the last digit of your pinkie), and simply delicious. Also try the local koulouria, their take on paximadia which have a sweet curry taste. Lamb, chicken or turkey stuffed with rice, onion, liver and spices called paspara, and mboustia which is their version of kokoretsi, offal stuffed with rice and liver. You will of course find many of the Greek dishes you are familiar with from other parts of Greece. And of course there is fresh seasfood much of it that will be familiar to you if you have been elsewhere in Greece. Be sure to try the Skaros, grilled, unscaled, with all the organs intact. It is the organs that are the best part. If you like the green stuff in lobster you will love this.
The island desserts include diples and the local version called Xirotigana, which are like diples, crispy fried flat pieces of dough served with honey and nuts. Xylokopites (similar), and Moschopoungia, a sweet pie stuffed with nuts. Also there are sweet little pies called tourtes, stuffed with a local cheese called mizithra
Don't forget to sample their tsipuro, their anise-less ouzo, made from grapes, potent and usually organic.
Many of these foods besides being served in the homes and restaurants of Kasos, are also served at the important panagiris commemorating saints for example the Festival of Agia Marina in July, The Panagia on August 15th, Agios Fanourios and others. These feasts retain many of the traditions that have been lost on many other islands, local songs, dances, instruments and food. Easter is the most festive time on Kasos and the gastronomy is unique The soup at the midnight (Μαγειrίτσα) is called derbiye.
Be sure to ask at your hotel if there are any going on while you are there.
Beaches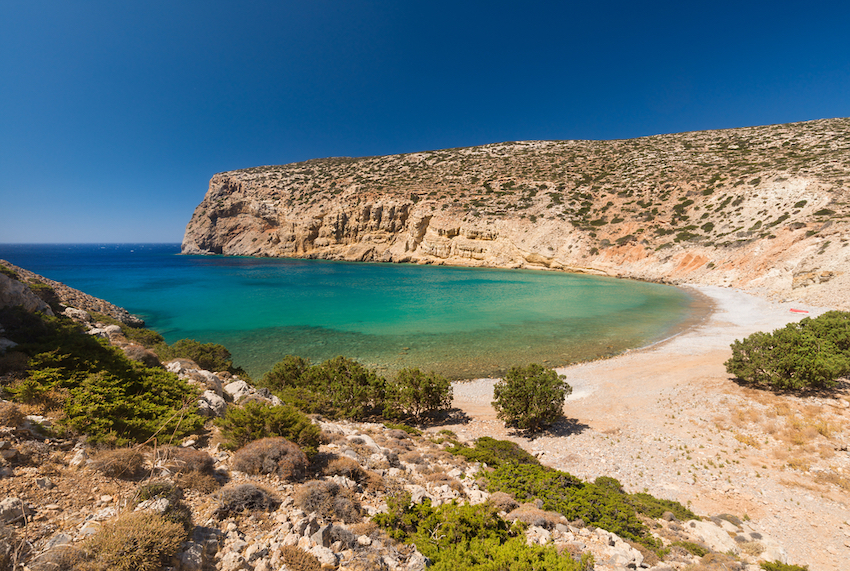 Helatros Beach by Giovanni Rinaldi
The beach in Fri next to the port is clean enough and convenient enough to town to use if you are on foot, lazy, or just need to get wet but if you walk east for 10 minutes to Paralia Emborio you will probably be much happier swimming in its clear blue water. There are beach beds available and 2 nice traditional tavernas: Mire Mare and the aformentioned Taverna Emborios.
Helatros Beach is a 10 kilometer drive from Fri in a large bay facing south and is sheltered from the north wind. There is a cantina there that serves excellent food and it is one of, if not the best place to swim on the island. People complain that the stones make it difficult to get in and out of the sea but if you are used to Greek beaches you probably won't find it too challenging. If you are worried about it bring water shoes.
Avlaki was accessable only on foot until 2022 when they build a dirt road that gets you pretty close. It is in a sheltered cove facing south so it is protected from the north wind. There is nothing here so bring whatever you need to survive.
Paralia Antiperatos is a remote series of beaches in 3 small coves on the rocky coast southwest of the airport as is Paralia Amoua which has a small cantina/restaurant that serves fresh fish, coffee, drinks and snacks. Both beaches have wind and rough seas when it is blowing from the north. When it is not blowing the beach is shallow and suitable for children. To find the road to both beaches look for the small church of Agios Konstantinos.
Many of the beaches, particularly those that are the easiest to get to, face north. This means when there is a north wind, common in the summer, there will be waves or rough seas on those beaches that are unsheltered. There may be some plastic that washes ashore which seems strange for a remote unspoiled island, but it happens on all the islands. You can help clean up by bringing a plastic bag with you to throw away your own garbage and anything that has floated in.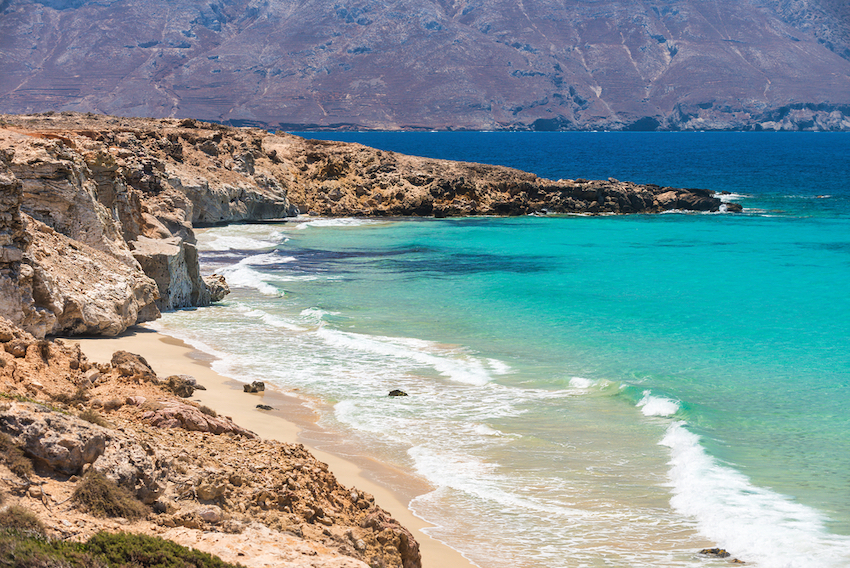 On the nearby island of Armathia the sandy beach of Marmara (Marble Beach) is one of the nicest you will find anywhere in Greece. You can get there by excursion boat from the port. There are no beach chairs, umbrellas, food or water so bring your own.
Hotels, Apartments and Holiday Homes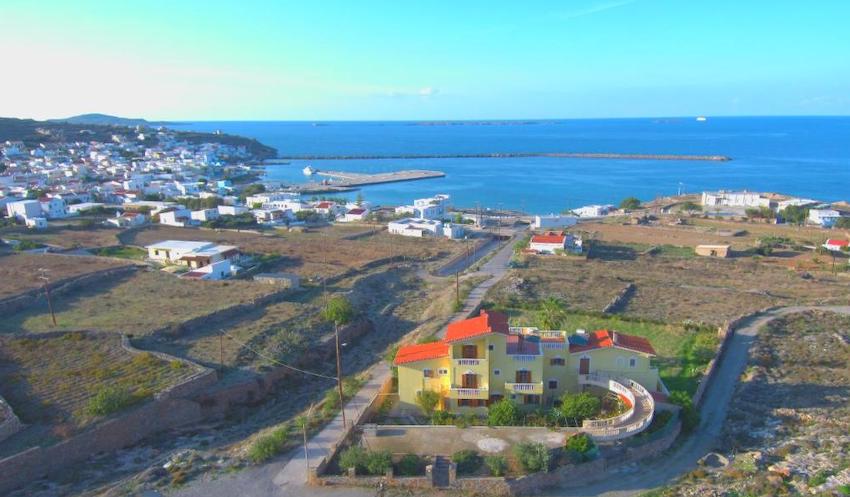 Most if not all the hotels in Kassos are simple, family run and will feel more like living with a Greek family than staying in a hotel. People who are usually devoted to Air BnB style accommodations should be just as happy in a hotel, probably more so.
Offering a sun terrace and views of the sea, Dimitris Apartments (above photo) is located in Frý. The nearest beach is 650 feet away. The accommodations is air conditioned and is fitted with a TV. Some units have a seating area and/or terrace. There is also a kitchenette, equipped with an oven and fridge.
Offering a sun terrace and apartments with a balcony overlooking the sea and mountain, Blue Sky is in the village of Fry in Kasos. The beach, shops and restaurants are 350 feet away. Each air-conditioned apartment features a seating area and flat-screen TV with cable channels. The fully equipped kitchen includes a fridge, kitchenware and dining table. The bathroom comes with a shower, free toiletries and hairdryer. Free Wi-Fi is offered throughout.
Located in Frý, Amfi Sea View provides accommodations with free WiFi and free private parking. Each unit has a balcony, a fully equipped kitchen with a microwave, a fireplace, a seating area, a flat-screen TV, a washing machine, and a private bathroom with shower and slippers. Some units include a dining area and/or a patio.
Offering straight views of the Aegean Sea from their furnished balcony, Meltemi Studios is located in Panagia, a 5 minute walk from the beach and 10 minutes from the port. The property features self-catering units with free airport shuttle. Simply yet traditionally decorated, all studios at Meltemi have a fully equipped kitchenette with dining table. Air conditioning, hairdryer and a TV are included. Complimentary breakfast items are provided.
Located about 10 minutes walk from Fry, Theoxenia Kasos Luxury Apartments offers air-conditioned accommodations with a patio and free WiFi. Featuring a kitchen with a fridge and an oven, each unit also comes with a safety deposit box, a satellite flat-screen TV, ironing facilities, closet and a seating area with a sofa. There's a private bathroom with shower and a hairdryer in each unit, along with free toiletries.
Located in Arvanitochori, Aerikohotel - Apartments provides accommodations with a seasonal outdoor swimming pool, free private parking, a shared lounge and a garden. Featuring family rooms, this property also provides guests with a grill.
Located in Arvanitochori, Villa Evdokia Kasos has accommodations with free WiFi, air conditioning, a garden and a terrace. The property has sea and mountain views, plus is 30 miles from Pigadia Port. The vacation home is equipped with 1 bedroom, 1 bathroom, bed linen, towels, a flat-screen TV, a fully equipped kitchen, and a balcony with garden views.
Search more Kasos Accommodations
Getting to Kasos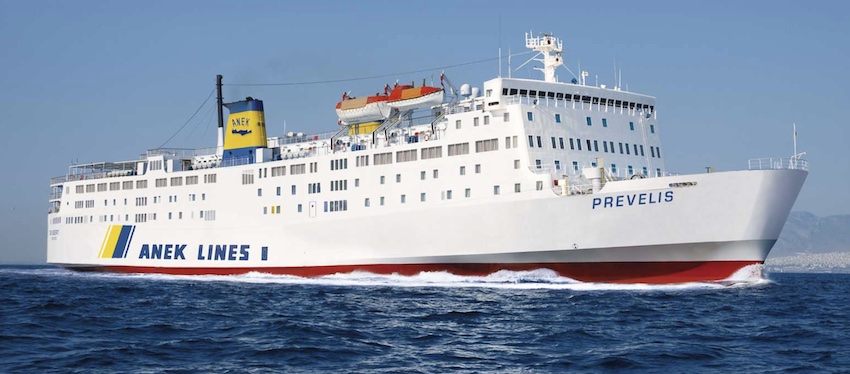 There are one or two ferries a week from Pireaus that make the long trip, connecting Kassos with Crete (Heraklion and Sitia), Karpathos and Rhodes. The Prevelis takes around 15 hours while the Blue Star takes 21 hours so choose your route carefully, and you will probably want a cabin if one is available. But unless you are traveling with a car the easiest way to get here is to fly though many flights from Athens are indirect and can take as long as 21 hours. The best way to come is to fly to Crete, Karpathos or Rhodes and take the ferry or a short flight from there. You may not get much help from a travel agent if you are just going to Kasos. But if you are combining it with some more popular islands like Rhodes or Crete they may be interested in helping you. See Greek Travel Agencies