My Lemnos
by Liza Drakos
For me Lemnos (Limnos) is not just another beautiful Greek Island that sits in the gorgeous Aegean sea but also the birth place of my parents. Over the years I have connected with the island and my extended family and in recent times my husband and I have decided to make it a second home to enjoy summer holidays.
Lemnos has beautiful sandy beaches dotted along its coast line, lakes (including a salt lake), bird life and the resident deer or two that reside in Myrina on the Kastro. An island with a long ancient history of mythological Gods, Heros and Legends, Lemnos has something to offer all ages and is perfect for young families and people who like to go explore.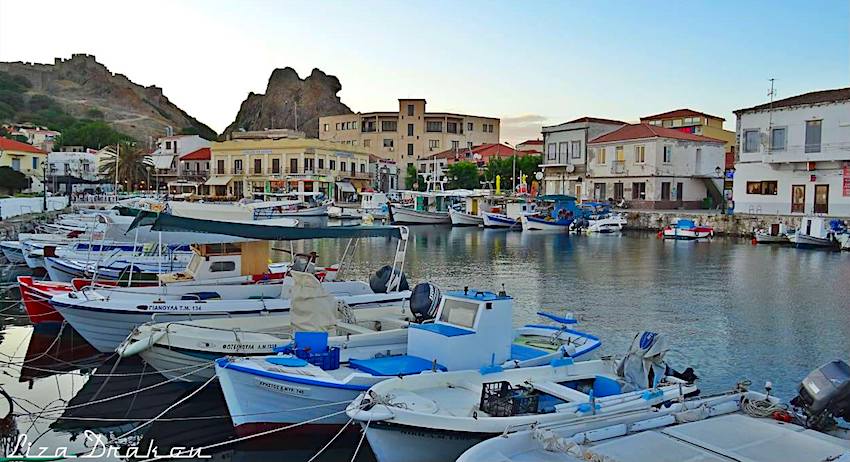 Lemnos is a large island in the North Eastern Aegean, located between Samothraki island to the North East and Agios Efstratios to the South West. Both Lesvos and Thassos Islands are also near by with regular ferry connections (Thassos via Kavala). Because of the large distance from Athens, Lemnos has maintained its charm and has not been effected by mass tourism...so sssshhhh don't tell anyone.
The islands population is a liitle over 17,000 and is known for the wild mountainous terrain and its many crystal clear waters and sandy beaches scattered all around the coastline, with over 30 easily accessible sandy beaches and 4 of them being awarded Blue Flag status.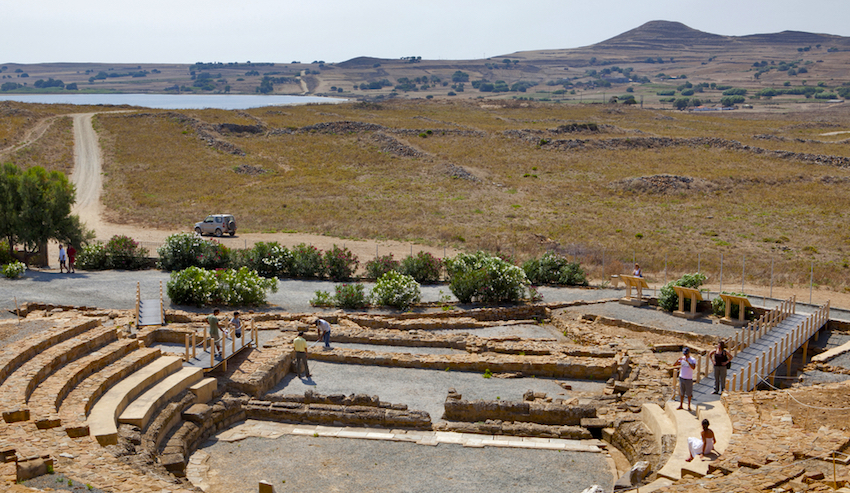 Mythology, History and Archaeology
Lemnos was the island where Hephaestus had his copper workshop. This is why a town called Ifestia was constructed on the island to his honor. According to ancient Greek mythology, Lemnos was the island of Hephaestus, the god of fire and volcanoes. A myth says that he landed on this island when Hera and Zeus, his parents, threw him from Mount Olympus. Hephaestus broke his leg (or hip) when he fell and landed on the island. The people of the island took care of him and in return the god taught them the art of blacksmith.
Yet, another myth connects the history of Lemnos to Philoctetes, an ancient hero who was abandoned on Lemnos on the way to Troy. Archaeological excavations in the temple of Kavirio and the ancient site of Poliochni have brought to light early settlements from the Bronze Age.
Poliochni is one of Europe's oldest settlement in the Aegean: Located opposite Troy in Asia Minos, Poliochni started as a small Neolithic village during the 4th millennium BC and had developed into a thriving city with roads, wells and drainage systems. Houses were built close to each other, attached, showing that the people had a tight knit community. The town was surrounded by 5m high stone wall that had slots for the archers who were probably Amazon females. Rock engraving portraying a female archer wearing a head dress of animal skin and holding a bow can still be seen there. Excavations from the site indicate the inhabitants of Poliochni were immensely weathly.
According to myth, Lemnos was said to have been inhabited and reined over by Amazon female warriors. Legend has it that when Jason and the Argonauts made a stop over at Lemnos on their way to Colchis in pursuit of the Golden Fleece, they received a warm welcome from the ladies and their queen Hypsipyle (daughter of King Thoas) whom he fathers 2 children with her.
Lemnos is also remembered for being the island where the Achaean army abandoned Philoctetes, who had a wound that would not heal. During the Trojan War, Lemnos sent ships with cargoes of wine for the Achaeans, being at that time ruled by Jason's son Euneus.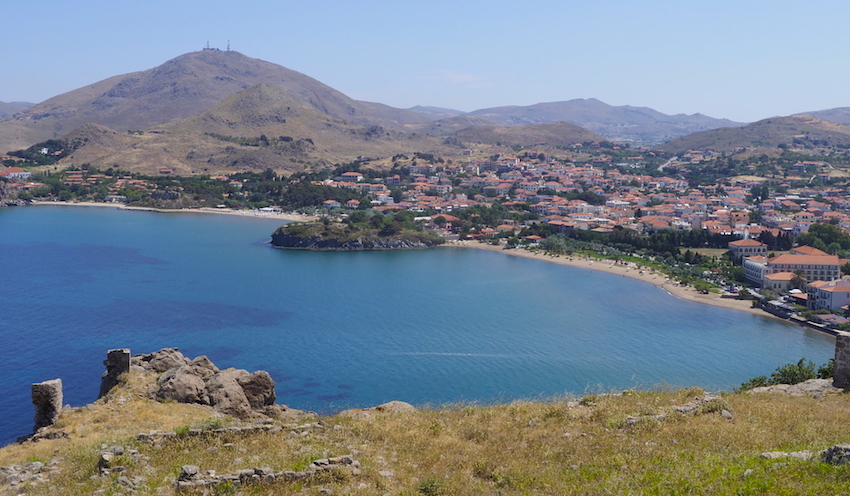 Myrina
Myrina is the capital and main port of Lemnos with approx 4500 inhabitants. The town stretches across two beautiful bays and in the centre is an imposing Kastro (castle) which sits on a large formation of volcanic rock. Myrina charms visitors with the Venetian castle, Neoclassical mansions, Ottoman buildings and narrow streets all within walking distance of the picture perfect port of Myrina. Along the waterfront you will find plenty of restaurants and traditional taverns, whether its indulging in Bougatsa (sweet pastry with custard creme) and a Kafedaki (coffee) in the Port of Myrina or a cocktail by night along Romeikos Gialos at the base of the Kastro. Between the picturesque alleys of Myrina and the main shopping precinct of the 'Agora' you can find numerous shops and cafes, locally made products such as pottery and crafts, pasta and wheat products and award winning honey and wine.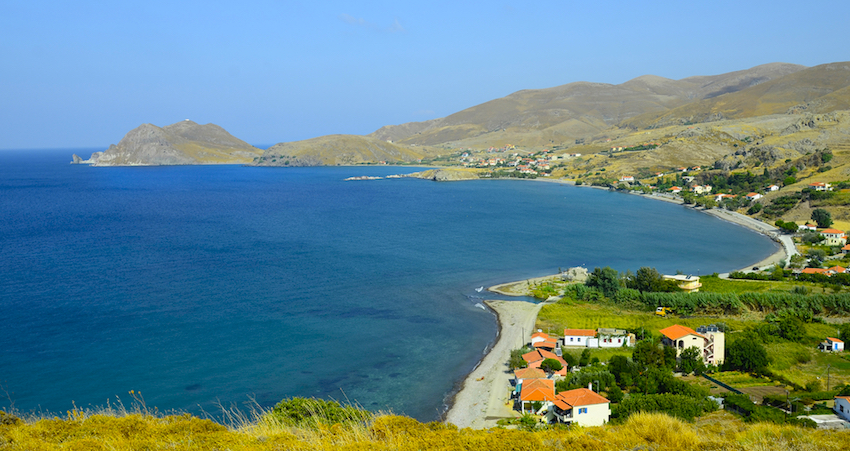 Beaches of Lemnos
Lemnos' beaches are superb and unspoiled. There are numerous sandy, uncrowded beaches which are among the best in the Aegean Sea, spread all over the island and all have crystal-clear waters and soft sands. Most popular and organized beaches on Lemnos are located on the western side of the island. There are a number of beach bars, offering sunbeds and parasols. The beaches in the east of Lemnos, are more secluded but they provide the best spots for windsurfing and kitesurfing!
Our favourite spots are Platy, Thanos, Evgatis (Nevgatis) and Agios Ioannis beaches and all have been awarded the Blue Flag. Greece has 486 Blue Flag beaches so to have 4 of them on Limnos just tells you it's the perfect beach destination, among other things. Family friendly with soft sand, calm waters and a laid back vibe. All organised beaches have sun beds and parasols...and they are free! Located within 5 to 20 minutes drive from Myrina with Platy being the closest to the capital and only 2 km away.
Other popular beaches are Mikro Fanaraki and Megalo Fanaraki (Moudros, South of the island), Agios Ioannis (Kaspakas), Romeikos Gialos (Myrina), and Riha Nera (Myrina). Venturing North of the island you can visit beaches in Panagia, Kotsinas, Atsiki and Gomati beach.
If you're looking for waves then Keros has a surf culture with camping style accomodation.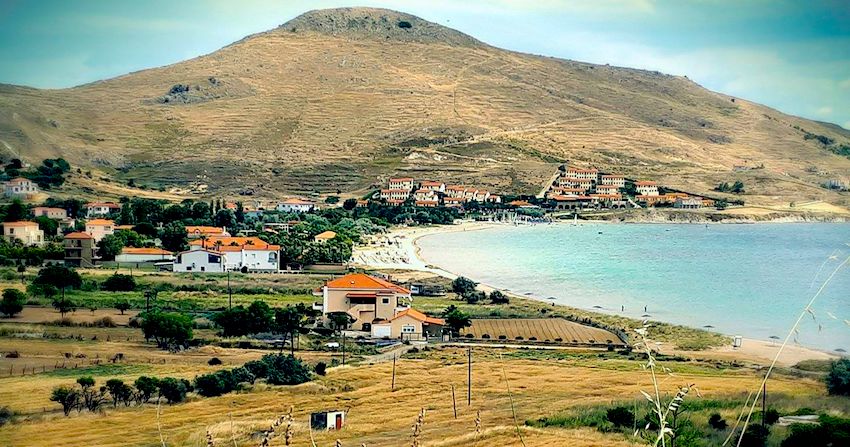 Platy Village
A popular seaside town Platy (Plati) beach and village, one of the most beautiful villages of Lemnos, is also our second home. Located only 2 kilometers from Myrina, the village lies on the hill slopes, around the beautiful beach which is famous with various water sports activities. With soft sand and crystal clear shallow waters the beach is very child friendly. The village offers some dining options along the waterfront as well as in the village (old town) with a nice variety of delicious meals. Try O'Sozos Taverna and the newly established Taverna Kaloudistas, both in the centre of the village.
Located within the village is a small supermarket which has pretty much everything you need. As well as the two Tavernas mentioned earlier the old town has a few cafes to choose from and a good mix of locals and tourist enjoying a beer or a coffee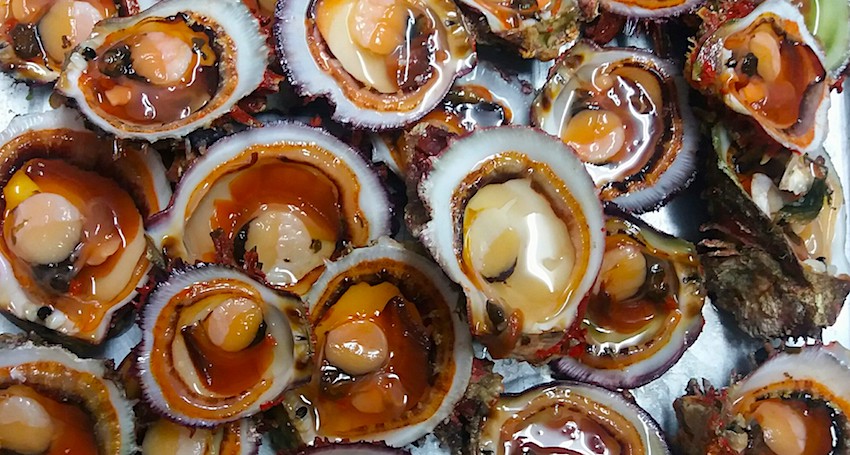 Where to Eat in Lemnos
Ouzeri To 11. Situated in Myrina's little back streets, just off the Romeikos esplanade is this pretty Ouzerie that serves up delicious meze dishes. Seafood, (raw scallops and clams-see photo above), vegetarian dishes and meats.... all cooked simply yet very tasty and well worth the visit. Tel: 2254022635. 6 Glinou Street.
Terrain Tavern - If you are looking for gorgeous views overlooking the Aegean waters with the Kastro in the back ground and views of the pretty coastline AND good food, then lunch or dinner at this place will not disappoint. Seafood and lobster being a signature dish with good service. 42 Kountourioti Pavlou
Mantella- Located in Sardes and a 15 minute drive from Myrina. A must and stand out for me. Local Pasta called Flomari served with slow cooked Rooster. Also a kick arse Stefado, seasonal greens and yummy loukoumades to end a perfect meal. Tel: 22540 61349
In Nea Koutali village are 2 of our favourites for seafood and meze. BEST seafood on the island in my opinion is Taverna GLAROPOULA, and a new ouzeri called GLYKANISOS down the road on the water front serves up delicious meze style plates with gluten free specialties also.
In the village of Tsimandria there are 2 taverns in town...both family run as most taverns on the island are. Serving seasonal home grown veg and grilled meats. Authentic, flavorful and good old home stye cooking. O Meraklis for grilled meats and the most tender grilled chicken fillet or delicious kokoretsi and Christos Tavern for the best wild greens, beetroot, stuffed peppers and the best pork on the spit.
Last but not least in Platy village there are 2 tavernas we love. O'Sosos Taverna - grilled meat being there speciality wth all the traditional dishes with a few extras like the stuffed mushrooms, yummy cheese pitas that are rolled like a cigar shape, very tasty and filled with Lemnian local cheese. This place is an old favourite in a pretty setting.
In the centre of the town Taverna Kalouditsas is hands down the best place toeat if you are looking for delicious home style food with a modern twist. Returning to the island from Athens, the owner is the cook and serves up exciting dishes, everything is made on the premises...the dips, breads, sweets, almond liqueur. The most tender slow cooked lamb or pork is a winner each time. If you are serious about good Greek cuisine then this place is a must visit.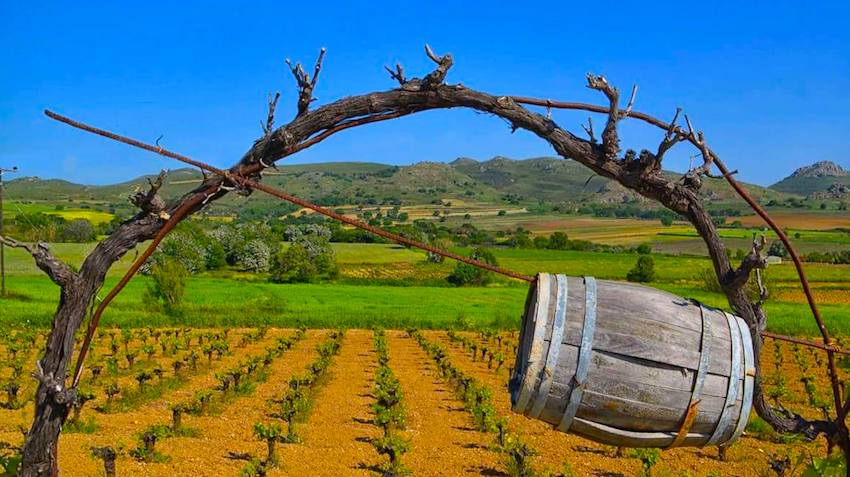 Limnos Wines
Local varieties of wine on the island consist of two main varieties, Muscat of Alexandria and Limnio or Kalampaki. Other varieties are cultivated in Lemnos, such as Mandilaria, Fokiano, and Assyrtiko, known by most people because it is the grape of Santorini and is currently in demand all over the world.
Dominating the market on Lemnos is Muscat of Alexandria which was introduced in the beginning of the 20th century from Egypt. Muscat of Alexandria gradually replaced the local red variety, Limnio, which used to be the main variety to be cultivated on the island. Given PDO status to Lemnos and Muscat of Lemnos. The light gold-coloured wine is a beautiful dessert wine that pairs well with either sweets and cheeses. Aromas and flavours of peach, apricot and floral notes. Some sparkling wines are also being produced, semi-dry or semi-sweet both produced from the Muscat grapes.
Moschatos Limnos is a local sweet dessert liquor that we couldn't resist, setting us back approx €10. Visit Lemnos Wines, located on the main Kendro road a few miles out of Myrina and stock many varieties of wines, beer and juices and local Lemnian soft drinks.
Limnio is a wine that has been around since ancient times and supposedly to be the oldest Greek wine variety, has been referenced by ancient Greek writers ( Homer, Isiodos and Polydefkis) that it was Aristotles favourite wine "Lemnian Vine". It is said that during the Trojan war the wine was the Achaeans preferred drop and was shipped to Troy. Limnio, a red grape which is called Kalampaki by locals, gives suburb flavoured red wines, with cultivation passed on to other parts of Greece like Halkidiki and other regions of Macedonia and Thrace. The cultivation of Limnio was had declined on the island once Muscat of Alexandria was introduced to Lemnos. However, in the past 30 years or so a revival of this ancient variety has proved popular once again.
Back to Nature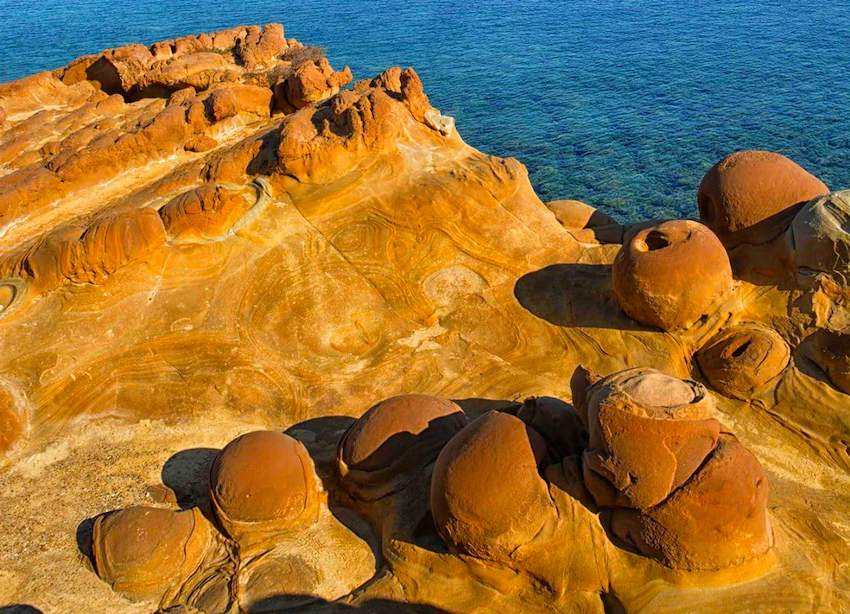 At the north part of the island at the Cape of Falakro, or 'Falakro', a beautiful geographical phenomenon reveals beautiful and interesting rock formations from millions of years ago. Hot volcanic lava flooded out of the depths of the earth and froze to crystal as soon as it came in contact with the sea waters. Well worth a visit which attracts many novice photographers, capturing these stunning petrified rocks.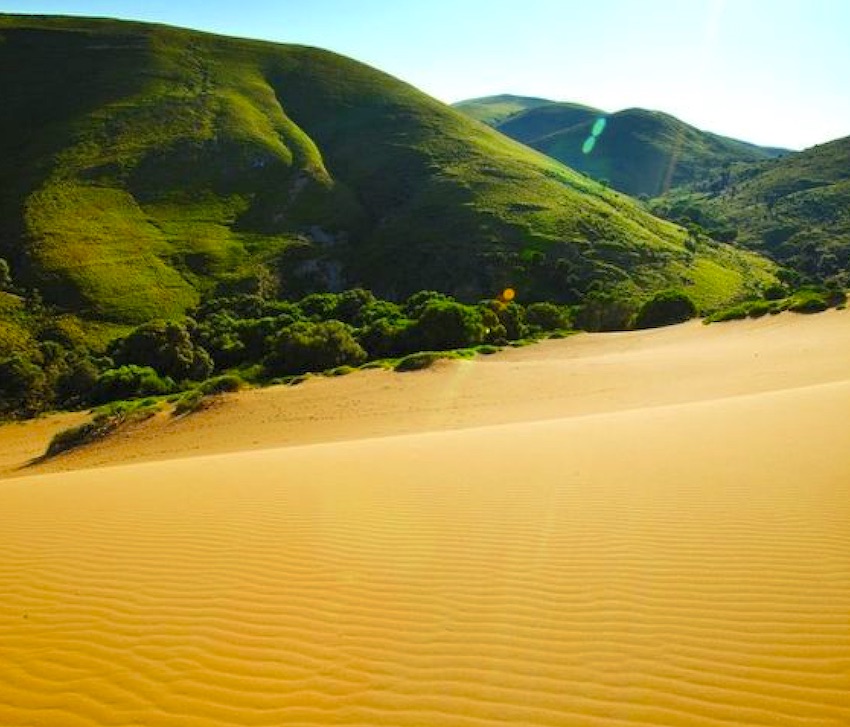 The Lemnos desert is known by the locals as "Pachies Ammoudies" (thick sands). The sand dunes are 3 km above the village of Katalakkos, near Gomati beach. Perfect for a morning visit to the dunes before the mid day heat sets in and then enjoy a cool dip at Gomati beach. There are also facilities in Gomati to enjoy a coffee or a meal at Flomari Tavern.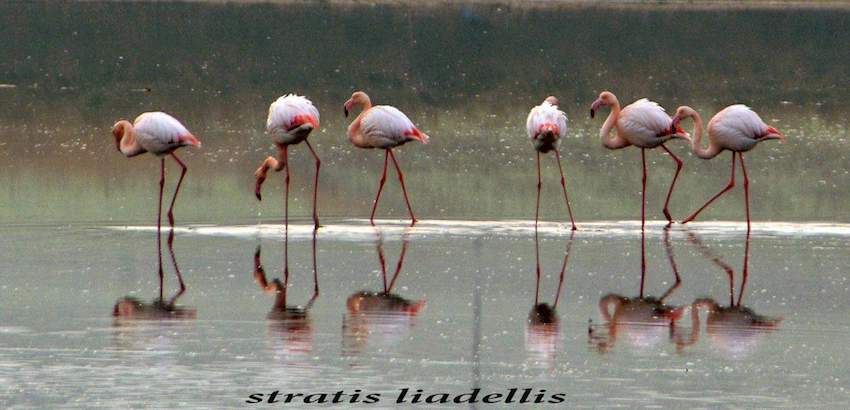 Lemnos has 2 Lakes...Limni Aliki (salt lake) and Lake Chortarolimni. Both dry during summer /spring with Lake Chortarolimni being a refuge to flamingos and other birds in the winter months when water is captured, turning the area into a small wildlife and nature reserve.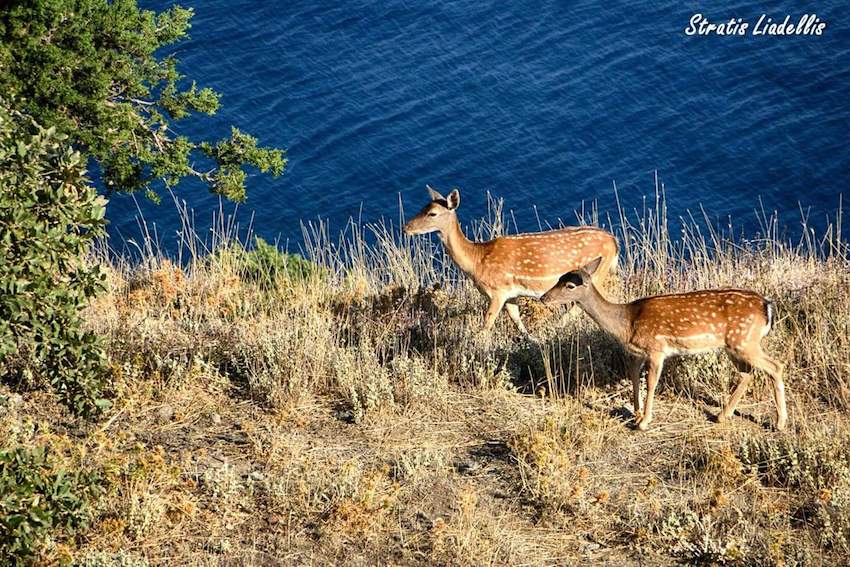 You may come across a deer or two when visiting the ruined Byzantine fortress. But where did this deer come from and are they native to Lemnos? Well back in 1968 the mayor or Rhodes gifted 2 female a 1 male fallow deer to the mayor of Lemnos. The purpose to introduce the deer was to provide a sense of nobility to the town, however the deer soon became a tourist attraction. Now there are many deer that reside around the peninsula of Myrina within and around the Kastro walls.
Lest We Forget
For me, being 1st generation Australian with Lemnian born parents, Lemnos and the ANZAC story is something that fills me with great pride and yet sadness at the same time. For so many young men, boys really... more than 50,000 Australian troops took part in the WWI Gallipoli campaign. The Gallipoli Campaign was the first major campaign by Australian forces (and the wider Anzac Corps) in the First World War. Out of the 50,000 that went over to fight, more than 8,700 were killed and around 19,000 wounded. The significance of this campaign to Australia and its part in Australian history has long been recognised.
Why this island? Well Lemnos was 80 km from the Gallipoli peninsula and was chosen because it has one of the best naturally deep harbours in the Aegean. Yet Lemnos has not been widely recognised for the critical role the nearby Island played in the Gallipoli campaign. Efforts in recent years to improve and promote Lemnos' importance in WWI have been welcome from both Australia and the islands inhabitants.
It is the location of two major but under-recognised Commonwealth War Graves, with 148 Australian and 76 New Zealand graves, Portianou Military Cemetery (above photo), and Moudros West Cemetery
Key facts:
• The island was the principal assembly, embankment and supply point for the Gallipoli landings
• The landings at Gallpoli were practiced on the island of Lemnos
• The islands' harbour was a major staging post for naval operations which also included a submarine campaign
• It was the location of the major nursing stations for the Gallipoli campaign, it was the first overseas deployment of Australian Nursing units
• The armistice between the allies and the Ottoman Empire was signed on board HMS Agamemnon in Moudros Harbour, Lemnos in 1918.
( sourced from The Lemnos Gallipoli Commemorative Committee Inc.)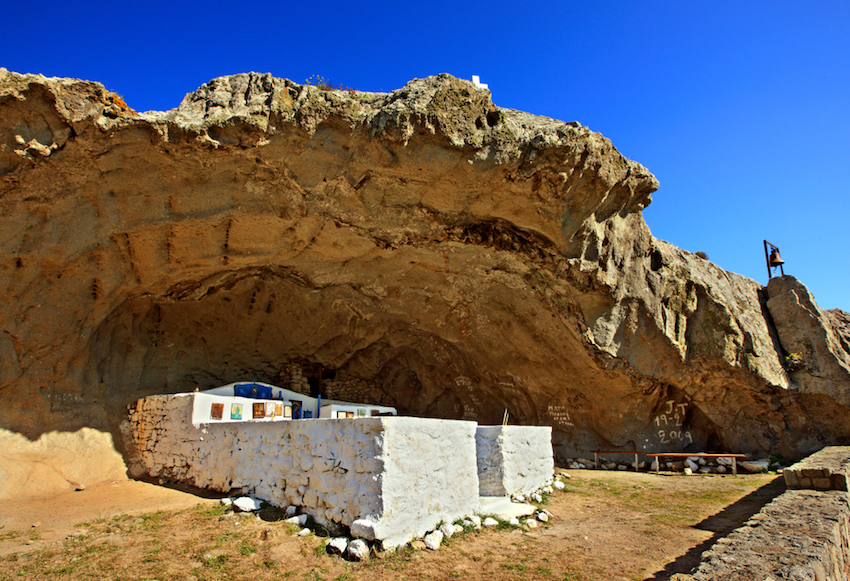 Visit the Church of Panagia Kakaviotissa
The sweet little chapel of Panagia Kakaviotissa is very unique and well worth a visit. Located near the village of Thanos, is nestled inside a cave at the peak of Kakavos Mountain. Founded in 1416, the church was used as a shelter for monks and hermits, away from the invading Ottoman Turks. A 15 minute drive from Myrina and a walk down a dirt track will get you there. Visit in the evening to see the gorgeous views of the sea and mountainside.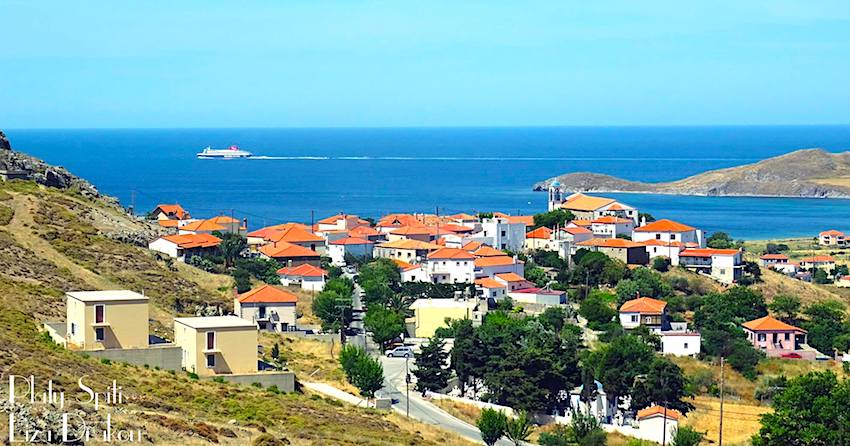 Getting to and from Lemnos
Lemnos has an airport with several flights a day to and from Athens, Thessaloniki, Lesvos and Ikaria. There are ferries most days of the week leaving from Pireaus and Lavrion, two of the main ports of Athens. Lemnos also has ferry connections to Lesvos, Chios, Ikaria, Fourni, Samos, Patmos, Kavala, and Ag Efstratios. These island connections are usually one to 3 boats a week. You can find ferry schedules and book tickets at www.ferryhopper.com or contact a Greek travel agency and have them book your hotels and they can worry about the ferry schedule for you. Though there is more than enough to fill your time in Lemnos without having the need to visit another island, it can be combined with any of the above mentioned islands, the easiest being Lesvos because it is the closest. For more about ferries see Matt's Greek Ferry Page.
Recommended Hotels in Lemnos
There are a large variety of accommodations on Lemnos from 5-star hotels to simple rooms in family run hotels and guesthouses. These are some of the most recommended and highest rated by guests. You can also find villas, apartments, self-catering, holiday homes and Air BnB style accommodations with Matt's Villas and Vacation Homes Search.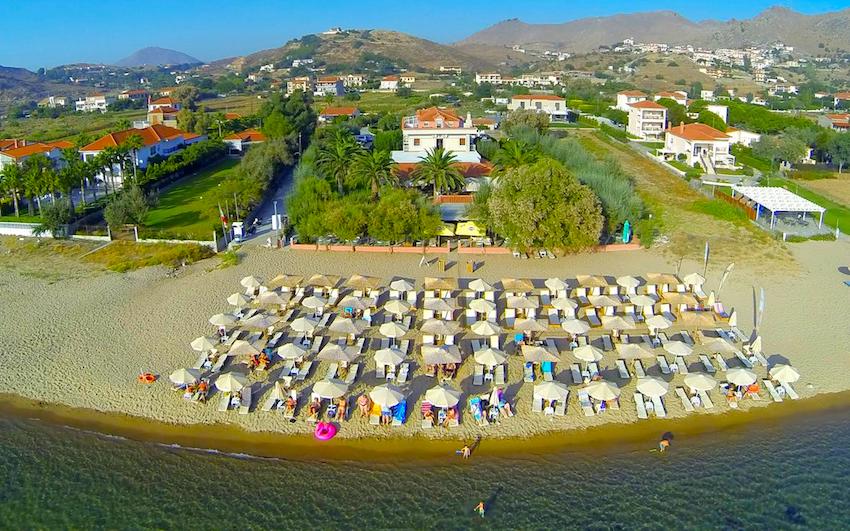 Platy Beach Hotel
Set right on the beach of Platy, Platy Beach offers rooms with a private balcony and unlimited views of the Aegean Sea. It has a big, palm-tree garden and includes a restaurant, a bar and a children's playground. Rooms at Platy Beach are air conditioned and have an private bathroom with hairdryer. They are also equipped with a TV and mini fridge, and they all enjoy free Wi-Fi access. You can start your day with a buffet breakfast and later have a drink or coffee at the bar. The on-site restaurant serves local specialties, which you can enjoy at the shaded terrace by the garden or next to the sandy beach. Myrina, the capital and port of Limnos, is 1.6 mi away and features many shops, restaurants and cafes. Click for more photos, guest reviews and booking information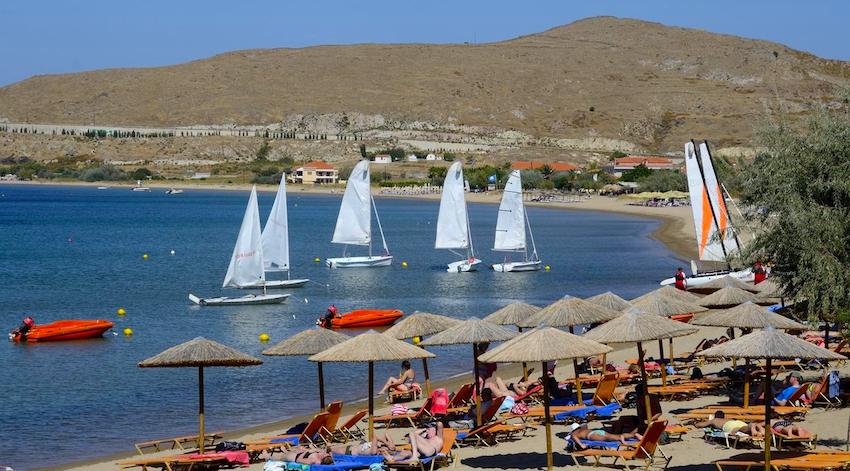 Lemnos Village Resort Hotel
Enjoy Greek hospitality and a wide of choice of activities in this resort ideal for families. A holiday here, is a real 'away from it all' experience, where you can relax, or keep as active as you like. Refresh yourself in the outdoor pool, or use the tennis courts or table tennis facilities. Kids will enjoy the children's playground, while all will love the local sandy beach. Nearby is Myrina, a pretty port town where you can experience local cuisine in a restaurant, or stroll through the harbor area. The red tiled roofs and pastel-washed walls of the villa-style rooms create splashes of color and give the place an exotic air. Enjoy the village atmosphere of this resort, where you should always find plenty to do. Click for more photos, guest reviews and booking information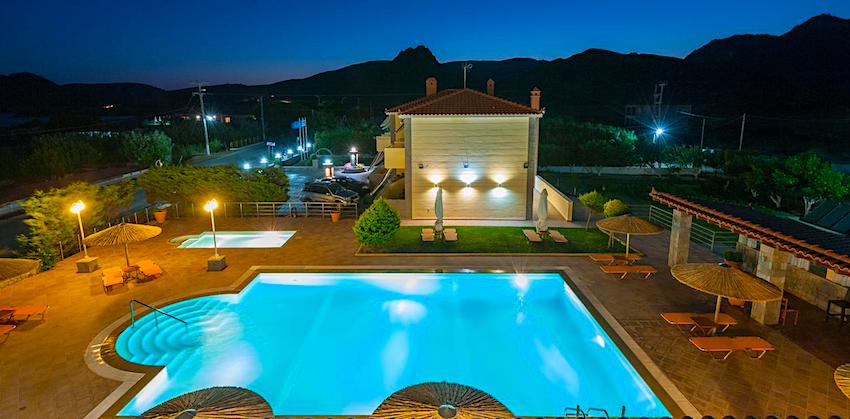 Hotel Evgatis
Hotel Evgatis is a new hotel in Limnos, located on Evgati Beach, in distance of 6 km from Myrina and the harbor. It features a pool with sun terrace and a children's section and offers free Wi-Fi throughout. The hotel's traditional tavern, enjoying a beach-front location, serves delicious local delicacies, along with the famous ouzo and wines of Limnos. Breakfast is served by the pool, while cocktails are served at the beach bar. Each of the rooms is fully equipped with air condition, fridge, phone and TV and offers great views of the sea from its private balcony. Click for more photos, guest reviews and booking information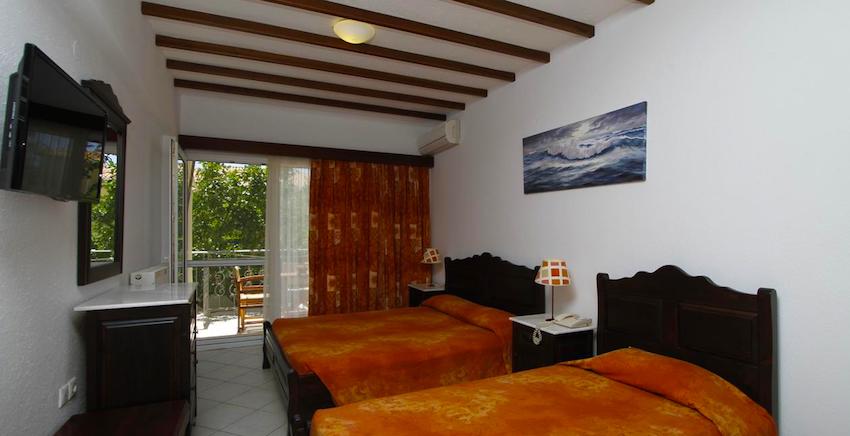 Afrodite Hotel Apartments
Afrodite Hotel Apartments is just 50 m away from the beach of Richa Nera and a 5-minute walk from Romeikos Gialos with its many taverns and cafes. It offers air-conditioned apartments with free Wi-Fi which open out to a private balcony. Afrodite apartments feature wooden-beamed ceilings and dark-wood furnishings. They come with a kitchenette with cooking rings, mini fridge and electric kettle, and they also have a TV and an private bathroom with hairdryer. Within 250 m from the property, you can reach the center and port of Myrina. Guests can also easily visit the castle of Myrina, which dates back to the 12th century. Click for more photos, guest reviews and booking information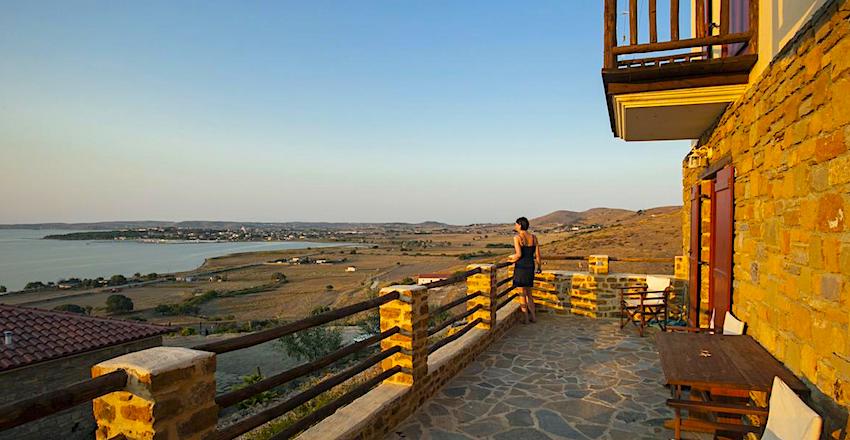 Ethaleia Hotel
Set amid a 10-acre estate and 1.6 mi from the picturesque village of Moudros, Ethaleia Hotel overlooks the bay. It features charming rooms and suites. All the rooms blend antique furnishings, contemporary technology and truly stunning views over the Moudros bay. Each room has a mini fridge, safe deposit box, LCD TV and air conditioning. Bathrooms are spacious with hydromassage shower columns, bathroom amenities, hairdryers and towel warmers. Some of the archaeological sites of the island including Poliochni, Kaveirio and Hephaestia are located in the municipality of Moudros and in close distance to the hotel. Hotel Ethaleia is a family business which prides itself on creating an atmosphere of effortless hospitality. With its warm hospitality and attentive staff, it feels like home. Click for more photos, guest reviews and booking information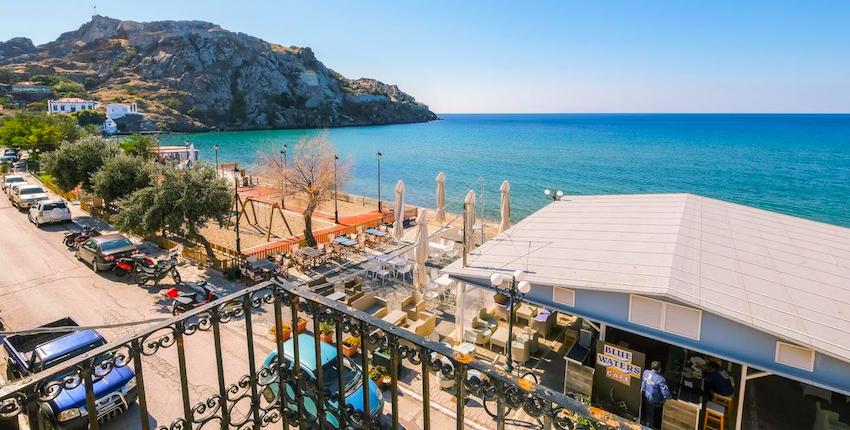 Traditional Stone House
Traditional Stone House is located in Mirina, 458 m from Port of Limnos, right on the sea. Popular points of interest around the property include Archaeological Museum of Lemnos and The Castle of Myrina. The rooms include a flat-screen TV with satellite channels. The rooms at the hotel come with a seating area. Featuring a private bathroom, rooms at Traditional Stone House also feature free WiFi, while some rooms here will provide you with a balcony. All rooms at the accommodation have air conditioning and a desk. Click for more photos, guest reviews and booking information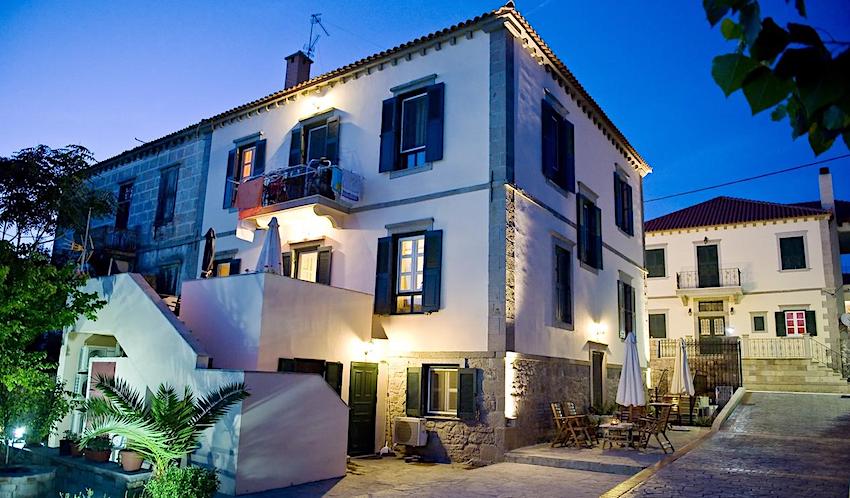 Artemis Traditional Hotel
Housed in a renovated 19th century mansion, Artemis Traditional Hotel is located in Myrina village of Lemnos, just 150 m from Richa Nera Beach. The neoclassical property is surrounded by a well-tended garden and offers self-catering accommodations with free Wi-Fi. The traditionally decorated studios of Artemis come with a kitchenette and a dining area. Each is equipped with air conditioning, TV and fridge. Private bathroom is stocked with a hairdryer and free toiletries. Guests can prepare their own breakfast in their studio or they can make use of the BBQ facilities offered. The communal stone terrace is furnished and looks out onto the beautiful castle of Myrina. A restaurant and a supermarket can be found within a short walking distance. Click for more photos, guest reviews and booking information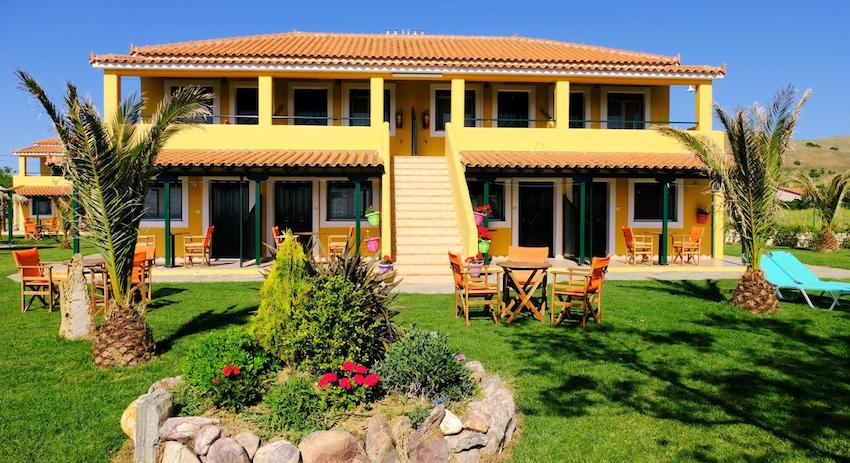 Pan-Dora Apartments
Located in Moudhros, Pan-Dora Apartments has accommodations with free WiFi and a garden. The condo hotel offers a flat-screen TV and a private bathroom with free toiletries, a hair dryer and shower. There's also a kitchen equipped with an oven, fridge and stovetop. Pan-Dora Apartments has a playground and allows pets on request. A bicycle rental service is available at this property. Click for more photos, guest reviews and booking information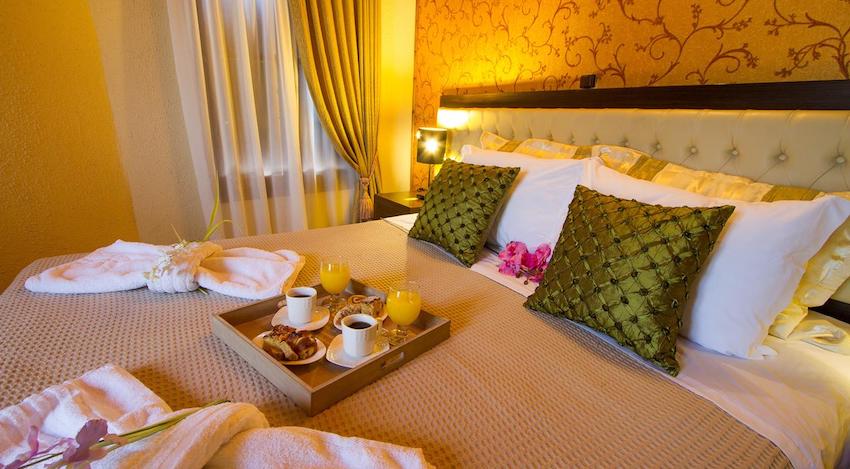 Archontiko Hotel
Close to Myrina's shops and in front of the imposing castle, the Archontiko Hotel is a charming, traditional guest house appointed with antique furnishings offering certified Greek breakfast. Archontiko Hotel offers a variety of well-furnished rooms in the heart of Myrina. Each one combines historic features with a host of modern amenities, including private bathroom facilities and air conditioning. Wireless internet is also available here, allowing you to check emails for work or leisure. Start each day with a tasty, complimentary Greek breakfast in Archontiko's traditional dining area, including thyme honey, the locally produced kalathaki cheese, homemade sweets and marmalades. Take advantage of Archontiko Hotel's central location and enjoy a stroll through the picturesque town center. Myrinas beautiful beaches are just 50 m from Archontiko and the port is 300 m away. Click for more photos, guest reviews and booking information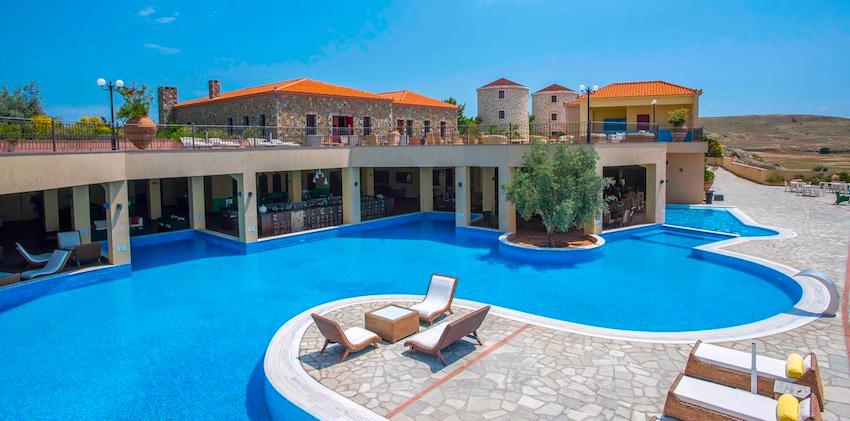 Varos Village Traditional Hotel
Varos Village Traditional Hotel enjoys a central location in the scenic village of Varos in Lemnos. The complex offers a swimming pool with wooden sun beds, umbrellas and pool towels and enjoys views of the sea. A poolside bar, a restaurant and a fitness center are also featured on site. The traditional hotel features elegantly decorated rooms and suites, all built according to modern standards and decorated in earthy tones. Each air-conditioned unit enjoys views over the Aegean Sea and comes equipped with coffee-tea-facilities, safe and flat-screen, satellite TV. Free WiFi access is provided. Guests can start their day with a delicious Greek buffet breakfast with local products. Drinks, coffees and light meals can also be enjoyed at the lounge café area or the pool bar, while the Veranda traditional restaurant serves Greek dished made with fresh, homegrown products. Free Wi-Fi and satellite TVs are available in public areas. Each week, the hotel hosts cooking lessons and Greek nights with live music and local cuisine. Keros beach, famous for kite-surf is just a 15-minute drive away from the hotel. Varos Village is located a 5-minute drive minutes from Limnos Airport. Mirina Town is a 20-minute drive away. Click for more photos, guest reviews and booking information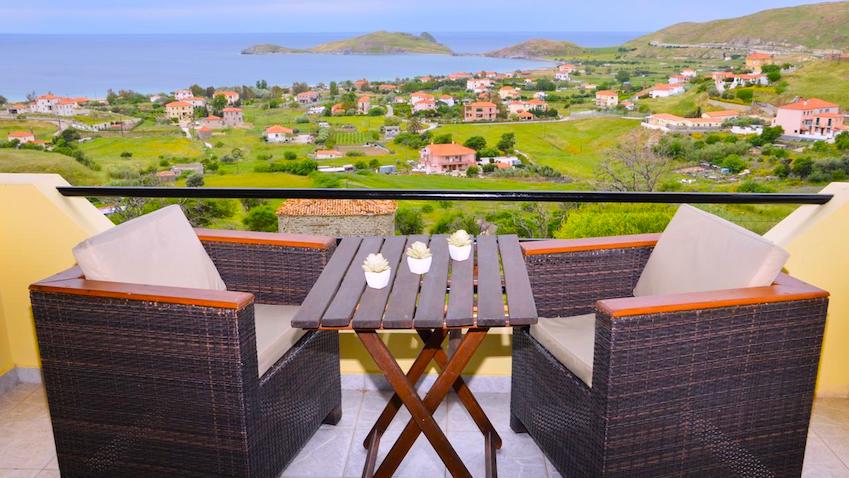 Hotel Dina
Enjoying an elevated position on the edge of Plati, the family-run Hotel Dina offers self-catering accommodations. It is set within a lovely garden, while the beach is 500 m away. All Dina rooms offer views to the Aegean Sea from their furnished balcony. Each is equipped with a kitchenette with fridge, and air conditioning. Guests can enjoy their drink at the hotel's bar. BBQ facilities are also available in the garden. Click for more photos, guest reviews and booking information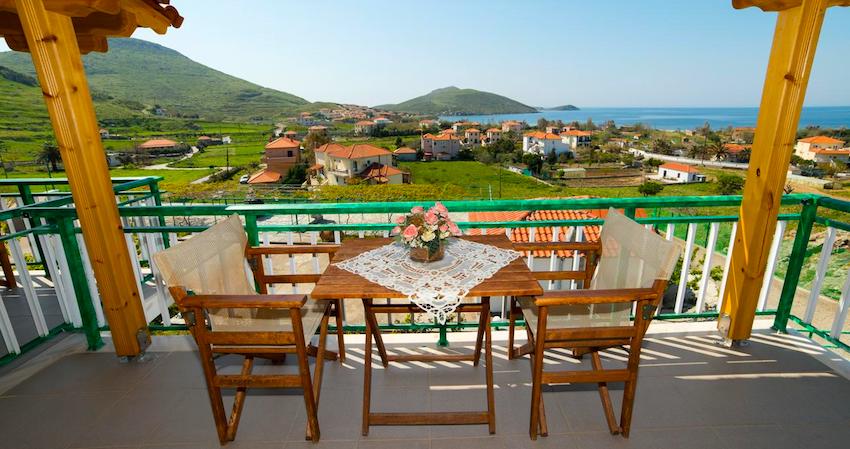 Panorama Plati
Just 300 m from the sandy Plati Beach, family-run Panorama Plati is built on a hillside, a 20-minute walk from Myrina Town and the port. It offers air-conditioned studios with free WiFi and views over the Aegean Sea. A kitchenette with a fridge, cooking hobs, coffee maker and dining area is available in all studios at the Panorama Plati. Opening to 2 balconies, each includes an iron, a TV and radio. Other amenities include a kettle, toaster and hairdryer. Guests can relax on the terrace enjoying views of the Aegean Sea. Guests will find taverns within a 3-minute walk while restaurants, bars and shops selling local cheeses and wines are at 0.6 mi. Limnos Airport is 12 mi away. Free private parking is available at the property. Click for more photos, guest reviews and booking information
If you can't find what you want try Matt's Limnos Hotel Search. You can also find villas, apartments, self-catering, holiday homes and Air BnB style accommodations with Matt's Villas and Vacation Homes Search. If you still have trouble try getting assistance from one of the agents on Matt's Greek Travel Agency page or use his
Create-an-itinerary-form
Helpful phone numbers in Lemnos
Telephone Area Code+30 22540
Municipality of Lemnos+30 22543 50015
Airport of Lemnos+30 22540 29400
General Hospital+30 22543 50400
Police Station (Myrina)+30 22540 22201
Port Authority+30 22540 22225
Post Office+30 22540 22462
Tourist Police+30 22540 22201
Taxis+30 22540 23820
Bus Service+30 22540 22464
Archaeological Museum+30 22540 22990
Folklore Museum (Portianos)+30 22540 51785
About Liza Drakos
"I am a Greek-Australian with a passion for Greece and in particular a passion for the North Aegean island of Lemnos (Limnos) where my parents were born. If you are looking for an island that has not been affected by mass tourism, yet has all the things you love about an authentic Greek holiday then Lemnos is the island is for you. You can visit me and see my photos and more on my Facebook page.
Thank you Liza and Stratis Liadellis for many of the photos on this page.