Main Ports in Greece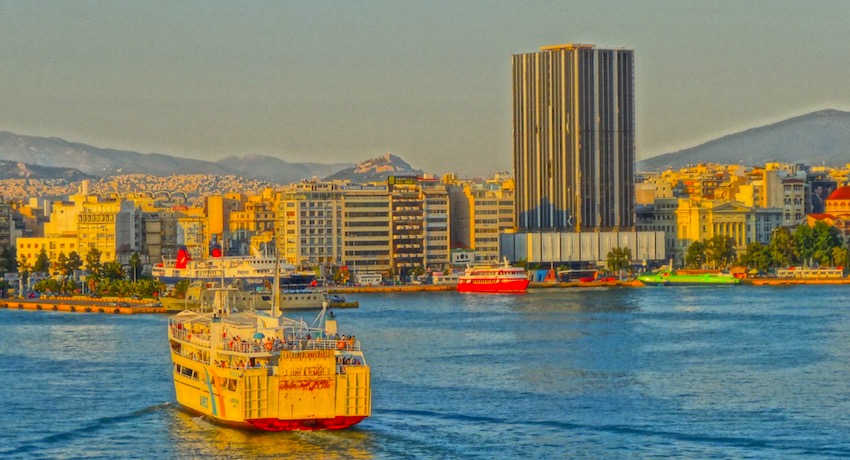 Pireaus

Pireaus is the primary port of Athens and the easiest way to get to most of the Aegean Islands. The ferries, high-speeds and the Flying Dolphins leave from the main harbor which people simply refer to as Pireaus. You can take the metro and get off at the last stop, cross the ever-busy street on the pedestrian bridge and the boats are right there.
The Athens Metro and the Suburban Rail both go to Pireaus from the airport as does the X96 bus. (See my Athens Airport Page) By the time you read this the Coastal Tram will probably be going there as well. The 040 bus goes from the bottom of Syntagma square to Pireaus and the new X80 is an express version of the same route which goes to the Pireaus Cruise Terminal. There is also a stop near the Acropolis museum on Vas Amalias Street near Hadrian's Arch on the Plaka side of the street. The 049 goes from Athinas Street at Omonia Square to Pireaus. Your hotel can also call you a radio taxi to get you to your ferry and when you return there is usually a whole line of taxis waiting for you. Do what I do, take a taxi. It's cheap and easy and he will take you right to your boat.
For a map of where the boats to the different islands are visit the Pireaus page in my Athens Guide. There is a shuttle bus that goes from one end of the harbor to the other. There are signs that will point the way. Any other islands you can walk to the boat. There is a large cafeteria behind the ticket offices which are by the public bus terminal. In the cafeteria is internet access and a place to leave your luggage so you can wander around if you have a long wait for your boat. There are other such cafeterias near the boats to the different island chains too, though not all of them. There are some nice working-class restaurants on the back streets of Pireaus and lots of fast food places on the main street. I have a page you might be interested in reading called A Step-By-Step Guide to Visiting a Greek Island which tells you how to take the metro to Pireaus, buy tickets and so on. There are ticket offices in Pireaus on the main street, by the bus station and even one in the Pireaus Metro station. If you want a cabin you should get your tickets in advance. If you are traveling in July and August or on Fridays in June and going on a high-speed you should probably get tickets in advance too. If you are booking hotels with a travel agency ask them to book your ferries too because it is no extra charge. Most people stay in Athens and just take the metro or a taxi to Pireaus but some people do want to stay in the port. There are a number of good hotels of all category in Pireaus and if you use the Booking.com Pireaus Hotel Search you can find the ones within walking distance to the ferries. The economical Hotel Delfini is the closest to the metro, the airport bus and the ferries. The Hotel Acropole is close and inexpensive as well. The best of the hotels close to the port is the 5-Star Pireaus Theoxenia which has decent prices for a hotel of its category. I also have a page of Pireaus Hotels convenient to the port.
See Matt's Greek Island Ferry Page for more information about Pireaus and going to the islands.
For ferry schedules and tickets see Ferryhopper.com and to see the Pireaus map of the gates and which ferries depart from which gate see on Ferryhopper.com's Pireaus Page
Rafina

If you hate flying and don't fancy a ferry trip then you will be happy to know that by leaving from the port of Rafina rather then Pireaus, you can shave off two hours from your time on the ship on trips to the Cyclades. However this only applies if you are going directly from the airport to the islands since it will take you as long to get from downtown Athens to Rafina and then to your island then it will to get from downtown Athens to Pireaus and to your island. In other words Rafina is closer to the airport and Athens is closer to Pireaus.
There's a high-speed catamaran to Andros, Tinos, Mykonos and a few of the Cylades too. There are also boats to Marmari in Evia that go every 3 or 4 hours. If you don't think you have time to visit an island, a visit to Rafina will do. You can sit in the harbor restaurants, eating fried Kalamaria, watching the fishing boats and ferries sail in and out. It's only 45 minutes from downtown Athens. You can take a bus from Pedion Areos or go with George the Famous Taxi Driver.
The Avra Rafina is a 4-star hotel convenient to the ferries to the islands for those want to avoid Athens and go straight to the islands and spend the first night in Greece in a Greek-island-setting. Nearby the 3-star Hotel Akti also offers convenience for travelers to both the port and the airport.
For ferry schedules and tickets see Ferryhopper.com
For more about Rafina including restaurants, beaches and hotels see Matt's Rafina Page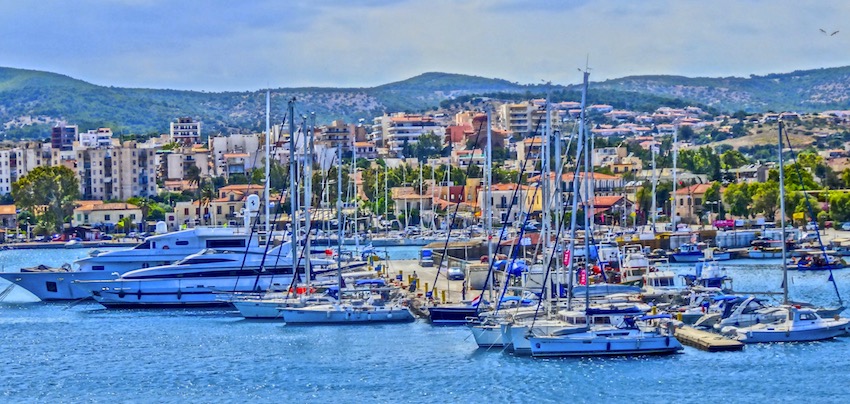 Lavrion

For getting to the island of Kea as well as some of the Cyclades and even Chios, Thassos and northern Greece, Lavrion has become a ferry hub for Attica with the idea that in the future those who want to skip Athens altogether will be able to do it, taking a taxi or bus from the airport and being on your ferry in about half an hour. I know because I do it all the time and even though I love Athens there is nothing like going straight to an island and pulling oneself together before coming back to the city after recovering from jet-lag. There are some nice ouzeries, fish taverns and psistarias and if you have enough time before your ferry sails you can take a swim or see the Temple of Poseidon at Sounion. If you are not renting a car in Athens there is a bus to Lavrion from Pedion Areos that stops at the airport and another that takes the coastal road and stops at Sounion. Or you can hire George the Famous Taxi Driverto take you. There are now a handful of hotels to stay at right in town, the best of which is probably the NJ Apartments. There are also several other apartments available on Booking.com's Lavrion page.
If you have a car you can stay further out of town at the Hotel Aegeion Beach on the beach, right below the Temple of Poseidon at Sounion or if you don't have a car have the hotel arrange a taxi for you in the morning. For those with deeper pockets you can stay at the Cape Sounion Grecotel Exclusive Resort.
For ferry schedules and tickets see Ferryhopper.com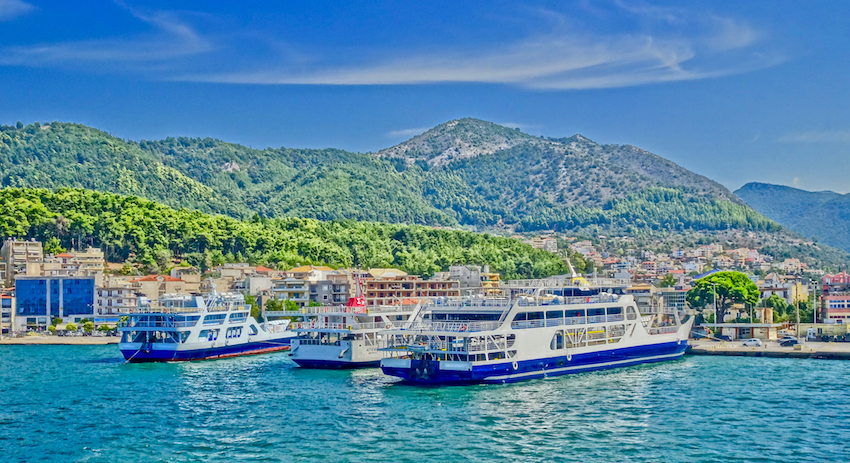 Igoumenitsa
For many people the port city of Igoumenitsa is the first or the last stop in Greece. Located in the northwest corner of the country almost at the border with Albania, it is an important harbor for trucks transporting goods to and from Europe as well as tourists. There are ferries between Igoumenitsa and the Italian ports of Brindisi, Bari, Ancona and Venice as well as to the Greek Islands of Corfu and Paxi. Connected to the rest of Greece by the new system of major highway known as the Egnatia Motorway the travel time for getting goods to Athens and Thessaloniki and even to Turkey has been reduced dramatically and the city is attracting the interest of developers who are suddenly realizing its potential as a commercial port and perhaps something more. Igoumenitsa is the second busiest passenger port after Pireaus and is able to service even the large cruise ships and in the not too distant future may become an international logistics center.
For ferry schedules and tickets see Ferryhopper.com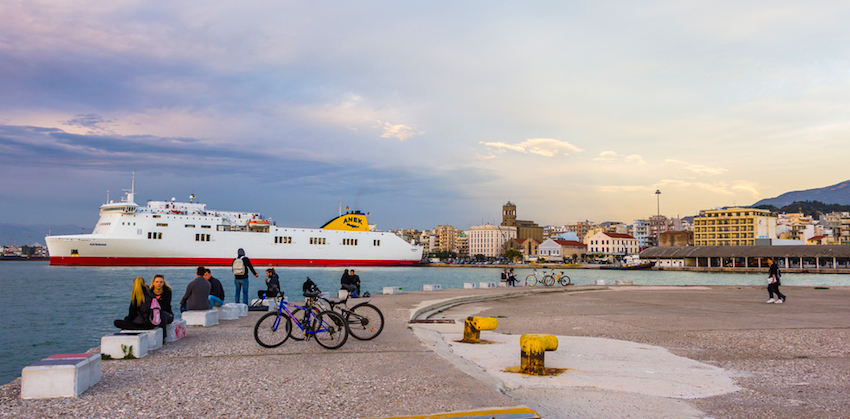 Patras in Western Peloponessos

Boats to the ports of Brindisi, Bari and Ancona in Italy leave from the port city of Patras on the northwestern coast of the Peleponnesos as well as a ferry to Ithaki and Kefalonia. Tickets can be bought from your travel agent in Athens or Ferryhopper.com and usually includes bus service from Athens. The bus trip is about 2 to 3 hours. You can also take the train which is more scenic but takes an hour longer. The boat trip to Brindisi is about 15 hours. Ancona is arond 24. If you can afford a cabin then go for it but if you are young and adventurous a sleeping bag and a spot on the deck is fine. Especially with a few bottles of wine and a couple guitars and some new friends. If you are arriving here from Italy you can take a train or bus to Athens. The train is slower but leaves you close to the center. Your ferry company may have buses to Syntagma near the Plaka, so ask on board and if they do take it. The regional buses leave you off in the middle of nowhere. There may be a couple ferries to Kefalonia leaving from Patras in the summer months but most leave now from Kilini which is about 45 minutes south of Patras.
For hotels in Patras see Booking.com's Patras page
For ferry schedules and tickets see Ferryhopper.com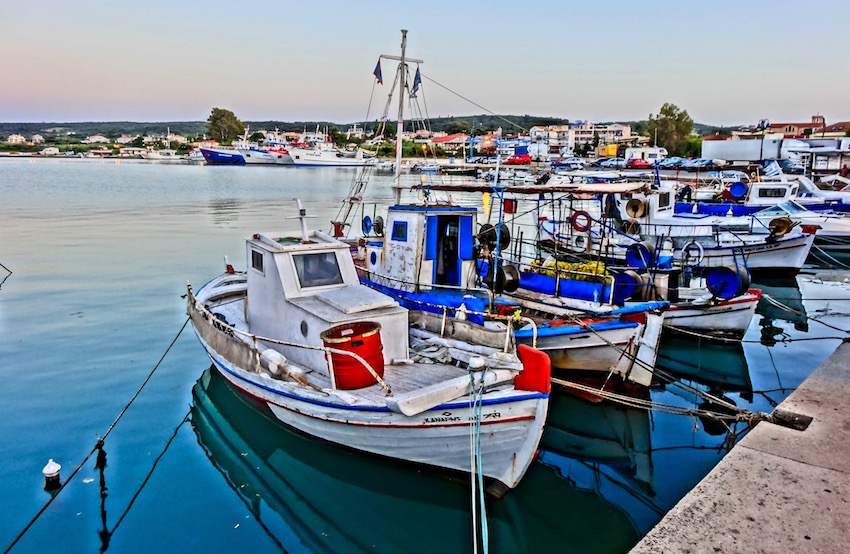 Kyllini
This port in the Peloponnesos is where you catch the ferries to Zakynthos and Kefalonia and even to Ithaki on occasion. The town is a sort of hole in the wall place but there are hotels and rooms, restaurants and cafes, and if you miss your boat and have to spend the night here it is not the end of the world. You can take the KTEL bus here from Athens Bus Terminal A or hire George the Famous Taxi Driver. But since you are going to want to have a car on any of those island you may as well rent a car in Athens and drive here.
For hotels in Kyllini see Booking.com's Kyllini page
For ferry schedules and tickets see Ferryhopper.com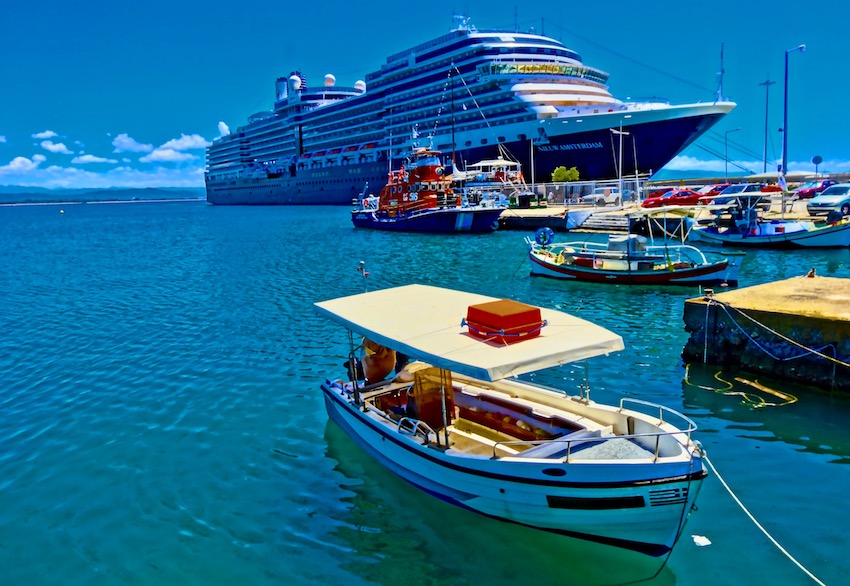 Katakolon
This little seaside village on the coast of the Peloponnesos is actually the port for Olympia and since every cruise ship stops, or should stop here, it can get pretty crowded for a small village. But it is a town that has adjusted to the situation and there are loads of cafes, restaurants, shops and even a Museum of Ancient Greek Technology. There are buses and a train that take tourists to Ancient Olympia and you can even hire a licensed tour guide like Eleni Agelli Tours to give you or your group a personal tour and show you the surrounding area as well.

Services and other Info

Ferries to the Cyclades, Dodecanese, North Aegean, Saronic islands and Crete leave from Pireaus. In many cases you can buy your tickets at the port but if you are traveling in the months of July and August and even September, or you want a cabin, it is best to book in advance. Ferryhopper.com provides an easy way to find schedules to and between the islands, book the tickets and then either have them delivered to you or you can pick them up at ticket offices all over Greece and especially in the ports right by your boat. If you have booked your hotels in advance you may as well book the ferry tickets as well. Most islands during the off season you can just go to the port, buy a ticket, and get on the boat. But because booking on line is so easy why take a chance?

Travel Agents
The summer is a busy time in the Greek Islands. It is recommended that you book your hotels well in advance because many islands will be full. Keep your trip uncomplicated by not trying to see every island in the Aegean on your first visit to Greece especially during July and August. One or two islands with good connections to each other is your best bet.
Fantasy Travel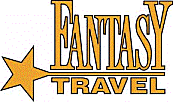 Fantasy Travel is run by George Gerassimidis and his staff of multi-lingual travel experts. They have been #1 on Tripadvisor for almost as long as Tripadvisor has been around. Specializing in the Cyclades, Crete, Rhodes cruises, and combinations of islands where they put together your itinerary and take care of all the details. They are also available 24 hours if you have any problems. I encourage you to visit their website and in particular their Island Hopping Page and pick out one of the island combinations that looks good to you. They reserve a number of rooms on the most popular islands so there is a possibility that they will have a hotel that another agent or the hotel itself told you was full. Also have a look at their cruise pages with maps, dates, rates and itineraries. They also have unbeatable deals on their Special Offers page. Or you can create your own specialized itinerary using their Build Your Trip page.

Dolphin Hellas Travel
I have found Dolphin Hellas Travel Agency in Athens is one of the most responsible and reliable in Greece. They are one of the oldest agencies in Greece and go out of their way to make sure their clients have a problem-free holiday. They realize that to be successful you have to have return customers and can book hotels, cruises, tours, transfers to and from the airport, hotels, ferries and cruiseships in Greece and all the Greek islands. See their informative website
Aegean Thesaurus Travel Agency

What began as Sifnos only travel agency has now become one of the most respected and reliable full-service agencies in the Cyclades. Not only can they arrange your trip and accommodations in Sifnos but they can take care of your hotel needs in Athens and on any of the other Cycladic islands. They can also do weddings on the island of Sifnos. For Info and bookings visit their webpage
Stress-free Island-Hopping
Everyone wants to 'island-hop' but how can you do it and feel secure that the islands you book your hotels on will have ferries to get to them? Check out Matt Barrett's Create Your Own Itinerary page where you click to choose the islands and the number of days you want to spend on each, category of hotels, days in Athens, land tours or whatever and submit it to the travel agency. They come back with a price within 24 hours. Click on the box on the right.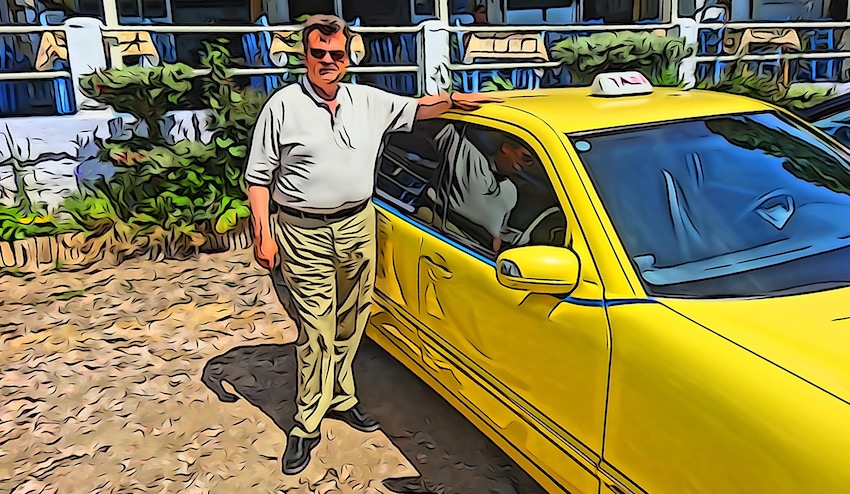 Taxi Transfers and Tours with George the Famous TaxiDriver
For getting you to an early ferry this service can't be beat and eliminates the anxiety you get when you are waiting for the hotel concierge to call a cab and there are none available. Many people on cruises use George for day trips in Athens as well as excursions to Delphi, Nafplio, Meteora, Sounion and the Peloponessos. If you are a group of four you will find that sharing the cost of his cab is cheaper than the tours the cruise ships offer and you will see a lot more without 40 other people to slow you down. George will also do transfers to the Western Peloponnessos for ferries to the Ionian Islands as well as driving all the way to Corfu and Lefkada. For information see George the Famous Taxi driver and for drivers and guides in the islands see Private Tours by Taxi, Limo and Licensed Guides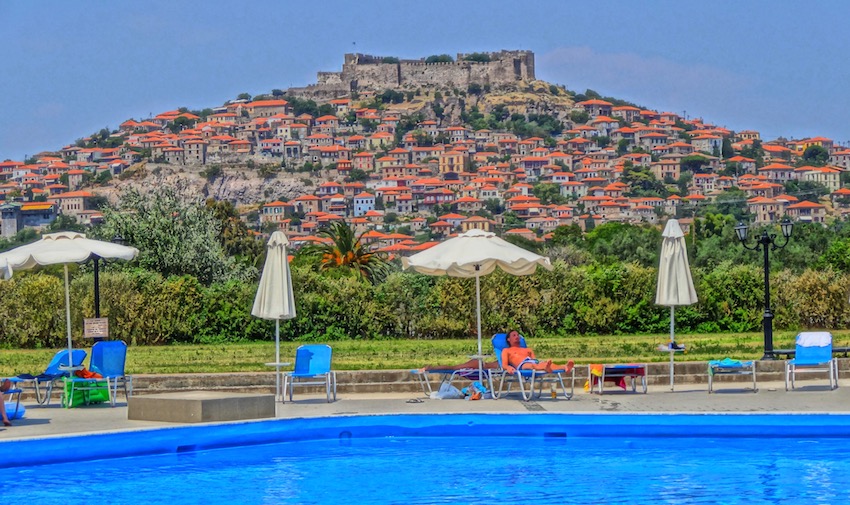 Matt's Greek Island Hotel Search
You can find hotels in the Greek Islands by location, price, whether or not it has a swimming pool or is on the beach, and see photos, maps and customer reviews by using this link to Matt's Greece Hotel Search. Excellent prices and many hotels you can book and then cancel with no cancellation fee. For those who want to book without using a travel agency this is the best way to do it. For those who are looking for villas, holiday homes, self-catering apartments and Air BnB style accommodations see Matt's Villas in Greece.
Also I spent the first 3 months of 2021 totally redoing my Hotel pages at www.hotelsofgreece.com and I am very proud of it. (I am also almost blind from creating thumbnail photos for it). I think you will find it very useful since I basically looked at every hotel in Greece and chose the ones I would stay at if I was booking a trip to every islands, town, village or city in Greece. So if you need help booking a hotel or if you want to see if the hotel you are thinking about booking is on my list of the best hotels in Greece visit www.hotelsofgreece.com and remember that when you book from that page it helps support me and my Greece Travel Guides.

Yacht and Sailboat Charters in Greece
One of the best ways to do the Greek islands and coast is on a sailboat. One summer I took a 5-day cruise on a sailboat with 6 cabins and plenty of room and Captain Billy Joe Leck, a true renaissance man from the UK, skilled in the arts of sailing, story-telling, guitar-playing and baby-sitting who knew more about the islands than I could learn in a lifetime! I am not a sailor so I was a little reluctant to go but when the trip was over I wished I had booked 10 days or a month. We swam in sheltered coves in incredibly clear sea and sailed into ports in the late afternoon for dinner and entertainment. (The boat had AC but we never needed it.) This is the best way to see the islands, (like a cruise but you choose your own itinerary). If you like a particular island you stay longer or even return to it. The captain doubles as a guide/host and knows the best restaurants, bars, beaches and is your private interpreter making ordering in restaurants easy. The surprising thing is that it can be cheaper then staying in a hotel and a lot more interesting! Be sure to read my article about my experience sailing in Greece on my Sailing in Greece page.
I also recommend sailing the Greek islands with comfortable traditional wooden sailing yachts on the Aegean and the Ionian Seas. Rent a cabin or the entire boat for you and your family and friends. See Greece Sail Cruises and Charters.

Greek Island Cruises
For Cruises to the Greek Islands on big (and small) beautiful cruise ships which often include stops in Istanbul, Turkey, Ephesus, Italy and Egypt see Matt's Cruise Page or visit the website of Fantasy Travel and visit their Cruise Page. Take a look at their Smart 7 Program which allows you to get on the cruise ship after a few days in Mykonos, see a few islands and then get off in Santorini and stay a few days there before returning to Athens. It is the best of both worlds. Also their 8 Days / 7 Nights Cruise "Jewels of the Cyclades" with Galileo, a beautiful 48 meter motor sailboat that can visit islands and beaches that the big cruise ships can't get to. The itinerary includes Athens - Poros - Poliegos - Folegandros - Santorini - Antiparos - Paros - Delos - Mykonos - Syros - Kythnos - Sounion. See Fantasy Travel's Jewels of the Cyclades.
Also see the Dolphin Hellas Special Cruise Offers page for bargain prices on selected cruises.

Greece Guidebooks and Tips

For more information on the Greek islands there are many excellent books and guides. Buy the local guidebooks that will be available to you on each of the islands and in the English-language bookstores in Athens. If you want to buy one Guide book for all your needs in Greece and the Greek islands I suggest the Lonely Planet Guide to Greece, Fodors, Frommers, Rough Guide, Let's Go or National Geographic. You can order these books from my Greek Books page. Keep in mind that the people who write the books are not supermen and updating them at the rate that things change is an impossible task. They can also be opinionated (like I'm not) and they have to be all things to everybody (where I only have to write about what I like). So you can do what many people do which is print out the pages from my website you need and put them together in a big loose-leaf and toss them when you are finished. Or you can give them to other travelers. And if you see something I have written that is wrong, please let me know because unlike a guidebook I don't have to wait for the next printing to make changes. I can add and subtract stuff every day (and I do). By the way if you have a smart phone or ipad you can pretty much use my website as your guidebook wherever there is an internet hot-spot which is pretty much anywhere these days. The Greek Government announced plans to make the whole country wireless and free in 2014 so they must have finished by now.
By the way the above is a real book that you can read for free (some of it) at Spearfishing in Skatahori and if you like it you can order it on Amazon.
If you are traveling in the summer months, it's a good idea to book a room well in advance. Also keep in mind that you can go through the hassle of booking tours and accommodations yourself but if you do it through a Reliable Greek Travel Agency you can actually save money because of the special arrangements between the hotels, cruise companies and the Greek Travel agents who give them most of their business. Plus they will save you the enormous hassle of trying to figure out the ferry schedules. Island-hopping is great when you are young and flexible and don't want to be tied down to a particular program. But it becomes more difficult in the summer when travel agents are scrambling to secure rooms from anywhere they can. If you are young you will be happy to know that there are campsites on almost every island. They cost about 10 euros a night or so. Youth Hostels seem to have disappeared on the islands but 3 or 4 people in a room at a c-catagory hotel can be pretty cheap per person. You can search for hotels by category and find cheap ones by using my Matt's Greece Hotel Search. People used to sleep on the beach but those days are over. If you get caught you probably won't go to jail but being awakened at 6am by the cops and told to pack your stuff is not fun, and if they catch you again they do get annoyed. If you think you are too poor to go through a travel agent think again and read Matt's Budget Travel page
In my opinion there is no need to see five islands in the week you have to spend in Greece. Pick one or two islands that you can book in advance and get to know them. A rolling stone gathers no moss, but it does not make many friends either. You will have a richer experience by experiencing all that one island has to offer, in people, traditions, beaches, scenary and even nightlife, then trying to see every island and feeling like a stranger every day. Greece is a beautiful place for sure. But what makes any holiday special is the people you meet and the new friends you make. See Matt's Itinerary Suggestions
What is the best way to book your holiday to Greece? Can you really save by using auto-booking systems or by booking directly with the hotels? Are Travel Agencies a thing of the past? Read my article Endangered Species about the internet and the disappearance of the small personalized-service travel agency.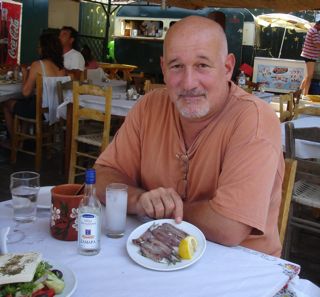 This website began as a hobby in 1995 and since then it has grown in popularity and size. 99% of the material on my websites was written by myself. I don't have a staff. I most of the photos. I update the site continuously so unlike a guidebook I don't have to wait for the next printing to fix a mistake. People have been asking me how they can contribute. First of all you can contribute by using the travel agencies I recommend. Without their support this site could not exist. You can also contribute by using Matt's Greece Hotel Search to book hotels in Greece, or anywhere in the world actually. If neither of these options appeal to you and you are really appreciative of all the free information you get on my websites you can send a donation through Paypal or Venmo
Remember if you have any questions about services, itineraries, problems or anything having to do with Greece you can contact me and I will respond quickly. There is no fee. All info is Free. You can also visit my other Greece websites . For daily photos and articles join Matt's Greece Travel on Facebook and make friends with lots of others interested in Greece who can tell you about their trips.
I hope to see you in Greece! Matt Barrett