by Alexia Amvrazzi
I first visited Ikaria a few years before the big, sticky Blue Zones label was plastered onto it in 2012, before tourists began heading there from across the planet eager to uncover the secrets of longevity and a better quality of life first-hand. When I returned very recently to visit friends after a four year absence, I was relieved to discover nothing has changed – at least not on the surface. That's a real show of character, when despite the worldwide glory coming one's way, one still manages to stay firmly grounded, and true to who and what they are.
Objectively speaking, Ikaria is not the most outstanding of islands, in fact it's quite rugged and wild, lacking in what most tourists to Greece yearn for - a broad variety of sparkling beaches (in fact I could name only two remarkable ones, Nas and Seychelles), a lively and modern nightlife and gourmet food. Ikaria is somewhat lackluster in its architectural design, at least in the conventional sense, and unsophisticated in its cultural scene – there are very few museums or galleries, and no international festivals drawing music lovers and filmmakers. So why is it so popular, so trendy, so beloved worldwide?
During the tumultuous Civil War in Greece (1946-49), which followed on directly from WWII, Ikaria became home to around 13,000 communist exiles, among them many prodigious Greek poets, writers, composers and academics - who resided on the island for several years. The communist presence gave Ikaria the name "red rock" (as the island is pretty much like a mountain emerging from the sea), and is said to have bequeathed its people a free-thinking, individualistic and humbly creative local identity. In many parts of the island the nature is gorgeously unruly and vibrantly orgiastic, and that's probably one of its greatest attributes; but essentially, what makes Ikaria truly stand out among other destinations in Greece are its truly unique inhabitants, who have effectively created a world unto themselves.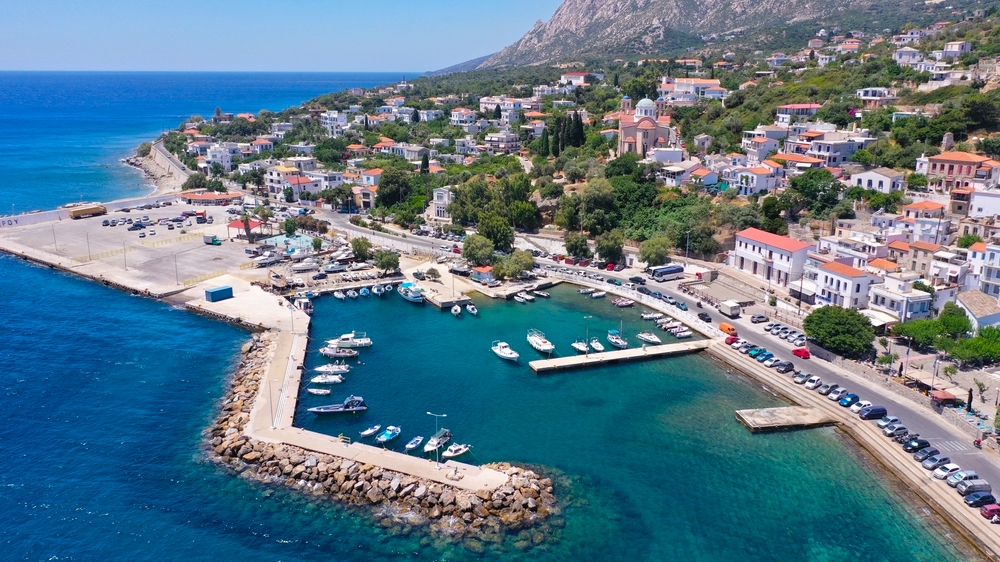 Ikariotes are an impressively self-sufficient bunch. By trade many of them work as shepherds who own goats in the tens and a few in the hundreds (due to EU subsidies of a certain amount of money given per goat, that some are now clamoring to halt in the dread that within 20 years this lush island will be barren after being munched up by the free-roaming ("rasko") bearded four-legged creatures). Most men and women farm their own land — with most households tending a private garden of organic fruit, vegetables and herbs — or work as fishermen in the coastal villages, run shops, accommodations or tavernas. The island produces some high quality olive oil, wine and honey, the latter being branded as a super-food by Blue Zones' Dan Buettner, especially the toffee-like white heather ("reiki") variety.
In a country where most youths flee their villages and the tough chores required of them there, for a more modern life in the city, it's impressive to see most adolescents and youngsters on Ikaria willingly learning how to care for their family's land and animals from an early age. Indeed, the demanding work that Ikarian people engage in daily, working outdoors in clean, oxygenated air and bold sunshine is actually one of the very factors that their longevity is attributed to.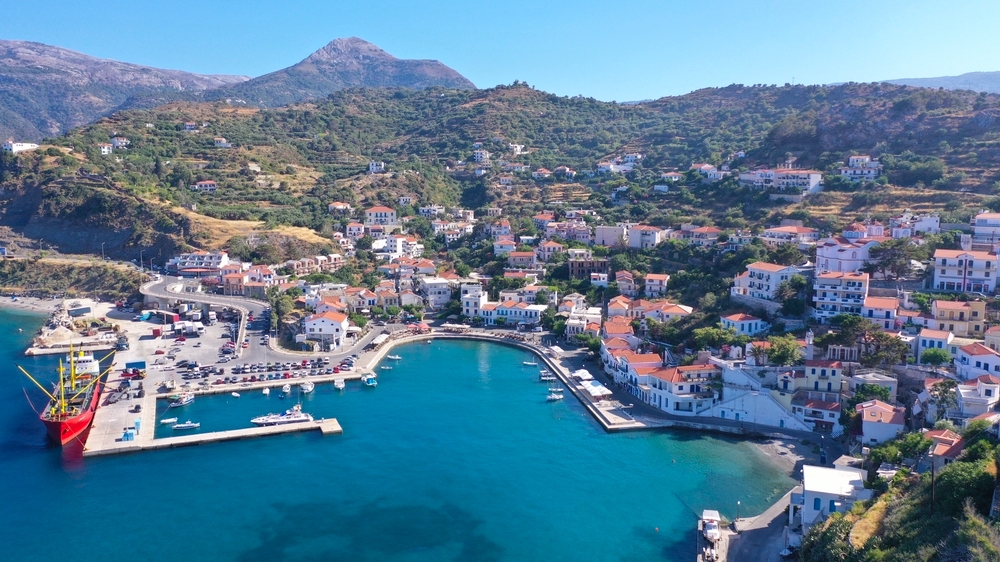 Having travelled extensively around Greece for work and pleasure, I have never felt so puzzled by the seductive oddity of a place - an island where there is so little obvious charm yet so much deep allure, where the energy is vibrant and buzzy yet somewhat heavy and hard-hitting at once, just like the yin and yang of nature itself. It is nothing like its neighboring islands - naturally abundant, archaeologically rich and touristy Samos to the east, expensive and glitzy Mykonos to the west, historical and cultured, mastic-cultivating Chios to the north and barren, religious and posh Patmos to the south. Throughout the days I have spent there (that have sometimes, effortlessly turned into weeks, as we could not pull ourselves away), I was constantly taken in by the island's rugged, verdant landscapes, plethora of rivers, waterfalls, gorges, giant Neolithic-style boulders perched atop hills, cool turquoise waters and an endless series of stunning sunsets that turn views of the sea and the sky into a stunning impressionist canvas.
The inherent and generally unspoken status quo in Ikaria is to run by their own clock, one that is based on a natural rhythm instead of a pressured or forced one. Shop owners in many villages are known to be open for business in the hours that they can – which is usually in the evening, after the day's other tasks have been completed -- and remain open until after midnight. In the evening in Ikaria village squares are abuzz with people who recognize the importance of relaxing with friends, family and neighbours over food and drinks. In this and other ways, Ikarians seem to laugh in the face of modern western life - the greedy rush through time, a loss of personal identity through technological dependency, globalization and homogenized lifestyles, an aching consumerism or vacuous materialism and living in an official; saying that, certainly, one can see more and more teenagers bunched up and staring at tablets instead of kicking a ball around.

Livadi Beach courtesy of Depositphotos.com
The Ikarian spirit could be described as somewhat anarchic- there is an assuredness in Ikariotes that they can take care of themselves and refuse to be like the rest of the world, by living under a police state that records everything and dictates the rules of life. In the village of Christos in Raches, a police station that was built decades ago has remained unused, after villagers agreed that they could maintain public order perfectly well themselves, thank you. Yet the island remains one of the safest places to live, and local as well as foreign female residents I spoke with emphasized that not only do they feel safe, but that they feel free to live exactly as they like; the equality between the sexes is another remarkable phenomenon that I have not had the luck of observing anywhere before in generally patriarchal Greece (and let's face it, the world over). Women's work in the home and land is given the same credit as men's, and overall men simply do not lech and leer at women or treat them as if they are in any way weaker or inferior.
Their individualistic philosophy was clearly exhibited when Ikaria existed as an independent state for around seven months in 1912. When the island broke free of Ottoman rule it was not immediately reabsorbed into Greece because the latter was deeply embroiled in the Balkan Wars. The treaty that the island signed when it rejoined the rest of Greece expired in 2012, and at the time many locals old and young campaigned for the opportunity to regain their independence. One Facebook group of almost 900 people for that cause, wrote: "Lets make another Ikarian Revolution! Let's get free from Greece! We want freedom!!!".
Lord of the Dance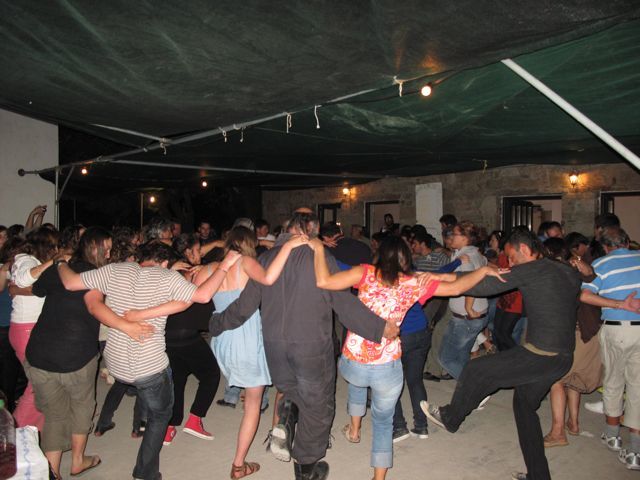 The island is also globally famous for its tradition of panygiria, or festivals. Between May and October, the island is famed for hosting between two and seven such parties per week. Panygiria, an important way for communities to meet and celebrate together, are held throughout Greece to celebrate the patron saint of each village or other religious figures such as The Virgin Mary. Yet by now these events in their Ikarian form have become nearly legendary for the way they can get practically everyone up to heartily link arms and dance the night away from dusk 'til dawn (there are some daytime festivals too, which was the original form) fuelled by 16% proof, local red wine and a simple but indulgent feast of herb-marinated baked goat and potatoes, tomato salad and more. One Greek beer advert cleverly based itself around the boisterous Ikarian Panygiri that's temporarily hindered by heavy rainfall, with the message at the end saying "even when we face obstacles, we carry on. That's our strength, that's our myth". Apart from the important chance to keep communities close, the most pragmatic aspect of these festivals, a tradition that spans back centuries, is to raise proceeds for improving village infrastructure, roads, schools, churches and other community buildings. Since 1960, when Ikarians experienced a shortage of funding from the government for dealing with local infrastructure, each village formed its association made up of around 12 core volunteer members who work year-round to organize the annual panygiri and use the last one's proceeds in the best ways. They are helped by tens of other local volunteers on all levels. My favorite Panygiri by far is the one at Aghios Yiannis in the village of Christos in Rahes, which takes place on June 24th. It blends ancient traditions with pagan rituals like jumping over fires, in which Mayday wreaths are set alight and party goers line up to leap over the flames in a symbolic act of cleansing the body and spirit, or the Piperi, a tradition from Thrace, in which the (usually blitzed) survivors of the night are guided by the band to do all kinds of movements – and whoever doesn't (or can't) obey gets playfully whacked with a belt. To gain a more authentic (and sober) connection with the local tradition, it's well worth visiting the church around which the Panygiri takes place (starting in earnest at around midnight) at around 10am to observe the church service, during which villagers follow the priest around the church three times while he conducts the liturgy, and later indulge in loukoumades, fried doe balls drizzled in honey and cinnamon.
Ikaria is named after Ikarus, who according to Greek mythology was the son of master craftsman Deadalus, and who was escaping imprisonment from King Minos in Crete by flying with wings his father had made. But ignoring sage advice, the youth flew too close to the sun and landed to his death on the island. There is something about this myth that provided me with a strange sense of understanding of the spirit of the people and of the dramatic, lush and vibrant landscape. Ikarus was flying with man-made wings to escape imprisonment by a tyrannical but powerful and civilized king, a life of captivity, and he died by landing on this very island; so for some reason, the island has become infused by his spirit of escape to freedom and the unstoppable drive to take flight.
When in Ikaria...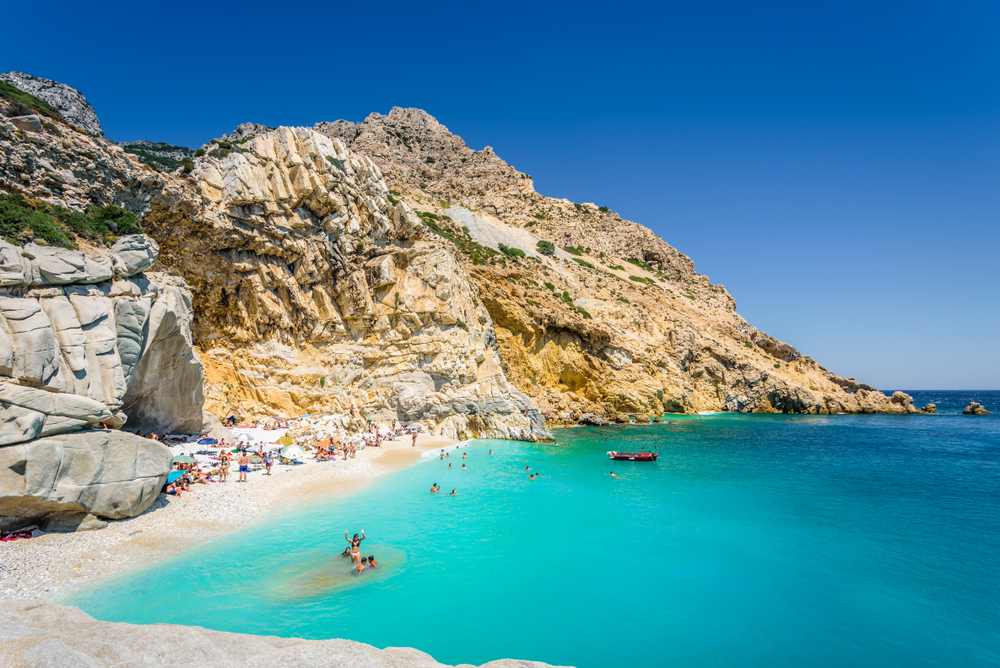 Beaches
Nas, a nudist, somewhat hippie beach, (about 5km from Armenistis, also a popular surfing beach and one of the busiest areas for accommodations with a few lovely, sea-facing hotels), is well known for the remains of the Sanctuary of Artemis, that sit on its sands, and an emerald river surrounded by beautiful greenery that leads toward the sea. Above the beach are several tavernas offering delicious food and lovely sea and sunset views. Stop at either Anna's taverna or Thea's taverna to try mouthwatering homemade style dishes made using organic produce from their own vegetable gardens, free range goat meat and fresh fish. Go to Artemis Studios for a fresh fruit juice cocktail or a beer.
Seychelles (photo), around 25km southwest of Agios Kirikos, is an idyllic white sand/white pebble cove with crystal azure waters, with dramatic limestone cliffs on either side. You'll need to walk around 15 minutes from the road where you park your car to get there, and bring water and snacks with you. Avoid it in August as it gets very busy.
If you want wilderness, beauty and privacy, head to Prioni beach near Aghios Kyrikos, a small pebble cove surrounded by high cliffs, with clean, cobalt blue waters. Getting here also requires a hearty walk, taking a path that's on the road from Aghios Kyrikos to Therma, after the Analipsis church.
Messakti is another good choice, easier to reach but more crowded in July and August. With two rivers intersecting it, there are cool, freshwater currents flowing into the sea. There are several cafes and tavernas nearby as well as a beach bar and sun loungers for rent.
On the eastern end of the island is Faros, which has drawn quite a few foreign residents over the years and has some great fish tavernas along its wide, long stretch of coast.
Go for a walk...
"The Round of Rahes On Foot", an eco-tourist project supported by the Rahes Municipality, has created a fantastic and detailed "Guide Map", of the major, well-signposted hiking routes on the island, taking you past and through rivers, gorges and other stunning scenery. You can find the map for sale throughout Ikaria (around 3 euro).
Newly created Discover Ikaria also organize excellent walks, hikes, climbing, biking and other adventurous excursions around the island, including nature walks focused on herbs or plants, mushroom gathering (followed by cooking and eating your finds), historical and other themes.
Eat out – Top 3
Cousina: Two first cousins, both chefs trained in France and Italy, brought a gourmet touch to their home village of Rahes, using local organic ingredients and creatively playing with traditional concepts. The result is delicious, fun and well worth returning until you've tried everything on the menu. Try the caprese salad made with their uncle Antonis' local kathoura cheese.
Stou Paschalia: A large old house with a wacky, anarchic interior that serves only organic produce sourced from Paschalia's farm and cooked up fresh. Simple, yet flavorsome traditional dishes and friendly service. Try the free range souvlaki fired up on the open grill.
Sto Kampi: One of Ikaria's 'new wave' restaurants, blending local cuisine with tastes from around the world. Serving burgers and salads to pasta dishes and meze, the place is lively, entertaining and busy, sometimes with live music gigs. Try the pasta with pink sauce.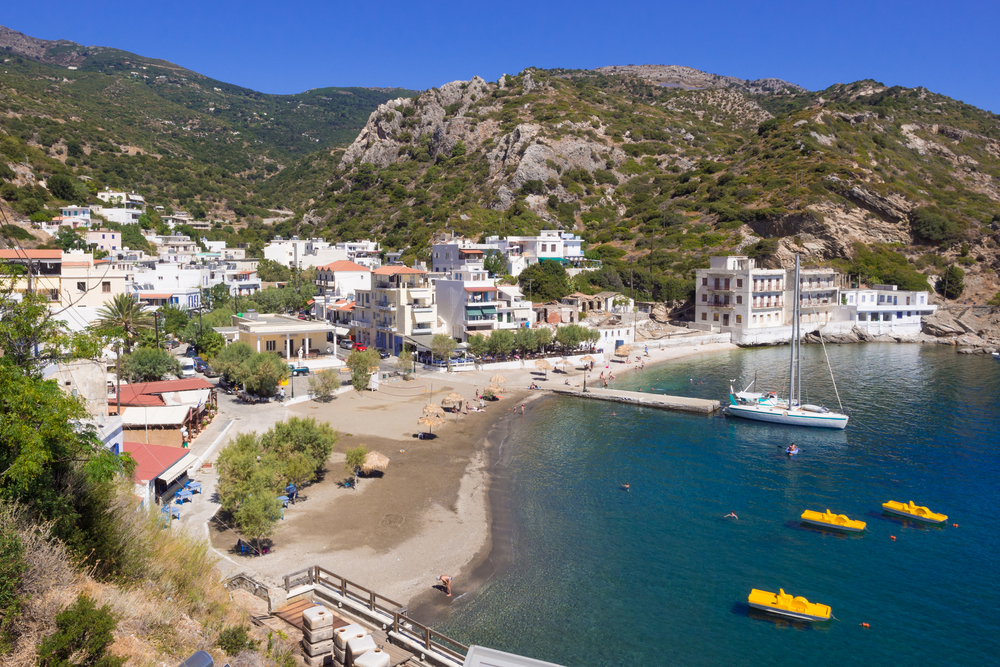 Soak in ancient therapeutic springs
Ikaria has several radion-rich, mineral hot springs, which are reputed to be an important factor in the islander's well-being - since ancient times. The places to visit for a curative soak are in the island's northeast and southeast coasts Aghios Kyrikas, Lefkada, Aghia Kyriaki and Therma (photo).
Ancient Therma was destroyed by an earthquake in 205 BC when the city slid off grid into the sea. Find the place on the coast (marked by some concrete boulders) where the hot water spring flows into the sea, or visit the Therma Hot Mineral Spring Bath House for an organized dip. At Therma you will also find a sandy beach and plenty of cafes and tavernas. It's worth visiting the Agriolykos Pension (in person or online) to see if they are offering any therapies, as every now and then offer reiki, reflexology and massage treatments or workshops.
Renew Yourself with Yoga or Therapies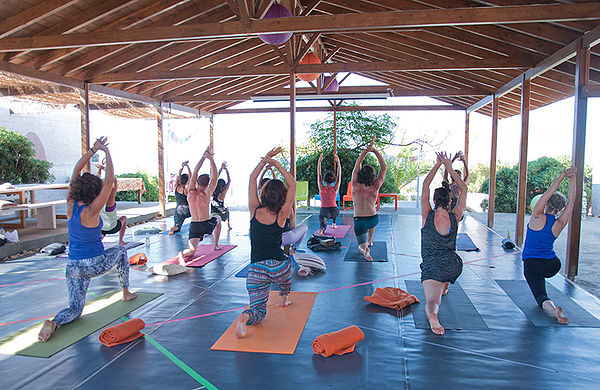 The Egg (photo) near Evdilos village is a multi-space where yoga, Pilates, dancing and creative writing workshops take place throughout the summer. They also offer massage therapies (by appointment only). Agriolykos Pension in Therma also started running alternative wellness workshops last year and offers various complimentary therapies and treatments throughout the summer (by appointrment). American Body Talk, Reiki and Massage practitioner Robyn Whatley- Kahn runs workshops or offers private sessions at her beautiful home space in Rahes, while Vedanta Aspioti has been teaching students from around the world the art of self-healing at Artemis Studios in Nas for over 30 years.
Like a tourist…
Walk around Akamatra village, south of Evdilos, to sit under the 500 year-old oak tree, once used as a gallows. In the picturesque Arethousa village go see the much-photographed Theokepasti chapel, which has been carved inside a giant rock. Visit Avlaki fishing village just before sunset for a romantic walk and glow-time dining on fresh seafood. In Aghios Kyrikos don't miss out onm the Archaeological Museum and the Folklore museum – both hosting fascinating exhibits that trace back through Ikaria's rich history.
Like a local…
Explore Raches for its buzzy central square to while away hours playing backgammon and sipping wine or having a tasty meal at one of its meze places. In Magganitis don't miss out on the somewhat loopy Kafepandopoleio, a coffee-shop / grocery store that gets full to the brim with locals and visitors alike all bunching up to drink and enjoy live music. Also in Magganitis, Bouboukakia has a similar concept but a more homey style.
See 'the Other Side'
The northwest coast will show you a completely different aspect of Ikaria; barren, rocky and dusty with stunning contrasts of blue skies and sea. Visit the village of Karkinagri for a break and a more isolated swim in a rocky hideout.
Pay tribute to Dionysus
The Ikarian Wine Club, in Pigi, Evdilos is an agrotourism unit with an organic farm and winery where small groups of guests stay in two stone houses. The unit was set up by George Karimalis and his wife Eleni, whose Karimalis Winery is well worth organizing a visit to not just for its sweeping view across the vineyards and interesting museum, but also for a chance to sample their excellent organic wines. The couple also run a guesthouse. Another beautiful winery with top quality wines is the Afianes Winery near Rahes, which produces the internationally lauded white Begleri wine, while Tsantiris Winery, on the edge of the Chararis Gorge in the village of Ano Proespera (northwestern side of the island) prides itself on producing 100% organic wines made with the local Fokiano, Begleri and Mandilaria grapes.
Get stuck on the honey
There is something keeping people in Ikaria alive a lot longer than those of us in the west live. Could it be the honey? Read about Honey in Ikaria
Say Cheese
The local Kathoura cheese, which is very similar to mozzarella in its colour, texture and flavor, accompanies almost every local meal, and is also be used as a filling for vegetables or meats.
Goat herder Antonis (affectionately called 'Antoine' by locals) makes top quality fresh Kathoura in his tiny home kitchen almost daily or by commission. Order it from his German wife Silke, a member of the Raches Women's Cooperative.
Meet Raches' Superwomen

The cooperative's seven members, most of whom are unemployed mothers working on a fully volunteer basis, toil throughout the year to gather, cook, preserve and sell their produce. Their products have been received with great success, but with a rise in demand, they cannot yet afford to expand their business by creating a new workshop area – everything they produce is made in the tiny kitchen of their shop,in Rahes square. You can sit to enjoy a herby iced tea and rich gateaux or homemade savoury or sweet pie of the day, or shop a bundle of gifts like dill pesto, 7 herb liquer, pumpkin chutney and morello cherry spoon sweet.
Buy Organic Cosmetics
Ikaria's pure products have led to the creation of several businesses based on organic, seasonal, natural products like soaps and shower gels, vitamin-packed snacks, healthy herbal tea blends, ointments and more. In Rahes you'll find the store Melia Homemade Products where they sell their own products as well as brands from around Greece and the world. Synempe Lab products range from lip balms to body scrubs that are made using olive or coconut oil and wild Ikarian herbs and flowers, and are sold at various places around the island as well as online. Icaria Pure also sells products made according to traditional recipes as well as modern versions of old classics and using local organic and wild-growing ingredients.
Learn to Speak Greek
Ikarian Center: Greek Language and Art Association: Assists students in improving all their skills (listening, writing, speaking and reading) in the Greek language. The Centre's aim is to make each course a cultural experience. Through a variety of guided activities (interviews, projects, lectures, pair work, etc.) students are brought in touch with the local community and learn more about Greece and its people on the amazing island of Ikaria.
Elias' Guide to Good Eating in Ikaria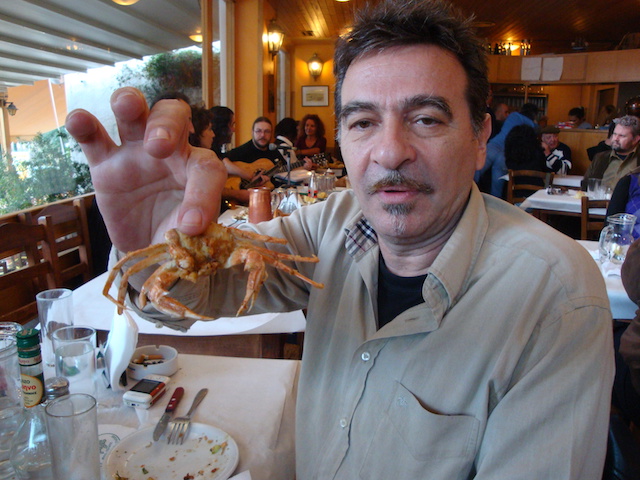 In Evdilos, the north port, we have Korali Tavern. It is the first restaurant you meet coming out of the boat. Their specialty is vegetable pita and all kind of Greek cooked foods. We also have Tsakonitis Petrino, a bit further down. They have the best ouzo or tsipouro meze, including wine cooked octopus. Then we have Avgas, for breakfast and coffee. Rififi is known for very tasy crepes. Sweet or not. Then there is the Rakostroto, with a breath taking view of the port and Chicken curry.
In Arethusa, where we live, there is a scenic kafenion called Tsaros. (The Char) It is on a most beautiful square, with meze, coffee, wine, souvlaki, pites etc. Also in Arethusa we have a tavern called Plaka. High on a mountain, wonderful view and the best goat ever.
Driving west after Evdilos we have a village called Kampos. There, there is a taverna called Popis, with local specializes and fried cheese-pie. Driving on you come to Armenistis. A restaurant called Zevkin, is right on the sea. Spinach rigatoni is one of their specialties. In Mesakti, on the beach at the end, there is a coffee bar called Mamakita. (it means, look mom). They have the best mohito and salads. In Akamatra, a village on a hill, we have Perix. A wonderful tavern with all kind of mezedes including mushrooms with blue cheese.
And for the end, my favorite: In Karavostamo, east of Evdilos, there is a fish tavern called Mantouvala. The best skaros on the grill ever, and other fish according to what they have caught. His brother has a fishing boat.
Elias Manoua is the owner of Swift Rent-a-Car and one of the most knowledgeable people in Greece when it comes to finding good restaurants. He lives in Athens but spends summers and hoilidays in Ikaria and Nafplio but also travels all over Greece looking for good restaurants. He also works with car rental companies all over Greece and can assist you in finding the car you want at a reasonable price.
Hotels in Ikaria
Here are a few recommended hotels in Ikaria. For more hotels, apartments, villas and holiday homes see Matt's Best Hotels in Ikaria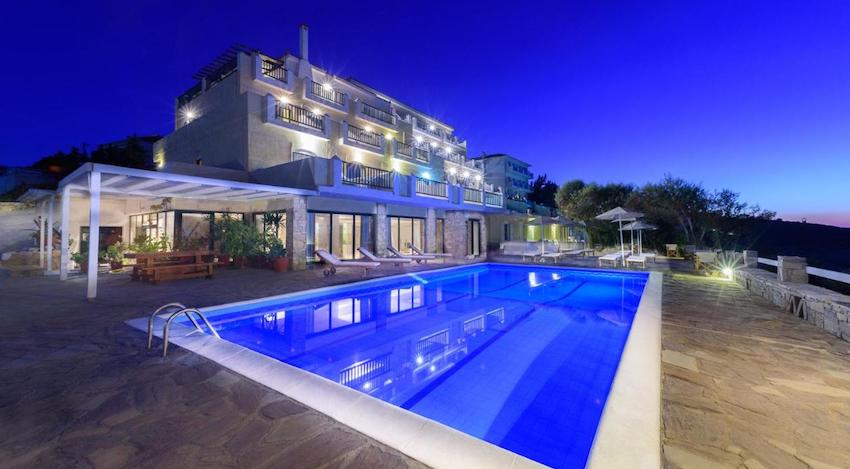 Cavos Bay Hotel & Studios
Built in a traditional architectural style and located on the north coast of Ikaria, only the sea-dashed rocks provide a barrier from the Aegean Sea archipelagos. Built in 6 tiers on a hillside, you can benefit from brilliant views. From the verandas of the rooms you can admire the sparkling sea and the sky, before strolling outside and diving into one of the 2 saltwater swimming pools. Explore the beautiful island by hiking along some of the footpaths, or visit the fishing village of Gialiskari. Keep in touch with friends at the internet cafe, and enjoy snacks and drinks at the pool bar.
For more information, photos and booking click here.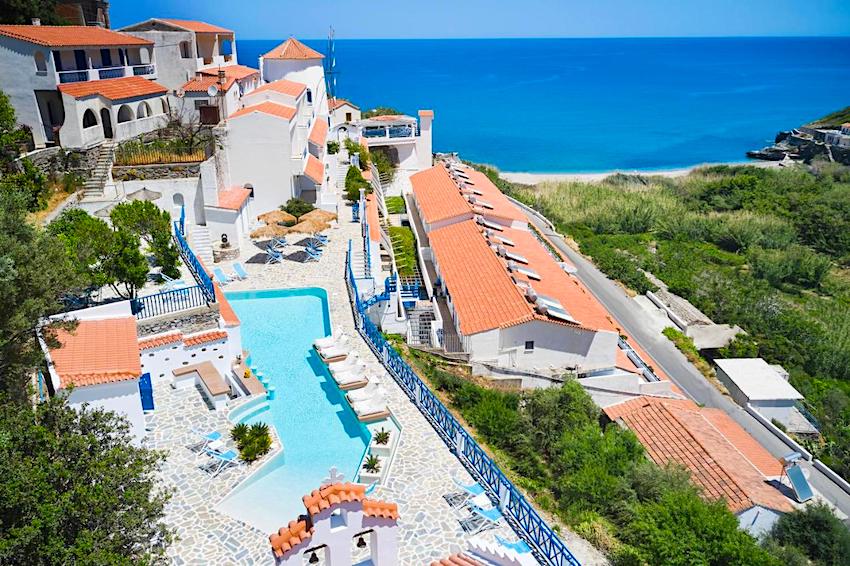 Kerame Studios and Apartments
Hotel Kerame is a Catagory B hotel comprised of 26 rooms and is located in the town center of Evdilos, Ikaria just 50 meters from the sea. The hotel offers pleasant accommodation in rooms provided with balcony, tiled bathroom, air-condition, TV, refrigerator, music, telephone, hair-dryer and reception service 24 hours a day. The hotel also features a restaurant serving traditional Greek cuisine, swimming pool, bar, and exercise room. The hotel's accommodations are comprised of: Studios(bedroom & kitchen together in a large open space); Apartments (seperate kitchen & bedroom); 4 Person Suites (2 bedrooms & kitchen). The spacious two floor apartments(VILLAS), separately located near the hotel swimming pool, offer unique accommodation in Ikaria. The first floor includes a living room with 3 sofa beds, kitchenette with dining area, full bath and veranda. On the second floor there is a master bedroom fully furnished, with double bed, bathroom and a private veranda overlooking the sea and mountains of Ikaria. For more information, photos and booking click here.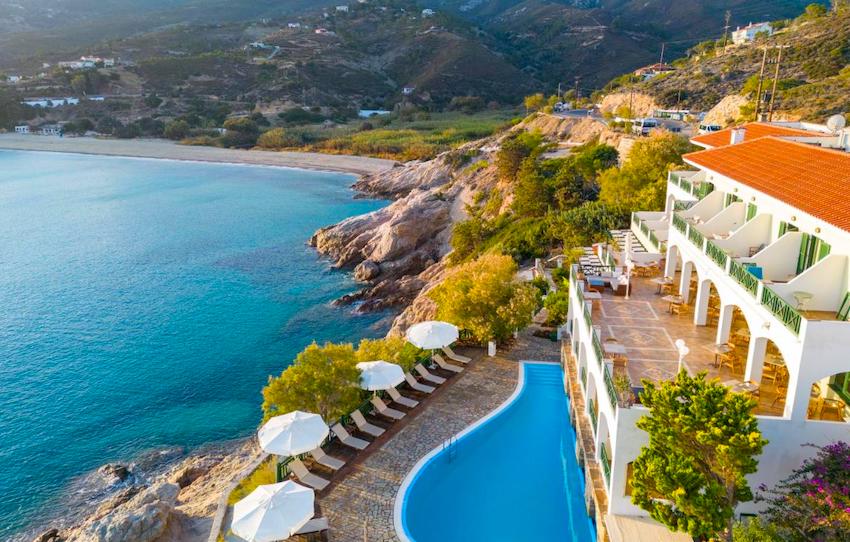 Erofili Beach Hotel
Situated in the picturesque village of Armenistis, next to Livadi and Messakti Beach, this charming hotel offers a beautiful setting overlooking the sea and surrounded by the local attractions. The rooms at Erofili Beach are tastefully decorated and well-appointed for your comfort. Enjoy a great start to the day with a delicious breakfast served on the sunny terrace. Marvel at the magnificent sea views from your private balcony. During the day, Erofili's imaginative outdoor pool area is a delightful place to relax. Go for a refreshing dip or lie back on the comfortable sun bed and read a book. For further relaxation you can also spend time in the soothing Jacuzzi. Just steps away from Erofili Beach Hotel you'll find the charming local beaches and a variety of tavernas and bars. For more information, photos and booking click here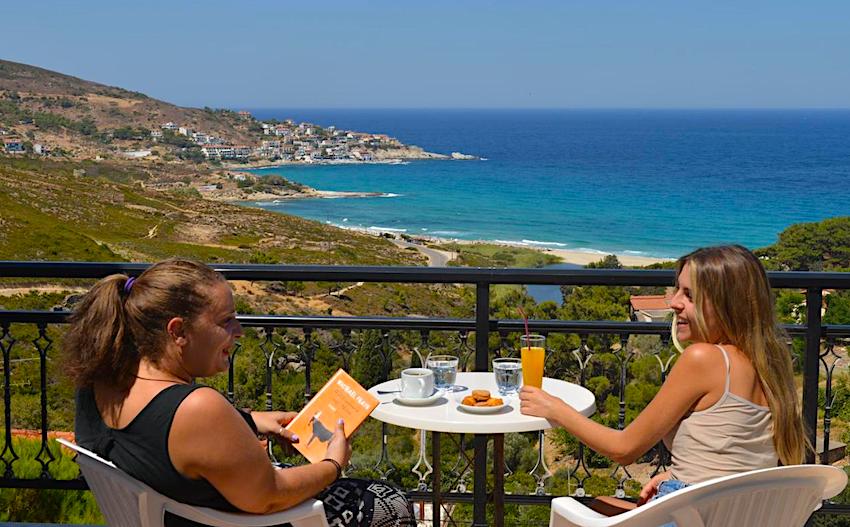 Ikaros Star Hotel
Overlooking the Messakti Beach, Ikaros Star Hotel offers comfortable accommodations in a relaxing atmosphere. Its quiet location in the village of Gialiskari gives guests the opportunity to enjoy nature. Ikaros's rooms are well equipped with comfortable beds and refrigerators. All rooms include a private balcony with panoramic sea views. Guests can enjoy a drink in the hotel bar, and then take a walk down the hill to the sandy beach. Free parking is available on site. For more information, photos and booking click here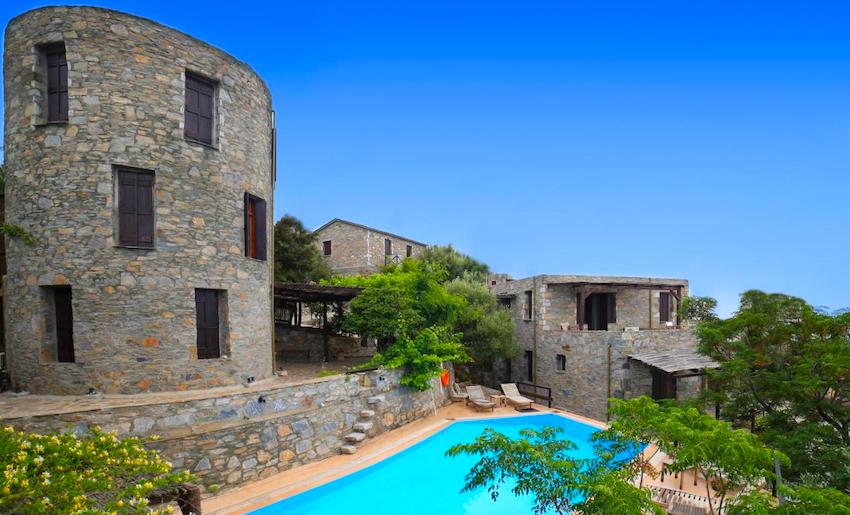 Pyrgos Exclusive Boutique Villas
Pyrgos Exclusive Boutique Villas are located near the main port of Agios Kirikos, in Ikaria's capital. The complex features sea-view villas, and a pool, a garden and a large terrace. Built in a traditional architectural style, the complex offers free parking. Several narrow stone-built paths lead to the central pool and gardens. Surrounded by olive trees and wild vegetation, the traditionally constructed and styled Pyrgos Exclusive Boutique Villas have balconies with unique views of the sea and the mountains. For more information, photos and booking click here
For more hotels, apartments, villas and holiday homes see Matt's Best Hotels in Ikaria
Ferries, Flights and Practical Information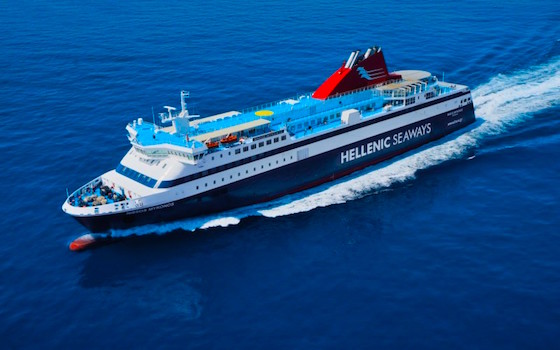 Ikaria is connected to Athens' port of Pireaus by daily ferry in the summer and almost daily in the winter. The ship is usually the Nissos Mykonos, one of the best and newest in the Greek ferry system and it leaves in the late afternoon. On the way to Ikaria and back it stops in Syros and Mykonos and after Ikaria it continues on to Karlovassi and Vathi in Samos. Keep in mind that Ikaria has two ports: Agios Kirikos and Evdilos so it is a good idea to know which one your ferry is going to so you can plan accordingly.
There are also boats to the islands of Fourni, Chios, Limnos, Lesvos, and Kavala maybe once or twice a week in the summer. Ikaria is not an island that all travel agencies are comfortable booking, mostly because they don't really know it. But both Dolphin Hellas Travel in Athens and Fantasy Travel can book hotels and ferries.
Ikaria does have an airport with flights from Athens though you can't always find a seat.
You can do Ikaria in combination with Samos, Mykonos or Syros fairly easily and with Lesvos and Chios too.
Elias Manoua is the owner of Swift Rent-a-Car in Athens and works with car rental companies all over Greece and can assist you in finding the car you want at a reasonable price. Great prices and good cars.

Use Ferryhopper to find all direct and indirect ferry routes for the islands of Greece, Spain, Italy & Turkey, compare ferry companies & prices, and book cheap ferry tickets with no hidden fees in one go!