Kos: The Island of Hippocrates
By Marc Dubin
With long sandy beaches, a balmy climate and monuments from various historical eras, Kos was among the first Aegean islands to attract visitors –during the 1930s, under Italian rule. Despite its touristic role, Kos is in fact one of the most fertile Greek islands, with rich volcanic soil and an adequate water supply from its single mountain range. Local melons have long been famous – old-timers as far away as the Cyclades remember the melon-peddlers from Kos – and they're still sold at the roadside. Agriculture continues to co-exist with tourism, baled hay and grazing cattle (there are said to be almost as many cows as people – 18,000 – on Kos) found just behind beachfront hotel complexes. As a strategic border island with Turkey, a military presence is inevitable if usually not intrusive – though it's quite possible to catch a glimpse of exercising tanks, cattle and hotel wings all at once.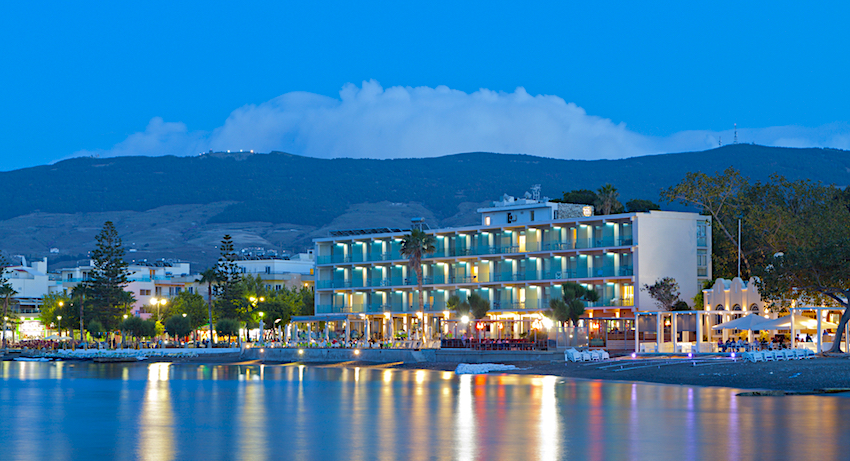 Industrial-strength tourism began during the late 1970s, with the first mega-hotels set back from the turquoise sea. Within a decade Kos was a firm favourite with growing numbers of northern Europeans (especially Dutch and British), served by an ever-increasing number of bars, mediocre tavernas and trinket shops, though the island was large enough to absorb the traffic fairly gracefully. The hotels were pretty much monopolised by large tour companies, such that independent travellers found it almost impossible to get a room in summer for love or money.
Everything seemed to be going swimmingly for the Koans (Kooi in Greek, or more disparagingly in their Kalymnian neighbours' view, Kotes – which also means chickens) until, a few years after the millennium, a perfect storm devastated tourism here. The islanders committed themselves heavily to the all-inclusive model; independent tavernas, mostly the mediocre ones but also some good establishments, withered away and died. Then several major tour companies mounted an unofficial boycott of the island – either by dropping hotels outright or telling travellers who requested Kos that it was "full" on the desired dates, and sending customers elsewhere. Needless to say the hotels in question were not booked out, but increasingly empty, and locals who relied upon tourism for a living were desperate for answers and a solution. And finally – on top of all this – came the 2008 crash.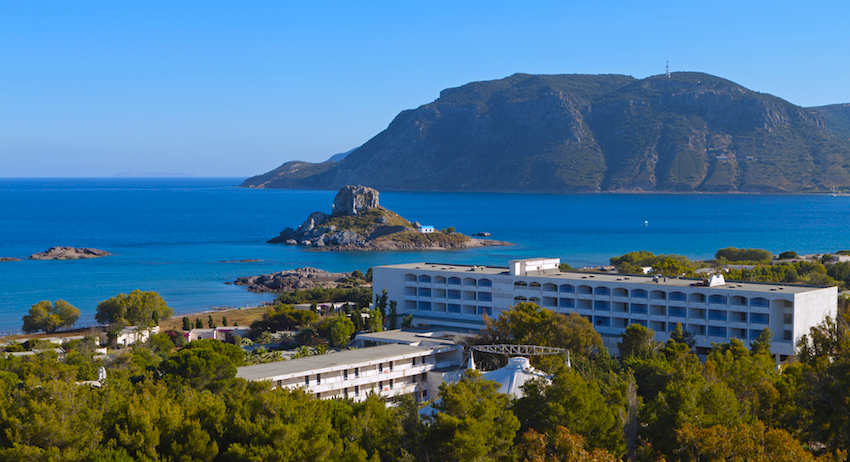 Kos was not the first island targeted in this way by large tour companies for a variety of reasons. Tour companies may tire of negotiating prices with the hotels every year, so a boycott shows hotel owners who has the whip-hand and how dependent they are on overseas companies, and after a year of desperately scrounging for independent overseas and/or Greek bookings they are usually ready to agree to more favorable terms for the tour companies. A year "off" can also cause mass bankruptcies and overseas companies then buy coveted hotels from the banks for a song. Or perhaps a tour operator decides to maximize profits by steering customers towards places – Tunisia, Turkey, Thailand – where they pay less for hotels. People who are just looking for sea and sun will be happy anywhere that has a beach and a fast-food joint nearby, but this is rather shabby treatment for clients who had their heart set on going to Greece.
All this was bad news for the people of Kos, who built comfortable hotels with the expectation that they would stay full forever, but are now confronted by excess capacity. The stop-gap measure, especially at all-inclusive outfits, has been to accept just about any clientele at depressed prices – in particular Russians, who are considered rough trade and not popular locally. But it's good news for the traveler who wants to enjoy a scenic Greek island during high season, as it's currently a buyer's market for some quality hotels (on B&B or half-board basis). Maybe this is a second chance for Kos. Because of Kos' association with Hippocrates and the birth of modern medicine (read on), the island is a popular venue for medical conventions, often off-season, and all multi-star hotels have ample conference facilities.
History of Kos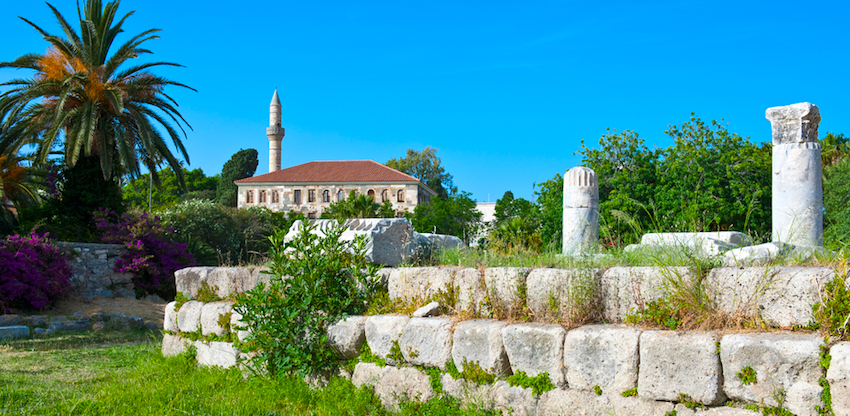 Long, narrow Kos lies just off the Asia Minor coast, tied with Karpathos as the second largest in the Dodecanese group. The Minoans, attracted by the excellent harbour at the northeast tip, settled there during the 15th century BC. The "other" ancient town, Astypalaia in the southwest, was the birthplace (ca. 460 BC) of Hippocrates (Ippokratis in Greek), the father of systematic medicine (and purported author of the Hippocratic oath still taken by doctors today). Shortly after his death in about 370 BC the islanders built the Asklepion shrine, named for the god Asklepios, which also served as a therapeutic centre known throughout the Greek world, run in accordance with Hippocratic methods. In 366 BC the "capital" was moved from Astypalaia to the Minoan port, which despite repeated earthquakes flourished owing to its proximity to ancient Halikarnassos (now Bodrum) on the Anatolian coast just opposite. In 333 BC Kos was taken briefly by Alexander the Great, and then became semi-autonomous under the protection of the Egyptian Ptolemies, including Ptolemy II who was born here. By the late first century BC Kos was effectively (and prosperously) under Roman rule, and from this time – especially after the severe earthquake of 27 BC – date most of the ancient ruins on view. Christianity came early, in the person of St Paul, and there are three early Byzantine basilicas to be seen. In 1314 the crusading Knights of Saint John, based on Rhodes, began work on the large fortress which still guards the entrance of Kos harbor, using extensive masonry (especially from the Asklepion) dislodged by successive earthquakes. In 1523 the knights surrendered to the Ottoman Turks, who had taken Rhodes the previous year, and who settled in for nearly four more centuries until Italy seized the Dodecanese in 1912 as part of her larger war with the Ottomans focused on Libya. In 1933, another earthquake levelled most of the town and gave the Italians a pretext for some extensive archeology and urban renewal. Kos finally become part of Greece in 1948, which ironically accelerated emigration (mostly to Australia or Canada), and the depopulation of the half-dozen hill villages in favor of the coast.
The City of Kos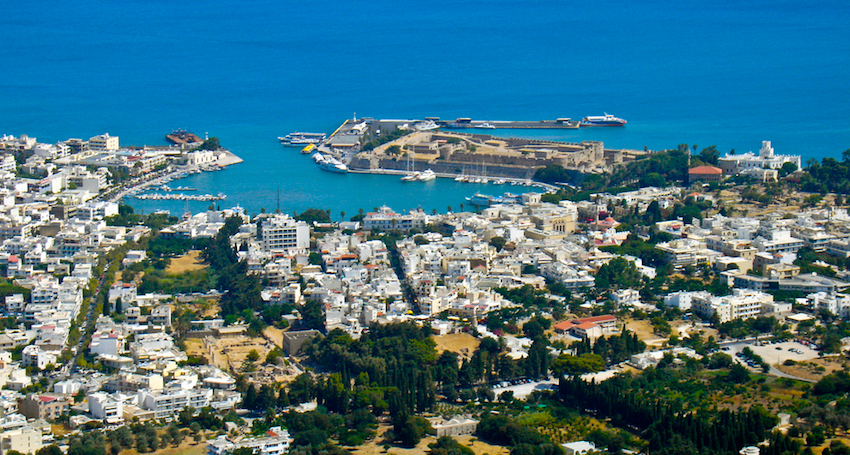 The city of Kos spreads out in all directions from perfectly protected Mandráki harbour, with Bodrum (a major day-trip destination) just visible on the Asia Minor mainland. Despite its size the town feels low-density; thanks to the Italians it's rigorously planned, executed in two phases either side of the 1933 quake. From 1926–29 and again from 1934–39 they endowed it with clusters of mock-Ottoman, Art Deco-ish and Rationalist style buildings to meet both the social and political needs of colonialism and fascism – including a large central square, today Platía Eleftherías, where crowds could be harangued from a speaker's tribune. Large areas of archeological "park" were created by removing the rubble of collapsed houses to reveal ancient remains. Yet some care was taken to preserve or highlight the castle and the traditional quarters – the Muslim bazaar, and the old blacksmiths' quarter of Haluvaziá just behind the port – which had survived the tremor. Residential, cantonment-style suburbs were laid out, particularly on the east, and today their original landscaping has matured, giving Kos the feel of a lush garden town.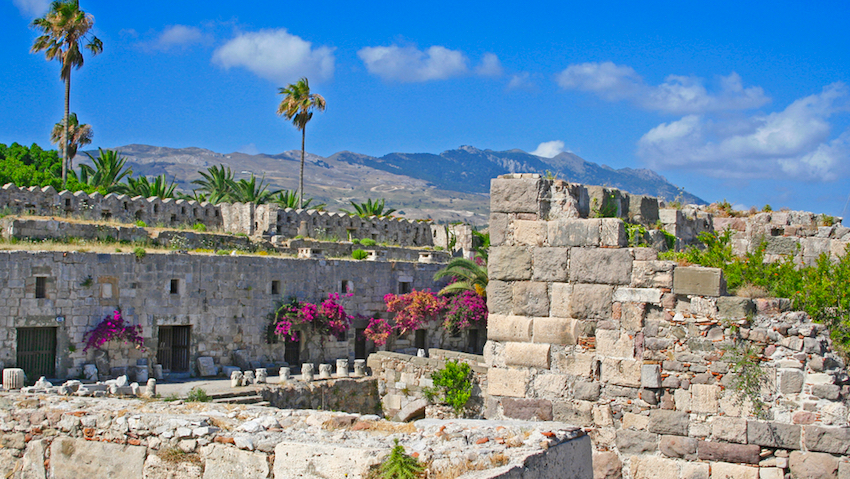 The Castle of the Knights of Saint John (8am–8pm daily through October; back to shorter hours (8.30am–3pm) in winter) with its double fortification dominates the harbor. The castle is linked by a bridge over its former moat (now Finikon Avenue) to the square where the so-called, very decrepit Plane Tree of Hippocrates stands. In legend the great healer taught under its boughs, though in fact this is unlikely as the tree is only about 700 years old. Flanking the plaza is the Loggia Mosque, from 1786; as at the contemporary Defterdar Mosque on Platía Eleftherías, rent from the shops on its ground floor goes to the vakuf or local Islamic benevolent foundation. Neither of these mosques is used much for worship by local Muslims, though the minaret-less Atik Mosque in the Ottoman bazaar still functions normally.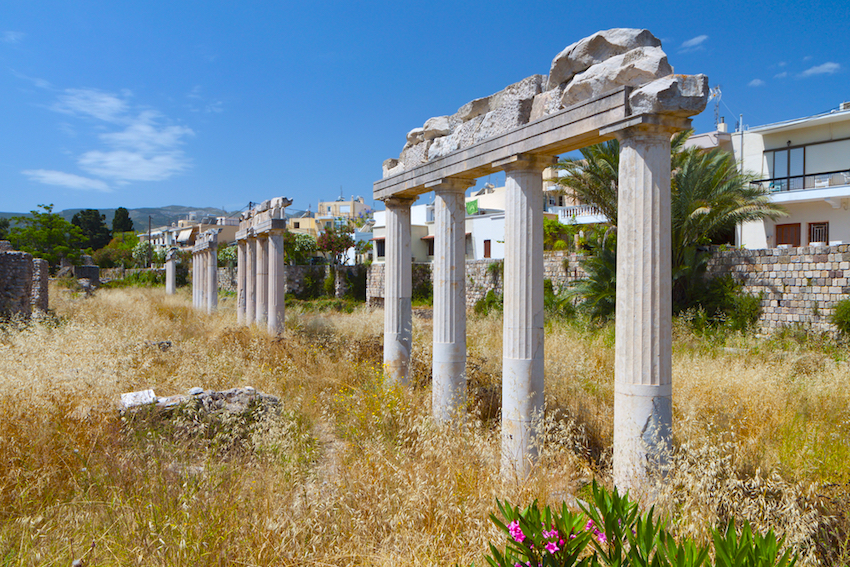 Just south of the harbour lies the ancient agora (always open), excavated after the 1933 quake: no compelling sights other than foundations of a Hellenistic Aphrodite temple and re-erected Roman columns from a stoa, but a pleasant wander nonetheless. The other, more extensive archeological zone lies well inland beyond the Ottoman bazaar, featuring the Xystos or colonnade of a covered running track, and – viewable from a slight distance – mosaics of a boar hunt, gladiators and the nymph Europa. There are more floor mosaics – of a tiger, and assorted beasts attacking a goat and an antelope – in the Casa Romana (Tues–Sat 8am–7.30pm, Sun 1.30–7.30pm, Mon closed), a 3d-century AD Roman villa across the street, which finally re-opened in 2010 after a lengthy refit. Also refurbished recently was the contemporaneous Roman odeion adjacent – its undercroft now houses a well-done mini-museum (daily April–Oct 8am–8pm) on odeia in general, and this one in particular. The main, Italian-built archeological museum (Tues–Sun 8am–2.30pm) is up on Platía Eleftherías, containing Hellenistic and Roman statuary, as well as two more fine mosaics. Just opposite, beyond the Defterdar Mosque, is the covered Italian market from 1934; lately its produce stalls have been exiled in favour of tourist stalls peddling honey and herbs – no bargains here – but it's still an atmospheric spot to stock up on gifts.
Eating and Drinking in Kos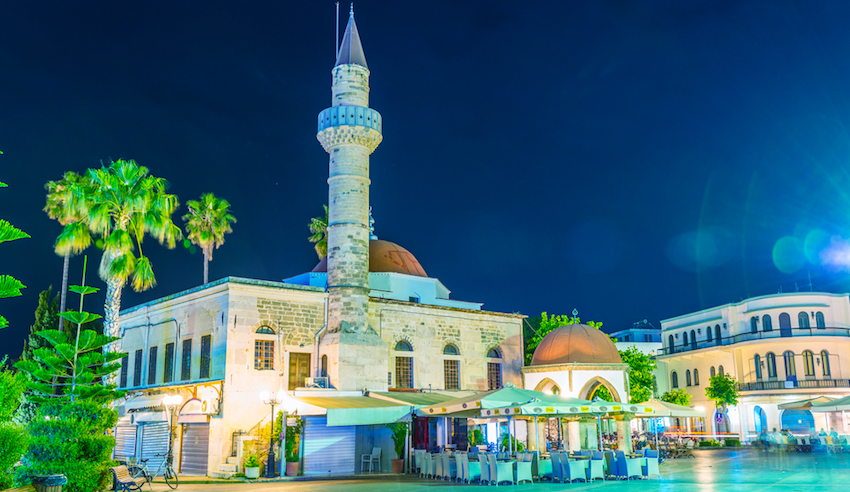 It doesn't take much nous to work out that you'll be ripped off at the few surviving cafés and restaurants facing Mandráki port; neither is the prevailing Euro-grub in the westerly district towards Lámbi much to write home about either. There are numerous, far better options inland or just back from the easterly beach along Vassiléos Georgíou. At Ambavris (supper only May–Oct), in the eponymous hamlet 500m south of the Casa Romana, choose a medley of their excellent mezédes (detailed properly only on the Greek menu) served in the courtyard of this lovely old house. An exception to the pattern in the western suburbs is Votsalakia at Avérof 10, a good all-rounder taverna with views of the ferries coming and going. The island's longest-running ouzerí is Pote tin Kyriaki (supper only, closed Sunday, also Mon–Thurs low season), hidden in the Ottoman old town at Pissándrou 9; there are starters like fennel pie and assorted sea food at very attractive prices, washed down by proprietress Stamatia's potent tsípouro. The town's main see-and-be-seen venue, H2O, at Vassiléos Georgíou 7, has a fusion menu, minimalist decor and seating on a deck over the water; diagonally across the way, on the ground floor of the Triton Hotel, Avanti is reckoned the island's best Italian diner and is always full of locals. Products of the local winery, Hatziemmanouil, are well worth trying, especially their red labels.
For light refreshment, Café Aenaos at the base of the Defterdar Mosque is a great people-watching spot, and brews kafé sti hóvoli (traditional Greek coffee made on hot sand). Right opposite Hippocrates' plane tree, the Law Court Café huddles under Art Deco arches, doing coffees and cold drinks at very fair prices for the location.
Besides the mega-dance-venue X Club on the west side of Mandráki, going in some incarnation since the 1980s, nightlife in Kos city clusters in two areas. The "Pub Lanes" of Haluvaziá, especially Nafklírou, have a fairly forgettable selection of annually changing barákia with a largely Dutch clientele; the most durable, interesting and Greek club here is Hamam at the east end of things, installed in an old Turkish bath. Another, Greek-preferred nucleus of night (and day) life is Aktí Zouroúdi behind Lámbi beach 2km north of town, where Artemis by Heaven has two bars (1 poolside, 1 on the sand), tropical decor and chilled playlist, or Mylos further out, arrayed around an old windmill, with a beach-café role by day and either live or DJd events after dark, until dawn. Don't drive there – bicycle out and drink as much as you like.
For the more sedately inclined, there's an excellent outdoor cinema (May–Sept), the Orfevs, on Fenarétis just in from Vassiléos Georgíou; during the cooler months screenings move to the indoor Orfevs on Platía Eleftherías. As everywhere in Greece, films are shown in the original language (usually English) with Greek subtitles.
Near Kos Town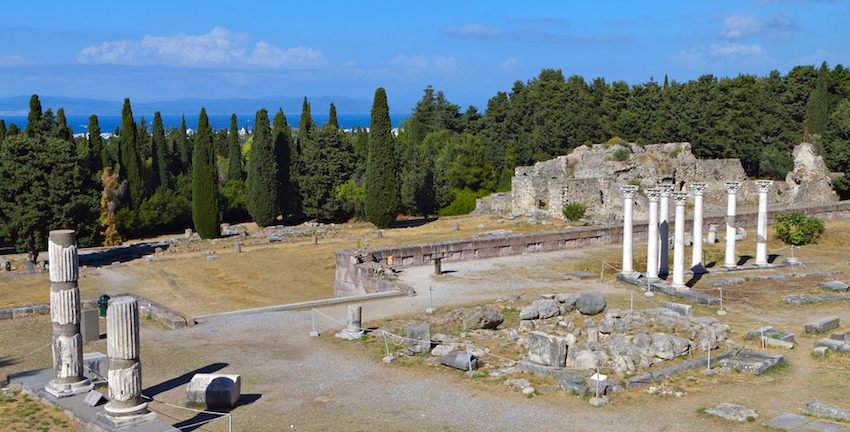 The ruins of the Asklepion (summer 8am–8pm, winter 8.30am–2.30pm; closed Mon all year) lie 4km southwest of town on a series of terraces overlooking Kos and the Turkish coast. Hippocrates was the first healer adopting a rational approach to diagnosis, and the first – as witness his treatise Airs, Waters and Places – to lay stress on the importance of environment in therapy. In its day – which ended in 554 AD – the Asklepion was as much spa and teaching facility as religious sanctuary, and the site chosen had ample springs (which ran above ground until recently – you can still see fountain-niches and clay piping). The three terraces, connected by broad stairways, feature a Doric Temple of Asklepios on the top level, and a Roman Corinthian temple partly rebuilt by nationalistically minded Italian archeologists, but don't get your hopes pitched too high – little else stands much above ground level, as the crusading Knights thoroughly scoured the site for ready-cut masonry.
The Asklepion is easy to reach by bicycle, fake train or (in cooler weather) on foot, passing through the partly ethnic-Turkish village of Platáni (aka Kermedés) with its active mosque and cluster of Anatolian-style tavernas at the central junction, of which Arap is the most consistent, famous and open much of the year. Hasan, across the street from Arap, as a worthwhile, cheaper alternative, with good kebabs and the odd vegetable stew. Opposite, superb ice cream is served at Paradosi. There were once nearly 3000 island Turks living here and in Kos town, but after the successive Cyprus crises of 1963–74 numbers dropped to under 1000. Between Platáni and town are the adjacent Muslim and Jewish cemeteries. The island's 120 Jews were deported to their deaths at Auschwitz during summer 1944, and the only other trace of the long-running Jewish community is their wonderful Italian-era synagogue on Diákou near the "Pub Lanes".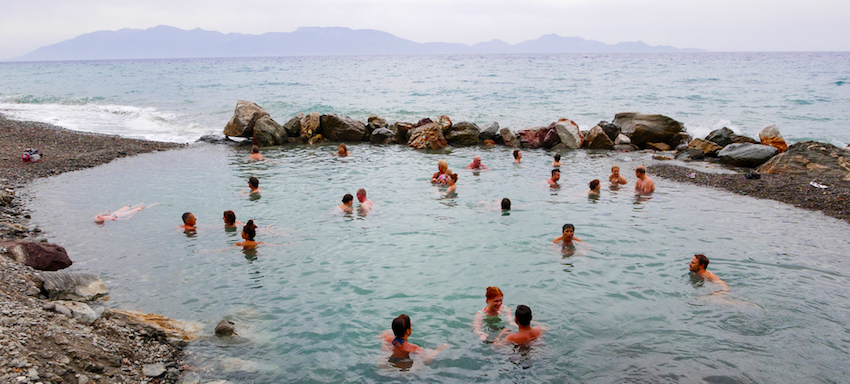 Besides Lámbi beach, more sand stretches east, then south, of the city in the area known somewhat imprecisely as Psalídi. Much of it is merely functional or monopolized by the resort hotels which concentrate here; good, meaty beaches with minimal wind scourging and easy public access only begin once past the Oceanis complex, up to the Ágios Fokás military watchpoint. Just past a final cluster of hotels at Ágios Fokás is the dirt-track turnoff for the seaside hot springs of Bros Thermá, one of the most popular destinations on Kos, especially at dusk or on moonlit evenings. Scalding water flows from the base of cliffs into a 4-foot-deep pool delimited by a ring of boulders which allows it to mix with seawater to a pleasant temperature. There have been recurring rumors, however, of the place being developed as a spa with regimentation and admission fee, so enjoy it au naturel while you can.
Around the Island of Kos
Mt Díkeos Villages
Forested, scenic Mt Díkeos, the ancient Oromedon looming west of town, relieves Kos from unrelenting flatness and supports the half-dozen Asfendioú villages, all now largely deserted but excellent examples of whitewashed traditional housing. Parish priest Father Kyriakos, at the Génnisi Theotókou church in Lagoúdi with its brilliant neo-Byzantine frescoes, claims that the mountain takes is modern name ("just, fair") from its waters flowing usefully northwest towards the agricultural plain rather than pointlessly south into the sea. Ziá is the most touristed settlement, thanks to half a dozen coaches daily calling in for "sunset tours" (though the views from most of the Asfendioú region are spectacular). This has had a predictable effect on quality at the surviving tavernas (several have shut) but Oromedon can still be highly recommended, likewise the little secluded café Neromylos, converted from the last working watermill here – by the 1960s most of the water had been channelled down to fields and water-mains in the flatlands. Ziá also marks the start of the hike up to 846-metre Khristós peak with its pillbox chapel (August 6 festival) and 360° views over Turkey and the Dodecanese; allow 3 hours round trip, and best do this in spring or fall when temperatures are mild and the air clear. Nearby Evangelístria and Asómatos hamlets, the latter with a lovely church, have proven popular with second-home hunters but have no reliable tourist facilities. West of Lagoúdi, a side road leads up to Byzantine Paleó Pýli with its castle and medieval churches, of which the lowest one, Arhángelos, also has the most vivid frescoes. Modern Pýli is by contrast a thriving, modern place and boasts, in its Pigí district, perhaps the best rural taverna on Kos, Palea Pigi, where you can sample local dishes like pikhtí (brawn) and krassotýri (cheese marinated in wine) in the shade of a giant Indian fig. Just below is a wonderful, popular cistern-spring with several lion-headed spouts.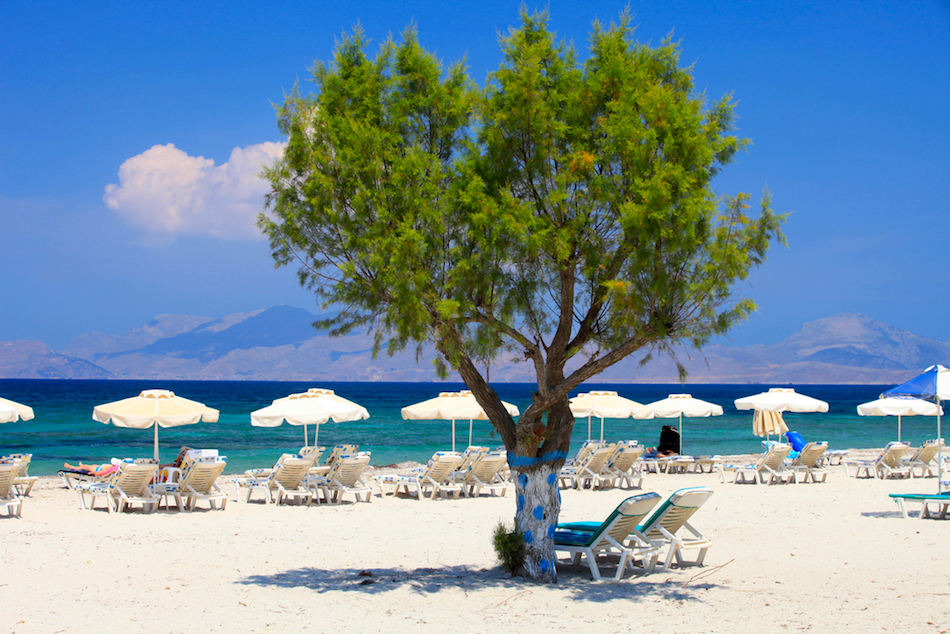 Kos-tal Resorts
Besides Psalídi, Kos has plenty of attractive beaches on both its windier north and more protected south coasts. Most of them have some sort of water sports available, be it windsurfing, kayaking/canoeing, or jet-skiing (though I for one find it difficult to qualify the latter as a "sport").
Closest to town on the north coast is Tingáki, which has historically had a big British clientele. Just inland to the east is the excellent Ambeli taverna, with more than a nod to local recipes and an excellent wine list (as you'd expect from a place called "Vineyard"). There are great views across the straits to the Bodrum peninsula and the little Greek islet of Psérimos. Marmári, the next resort west, has a preponderance of all-inclusive hotels aimed in the past at Germans; between the two is the salt marsh of Alykí, which retains water well into summer. This used to be a major stopover for flamingoes from December to April, but they haven't appeared in some years – chalk it up to global climate change. Mastihári, southwest of Marmári, also has its share of new monster hotels at the outskirts but despite that is probably your best bet if showing up without a room reservation in summer – it's Kos' second port, with several daily ferries to Kálymnos (keyed to arrival times of domestic flights from Athens), and still retains some character of a "real" town. Good affordable accommodation can be found at the south end of the ridge above the unusually broad beach. Just inland from the ferry jetty, Makis is unbeatable for fish, while at the south end of the beach strip, Traditional House bakes its own bread and serves own-grown veggies.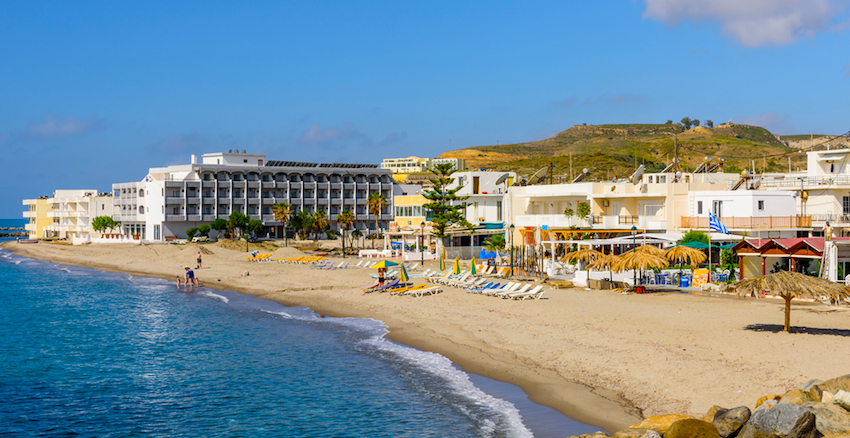 From Marmári, roads lead south through Andimáhia – the largest inland village, next to the airport and near another Knights of St John castle sometimes used for summer concerts – to Kardámena, the island's second-ranking, if rather downmarket, resort, famous for its Brit-pitched nightlife. Clubs, especially in these straitened times, come and go but here to stay apparently are the Downtown Club, a basement joint as good as its motto ("cheesy chart music"), and the long-running Starlight Club at the outskirts, with theme nights and imported UK DJs. Don't expect culinary distinction, or much comfort in lodging; Kardámena beach, however, is sandy and long. There are expensive excursion boats, leaving in the morning, for Níssyros island opposite; less publicised is the Nissyrians' far cheaper shopping kaïki, which chugs away at mid-afternoon (though that means you intend to overnight on Níssyros).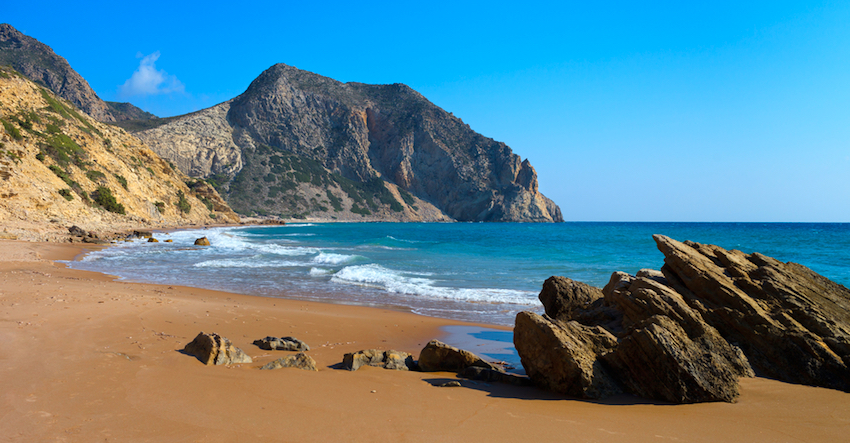 Paradise Beach
On a clear day Níssyros is also prominent on the horizon seen from the sequence of miraculously undeveloped beaches west of Andimáhia. My favorite is "Magic" (officially Polémi), with a full-service taverna uphill, a nudist zone ("Exotic") on the east, and no jet-skis – which rather blight "Sunny" (Psilós Gremmós) and Langádes further along, although their sand and juniper-backed scenery is superior. "Paradise" (Bubble Beach), so named for volcanic gas-vents in the shallows, is oversubscribed and overrated, though "Kamila"/Camel just beyond is much less visited.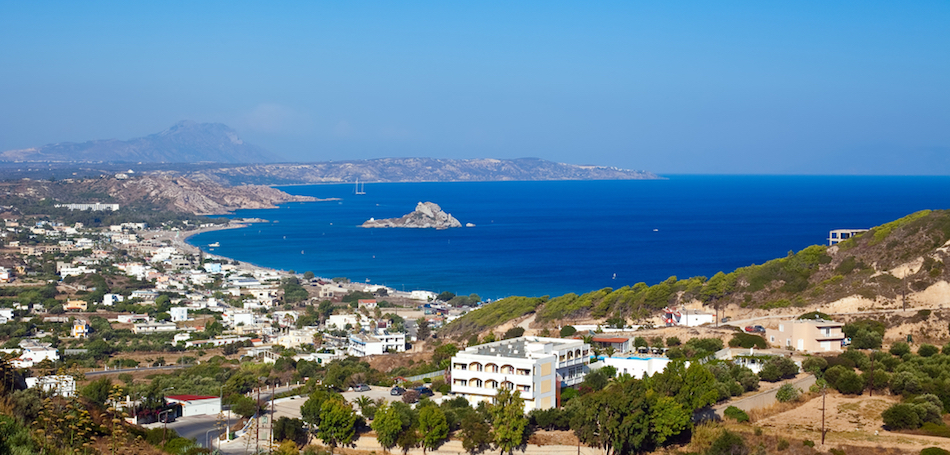 Past these, an inconspicuous access road leads around a giant Club Med to the most romantically set of Kos' three basilicas, Ágios Stéfanos – though recent years have seen some of its columns toppled and its famous mosaics covered in protective gravel. There's good snorkelling – unusually for Kos – between the little beach below and swimmable-to Kastrí islet. Beyond sprawls Kamári, a resort hardest hit by the recent slump – plenty of abandoned building sites – and lacking much distinction other than excellent windsurfing opportunities.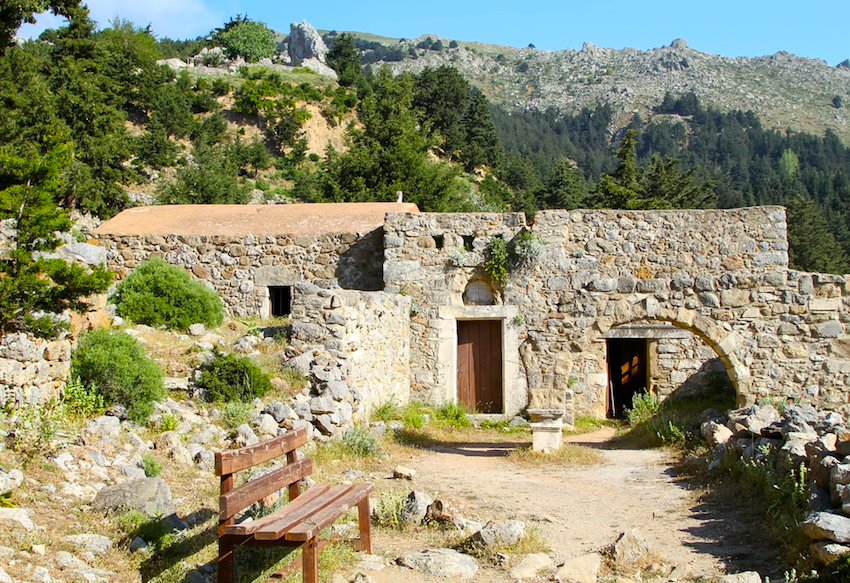 In Paleó Pylí, Arhangelos chapel has had much-needed repairs but sadly is now locked so the frescoes are not visible for now (unless a warden with keys is appointed to replace the evzone-costumed goatherd who poses with tourists for pictures at the base of the stairs up, all the while yelping "Autentico!!! Tradizzzzzionaaaaallllleehh!!!"). Puh-leeze.
In Amanioú, the village closest to Paleó Pylí, maybe schedule a lunch stop at the Paleo Pyli taverna, where Mastihari-based fisherman Giorgos does excellent, cheap grilled fish (his son does most of the catching now, daily).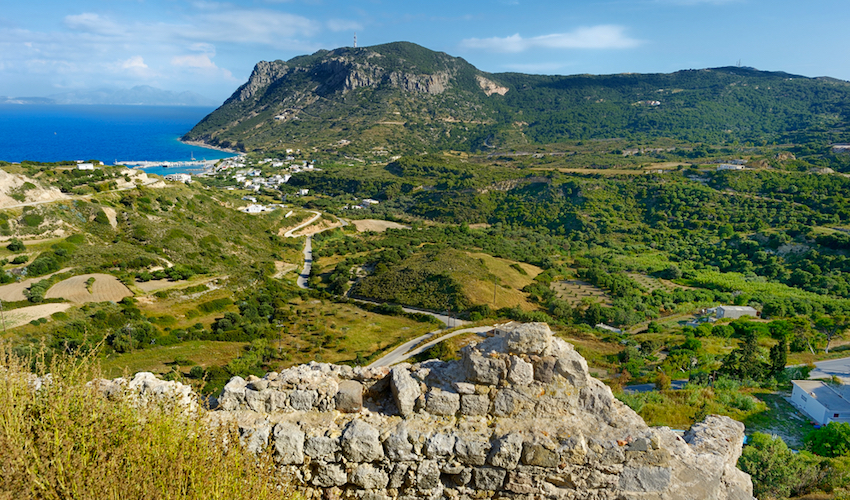 The Wild West
The large village of Kéfalos, uphill from Kamári, dominates the far southwest of Kos. It's kind of a nondescript place – the Knights couldn't be bothered to build a proper castle to defend it – but the inevitable gateway to the wild terrain beyond. Just south are Panagía Palatianí, a strange Byzantine church built amidst the ruins of an ancient temple, and ancient Astypalaia, of which only a late Classical theatre with two rows of seats overlooking Kamári bay remains. A right fork in the paved onward road system leads to the rural chapel of Ágios Theológos, near a namesake taverna which ruthlessly exploits its monopoly and above a wave-bashed beach where boogie-boarding is practiced. The other branch of the paved road ends at Ágios Ioánnis Thymianós monastery, from where a dirt track heads off towards spectacular, sandy but unamenitied Hilandríou beach, tucked into a fold of precipitous Cape Kríkellos.
Practical Information for Travelers to Kos

Getting to Kos
Ferries from Piraeus to Kos leave daily in the summer season and 3 or 4 times a week in the off season, usually in the early evening, with consequent small-hours arrival. Islands on the same route may include Sýros, Náxos, Páros, Amorgós, Santoríni, Pátmos, Léros, Kálymnos and Rhodes, though usually you get "semi-direct" services that omit some or most of these. If at all possible, opt for Blue Star Ferries departures. Sadly, the former useful hydrofoil service between Kos and Sámos via all intervening islands has been suspended; the only approximate substitute are the catamarans Dodecanese Pride and Dodecanese Express, as far as Pátmos and Lipsí/Agathonísi. You can find ferries to and from Kos and book them at Ferryhopper.com or by booking hotels with a Greek travel agency.
Excursion boats leave most mornings for the nearby islands of Níssyros, Psérimos, Platý and Kálymnos, though if you want to spend a full day on Psérimos you can only do this from Kálymnos. Most years there is usually a subsidized minor ferry route from Kos town to Níssyros and Tílos – much cheaper than either the excursion boats or the catamarans. For Bodrum in Turkey, there can be up to 3 or 4 daily (2 morning, 2 afternoon) departures, and the crossing is the least expensive of all the island-Anatolia routes thanks to modest port taxes – outside of peak season, 25 to 30 euro return is not an unusual fare.
There are up to five flights daily between Athens and Kos in each direction, on either Olympic and Aegean, which merged in October 2013. Beware of their new baggage policies – the cheapest fares have, as default setting, no checked baggage allowed – you have to add it for 15 euros online, or pay 25 euros at the airport.
For those who want to book Kos with the assistance of a Greek travel agency you can use Matt Barrett's Create-an-itinerary form and click on the islands you want to visit and the amount of days you want to spend on each island and you can get a price, or they will tell you if what you want to do is even possible. It is free and you are under no obligation to purcghase anything. For travel agencies in Greece that book Kos see Matt's Travel Agents Page.
Getting around Kos
Especially in Kos town, car, scooter and (unusually) bicycle rental places abound. Along with Tríkala and Édessa, Kos is among the few cities in Greece that actively makes provision for cyclists, with a joined-up bike-path system extending from the far reaches of Psalídi to Tingáki, and for a few euros a day the flattest bits of the island are yours to pedal around. The accident rate for all motor vehicles – especially on the dangerous central trunk road – is off the charts, especially in August when particularly reckless Athenians show up, so drive defensively and NEVER drunk – police traps screen for this and fines are astronomical (even if you don't get thrown in the slammer). Taxis are common but expensive – nearly 35 euros from the airport to Kos city, for example. There are several KTEL buses daily between the airport and town, but these are designed to dovetail with domestic, not overseas, flight arrivals. Besides KTEL departures to the remoter beach resorts (frequent) and hill villages (infrequent), there's a very efficient municipal bus service with the initials DEAS, serving all points between Psalídi and Lámbi.
Where to Stay
There are hotels of all categories in Kos town and its flanking resorts of Psalídi and Lámbi. Mastihári, Kardámena and Kamári offer more modest lodging on the whole. The major visitor dilemma on Kos is whether to stay in Kos town for superior dining and nightlife, going to the beach resorts by day, or to stay by the sand and hit the town by night. Here you can probably have it both ways by staying in a really nice hotel on a beach close to town for a very good rate. For a selection of hotels on the island, use Matt's Hotel Search where you can read hotel reviews and book them. I recommend booking with reliable travel agencies in Athens rather then directly with the hotels since it will cost the same, and the travel agent can help you with other aspects of your trip like ferry or airplane tickets, hotel in Athens and any snafus that occasionally happen (missed or canceled flights, ferries or lost bookings). Not to mention they are a valuable resource that can answer your questions and help you create the itinerary and find the hotel that is best suited to you.
Marc Dubin first visited Greece in 1978, fell in love with it, and returned almost yearly until he began living much of the time on Samos in 1989. He has written for numerous travel publishers – notably Rough Guides and Insight Guides – and on a variety of topics ranging from renovating old Greek houses and Greek cuisine to back-country trekking and Greek music. Marc has also compiled two CDs for World Music Network, Rough Guide to Rebetika and Rough Guide to Greek Café. To contact Marc with offers of writing jobs or praise you can e-mail him through matt@greecetravel.com
Matt's Suggested Hotels in Kos
Here are some hotels in Kos that you can book directly through Matt's Hotel Booking Page if you don't think you will need a travel agency. If you click on the name of the hotel you can get more information, photos and book it now. You may notice that a 4 and 5 star hotel in Kos will cost the same as a 2 star hotel in Mykonos or Santorini. You can also find villas, apartments, self-catering, holiday homes and Air BnB style accommodations by using Matt's Holiday Home Search or Matt's Hotels of Greece Kos Page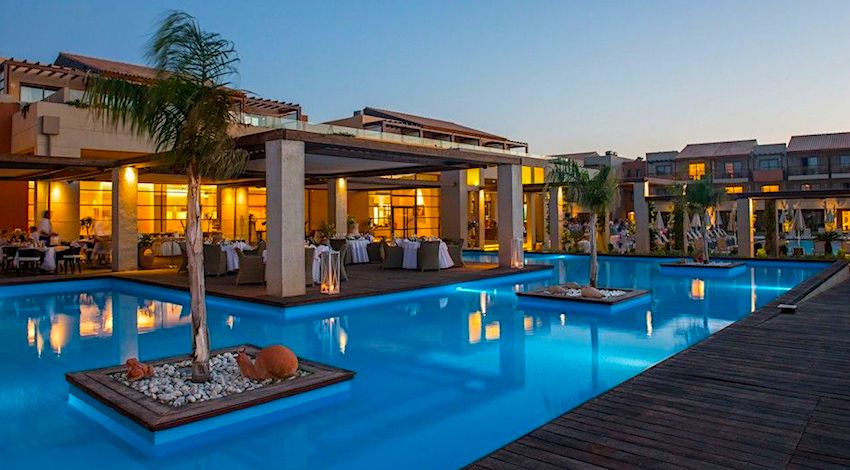 Astir Odysseus Kos Resort & Spa

Astir Odysseus Kos Resort & Spa is a 5 star hotel constructed in 2009, in Tingaki area. Just 5 km from the historic center of Kos town and 22 kilometers from the international airport of Kos, Astir Odysseus Kos consists of 337 rooms & suites, 3 conference halls, Spa center with indoor pool, restaurants & bars, sports facilities, water sports, 3 outdoor pools with 2 open air Jacuzzi in the main pool, 2 children's pool and mini club.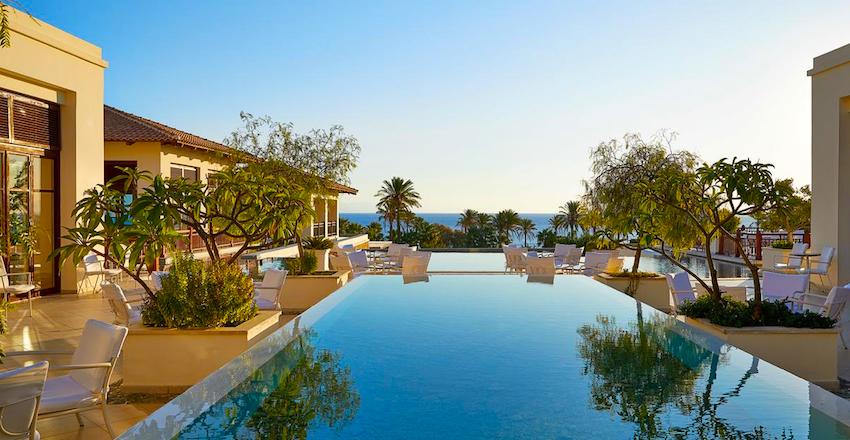 Grecotel Kos Imperial Thalasso

With its own private beach, this 5-star water paradise features state-of-the-art business and leisure facilities, all set within luxuriant extensive lawns that afford plenty of sunbathing areas.
A water wonderland effect is created by a series of free-form pools linked by rivers. The spacious hotel embraces the gentle hillside and quiet beach area of Psalidi overlooking the sparkling Aegean.
There are plenty of sports and entertainment facilities at the hotel and for those who relish a lively nightlife, Kos Town is a mere 4 kilometres away. After a game of tennis with your own personal coach, rejuvenate those muscles with a massage in our spa, offering a range of treatments of therapies. Wired internet is available in public areas and costs EUR 5.00 per hour.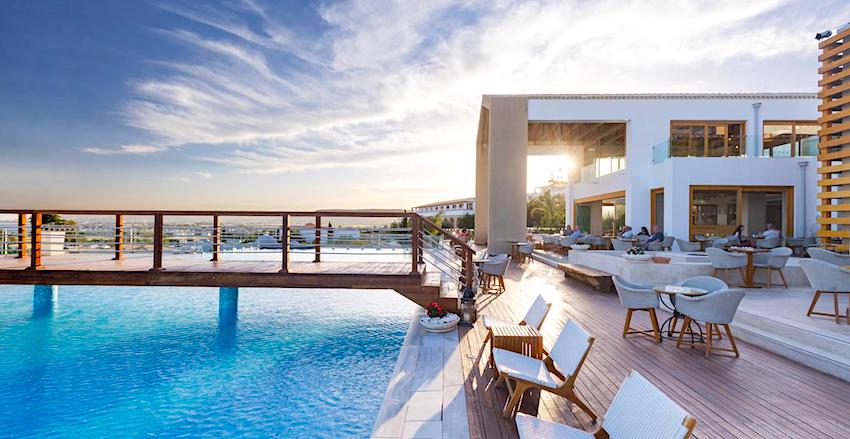 Mitsis Blue Domes Resort & Spa

5-star beachfront Mitsis Blue Domes Resort & Spa features a 650-yard-long pool complex of 8 large pools and 6 sharing pools. The all-inclusive hotel near Kardamena offers guests 10 dining options and 6 bars. The fresh and breezy rooms are fully air-conditioned with mini-bar, 26-inch satellite LCD TV, and internet access. Room service is provided 18 hours a day and each room has a private balcony or terrace. Wi-Fi is free in communal hotel areas. The main restaurant serves American buffet breakfast and late Continental breakfast. All meals are served in a show cooking buffet style. Every night, guests have the possibility to taste specialties from Greek and international cuisine, such as, Italian, Asian, Mexican and sushi specialties. A full range of beauty services are on offer at the on-site spa. A hot tub, massage rooms and indoor pool are featured. Sports facilities include water polo, tennis, pedalos and aerobics. Younger guests will enjoy the sweet-water children's pool with waterslides, playrooms and animation program.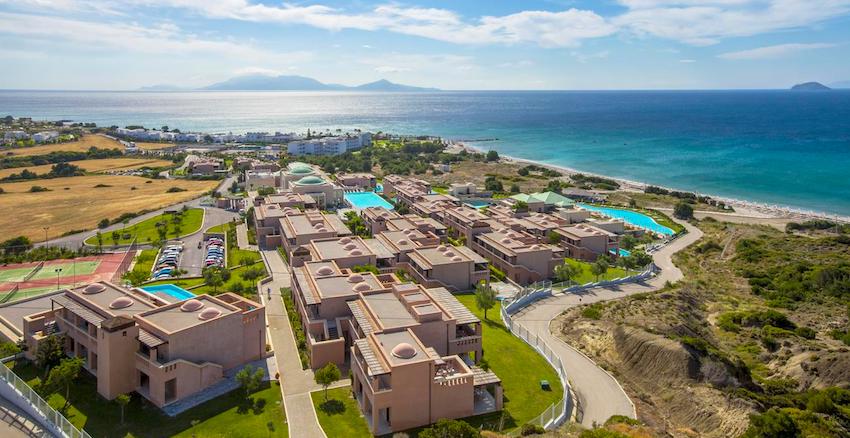 Helona Resort

Overlooking its private beach, the luxurious Helona Resort offers beautiful pool areas, 2 Jacuzzis, children's entertainment and a range of beauty and wellness treatments, with magnificent views to the sea near Kardamena. Helona Resort offers a peaceful and luxurious retreat away from the more touristy areas of Kos. Enjoy beautiful views to Nissyros Island and the Aegean Sea from the private beach, whilst relaxing on complimentary towels and sun beds. Helona Resort boasts an elegant combination of Italian and Aegean architecture to create a stylish holiday retreat. Relax in the comfort of your well-appointed room and watch a DVD. Relax in the Jacuzzi or around one of the swimming pools or man-made lagoons. The children can join in the organised fun at Helona Resort's mini club while you enjoy an aromatherapy massage or get pampered at the beauty salon. Enjoy delicious Greek and international cuisine as part of the half-board service. There are 3 bars to choose from, each with a different ambience, providing plenty of on-site entertainment for all the family. A public bus service also runs from the resort to Kardamena Village.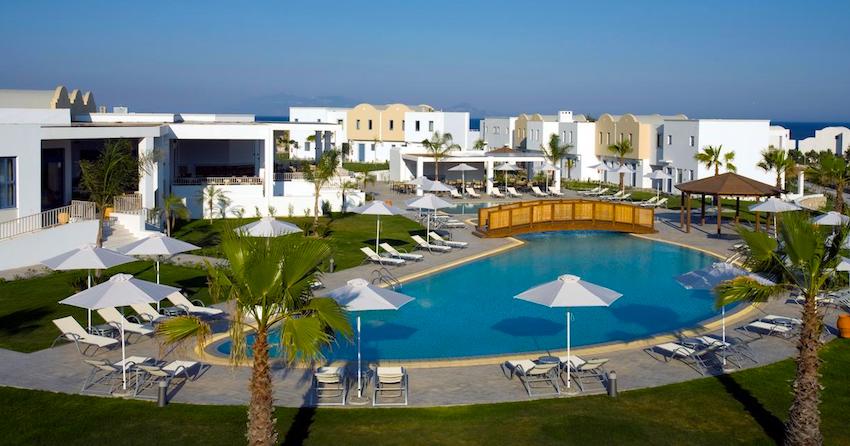 Lakitira Suites

This small complex is the perfect hideaway for those who want to unwind and relax and is walking distance from the unspoilt Helona Beach. Ideally located on the south-east coast of Kos, in a small valley surrounded by low hills, Lakitira Suites makes a fine base from which to explore the rest of the island. The nearby village of Kardamena is only 3 km away. You can hire a car or a bike from the hotel and discover the island at your own pace. Back at the hotel, Lakitira Suites has a multi-purpose sports area for guests who want to play tennis, volleyball or mini soccer. Then at the end of a busy day you can retire to your 5-star standard accommodation, elegantly decorated with top quality furniture and materials to provide lots of space for you to feel comfortable and relaxed. Wireless internet is available in public areas and costs EUR 5.00 per hour.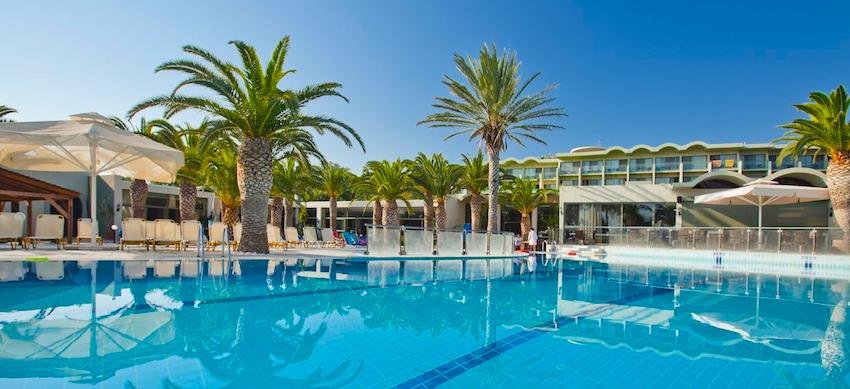 Kipriotis Hippocrates Adults Only Hotel

Located on the east coast of Kos, separated from the beach just from the coast road alone (approx. 200M) and conveniently located only 3km from Kos town, Kipriotis Hippocrates Hotel is a charmed 4* hotel that offers relaxation in a great holiday environment. Enjoy the lovely scenery in the region of Psalidi while sunbathing around the nice outdoor swimming pool, that provides a separate childrens pool, a sun terrace with sun loungers and parasols (free by the pool, extra charge on the beach) and a pool snack bar. Kipriotis Hippocrates Hotel is surrounded by well-kept gardens and is ideal for leisure travellers and families that enjoy a casual and familiar atmosphere. The buffet restaurant in the Kipriotis Hippocrates Hotel serves a variety of international and Mediterranean dishes.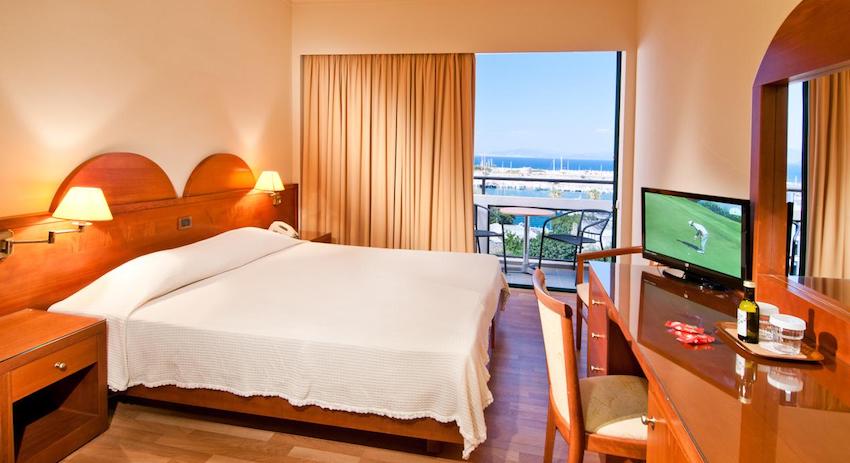 Alexandra Hotel and Apartments

Excellently located in the centre of Kos town and just 200 metres from the harbour, the Alexandra Hotel is the highest building in Kos, offering stunning views and quality leisure facilities. Guests can enjoy a tasty buffet breakfast before relaxing around the lovely pool area. Alexandra Hotel provides excellent conference facilities for all types of business functions. After a day of meetings or sightseeing, guests can burn off some energy in Alexandra's well-equipped fitness room. Those who need to further relax can enjoy some time in the sauna, before resting in their spacious suite. Guests can take a leisurely stroll from Alexandra Hotel to the nearby Kazouli Square and the archaeological museum. There are also plenty of local shops and taverns within walking distance and organised beaches are just 400 metres away.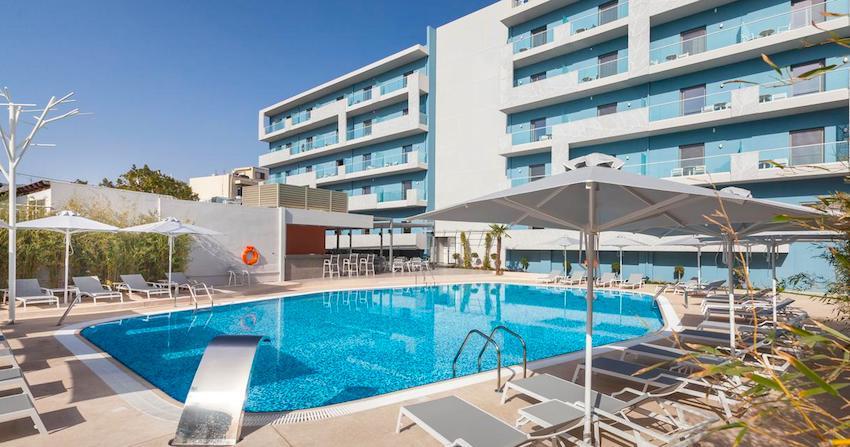 Blue Lagoon City Hotel

Centrally located in Kos Town, only 200 meters from the port and a 6 minute walk to the beach, Blue Lagoon City Hotel features a swimming pool, a poolside bar-restaurant, and a spa area with gym and indoor pool. It also includes a lobby bar, and a main restaurant serving buffet breakfast. The rooms and suites of Blue Lagoon are air conditioned and equipped with a fridge, electric kettle and a TV. The private bathroom comes with shower and a hairdryer. Guests can relax at the sun loungers by the pool, while younger guests can swim safely in their own pool. The welcoming lounge area offers 2 TV corners. Snacks can be enjoyed for lunch in the pool bar-restaurant, while a a la carte dinner is served in the main restaurant. Drinks, cocktails and coffee are available by the pool and in the lobby bar. Blue Lagoon City Hotel can provide bicycle and car rental services.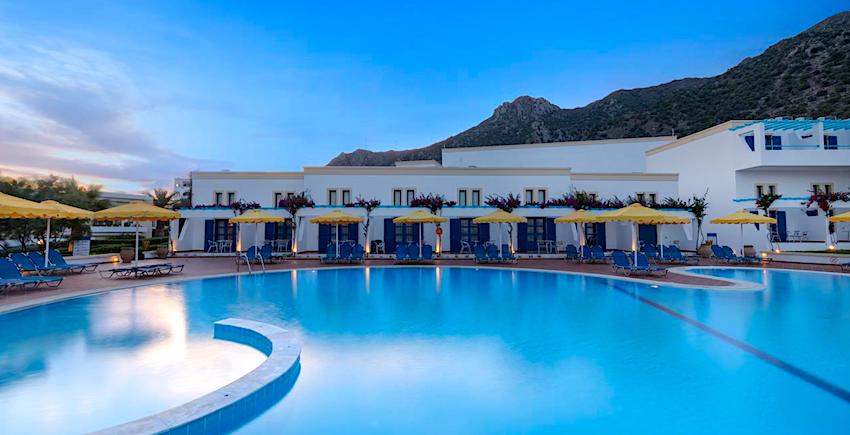 Mitsis Norida Beach Hotel

Mitsis Norida Beach Hotel, right on a sandy beach, features an open air theater, 3 restaurants and 7 bars. The hotel is found only 4.8 km from Kardamena and 30.6 km from the town of Kos.The hotel has 455 individually designed guest rooms overlooking its landscaped grounds or the sea. Room features include private bathroom with hairdryer, minibar and satellite TV. Guests of all ages can choose between the 2 outdoor swimming pools, a relaxation pool, water slides and the beautiful pebble beach. The endless menu of activities includes 2 tennis courts, beach volley, water polo and basketball facilities. The all-inclusive Norida Beach features a main dining restaurant, a tavern and Chinese restaurant plus several other food & beverage options scattered around the resort. Drinks, snacks and meals are available throughout the day at no extra charge. Mitsis Norida Beach Hotel welcomes families with a dedicated kids and teens activities program offering imaginative activities for children of all ages.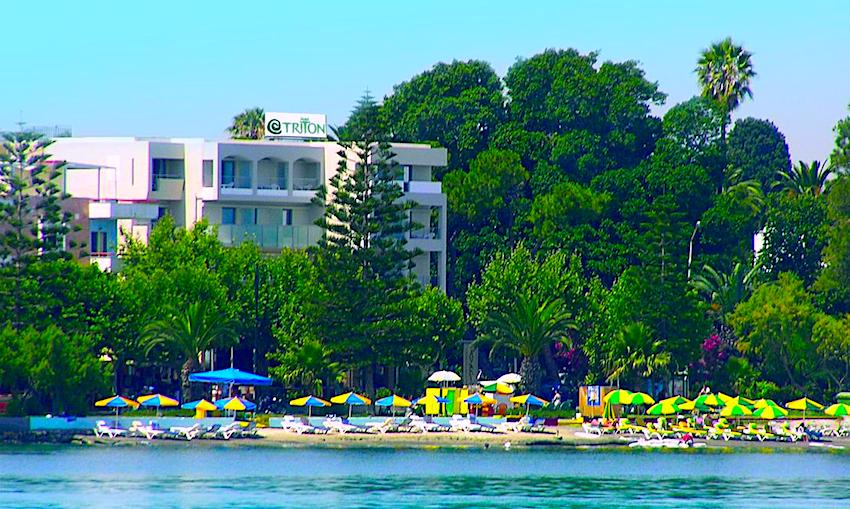 Triton Hotel

Triton Hotel is located directly across the road from the main beach in the centre of Kos town and next door to a peaceful park. Triton has magnificent sea views and is well known for its warm hospitality and staff, who will make you feel right at home. It is a friendly, family-run business, in an excellent location for those who prefer to be in the city centre and still want to enjoy the lovely beaches of Kos Town. Internet via modem is available in the hotel rooms and is free of charge. Wireless internet is available in the entire hotel and is free of charge.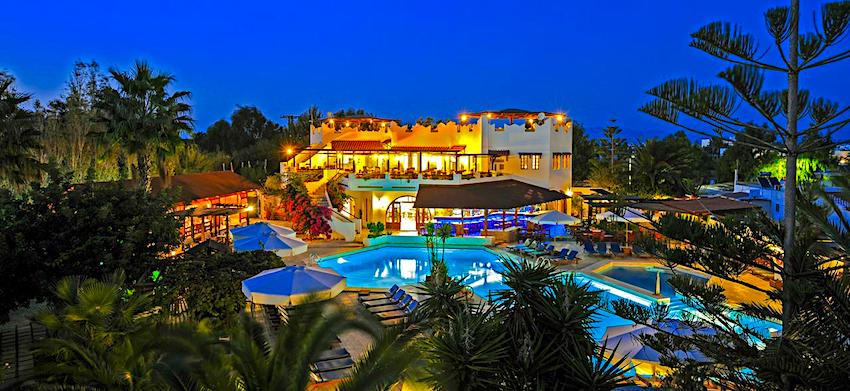 Gaia Garden

Gaia Garden is a charming, down-to-earth hotel located in Lambi, a quiet area of Kos Town.
It consists of a main house surrounded by several bungalows, all nestling in the beautiful gardens created by the owners. Guests of Gaia Garden have the pleasure of enjoying this palm-filled oasis from the comfort of their own patios. The hotel offers free Wi-Fi, as well as laptops for rent. Wireless internet is available in the entire hotel and is free of charge.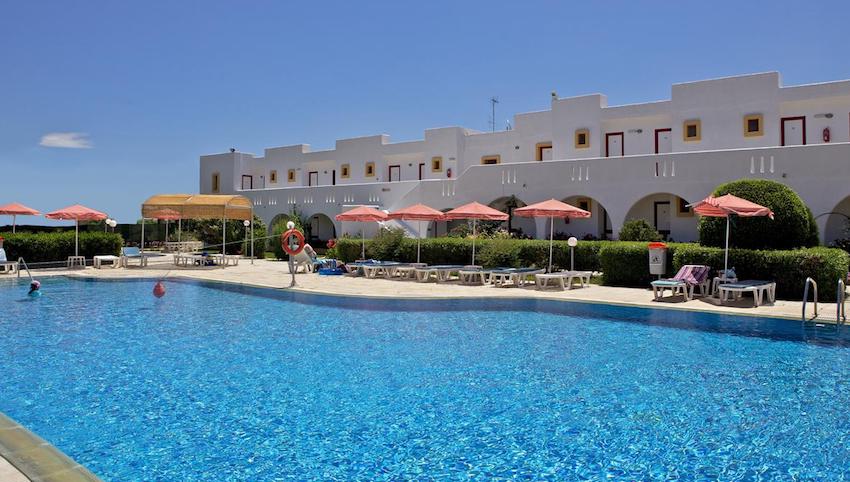 Sunny View Hotel

Set in open countryside, a stone's throw from the beach, this family-run hotel occupies a tranquil position, just 2.4 km from the center of the lively center of Kardamena. Located on the south coast off the island of Kos, which is part of the Dodecanese (12 islands), Kardamena is a small village surrounded by the Aegean Sea. It provides a range of restaurants, bars and shops to please every taste and preference. At Sunny View you can unwind, relax and forget all your troubles in a carefree environment. A refreshing alternative to larger chain hotels, the hotel provides a personal and relaxed service, complemented by family warmth, cleanliness and friendly staff.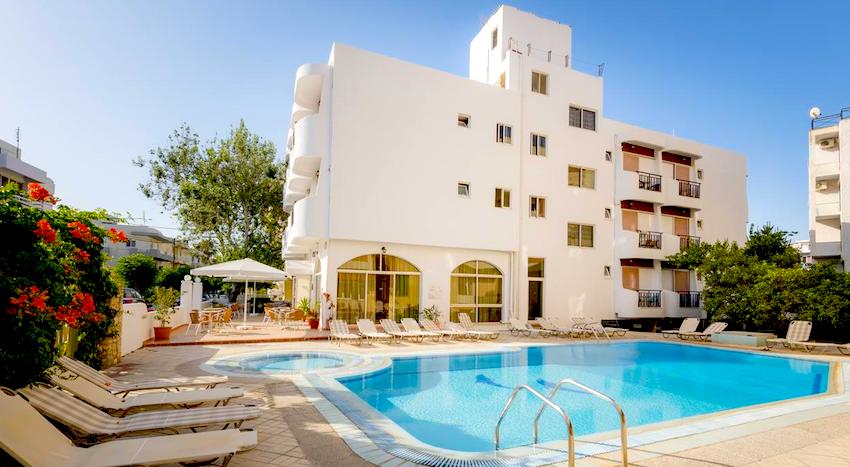 Captain's Hotel

Captain's Hotel is centrally located in Kos town, approximately a 5 minute walk from the harbour and about the same distance from Kos Town beach. All rooms are comfortable, equipped with all modern amenities that guarantee a pleasant, comfortable stay. Guests may relax by the swimming pool and enjoy the sun in the sun terrace. The hotel is within easy reach from the shops, bars, restaurants and the Old Town. Wireless internet is available in public areas and is free of charge.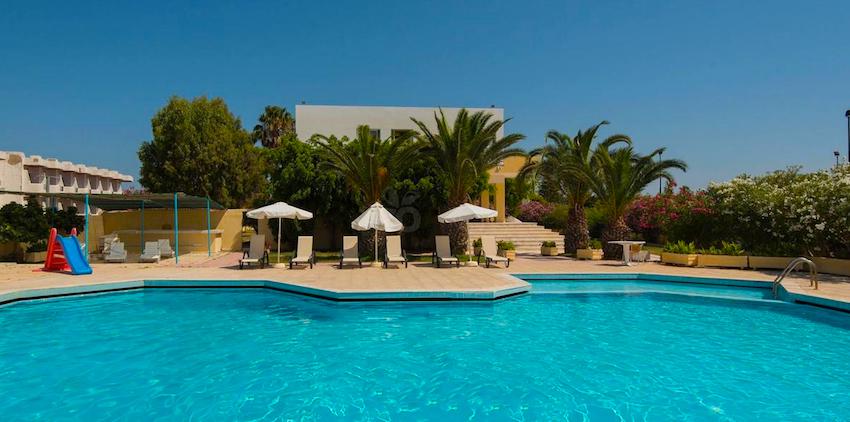 Leonidas Hotel & Studios

Located 800 metres away from the nearest sandy beach, this hotel is also just 400 metres away from the nearest bus station and 900 metres away from Kos city centre. Leonidas Hotel and Studios is the most popular 2-star hotel on Kos Island and was fully-renovated in October 2007. Our hotel combines the benefits of a quiet location and the convenience of reaching the much-frequented roads and squares of the island in just a few minutes. We offer a very warm and friendly atmosphere that quickly makes you feel at home. Between swims or sightseeing tours, you can entertain yourselves at the bar and enjoy delicious fruit cocktails. A rich buffet breakfast is served every morning from 08:00 until 09:30 in the breakfast room. Wireless internet is available in public areas and is free of charge.Wired internet is available in public areas and costs EUR 3.00 per hour.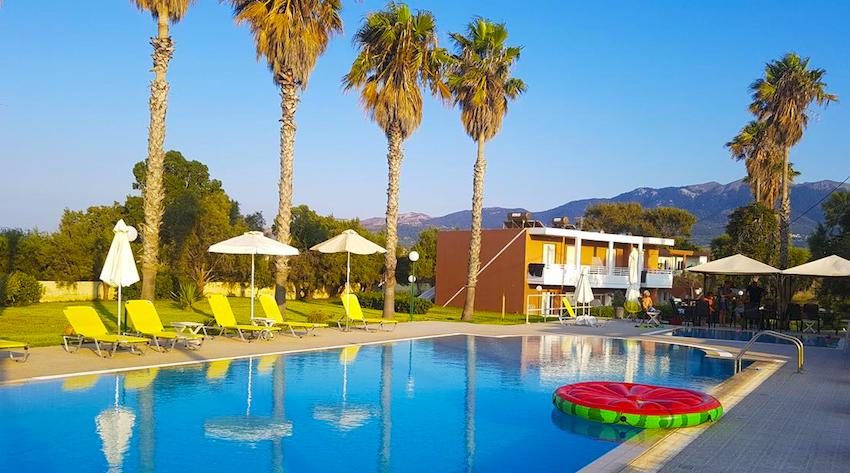 For over 15 years, Jonathan Apartments have welcomed guests to a beautiful environment, offering you relaxation right next to the beach of Tigaki, on the unique island of Kos. Ideally situated, we make a fine base from which to explore the rest of the island. The apartments are only 35 metres from the beach. Tigaki is the first seaside village you will meet when leaving the town of Kos. There you will find several beaches with crystal blue waters and warm white sand. In the centre of Tigaki, there are also bars, restaurants and supermarkets. Tigaki itself offers a great location, 10 minutes by car from the centre of Kos, 15 minutes from the airport and 10 minutes from the port.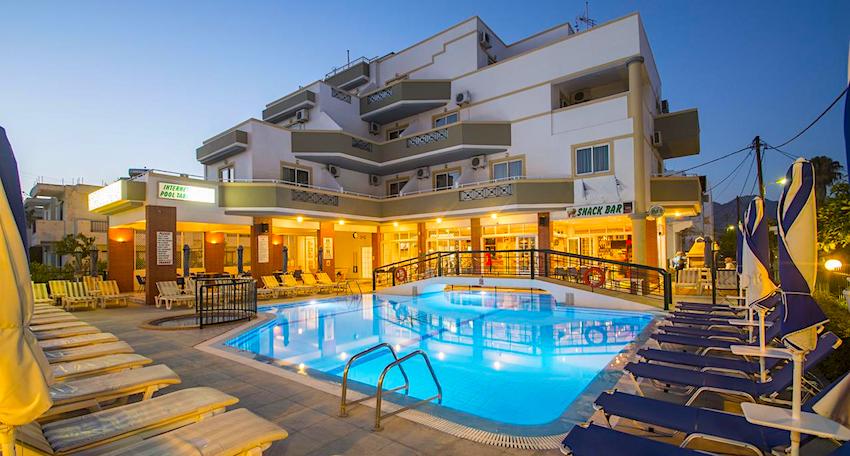 In the lively Kardamena of Kos Island, just 92 m from the beach, Agrellis Apartments features a pool with terrace and a snack bar. It offers a game room and accommodations with a balcony. Enjoying views of the Aegean Sea, the pool or the mountain, the studios and apartments of Agrellis have tile floors and wood furnishings. Each has a kitchenette with dining area and a private bathroom stocked with free toiletries. A fridge, stove and a telephone are available. A continental and an English style breakfast are served daily at the dining area. Guests can also enjoy a coffee, a drink and a cold snack at the snack bar by the pool. A variety of restaurants, bars and shops can be found within 519 m from the property.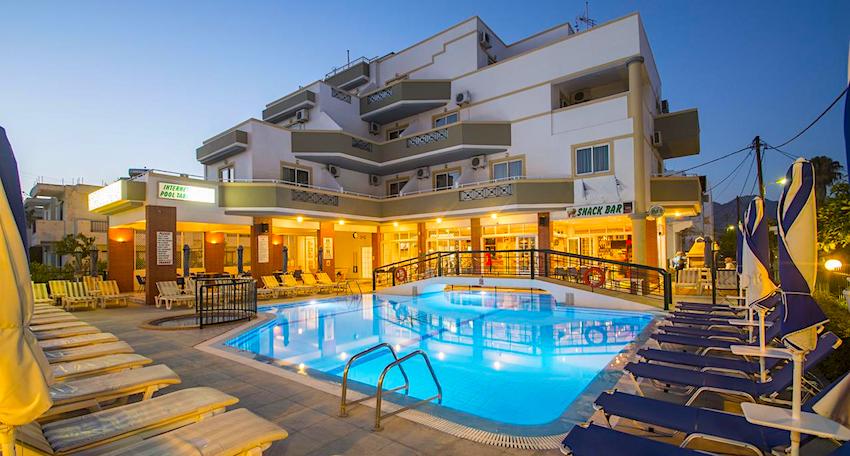 In lively Kardamena, just 92 m from the beach, Agrellis Apartments features a pool with terrace and a snack bar. It offers a game room and accommodations with a balcony. Enjoying views of the Aegean Sea, the pool or the mountain, the studios and apartments of Agrellis have tile floors and wood furnishings. Each has a kitchenette with dining area and a private bathroom stocked with free toiletries. A fridge, stove and a telephone are available. A continental and an English style breakfast are served daily at the dining area. Guests can also enjoy a coffee, a drink and a cold snack at the snack bar by the pool. A variety of restaurants, bars and shops can be found within 519 m from the property.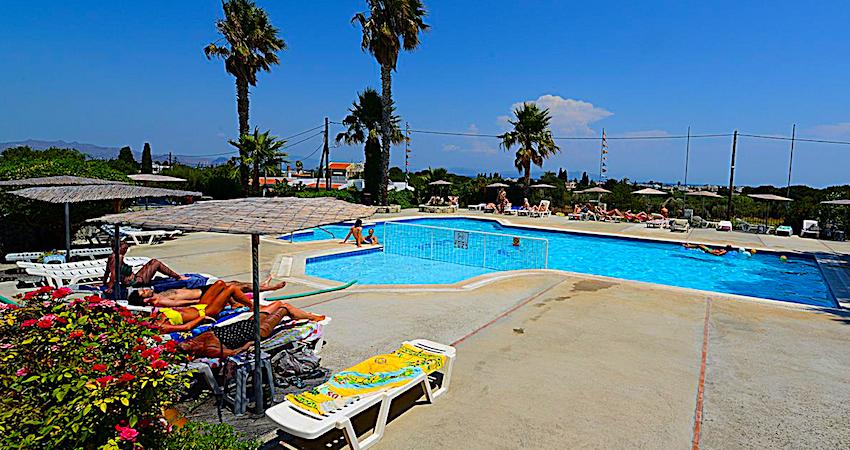 The family-run Gelli Apartments enjoy an elevated position with panoramic views over the Aegean Sea, Kos Town, local mountains and Turkey. A 15-minute walk will take you to Kos Town center. The main port is 18 minutes' walk away. Bright and airy, Gelli apartments open out to a balcony enjoying garden views. Each is fitted with an electric kettle, cooking hobs and mini fridge. All units come with a private bathroom with shower and hairdryer. Gelli guests are welcome to use the swimming pool and bar of the nearby Ampavris Family Apartments. Free on-site parking is also available. The seaside village of Tigaki is a 15-minute drive away from the complex. Kos Airport is within 14 mi.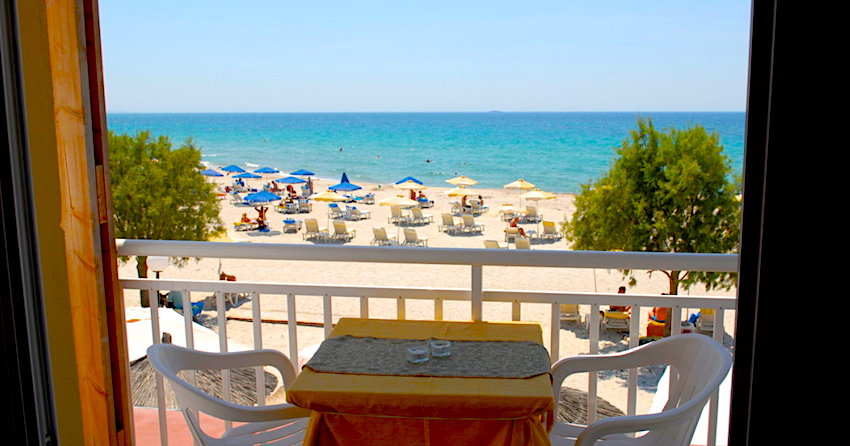 Occupying a prime beachfront location, the Panorama Studios is a small family-run complex overlooking the lovely sandy beach of Mastihari. The property consists of just 8 open-plan studios and accommodation. Each studio features a sleeping area with twin beds, an en-suite shower room, a kitchenette plus a balcony. The apartments are more spacious in size and feature separate sleeping and living areas. The Panorama Studios is located in the quiet fishing village of Mastihari. The pretty harbour is just a few minutes walk away and there are numerous tavernas and restaurants within the village. Wireless internet is available in the entire hotel and charges are applicable.
More Kos Information

You can find more hotels in Kos with, photos, descriptions and maps on Matt's Kos Hotel Search Page or Matt's Hotels of Greece Kos Page. You can also find find villas, apartments, self-catering, holiday homes and Air BnB style accommodations by using Matt's Holiday Home Search. If you can't find availability in these or any hotels try using Matt's Create-an-itinerary form and an agent will assist you.

Visit these other popular Matt Barrett's Greece Travel Guides pages....
Matt Barrett's Greece Travel Guide Index:www.greecetravel.com
A Greek Island Synopsis: www.greektravel.com/greekislands
Athens Survival Guide: www.athensguide.com
Lesvos: More Than Just Another Greek Island: www.lesvos.com
Matt's Greece Suggestions Page: www.greektravel.com/suggestions
Hotels in Greece: www.greecetravel.com/hotels
Villas in Greece: www.greecetravel.com/villas
Turkey Guide: www.greecetravel.com/turkey
History of Greece: www.ahistoryofgreece.com
George the Famous Taxi Driver: www.greecetravel.com/taxi

Use Ferryhopper to find all direct and indirect ferry routes for the islands of Greece, Spain, Italy & Turkey, compare ferry companies & prices, and book cheap ferry tickets with no hidden fees in one go!