by Irene Baveas
When reading about Kythera, its usually about the Island of Love, or the Island of Celestial Aphrodite, the Goddess of Love. There are landmarks that continue the theme – Aphrodite's Pool, Aphrodite's Birthplace etc. There is also an ongoing dispute with Cyprus regarding Aphrodite's birthplace. Whilst both claim birthrights, Kytherians insist she rose from the foam of the sea surrounding Kythera, and subsequently travelled to Cyprus. They can argue it out, it makes for fun entertainment.
There is also the story of Barbarossa, the fearsome pirate who, according to legend, sacked the city of Paliochora, which now remains a spectacular, eerie and must see site. Kythera also hit the press in 2017, due to the devastating fires where sadly many olive crops were destroyed, and livelihoods lost. From this, one would think Kythera is nothing more than an island of love-struck Kytherians, looking for love amongst their burnt olive groves.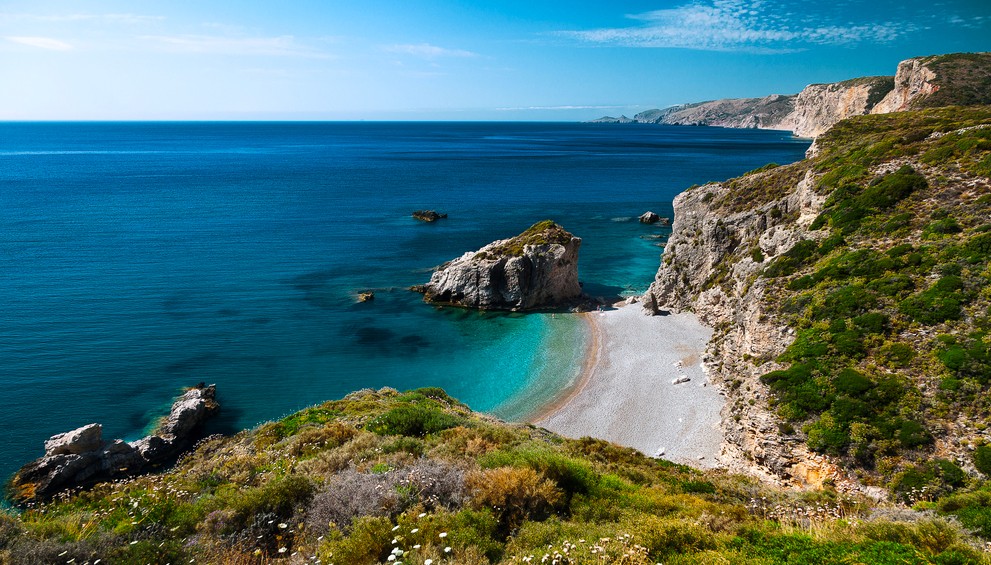 In my mind, Kythera is like a magnet. It draws people back year after year. So, what makes it so great? There is a raw and untamed beauty about the island. It sits alone at the bottom of the mainland, with mighty Crete as its neighbour. It is not on any tourist route that can be included in an island-hopping itinerary. It is definitely a destination.
Kythera gets battered by winds from 3 seas, the Ionian, Aegean and the Cretan Sea, yet it maintains an integrity that can't be matched by its more famous and much larger counterpart. This weather, and past volcanic activity have created the most dramatic coastline, with some very beautiful, rugged and isolated beaches. These beaches are dotted all around the island. They now have roads, (not all bitumen). As the wind is such a factor, if it is blowing on one side, everyone heads to the beaches on the other. Any kafenion in any village will supply the current weather report to passers-by, so finding the correct beach on any day, is not a problem.
There are approx. 65 villages on the island, some populated, and some with just a few homes. The population is around 2,500 permanent residents swelling in the summer to over 20,000, when the diaspora from Australia, USA and Athens return for their holidays. The main town is Chora, with its Venetian fortress, looking majestically down on the double bay of Kapsali. This is the busy end of the island, with many beach-side restaurants and accommodation. At the other end is Agia Pelagia, another populated village which boasts 80% of the holiday accommodation of the island. Then, there are the in-betweens. Lots and lots of beautiful villages and beaches.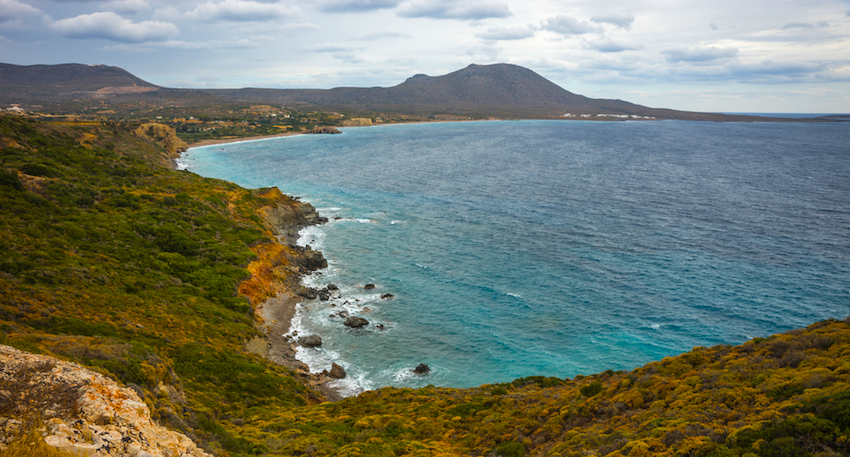 Kythera is a unique and beautiful island with a wildness that appeals to the adventurous who appreciate it being so far off the beaten path. Being part of the Ionian Islands chain it was ruled by the Venetians and later by the British. It's administered by Attika, like the Saronic Islands. But the architecture will remind you have the Cyclades with whitewashed houses and a mix of flat and ceramic tile roofs. Being a poor island most of its inhabitants left for Athens and Australia though some of returned to open businesses like hotels and restaurants and many return in the summer when the most common languages you will hear are Greek and English with an Australian accent. Because of that to find a room for the months of July and August may take some effort and you will probably want to start looking early.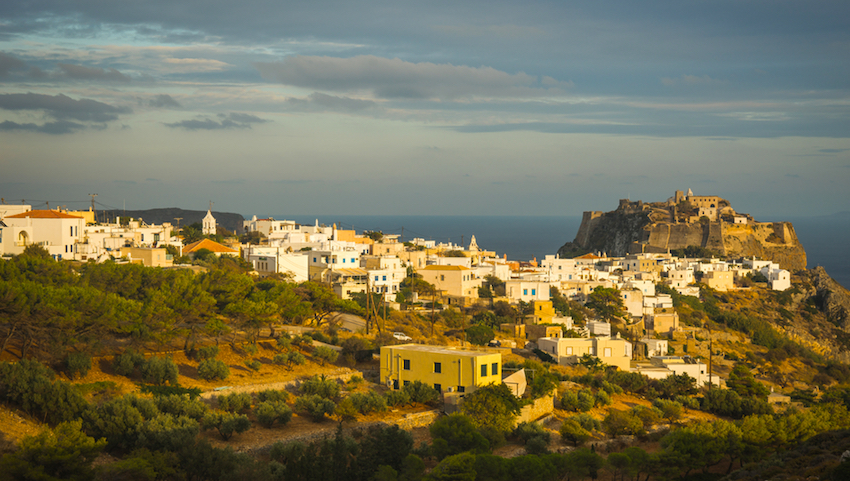 Hora, (which means town or in most cases the main village of an island), also called Kithera, is a beautiful inland village of whitewashed houses and a 16th century Venetian Castle. There is also an archaeological museum, cafes, restaurants, shops and everything you would expect to find in a capital of a small island. Much of the island's architecture is influenced by the Venetians and you will find evidence of their over-lording (or occupation) wherever you look. The fortress also contains several important historical churches: Panagia Myrtidiotissa, Agios Ioannis, Pantokrator and Panagia Orfani. The popular Kapsali Beach is below the town and visible from the fortress. There are also many different styles of accommodation in Hora. See Hotels in Hora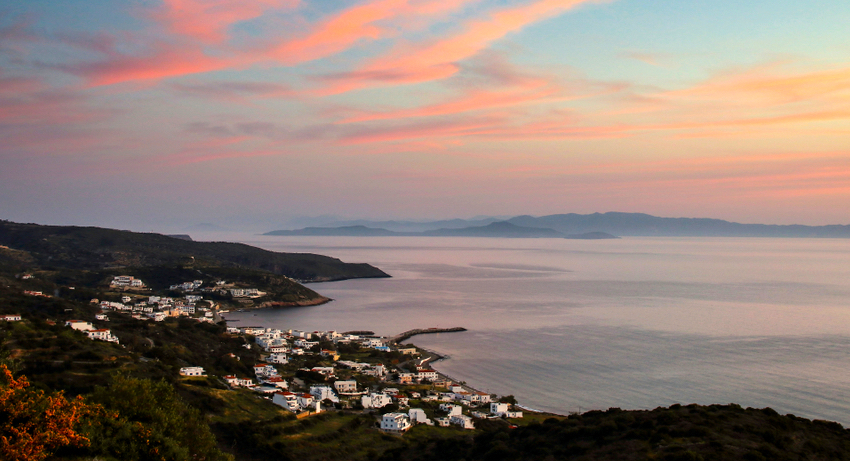 The Seaside town of Agia Pelagia is the most popular holiday spot if that is what you are looking for. There are several beaches within walking distance. There are also souvenir shops, restaurants and lots of hotels, villas, resorts and holiday homes available. See Agia Pelagia Hotels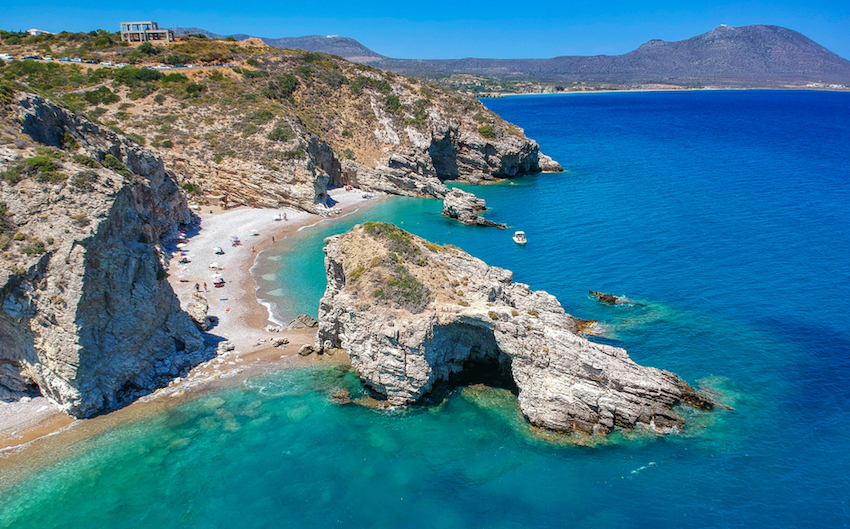 Kaladi Beach is probably the most photographed beach on the island and is actually three beaches which you reach by dirt road and then going down a number of steps. There are no tourist amenities here so bring water, lunch or whatever.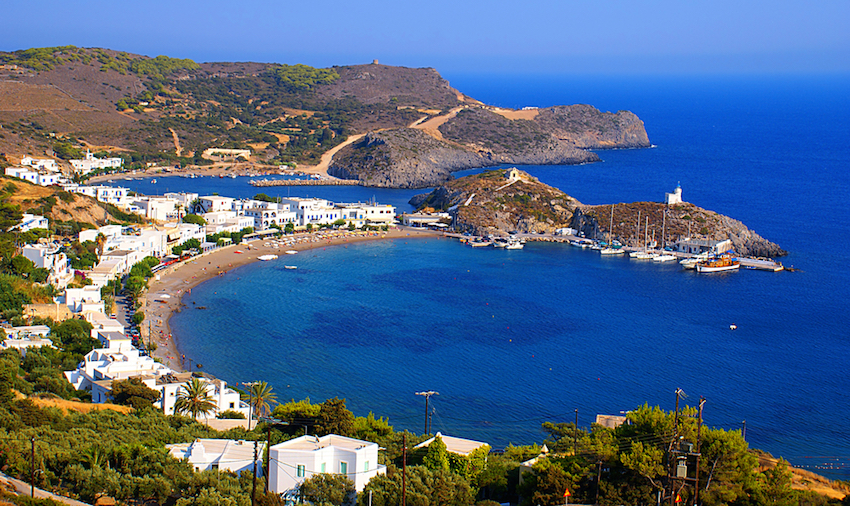 Kapsali is a small coastal town and organized beach below Hora with shops, cafes and restaurants. See Kapsali Hotels.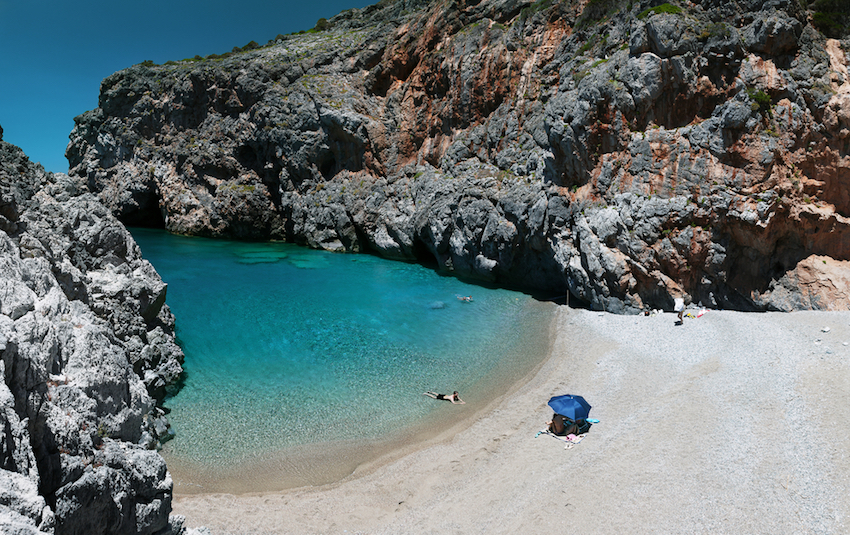 Kalami Beach is near Milopotamos and not easy to get to. But if you are young and in good shape or have a small boat you may find the deserted beach you have always wanted to yourself.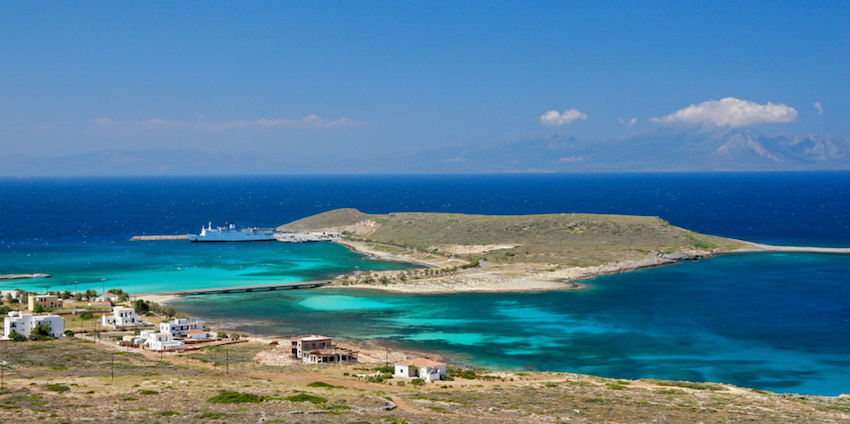 Diakofti is the port for Kithera and has a shallow beach close to the harbor known for it's beautiful turquoise color and beaing shaltered and safe for children. There is also some dramatic scenery, in particular the wreck of the cargo ship Nordland whose bow protrudes from the sea where it has sunk. There are lots of restaurants and hotels, villas and apartments nearby. See Diakofti Hotels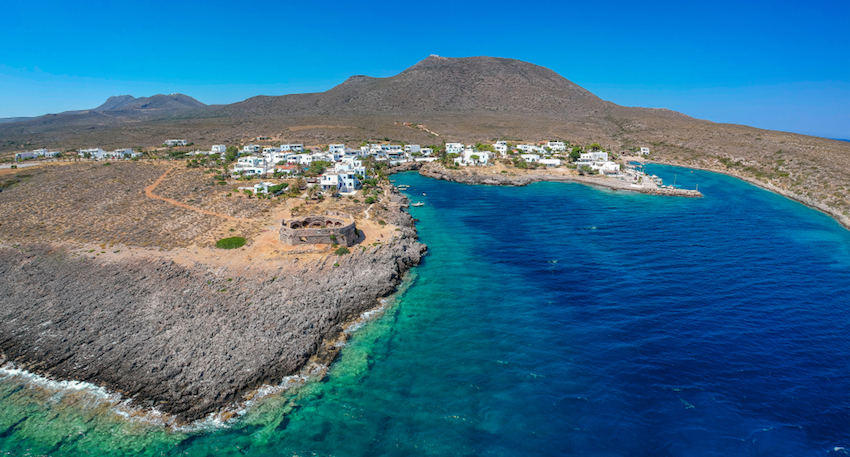 Avlemonas is an attractive village in the eastern part of the island with hotels, restaurants, cafes and shops, and a Venetian fortress. There is a small beach but most of the swimming is off the rocks on stone platforms, like in Hydra. See Hotels in Avlemonas.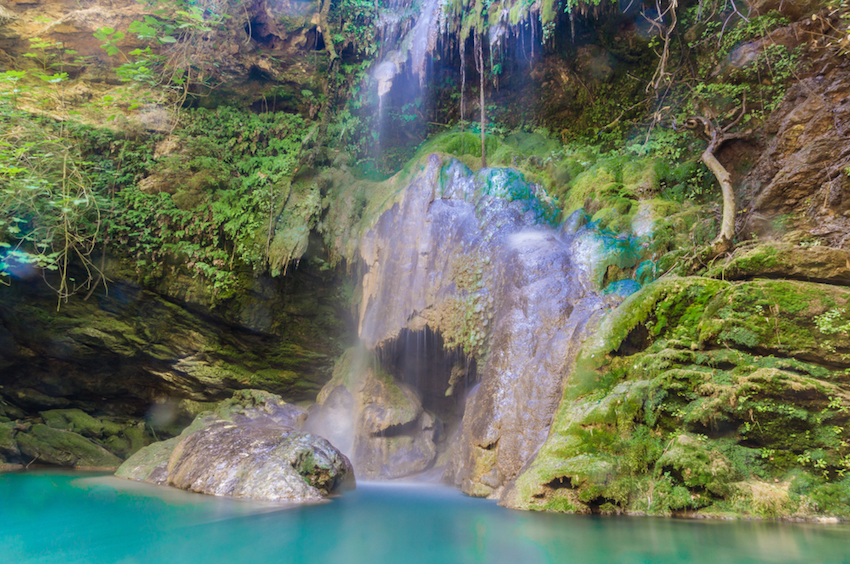 The historic village of Milopotamos has a waterfall flowing down a ravine. You could be mistaken thinking you are in the tropics in this lush environment. The village has a small lake or pond in the center of it with ducks. A local has beautifully restored one of the several watermills found along this valley leading to the sea, and is more than happy to show anyone the mechanisms of times gone by. Further down, the Cave of Agia Sophia, where a church alter from about the 13th century, is actually within the spectacular cave. You can also do a 30 minute guided tour of the cave though you probably need to plan this in advance with one of the guides in Milopotamos.
To make it more confusing there is another cave also with a church dedicated to Agia Sofia at the end of a small gorge near the village of Spilies.
Hiking has become an extremely popular activity on the island, with Kythera being listed on the World Trails Network.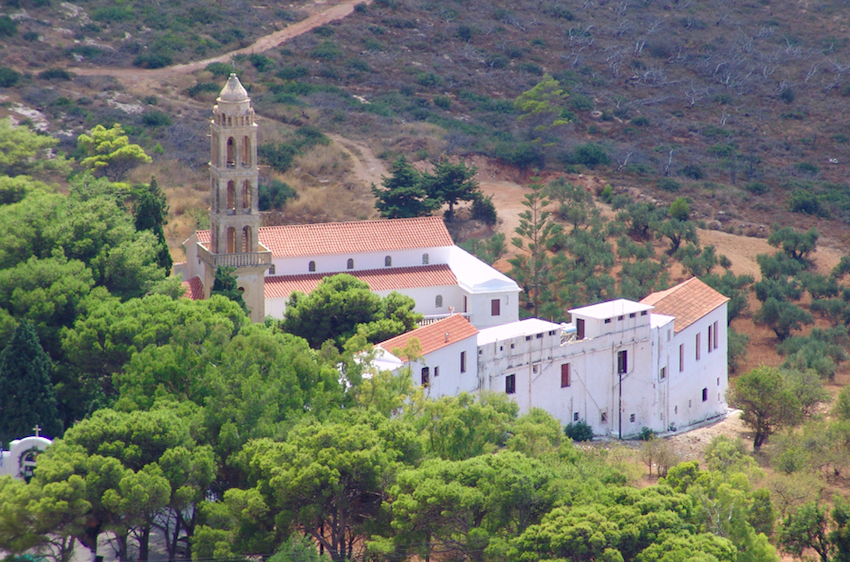 The island boasts many churches, chapels and monasteries. The most important being the Monastery of Mirtidiotissa. A spectacular monastery sitting in a valley next to the sea. Viewing it from above, one can't help but feel that it is a truly sacred place, whether you are religious or not. The Venetians and the British have all occupied the island, and their stamp is evident. The lion of St. Marc sits above the entrance to the fortress in Kato Hora, while the countryside is dotted with schools and bridges built by the English during their time here.
Paliohora is the deserted medieval capital of the island and is similar to the Byzantine city of Mystra near Sparta. Formerly called Agios Dimitrios it was built in the 13th Century by the Byzantines and destroyed in 1537 by the Turkish pirate Barbarossa, who killed or enslaved all its inhabitants. It is near the village of Potamos.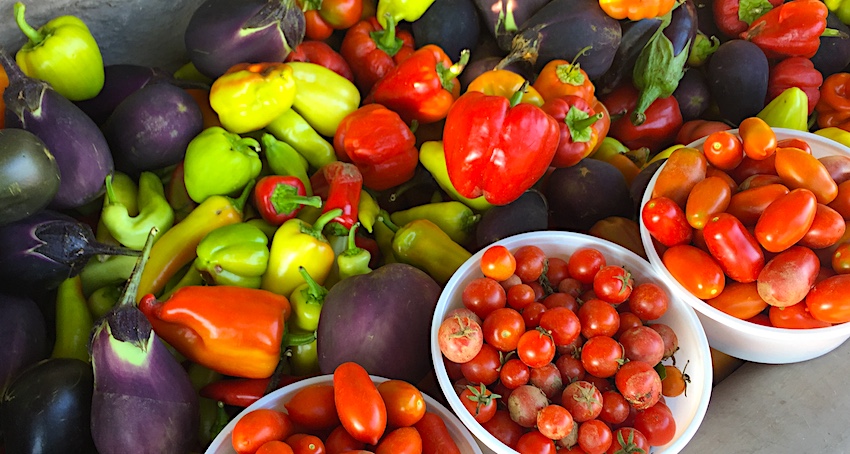 Food
Food plays a massive part of Greek culture, and Kythera is right up there in the food stakes. Some of the best food I have had in Greece has been right here on the island. It is truly a paddock to plate situation. Since the crisis, many people have returned to growing their own produce. This includes many shop owners, who venture out to their gardens as a first step to their daily preparation. Kythera is known for its beautiful thyme honey. A beautiful nectar with all the richness of the local wild thyme. Not to be missed are the sweet "diples". A fried lace like pastry, normally made for special occasions, but now so popular, local sweet shops make them daily. As for the local olive oil, it is one of the best.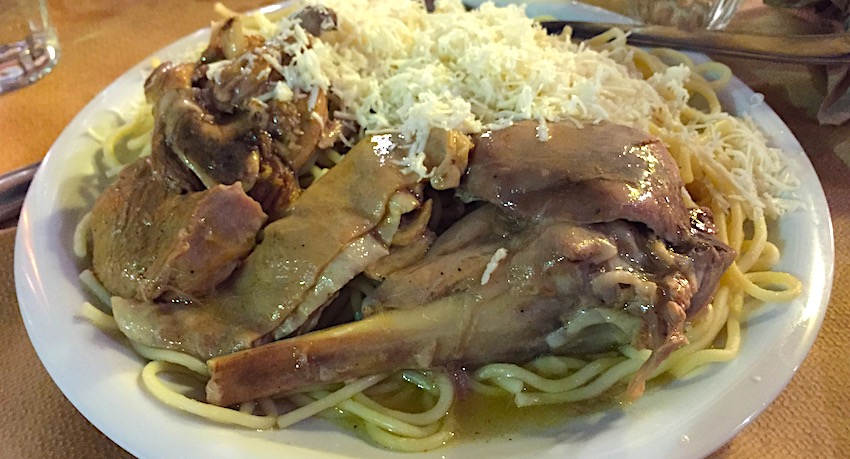 Restaurants
The Platanos - Milopotamos. Traditional home cooked meals, cooked by the wonderful Katina, mother of the owner. The food, price and setting in the village square is superb.
Pierros - Livadi- Traditional Greek food, as cooked by the owners parents. Manoli has maintained the old school look, and is happy to take customers into the kitchen to show them the fresh food on order.
Trattamento - Kapsali Newer restaurant in Kapsali. Family food, great setting by the water, and live music during the summer.
O Magos - Kapsali One of the first established restaurants in Kapsali. Specializing in seafood, Andoni the owner has been serving to locals for years.
Souvlike - Aroniadika. Best pita wraps in town. Specialises in just grills and wraps. The kind of side of the road place for a quick bight on the way back from the beach. Fresh and so well priced.
Mpotzio - Avlemona. One of the most picturesque settings on the island in the lovely village of Avlemona. Fresh food with most ingredients from the owner's garden.
Travel Information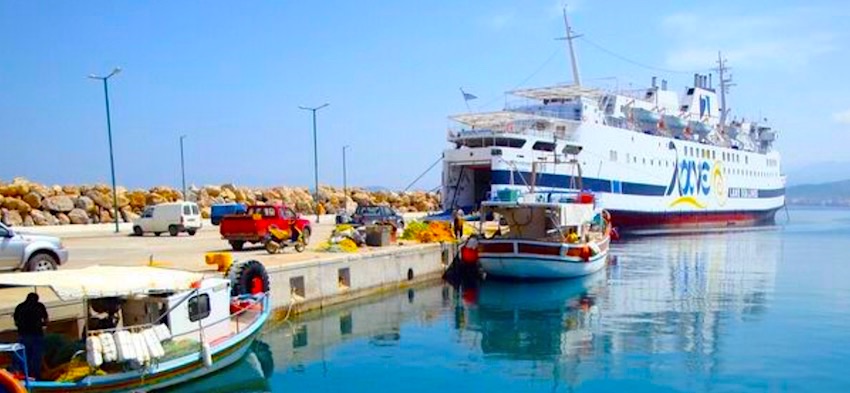 Getting to Kythera is via boat (from Piraeus), Air, and ferry from Neapolis on the mainland.
The ferry from Pireaus goes 2 times a week to Diakofto on its way to Kissamos, Crete and back. There is a daily boat from Neapolis and sometimes a ferry to and from Githeon that is less frequent. You can find ferry schedules at Ferryhopper.com
Both Aegean and Sky Express service the air travel to the island with flights almost daily.
A car is essential on the island, so most people who come from Athens choose to come by ferry either from Pireaus or doing the drive to Neapolis. You can rent a car from Swift Car Rental in Athens who will even drive you out of the city. Car hire is also available on the island which Swift can also arrange for you.
Lastly the people. Kytherians love Kythera. They have been through fires, droughts, and loss of boat connection to the mainland. Yet they remain firm in their love and loyalty for their homeland. It is evident in their open display of 'filoxenia' (welcoming strangers) showed to all coming to this beautiful island. It truly has a magnet like quality.
Hotels in Kithera
Accommodation caters to all tastes and budgets. From isolated luxury resorts, retreats, hotels, Airbnb, to low cost camping grounds. All are available at seasonal prices though if you plan to come in the summer months you should probably book well in advance. Here are a few suggested hotels and other properties. You can find more hotels, houses, apartments, holiday homes and self-catering accommodations by using Matt's Booking.com's Kithera Hotel Search.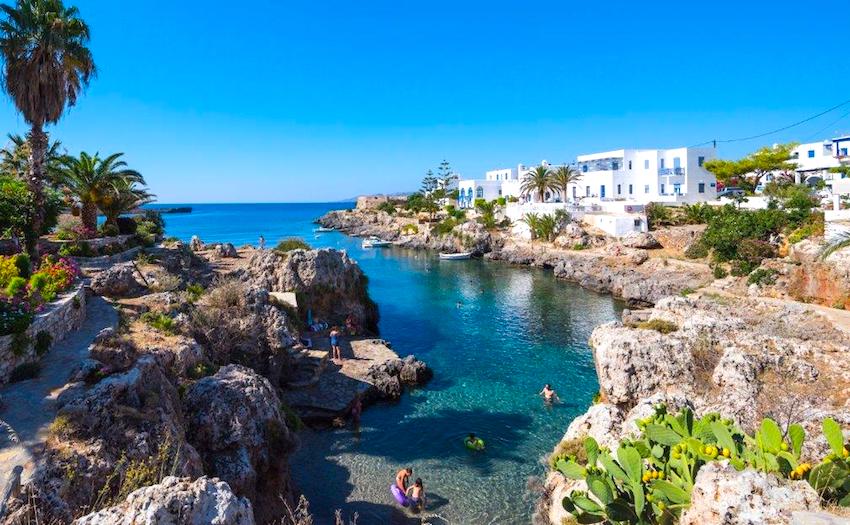 Avlemonas Bay Sea Houses
Located in the picturesque bay of Avlemonas, this property consists of 2 buildings. The 1st building is facing Avlemonas Bay and offers 3 sea-view apartments. The 2nd property is facing Paleopoli Bay and offers 4 sea-view studios Each air-conditioned, traditionally decorated room opens out to a spacious balcony or terrace with views of the sea. In-room facilities include a TV, safe and air conditioning. A private bathroom with either bathtub or shower is standard. Within walking distance, guests can find seaside cafes and restaurants. For photos, guest reviews and booking information click here.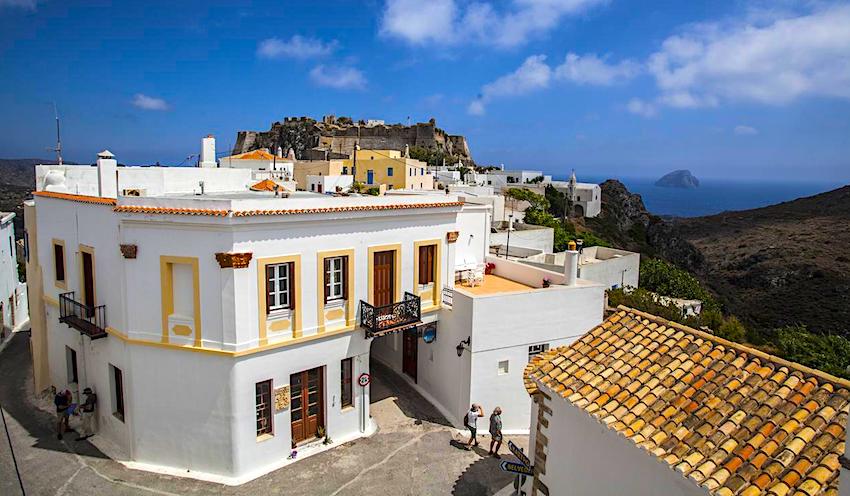 Nostos Guest House
Nostos is a 19th-century listed building situated in the centre of the main town in Kythira, near the Venetian Castle. It offers a traditional café and rooms with handpicked antique furnishings. The air-conditioned accommodation in Nostos Guesthouse includes traditional features, such as dark-wood furniture, 4-poster iron beds and wooden floors. Each room comes with an LCD satellite TV, a hairdryer and a safe. More facilities include a fridge, free WiFi and phone. Some rooms also enjoy sea views from their balcony. Homemade breakfast with local delicacies is served daily in the warm setting of the café. Drinks and coffees are also served throughout the day. For photos, guest reviews and booking information click here.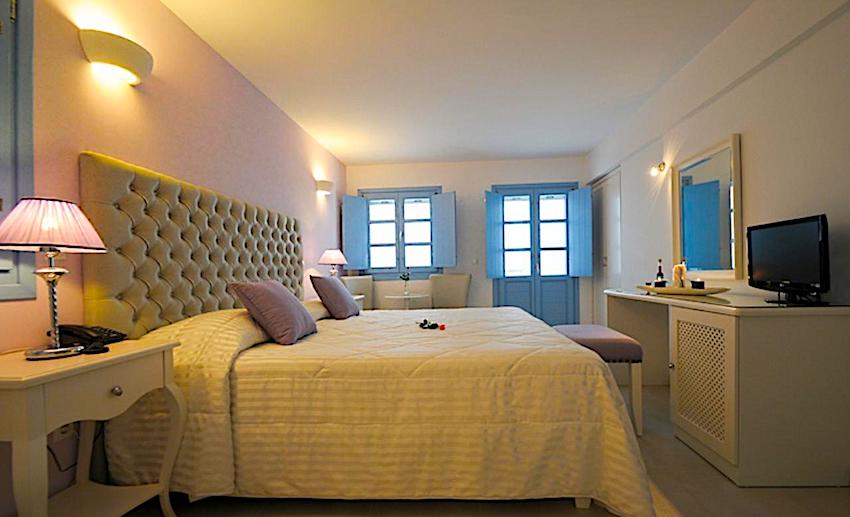 Kythira Golden Resort
The 4-star Kythira Golden Resort is just 200 m from Diakofti Beach. It boasts an outdoor pool, snack bar, fitness room and free Wi-Fi access. The elegant rooms enjoy unlimited sea views. Decorated with soft pastel colours and handmade furnishings, each guestroom features a safe, minibar and flat-screen TV with a DVD/CD player. The modern bathroom includes free toiletries, bathrobes, slippers and a hairdryer. Some units are split level, while most have a balcony. Guests can start their day with a buffet breakfast served in the dining area. The hotel bar offers various coffees and beverages that can be enjoyed in the lounge area. For photos, guest reviews and booking information click here.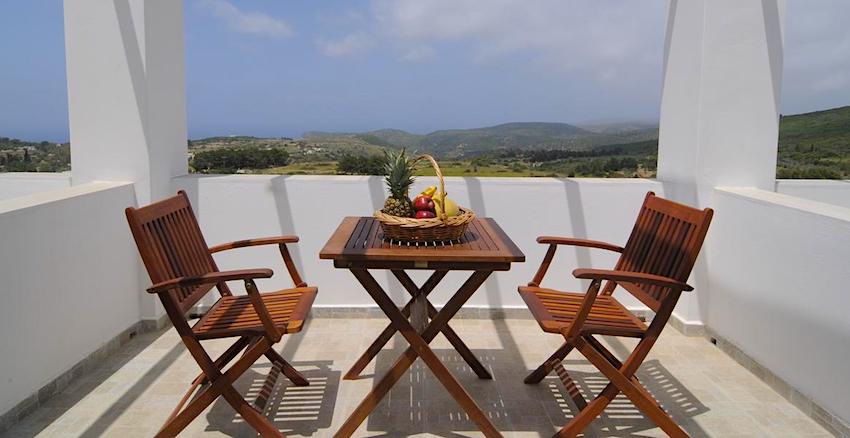 Athena Hotel
Athena Hotel is a luxurious new hotel with stunning views of the sunset and the green of the surrounding hills from its rooms, lounge and dining room. It is located in Mylopotamos, in Kythira. The spacious rooms are furnished with exclusive furniture, have a private balcony, comfortable beds, air conditioning, satellite TV, hairdryer, minibar and free wireless internet. Guests can enjoy breakfast buffet at the dining room, or ask to be served on their private balcony. Snacks, drinks, coffee, sweets, ice cream, and delicious local dishes are available later in the day. For photos, guest reviews and booking information click here.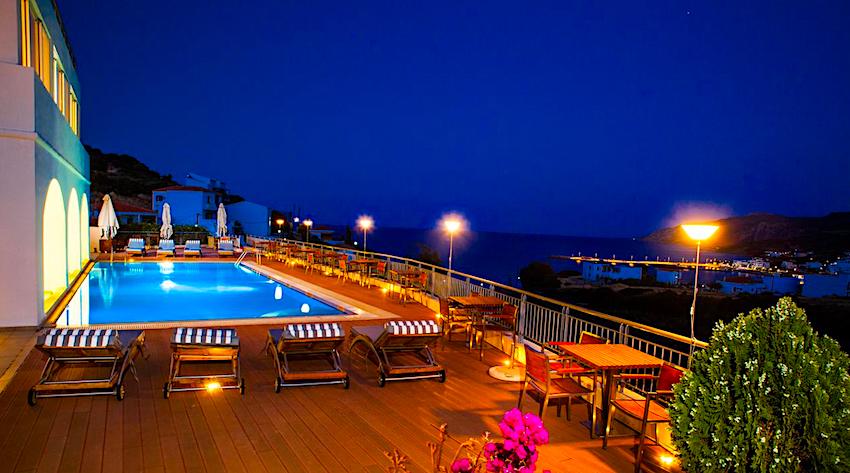 Kythea Resort
Boasting an outdoor pool and a restaurant, Kythea Resort is located in Agia Pelagia village of Kythira. It offers tastefully appointed rooms and free WiFi in all areas. Decorated with earthy tones, all air-conditioned rooms at Kythea Resort are fitted with modern furnishings. Opening out to a balcony, each unit overlooks the Aegean Sea. A flat-screen TV and a minibar are also available. Featuring a bath or shower, the private bathroom also comes with a hairdryer and bathrobes. For photos, guest reviews and booking information click here.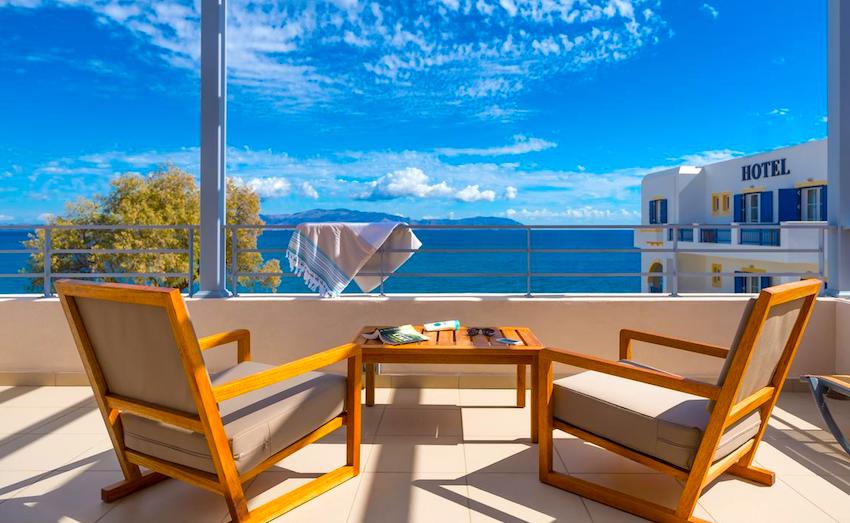 Pelagia Aphrodite Hotel
On the seafront of Agia Pelagia village just 50 m from Firi Ammos Beach, this hotel offers free Wi-Fi. Rooms have a furnished balcony and panoramic views of the Aegean Sea. Rooms at Pelagia Aphrodite Hotel are airy with lots of sunlight and tiled floors. Each is equipped with air conditioning and a fridge. All rooms include a TV and radio. The bar serves drinks and coffee all day. Breakfast is optional and in the summer months it is served outdoors with views of Cape Malia. The centre of the village is within a 5-minute walk from the Pelagia Aphrodite and has restaurants, shops and bars. For photos, guest reviews and booking information click here.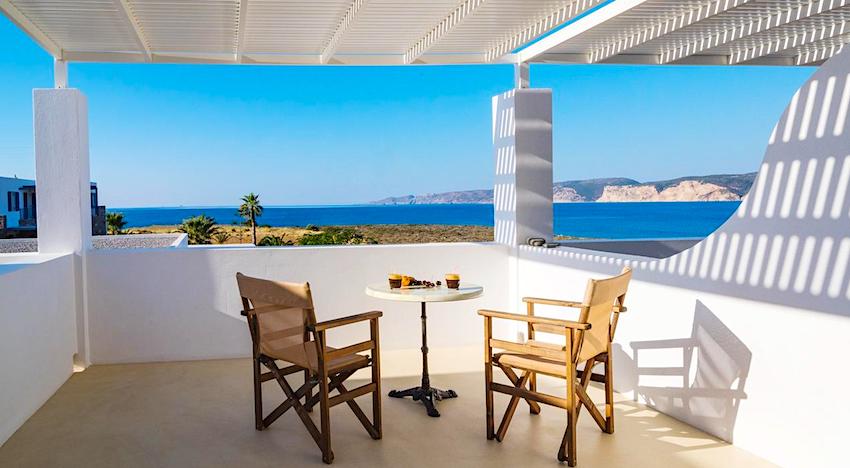 Anemes
Just 300 m from Paleopolis Beach in Avlemonas, Anemes is a whitewashed building featuring self-catered rooms with a veranda overlooking the Aegean Sea, Kythira's landscape and the garden. Free WiFi access is offered. Rooms at the hotel Anemes feature romantic décor with dark wood furniture, mosquito nets and stone-paved floors. Each room includes air conditioning and a TV. All units have a kitchenette with a fridge, cooking hobs and a dining area. For photos, guest reviews and booking information click here.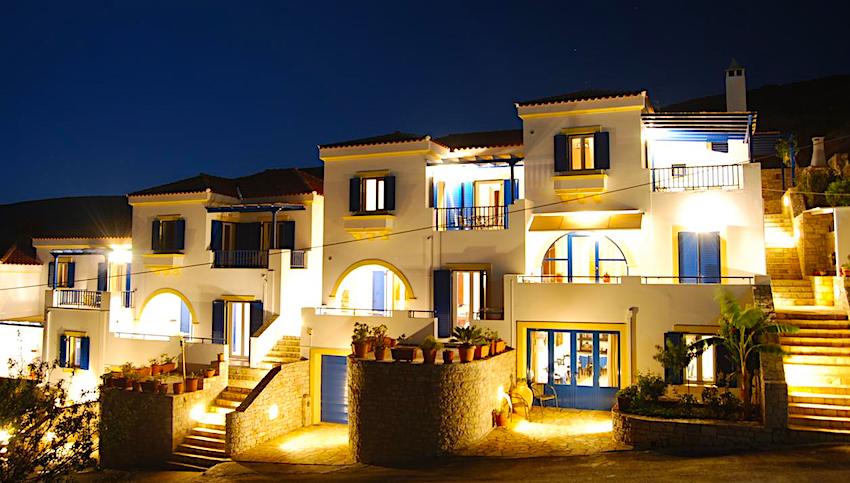 Stella's Houses
Located in Agia Pelagia, Stella's Houses provides accommodation and free WiFi in Agia Pelagia Kythira. All units come with a seating area, a TV and a private bathroom with free toiletries and shower. All units also have a kitchenette equipped with a toaster. A buffet breakfast is served each morning at the property. Guests can relax in the garden at the property. For photos, guest reviews and booking information click here.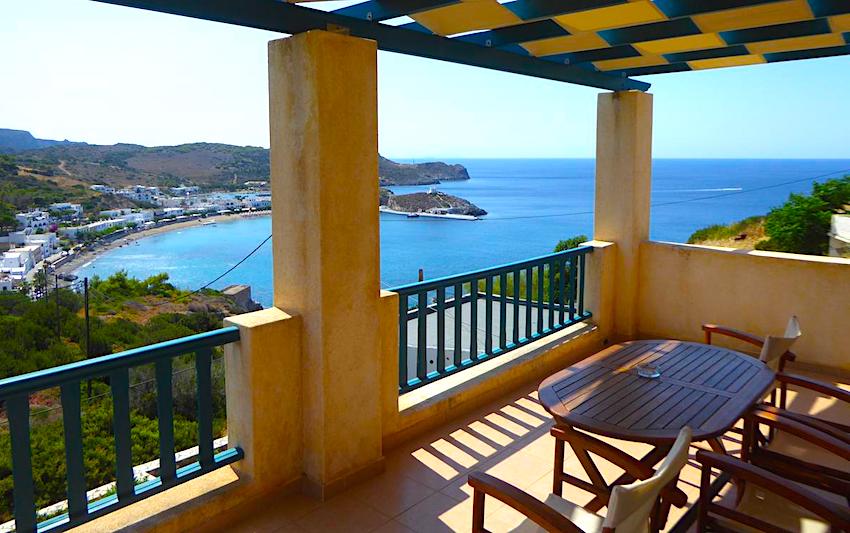 Aronis Studios
Situated in Kapsálion, ARONIS Studios features accommodation with free WiFi, air conditioning and access to a garden with a terrace. The apartment offers a seating area with a TV and a private bathroom with a hairdryer, free toiletries and shower. A fridge and stovetop are also available, as well as a kettle and a coffee machine. Kapsali Beach is less than 1 km from ARONIS Studios. For photos, guest reviews and booking information click here.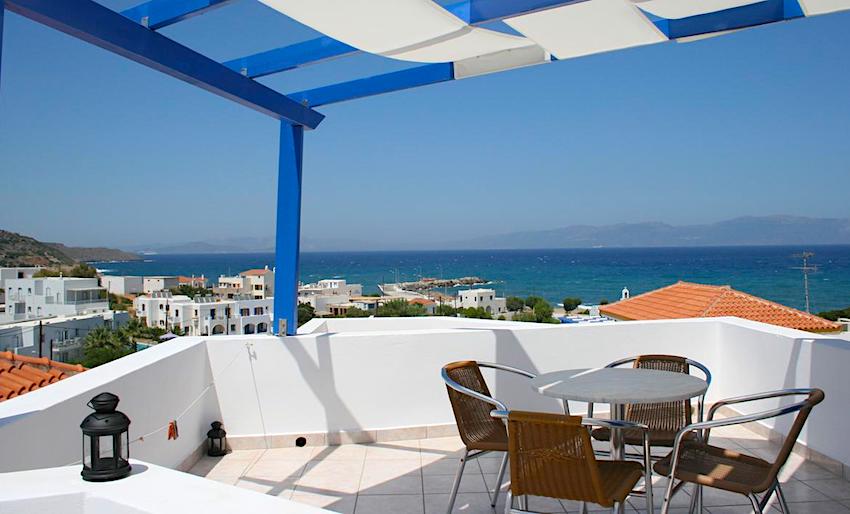 Venardos Hotel
Overlooking the picturesque bay of Agia Pelagia, Venardos Hotel offers air-conditioned rooms with balcony and free Wi-Fi access. It includes a swimming pool, an indoor hot tub and a sauna. Venardos rooms and suites are spacious and feature dark-wood furnishings. They are fitted with a TV, a fridge and a safe. A private bathroom equipped with hairdryer is standard. Free sun beds and umbrellas are available at the pool area, where guests can also enjoy a refreshing drink from the bar. Venardos also includes a fully equipped fitness room for those who wish to stay fit during vacation. Within walking distance of the hotel, Agia Pelagia beach offers water sports facilities. For photos, guest reviews and booking information click here.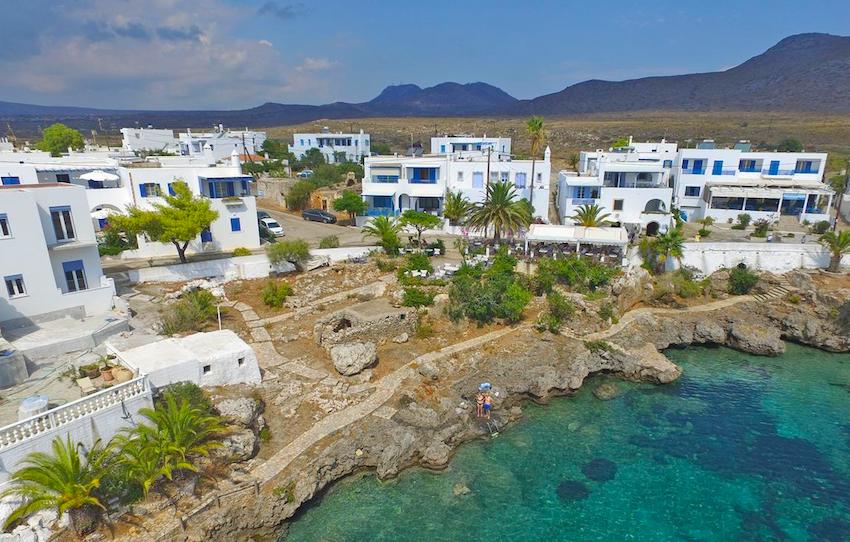 Manti Rooms II
Manti Rooms II features air-conditioned guest accommodation in Avlemonas, 400 m from Loutro tis Afroditis, 3.8 km from Firi Ammos Beach and a few steps from Avlemonas Port. The units feature a private bathroom, a flat-screen TV, free WiFi, desk, a living room, an equipped kitchen, balcony and views over the sea. A fridge is also provided, as well as a kettle and a coffee machine. The apartment provides a terrace. The Venetian Castle is 100 m from Manti Rooms II, while the Fortress of Avlemonas is 100 m away. For photos, guest reviews and booking information click here.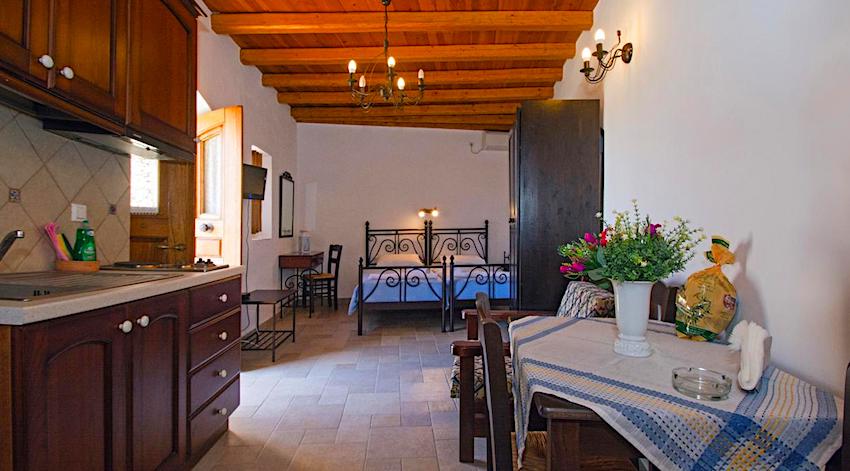 Κapetan Manolis
Κapetan Manolis rooms to let are located at the Byzantine settlement of Kato Chora Mylopotamou , next to the Venetian school and the Castle (14th century). The facilities includes four traditional , stone built and independent apartments recently renovated . All apartments are fully equipped with free wi-fi , air-conditioning system , television , refrigerator , electric stove and kitchenware . On tha yard of our complex you can enjoy the breakfast, the local products and the seasonal fruits that we offer, staring the view of the sea. The sunset is also an experience that you will never forget. For photos, guest reviews and booking information click here.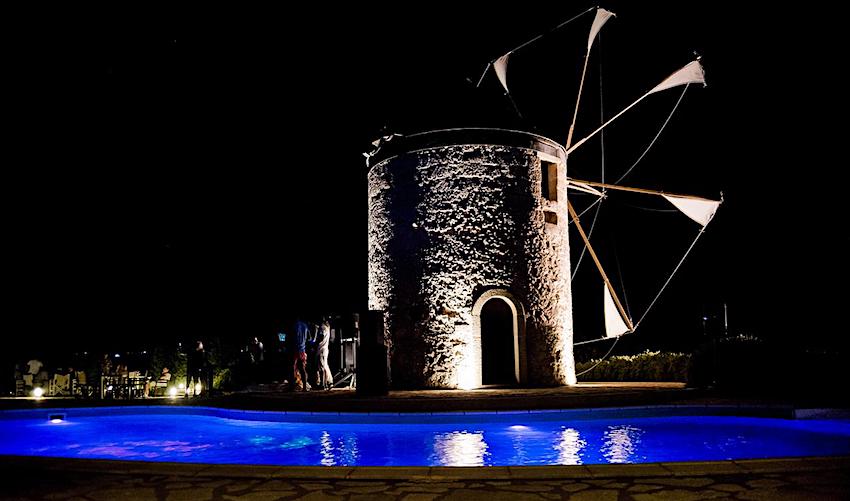 Windmill Resort
Featuring free WiFi, an outdoor pool and a terrace, Windmill offers pet-friendly accommodation in Mitáta. Guests can enjoy the on-site bar. Free private parking is available on site. The hotel features a terrace and views of the garden. Each room is equipped with a TV. All rooms include a private bathroom. Guests can enjoy a drink at the bar. You will find room service at the property. The hotel also offers free use of bicycles. For photos, guest reviews and booking information click here.
You can find more hotels, houses, apartments, holiday homes and self-catering accommodations by using Matt's Booking.com's Kithera Hotel Search and on Matt's Hotels of Greece Kithira Page.