This page will give you some information about when to go to Greece, Eating, Internet, Cell Phones, Travel Agents and some other practical stuff. The best source for more detailed information is my Athens Survival Guide and the individual Greek island and mainland guides which can be accessed from my Greek Island Synopsis or the main index at www.greecetravel.com. If you have somehow stumbled on this page on your own you should click on the link to Introduction below which will take you back to the beginning of my Greek Travel webpage. If you are totally lost and just looking for a hotel visit Matt's Hotels of Greece.

If you like using my site please share it with your friends on Facebook or whatever social media you are currently addicted to.

General Info
The Best Season for Travel to Greece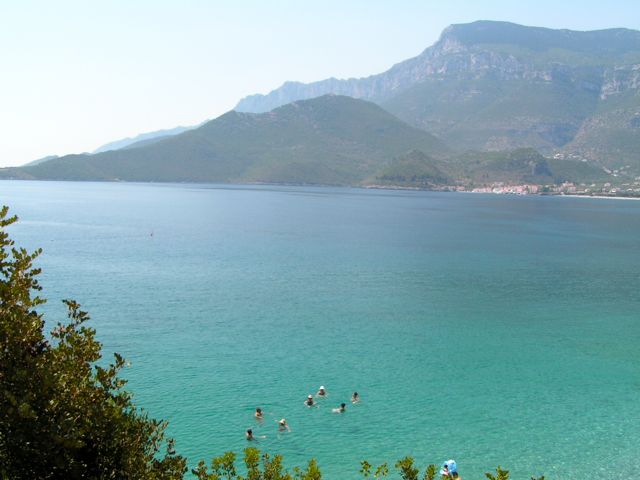 July and August are great if you are prepared. It's more crowded and rooms are harder to find but the island nightlife is jumping and the beaches are lively. If you are of college age or mind this is the time for you since this is when all the students who are lucky enough to not have to work are traveling. If you are older bring plenty of sunscreen and alka-seltzer. In August all of Athens is on vacation and locals head for the islands and villages so book rooms and ferries well in advance. Be aware August 15th is the biggest holiday of the summer and the boats going to the islands before and coming back after that day are crowded and you will need to book in advance. But if you can't get to an island the 15th is a great time to be in Athens because everyone is gone. If you are planning to be in Greece in August don't wait until the last minute to book a room because you may not find one, not just on the popular islands but even on the lesser known islands.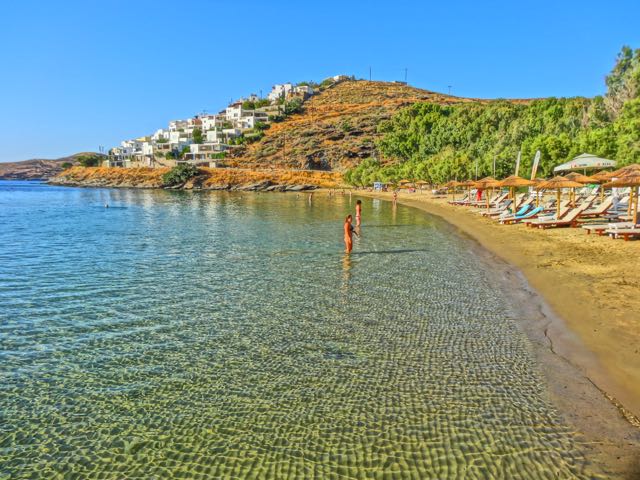 May-June and September-October are my favorite months. The weather is perfect and the college kids are in school so it's quieter. There is still some nightlife but the beaches are almost free of people on the less mainstream islands. You may get a day of rain but it adds a little excitement and usually it just looks like it is going to rain and doesn't and then the sun comes out again and everyone is happy. This is a time to go to the really popular Greek islands like Mykonos, Santorini, and Rhodes because most of the tourists are gone and they have gotten back to normal. Many people who live on these islands rent their houses out for July and August and come back in September. Hotels are less full and prices start to come down. Lesser known islands like Sifnos, Kea, Lesvos and even Paros and Naxos are much more enjoyable these months as well because everyone is more relaxed. It is also not as hot during these months.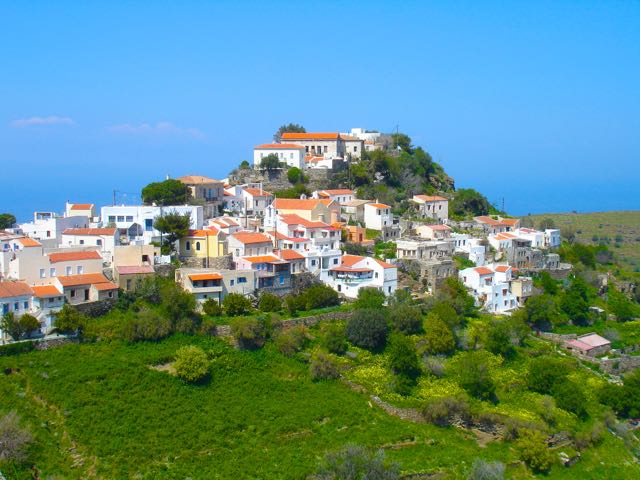 November to March can be cold and rainy but it can also be like Indian Summer, but usually it is something on between. However the weather is, it will probably be better than wherever you are coming from, especially if you are in the northern hemisphere. The more southern islands like Crete and Rhodes you may be able to swim, and in Nafplion and The Argolis where they grow oranges year round, you may have some of the most important archaeology sites to yourself. Athens comes alive during these months and there is nothing like a night out in the city. The ruins which are dry and dusty in the summer are covered with grass. Christmas and New Year's is one of my favorite times to be in Athens even if it may rain or snow and you can combine a trip to Delphi or Meteora with some skiing or snowboarding. I am always rewarded with at least a few days of glorious weather. Apokreas is Greece's Carnival Season and this is one of the best times to be in Athens. It is usually in February and can often coincide with the Alkyonis, a period of warm weather lasting two weeks or more when it is more like spring than winter. Easter (photo) is a very special time to be in Greece when people come out of their winter doldrums and celebrate the Resurrection of Christ and the end of lent with candle-lit ceremonies and lots of wine, lamb and kokoretsi. In the islands it is like high-season so book in advance because if you just show up you may not find a room.

You can find info on weather and what to pack in my Athens Guide Weather Page
New! See my new pages for Off-Season Travel in Greece
My Recommended Travel Agencies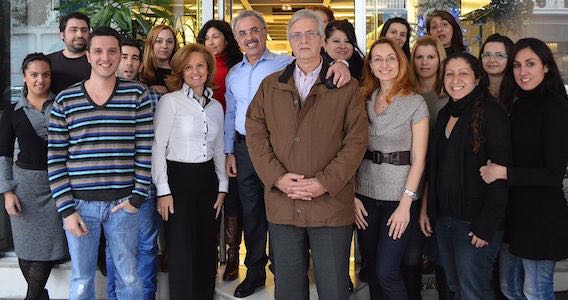 There are hundreds of travel agents in Greece who have websites and with a good webmaster anyone can have an impressive site that resonates with efficiency and professionalism. The trouble is not all agencies are as impressive as their websites. The other problem is that not all travel agencies with beautiful websites promoting Greece are even in Greece or are Greek. That means that they may not know much more about Greece than you do, (and if you have been using my websites you may know a lot more). In Greece where one missed ferry or overbooked hotel can cause a domino effect on the rest of your plans it is best to have a travel agent in Athens who know the business and can deal immediately with any unforeseen problems before you are even aware of them. In the 20 years I have been writing about Greece and working with travelers I have had the pleasure of working with the three best travel agencies. They are all full service agencies with the highest ratings on Tripadvisor, they speak fluent English as well as a dozen other languages, and they have the best rates for the best hotels in the best locations. (Many non-Greek travel agencies that advertise their unbeatable discounted rates don't even know the location, much less the quality of the hotels they book.) Fantasy Travel has spent the last 15 years putting together custom programs that include island-hopping, cruises and Athens and mainland tours including many that I have suggested. Dolphin Hellas Travel is one of the oldest and most respected travel agencies in Greece and their tours, packages and personal service have been time tested. Aegean Thesaurus Travel on the island of Sifnos are an efficient high-tech agency that can book any island and any itinerary a customer wants not matter how remote the island. You can go directly to the agencies websites by clicking on the above links or read more of what I have to say about them on my Athens Guide Greek Travel Agency page.
Eating in Greece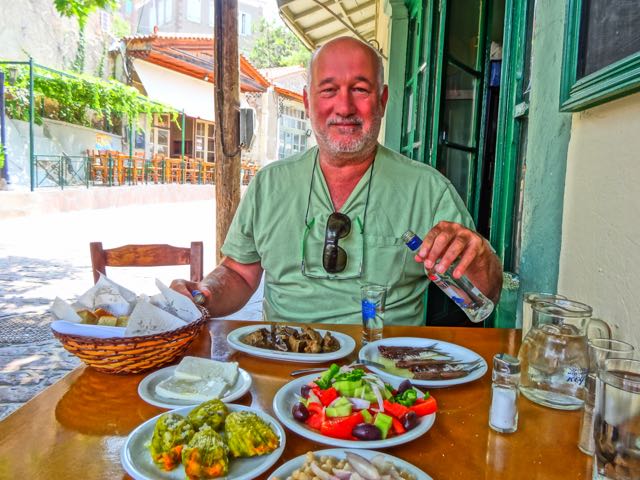 We all have to eat. After breathing and drinking water it is probably the most essential thing for keeping our bodies going while we are traveling. And it is best to eat healthy food because you want to feel your best while exploring a new country. The good news is that Greece has very healthy and very delicious food, and it may surprise you to know that Greek food is not spicy. Well, in some places it is, mostly in Northern Greece, but in the rest of the country the food is nicely seasoned and the ingredients are the same as you use in your kitchen, if you cook. The social life of most Greeks revolves around going out to restaurants and spending hours eating, drinking and conversing. There are fast food restaurants too, for those on the go, where you can eat a meal for under 5 euros and of course there is Souvlakia and Gyros which are to Greece as hamburgers are to Americans, only better. Read my Guide to Greek Food which will tell you all you need to know. Since you will probably be going to Athens see my Athens Restaurant Guide which you will probably want to print out. If you drink read my Greek Wine, Greek Beer and Ouzo pages.
Internet Cafes and Access in Greece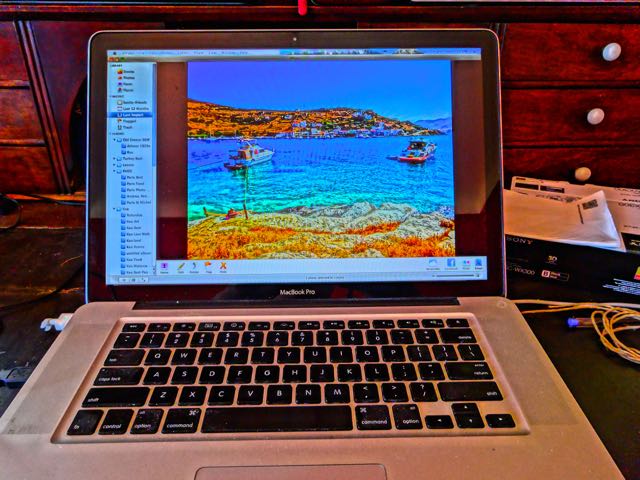 There are internet cafes in Athens, Mykonos, Santorini, Lesvos and even the most remote island now. Getting your e-mail is not a problem in Greece if you have an iphone or laptop because there are hot-spots all over too. Entire villages are wireless hotspots and so are some areas of Athens and the port of Pireaus.

The Hotel Attalos, where I usually stay was one of the first to provide free wireless as well as a couple computers for those who did not bring their own. Now most of the hotels provide free wireless. If you are booking your hotel through a travel agent you should make that a prerequisite and if you are using Matt's Greek Hotel Guide scroll down the page of the hotel you are looking at and under Facilities it will tell you if it has free wireless.
If you are having computer problems in Athens most of the computer shops are located in Exarchia near the Polytechnic but there are others scattered throughout the city. In the center of Athens go to Voulis Street between Ermou and Kara Servias streets close to Syntagma Square and find the Plaisio computer store and they have everything and almost everyone who works there speaks English. There are also Germanos electronic shops all over and they can be helpful too. There is even one at the airport. There is also a big Public Electronics store in Syntagma Square and they do repairs on phones and other stuff.
If you are bringing a laptop chances are it will convert to 220 current automatically. But you will still need to buy an adapter so the plug will fit in the socket. You can buy one at any electric store, many of which are located on Praxitelous street below Syntagma Square. But you should be aware that if one of your plug protrusions (or whatever those things are called) is a little bit bigger then the other, make sure that the adapter you buy also has one hole bigger then the other or you will only meet with frustration and sorrow. Your best move is to buy a European plug adapter before you leave on your trip.
Phones in Greece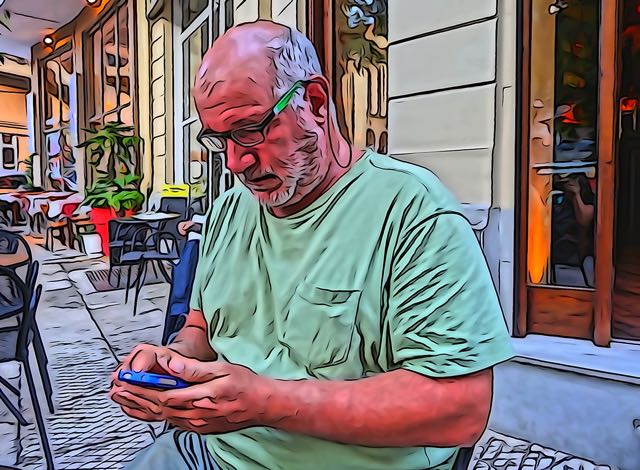 Making a phone call from anywhere in Greece was always a pain but now with Skype and all the different international media plans available it is not a problem though it can get expensive if you are not careful. Those without laptops and fancy phones buy the phone cards that are usable in some of the phones including your hotel. Germanos is an electronics shop that is all over Athens and you can buy a cheap phone and a pay-as-you-go plan or even a SIM card to stick in your current phone. You can probably do the same at a WIND or a VODEFONE shop or at least ask them what options they have. A few years ago I found the answer to my problems. I bought a cellular phone. I got a phone, with my own number that I gave to all my friends in America and Greece. No contracts like in the USA. Incoming calls are free. People can find you at anytime and if you don't want them to find you (or want to be selective) there is free voice mail service. I still have it 20 years later with the same number. In fact it is the number on my business cards. Anyway, I don't really want anyone from home to contact me when I am in Greece and I usually turn off the ringer and let people send me sms messages which are cheaper no matter what you are using, and you can conveniently ignore them if you want.
Arriving in Athens and Changing Money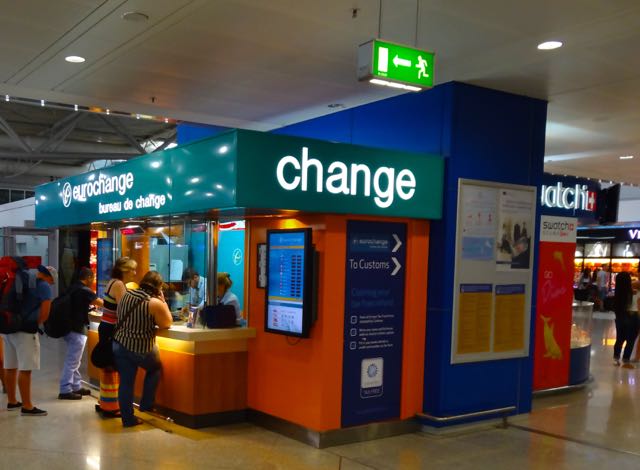 I usually change around $100 to euros at the airport in America before I get on my flight in case there is a line at the exchange booths at the Athens airport or they are closed for some reason. But in all the years I have traveled they have always been open. Still I am paranoid enough to think that the one time I don't change my $100 that will be the time I will arrive and find them all closed. But changing money at the airport in Athens is easy. There is even an exchange in the baggage claim so you can change your money while you watch for your bags. Once you get into the Athens itself there are banks and exchange services, especially around Syntagma (Constitution) Square and in the Plaka. There are banks on the islands and some hotels will change money too but check rates and commissions. There are also ATM machines everywhere now. Changing money is not a big deal. You can get travelers checks or use your credit card. The capital controls that put a limit on what you can take from an ATM machine only applies to Greek accounts. Travelers to Greece can take out as much money as their credit card company or bank allows. You can find more info about what to expect when you arrive in Athens on my Athens Guide E Venizelos Airport Page.
Getting from the Airport Into Athens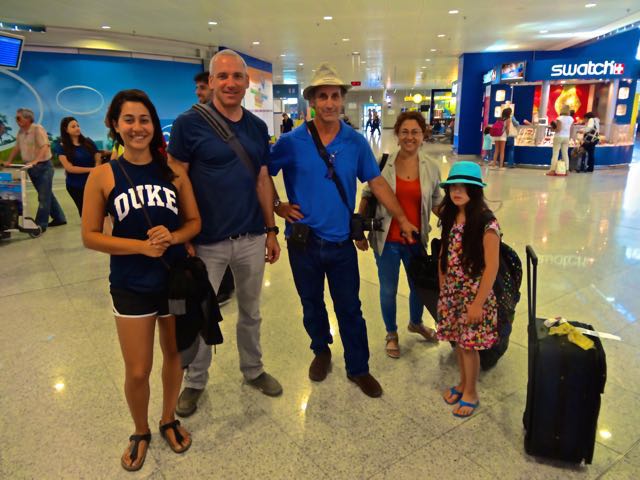 There are a number of ways to get from Eleftherios Venizelos International Airport into Central Athens and which one you use will depend on what time you arrive, where you are going, how much you want to spend and what kind of person you are. If you have money and don't mind spending it the best way is by taxi, either by pre-arrangement with George the Famous Taxi Driver, or by standing on line at the taxi stand outside the terminal. This way you will go from the airport right to your hotel. It should cost between 40 (street taxi) and 60 (George) euros though be aware that the street taxis charge double between midnight and 6am. If you have booked with one of the travel agencies on my website then they will send someone to meet you at the gate and take you into Athens. To take the metro just follow the signs and cross the street to the station for the Athens Metro and the Suburban Rail. Most likely you will be going to one of these stations: Syntagma Square, Monastiraki, Omonia, or Acropolis because that is where most of the hotels are. The line from the airport goes to the first two and you have to change for the second two stations. The metro runs from 5:30am to sometime around 11pm. So before or after that you have to take a taxi or one of the express buses that go to Syntagma (X95), Port of Pireaus (X96) or the long distance bus stations (X93). If you are going to Lavrion or Rafina there are KTEL buses that come every hour or so. You can find more info about what to expect when you arrive in Athens on my Athens Guide E Venizelos Airport Page.
Athens Bus, Trolly, Metro and Tram Information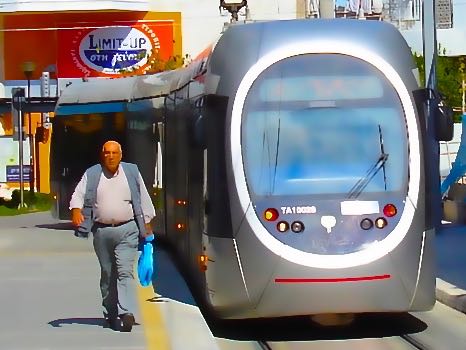 Bus and trolley Tickets can be bought at most kiosks and at ticket booths in the Athens Metro and are good for 90 minutes. In other words you can change buses and trolleys and the metro using the same ticket for 90 minutes after it is stamped. When you get on the bus stick the ticket in the machine. Don't get caught on a bus or the metro without a ticket or one that has not been validated. It's expensive and embarrassing. You can also buy a weekly or monthly pass. Ask at the metro ticket booth. For more information see my Athens Buses Page.
The new Athens Metro is now 98% complete. There are a couple new lines up and running to go along with the original ISAP Electric train, one of the first subways built in Europe, which runs from the port of Pireaus to the leafy cool suburbs of Kifissia. Well worth a visit is the Metro station at Syntagma (Constitution) Square. It might be the best museum in Athens if not the most beautiful metro station in the world. One wall is a cutaway of an excavation where you can see the different periods of Greek History. There are also ancient artifacts on display plus giant photos of Athens from the beginning of the century. In fact almost every metro station has some kind of interesting exhibit going on. The Athens Coastal Tram opened in time for the Olympics and starts at Syntagma and goes to the beach. If you are coming from the airport on the metro be aware of pickpockets. You can protect yourself by reading my article Defeating the Pickpockets.
How to Visit a Greek Island on Your Own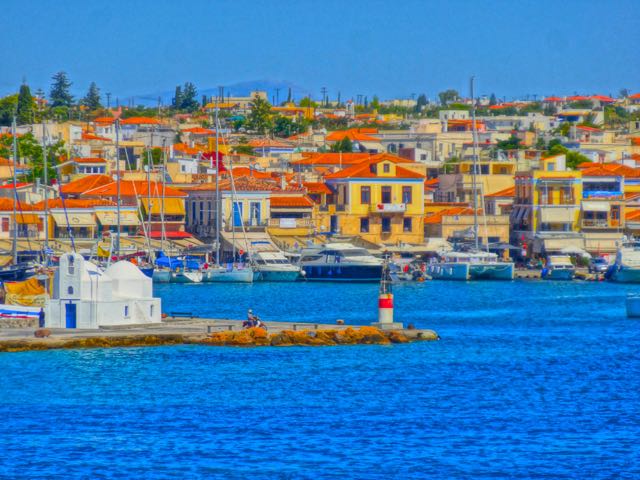 Going to a Greek Island on your own does not have to be an intimidating experience. Just follow these simple instructions and you will have an adventure which can be duplicated a few thousand times, or as many times as there are Greek islands. For the sake of convenience I will use the island of Aegina as our sample island, though of course you could substitute any island of your choice. I chose Aegina because it is close to Athens, only an hour by ferry, half that by Flying Dolphin, and because there are boats leaving every hour so I don't have to wake up early to catch a morning boat, the majority of which leave between 7 and 8 am, and I won't need to buy an advance ticket. If this was an early boat you will have asked the concierge at your hotel to have a taxi waiting for you at least an hour and fifteen minutes before the boats scheduled departure. If you tell the taxi the name of the boat, or which island you are going to, he will know exactly where to go. From downtown Athens to Pireaus should cost about 10 Euros. Don't count on the ferry leaving late and you making it in the nick of time. I have actually missed a ferry by a foot. I could have jumped but I did not want to risk falling into the murky waters of Pireaus, (plus my girlfriend was on crutches)... continue reading
Strikes and Demonstrations in Greece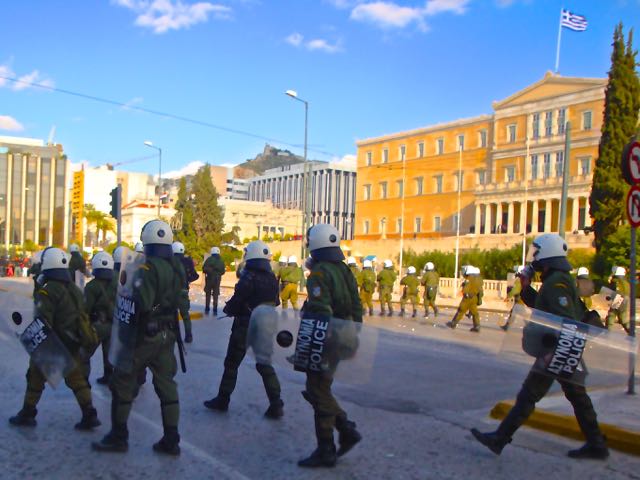 Strikes and demonstrations are more of an inconvenience than a threat and rarely impact anywhere except a few blocks of downtown Athens. If you know when they are going to happen you can change or arrange your plans to avoid them. During the strike-filled summer of 2011 people who used Greek travel agencies only found the strikes to be a minor inconvenience if that. The agencies made the changes to the ferries and the hotels and for some it meant an extra day in Athens and for others an extra day on an island. The people who were most affected by the strikes are those who did not even know there was a strike and only discovered it when the went to the port and could not board their ferry to the island they had already booked a hotel on. Strikes are a minor inconvenience when you know they are going to happen and merely require a slight change of plans, something a Greek travel agency can do a lot easier than you can. As for demonstrations they all take place in a small area of Athens and only last an hour or two. On those days there were demonstrations the agencies called their clients and told them to avoid these certain areas during these times. Keep in mind that demonstrations are a way of life in Athens but not on the islands. So if you want to avoid strikes and demonstrations then spend less time in Athens and work with a reliable Greek travel agency. Read more about using Greek travel agencies...
The Refugee Situation in Greece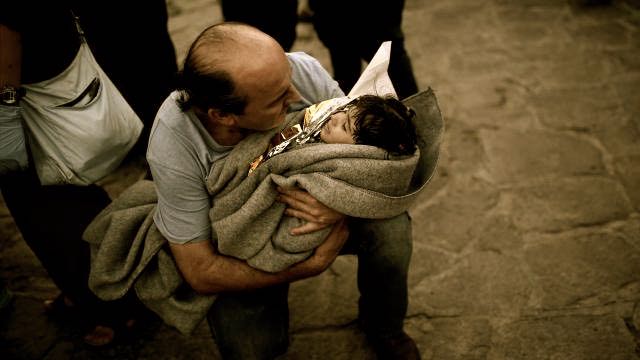 It is true that there are still refugees coming into Greece but nothing like they were a few years ago. If you are worried chances are you may have to change the image you have of what a refugee looks and acts like. The refugees from Syria are predominantly middle class families who dress much like you do, use computers and cell phones, had jobs that might be similar to yours, and like pizza, rap and even rock and roll. They may look and act a little more frightened than you but chances are they are not as frightened as they were before they left Syria. Most of them arrive by boat on beaches that face the Turkish coast, on islands that are close to Turkey. That means if you are going to an island that is not off the Turkish coast you would be unlikely to even see a refugee. Those that come to Athens are on their way to countries in Europe that actually have jobs. You may see some in Victoria Square or wandering around the city but you probably would not be able to distinguish them from tourists from Turkey or the Middle East. The interesting, and exciting thing to me is the number of people who are traveling to these border islands, bringing clothing, food, money and a desire to help them on their journey. Some people are combining a holiday with being helpful to their fellow humans. If you would like to come to Lesvos to help out or if you want to make a donation of money, clothing or food visit the website of the Starfish Foundation.
Tourist Information and Ferry Booking
At the GREEK NATIONAL TOURISM ORGANIZATION (EOT) office you can get the weekly ferry and bus schedules, a free map of Greece, a free map of Athens, fares, brochures and so on. They are located at 18-20 Dionysiou Areopagitou Street about 100 meters from the Acropolis Museum. You can get maps of Athens at most hotels and some will have the very helpful map of Greece that EOT so generously provides for free. For ferry times and prices there is good news and bad news. The good news is that you can find the information you need on several Greek ferry ticket booking sites which you can find through Google or by going to Dolphin Hellas Travel's Ferry Booking Page. The bad news is that you can't get reliable ferry schedules months and months in advance which is when many people like to book their hotels. So you have a few options. The best option is to book with a Greek Travel Agency and let them worry about it. The second best option is to use Booking.com or Matt's Hotels of Greece for your hotels and book the hotels with no cancellation fee so if it turns out there is not a ferry on the day you need it you can change your hotel without paying a penalty. The third option would be to wait until the schedules are up and book then, but if you are going to one of the popular islands like Santorini or Mykonos you may not find a room at the hotel you wanted, or any room at all if it is July or August. The 4th option is that you can contact me and tell me what islands you plan to go to and I will tell you how likely there will be a ferry when you need one. But that is my least favorite option because likelihood and certainty are a long way apart and I will just tell you to fill out my Create-an-itinerary form and let a travel agency deal with it which brings you back to the first option. So maybe you should just do that. Anyway I spend 5 hours a day answering e-mail from travelers and no question is too dumb to take seriously. So don't be ashamed to contact me. I also suggest you read Everything You Need to Know About Booking Ferries to the Greek Islands Including Some Things You May Not Want to Know But Should.
Oh and while I am on the subject the best way to get ferry information and to book your ferries is with FerryHopper.com which is what I do. You can book and pay on-line and they give you a code and you can go to any ferry ticket office in Greece and show your passport and give them your booking code and they will give you your tickets for no extra charge.
Greece Photos for Inspiration or Nostalgia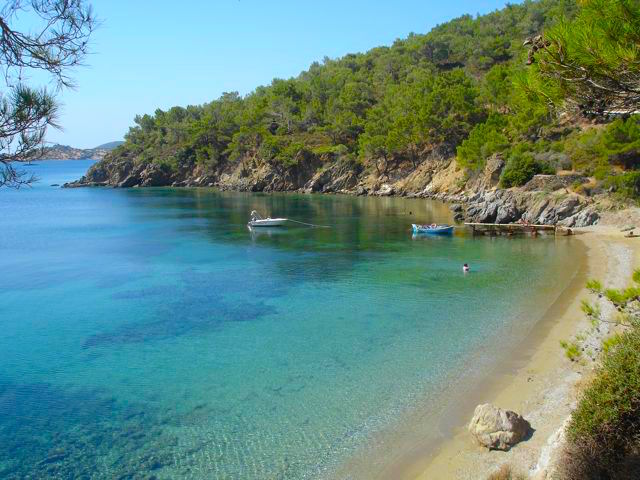 Some people need to see things rather than read about them. If you are the type who can't decide what to order in Chinese restaurants unless there are pictures of food on the menu then go to my Photos of Greece pages where I have thousands of pictures that may help you decide which island to visit. And if you are someone who traveled in Greece a long time ago and miss the good old days see Greece in the Sixties which are photos taken by my father. My Athens Survival Guide contains a number of interesting photo tours including A Walk Around Athens with Matt which is sort of a getting aquatinted trip through the city. My Athens Photo Tours includes trips through The Plaka, Psiri, Monastiraki, the Meat, Fish and Vegetable Market and the Acropolis. Inside the Parthenon are photos I took when we were given a private tour of the interior of the ancient monument several years ago.
Greek History, Music and other stuff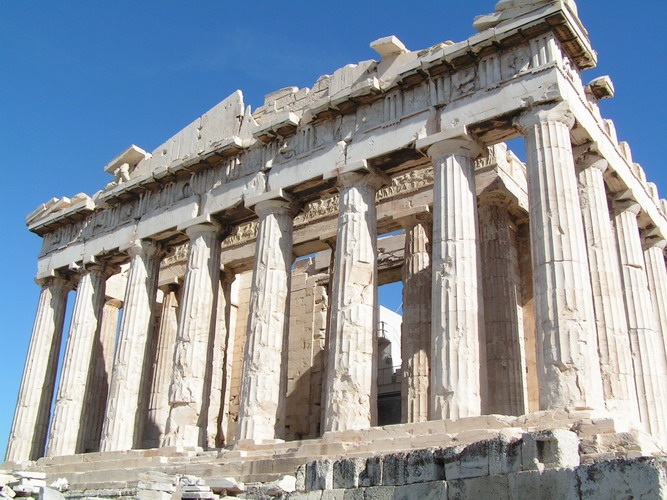 My History of Greece which I worked on non-stop for much of 2005 and have been adding to it ever since is becoming one of my most popular sites. OK, maybe not one of my most popular but I think it is one of my best and has enabled me to pass myself off as a kind of expert on modern Greek history. For those who want an introduction to Greek History which begins with prehistoric times and runs through to the present there are not too many Greek history sites that also include rock bands and basketball. Speaking of music my History of Rembetika Music was one of the first websites about the music of the Greek underworld. Actually Savopoulos features prominently on that page as well. Greek Cinema and Films about Greece includes a synopsis of some of my favorite Greek and foreign movies, all in English or with English subtitles, several articles by filmmaker, critic and educator Andrew Horton, as well as several films by my favorite Greek filmmaker Renos Haralambides, which you can watch on YouTube in Greek with English subtitles. Also Matt's Top CD Picks shows you my favorite Greek albums so you don't come home with Herb Albert and the Tijuana Brass Play Zorba's Theme and other Hits.
A Few More Helpful Things....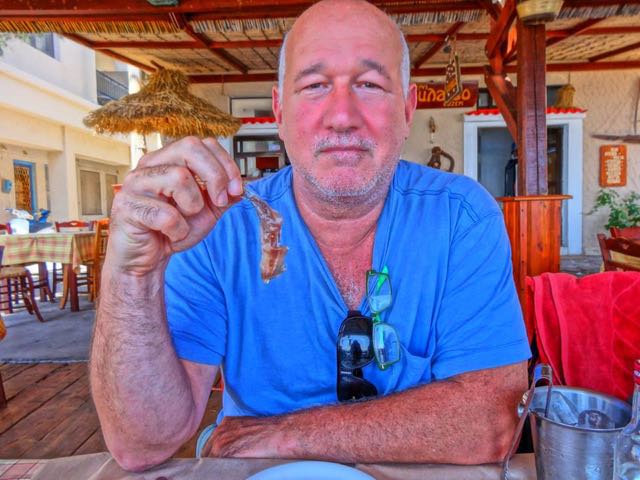 Matt's Greece Travel Tips will help you book your trip to Greece and avoid many of the problems that people e-mail me about, therefore reducing the number of desperate emails I will receive and allowing me time to do the things I truly enjoy, of which answering e-mail is not one of. For those who just need a little help deciding what islands they should visit see Matt's Greece Suggestions Page
Hotel Information Overload? Are you having trouble choosing a hotel in Athens, on one of the islands, Delphi, Meteora or anywhere in Greece? Do you want someone to help you find a hotel but you don't want to get involved with booking through a travel agent if you don't have to and are perfectly willing to book your own ferries and transportation? Matt's Hotels of Greece has the best hotels, painstakingly researched by Matt as if he was booking the hotels for himself. So instead of searching through thousands of hotel pages you can go right to the best. And by best I don't mean the most expensive because I have included the best for every price and category, based on location, guest reviews and other important criterion.
Wheelchair Users and other physically challenged travelers should visit my Greece for the Physically Disabled page to find links on how to get around in Greece, accessible hotels, and agencies and services that specialize in travel for the handicapped.
For travelers who want proof of the reliability of my websites and the hotels and agencies listed on them I have created a Greece Travel Testimonials site which contains hundreds (maybe thousands) of e-mails from happy readers. It may give you some ideas because many people give a blow by blow account of their trip. If there is an agency or hotel that you want to know about you can read the experiences of other travelers here. It is kind of like Trip-advisor but without all the complaining. I have finally added a FAQ (Frequently Asked Questions) page too.
Greek Bureaucratic Assistance for Foreigners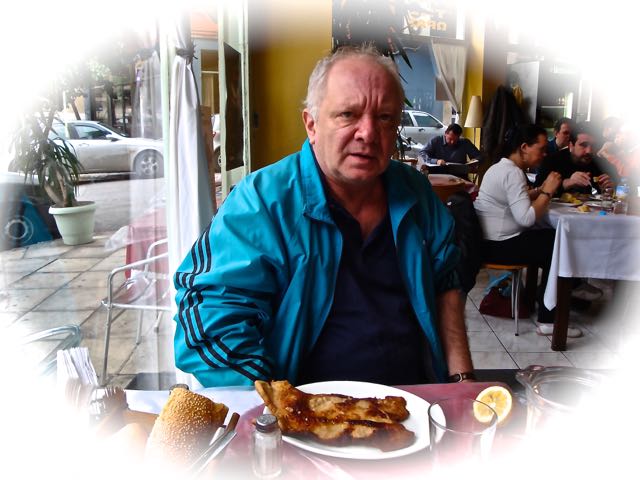 Before he passed away Dorian Kokas had suffered every indignity possible within the Greek bureaucratic system. Dorian's story of obtaining a driver's license illustrates his finely tuned sense of the absurd and has been a favorite since I first posted it 20 years ago. If you are planning on moving to Greece or own property there you should read this and some of the other articles he wrote. Should you need assistance in Greece with Visas, residence permits, customs, starting a business, getting a job, finding a house, getting married, Greek-American military obligations, taxes or any advice on getting through the system visit Legal Assistance in Greece and you can get help with just about any legal or bureaucratic problem a foreigner or a returning Greek might experience.
Otherwise there are all sorts of people in Matt Barrett's Greece Travel Guides Group on Facebook and someone there may have the knowledge to assist you.
You made it through the second page. But there is lots more. Most of it way more interesting than this page. So Return to the menu at the top.