Hotels in Naxos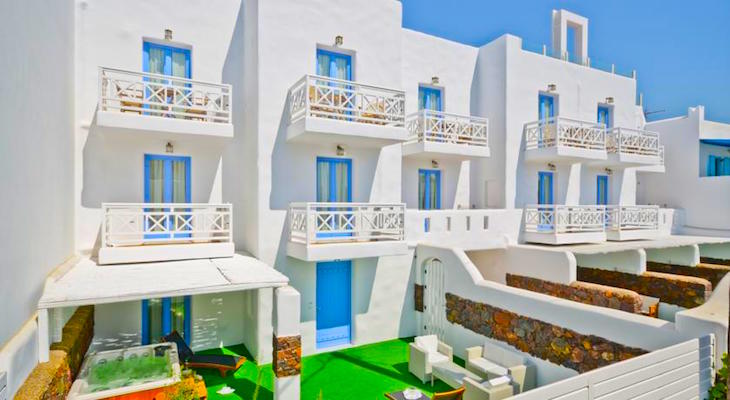 Hotels in Naxos are of all sizes and styles and of varying quality. Unless you are on a budget and just need a place to lay down at the end of a long day at the beach I recommend spending a little extra and staying somewhere with air-conditioning and of a slightly higher quality than the rent-rooms offered. Many families broke up their farms and built rooms and 'hotels' and you may find some gems among them. But you may find yourself in a hot damp concrete room waiting for the dawn so you can check out and get yourself into a real hotel. Remember that Naxos was and is an agricultural island and a few years ago some of the people running these hotels were digging potatoes on the very spot the hotel now occupies. This is one reason why it is best to work with a travel agency in Athens that knows the hotels. They can find a comfortable place for you no matter what your budget is. There is no reason to be uncomfortable during your holiday, especially on an island as beautiful as Naxos with so many choices of places to stay.
When you get off the boat there is the usual line of the domatia kamakis, each waving a photo of the particular room they represent, though now instead of charging towards the ferries to meet the arriving passengers they are kept behind the gates and are surprisingly quiet and well mannered. You can follow one of them to see their rooms but it has been my experience that unless the rooms are absolutely terrible, I am unlikely to walk back to the port and look for another and accept my fate, at least for the night. If you are island hopping and just here for a couple days you can take your chances with the room kamakis. Or try booking in advance from your previous island if you are working with an agency in Greece for the other aspects of your travel. For example if you are on Sifnos and working with Aegean Thesaurus let them know that your next island is Naxos and see what they can find for you. Some agencies are happy to do this for all the islands, though in the busy season it is a lot of work for them. You can also ask Despina for rooms at the Naxos Tourist Information Center but in late July and all of August pickings can be slim.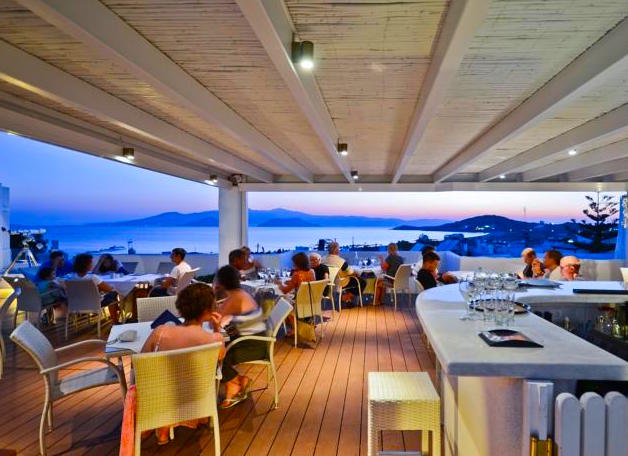 Your first stop to find hotels on Naxos should be my Hotels of Greece Naxos Page where I have listed the hotels I would stay at, or have stayed at as the case may be, followed by the hotels with the highest rating and best reviews from travelers.
There is also a directory of hotels in Naxos on Booking.com's Naxos Page which has search options which enable you to find exactly what you are looking for. You will also find hotels promoting themselves on the Internet and offering low prices but you have to ask yourself whether saving a few Euro is worth not having the assistance of a travel agent for other aspects of your trip like ferries, hotel in Athens or someone to answer your questions and help you if there are any complications. Generally hotels can't help you, not because they are mean or don't care, but because they don't know how and don't have the time. In my opinion the money you may save is not worth the hassle of trying to figure out everything else by yourself. Also a travel agent will have information about a hotel that you won't find on the hotel's web site, for example if it is next to a disco or on a main road with motorcycles roaring by all night.
If you are staying more then a couple days it is best to book in advance so you can get what you want,where you want it at a price you want to pay, rather then taking what you get when you get there. There are hotels and resorts of every category and these can be booked through Fantasy Travel or Dolphin Hellas Travel in Athens, and Aegean Thesaurus Travel in Sifnos. There are also villas and homes available on the island that you can find on my Greek Islands Villas Page or by using the search options on Booking.com's Naxos Page
If you are looking for villas, houses, apartments and Air BnB style accommodations see Matt's Naxos Villas Page.
Thank you to my friend Vagellis for all the above photos which come from his recently opened Naxos Island Hotel which I have yet to stay at but comes highly recommended by my friends who had a family reunion there. If you are looking for a hotel that is a notch above the others this might be it.
---
Matt's Recommended Hotels on Naxos
Agios Prokopios Hotel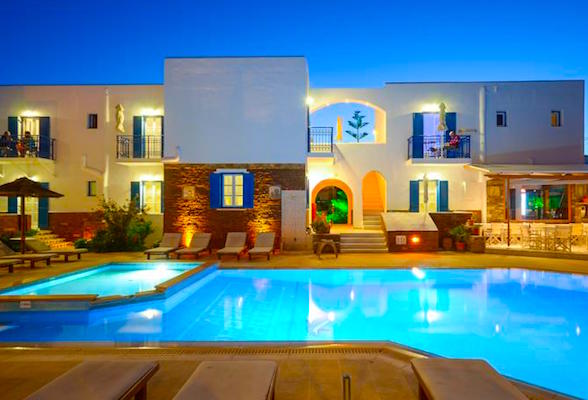 I stayed at the family-run Agios Prokopios Hotel at Agios Prokopios Beach. It was very nice and has a pool and is perfect for families with children. It is not exactly on the beach but in a small neighborhood of rooms and hotels and in a four minute walk you can be on the beach. There is a computer in the lobby where you can get your e-mail and the buildings surrounded by grape vines, fruit trees and flowers. Rooms are air-conditioned and comfortable and Vagellis and his family are great hosts and you will feel like you are living with a Greek family. There are plenty of restaurants and cafes within walking distance and the town of Agios Prokopios has some shops and a supermarket or two. There is a bus stop within walking distance and you can get into town easily if you don't have a car. The prices are very reasonable if you are on a budget. Use these links to Book with Fantasy Travel or Book with Booking.com
Naxos Island Hotel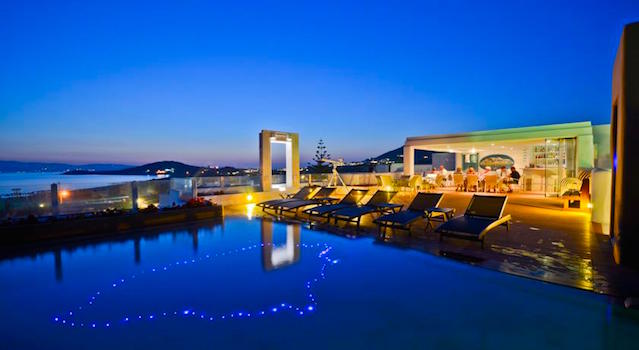 The newly opened 5-star Naxos Island Hotel is owned by the same family who own the Agios Prokopios Hotel but this has a more dramatic location right on one of the most beautiful beaches in Greece. The hotel has a swimming pool and a taverna with a sea view that serves traditional island dishes and fresh seafood and doubles as the breakfast cafe for their morning buffet and coffee. The rooms are decorated in traditional island style. There are rooms with seaview or garden view and even family suites which is something that Greek hotels need more of. The hotel also has free wi-fi. It offers also gym, spa, beauty treatments & various types of massage, massage rooms, two restaurants, aquarium with sea water and fish from the sea around Naxos Island, roof swimming pool, roof bar, newsagent, hairdresser salon, private parking, conference room and 24 hours reception service. You can book this hotel at reduced rates through Fantasy Travel or Book with Booking.com
Hotel Porto Naxos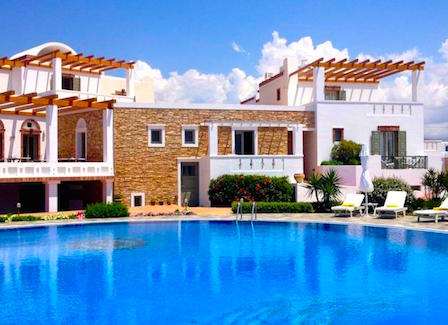 The Hotel Porto Naxos on Saint George Beach is generally recognized as one of the finest hotels in the Greek Islands. We stayed here too and really enjoyed it, especially my daughter who we could not get out of the heart-shaped pool. The hotel is about a 15 minute walk to the center of Naxos Town and 20 minutes to the port. It is a 5 minute walk to Agios Georgios beach which makes it very convenient for families. They have spent a lot of time and energy on creating one of the nicest gardens of any hotel I have visited, not just flowers and trees but herbs as well and anyone with an interest in botany will find plenty to keep themselves entertained. The breakfast buffet was ample and interesting and the rooms were luxureous. Best of all were the staff, particularly Margarita and Leonidas who were friendly and entertaining and also very helpful in recommending places to eat and visit. Many of the rooms were separate buildings, like little cycladic houses. All rooms had satelite TV and big beautiful bathrooms. You can book this hotel with reduced rates through Fantasy Travel or Book this hotel with Booking.com. You can also Book the Hotel Porto Naxos Directly which is the most likely way to find availability.
---
More Recommended Hotels in Naxos
Here are some more highly rated hotels that you can book directly for those who don't want to go through a travel agency. Click on the hotel name for more information, photos, reviews and booking form. Because of the popularity of these and the above hotels you may want to book them quickly. Most of them you can change your mind without paying a cancellation fee so you might want to consider that, just to make sure you have somewhere to stay that you like. You can find even more hotels on Matt's Best Hotels in Naxos Page.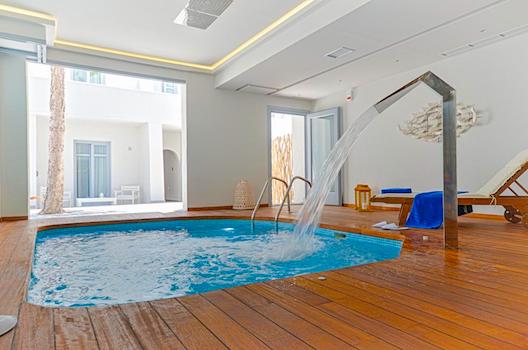 The family run Grotta Hotel is one of the highest rated economy hotels in Naxos and maybe in all of Greece. Located on a beautiful hillside, overlooking Naxos Town, yet only a short walk from the beach. Guests can enjoy a generous breakfast served in the sunny breakfast room, a drink at the sitting area and stunning views at the spacious veranda, which overlooks the sea. All the rooms are tastefully decorated and are kept spotlessly clean. Each has a balcony or terrace and is equipped with air conditioning, satellite TV, refrigerator and safe box. Hotel facilities include information desk, assisting guests with transfer service, excursions to all parts of the island, excursions to neighbouring islands or sailing trips. The Venetian Castle, Archaeological Museum, and Old Market are all within a short walking distance of the hotel. Also, just a few minutes' walk away is Apollo's Temple. The hotel is also famous for having one of the best breakfast spreads in Greece!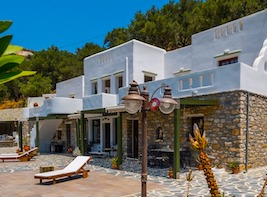 Secluded amongst olive groves and nestled on a picturesque plateau, ELaiolithos gives visitors the opportunity to enjoy the serenity of nature and promotes a new way of traveling in the Naxos that ordinary tourists don't normally experience. The property blends seamlessly with its surroundings where history, tradition and a sense of elegance and earthiness prevails. Guests come in contact with the rich Naxian natural and cultural heritage, explore different perspectives of the island, experience local living and stay in luxury with all the comforts of a home away from home. Above all ELaiolithos is a Cultural Experience itself……The ultimate Naxian holiday inspiration….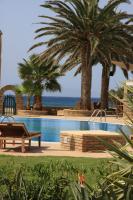 Steps from the Aegean Sea, beside the white sands of Pyrgaki Beach, these studios in the south of Naxos offer modern accommodation amidst attractive surroundings. Admire the sea views from your private balcony before swimming or sun bathing on one of the most beautiful, quiet and unspoiled beaches on the island of Naxos. Stay around the hotel for more outdoor relaxation around the swimming pool and children's swimming pool. Stroll through the 4000m² garden area before cooling off with a drink from the pool-bar. On a trip to the island's capital, Naxos Town, you can spend a day exploring the harbour, shops, nightlife or the many places to eat and drink. At 20 km away, you can enjoy its noise and bustle before returning to the quieter Cycladic lifestyle at Finikas.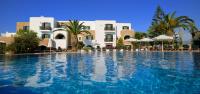 Offering high-standard accommodation next to the beach to those wishing to enjoy the natural beauty of the island, this is an ideal hotel for relaxing holidays. Galaxy Hotel is situated in the South-West part of Naxos town (Chora), just a few steps from the sandy beach of Agios Georgios (Saint George Beach). The hotel is built in the traditional Cycladic architectural style. It features large gardens, as well as beautifully designed interior and external areas, and offers all the modern comforts. The hospitality in Galaxy Hotel is friendly and the atmosphere is a warm and homely one.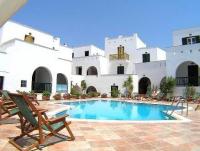 Spiros Hotel is excellently located just a short walk away from Saint George Beach and the lively Naxos Town. There are several outside areas for guests to enjoy the Greek sun, including an outdoor pool, garden and charming terrace. The Spiros apartments are fully equipped with modern bathroom facilities, a kitchenette and private balcony. This family run hotel is child friendly and the owners create a warm and welcoming atmosphere for their guests. Spiros Hotel is a great location for visitors looking for a quiet base whilst still being close to local attractions.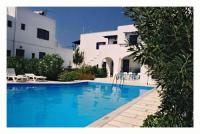 Situated in a quiet corner near Naxos city (800 metres) and very close to the Agios Georgios Beach (300 metres), this is a family hotel offering accommodation all year round. Moreover, it is easily accessible from the airport, being only 1.5 km away from it. This unique location invites you to combine entertainment with your relaxation. This accommodation has been designed to satisfy the needs of its guests. You can take your coffee with a view of our beautiful garden, or enjoy a refreshing swim in our pool. Our long-term experience in providing hotel services and focusing on every aspect of our guest's accommodation defines the principles of our hotel.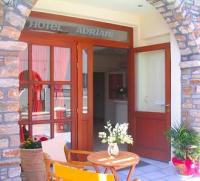 Situated in Grotta, one of the most beautiful areas in Naxos town (Hora), the ideal location of this hotel in combination with personalised service will make your holidays memorable. The hotel consists of fully-equipped and tastefully decorated rooms for a comfortable and pleasant stay. This is a lovely area where the Old Town, Portara (Apollon Temple) and the seafront are the main attractions. The Old Town is divided into 2 parts; Bourgos neighbourhood and Kastro (Castle) neighbourhood. Although the city walls have all disappeared, the inner walls of the Kastro remain. Most of the Kastros' current residents claim descent from the Venetians, and many of their grandparents' tombstones in the 13th century Catholic Cathedral boast grand titles.
With a great location in the Agios Prokopios beach area, near Hora (sometimes called Naxos City), the Camara Hotel offers comfortable, air conditioned, en suite accommodation. The hotel's convenient location makes it a great choice for those who want to be near the town and all it has to offer, while also being near the beautiful beach. The charming accommodation is well equipped with all you need for a relaxing stay. Each air-conditioned room has a fridge, a TV, a telephone and a hairdryer. All of the rooms have a veranda, from which you can admire the view, and relax and enjoy the cool breeze and the warm sunshine. A buffet breakfast is included in the price. With just 12 rooms, the hotel offers warm hospitality and friendly service, making it a great base from which to explore this peaceful, naturally beautiful island.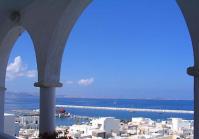 This hotel is ideally located on the slope side of the Venetian Castle, right in the heart of the old city. Panorama uniquely combines the peacefulness and tranquil view of the Aegean Sea with the exciting nightlife that fills the quaint side streets of the traditional town. The hotel is situated very close to the Crispi Tower, the Archaeological Museum, the Old Agora, the traditional taverns, Naxos Port and Grotta Beach. From here, you have the opportunity to experience Naxos in both the ancient and present. Family hospitality will welcome you into a relaxed atmosphere, with services tailored to make your stay pleasant and enjoyable. Public parking is located within 5 minutes walking distance from the hotel.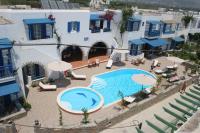 Hotel Dimitra is situated in a very quiet location, in Agios Prokopios area of Naxos Island, 10 minutes by car from the port of Naxos. The distance from the magnificent sandy beach of Agios Prokopios is only 150 metres, away from the crowds, making the accommodation an ideal place for relaxing.
The service is excellent, the atmosphere is authentically warm and the atmosphere is friendly.
With city views, a terrace and free WiFi, Smirida Suites provides accommodations conveniently located in Naxos Chora, within a short distance of Agios Georgios Beach, Naxos Castle and Portara. The units come with tiled floors and feature a fully equipped kitchen with a fridge, a dining area, a flat-screen TV with cable channels, and a private bathroom with shower and a hairdryer. Some units are air-conditioned and include a patio and/or a balcony, as well as a seating area. A car rental service is available at the apartment. Decorated in light shades and elegantly furnished the beautifully decorated Smirida Suite provides well-appointed accommodation for the whole family and can accommodate up to 6 persons. It features two double bedrooms and a separate living room kitchen area with twin beds. Especially designed with the comfort and needs of contemporary families. Meticulous attention to detail ensures that families enjoy and plan their daily schedules in a luxurious homely environment. All of the suites are equipped with COCO-MAT sleep products, handcrafted from natural materials.
"Kyria Eleni, the owner, is incredibly clean, a real sweetheart, very accomodating, provided fresh fruit, candies, coffee, and is fastidiously clean. The location is 10 minutes from Agios Giorgos, 15 minutes from the port. It is in a Greek residential areas, so you will hear the laughter of children playing, but at night and during quiet hours, it is extremely quiet. There is a meat market, grocery store, bakery, all close by within 2 minutes." Kosta Koeman from Matt's Greece Travel Group on Facebook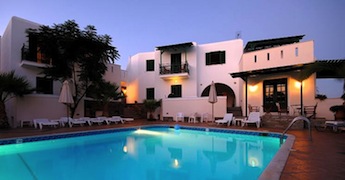 Only 170 yards from the magnificent beach of Agios Prokopios, Studios & Apartments Ioanna offers accommodations with free Wi-Fi access. You can spend relaxed moments at the hotel grounds, use the internet access at the front desk or read a book and have fun with the board games available. The friendly environment and the family atmosphere will relax you and make the days of your vacation memorable. Free private parking is available on site. The hotel is about 3 miles from the capital, 3 miles from the port and one mile from the airport. There are many taverns and cafe-bars in the area, plus a few shops. The hotel offers reception, garden, swimming pool, water massage, children's playground, library, table games, internet & fax service, laundry service, room service, safe box and private parking.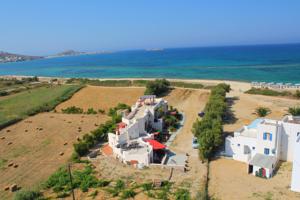 Acti Plaka Apartments and Studios are located on the beautiful beach of Plaka, Naxos. They consist of 5 apartments and 4 Studios. All the units have A/C - Heat, TV set, refrigerator, private WC / shower and fully equipped kitchenette. Each apartment has its own private balcony, with view over the sea and the garden. The units are conveniently located right next to a tavern while many other taverns, cafes are in the area. The bus station to Naxos town is approximately 350m away. The villages of Agios Prokopis and Vivlos are at a distance of 4km and 5km respectively, while Naxos town with the busy nightlife is only 8km from the complex.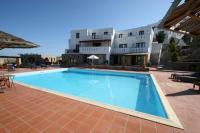 Offering a spectacular view of the endless azure waters of the Aegean Sea and the Gate of the Ancient Temple of Apollo, these villas are located 800 metres from the town centre. At Paradisia Villas you will be professionally served by our hospitable management and staff. From its balconies or verandas, you enjoy a breathtaking view of the sea and the Portara (ancient Gate of the Temple of Apollo). It is this view that places Paradisia Villas among the best Naxos Town hotels. Guests of Paradisia Villas are provided with a number of organized facilities and services, including a swimming pool and a pool bar.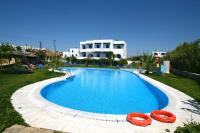 This is a modern complex of fully equipped apartments and studios situated in the quiet location of Agios Prokopios resort, just 150 metres from the famous St Prokopios beach. For your convenience, several restaurants, cafes, and mini markets are within walking distance. Also for your convenience, Colosseo Star provides a free transfer to and from the port (3 km) or airport (1.5 km). Should you wish to explore this beautiful island, the bus stop is only 100 metres from the complex. All the rooms are spacious and are tastefully decorated to create a warm and relaxing atmosphere. The cheery combination of white, blue and yellow will evoke the colours and feeling of your holiday. Each room has a private balcony or veranda, from which you can enjoy a quiet drink while watching the sunset. The family environment and tranquility will make your holiday on Naxos an experience hard to forget!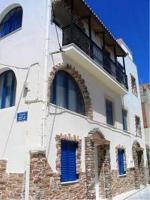 Just a short walk from the sea and steps away from Naxos Town's shops and restaurants, these charming studios offer you a comfortable and cosy home during your relaxing break. Choose from well-furnished double and triple rooms for your stay at Alsos Studios. Each one follows the traditional island style with white-washed walls and stone features, creating a cosy atmosphere. They are also fully air-conditioned for your comfort and a daily maid and towel change service is also offered. During the day you can relax on your private balcony or veranda or spend time reading a book in the cute courtyard of Alsos Studios. Seek shade in your apartment and watch satellite TV. Studios Alsos are conveniently located just a 5-minute walk from the beach. The bus stop is just 50 metres from the studios, allowing you to easily explore the surrounding villages. There are a host of shops and taverns surrounding the studios for your entertainment.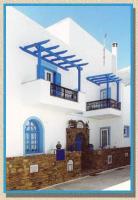 Situated in the most picturesque area of Naxos Town (Hora), with a view of the Venetian Castle, this distinct accommodation gained its reputation thanks to its hospitality and family atmosphere. Conveniently located just 200 metres from Grotta Beach, the hotel is just 300 metres from the centre of town. "It is always our pleasure to offer you complimentary coffee or local wine and invite you to drink it with us. We will also be happy to help you with your transfer from the port to our accommodation, free of charge." A rental car and bikes are available, as well as a private car park and daily cleaning service. Breakfast is served in the reception area on request. Thwe Pension Sofi has received favourable comments in travel guides such as Lonely Planet, Michael Muller Verlag - Kykladen, and Ö-luffa i Grekland.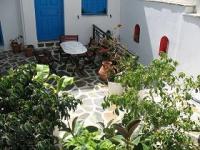 Stay at this small friendly complex and you can experience an authentic Greek atmosphere, which means genuine hospitality and a family environment. Taki's Place is quietly situated in a very convenient location just a few minutes walk from the town's main square. It is only a 5 minute walk from the beach of Agios Georgios which has fine sand, shallow waters suitable for children and offers entertainment, umbrellas and water sports. After enjoying your day out you can return to the complex and you can have a drink in the lovely courtyard. The friendly owners will also be happy to offer advice on nearby restaurants and places of interest.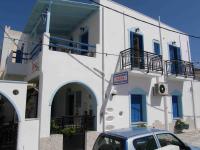 This homey pension is situated in a quiet area just 400 metres from the beach Agios Georgios and 200 metres from the centre of town. Pension Irene 1 combines modern and comfortable accommodation with the traditional atmosphere of Naxos. All rooms come complete with kitchenette and balcony or veranda. The pension is located in the lively Cycladic town of Chora. The town is an exciting maze of narrow streets and tiny passages. There is always something new to discover. Behind the waterfront the extensive Old Quarter stretches up the hillside where Kastro (castle) is. Walking around Kastro is a must while the views will take your breath away.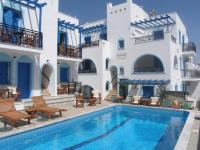 Conveniently located in beautiful Naxos Town, Pension Irene II is a small family-run property offering a range of studio accommodation and apartments. Built in Cycladic architectural style, the pension is traditionally coloured in shades of white and blue. The well-designed studios and apartments are comfortable, nicely furnished and all feature a kitchenette area. Rooms are located around the hotel's swimming pool and each features a balcony or veranda. Pension Irene II is just a short stroll from the many tavernas, bars, shops and restaurants of Naxos Town. The beautiful, sandy St George's Beach is just 300 metres away.
You can find even more hotels on Matt's Best Hotels in Naxos Page.
More Naxos Information

There are three campsites near Naxos town and all have mini buses that meet the boat. There is also a youth hostel right in town. You can get information at the booths right where you get off the ferry. To book hotels, ferry tickets, flights and tours see the websites of Fantasy Travel, Dolphin Hellas and Aegean Thesaurus Travel.
You can use my Create-an-itinerary form to create your own island-hopping itinerary with the help of Fantasy Travel with no obligation to purchase.
Fantasy Travel has several island-hopping itineraries that feature Naxos including their popular Pursuit of Pleasure which features Naxos, Santorini and Athens as well as their Winter of Athens, Santorini and Naxos. Their Winter Special 3 combines Naxos with Athens, Delphi and Meteora. I recommend doing Naxos with Santorini which you can find on Fantasy Travel's Island Hopping Page.