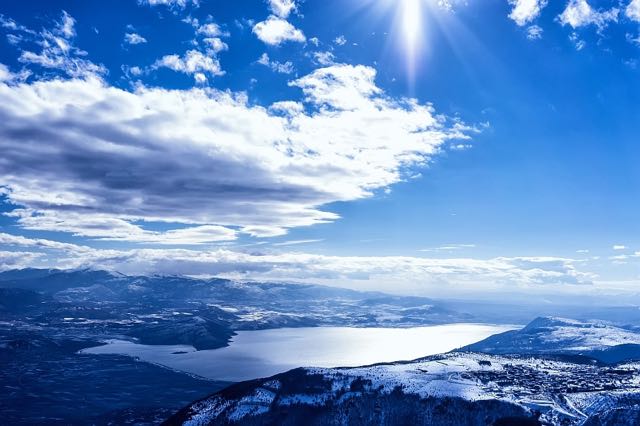 When most people think of Greece they imagine islands with small white houses and a background of blue sea and sky. But Greece is a land of mountains, some of them quite high and just like in the Alps, the Rockies, the Poconos and the Catskills, when the winter months come along, the high elevations see snow, sometimes quite a lot of it. Though the ski slopes of Greece are no secret to Greeks and many Europeans, they are unknown to Americans and most other people around the world. It's a shame too because imagine that you can combine a Greek Island cruise or meals of grilled octopus and fried kalamari in seaside beach tavernas, with a weekend of skiing, snow-boarding and even throw in a visit to the Acropolis, the famous nightlife of Athens or a journey to nearby ancient ruins in Delphi or the Argolis.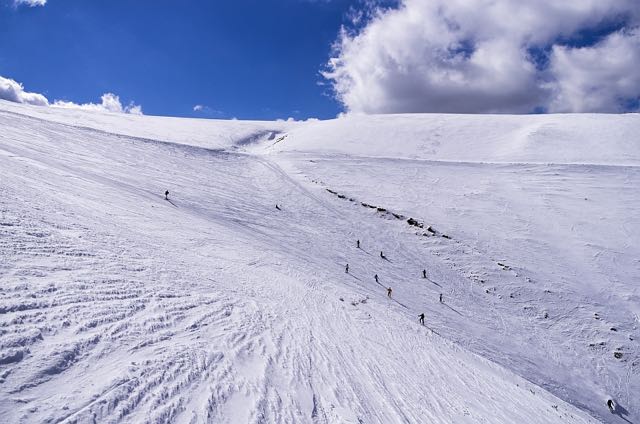 There are a number of ways to approach a Ski Holiday in Greece. One way is to put together a ski package through Fantasy Travel. They take care of all the details and offer different combinations which can also include going to the islands, day-trips and of course Athens. They will provide you with a driver or if you want to go on your own, with a car. They will book your hotels and whatever tours you want to do in Athens and of course they are there to advise you every step of the way.
Another option is to see their Winter Programs and do one of those, which feature the best destinations to visit in the winter in Greece, and then you can add a day or two or even a week of skiing in one or two of the ski resorts listed below.
You can also book on your own and do day or overnight trips to the ski centers by car rental or by using George the Famous Taxi driver who will be your host, guide and translator, though it is unlikely you will be able to convince him to ski down a mountain with you. But if you go with one of his three sons even this is a possibility. They will take care of all the transportation details and book the hotels and take you to the best local restaurants.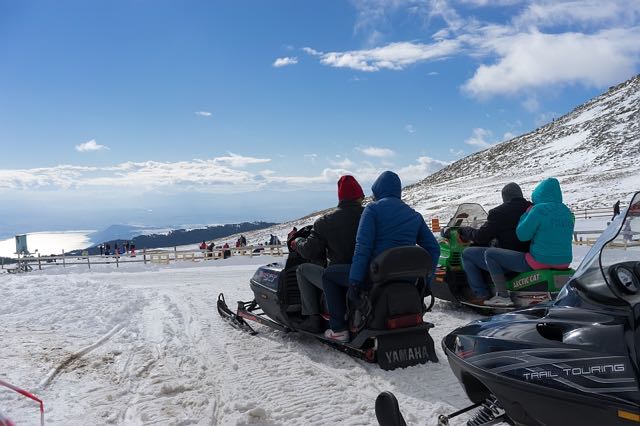 Should you prefer to do it on your own you can book the hotels through the links below. With the exception of the Parnassos Ski Center in Arachova on weekends and over the Christmas Holidays, finding rooms and space on the ski slopes should not be too much of a problem, especially if you go on weekdays when you may have an entire mountain to yourself. But however you do it, a trip to Greece in the low season, whether you are skiing or hiking the trails, climbing Mount Olympus, or hanging out on the coast watching the fishing boats as life returns to normal after the tourist season, you will find it not only less expensive then high-season travel, but a richer and more rewarding experience than laying out on a beach in the hot summer sun. And you can leave your ski equipment at home. The Greek resorts have shops for renting them.
The Ski Resorts in Greece
Parnassos Ski Resort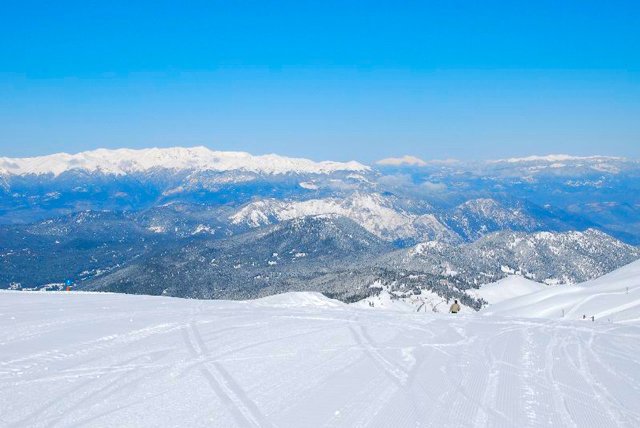 Mountain Parnassos is Greece's most popular ski center since it is only about two hours from Athens and very close to Delphi one of the most popular ancient archaeological sites where visitors go year round. The mountain itself has two peaks, Kellaria which is 1750m, and Fterolakas at 1950m. There are 13 lifts to 19 ski runs, 7 ski routes, 10 trails and three mini beginner runs. There are two cafe-chalets and a restaurant in the center, ski and snowboard schools, special stores for ski and snowboard equipment rental and a playground for children. Parnassos Ski Center operates from December until the beginning of May, and is considered the best organised ski center in Greece. It is located about 24 kilometers from Arachova where many of the hotels and restaurants are. For recommended hotels near the Ski Center see Booking.com's Arachova Page for photos, reviews and booking information. As stated above this is the most popular ski resort so you need to book early or come on a weekday.
Kalavrita Ski Center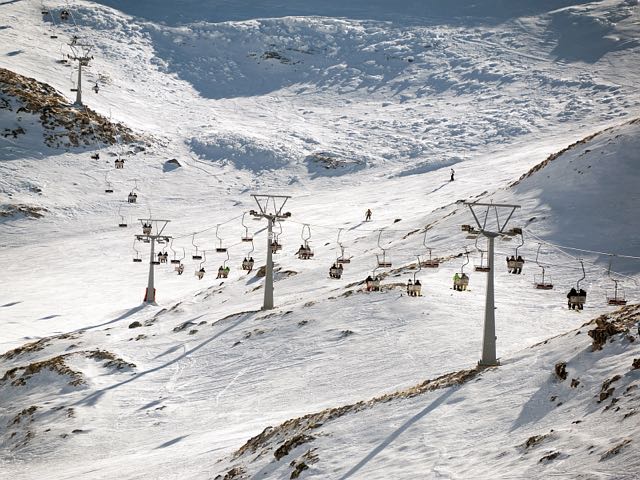 The next closest ski resort to Athens is on 2340m Mount Helmos at the Kalavrita Ski Center in the Peloponessos, about two and a half hours drive from the city. This is the second largest ski resort in Greece and has 12 slopes: 2 difficult, 2 intermediate, 6 easy and 2 very easy, with 7 ski lifts and special areas for snowboarding and extreme sports. The resort has snack bars, cafes, restaurants, shops for renting or buying ski equipment and a ski school. Kalavrita, where most people stay, is a beautiful town, especially in the winter and is famous for the small train that climbs the mountain from the seaside town of Diakofto through the Vouraikós Gorge to the railway station in Kalavrita. Early and late in the season it is easy to ski in the snow and go for a swim the same day. Nearby is the Agia Lavra Monastery and the Cave of the Lakes. Kalavrita is full of cozy restaurants, cafes, shops and hotels and guest houses. For recommended hotels near the Ski Center see Booking.com's Kalavrita Page for photos, reviews and booking information.
Mount Mainalos Ski Center
The Ski Center of Menalon is located on the plateau of Ostrakina on 1600m Mount Menalon in Arkadia, Peloponessos. The center has 4 lifts taking you to 8 slopes and includes a ski school, ski and snowboard equipment renting shops, and a chalet with a guesthouse, cafes and restaurant . The ski season normally lasts for about 3 months, from January to March. The area is also popular with hikers and kayaking and rafting on the Lousios River. For beginners this may be the best resort and you can easily come for the day from Athens. For recommended hotels near the Ski Center see Booking.com's Vitina Page for photos, reviews and booking information.
Mount Pelion Ski Center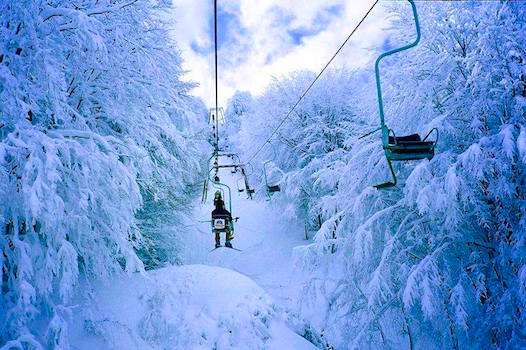 The Mount Pelion Ski Center at Agriolefkes on 1500m Mount Pelion is in one of the most beautiful areas of Greece and should you come and find there is no snow don't be too disappointed. The area is famous for its beaches, forests, quaint mountain villages, and for their tsipuro, a spirit like ouzo without the anise, and the mezedes-snacks that go with it. There are 5 ski slopes and 4 lifts, a chalet with restaurants and cafes and accommodation, a ski and snowboard school, and paths to explore this beautiful area. The city of Volos, famous for its tsipuro and mezedes restaurants, is about 27 kilometers away but there are quaint hotels and chalets scattered around the various towns and villages of Mount Pelion. For recommended hotels near the Ski Center see Booking.com's Volos Page for photos, reviews and booking information and also the Booking.com Chania Page which is closer to the ski center.
Velouxi Ski Resort in Karpenissi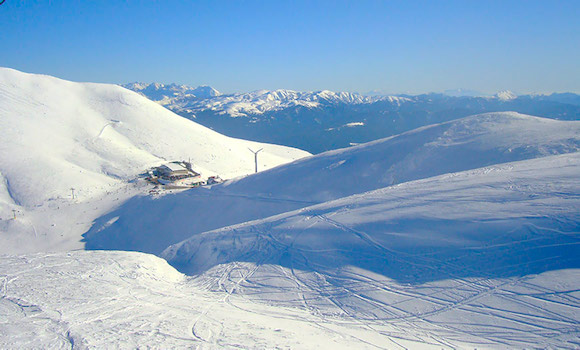 Located just 10 km from the town of Karpenissi, about 4 hours from Athens in the region of Evrytania, the Velouxi Ski Resort has 6 ski lifts taking skiiers to 18 different slopes of varying difficulty. There is also a chalet, snowboard park, ski-mobile rentals, ski equipment for sale or rent and a ski school and cafeteria and is open from December until April. It is located on 2200m Mount Tymfristos. Evrytania is known as 'Little Switzerland' though many have compared it to the mountains of North Carolina. Accommodation can be found in Karpenissi as well as the lovely villages in the surrounding area which is also known for its grilled meat and fresh trout. For recommended hotels near the Ski Center see Booking.com's Karpenissi Page for photos, reviews and booking information.
Mount Olympus Elatochori Ski Center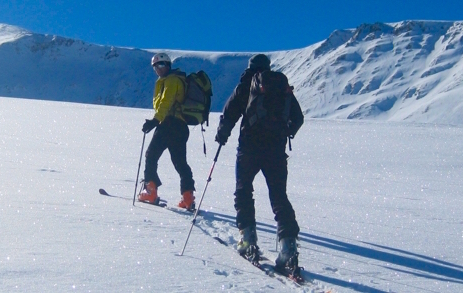 Of course if you had to choose one mountain to ski in Greece it would probably be 2917m Mount Olympus. The Elatochori Ski Center is located on the northern slopes of Greece's most famous mountain and has 6 slopes and 2 lifts as well as a snowboarding and sled run. There are 2 ski schools, a shop for buying or renting equipment, as well as a chalet and there is accommodation in the various towns and villages nearby. Mount Olympus is about 4 hours drive from Athens and the nearest village is Elatohori which has restaurants, cafes and hotels. For recommended hotels near the Ski Center see Booking.com's Elatohori Page for photos, reviews and booking information. And of course you can't come to Mount Olympus and not try to climb it. See Matt's Mount Olympus Page
3-5 Pigadia Ski Center and Seli Ski Center on Mount Vermio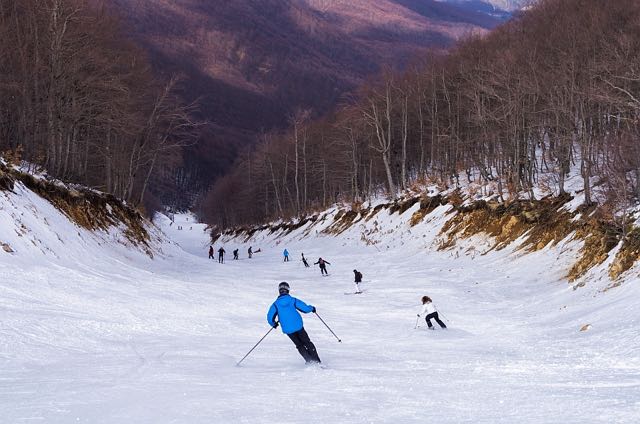 Located on the west side of Mount Vermio at an altitude of 2005m the 3-5 Pigadia (springs) Ski Center is 17 km from the town of Naoussa and has a hotel and guest house open year round. The ski center has the capability to generate artificial snow during mild winters and the 4 lifts take skiers to 5 slopes. The ski resort, offers a variety of non-winter activities like hiking, trekking, mountain biking, hang gliding, paragliding.
The Seli National Ski Center is on the southwest side of Mount Vermio and features 19 slopes of various levels and almost as many lifts to get you to them starting at 1900m. The first ski lift in Greece was built here in 1955. The center has a chalet with restaurants, ski school, and 2 shelters with gym-sauna, restaurants and cafe-bars. There are hotels and restaurants in the villages of Seli and Kato Vermio as well as Naoussa. For recommended hotels near the Ski Center see Booking.com's Naousa Page for photos, reviews and booking information
Ski Resort Voras Mount Kaimaktsalan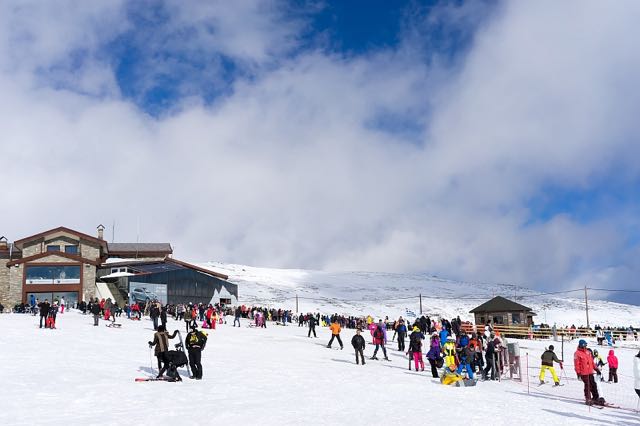 Ski Resort Voras – Kaimaktsalan opened during the winter 1995 and gradually upgraded to become one of the best ski centers in Greece. Located on the northern slope of 2480m Mount Voras, the skiing begins at 2050m with with 6 ski lifts and 13 ski runs, 15 km in total length and 4 ski trails and a snowboard park as well as a snow tubing park. One of the most popular winter destinations in Greece, Kaimaktsalan is known as the Winter Mykonos (They call Arachova the same and both have their share of expensive cars in the parking lots). The ski center is located northwest of Thessaloniki and close to the towns of Edessa and Florina. For hotels and guest houses see Booking.com's Edessa Page and Booking.com's Florina page.
Mount Falakro Ski Center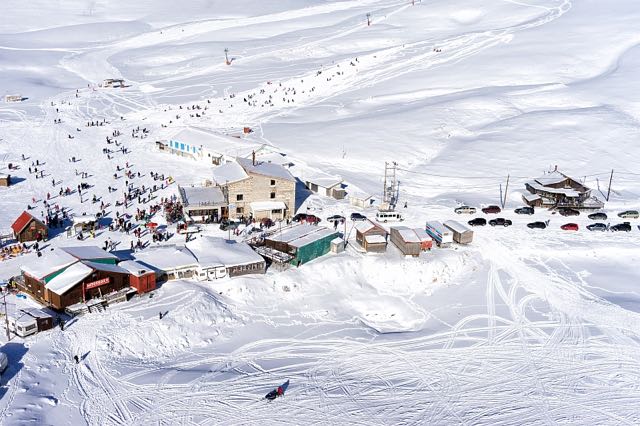 The Falakro Ski Center, near the town of Drama close to the Bulgarian border, has 9 ski lifts to 21 different slopes, a skiing school and a 5,000-meter slope for endurance races. Open from December, every day from Thursday to Sunday and on holidays, it has the longest ski season of any of the Greek ski resorts. With shelters and a chalet that can accommodate over 300 people there are shops and cafes, ski rentals and a ski school. Along with skiing the region is rich in outdoor activities with hiking trails, mountain climbing, 4x4 routes, mountain biking and a large number of caves, rivers and lakes and forests including the Angitis Cave, the only river cave in Greece. To find hotels use Booking.com's Drama Page
Vasilitsa Ski Centre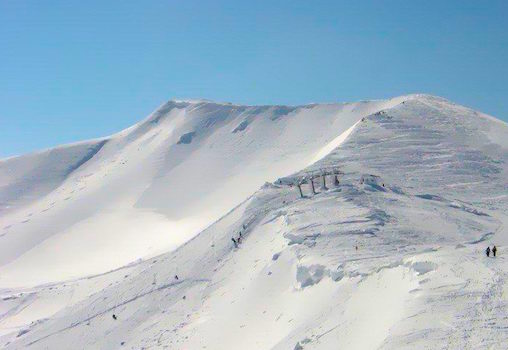 Located about 45 kilometers from the town of Grevena about 100 miles west of Thessaloniki at an altitude of 2113m in the Pindos Mountains, the Vasilitsa Ski Centre is considered one of the best snowboard destinations in southeastern Europe and attracts young adventurers from all over the world. The ski center has 16 ski runs of varying levels of difficulty and different types of terrain with 2 lifts that take you close to the summit. With spectacular views, including of Mount Olympus over 200 kilometers away, there are two chalets which offer accommodation and meals, a cafe bar, equipment rental shop and a snowboard shop. The place to stay is at the Valitsa Ski Resort though you can find other options by using the Booking.com Polinerion Page.
Metsovo Ski Center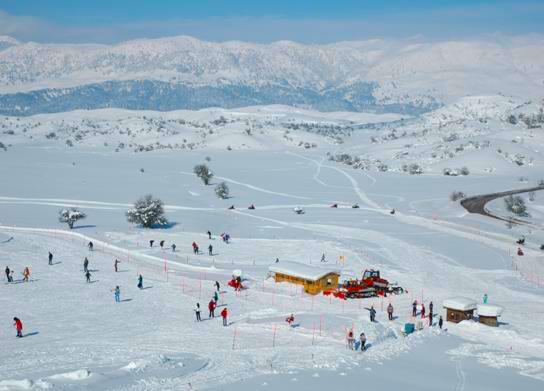 Located in the Pindos mountains the Metsovo Ski Center is located at 1650m Profiti Ilias about 4 kilometers from the town of Metsovo and is actually made up of three resorts with 3 lifts, five slopes and 10 kilometers of cross country trails. The easy ski runs are relatively short and the center is one of the best ski areas for beginners. There are also more difficult runs for more experienced skiers. The center is open from November to March and has an artificial snow system available when necessary. The chalet has a restaurant, cafeteria and coffee shop, ski school and equipment rental shop. Metsovo has a number of comfortable hotels for winter clients which you can find on Booking.com's Metsovo Page.
Pisoderi Ski Centre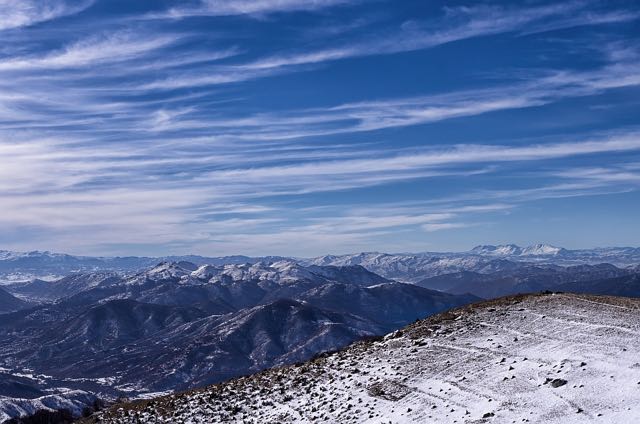 The Pisoderi Ski Center is located in Vigli on 1939m Mount Verno close to the borders of Albania and FYROM and about 15 kilometers from the town of Florina. The resort has 5 lifts and 12 runs for skiers and snow-boarders (9 downhill ski slopes, 2 cross country ski runs and one slope for snowmobiles) including the longest and the best in Greece at 2100 meters made for Olympic standards. The chalet is located right at the ski center and has restaurants, cafes, shops and accommodation. There is also a guesthouse located in a refurbished old school. The ski center is one of the biggest and most modern in Greece and provides ski lessons for beginners, ski and equipment rentals and has a medical center. Florina is a very nice town with restaurants, cafes and shops and you can find hotels on Booking.com's Florina Page. You are also close to the Prespa Lakes which separate Greece from its neighbors to the north.
Suggested ways of planning your Ski trip to Greece:
Keep in mind that just like where you live (maybe) Greece's winter season begins in December. Some of the mountains have snow on them in November but don't count on it unless you go to one of the resorts that has snowmaking capabilties.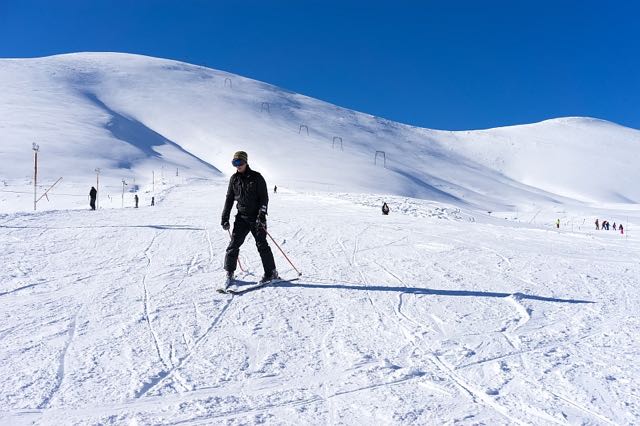 You can contact Fantasy Travel who can arrange ski trips either self-driving or they can provide a driver-translator-guide. For a 10% discount on groups of 10 or more go to Fantasy Travel's Groups Page. If you have a good idea of what you would like to do go to my Create-an-Itinerary Page and fill out the form. Also be sure to look at Fantasy Travel's Winter in Greece Programs.
See Fantasy Travel's Ski Package
You can do weekend or day trips to ski in Parnassos, Kalavrita and any of the ski centers close to Athens or weekends to Pelion or any of the other ski centers, most of which are no more than 5 hours from Athens, with George the Famous Taxi Driver or his sons who have a limo for groups too large for a taxi and a bus as well.
If you are going to the ski centers in Northern Greece and basing yourself in Thessaloniki you can use Grigoris Mosiades who provides taxi and limo transportation.
You can also rent a jeep from Swift Rent-a-Car and make the ski and hotel arrangements yourself or through a travel agency.
For hotels in Skiing areas see www.hotelsofgreece.com and through Booking.com by clicking on the link and putting in your dates and the closest city to the resort you are interested, though I have already done that for you if you click on the hotel links for the individual resorts.