This page is sort of an introduction to Athens. If you are looking for some general information about Athens this page will be helpful but I encourage you to visit My Athens Survival Guide which has a lot more information as well as lots of photos, restaurant reviews, and actually leads you through the different neighborhoods, museums and archaeological sites of Athens. It is the most entertaining and extensive guide for Athens, full of great photo tours, hotel and restaurant reviews, history, archaeology sites, museums and just about everything you would find in a guidebook and a lot more that you would never find in a guidebook. If you have somehow stumbled on this page on your own you should click on the link to Introduction below which will take you back to the beginning of my Greek Travel webpage. If you like using my site please share it with your friends on Facebook.

Athens
Arrival in Athens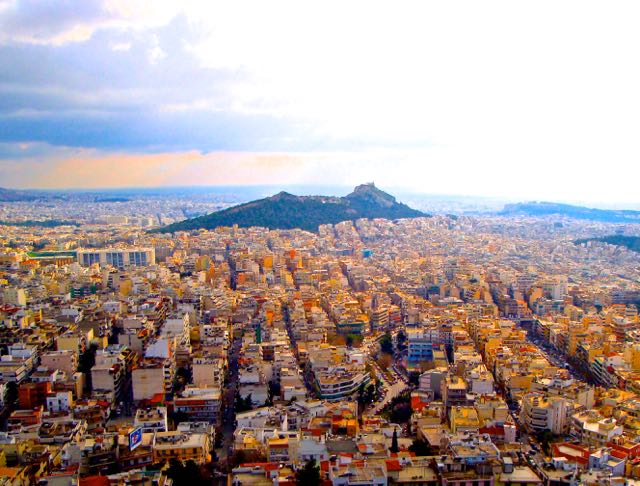 If you are coming by air you will be arriving at the Eleftherios Venizelos International Airport. Getting into the city is easy and there is lots of information about trains, taxis, buses and other airport info on my Athens Guide Airport Page. Most people going to the Greek islands spend their first and last nights in Athens and then maybe one or two extra days at the end of their trip if they want to go to places like Delphi and Meteora or Nafplion and the Argolis. When you book a holiday through a travel agency in Athens it includes transfers from the airport. They actually send someone with a taxi, usually an attractive young woman who speaks fluent English and several other languages, whose job it is to make you feel comfortable and get you to your hotel and give you your ferry tickets, hotel vouchers and whatever other information they supply you with. Some people try their luck with the street taxis at the airport while others use George the Famous Taxi Driver who has a great reputation for promptness, honesty and reliability. The metro station is right across the street from the airport terminal and will take you to Syntagma or Monastiraki, Omonia, or Acropolis stations because that is where most of the hotels are. (The Blue metro line from the airport goes to Syntagma and Monastiraki and you have to change to the Red for the second two stations). The metro runs from 5:30am to sometime around 11pm. So before or after that you have to take a taxi or one of the express buses that go to Syntagma (X95), Port of Pireaus (X96) or the long distance bus stations (X93). If you are going to Lavrion or Rafina there are KTEL buses that come every hour or so. If you are coming from Patras you can connect with the Proastiakos (Suburban Rail) which has connections with the metro.
Those arriving by KTEL bus.... The bus terminals are in the middle of nowhere and your best bet is to take a taxi to whatever hotel you are staying at.
Where to Stay in Athens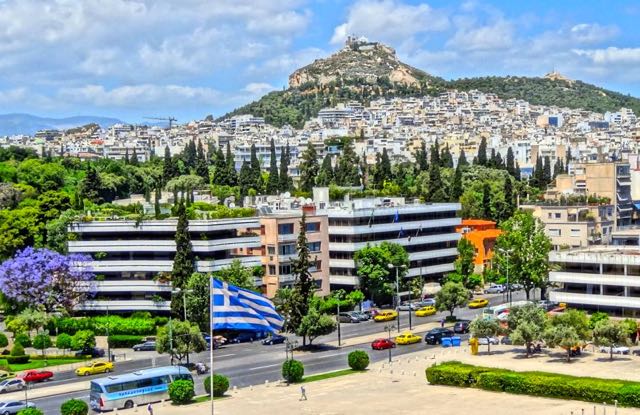 When in Athens the desirable areas to stay in are the Plaka, Makrianni, Koukaki, Thission, Syntagma and Monastiraki. These all border the Acropolis and the archaeological park around it. Everything you need including shops, restaurants, the metro to the ferries, buses, taxis and nightlife is within walking distance. It's like being on a peaceful island. There are several hotels in the Plaka area between Syntagma Square and the Acropolis. It's the quietest and most pleasant part of Athens. For now there are no cheap hotels close enough to the airport to really be convenient. There is a big Sofitel that is actually at the airport and a Holiday Inn nearby, but they are pretty expensive. With the money you spend there you could stay downtown, have a nice dinner in a fancy restaurant and take a taxi to the airport in the morning. If you go to my Hotels of Greece Athens Pages I have listed hotels by category and divided them by whether they are in a convenient and safe location. Speaking of safe, it is a good idea to stay in a hotel that has a safe in each room where you can keep extra cash, important documents and whatever credit cards you won't be needing that day. Be sure to photo-copy your passport and drivers license before you leave home and carry the copies around with you instead of the originals when you are out exploring the city.
You can also search for hotels in Athens and see photos and reviews by using this link to Booking.com which allows you to book many hotels and cancel with no cancellation fee, provided you don't do it at the last minute. This is a good way to lock into a cheaper rate.

For More Info on Athens Hotels take a look at my Athens Guide Hotels page which is a more detailed version of the hotel information on this page.
The way I support this site is through the hotels listed on it which you can book using the links to the travel agents, the hotels themselves, and to Booking.com. If you appreciate the work that went into this site and all the free useful information please use these links to book.
My Favorite Hotels in Athens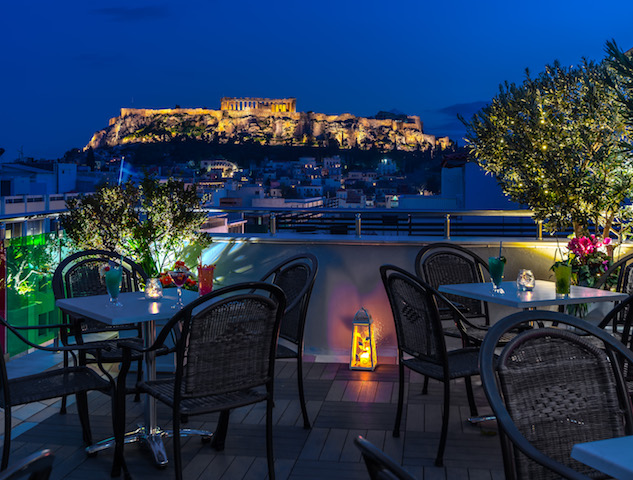 The Hotel Attalos is in my opinion the best economy hotel in Athens based on location, service and cleanliness. It is a short walk to the Monastiraki Flea Market and Metro Station for getting to the boats to the islands and to and from the airport. It is a fifteen minute walk to the Acropolis and it is a block from Psiri, the hippest part of Athens with great cafes, ouzeries and restaurants at night. You can walk to the National Archaeological Museum in twenty minutes, to Syntagma Square in fifteen, to Ermou Shopping Street in five, to the Central Market in about two minutes. You can even walk to the nightlife of Gazi in fifteen minutes and the Jewish Synagogue and Keramikos in ten. So if you stay here you should never have to take the metro, a bus, taxi or trolley except to get to and from the airport or the ferry. It has a rooftop cafe with a spectacular view of the Parthenon, and it is a great place to make friends because many people come up for a drink before going out or even order takeout from one of the many nearby restaurants and eat it while watching the Acropolis in all its glory. Many of the rooms have Acropolis view. All rooms have air-conditioning, fridges, big closets, and the showers are great with good pressure and hot water right away, and cold water that you will find refreshing after marching around Athens all day in the hot sun. The breakfast room serves decent coffee, as much as you want, as well as toast, butter, marmalade, yogurt, cereal, cheeses, juices and teas, which will enable you to have the energy to climb the Acropolis and visit the other sites of Athens. The Attalos is a family owned hotel and a bargain recommended by travelers and professional travel writers, being one of the top rated hotels in most of the guide books and travel sites.
The Attalos fills up quickly so if you know that this is where you want to stay book it now. You won't find cheaper rates for this hotel than what they offer on this secure booking page . See more photos and info on the Attalos Hotel Website
Other Economy Hotels in or near the Plaka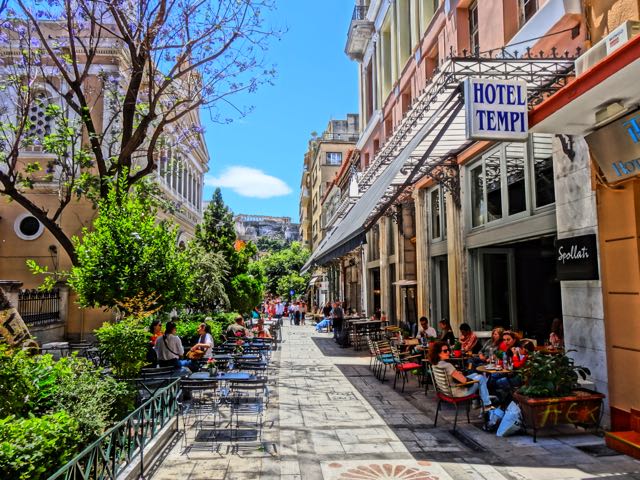 The Hotel Tempi is a nice little hotel on traffic free Aeolis street, just a block or two from Monastiraki Metro station right on Agia Irini Square which is full of cafes, restaurants and bars. The Cecil Hotel occupies a beautifully renovated neo-classical building in the heart of old Athens, close to the Ancient Market and the City Market. It is located near the most central pedestrian street of Athens, the Acropolis, and the Plaka and Psiri are only a short way away. Cecil Hotel offers easy walking access to numerous tavernas, restaurants and many places like cafes, nightclubs and cinemas, offering all forms of daytime and evening entertainment for which Athens is famous. Very economically priced too. If the Attalos is full, these two hotels are the closest.
As for other 2-star hotels that are in good locations I recommend the Hotel Byron which is right below the Acropolis, in the Plaka, and owned by a Greek-American baseball player.(Really!) Also right in the Plaka are the Hotel Adonis, which occasionally has a room available and the Hotel Nefeli where my parents best friends always stay and who will probably get mad that I put the hotel on the site when they show up and it is full. Though I have never stayed at the Acropolis House, like the others it is on a pedestrian street right in the Plaka and is inexpensive for a hotel in a good area of Athens. The Athenstyle Hotel is a combination hotel/pension that is in Psiri, half a block from Monastiraki Square a couple doors away from The Poet-Sandalmaker. In fact the 2-star hotels I have listed above are all reasonably priced when you consider that you won't need to use the metro or take taxis home at night after dinner or bar-hopping because they are within walking distance of everything. A is for Athens is a hotel that is a little more expensive than the rest but gets good reviews and has a cafe on the roof that has a great view of Monastiraki Square and the Acropolis. It is located right at Monastiraki Square.
If you are looking for something cheaper than a C-catagory in Athens like a pension or youth hostel for example see my Budget Hotels Section. Most of the really cheap hotels are cheap because they are in neighborhoods that nobody wants to stay in, either because they are not particularly nice(safe) areas or are too far from the sites. For more choices visit my Athens Guide Hotels Page. To search for more hotels in Athens by category, location, price or popularity use this link to Booking.com's Athens Page
A Little More Expensive but not too much more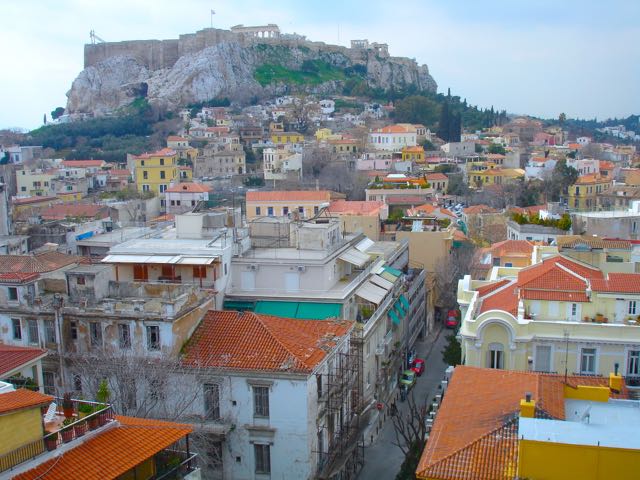 The story goes that the Hotel Central in the Plaka was bought and renovated for the Olympics by a wealthy person who then tried to sell it after the Olympics ended. It is still for sale. But don't let that stop you from staying in this modern, almost futuristic hotel which is rarely full. Great views of the Acropolis, DSL in the rooms, a rooftop bar and a terrific location in the Plaka. I proposed to my wife in the honeymoon suite at the Athens Cypria Hotel. The regular rooms may not be so inspiring that you will propose to yours but they are clean, decent sized and the hotel has a great location on a pedestrian street right off Ermou, Athen's main shopping street. Easy walk to the Plaka, Psiri, the Metro and the archaeological sites. Not many hotels can offer a view of the Acropolis from one side and a view of the Temple of Olympian Zeus from the other, but the The Athens Gate Hotel does and also have a beautiful rooftop garden so you can look at both over cocktails. Great location on the edge of the Plaka and the pedestrian zone that surrounds the Acropolis. The hotel was totally gutted down to the cement and rebuilt almost from scratch. Its a beautiful hotel with friendly service. Also recommended are the Hotel Hera and the Hotel Herodion which are both by the Acropolis Museum, and the recently re-opened (after 100 years) Emporikon Athens Hotel, in Agia Irini Square, is a 19th century neo-classical building in one of the most lively neighborhoods in the city.
For more choices visit my Athens Guide Hotels Page. To search for more hotels in Athens by category, location, price or popularity use this link to Booking.com's Athens Page
Expensive but Worth It
I have stayed at a few of the luxury hotels in central Athens and while some were very good others seemed like they watched a movie about a fancy hotel over and over again and then tried to recreate it. These are the best in central Athens, in my opinion.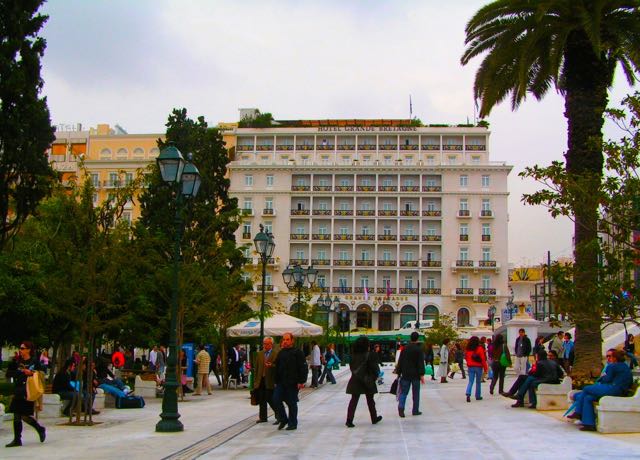 The Hotel Grande Bretagne or GB as they call it, is the oldest and most elegant luxury hotel in Athens and one of the finest and most well-known in the world. A room there will cost you a few hundred bucks a night at least but if you have the money it is worth it. The Grande Bretagne overlooks Syntagma Square and you can watch the changing of the Evzone guards from your balcony. There is a pool on the roof, and a pool in the basement. In fact there is an entire luxury spa in the basement. The GB Corner is one of the most renown restaurants in Athens and the rooftop restaurant and bar may be even better. It certainly gets points for the view. But the place to be is the Alexander Bar where you never know who you will be rubbing shoulders with.
If you are looking for another really nice hotel The Electra Palace Hotel is probably the most popular hotel in Athens. There are not many hotels of this quality in the Plaka, at least not with a swimming pool! They have a pretty steady business clientele so you need to book pretty far in advance to get a room here in the summer. The Hotel Royal Olympic is a really nice hotel with views of both the Temple of Olympian Zeus and the Acropolis. Beautiful rooms and a great outdoor swimming pool. There is a rooftop bar and their restaurant is one of the better hotel restaurants in Athens. It is a little pricey as you would expect but you can't beat the view. The Athens Hilton as you might expect is the most popular with travelers. It is about a mile from downtown Athens but there are 2 metro stations nearby and always taxi cabs at the entrance. Every room has an Acropolis view. The Saint George Lykabettus is the highest hotel in the city in the upscale neighborhood of Kolonaki where there is great food, great cafes and great views. It is a 20 minute walk to the Plaka but it is all downhill. This is a good place to stay in August when they have low rates and even a breeze.
Fantasy Travel has discounted rates on these and other 5-star hotels.
For more choices visit my Athens Guide Hotels Page. To search for more hotels in Athens by category, location, price or popularity use this link to Booking.com's Athens Page
Air BnB Style Apartments and Holiday Homes in Athens

Though I don't work with Air BnB I do have a number of that style apartment that you can book through my Athens Apartments page through Booking.com. I recommend this over Air BnB because with most properties you don't pay in advance and have a free cancellation policy. Your credit card is used just to hold your booking which means if you need to cancel you don't have to send emails back and forth to get your refund because you were never actually charged. I also have a page for Apartments and Villas Outside Athens for those who want to stay on the beach or just outside of the city.
Staying on the Coast of Athens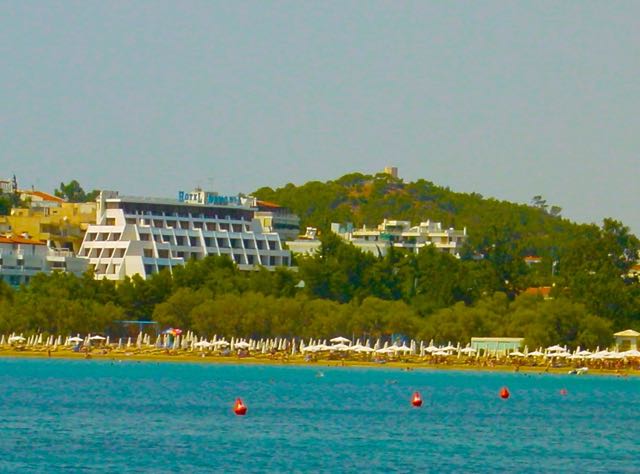 Many people don't like cities. This is perfectly understandable and one of the great things about Athens is that the city is close to the sea and suburbs like Faliron, Kalamaki, Alimos, Glyfada, Voula and Vouliagmeni have hotels of all types and prices from 2-star budget to beachfront resorts with swimming pools and watersports. The Athens Tram follows the coast all the way to Voula and you can also get into Athens by public bus or taxi. Visit my Coastal Athens pages where I have links to hotels in each town. You can also stay at one of several hotels near Cape Sounion for more of a Greek island feeling. The northern suburbs of Kifissia also has a number of hotels, some in beautiful historical buildings with restaurants, swimming pools and health spas just a 45 minute ride from downtown on the metro. And some people may want to stay in Pireaus or Rafina to be close to the ferries to the islands. You can find hotels in my Hotels of Greece Coastal Athens page or by searching on Booking.com's Attika Page. Also see Fantasy Travel's Far from the Maddening Crowd which has several Greek Island and mainland programs where you stay on the coast instead of downtown Athens. And as mentioned above see Apartments and Villas Outside Athens.
See Athens While Staying on the Islands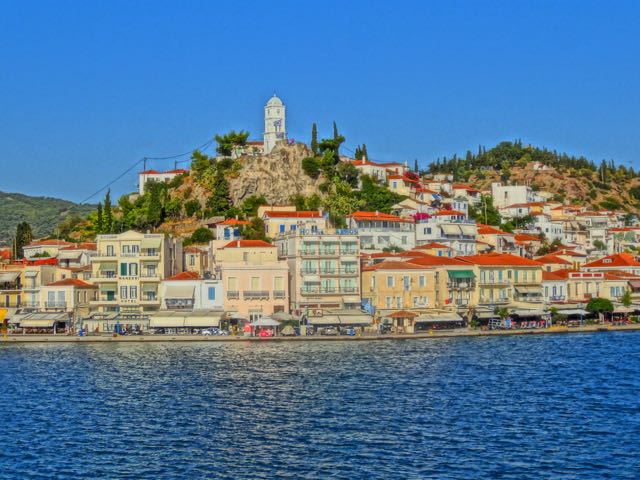 Who says you have to stay in Athens to see Athens? OK. Cities are not for everyone. So why not stay on an island that is one hour from Athens? You can be on the Acropolis in an hour and a half! (Sometimes it takes that long from the Hilton). The island of Poros is a sensible option to city life and it is also a 3-minute boat ride from the Peloponessos. I highly recommend the family owned Saga Hotel there.
The island of Aegina is about an hour from Pireaus by boat and half that by highspeed. There are inexpensive hotels there, plenty of tavernas, and a slice of island life within sight of Athens. See my Aegina Pages for recommended hotels and also Booking.com's Aegina Pages.
Angistri is another island close enough to Athens so you can visit by day and the Agistri Club Hotel is a favorite of many professional Greece Travelers. See Phil LaVere's Guide to Angistri.
The islands of Hydra and Spetses are a little further but if you take a highspeed you can still commute into Athens to see the sites.
If you stay on the island of Kea you can catch the 6:30 am ferry to Lavrion (one hour), take a taxi into Athens (one hour), see the sights and take the evening boat back to the island. Kea is the closest of the Cyclades Islands and has the feeling of a remote island, not one just an hour from the mainland. See my Kea Pages for hotels and lots of information about the island.
Booking Hotels in Athens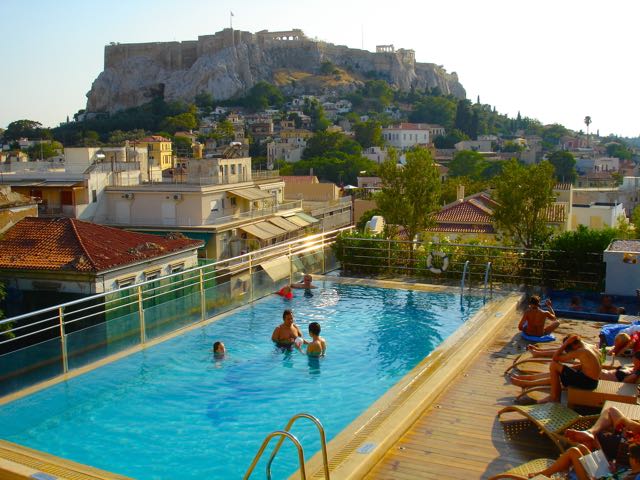 For more hotels in Athens see my Hotels of Greece Athens Pages and my Athens Guide Hotels Page. I have also listed hotels at the bottom of all the pages about different parts of the city, for example Syntagma, Monastiraki, The Plaka, Thission, Makrianni, Psiri, and all the recommended areas to stay in Athens. Even the page for Athens Pedestrian Streets and Parks lists all the hotels that are in or close to these green areas.
You can book these and many other hotels in Athens and the rest of Greece through the following recommended agencies: Dolphin Hellas Travel , Fantasy Travel, or Aegean Thesaurus Travel. By using a Greek Travel agency you don't only get discount rates on hotels, tours, rental cars and cruises but you have someone to call if you have any problems and who can help you with tickets and information on getting to the islands and back.
For those who are looking for apartments and houses in and around Athens see Apartments in Athens
Even if you are backpacking and not booking hotels until you get to the island or staying in campsites I still recommend booking your hotel in Athens. For a city of its size Athens sometimes has a shortage of hotel rooms, particularly economy class, and wandering around looking for one can be disheartening.
Using Booking.com to Book Athens Hotels
You can search for hotels in Athens (and all over Greece) and see photos and reviews by using this link to Booking.com's Athens Page which enables you to search for hotels by category, price, location and many other options. You can book and cancel without a penalty for most hotels. This is very useful if you are trying to book hotels in the summer but the ferry schedules have not been released yet. It was a life-saver for thousands of people who had to cancel their holidays because of covid in 2020 who did not have to negotiate with hotel owners for refunds or vouchers.

New Economical Packages in Nice Hotels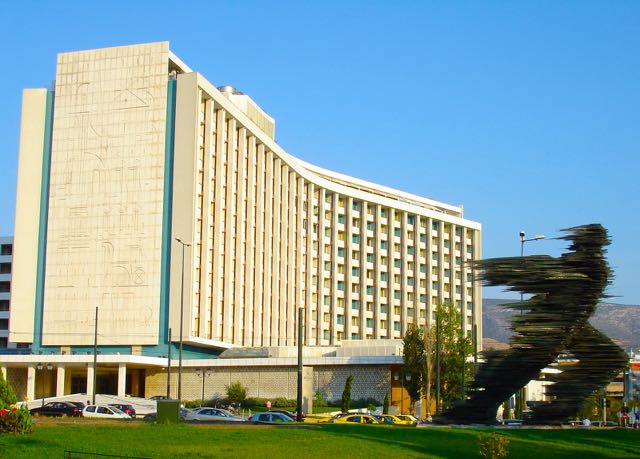 Fantasy Travel has put together a number of packages that offer quality accommodation for economical prices. Most packages that seem too good to be true are actually not as good as they seem, often using hotels in Athens that are in areas you really don't want to stay in, to keep the price down. But Fantasy's economy packages feature hotels in and around the Plaka in Athens and are all good quality hotels, like the Athens Hilton (photo). I recommend Fantasy Travel's program The Pursuit of Pleasure which is 12 Days and 11 nights in Athens, Mykonos and Santorini including hotels, ferries, transfers, tours, admission to archaeological sites and breakfast starting at 940 euros per person. You can't beat the price for these hotels and this itinerary. Or their 8 day package that includes a 4-day cruise plus Athens-Delphi-Meteora which starts at 595 euros per person. For these and more visit Fantasy Travel's Special Offers Page
In response to the travelers who for one reason or another don't want to stay in downtown Athens, at my request Fantasy Travel has put together a 10-Day Athens-Mykonos-Santorini package which includes a tour of Athens and all transfers and ferry tickets. The package starts at 790 euros per person. What makes it unique is for the Athens part of the trip you will be staying by the beach in Faliron, just 20 minutes from downtown by taxi or 30 minutes by bus or coastal tram. For more information see Fantasy Travel's Far from the Maddening Crowd
What to see in Athens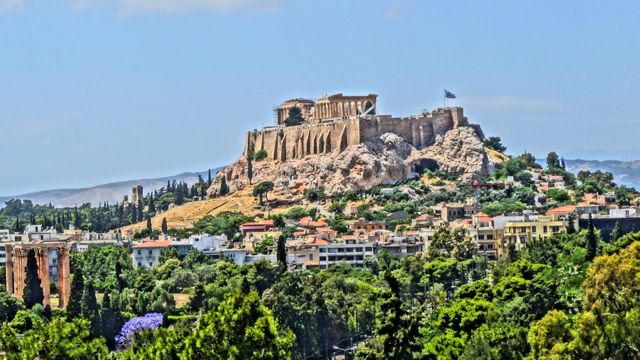 You can visit my Athens Top 10 page and that will tell you what to see first and you can cross them off the list as you visit them. This is particularly helpful if you are only in Athens for the day, say if you are on a cruise, and you can't see everything. This will tell you the most important sites to see first.
Of course you have to see the Acropolis. I have a pretty interesting page about it in my Athens Guide with lots of photos on my Acropolis page.
There are ancient ruins, some Greek and some Roman scattered around the Acropolis and in the Plaka. There are some excellent museums including the Benaki and the National Museum which are two of my favorites. And let me also mention my Plaka Photo Tour which will familiarize you with that popular neighborhood at the foot of the Acropolis.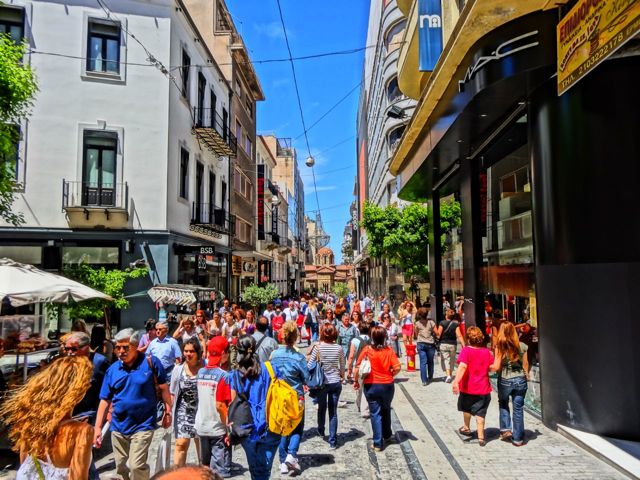 Athens has the best nightlife in the world and terrific restaurants too. The whole downtown area is a shoppers paradise, much of it closed to traffic. You can find all of this in the various pages of my Athens Survival Guide. From Athens you can do day-trips and overnight trips to Delphi, Sounion, Meteora and Nafplio and the Argolis which are all covered in the mainland page. Athens has a great new metro system and getting around is easy. There is a new coastal tram so you can get on in Syntagma and in 40 minutes be at the beach. All the travel agencies offer tours around the city as well as half-day, day-trips and overnights on the mainland. For an example see Fantasy Travel's Organized Land Tours. You can also hire private taxis and limos like George the Famous Taxi Driver. Oh yeah, and make sure to see Athens Day Trips for places to go with a group or on your own.
A Walk Around Athens with Matt: Join me on a quick tour through Athens to some popular tourist areas and some places tourists never go. A great way to get to know the city.
Jewelery in Athens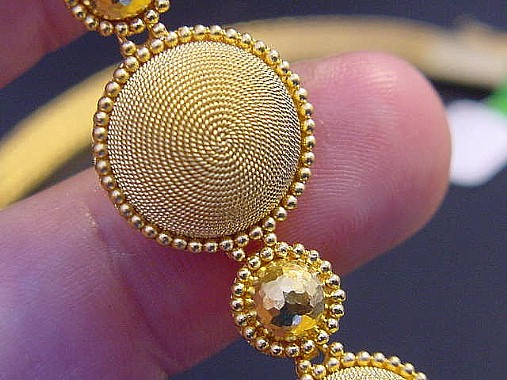 Hand-crafted Gold is inexpensive in Greece. Not because gold is cheaper. Gold costs the same everywhere. But labor is cheaper. People who anywhere else would be master craftsmen with million dollar ads in fashion magazines are working away in little shops in and around Athens. My wife, Andrea makes Greek style 22k and recommends a store called BYZANTINO at 120 Adrianou Street in the Plaka. Their work is so good and so inexpensive that Andrea, who is considered one of the finest goldsmith in America, buys from them. If you are a lover of Gold jewelery don't buy anything until you have seen their work. If you walk down Adrianou towards Monastiraki it is on your left at #120(next to an ice-cream shop). For directions you can call them at (01130) 210 324-6605 or fax 210 324-7079. Let them know Matt and Andrea sent you. You don't have to worry about the language barrior because Laura, the saleswoman is American. See the Byzantino Jewelry Website. If you like more modern Greek styles see their cousins at Olympico Jewelry right next door. Dimos Jewelery is one of the oldest and most respected jewelry stores in Athens. Located in the heart of the historic district of The Plaka just a few steps away from the Metropolis Cathedral, founder Sotiris Dimos started his workshop in 1968 and focused on recreating historical pieces from 4th century BC, Byzantine period and museum treasures, using centuries old jewelry techniques. His son Stavros is one of the superstars of Greek jewelry and a visit to their shop should also be on your list of things to do. See the Dimos Jewelry website.
Also be sure to visit my Shopping in Athens Page and my page Buying Jewelry in Athens
It's all Happening at to the Zoo!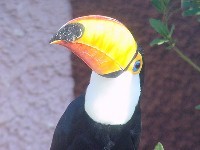 Got time between flights? Looking for something to do after seeing the Acropolis? Go to the zoo! The Attika Zoological Park opened in May of 2001 and after the Acropolis it is probably the most interesting place in Athens. If you have a layover in Athens before your flight to the islands or home, why sit around and look at stressed people when you can see one of the happiest collections of animals in the world. The zoo in Spata is one of the most humane and is the third largest bird collection in the world! It is a short ride from the airport and if you are traveling with kids it is a surefire way to keep them happy and interested in what would normally be wasted time. For more information see the Athens Zoological Park Page
Athens Maps
I have been working on these maps for Athens. I began with a general map which quickly grew to so much information that I decided on another plan and have separate maps for different things. So I made an Athens Hotel Map and an Athens Restaurant Map and then I got distracted and did not make another map. Anyway you can find those and a few other helpful maps on my Athens Maps page. But there is a terrific map store on the corner of Voulis and Apollonos Street in the Plaka called Anavasi Books which also has the most popular guide books and local guidebooks too.
Questions about Athens? You can e-mail me
Be sure to visit these Athens photo albums too:
The Best of Athens
Everyday Athens
The Acropolis
Athens in the Sixties
A Walk Around Athens with Matt

Athens Photo Tours Page has a number of my recent photo albums.
OK. You made it through the third page. But there is lots more. Return to the menu at the top.