Angistri, one of the prettiest of the nearby Saronic Gulf islands, is just a short ferry trip from Athens
Leave it to my friend Dorian to rain on my parade. Back when we were all American high school students running wild in Athens during the military dictatorship we used to go to Aegina for special weekends. When I say special weekends I mean those times we wanted to do certain things with the knowledge that we would not have to return home at night where there might be a parent waiting up with a cup of tea and the desire for a rare heart to heart talk. I think you know what I am trying to say here without me coming right out and saying we would go to Aegina for wild drug orgies or extended acid trips. We would go to Aegina, camp on the beach, drink lots of retsina and act like the kids in Lord of the Flies.
Dorian had a house in Aegina. It belonged to his grandfather. As far as I know he still has it but he never goes there anymore. (actually he died) Dorian was our Aegina expert and he would often talk of another relatively unknown island called Angistri. He would get a far-way look in his eyes as he spoke of its' white sandy beaches and quiet tavernas with fresh fish so cheap it was almost free. A small paradise so close to Athens that it had gone unnoticed by the travelers of the age, Angistri was like a secret hideaway to the few who knew about it. Dorian would laugh at us. "Ha ha. You think Aegina is nice? That is because you have never been to Angistri." Angistri became like Atlantis to us. A place that the old people (Dorian was a year ahead of us) spoke of in hushed tones in reverence to the good old days, kind of like how some of us talk about the sixties.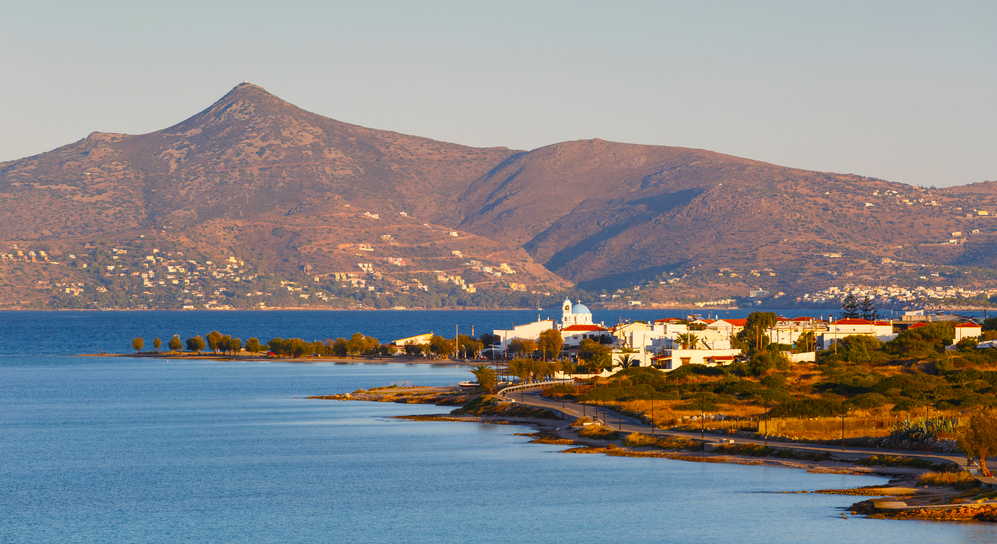 It took me 30 years but I finally went to Angistri. It was a hot day in June. Hotter than June is supposed to be, even in Athens. We had a couple days to kill before we were going to Lesvos or Sifnos, I forget which, and we wanted a nice day trip to the beach, without traffic. We thought about Aegina but I had just been there a couple weeks before to check out the village of Perdika.
Suddenly I remembered Dorian's fabled Angistri.
"Let's go to Angistri!!!" I practically shouted at Andrea.
She agreed but not with the excitement that I tried to inject into her. For Andrea, Angistri had no Mythology. It was just a place near Athens she had heard of somewhere. Maybe she had passed it on some old boyfriend's yacht, or it came up at a dinner conversation about the best fish tavernas. But to her getting on the metro and a ferry was easier than sitting in traffic on the road to the beach. So just like that we grabbed our day-bags and our daughter Amarandi and went.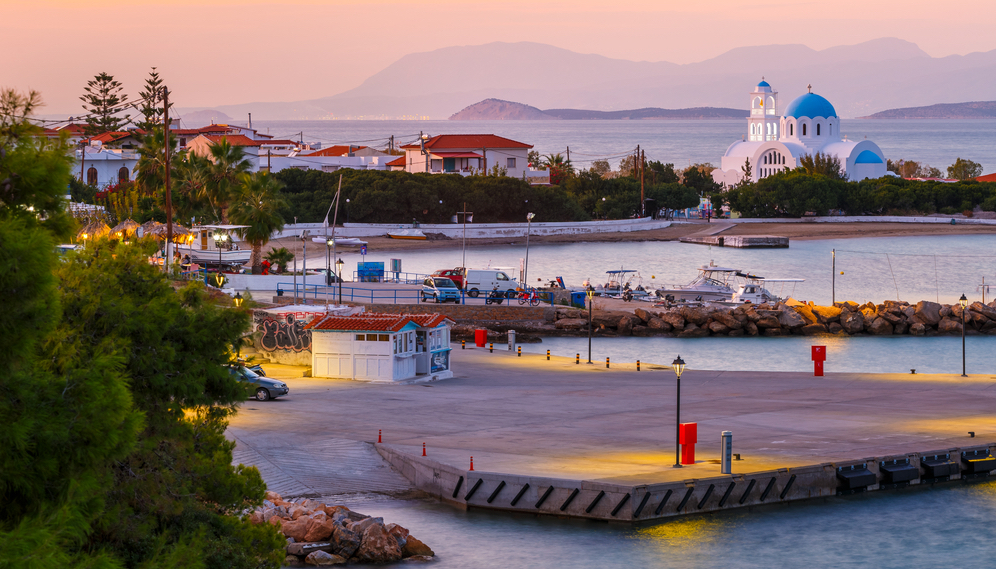 There are a few choices of boats to Angistri. We took a small one near the Aegina ferries that was called the Manaras Express or something like that. It was not any faster than the ferries but we were in no hurry. Once we got out of Pireaus and out into the Aegean we were quite comfortable and happy. The boat stopped in Aegina an hour later and then it was another 20 minutes to Angistri.

If you have been suffering through this long introduction hoping that Angistri would be the paradise Dorian had made it seem so many years ago then you may find the rest of this a little disappointing. Angistri is.... well it's a really nice island. There is a little harbor but it's not a harbor in the true sense of the word, like Aegina's harbor with traditional fishing boats and guys mending their nets, and horse-drawn carriages and places to buy pistachios. It's more like a place to park the ferry boat and another section for smaller boats like pleasure craft and fishing boats. But it was... nice. The water was incredibly blue and really clean. Amazingly clean when you think about how close the island is to Athens.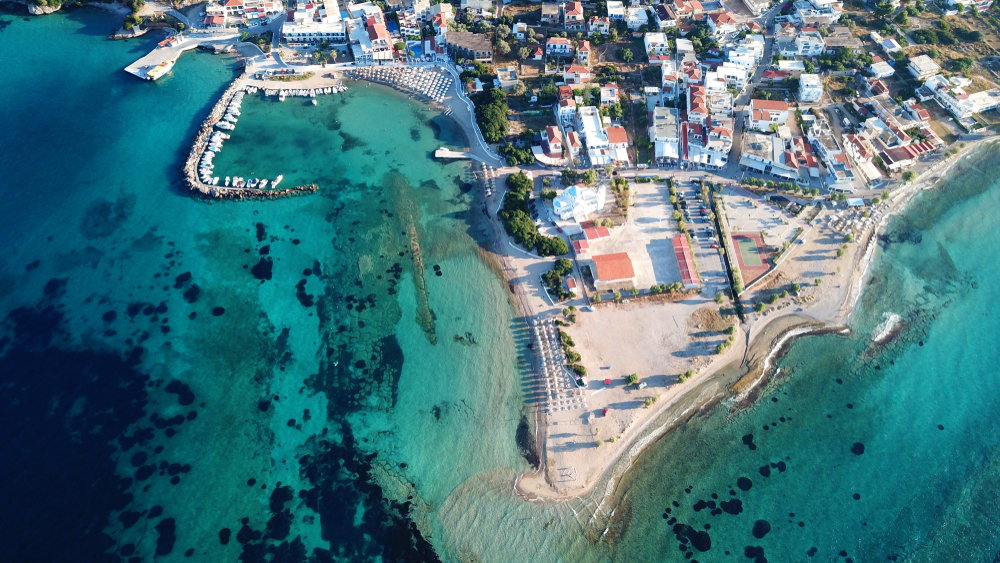 We walked off the small dock and into the town of Skala with a line of restaurants and cafes. There was a path that went along the shore past a couple restaurants and cafes to a sort of public beach which was very crowded. But again the water was really clean. The people on the beach were an assortment of Greek families, Eastern Europeans swimming in the sea for the first time, and middle aged Scandinavians and Germans squeezed into bathing suits that were not designed for sumo wrestlers. But the sea was beautiful so who cared?
I followed the little road around the peninsula and came out on the other side where a line of shops, restaurants and hotels overlooked a long beach where there was not a soul swimming. This is where I swam and it was like heaven. I was amazed that the sea could be so beautiful so close to Athens, and for a few moments everything Dorian had said, so many years ago, seemed to ring with truth rather then exaggeration. This was indeed Paradise.
Then my family found me. Amarandi was miserable. Not enough kids.(only a hundred or so). Andrea was pissed off too, sort of at me for bringing them here and probably for a lot of other stuff over the years that she was suddenly thinking about now. Being experienced in this situation I knew that the only cure was food so we sat at one of the small tavernas right by the public beach. That seemed to calm them both down and the crisis passed.
After lunch I walked around for about 20 minutes looking for some stuff to photograph for this website but it's not the most photogenic place which may be the reason you won't find it in many of the Guidebooks. Not that it is ugly. There are some nice houses along the coast and some pretty little gardens in the back lanes. But there are no great photographic spots or scenes. You know, like an old fisherman mending his net, maybe a pelican chasing a tourist girl in a bikini or even a cat sitting next to an ancient Greek urn like you see in those Greece calendars in the Plaka. As nice as Angistri is, if you wanted to make a calendar of the island to sell in the Plaka you would have to bring over a dozen models and have them pose naked in the sea right about where I was swimming.
OK. Dorian exaggerated a little bit. Or maybe 30 years ago Angistri was wild and untamed. A place where wild goats and rabbits frolicked with naked tourist girls in the verdant hills. But for a day trip from Athens it's great. You won't find many places this close to the city that are so nice to swim. And I only saw a very small part of it.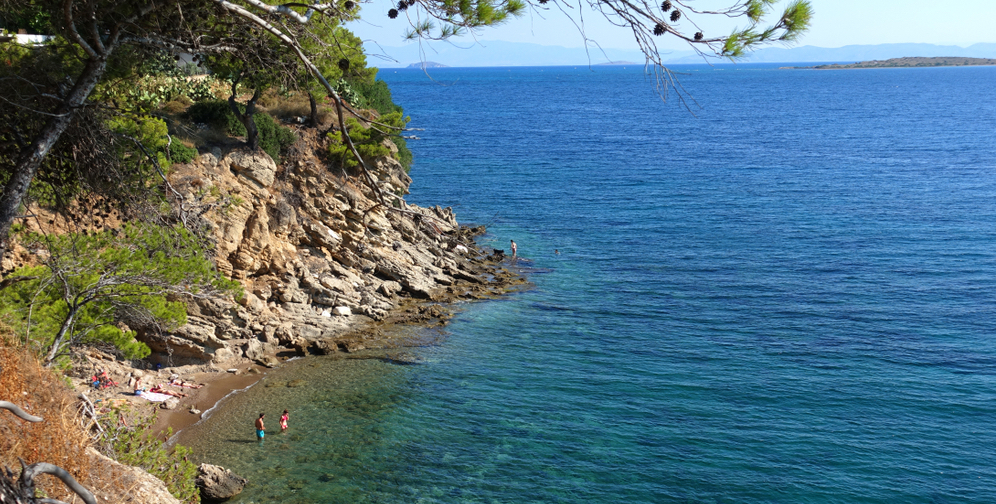 Anyway there are hotels on Angistri so you can stay for more than the afternoon. As a matter of fact many people spend their entire holidays here and it was because so many people were asking me about it that I finally made this page. Apparently it is a popular gathering place for the kind of PhilHellenes who come back to spend their summers in Greece year after year.

Getting home was quicker. There is a Catamaran that is owned by the island and it gets back to Pireaus in about an hour with a stop in Aegina.

When we returned to Athens I couldn't wait to see Dorian. I was beaming with pride when I informed him we had just returned from Angistri.
"Angistri? Why? That's a horrible place." He replied when I told him.
(He makes me really mad sometimes.)


But it's not a horrible place and remember that just 30 years ago he was raving about it and making us feel insignificant because we had never been there. No it's not as beautiful as Sifnos (Dorian hates that island too). Not as charming as Hydra. Not as entertaining as Mykonos. Not as visually spectacular as Santorini. Angistri is...well.....pretty darn nice.
Maybe not worth waiting 30 years for, but nice enough for a day trip from Athens. Or longer.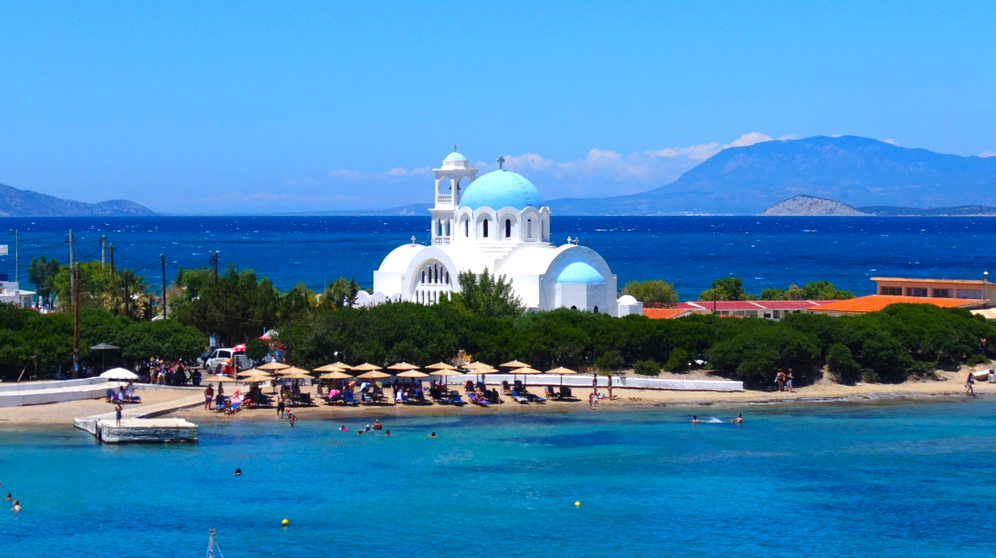 Beaches
Skala Beach is the easiest to get to and the best for families. It is a mix of sand and pebbles and like all the beaches very clean, and unlike other beaches it is right in town and within a few steps of restaurants, cafes, hotels and shops and even the ferry if you are just here for the day.
Halkiada Beach is one of the original nudist beaches of Greece and though no beaches are "official nudist beaches" this comes close with many people here being nude. It is an isolated beach that takes a bit of walking south through the forest from Skala but it is one of the nicest beaches in the Saronic Islands whether you are nude or not. It was made famous in the early eighties as the site of the Adam and Eve Naturist Meeting, a testing ground for naturism in Greece. Not sure how that worked out.
Skliri Beach is a small pebble beach just beyond the Angistri Club Hotel at the edge of the forest which provides shade so you won't have to lug an umbrella (unless it is crowded). Anyway it gets shaded there in the afternoon between 1 and 3. There are also stairs that make it easier to get to than Halkiada.
Dragonera Beach faces west and is nice for afternoon sunset swims. It is a rocky beach so getting in and out of the water can be difficult for the inexperienced. There is also a small snack bar here in the summer.
Paralia Aponisos is another pebble beach in a small cove with crystal clear sea with a bar, sunbeds and umbrellas for rent. Well actually it is private and you pay 5 euros and it comes with a sunbed and umbrella.
Mariza Beach is not really a beach but a rocky area with platforms and steps to get into the sea and a really great area for snorkeling. Not the best place to swim when it is windy so keep that in mind when you choose your beach of the day. Watch out for the American guy with the speargun who shoots anything that moves.
Megalohori Beach is a narrow stretch of sand and pebbles between the road and the sea in the town of Megalohori. If you are staying here and you don't have a car this is where you will swim most of the time and you will probably be quite happy with it even if you know there are other beaches on the island that are better. You will be even happier that you are close to the restaurants and cafes of the village.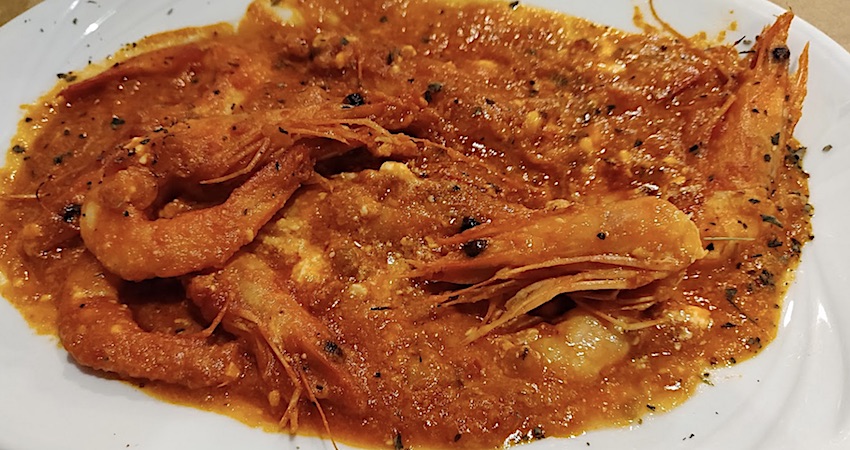 Restaurants
Because Angistri is an island full of summer and weekend homes for Athenians, the quality of food in restaurants is higher than you will find on islands that cater mostly to tourists. It is hard to go wrong here since any restaurant that served lousy food would not last long on such a small island. Toxotis Restaurant is a family run combination psistaria (grill house), magerefta (oven cooked dishes) psarotaverna (fish restaurant), located in Skala. If you can't find something here for everyone in your family then there is probably something wrong with your family. Fresh fish and a friendly staff make this one of the most popular restaurants on the island. If you have come strictly for seafood then go to Yialos, right on the beach, which is known for large portions of fresh fish at reasonable prices. Taverna Parnassos is up the road a bit from the port and is a family run taverna serving simple home cooked dishes of the day. People have told me that Avli Pizza is the best pizza you will find outside of New York City. If true that is reason enough to go to Agistri so put it on your list of places to eat. Limenaria Traditional Tavern is on the other side of the island but worth the trip. (It is a small island). It is a traditional family taverna, owned by a traditional family, serving home-style cooking, in a traditional village. They don't speak English either but don't let that keep you from coming here.
There are loads of other good restaurants on the island so if you come for awhile you won't run out of places to eat.
By the way before I forget to mention it and leave it off the page entirely, Megalohori or Mylos is the other port of Agistri, a short walk from Skala. There is a beach, a number of hotels of various categories, restaurants, cafes, shops and summer homes.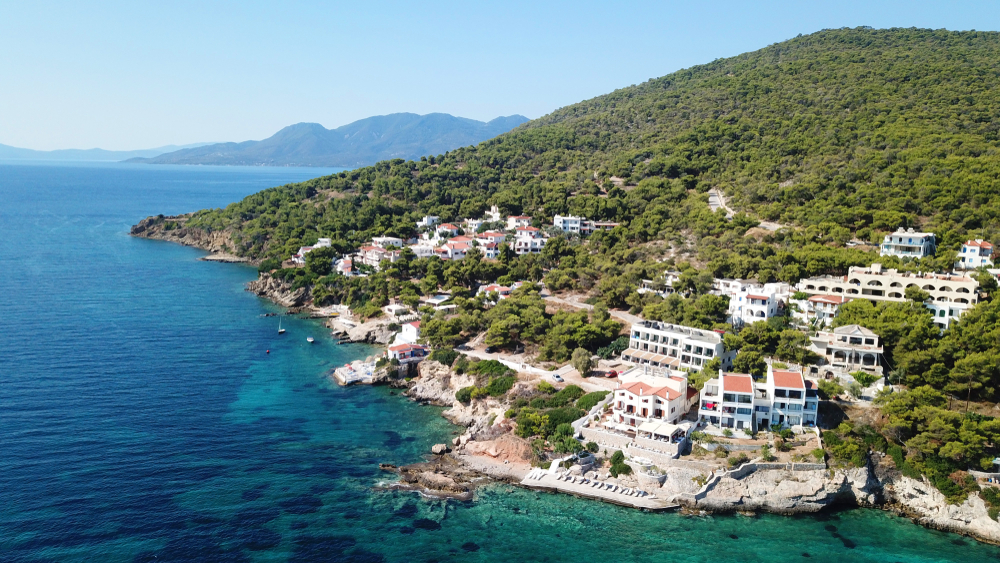 Hotels in Angistri
If you want to stay at a really fun place with people who have been coming to Greece year after year I suggest The Angistri Club. Bryan and his crew have been in business for decades and in a way he and his customers have grown old together so if you are young and want to be part of the next generation of Angistri Clubbers stay here. Or if you are already old and feel like you missed out on the best part of everybody else's life and want to have some fun before it is too late. It is a short walk from Skala on a wooded hill overlooking the sea with great views from the balconies and the hotel's restaurant. Almost next door is the highly rated Rosy's Little Village with an organic restaurant, a really nice swimming area below the hotel, and beautiful views and known for its friendly staff who treat you like family, mostly because like their neighbor Rosy and her family have been hosting returning guests for so long they are like family. The bad news is that these two places are often booked solid so if you can't manage to find a room at either visit my Angistri Hotels Page where I have listed the most highly recommended hotels on the island. There are quite a few so don't be too disappointed if you can't stay at Rosy's or Angistri Club. You can still go there to eat and meet the people lucky enough to have gotten a room there.
Helpful Travel Information

For the other islands of the Saronic Gulf see Matt's Guide to the Saronic Islands
See my step by step instructions for going on your own to a Greek island at www.greektravel.com/lesson1

Use Ferryhopper to find all direct and indirect ferry routes for the islands of Greece, Spain, Italy & Turkey, compare ferry companies & prices, and book cheap ferry tickets with no hidden fees in one go!