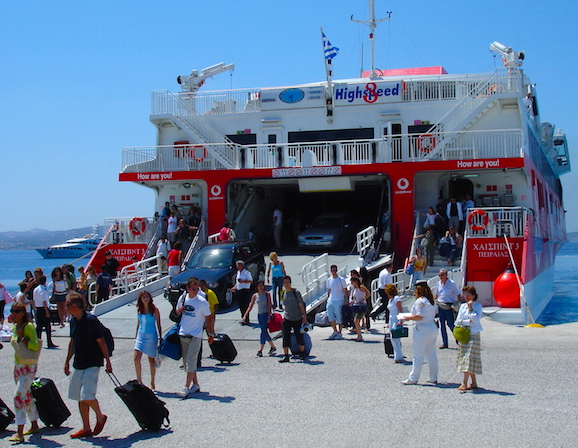 Milos has an airport and there is at least one flight a day from Athens. Most people come by daily ferry or high-speed from Pireaus. The ferry takes from five to seven hours, depending on how many stops it has to make beforehand. The high-speed takes about three or four hours. There are daily connections to Sifnos and several connections a week to Santorini, Folegandros, Sikinos and Serifos. There is a midnight ferry to Crete, Karpathos, Kassos and Rhodes that goes two nights a week in the summer or at least it has in the past. Don't count on it this summer. In the summer it is possible to do day-trips to Folegandros, Sifnos and Serifos too. Since Santorini has an international airport many people who want to go to Milos fly there and take the high-speed to Milos. A holiday that combines Milos and Santorini is a nice idea if you want to visit Greece's most popular island and also go to an island that is relatively unspoiled and a lot less expensive. Milos is a popular stop for those who are sailing the Cyclades because of its large sheltered bay and the numerous coves and spectacular rock formations. For information on chartering a sailboat see Sailing in Greece.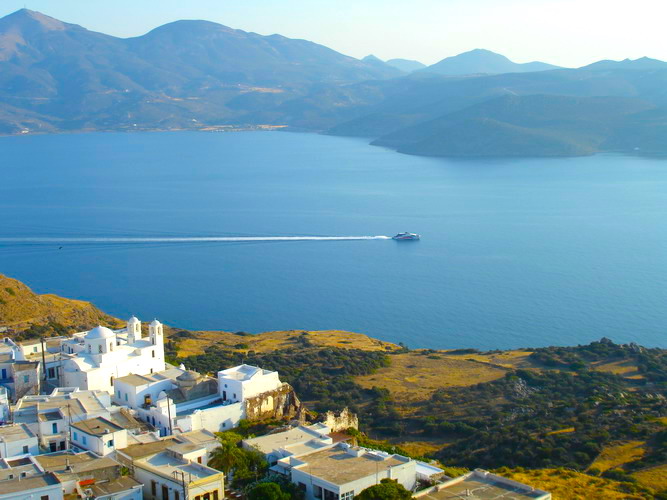 Many people combine Milos with Sifnos less than an hour away by high-speed ferry and under two hours by regular ferry. Aegean Thesaurus Travel on Sifnos has good rates on all the hotels and more importantly the ferry schedules to coordinate your itinerary. Their website lists the hotels they work with and has photos and descriptions. They are very knowledgeable about the island and can book hotels in Athens as well so it is a good idea to work with them rather than trying to piece everything together on your own or with a variety of travel agents. Fantasy travel offers several island-hopping programs that feature Milos including Milos-Santorini Program, Milos-Naxos Program, Milos-Sifnos Program and the Idyllic Aegean Cruise which stops in Milos as well as many other islands and Turkey. You can also use my Create-an-itinerary form to put together a Greek Island itinerary, submit it to a travel agency, and get a price (or find out if your plan is even possible). There is no obligation to buy either.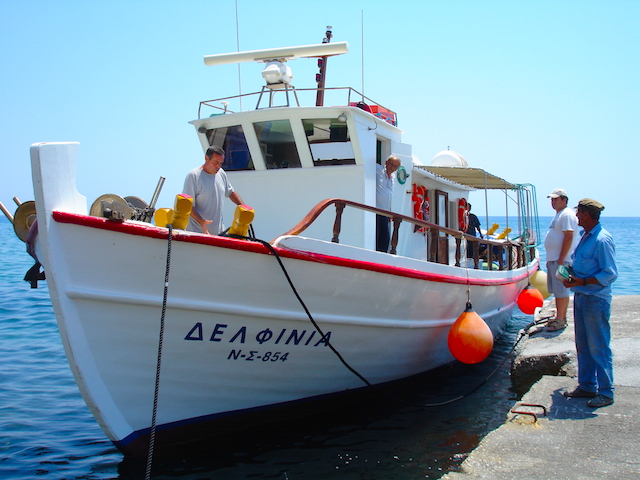 There are a number of car-rental and motorbike rental agencies on the island and one or the other is recommended. It is a big island with lots to see. You can rent them locally or if you want to make sure you have one when you arrive contact Aegean Thesaurus Travel and the car will be waiting for you when you get off the ferry or delivered to you at your hotel. There is a local bus system that goes to all the other towns and many of the beaches. The terminal is in the main square in the port of Adamas right in front of the Portiani Hotel. Right next to it is the taxi station. The excursion boats are located right at the docks in front of the Hotel Portiani. Each one has a map of where they stop and in the evening there is usually someone there to tell you where they go and why you should take that boat in particular. We took the Delfinia which left from Kypos on the other side of the island because we did not want to spend the whole day on the boat and this was only 3 hours.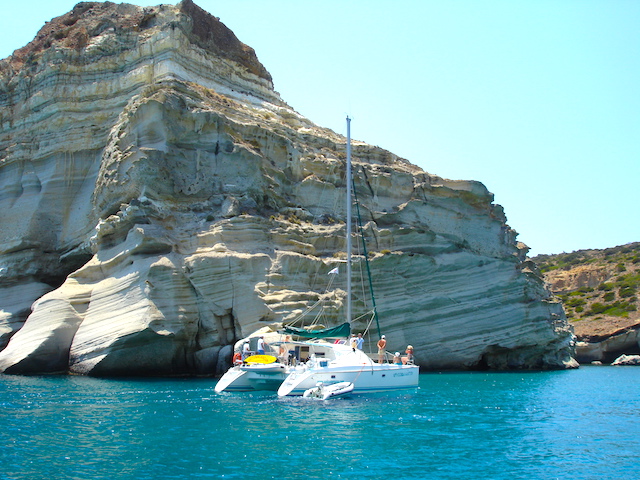 The best boats to go around the island according to my friends on Milos are: Thalassitra, a two mast copy of old Melian merchant sailboat. There are two catamarans of Chrysovalandou, both of which offer excellent fresh food, included in the price. One of the boats goes to the island of Polyegos, east of Milos, which is stunning and is the largest uninhabited island in Greece, even though it has one inhabitant now. Also, very good is Mama Maria. From Kipos, where the Taverna is, they still have the shorter excusions twice a day to Kleftiko, which lasts 3 and a half hours. Captain Yankos has a low priced, nine hour cruise, with many stops for swimming and lunch at the small port of Psathi, in Kimolos. Katie Bosely, one of my readers writes: I did a sail trip with Captain Niko. His boat is not identified as Captain Nikos (and I thought of this and failed to write down what it was really called - shoot!) but I thought you may find it interesting to note that his tour now stops at the seaside taverna at Emborion, which you recommend. Another thing to note, I took this boat because of the great price (the best in the marina) and the fact he has a small scuba flag on the back of his boat. I asked him about this and he so graciously offered to take me diving with him through the caves at Kleftiko. It was a divers delight, as it was just myself and the Nikos on a free dive, which he does each day while people are swimming in the rocks. He refused to charge me for this, but I did tip the kids (he wouldn't take it) 25euro, which is far less than the cost of a regular dive.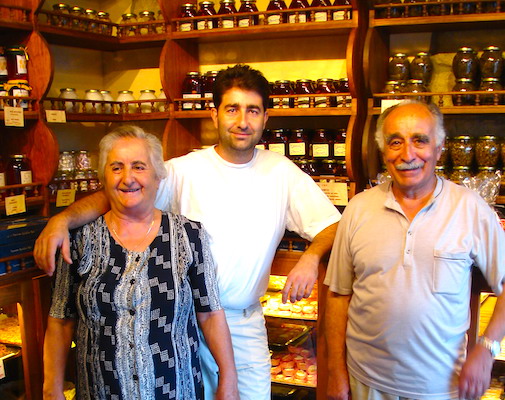 Adamas has a pharmacy, lots of cafes and restaurants, super-markets, gift shops, ticket offices for the ferries, several excellent traditional bakeries and two fascinating shops that sell traditional food from the island: one across the street from the Portiani Hotel and the other on the main street that leaves the port going towards Plaka. The second one is called Paradosiaka Edesmata and is run by Panaiotis Vichos who is a sort of traditional foods celebrity and I strongly suggest stopping in there to see what he has or to taste his delicious wine and maybe bring back a few bottles. We bought a whole bunch of his Halvadopita, a traditional sweet from Milos, and his delicious Pasteli, a sesame seed candy that your kids will love if you can get them to try it. I also recommend the pastries and pies as well as his cheeses, especially the ladotiri and xinomizithra. You can taste them before you buy. Anything you can find in Adamas you can also find in Plaka (except a beach). There is a laundrumat in Adamas so for those who have been doing their laundry in the sink there is relief in Milos. There are two internet cafes in Adamas but I could only find one of them. Be sure to visit the Mineral Museum too.
Aegean Thesaurus Car Rental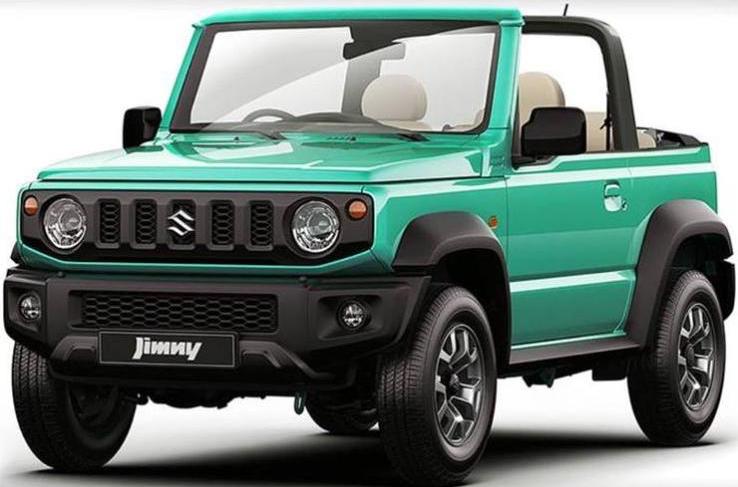 Car rental in Milos can bring that extra independence and freedom which makes your stay all the more fun, enabling you to see the sights you could not get to in any other way. If you are enthralled by ancient Greece and long to see the historic sites and amazing beaches of Milos island, or escaping from it all by finding your own way at your own pace to remote enchanting beaches accessible only by private means ..... if you want to get really close to the countryside and the Greek people then you will want to rent a car.
Car rental in Milos just couldn't be easier; we offer a range of models from economy vehicles, compacts, open top 4x4s and family sedans. In most cases, your rental car can be delivered and collected to and from your accommodation, port or heliport, free of charge. And we don't only do Milos. We do all of Greece as well.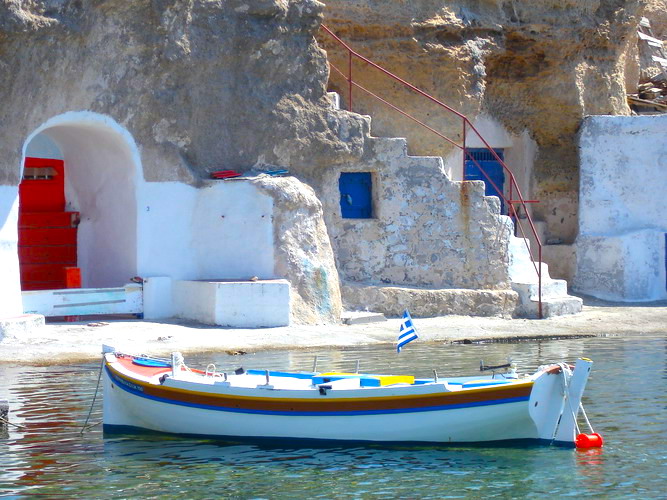 Maps of the island are available at any of the local travel agencies/ticket offices and also in the hotel lobbies. There are several local guidebooks you can purchase once you get to the island. We bought the Milos Island Tourist Guide which is full of historical and current information and great photos. You can buy it in any bookshop but we happened to buy ours in Sifnos. Someone in Milos is doing a thriving business-card and brochure business and you can find information on restaurants, excursions, cafes and everything you need just by picking up every one you see in your hotel lobby or in the shops. Also the Welcome to Milos Island free info book is very helpful. Milos is a photographers dream and you don't have to be a professional to take really nice photos that will impress your friends. So bring your camera, iphone or whatever. To book a holiday in Milos I highly recommend Aegean Thesaurus Travel right next door on the island of Sifnos. That is who we used and everything was perfect.
I visited Milos during a previous life, a sort of misadventure several years before I returned and wrote this guide which is a part of my book Spearfishing in Skatahori but which you can actually read for free at Adventures in Milos.