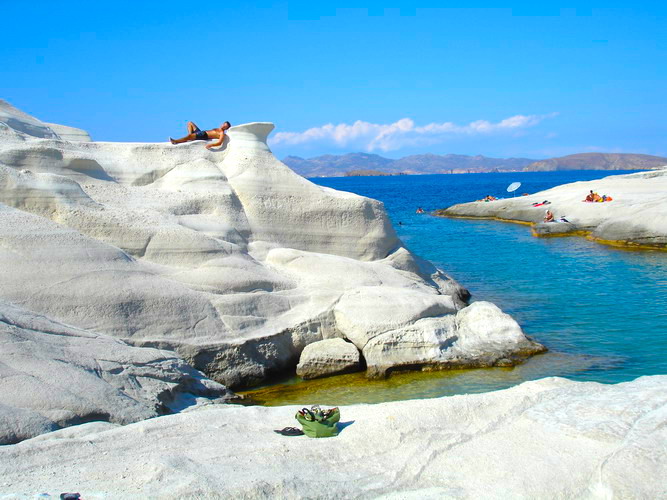 The Greek Island of Milos, in the Western Cyclades Island chain, is a surprise for the traveler adventurous enough to take a detour from Santorini, Mykonos and the other popular islands. Milos, like Santorini, is an island that is not only rich in spectacular sunset views and minerals but also in the things that travelers come to Greece looking for: beautiful beaches, inspiring views, a rich history, white-washed Cycladic villages, excellent food and good-hearted people. Combined with Sifnos, one hour away, Milos makes a perfect holiday destination for those who want to experience the real Greece in all its beauty, without the crowds that are found in the more popular Greek Islands and at a fraction of the price. This is my Guide to the Island of Milos, one of the undiscovered gems of the Aegean. You should be able to find all you need on this site to have a great time on Milos using the links to hotels and travel agents I have included. I have also included several island-hopping programs and even a Greek Island cruise that features Milos. If you have questions or comments you can E-mail Me. If you like this page please share it with your friends using the Google+ and Facebook buttons on this and other pages.
You can use my Create-an-itinerary form to choose the islands you want to visit and the amount of time you want to spend, category of hotels, mode of transportation and numerous options, submit it and get a price back for that itinerary as well as comments on how to improve it, within 24 hours, with no obligation to purchase. If you are looking for villas, houses, self-catering apartments and Air BnB type accommodations see Matt's Milos Villas Page

Use Ferryhopper to find all direct and indirect ferry routes for the islands of Greece, Spain, Italy & Turkey, compare ferry companies & prices, and book cheap ferry tickets with no hidden fees in one go!