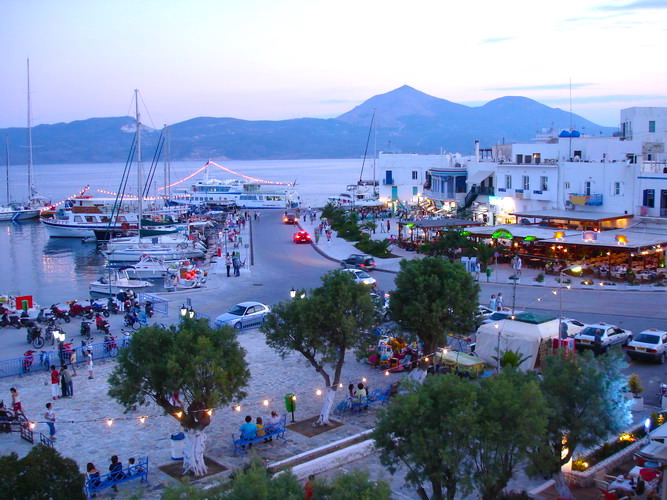 There are a large number of hotels and rooms to rent on the island of Milos and of course I could not stay at all of them. The hotel I did stay at was the Hotel Portiani in the port town of Adamas and probably if I go back I will stay there again because I enjoyed it so much. The photo on the right is the view from the hotel which speaks for itself. So I will start with the Hotel Portiani and explain why I liked it so much and then show you some other hotels that have been recommended by friends and members of my Greece Travel Facebook Group and rated very good to excellent in Booking.com's Milos Hotels. Many of these hotels are difficult to find a room in if you wait too long so if it looks like this is where you want to stay you should probably book it. Some hotels allow you to cancel with no penalty. As far as where to stay, though we stayed in the port of Adamas because it had restaurants, nightlife and beaches all within walking distance, we would have been happy in Plaka which had restaurants and nightlife but no beaches or Pollonia which had restaurants, less nightlife but is on the sea. If you are looking for villas, houses, self-catering apartments and Air BnB type accommodations see Matt's Milos Villas Page. You can also find hotels at Matt's Hotels of Greece Milos Page
Hotel Portiani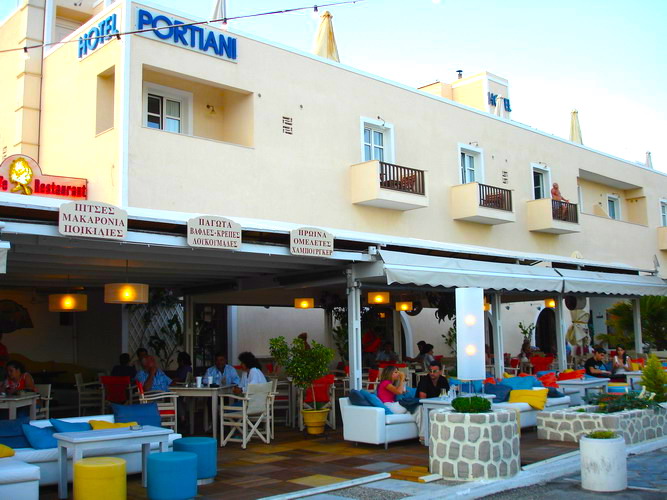 Located on the waterfront, the two star Hotel Portiani appears to be the biggest building in town. It overlooks the main square and the fishing and excursion boats in the port. Our room was on the top floor and we shared an enormous terrace with about ten other rooms. By enormous I would estimate it is the size of a basketball court sliced length-wise. There were tables and chairs and giant umbrellas for shade and also some beach chairs that you see around pools that people tan at. No pool, sorry. But that did not matter. Since the hotel is only two stories tall it is a great place to sit and watch the town come to life in the evening after exploring the island all day. It was also nice to come back after dinner and sit and watch the lights of the port and the late ferries arrive and depart.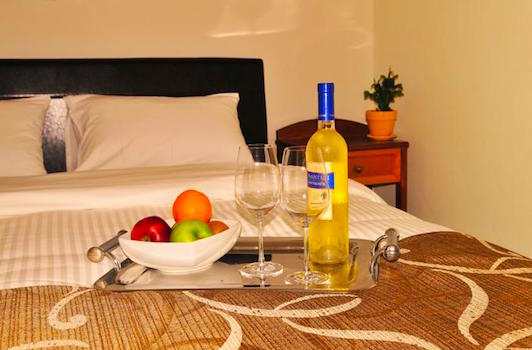 Our room was comfortable, actually it was two rooms with twin beds, a desk and closet and television in one and a small couch and table in the other. Besides the large terrace which was on the sea-side we also had our own balcony on the town side. The room was air-conditioned and had a great bathroom with the best shower in Greece (I feel like I have said that before about another place). But I liked this one so much I told Andrea we needed to put one exactly like it in our house in Kea. (We were in 208 in case you want to make sure you get the same room.) The sheets were changed everyday I think.... if the bed is remade I can't really tell, but the sheets smelled clean and fresh every time I went to bed. The towels were replaced every day and the large towels were actually large and not just large compared to the small towels. Large enough to dry all of me.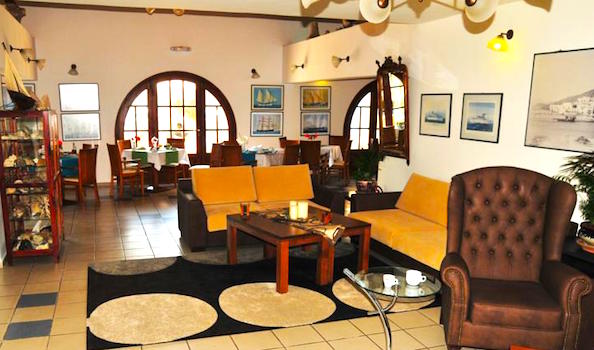 The lobby of the hotel was another asset. Decorated with historical photos of Milos and a collection paintings of old Greek boats, there are comfortable chairs and couches and a bookshelf full of discarded novels and guidebooks that you can trade out with whatever you have finished reading. You can tell some interesting people have passed through there because I picked up a copy of Jim Garrison's 'On The Trail of the Assassins' and there was also a copy of John F Kennedy's 'Profiles in Courage'.(Maybe Oliver Stone had stayed there.) Half the time the hotels we stay in the only books we find in the shelves are in German. There is a computer so those who did not bring their laptops can read my website and book their hotels on the next island or whatever people do when they find a free computer in the lobby. The hotel also has free wireless for those with laptops and other devices.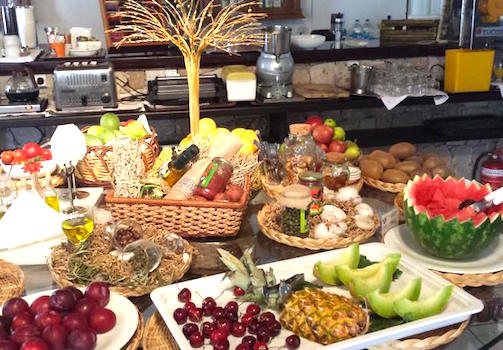 The hotel has a great cafe-bar that is popular with guests and locals and a breakfast buffet table that is well-stocked with island specialties, cakes, breads, lots of fruits, cheeses, rice-pudding, creme-caramel, fruit juices, water-melon pie (a Milos specialty) and a woman who will make you any kind of eggs you want. She will also make you any kind of coffee you like. Every morning we had a conversation with an older couple at the next table whose parents were born in Milos but moved to Zimbabwe. Every year they would come back to Milos for month for a family reunion and they told us fascinating stories about the island and the people from Milos who had moved to Zimbabwe (Rhodesia back then). When you sit down at the table there is a piece of paper waiting called The Portiani Mornings which gives the date, the time of the sun-rise and sun-set, tells you which beach to go to for calm seas based on the direction of the wind, the temperature, some tips about what to see on Milos, a section that describes the unfamiliar food that might be on the buffet table, a cartoon and a final message reminding us to "...love and care for our environment".
To say the staff at the hotel Portiani was helpful is not giving the whole story. If there is a hotel manager anywhere in Greece who is more outgoing, more energized and friendlier than Efthemia, I can't imagine her. She never stopped being helpful. Everyone there was very nice to us and made us feel at home. I really loved this hotel. Click here for photos and more information or Book with Aegean Thesaurus Travel
More Hotels in Milos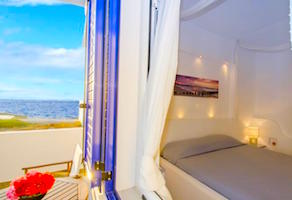 The family run Villa Sosanna is located at the scenic fishing village of Pollonia, just a short walk from the beach and the tavernas and shops. All its air-conditioned rooms and studios offer a view of the Aegean Sea. Free Wi-Fi is available throughout. Each individually decorated room and studio at Sosanna features a flat-screen TV with satellite channels and a mini fridge. A furnished balcony or terrace is offered. Some units come with a kitchenette or a spa bath. Many traditional taverns and a mini market can be found at the centre of Pollonia. The owners are very hospitable and get high praise on hotel review sites for being friendly and taking time to give advice and information about the island and for always available to assist guests. The villa has a great view of the sunset. This property is popular with members of my Greece Travel Facebook Group and very much in demand so if you want to stay here book it now. Click here for photos and more information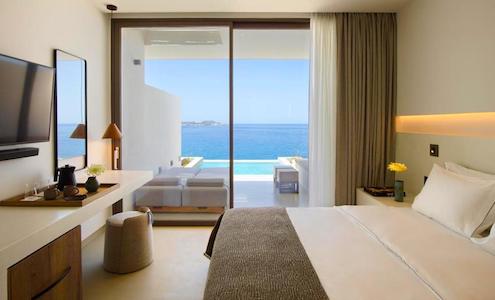 White Coast Pool Suites Adults Only is a Small Luxury Hotel (member of Small Luxury hotels of the World) located in Mytakas in Milos (7 kilometers from the main village of Adamas) and offers accommodations with a restaurant, free private parking, an outdoor swimming pool and a bar. Featuring a shared lounge, the 5-star hotel has air-conditioned rooms with free WiFi, each with a private bathroom. The accommodation features a 24-hour front desk, room service and organizing tours for guests. Each suite at White Coast Pool Suites, comes with a private swimming pool and sea views. Guests at the accommodations can enjoy an A la carte breakfast. Sarakiniko Beach is 4 kilometers away and from White Coast Pool Suites while Alogomandra Beach is 1,5 kilometer away. This hotel was recommended by my niece and her father who said it was one of the best hotels they ever stayed at in their lives. Click here for photos and more information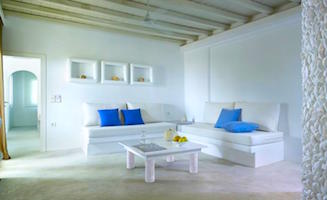 Offering free parking and free Wi-Fi, the Hotel Del Mar Apartments and Suites is located about 100 feet from the beautiful sandy beach of Pollonia and 10 minutes from the airport and Milos port. Hotel Del Mar offers Cycladic style rooms with splashes of color. Each is air-conditioned with a kitchen, fridge and TV. Daily maid service is provided, and cribs can be borrowed for free. Close to all services (supermarkets, bakery, restaurants and bars) Del Mar offers a comfortable base in Milos. Car and motorbike rental service is provided at the hotel. The hotel has a friendly staff that will assist you with information and whatever you need to have a wonderful holiday on Milos. Click here for photos and more information
The Cycladic-style complex Vivere A Plakes in Milos is located at the picturesque village of Plakes, just on the outskirts of Plaka. Adamantas port and the main town is 3 miles away. Guests at Vivere A Plakes in Milos enjoy privacy in fully equipped accommodations with sea-view balconies. From studios to 2-story apartments, there is a wide choice of accommodations. All come with air conditioning and have fully equipped kitchens with fridges and coffee makers. The hotel-apartments have free wireless and there is free parking as well. Very quiet location and an amazing view mean that this property is ranked as exceptional on booking sites and sells out very quickly so if you think this is where you want to stay you should book it now. Click here for photos and more information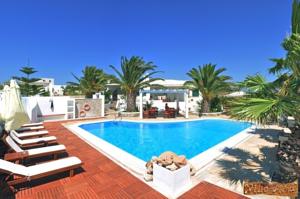 Located on the hill of Parasporos, Villa Mina boasts panoramic views of Adamas Bay from the terrace of its outdoor swimming pool. Featuring Cycladic architecture, its air-conditioned accommodation offers a furnished terrace. Pleasantly decorated, the spacious rooms at Villa Mina include a kitchenette with a cooking hob, fridge, coffee maker and toaster. A flat-screen TV and hairdryer are also included. Some provide a built-in bed and others overlook the garden or pool and sea. Guests can sit under the shaded and furnished patio on the sun terrace or lay out on the sun loungers surrounding the pool while gazing out onto the sea. Free Wi-Fi is available in public areas of the property. Click here for photos and more information
The Aeolis Hotel is located just a few steps away from the heart of the nightlife and shopping area of the port town of Adamas and features, doubles, triples and family rooms as well as single rooms for solo travelers. The hotel has free wifi as well. The owners are happy to offer recommendations on places to visit in the surrounding area and they speak English. From Aeolis Hotel, there is easy access to all parts of the greater Milos area by using public transportation or rental car and the hotel has free parking. There is no smoking in the rooms or anywhere in this hotel if that makes a difference to you. Click here for photos and more information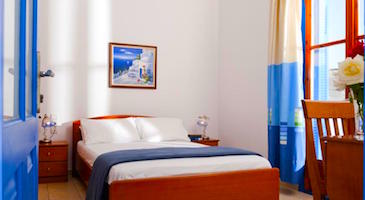 The family-run Eleni Hotel is located in Adamas, only 50 metres from the sandy beach of Lagada and 250 metres from the port with its cafes, restaurants and bars. Free Wi-Fi access is available throughout. Hotel Eleniís Cycladic-style rooms have private terraces or balconies with views to the village and the surrounding countryside and bloomed flower pots. Each is comfortable with an anatomic mattress, (I don't really know what that is but it sounds nice) and includes a fridge, safe, desk and a bathroom with hairdryer. Taxi service and car hire can be arranged through reception. Day trips to the islandís many beaches can be booked with Eleniís private boat. Papikinou and Frangomnimata beaches are within walking distance. Click here for photos and more information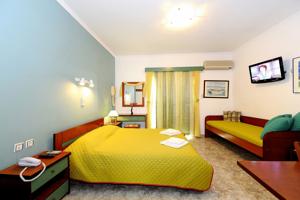 Ideally located in the heart of Adamas, only 425 ft from the beach and close to the port, restaurants and shops, Dionysis Hotel offers affordable accommodations in Milos. Dionysis Hotel provides guests with free transportation service from the port. Also available is an air conditioned bar lounge area with satellite TV. All rooms feature all modern comforts and amenities and are provided with daily cleaning service. Each has a balcony, bathroom, satellite TV, air conditioning and a fully equipped kitchen with fridge and mini-bar. Click here for photos and more information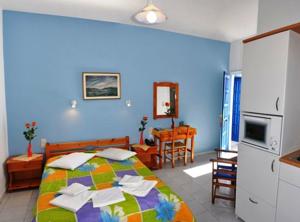 Captain Stavros is in Pollonia, a 3 minute walk from the main beach. The charming complex features studios with cooking facilities and balconies. Each of the bright and colorful studios has a kitchenette with a mini fridge, coffee maker, teakettle and hot plate. It also has a TV, direct dial telephone, air conditioning and private bathroom with shower and hairdryer.Free! Wi-Fi is available in all areas and is free of charge. Daily maid service is provided, as well as free guest parking. Guests will find breakfast essentials, such as coffee, tea and jam, stocked in their kitchenettes. Click here for photos and more information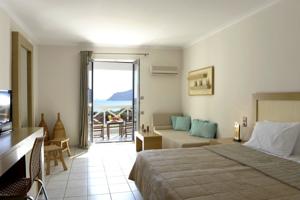 Located on sandy Provatas Beach, Golden Milos Hotel offers tastefully decorated rooms, with modern furniture and discreet lighting. The hotel features a traditional restaurant, a beach bar and a childrenís playground. Golden Milos Beach rooms are air conditioned and include a satellite TV, radio and free Wi-Fi access. Well-equipped bathrooms feature bathrobes and luxury toiletries. A fridge and electric teakettle are standard. Some rooms offer direct views of the Aegean Sea. Thalassa Restaurant serves an American-style buffet breakfast and Greek cuisine for lunch and dinner. Ammos Open Beach Bar offers light dishes and refreshments. Cocktails can be enjoyed in the lobby bar. Click here for photos and more information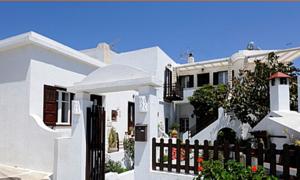 Housed in a renovated 19th century building, Anastasia's Rooms is situated in the traditional Triovasalos Village of Milos, within 1 km from Plaka. The family-run property offers accommodation with free Wi-Fi and a patio overlooking the blossomed garden. The studios and apartments of Anastasia are traditionally decorated with built-in or wrought-iron beds and beamed ceilings. Each air-conditioned unit features a fridge and dining area. The private bathroom comes with a shower. Guests can prepare their own breakfast and enjoy it at the comfort of their room. BBQ facilities are available in the garden for al fresco dining. Restaurants and mini markets can be found within a walking distance from the property. Click here for photos and more information
Booking Hotels in Milos
For rates and booking information on the Hotel Portiani and other hotels in Milos you can contact Aegean Thesaurus with this form. Milos is the perfect island to combine with Sifnos because there are daily ferries. Also there are several ferries a week to Santorini. If you plan to combine Milos with other islands I recommend using the travel agency to book hotels and coordinate ferries. You can also use my Create-an-itinerary form and choose your islands and within 24 hours get a price from a travel agency with no obligation to buy. Try it.
As for other hotels in Milos visit Booking.com's Milos Pages or visit the Aegean Thesaurus Hotels pages.