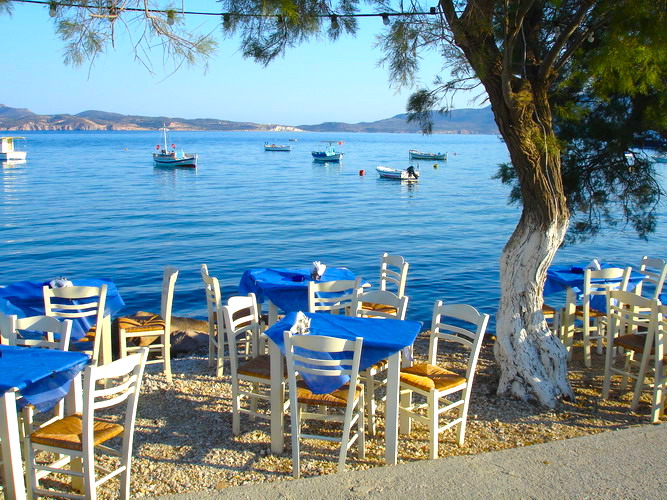 Like the nearby island of Sifnos, Milos is known for its cooking and has more good restaurants for an island its size than most of the popular islands. Finding a good restaurant is not a difficult task with or without recommendations. We were told about several and we also stumbled on a few that we loved. Some were exceptional and I encourage you to check these out. Keep in mind that some of these restaurants are seasonal which means they may not be open before June or after September. I want to thank the people who used my website and helped me update this restaurant page since a couple of the places I ate at went out of business and some new restaurants opened which were so good it would be a shame not to include them just because I did not happen to eat at them. As it happens one or two of the people who helped actually live on Milos and because islands are small places where everybody knows everyone else they did not want to have their names on the page. But you know who you are and on behalf of myself and everyone who uses this page and has a great meal I thank you.
Adamas Restaurants: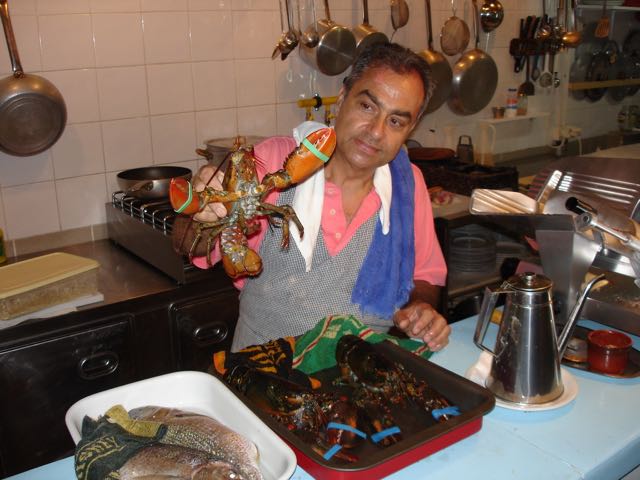 Our favorite restaurant in all of Milos was Da Pepe, a little Italian seafood and pasta place that would be a find anywhere. Sadly they were ahead of their time and closed down. But I have always wondered what happened to it. Did they move to another more popular island? Our nights in Adamas were spent mostly at Da Beppe because we would eat there and then spend the entire next day thinking about eating there again. Nearby is Mikros Apoplous which is on the beach and serves mostly seafood and some meat, a good choice if you are so hungry you don't want to walk back through town. O Hamos, also on the beach, is a very popular and good taverna, with meats, vegetables and cheeses from the owners' s farm. It is the only taverna in the port with genuine Melian food. It has been reviewed in detail below. For ouzo and meze, the Meleiko Cafe, in the harbour of Adamas is probably your best bet. Go here for a drink and a snack and then hit one of the beach tavernas for a real meal and drink wine for the rest of the night. For desert go to Aggeliki for a fantastic selection of home made ice creams! Try to make time for a visit to Paradosiaka Edesmata Deli for all the local products from capers to volvous (pickled roots of the Tassel Hyacinth) as well as amazing traditional sweets and honey.
Pollonia Restaurants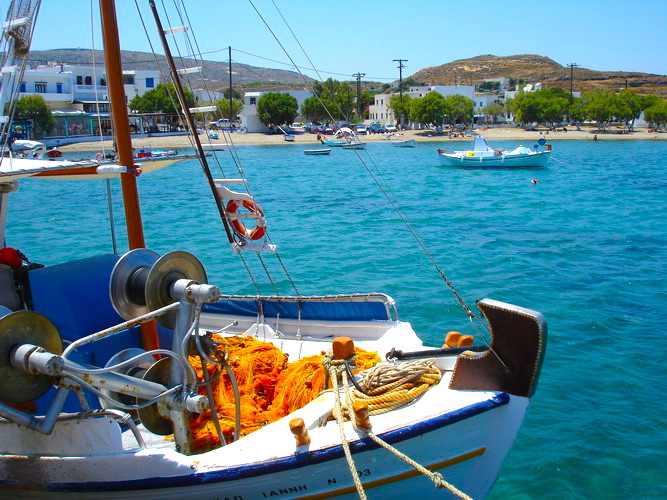 In the fishing village of Pollonia the line of family owned fish tavernas and restaurants in the harbor will give you the kind of Greek Island eating experience that you probably had in mind when you first booked your trip. A few fishing boats, the sound of children swimming on the nearby beach, the sun, the sea... you get the picture. Gialos Restaurant has inventive food along with traditional dishes, from the mezedes to the desserts. Astonishing grilled red mullet, and a roasted chicken fillet mixed with sun-dried tomatoes, angel hair and feta sauce. Incredibly yummy and for extremely reasonable prices. It is said that Gialos is the only restaurant in Milos where you can eat a steak, correctly grilled. Armenaki is considered one of the best seafood tavernas on the island. Andonis, the owner knows wine like nobody else and has the best wine list with emphasis on organic and Cycladic wines. Ammos and Enalion, also in Polloniaare worth eating at as well if you are here for awhile and don't want to spend all your time in just one or two tavernas. But according to members of my Greece Travel Group on Facebook the place to eat is on the main road from the town at a small family run Jordan's Meat House, for their soutzoukakia, paidaikia and their giant souvlaki and other meat dishes from the area of Arachova where they make their winter home. They also have a ton of mezedes. It is a traditional psistaria(grill house) with a few surprises and they also have live music at night.
Before you leave Pollonia be sure to stop at Kivotos Deli where you can find all the specialties of the island to take home with you (or to your hotel), including desserts, hot out of the oven every half hour.
Restaurants Around Milos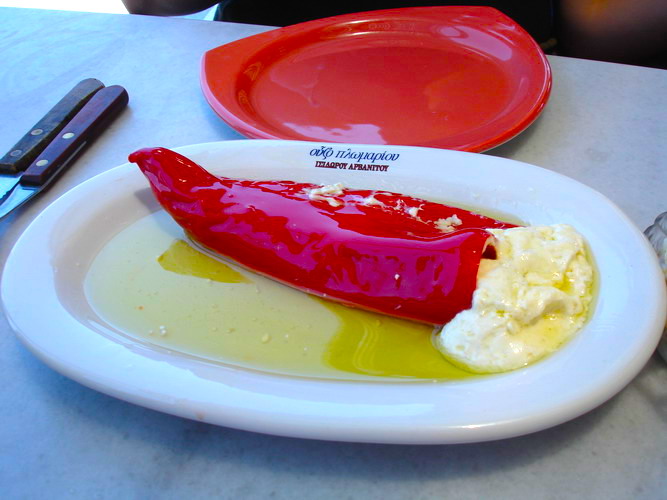 There are tavernas on just about every beach and they all looked good to me, but you can't eat everywhere. Medusa Restaurant-Ouzerie in Mandraki was one of my favorite places to eat on Milos with great seafood and lots of mezedes, in fact most of the food photos I took came from here; For example these cheese-filled peppers, which I highly recommend. They also have a fridge full of amazing beers from Belgium, Germany and I am assuming by now some micro-brews from Greece and of course your favorite brands of ouzo too. Petrino in Zephyria, is a family tavern, open year round with a great terrace and live music on summer nights. Sirocco Taverna, on the beach in Paleochori is another restaurant worth going out of your way for if you are not staying nearby. Stella, the owner, takes advantage of the geothermal springs in front of the tavern and cooks in the sand: pork shanks, pork filet, lamb and fish with vegetables. Since the meat cooks at a very low temperature for hours in the sand, you can probably imagine how good it tastes. For those of you who know the merits of slow-cooking this is a restaurant to put on your list.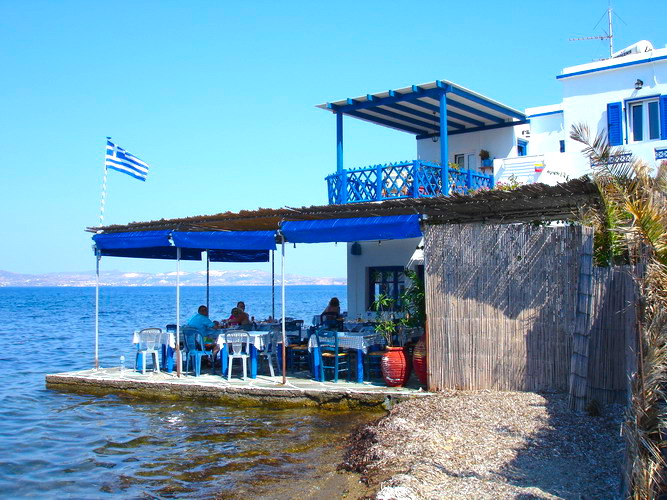 Worth the drive is the Emporious seaside taverna at Emborion directly across the bay from the port of Adamas. You sit on a terrace so close to the sea that when a high-speed ferry passes on the other side of the bay, 20 minutes later the waves are breaking at your feet. But if you don't mind driving over dirt roads for so long that you may wonder if you have taken a wrong turn you will be rewarded with some of the best island food in Milos, including fava (yellow-split pea), fresh fish, tomato keftedes (deep-fried balls made with the small island tomatoes just like the ones they make in Santorini), little cheese-pies and really good wine, made by the owners of the restaurant. In the farm behind the restaurant where you will see the animals that will be served in the days and weeks to come you will also see some peacocks. The restaurant is known for their delicious home-grown fried potatoes. As most people who visit know, the best fried potatoes in the world can be found here. Well, these are even better. Rumor has it that one of the excursion boats stops here for lunch so if you don't have a car and want to come you can ask in the port. By the way, car rental agencies don't like you to take their car to this part of the island and might even charge you extra if they catch you. So if you don't want to get in trouble rent a jeep.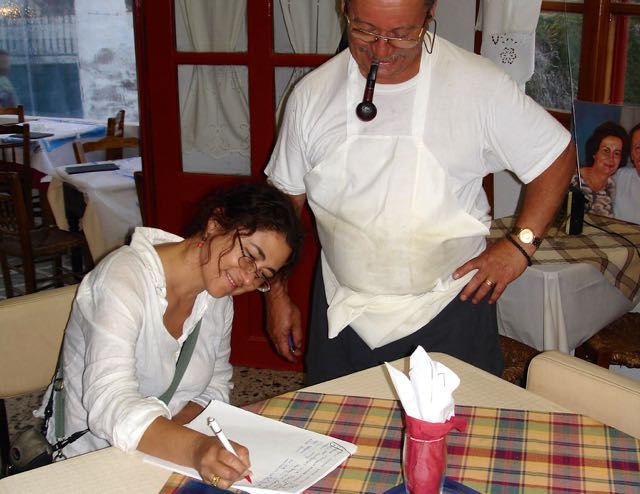 On the south part of the island is a fish-taverna called Kypos in as remote a spot as you could find, above a rocky beach. But it happens to be the spot where the excursion boat Delfini leaves from and after a three hour visit to the rock formations of Kleftiko this is a good place for lunch since they have their own fishing boat. In Plaka the Plakiaki Gonia is known mostly for the smell of grilled octopus and the home of the petition to have the Venus de Milo returned to the island. Even if you don't eat here you should stop in and sign the petition. Maybe the French will want to one up the British by returning the Venus de Milo before they return the Parthenon Marbles. For meze, Fatses, in front of the Plaka Archeological Museum, is great any time of day and in the evening there is live Greek music. My friend Erin Ennis recommends Mavros Xoiros for amazing food and wine and excellent service. It is a psistaria (grill house) that knows how to do meat well. Go for the meat dishes and salads. They also have the usual oven cooked stuff and fried kalamari but when you go to one of these places grilled meat is the thing to eat.
The Ergina in the town of Tripiti is known for delicious mezedes and as the best place to watch the sunset. A few meters down is Barrielo with Greek and international "Soul kitchen" food, as the owner Taki calls it.
For cafes you can take your pick. You want a spectacular sunset view? Go to the Utopia Cafe in Plaka. You want to people watch? Try any of those on the waterfront of Adamas. Best bar with great view and music is the Akri Bar. There are cafes at most of the popular beaches playing the kind of thumping music that puts your brain to sleep, but you can awaken it with a frappe or iced capuccino freddo. Deep Blue on the beach at Paliohora has a spectacular view and plays music through the night. The Giakos Cafe beneath the Hotel Portiani has pizza and lots of Greek and non-Greek food and some couches to watch people from. But they sell a glass of ouzo for a euro and a half and for twenty cents extra you get a meze. They make good espresso too.
Reader's Restaurant Review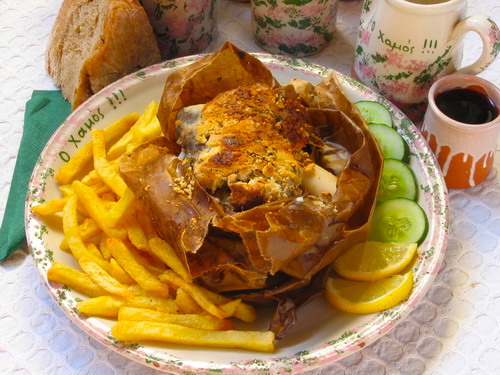 Last night we went back to a little taverna we discovered two days ago at lunch. Eating in Milos had become a bit predictable – wonderful Mediterranean cuisine, but you can pretty much expect the same menu at each spot. Souvlaki, mousaka, Greek salads, fish, etc. This taverna set itself apart in many ways. They have really succeeded in creating something special. The restaurant is called "O! Hamos" and it is just outside of the port town of Adamas, on the road to the airport (seaside of Papikinou Adamos). It has a beautiful view of the sea, and the Psatha family have incorporated a number of quaint touches that have turned their establishment into something unique. You know that care has been taken to create a soothing, relaxing environment from the deft touches that abound. Geraniums spill over from stock pots placed at the side of each step in the multi-tiered eating areas. Fountains are created from shard of Greek urns cascading down miniature landscapes. What tips you off that you are at someplace very special are the menus – not what's on the menu, though we will come to that soon, but the actual menus themselves. Each one is handmade. Stiff cardboard is wrapped in bright wallpaper and laminated to create a colourful cover, each one different and individual. Inside is a sheaf of yellow notepaper, bound with twine to create a small booklet. Every page is painstakingly handwritten in Greek, English, Italian, German, and French. The cover is decorated with cinnamon sticks, peppercorns, sea salt patterns, and much more, again, each one different. You can just imagine the children trying to outdo each other with creating the most original menu of the bunch!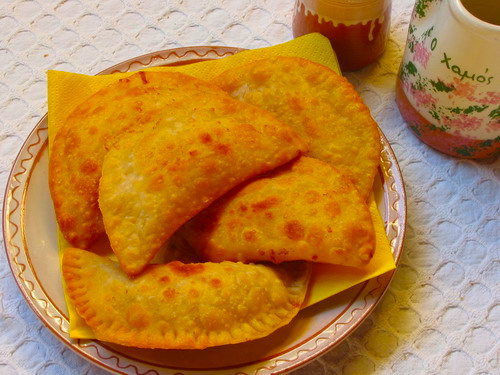 There are Greek inscriptions, poetry and sayings beautifully calligraphed on the walls and benches. The chairs themselves bear inscriptions from guests who are encouraged to leave their own message using a paint pen. Ours was:
We came for lunch,
We returned for dinner,
In any language,
O! Hamos is a winner!
The bread is homemade, as is the cheese, the wine, the sauces. The goats, beef, pork and chicken all come from the family farm. Every recipe is a family tradition. They do not serve fish, because they would have to outsource the fish itself, and they pride themselves that everything they serve they have made or grown themselves. The bread is served in a string bag which is slung over the back of a chair. Your wine is served in a ceramic jug, hand made with the family pattern, as are the little cups to drink from, and the plates.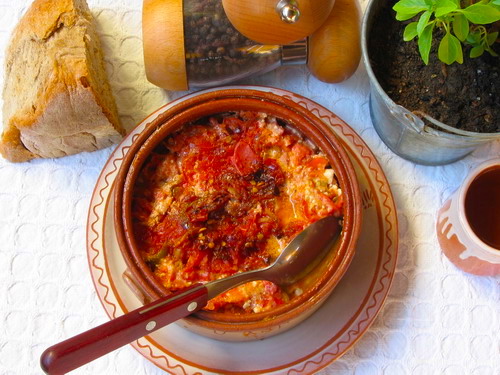 Our meals?
Bougiourdi – Tomatoes and peppers baked spicy in a pot.
Psito Sti Hovoli – Wild goat cooked inside the ember for hours with lemon-mustard and marjoram.
Katsiki Lemonato – Goat cooked with fresh lemon juice.
Arnaki Surtukiko – Lamb wrapped and baked in a paper with fresh onions, dill and melted cheese.
Gourounopoulo – Piglet baked in the paper with molasses.
If you are ever in Milos, go to see the Psatha family: Irene, Nikolas, Athina, George, and Vaggells at the O! Hamos . Don't forget to look for our message on a chair and paint one of your own!
Happy travels!
John and Lorraine Lubert