Kimolos is not an island for everyone. If you are looking for beach bars and nightlife you should go elsewhere. But if you are interested in rocks, particularly interesting geological formations similar to what you will find in Milos, beautiful beaches with few people on them (except maybe in August), simple food, historic churches and even a handful of archaeological sites and you are traveling with someone whose company you enjoy you will find Kimolos similar to the other islands of the Western Cyclades. Only more so.
Located just a half a mile from the small port of Pollonia in Milos and around 125 miles from Pireaus, the island of Kimolos is one of the least visited of the Western Cyclades. Historically its name comes from Greek Mythological figure Cimolus, who was supposedly the island's first inhabitant. But Kimolia means chalk of which there is plenty of on the island where it is still mined. The island was also known in antiquity as Echinousa and later in the Middle Ages as Argentiera for the silver colored rocks. Like Milos the island is volcanic. It has been mined for Gi-Kimolian Earth aka calcium montmorillonite, a clay known for its ability to absorb water, which has a number of uses from building dams, as a component in drilling mud (cools the drills), as a soil additive, and for splitting rocks or demolishing concrete structure without explosives. (The clay expands to 4 times its size when you add water). It can also be used to treat dermatitis, and is an additive to dog and cat food. If you search amazon for montmorillonite clay you will see a large number of health products too.
According to "An Italian Gentleman" who visited the island in 1790... "There is a great deal of Cimolia, to which the ancients among other properties attributed that of curing the rheum. It is a sort of white chalk, fatty and soapy, heavy tasteless and friable, used at present as it was in the days of Pliny, to whiten linen. I am told that in the baths of Smyrna they rub the skin with it." -From Traveller's Greece: Memories of an Enchanted Land compiled by John L Tomkinson
The population of Kimolos are mostly farmers, fishermen, some shop owners, retirees and many work in mining on Kimolos and in Milos. Recently a small tourism industry has developed.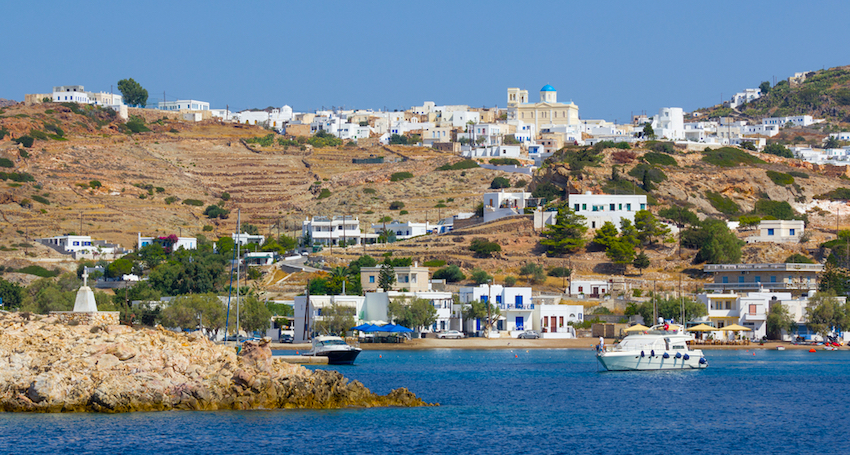 There are only two towns on Kimolos and really only one if you want to consider that the port of Psathi is more of a settlement. From here it is a short walk to Chorio, the white Cycladic style village, that is the capital of the island. While Kimolos is small and much of it connected by footpaths a car is useful and there are roads to almost all the beaches with the exception of a few in the rugged northern part of the island which can be reached on foot or by excursion boat when the weather is good. Several of the more popular beaches have accommodations and a restaurant or two.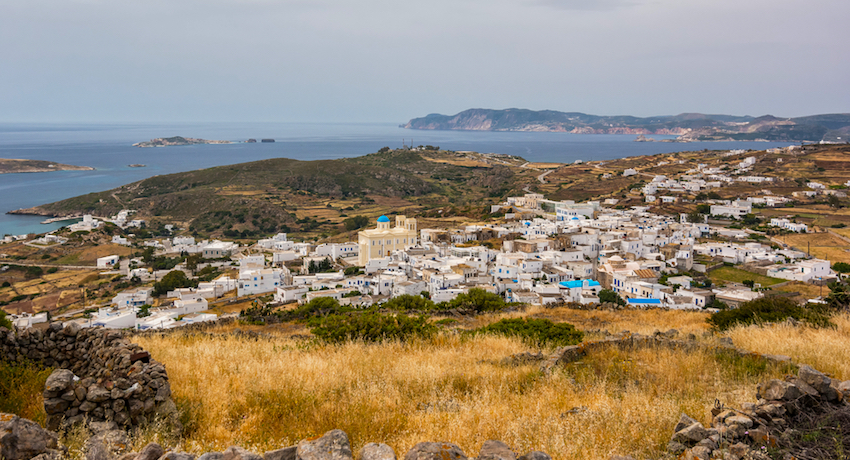 Chorio
Overlooking the port of Psathi, Chorio is the only real village on the island. Quiet and picturesque there are several historical churches to visit including oldest, Birth of Christ, built at the end of the 16th century and located in the Kastro. The 17th Century Agios Ioannis Chrisostomos (photo), was the original metropolis of the island until it was replaced by the impressive Church of Panagia Odigitria, erected between 1867 and 1874 where you can find most of the important Byzantine icons including the Panagia Odigitria which dates from the 15th century and came to the island from Constantinople or Thessaloniki. Other 17th Century churches in the village include Panagia of Oikonomos, Chrisopigi, Panagia of Oikonomos, Sotira, Agioi Anargiroi and Pantokratoras all in and around the village, a large number until you consider that there are 80 churches on the island. The island's main panagiris (religious festivals) are the 15th of August (Dormition of the Virgin), the 21st of November (The Presentation of the Blessed Virgin Mary) and the 5th of October (the day of Osia Methodia).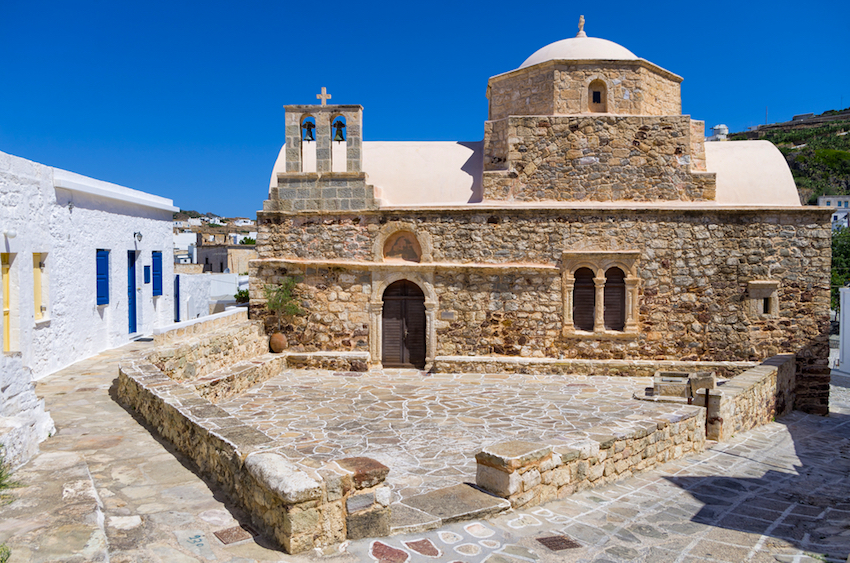 The patron saint of the island is Osia Methodia, who was born on Kimolos and from an early age had a deep spirituality and desired nothing more but to serve God. Her parents had other ideas and married her off to a seaman from Chios who died shortly after. Free of her marital obligations she took the vow and lived in a small cell in the Kastro where she prayed and studied and gave spiritual assistance to women who came for help, not only from Kimolos but from other nearby islands. According to witnesses Osia Methodia preformed miracles which continued even after she passed away on October 5th 1908 from an illness at the age of 47. On August 15th 1946 she was recognized as the patron saint and guardian of the island and in 1962 in the location of her cell a small church was built called Virgin the Merciful and Osia Methodia where her remains were buried. They were later moved to Panagia Odigitria which has become a place of pilgrimage. She was officially named a saint by the Ecumenical Patriarchate on July 17th 1991. Her saint day is celebrated on the 5th of October (the day of Osia Methodia).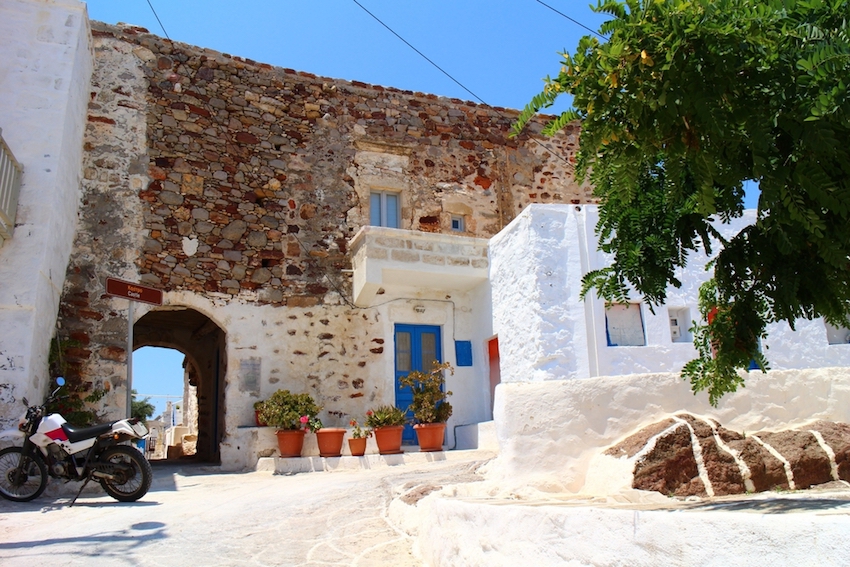 The Kastro of Kimolos was built between the 14th and 16th Centuries and consists of an inner castle which is mostly in ruins, and an outer castle of which the houses remain, with their outer walls being the defensive walls. Originally the entire village was located within the Kastro by from the 17th century they began building outside its walls. Within the Kastro is the previously mentioned Birth of Christ Church and the Folk and Maritime Museum, a beautiful little museum full of handmade implements of farming, household items, weaving, clothing and other treasures from the last few centuries. The museum and its collection were put together by Dr Manolis A. Christoulakis without any assistance from the Greek state, a labor of love that certainly merits a visit.
The Archaeological Museum of Kimolos is located in Chorio, opposite the Metropolitan Church of Panagia Odigitria in a traditional two-story building and contains artifacts from as far back as the Prehistoric and Neolithic periods and continuing through the Mycenaean, Geometric, Archaic, Classical and Hellenistic periods. It is open Tuesday-Sunday from 8:30-15:00.
Being a windy island there are a number of windmills, many abandoned and in ruins, that you are sure to come across in your explorations around the island.
There are several restaurants, cafes, shops and places to stay in the village which you can read about below.

Psathi
Unless you are on a yacht, parachute in or come by helicopter your point of entry will most likely be the port of Psathi. It is a very clean harbor with a handful of tavernas and some hotels, apartments and rooms to rent and even a few shops. If you want to stay ssomewhere on the sea that is convenient and has a nice beach this is a good choice. See Kimolos Accommodations. The ferries from Pireaus take a little less than 8 hours and the high-speeds take around 5 hours, with most stopping at Kythnos, Serifos and Sifnos before continiung on to Milos. These boats go several times a week during the season and Mon-Weds-Fri in the off season though this can vary. There is also a small ferry that goes from Pollonia, Milos and takes around a quarter of an hour. The ferry from Syros that visits all the Cyclades, doing a different route each day, also stops in Kimolos a couple times a week. You can find ferry schedules at Ferryhopper.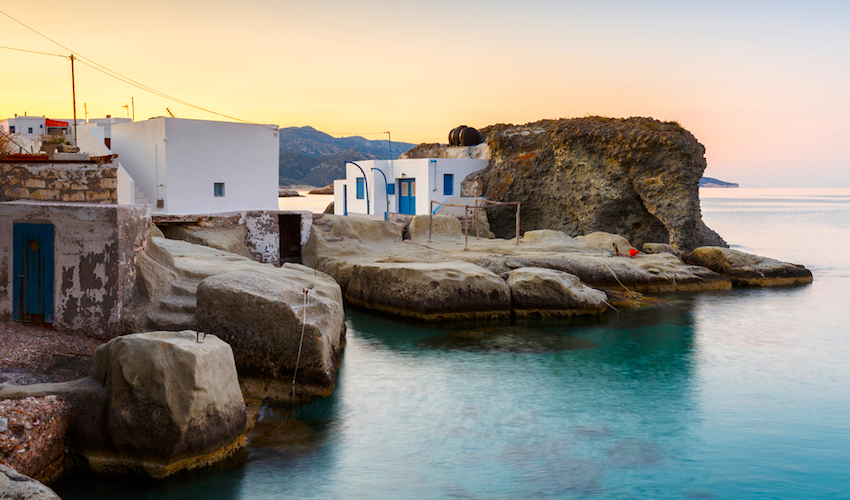 Goupa
Not big enough to be called a village, Goupa is a settlement of boat houses, carved in the soft rock into caves called sirmata. If you have been to Milos and Paros try to imagine the boathouses of Klima magically transported to the coast at Kolymbithres and you will get an idea. Or imagine Sarakiniko in Milos with buildings. One of the most interesting settlements in tthe Greek islands and a great place to snorkel or just hang out. There is a house for rent there called Elephant Goupa Beach for those who want to be right on the sea.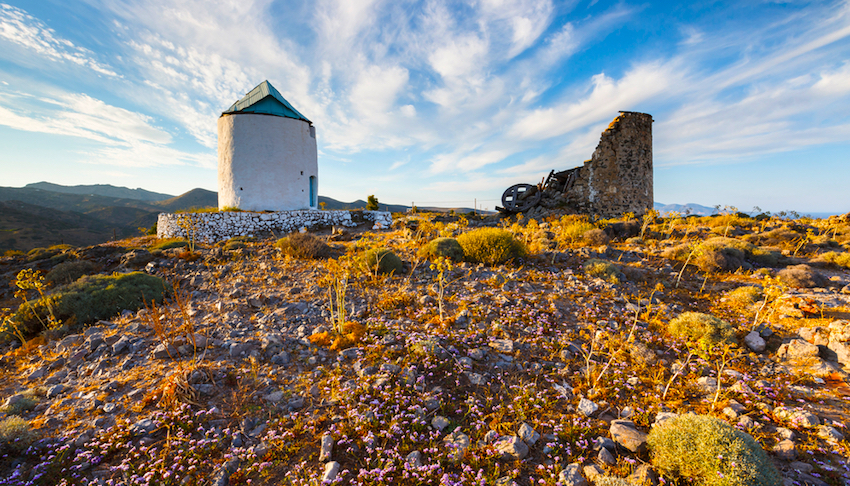 Walking Paths
Like many of the Cyclades there is a system of numbered paths following the old kalderini (stone paths-some ancient). All the paths begin in Chorio and are not too difficult. You don't need to be a serious hiker to do them. There are signs with destinations and the time it takes to reach them and the paths are kept clear of debris. The best season to walk is in the spring when everything is in bloom and the hills are green and not burn to a crisp as happens in the Cyclades during the summer. You should wear comfortable walking shoes (not flip-flops or open sandals), a hat, use sunscreen and bring water. Most of the paths end at beaches and you can make arrangements in advance to be picked up by water taxi, and some of the beaches are on the road and may have bus service or you can arrange to be picked up. Spelunkers should visit the cave of Vromolimni a series of caves carved out of the rocks, some still unexplored, North-East of Chorio. It can be reached on foot, by sea or by donkey.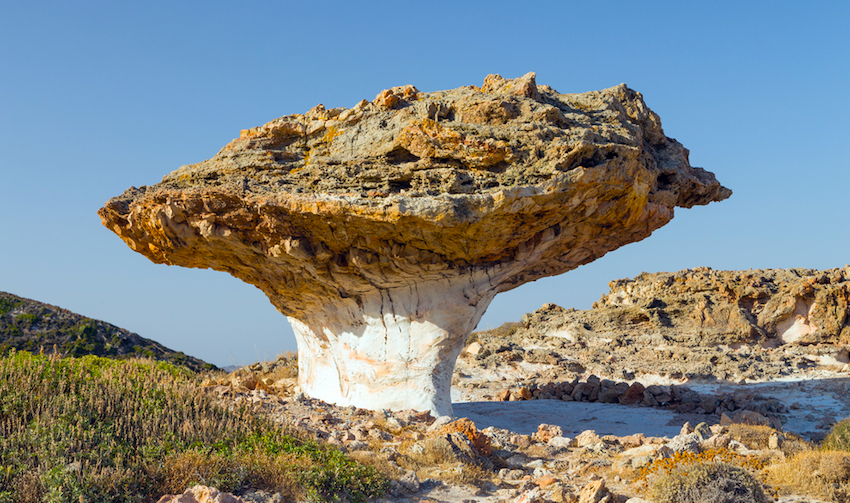 Skiadi
A short drive from the village and then a 30 minute hike brings you to one of the most interesting sites on the island, a stone mushroom called Skiadi. It is a natural formation, created by wind erosion, in a dramatic setting overlooking the southwestern and western coasts of the island and a large part of Milos. Don't make the journey at the hottest part of the day as there is no shade until you get there. Go early in the morning or late in the afternoon and bring water and decent walking shoes. It is possible that the municipality may have organized hikes to it while you are there so ask at the town hall. If you plan to walk from Chorio the path starts at the OTE building and will take around 2 hours. You can continue on route 2 to Mavrospilia Beach which will take another hour or Ellinika Beach and (hopefully) take the bus back or hitch or walk back to Psathi or Chorio.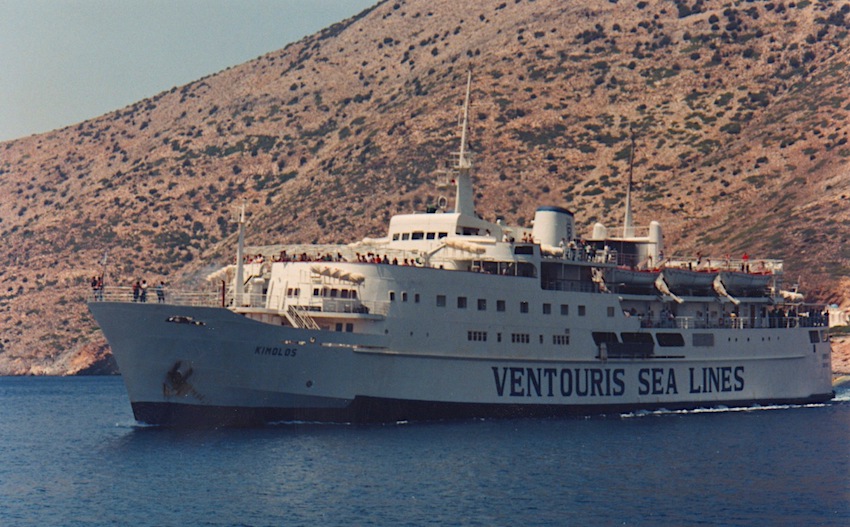 Ventouris Ferries
Many of us who have spent a large part of our lives in the Western Cyclades have a soft spot in our hearts for the ferryboat Kimolos. During the 1980s this ferry, owned by the Ventouris Family and named for their island, sailed daily from Pireaus, connecting Kythnos, Serifos, Sifnos, Kimolos and Milos. At one time it even connected Sifnos with Hydra and Nafplion. The company expanded and became one of the major players in the competitive world of Greek ferries. It is still around today though their routes are mainly in the Adriatic with routes between Greece, Italy and Albania. The last ttime I saw the ferry boat formerly known as the Kimolos it was based in Rhodes and providing service to the other Dodecanese Islands.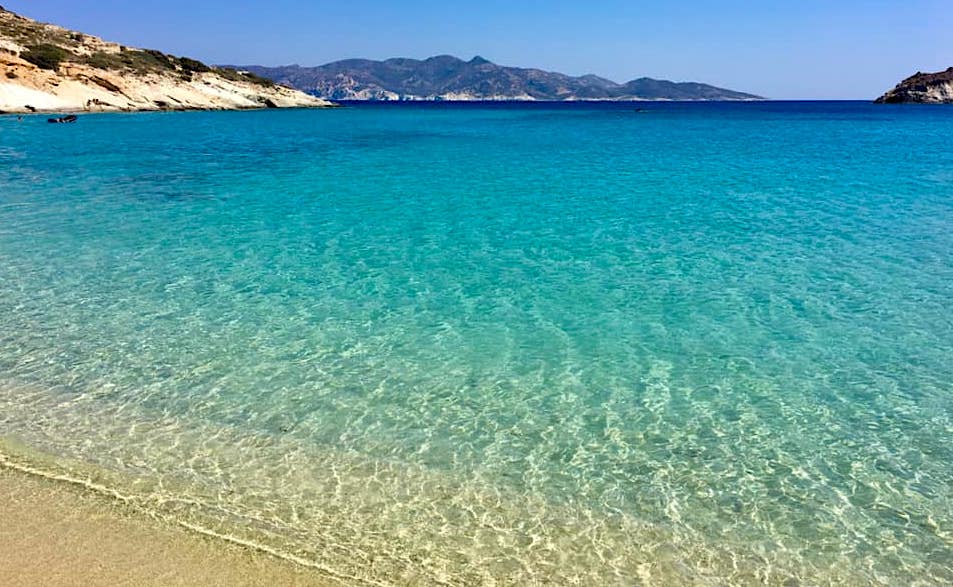 Beaches
For such a small island Kimolos has a lot of beaches and most of them are reachable by car. The majority of these are in the south, eastern and western part of the island. Those few in the rocky northwest you need to get to by boat and choose your days carefully so as not to be pummeled by the north wind and waves. Being a volcanic island like Milos next door means that the coast is full of spectacular rock formations and the kinds of beaches you won't find on ordinary Greek islands, if there is such a thing. And being the best example of an island that is off-the-beaten-path you will find yourself gazing in wonder at the colors and swimming in the cleanest sea you have ever experienced maybe with nobody else within miles.
There are excursion boats that go from the port of Psathi around the island and also to the nearby island of Poliegos which has some of the most beautiful sea in Greece, though you could say the same about Kimolos too. Also keep in mind that if you have a car, the island of Milos is so close that it too is easily explorable.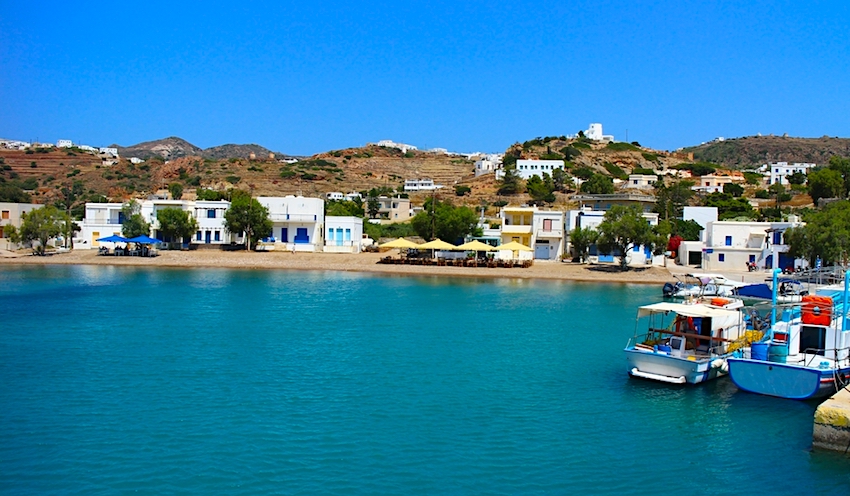 The easiest place to swim is in the port of Psathi. Especially if you have a flock of kids. There are a couple restaurants, cafes and shops, some tamarisk trees and umbrellas and beach beds for rent. There are also hotels and rooms to rent nearby and for a harbor it is very clean. You can also walk to and from Chorio and several other beaches.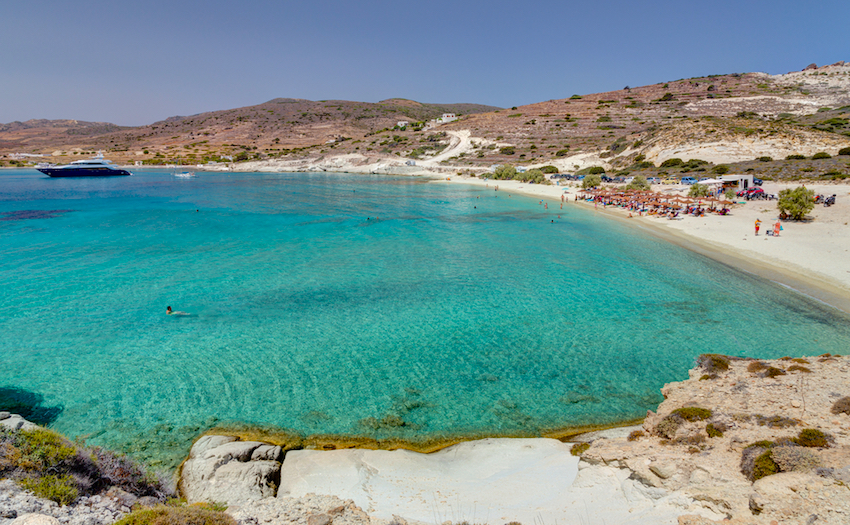 Paralia Prassa (Agios Giorgos) is one of the most popular beaches on Kimolos, one of the most beautiful in the Cyclades, and one of the busiest in the summer when there is a bus. It is located in the northeast but faces south so it is sheltered from the north wind and pretty much always calm. There is a dirt road to get here and a snack bar(cantina) that rents out beach beds and umbrellas. In August the music can get loud and you may want to keep your distance. There are other beaches along the coast and if you walk far enough you will come to Prasonissi Taverna, right across from the small island. There are also hot springs here in a cement building on an old pier. Look for signs pointing the way. It is very hot. Maybe too hot.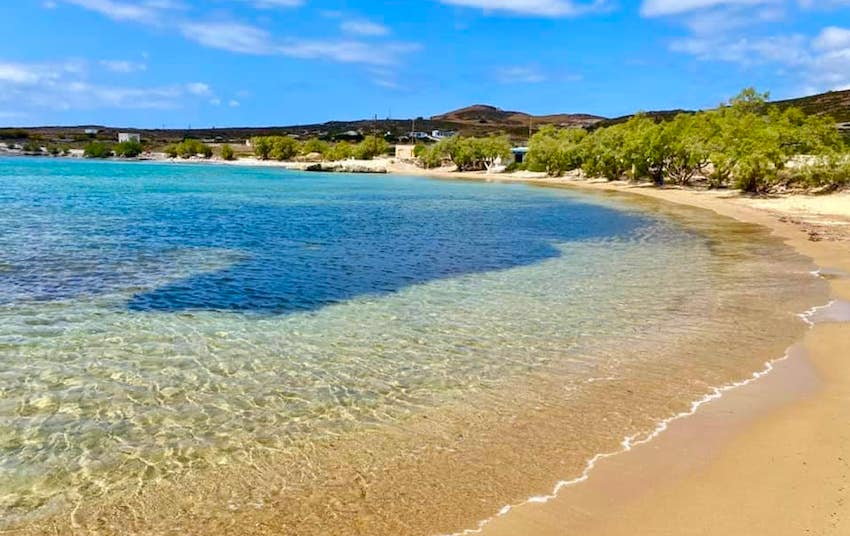 Paralia Kalamitsi in the southwest, is a long sandy beach (two beaches actually) with a row of tamarisk trees for shade and shallow, clear turquoise sea and a nice little taverna with fresh fish. What more could you want? If you snorkel there are lots of fish. Even if you don't snorkel there are lots of fish.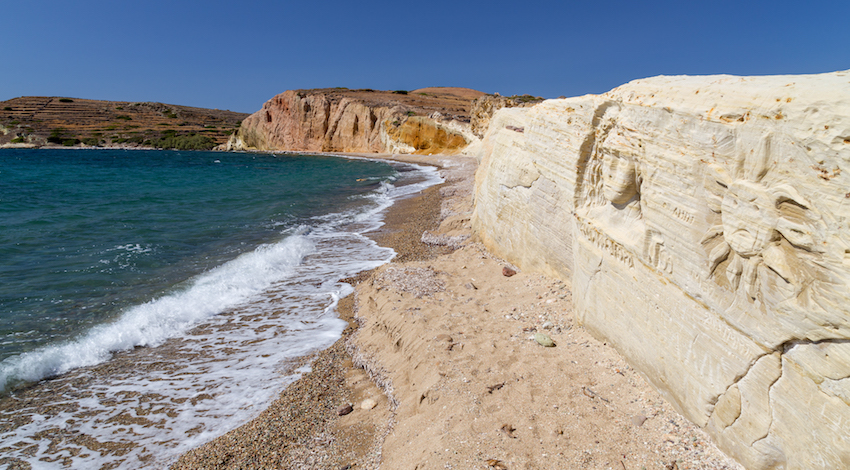 If you walk from Kalamitsi to the west past the promontory of Agios Georgios there is another long sand and pebble beach and in the stone cliff a carving by an unknown artist.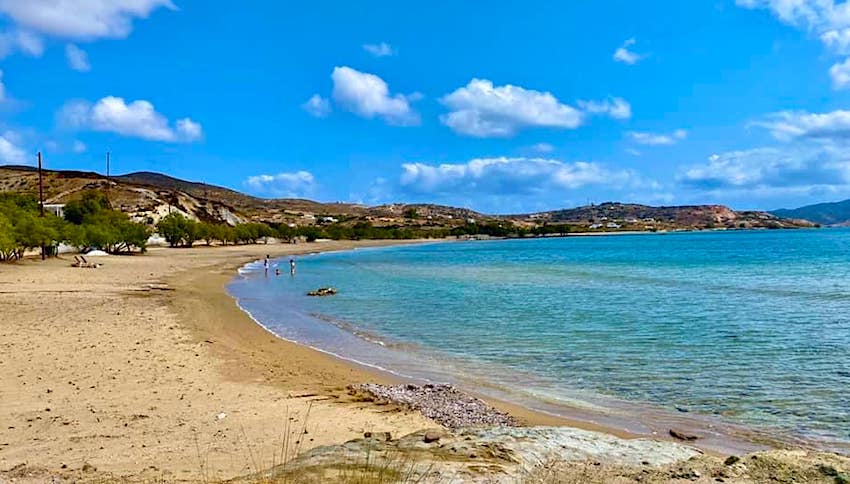 Nearby within easy walking distance is Paralia Bonatsa which also has tamarisk trees and a few sun-beds available too. Keep walking and you will come to Aliki Beach. All three have restaurants. Good ones. They also have rooms to rent and guest houses.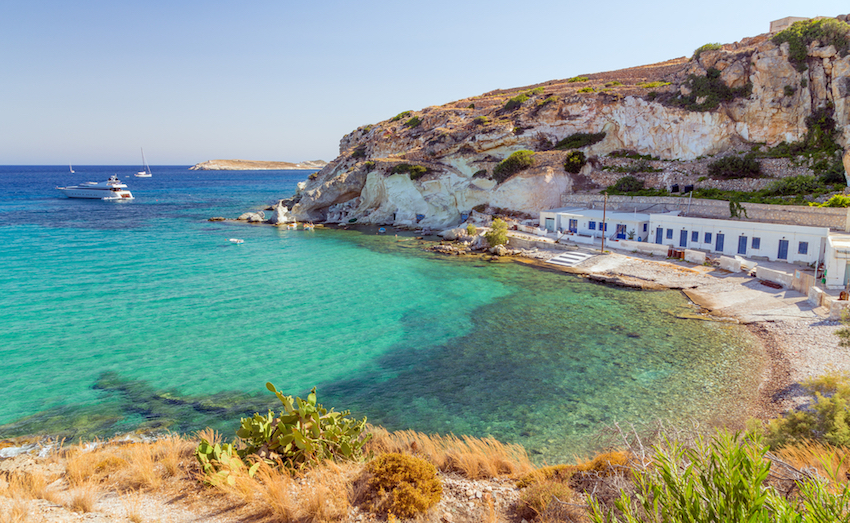 Rema is not much of a Beach but if you have been to Milos imagine Klima but smaller and nicer to swim at, sort of like a big swimming pool. There is a small gravel beach and it is just a 10 minute walk from Chorio. There are sirmata: caves carved in the rock where the fishermen keep their boats and some of them have been turned into summer homes. You can walk here from Chorio and Psathi.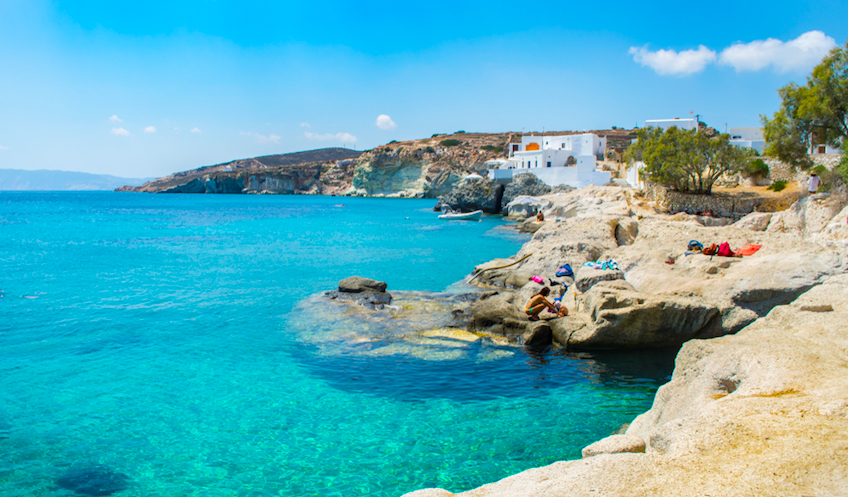 If you walk a little further to Goupa and Karas you can swim off the rocks. The sea is deep and great for snorkeling. If you liked swimming in Hydra you will love it here.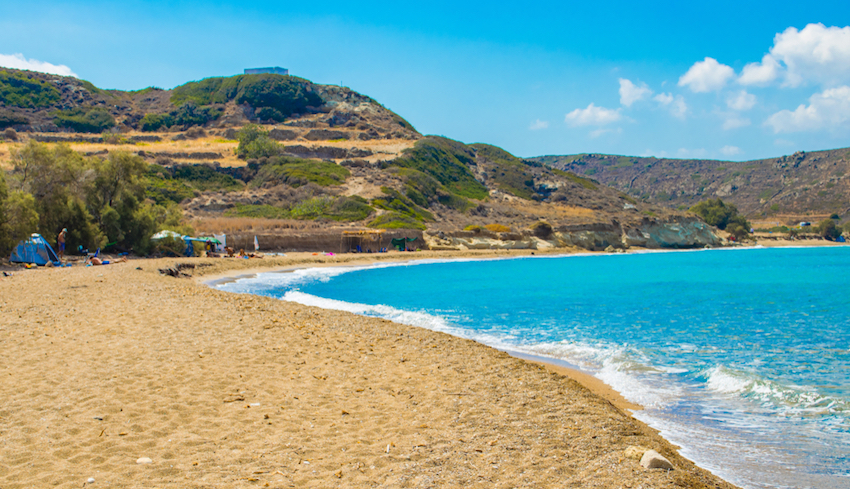 Paralia Elinika is a sandy beach at the end of a dirt road and famous for the underwater archaeological site here. If you are a good swimmer and have a mask, snorkel and flippers you can see between the beach and the small island of Agios Andreas. Unofficially it is a nudist beach and unofficially there is free camping which means you didn't hear it from me. But people are here doing both. Face the sea and walk to your left and you come to Paralia Dekas, another beautiful under-exploited beach. Bring water, umbrellas and your own shade as well as food if you are prone to hunger.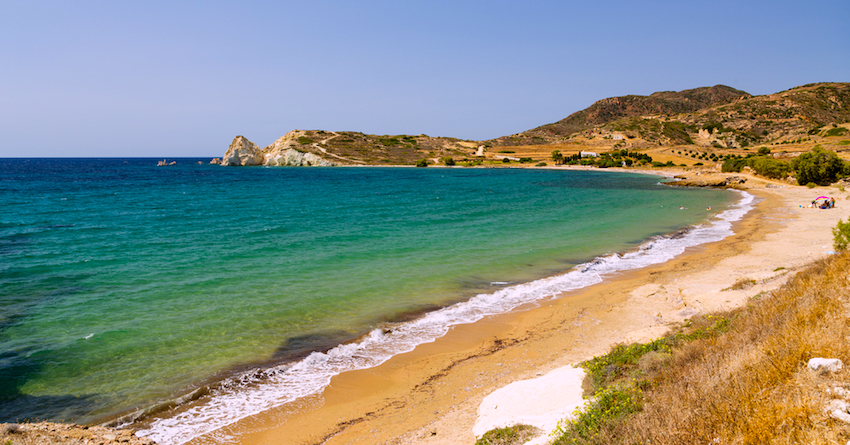 Go a kilometer further on the "main road" and you will come to Mavrospilia Beach and stay long enough to watch the sunset. Again there are no restaurants and little shade so bring essentials.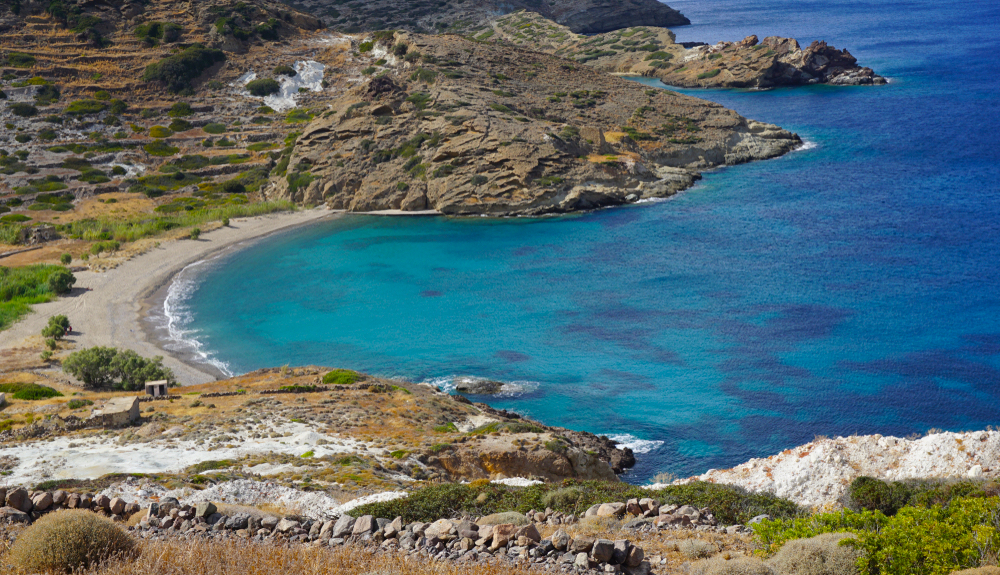 Though you may need a 4-wheel drive vehicle to get there Monastiria Beach is worth going to if you are looking for privacy, as long as the north wind is not blowing. If it is you can follow the path to Souphi Beach which is sheltered. There are some trees offering shade but not much else.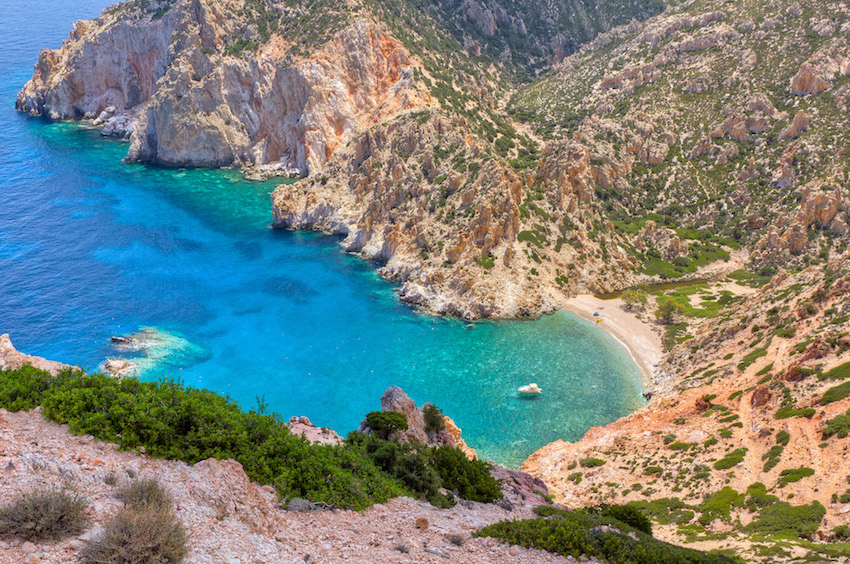 Polyiagos Island is the largest uninhabited island in the Aegean. Not totally uninhabited, there are goats there. The name means many goats. It is also home to a community of Mediterranean monk seals (Monachus monachus). It is about a mile from Kimolos and you can get here by excursion boat and there are several spectacular beaches and the seas a hue of blue that you don't find in very many places.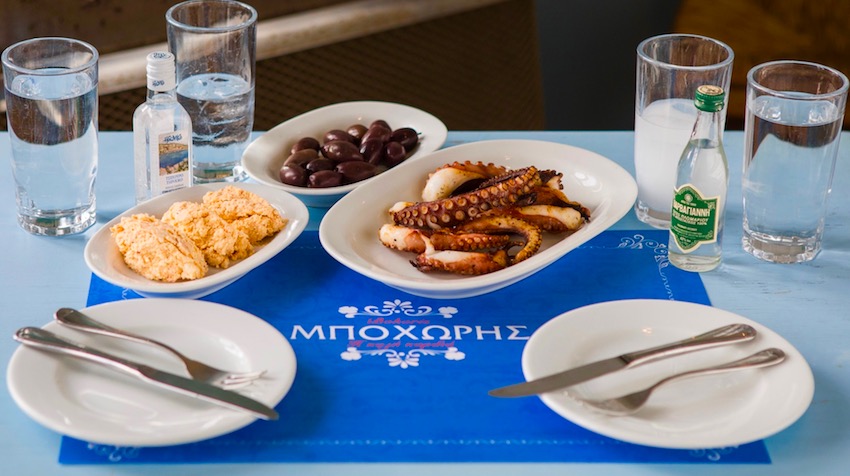 Restaurants
To Kyma tis Psathi (Ta Boxorakia) is a traditional yet contemporary seafood restaurant, a little more fancy than you would expect on an island like Kimolos, but well worth eating at especially if you are looking to try something a little more imaginative than your normal simple Greek island food. That being said, along with your Risotto with Truffle Oil, Tuna Tartare with Fennel, Fish Ceviche, Black Angus Ribeye, and Barbouni Filet Pasta, you will find many if not all the familiar Greek dishes as well as several island specialties and fresh grilled fish. For those who prefer mezedes they have plenty to go along with a large selection of ouzo, tsipuro, raki and tsikoudiafrom all over Greece and a relatively extensive wine list considering you are on one of the least cosmopolitan islands in Greece. Also it is right on the beach. Kyma (as it is called) is owned by Giannis Ventouris. His brother Apostolis owns Postali which is a cafe/restaurant where the ferry comes in that serves breakfast, lunch and dinner. It used to be open 24 hours but since covid I am not sure.
Meltemi, in Chorio is a chef owned restaurant with a beautiful view and food to go along with it. Chef August Galanos, who has cooked at several well known Athens restaurants has created a menu of local recipes combined with his own creative take on other traditional dishes, and using natural ingredients from the island has created a culinary experience that is unique to the island of Kimolos. Kali Kardia aka Bohoris in Chorio (above photo), also owned by Apostolis Ventouris, is more like you would expect on an island like Kimolos and probably what most people are looking for: a traditional family run Greek island taverna though it could also pass for an ouzeri/mezedopoulion for those (like me) who prefer this style of eating and drinking. It is a limited menu and what they have varies from day to day but the food is good, the prices are low, and the service is friendly. It is the oldest restaurant on the island. The katsiki (goat) in the oven is recommended. Eat and drink slowly and stay as long as you can. It gets busy at night when half the village is here. To Balkoni tou Niko serves meat and vegetable dishes, mostly from the owner's garden. Try any of the meat dishes on traditional handmade pasta from Kimolos. For traditional island food like you might eat in someone's home this is a good choice and it has a view of the sea too. Prasonissi Taverna is a beach taverna overlooking the island of the same name and the sea in between. High quality food and reasonable prices with many Mediterranean dishes, meaning pastas, risottos, and of course your favorite Greek dishes and mezedes, many featuring seafood since it is at heart a psarotaverna. Maybe a little more fancy that what you would expect from a beach restaurant on such a low key island but they do simple too. Go for the grilled sardines and always make sure that whatever fish you eat here, or anywhere, was caught that day because on an island like Kimolos, that is one reason why you are here. Bonatsa Taverna in Kalamitsi is a simple family owned taverna known for its friendly service and the menu created by Mr. Giakoumos using fresh local vegetables, meat and fish. This is nothing fancy, just traditional homemade food including local mezedes and other island specialties as well as the usual Greek favorites. From the terrace you have a view of Milos, Polyaigos, Agios Efstathios, Agios Georgios, and on a clear day Folegandros. Kalamitsi Taverna is owned by Stelios who goes out every morning in his boat to bring back fresh fish. A very nice family owned and run restaurant with regional and traditional dishes cooked they way Yaya used to. Also try Sardis at Aliki Beach, another family owned home-cooking style taverna with island specialties using home grown ingredients and fresh fish with reasonable prices.
Kimolos is known for its special pitas (pies) so wherever you eat try them and also ask for the local Xino cheese which is like feta but more intense. Get it on the side and if you like it order your Greek salads with it. Ladenia is a dish made with dough, fresh tomatoes, onions and olive oil, sort of like a pizza without cheese. Elenia is a kind of olive bread that you find in other places with ofher names like eliopsomi. The island is also known for its capers, as are other islands in the western Cyclades, their sun-dried tomatoes, and tomato keftedes (fried croquettes made with tomatoes).
Vampires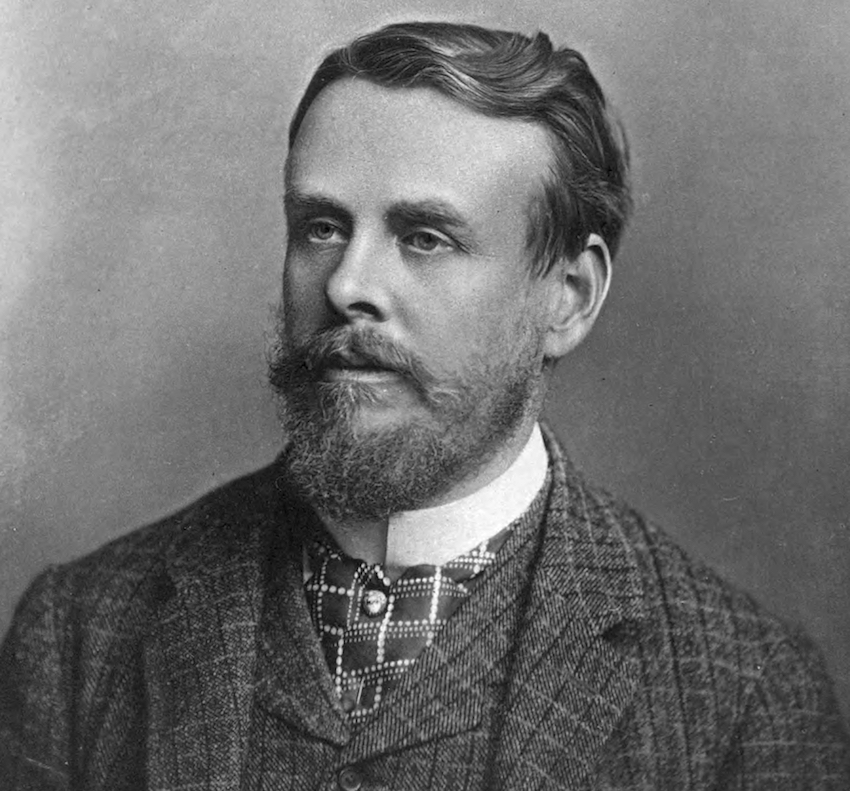 When James Theodore Bent visited Kimolos in 1834 he mentioned the islanders' belief in vampires.
"If a dying man curse himself, or any enemy of his shall curse him at the point of death, that man will become a vampire. The earth cannot dissolve his body: He will wander around at night slaying man and beasts and sucking their blood. There is no peace for him in Hades and no peace for his relatives for he returns to his home and "feeds on his own" as the expression goes; he brings with him plagues, typhus, cholera; the grass dies near his grave, the flowers wither and are eaten by worms, ruin comes on the herds, and dogs wander about the street howling in the night.
If there is a suspected case of a vampire they go to a priest... he accompanies them to the grave of the supposed ghost, and on bended knees they supplicate the All-Merciful to have compassion on this wretched being... and on the grave the priest pours some boiling water and some vinegar. After this... it is generally observed that the ghost stops his wanderings; many affirm that whilst this service is going on they hear the rattle of bones as they settle in the grave." -From Traveler's Greece: Memories of an Enchanted Land compiled by John L Tomkinson. Originally from The Cyclades: Life Among the Insular Greeks by James Theodore Bent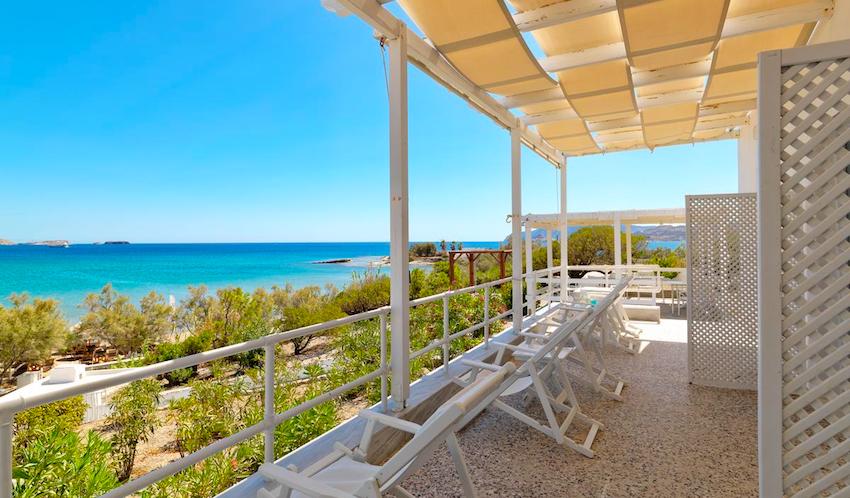 Hotels, Rooms and Holiday Homes in Kimolos
If you plan to visit Kimolos with another island I recommend contacting Aegea Thesaurus Travel on Sifnos who can book your hotels on the islands, in Athens and take care of your transportation. If you plan on booking on your own here are my suggestions and links to photos and more information as well as customer reviews.
Located in Psathi Port, the 19th-century Windmill Kimolos is located in a traditionally restored windmill and has a bar with a sea-view terrace. It offers elegantly decorated units with free Wi-Fi and views over the Aegean Sea or the village. Opening to a balcony, patio or terrace, the rooms and suites of Windmill are fitted with white-washed walls, earthy colors and built-in sofas. Each is air conditioned and equipped with a mini bar and a TV with satellite channels. Located just a few steps from Elephant Beach, The Elephant Goupa Beach provides beachfront accommodations with a terrace and free WiFi. Featuring sea views, the apartment is composed of 1 bedroom and 1 bathroom with a hairdryer and free toiletries. The Cycladic-style Kimolis is 800 feet from the beach of Psathi and Chorio. It features elegant accommodations with free Wi-Fi and balcony with views of the Aegean Sea. Featuring white furnishings and earthy tones, all accommodations types at the Kimolis have a flat-screen TV and fridge. All, feature a modern bathroom with Korres toiletries, slippers and hairdryer. Some units feature a fully equipped kitchen with dining area. Located in Chorio, Alexandra House features a balcony and city views. Guests staying at this vacation home can use the terrace. The air-conditioned vacation home consists of 1 separate bedroom, 1 bathroom, and a seating area. Featuring free WiFi, a terrace and a sun terrace, Bonatsa Beach House (photo above) offers rooms with direct access to the sandy Bonatsa Beach. The pet-friendly rooms include a flat-screen TV with satellite channels. A terrace or balcony are featured in certain rooms. Rooms have a private bathroom equipped with a shower.
You can find more accommodations by using the Kimolos Hotels Search Page or Aegean Thesaurus' Kimolos Accommodation Page.
Kimolos is a nice island to do in combination with Sifnos. It is also easily visited from Milos. If you need assistance booking your stay in Kimolos contact Aegean Thesaurus Travel.