Sifnos is the fourth island in the Western Cyclades and is easily reachable by ferry and high-speed catamaran from Pireaus. Sifnos is a mountainous island with fertile valleys, beautiful beaches and several towns. It has a long history and has been inhabited since 3000 BC. For people who are looking for the 'real Greece' and yet still wouldn't mind a little nightlife, Sifnos is the place to go. Great for honeymooners, couples, families with children and romantics. Sifnos was the first island in Greece to hook up their plumbing to a purification and waste treatment plant which makes Kamares one of the cleanest beaches in Greece and certainly the cleanest port.
| | |
| --- | --- |
| | Sifnos is full of beautiful Cycladic villages, the kind you see on postcards that made you want to go to Greece in the first place like : Kastro , Appollonia , Kamares , Vathi , Heronissos and is blessed with beautiful sandy beaches, 365 Churches and monasteries, Ample Nightlife, Fine Restaurants, Hotels, Rooms,Villas and Apartments, Organized Camping, A Sifnos Monster, Sifnos Basketball, the finest pottery in Greece and A Terrific Full Service Travel Agency, one of the best in Greece that can assist you in putting Sifnos on your Greece itinerary. |
| | |
| --- | --- |
| There is at least one boat from Athens' port of Pireaus to Sifnos a day, usually two plus a highspeed catamaran that can get you to the island in just over 3 hours from Pireaus, sometimes one in the morning and one in the afternoon so you can sleep-in after a night on the town in Athens. You can easily get to and from the neighboring islands of Milos, Serifos and Kythnos year-round which have daily connections and to Santorini and other popular islands in the summer with several boats a week. There are less frequent boats to almost all the islands in the Cyclades by way of Syros . | |
| | |
| --- | --- |
| | There are numerous hotels and rooms to rent and there are travel agents in the port of Kamares who will assist you in locating a place to stay, whether it's there in the port, or the main town of Apollonia , or one of the many other villages and beaches around Sifnos. More green and fertile then its neighbors in the Cyclades, Sifnos is a wonderful place to visit if you enjoy nature and walking. If you enjoy swimming it will be hard to find an island with better beaches than Sifnos. Platiyialos is one of the most beautiful beaches in Greece. As are several others including the port of Kamares. |
| | |
| --- | --- |
| Prices in Sifnos are inexpensive compared to other more popular islands like Mykonos, and Santorini. The beaches are uncrowded and very clean and the snorkling is excellent of the rocks in the sheltered coves and bays that contain many of the beaches. The Sifniots are also known throughout Greece as being the finest cooks and the local restaurants bear testimony. It has also attracted some of the best chefs from around Greece and Europe. There are 365 churcheson the island of all shapes and sizes and in a variety of locations and several monasteries and ancient sites. | |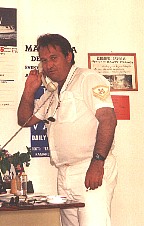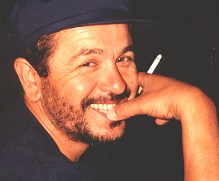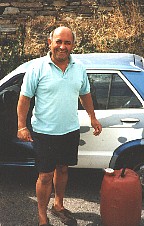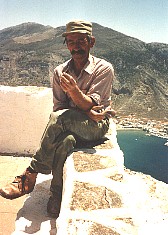 It is also home to some of the friendliest people in Greece.