Booking Hotels in Sifnos, Greece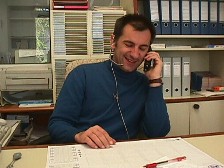 There are all manner of hotels, apartments, villas, rooms and other accommodations in Sifnos. For a listing of possibilities your best bet is to contact Apostolis at Aegean Thesaurus Travel , who is well known for his reliable services, not only for Sifnos but for all the Cyclades and Athens too. Whether you want Deluxe Accommodations or a simple room, a hotel or a villa, he can help find the perfect holiday home for you anywhere on the island. If you are planning so see other islands besides Sifnos I strongly suggest working with this agency because they can assist you with the ferry connections as well as find you a hotel in Athens.And if there are any problems they will be fixed before you even know about them. I encourage you to try their Create-an-itinerary form and you can put together your own Sifnos/Greek island itinerary with the help of a knowlegable travel agent.
Below I have listed what I think are the best hotels in Sifnos.
Hotel Stavros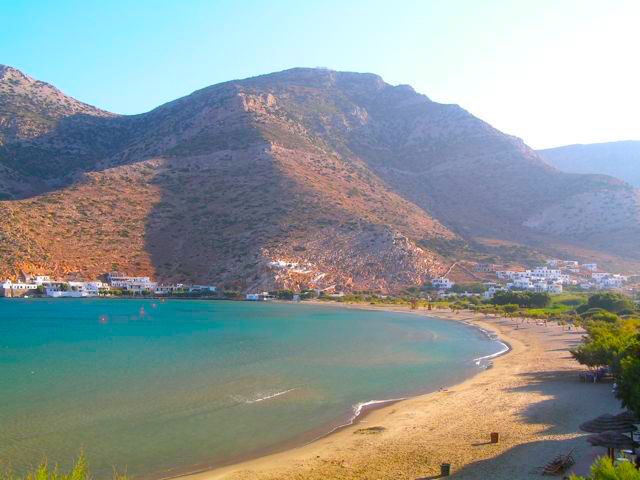 If they were to vote on Kamares most friendly couple, Stavros and Sarah Kaloyeros would win. He's from Sifnos and she's British. Together they will make your stay one you will never forget. The Hotel is right on the Kamares waterfront with balconies that give a view of the entire bay (photo). Downstairs is a cafe that serves breakfast in the morning, sandwiches and Ice-cream all day, and ouzo and beer anytime. There is an un-official information center in the hotel lobby where Stavros and Sarah will tell you when the ferries arrive and depart, how to make connections to other islands and even book a room for when you get there. They also rent cars and jeeps, the best way to see the island. The hotel lobby is full of used paperback books you can borrow or exchange, as well as new books about the island, postcards and maps. If you have children the Stavros is an excellent place to stay since not only does it overlook the beach and is it right above the supermarket where you can find a steady supply of pampers. They also own the Kamari Hotel up the road, and the beautiful Eleonas Apartments in Apollonia, complete with kitchens, and a fantastic view of the island of Anti-Paros. If you are interested in renting a house on Sifnos, Sarah can help you. They are owners of the very lovely Villa Salamander which overlooks the bay of Kamares from above Agia Marina. (When I am in Sifnos I usually stay at the Hotel Stavros.)
For more information see the Hotel Stavros Website or use their contact form
Other Recommended Sifnos Hotels
Hotel Boulis
The Hotel Boulis in Kamares is owned by Adonis and Lynn and is pretty much of a family run operation and features an excellent ouzeri-mezedopouleon called Kafenes which may serve some of the best food on the island and is located in a beautiful garden in the interior of the hotel. The hotel is right on the beach, maybe fifty steps from the water and also about two hundred meters from the restaurants and cafes of Kamares. Lynn and Adonis will make you feel right at home and help you with all sorts of information; from recommending nature walks that end in isolated beaches to tips about the best bars in Apollonia. Click Here for more photos, information and booking
Hotel Morfeas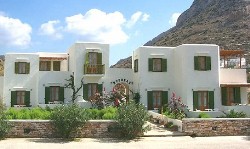 Even if Kostas Kambourakis was not the owner-manager of the Hotel Morfeas in Kamares there would still be plenty of reasons to stay here. Its location is hard to beat. Cross a small road and follow a path through a field of reeds and a grove of trees and you are right on the beach (about 100m). The rooms have views of the mountains, the sea and the valley of Kamares, are clean and well kept, simple and attractive. The hotel is inexpensive and perfect for people on a budget. But as everyone on the island would agree, what makes the hotel even more special is Kostas Kambourakis, one of the most charming and friendly people in Sifnos. Click Here for more photos, information and booking
Hotel Alexandros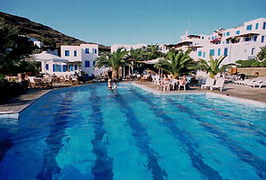 The Hotel Alexandros in Platiyialos is perhaps the finest hotel on the island in terms of combining simple luxury and comfort in a traditional island setting. Designed with a Cycladic style with different levels giving the impression of a small village, the hotel has a great view of the sea and the village. There are also beautiful gardens surrounding the rooms. All rooms are equipped with airconditioning, heating, mini-bar, telephone, music and a veranda with a view of the sea, or of the swimming pool and the surrounding scenery. Click here for more photos, information and booking
Elies Resort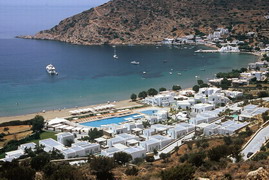 I remember when Vathi did not even have a road and we had to take a small boat there and back. Then they built the road and everyone said that this is the end of the charm of Vathi. You can imagine what they said when they found out that Vernicos was building a state-of-the-art resort hotel with the largest swimming pool in the Cyclades there. Well despite our horror that sacred Vathi was being defiled by a monster resort I have to admit they have done a pretty good job. The hotel blends in with the surrounding village since the buildings are detached so you feel like you have your own little luxurious village house. It compares favorably with the best resort hotels in Greece but none of them are in as special a setting as the Elies Resort. If you want a quality holiday in a full service luxury hotel on the type of island that you would not expect to find a luxury hotel, at least one on this scale, then stay at the Elies Resort. Click here for more photos, information and booking
Hotel Petali Village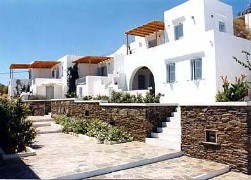 Hotel Petali is another elegant hotel on the island of Sifnos. It is located in Pano Petali, a traditional suburb of Apollonia, on a pedestrian footpath, 250 meters from the town center, where the nearest bus stop is. You will find a variety of restaurants and shops in its neighborhood.It composed of 4 small buildings with a total of 4 suites, 6 rooms, a breakfast lounge, a reception, and a sitting lounge where you could enjoy the great view or watch international channels on satellite TV. It has been built and decorated in an authentic Cycladic style with excellent taste. Click here for more photos, information and booking
Verina Suites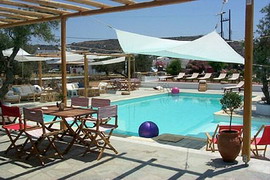 Verina Suites are built in 4 separate buildings giving the impression of being small villas surrounded by olive groves and nice gardens. Located in Platys Yialos, just 50 meters from the beach, they are in an ideal location. Built to superior standards, with a traditional Cycladic layout and interior decor that has made this one of finer accommodation facilities of the island. Amenities include an outdoor breakfast lounge and a snack bar by the swimming pool considered one of the best on the island. Comprised of 4 rooms, 4 apartments, 1 suite, 1 superior apartment and 4 maisonnette apartments. All units have air-conditioning, telephone, TV, CD player, safe box, hairdryer, mini fridge and a coffee machine. Click here for more photos, information and booking
Fasolou Hotel and Apartments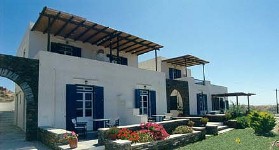 The Fasolou Hotel and Apartments are located in Faros 150 meters from the beach (Fasolou beach). Highly recommended for its traditional architecture and decoration, it is built in three separate Cycladic-style buildings with comfortable and elegant interiors. This is a small hotel of 12 units (apartments and studios) and is within easy walking distance of the small port of Pharos which has several restaurants, cafes, shops and two or three other small beaches. Click here for more photos, information and booking
Delfini Hotel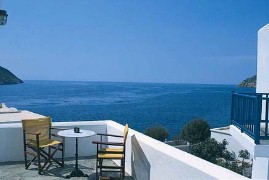 The newly remodeled and expanded Delfini Hotel is located in the Agia Marina area across the bay from Kamares. It offers a splendid view of the gulf and is a ten minute walk to the beautiful sandy beach which separates Kamares from Agia Marina and a 5 minute walk from the excellent Argiris Taverna and the popular Foli Cafe/bar. The Delfini has a jacuzzi and a restaurant and its own little bay and dock for swimming, sunbathing and snorkeling and a swimming pool with a restaurant/cafe/bar. Click here for more photos, information and booking
You can book these hotels and more with Aegean Thesaurus Travel who can also book your hotels in Athens and on other islands and coordinate your ferries too. Check out the Aegean Thesaurus Sifnos Hotels Page.
You can find more Sifnos hotels, villas, apartments and holiday homes at Matt's Hotels of Greece Sifnos Page
There is also Camping at CAMPING MAKIS
located in Kamares, 50m. from the beach and 600m. from the quay.