Matt's Favorite Sifnos Restaurants and Cafes
The island of Sifnos is known for its fine cooking. Perhaps it is because of their tradition of pottery their cuisine is so developed. While other places in Greece were cooking meat on sticks over an open fire the Sifniots were making delicious stews and casseroles in the clay pots and ovens that are still used. In the Greek merchant marine it is considered lucky to find yourself on a ship where the cook is from Sifnos. These are just a few of my favorite restaurants on the island.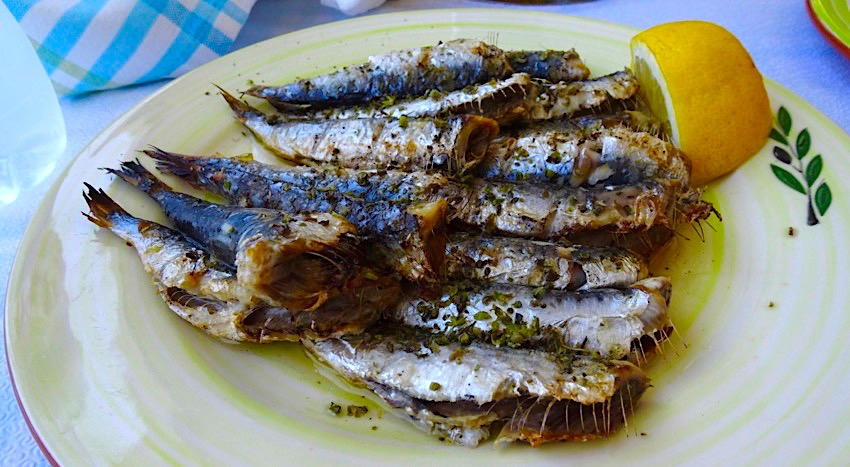 Meropi
Otherwise known as Kambourakis after the Cretan family who have owned it for 100 years, this traditional Kamares restaurant has authentic Sifnos food and the freshest meat and fish. If a late afternoon ouzo with octopus, cucumbers, tomatoes, olives and feta cheese while gazing at the fishing boats gently swaying in the breeze is what you came to Greece for, you've found it. Andonis runs the kitchen and is also one of Kamares best fishermen. The food is served by an assortment of wives, sisters, cousins, mothers and aunts and comes from the sea or from their own farm. Try their revithia keftedes which are fried balls made from chickpeas, similar to falafal. Very good homemade wine and in the summer beer on tap. Just go into the kitchen and they will show you what's for dinner, or lunch. Try their grilled sardines, octopus marinated in olive oil, their caper salad, eggplant with cheese, and familiar favorites like mousaka and stuffed tomatoes. Last time I went here and ordered an ouzo and meze (ask for Pitsalidi or Yianatsi ouzo) they gave me cheese-stuffed jalapeno poppers. But ask for a traditional mezedes if that sounds a little weird to you. Also ask for their horiatiki salata with local mizithra cheese.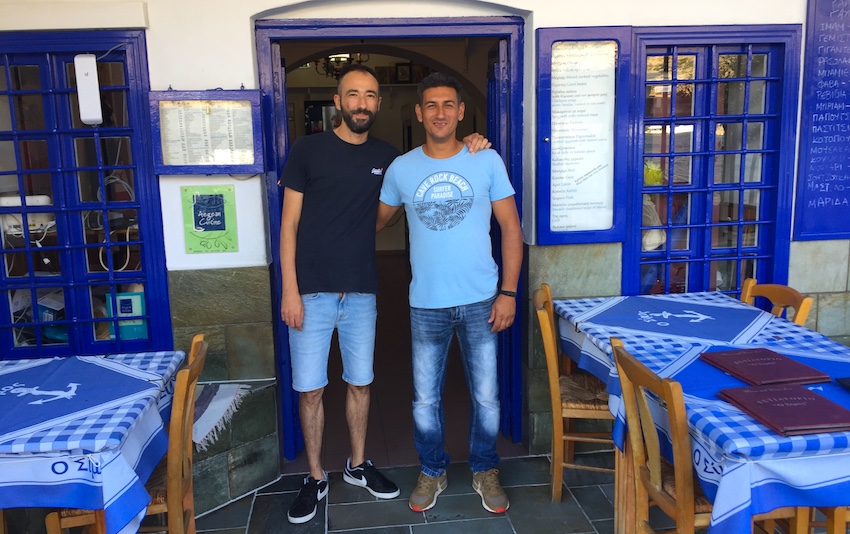 Simos
Simos Restaurant is one of several 'real restaurants' according to Stavros Kalogirou. As he explained it to me the real restaurants in Kamares are Sophia's (now closed), Kambourakis Meropi, and Simos. What makes them real is that all three have farms that provide the cooks with all the vegetables, meat, olive oil, wine etc. But many of the other restaurants must buy everything they serve. It is interesting that the three 'real restaurants' are among my favorites and that includes Simos. Like the others it is family run and the best way to choose your meal is to go into the kitchen and let them show you what's in the pots. Really good fish soup and wonderful Rivithia (chickpea soup). Greek salad with Mizithra too. I loved how Mrs. Simos used to sit down at our table to take our order. Sadly she has passed away and her son runs the restaurant with his pal Gabriel and several other cool guys helping out. Simos is one of the few restaurants that is open year round. Order the lamb mastela cooked in the traditional Sifnos clay pot. Excellent fried fish. Splurge on the barbounia and koutsomoures. They are worth it.
Similar to Simos and Meropi is the last restaurant on the waterfront, or the first one you come to when you get off the ferry, called Araxovoli. Excellent island food, fresh fish, the usual salads and Sifnos vegetables and katziki mastela (goat cooked in a clay pot-Sifnos style). Good place for a final meal because it is close to the ferry but actually it is a good place for any meal.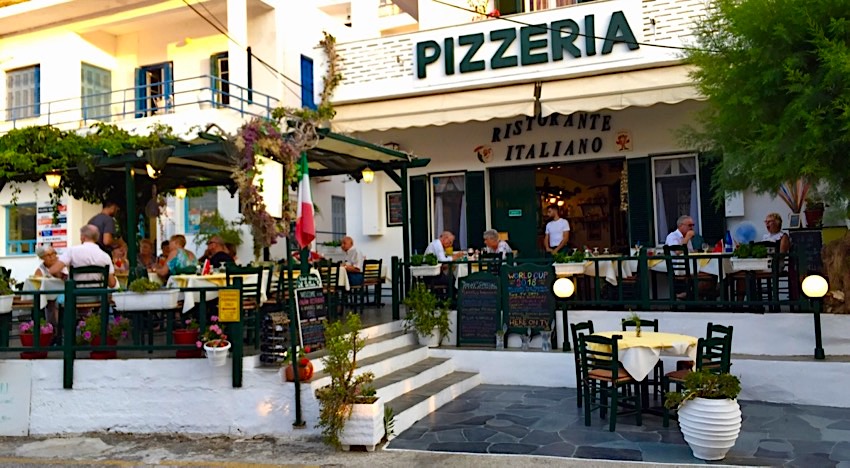 Claudio's Italian Restaurant
Let super-chef Paolo from Trieste, Italy and his beautiful wife Monika, wine and dine you in the finest Italian restaurant in the Aegean. Local and imported wines. Fantastic pastas, salads, fish and meat. Great pizzas and calzones too! This would be considered a fine Italian restaurant even if it were in New York City or Milano. The fact that it is in Kamares, Sifnos is a blessing for anyone who has tired of Greek food or wants to visit Italy without shelling out the airfare. Here's a tip: If you have a before dinner drink at the Old Captain Bar they will give you a discount card for Claudio's. Then after you eat at Claudio's they give you a free drink card for the Old Captain. A great way to save money and eat well. I like the Spaghetti Puttanesca, carbonara and the Zingara Salad as well as the pizza with pepperoni or something that looked like pepperoni. Amarandi loves the pizza with pesto, tomato and basil. Claudio's serves as the unofficial Italian Embassy for the island. It is kind of a joke that Paolo got tired of making so many spagetti carbonaras that he took it off the menu. I just noticed while editing this page that for the last 20 years I have been recommending the spaghetti carbonara. Sorry about that. Anyway even if it is not on the menu they still have it. Save room for desert.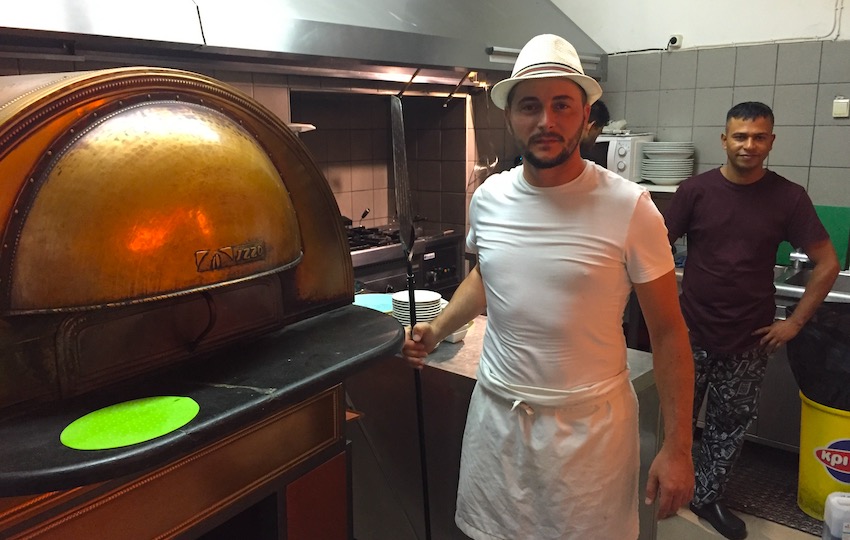 Passione Italliana
On the waterfront in Kamares is a small Italian restaurant called Passione Italliana that people say is the best Italian food this side of Italy. I am not so sure it is even the best Italian food on Sifnos which has several great Italian restaurants which have spun off from the original Lorenzo's, the first truly Italian restaurant on Sifnos or just about anywhere in Greece. But if Passione Italiana is not the best it is not far behind and it has the added attraction of being right on the sea. We had several delicious pasta dishes, appetisers and salads but the best thing was the pizza, in particular the sausage-gorgonzola pizza which we liked so much that the next day we got two more to go and ate them on the ferry back to Athens. I know you didn't come to Sifnos to eat Italian food but with so many great Italian restaurants they make it tough not too. But if you are worried you won't have enough time to eat at the traditional Sifniot restaurants and also try all the Italian restaurants there is a simple remedy. Cancel whatever other island you were going to visit and spend your entire time on Sifnos.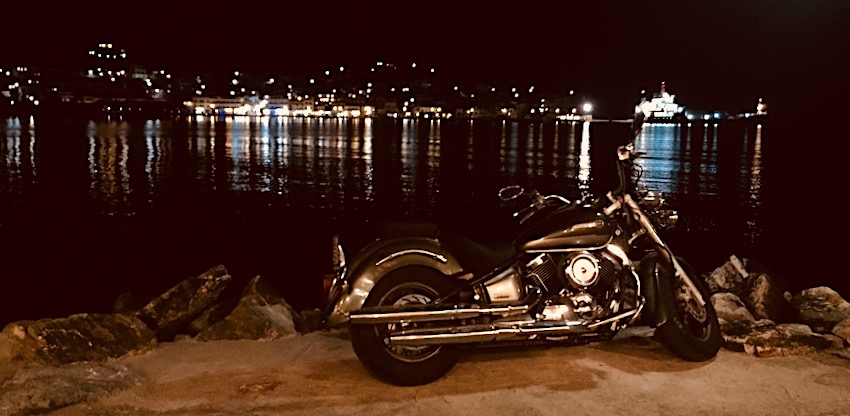 Argiris
Across the bay in Agia Marina are a couple restaurants for those who want to get out of town but not drive as far as Apollonia. My favorite is Argiris which is another traditional Sifnos restaurant similar to both Simos and Meropi but with a much more extensive wine list full of delicious and inexpensive Greek wines. People come here for the grilled meat, in particular the paidaikia (lamb chops), but they have lots of salads, vegetarian and fish dishes as well as you favorite Sifniot dishes. If you want to get away from the busy streets of Kamares this is a nice quiet area with a view of the port.
In the house where Markos the potter used to live is called Isalos and is a sort of traditional but slightly upscale neo-Greek taverna in a beautiful setting right on the sea. Good food. The owner makes his own sardeles pastes (marinated sardines) and lakerda (marinated tuna) using high grade sushi tuna. Nice choice of wines and ouzo, and a menu that changes often with lots of specials. Everything I had here was good. Next door the cafe bar Foli has now become a restaurant as well but I have not tried it yet. The restaurant at the Delfini Hotel is supposed to be very good and people I know go there to eat and hang out by the pool, but I have yet to do that either. One of these years.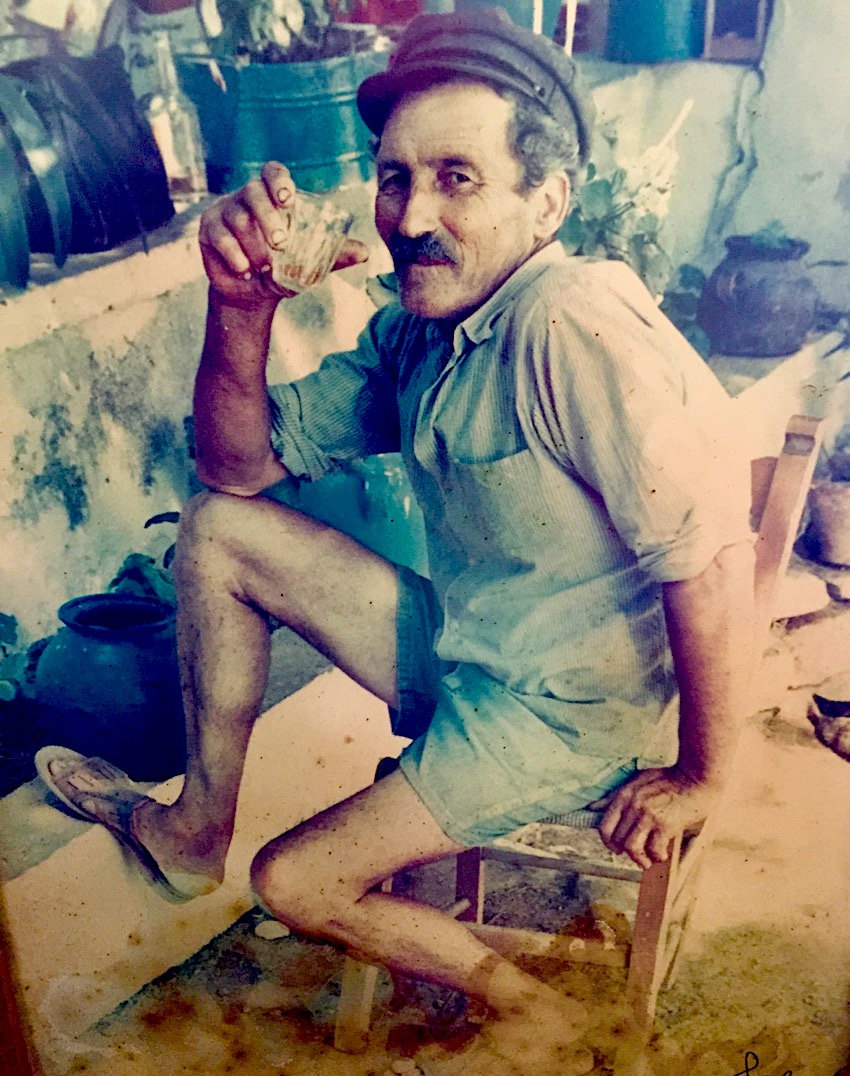 Manolis
Located in Vathy this traditional restaurant may have the best clay oven food on the island. Until he passed away Manolis had been the heart and soul of Vathi for decades. Though his son Stelios has taken over the restaurant, the spirit of Manolis still pervades for those of us who knew him. A truly authentic Sifniot restaurant that should not be missed, particularly for a late and lingering lunch. Excellent wine from the barrel, well maybe the box but excellent nonetheless. Baked dishes from the oven, fried kalamari, whatever fish has been brought in, and the best Greek salads in all the Cyclades topped with arugula and mizithra, a Sifniot cheese less sharp then feta and the consistency of cottage cheese. When you are finished just jump right in the clean water of Vathi bay and then come back for a Greek coffee and baklava. If you decide that this is the life for you, then you can rent rooms right behind the restaurant.
Kafenes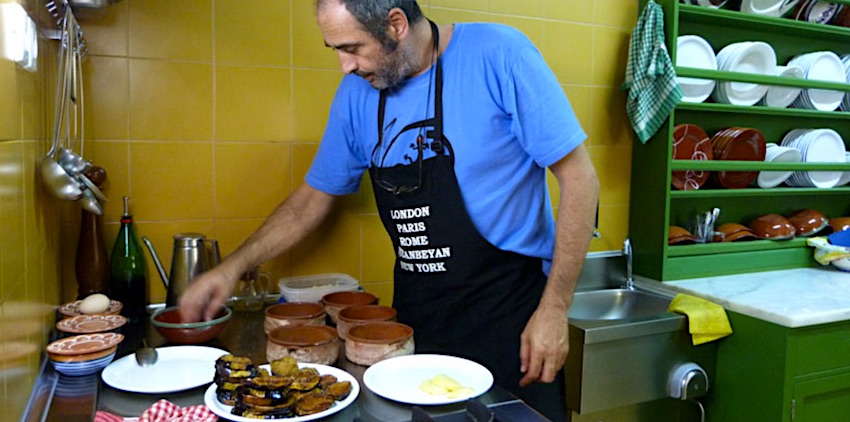 Antonis (son of the famous Boulis) has opened a paradosiako kafeneion in the courtyard of the family's Hotel Boulis in Kamares. Kafenés use to mean a small place where you could get anything from snacks to meals to coffee to drinks to sweets but only a limited (and seasonal) range of each thing. Antonis has taken the traditional cooking of Sifnos that he learned from his mother Kassiani Kalogirou – a fantastic woman - and without compromising given it his own "twist". This produces some of the best Greek traditional cooking I have ever had. And he still can serve cold retsina (resinated wine) from the barrel – something that sadly enough is becoming increasingly rare. The place is relatively small (seats about 30 – 35). It just may be the best ouzerie-mezedopoulion in Kamares if not on the island.
To serve the guests he is helped by Giorgos - a friend of many years. Giorgos' English is good and Antonis speaks English as does his wife Lynn – she should since she is from Australia. The menu might seem to contain surprisingly many dishes – but not all dishes can be had on any one day. It varies with what is in season and what ingredients Antonis could find that particular day living up to his high standard of quality and what fresh meat brother Jannis supplied that day. It is hard to point out any specific dish as they are all excellent. Traditional Sifnos cooking is very much about things that take a long time in the making – and in pots and casseroles – and here Antonis is the undisputed master. His Mastelo (goat or lamp in red wine with dill) – will certainly make you come back for more. Also his κεφτεδάκια (keftedakia = meatballs) is a must – juicy, spiced without being strong and with a incredible taste. But try anything on the menu – or ask Giorgos or Andonis what is "special" to-day. Trust me: you will not be disappointed. There is no doubt that Antonis loves cooking and caring about the guests – and it comes through in the resulting food and the friendly atmosphere.
(Review by Michael Lemvigh because I drank so much ouzo here that I forgot what I had eaten)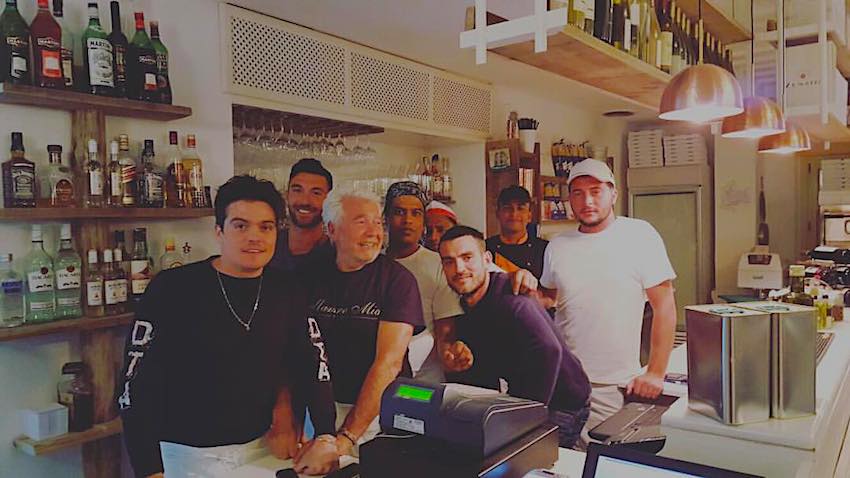 Mama Mia's
Mama Mia's is owned by Phillipo and his son Andrea who come to Sifnos every summer from their home in Milano. There are two locations, the original on the beach at Platyialos and the new one between Appollonia and Artemona. Both are excellent Italian restaurants with the Apollonia location specializing in pizza. The Platyialos restaurant is great for lunch and a swim if you don't happen to be staying in Platiyialos or dinner if you are. Ask to see his collection of 60's 45's and try the seafood pasta. They just opened a new restaurant in Platyialos that I have not been to yet but i am sure it is good because the other two are.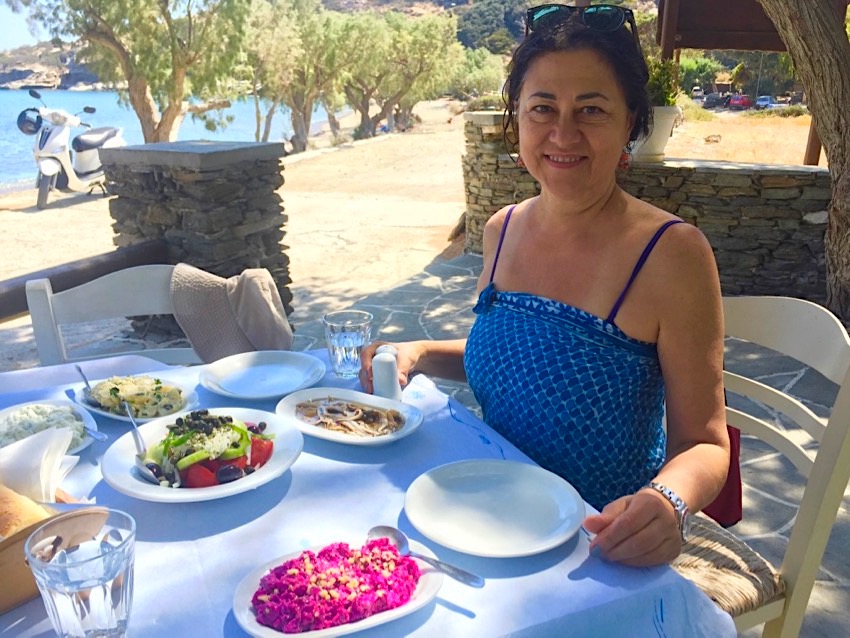 Apokafto and Chrysopigi
On the beach called Apokafto next to the monastery of Chrysopigi is the restaurant of the same name where we went for our Easter dinner. We had roast lamb and the famous lamb mastella which Sifnos is known for it. Instead of roasting it is cooked in a clay pot and let me just say that I was a lamb-on-a-spit fanatic until I tried the mastella. Now I am converted. No more hours spent turning a lamb over an open fire for me. Lamb mastella is awesome. The restaurant called Chrysopigi on the other end of the beach is just as good. In fact I keep forgetting which one is better and we always have to ask ourselves which was the one we ate at last trip that was so good and then we discover it was the other one but the one we are at is even better. Then we forget all over again. The point is that it does not matter which one you go to.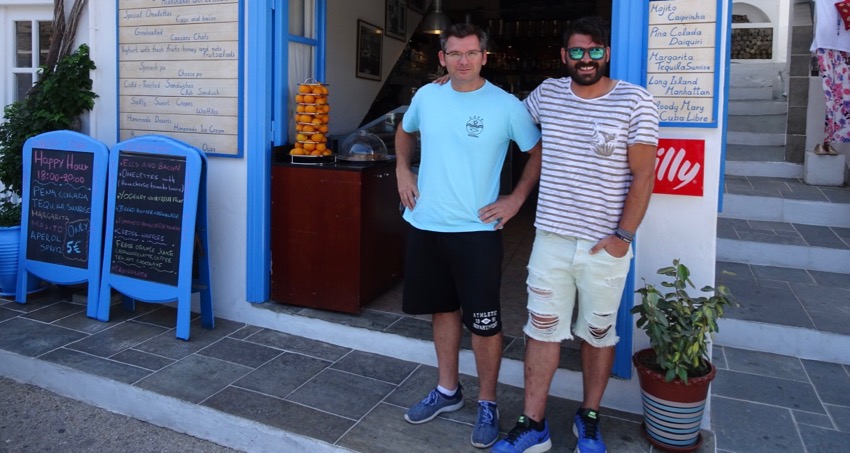 Stavros Cafe
The Stavros Cafe, next to the Stavros Hotel and the Stavros Supermarket, is not run by Stavros. It was opened by Vangelis who used to own the Avra restaurant but realized that it is a lot easier to make money selling bacon and eggs, toast, yogurt with fruit, honey and nuts, espresso, beer, wine, ouzo, orange juice, pastries and ice-cream. When I asked him if it is easier to run a restaurant or a cafe he replied that the cafe was more difficult because you have to wash so many glasses. I had not thought of that. For the best coffee in the morning come here. If you are used to Starbucks quality (or potency is what I really mean), order a double espresso with hot milk. (diploes presso me zestogala sekorista ). But mastery of Greek is not necessary since his sons Christos and Nikiforos work here every day and speak perfect English and pretty much run the place now. For the traditional Sifnos breakfast of yogurt with fruit, honey and nuts come here. For people-watching, the Stavros can't be beat and you will find me here in the morning whenever I am in Sifnos, along with Paolo from the Italian restaurant (who it is best not to speak to until after he has had his second coffee).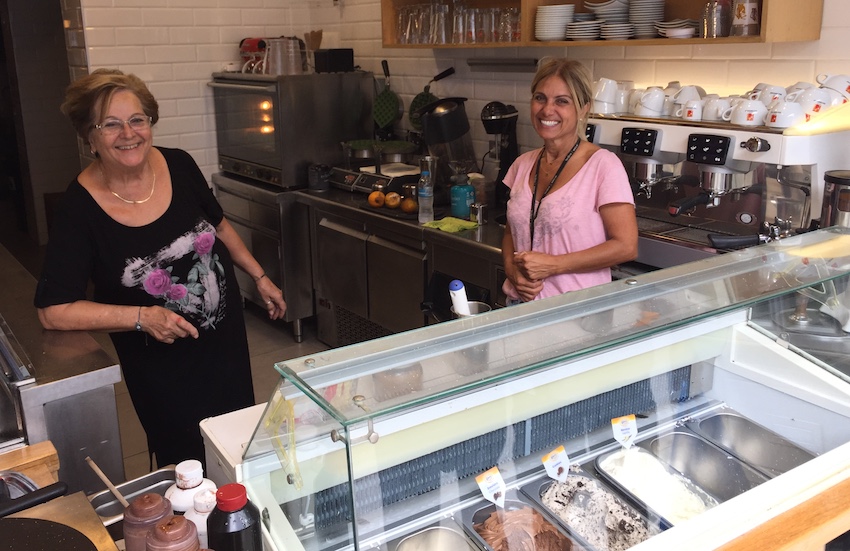 To Kima
To Kima is run by Kyria Eleni and her beautiful daughter Efstasia. Have your breakfast or lunch here and you can use the sun beds and umbrellas all day long. They also have drinks at night. To Kima is one of the oldest cafes in Kamares, in fact this was where many of us spent hours every day in the mid-eighties, eating, drinking, playing backgammon, cards and guitars. They have an entrance on the main street in Kamares right across from the square and you can also reach it from the beach where they have tables, chairs and beach beds in what is now a small forest between the restaurant and the sea. Try their crepes.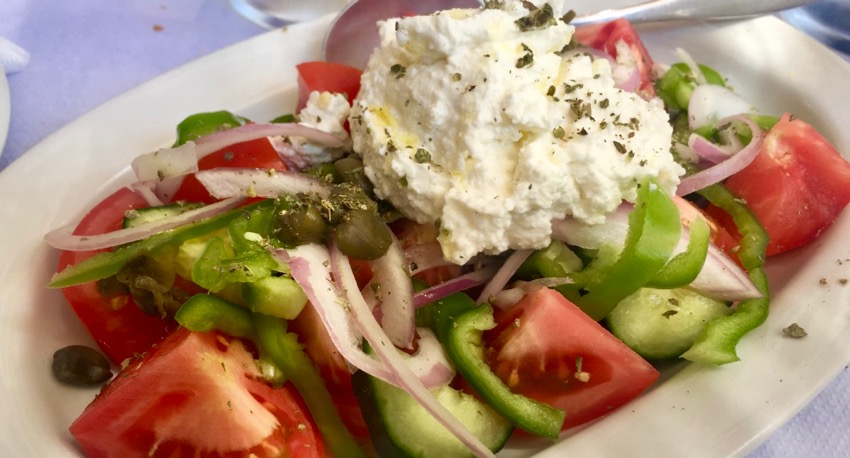 The Best of the Rest
Cameron's, across from the Old Captain in Kamares specializes in Greek and Italian food including (according to my cousin Craig who is half Italian), the BEST pizza in Greece and is open year round. Canova is 100m from the main square in Apollonia and serves Mediterranean modern cuisine, has an excellent wine list and good service. Cayenne in Apollonia serves Greek modern cuisine & local cuisine. Indoors & outdoors. Excellent location on main pedestrian footpath of main town, good service, 4 star restaurant. Traditional house ambiance and setting. Drimonia in Apollonia is 700m from the main square and serves Greek modern & local cuisine. Ragabas Restaurant in Apollonia on the main street. (Open July-August only) Upscale fish and Modern Greek cuisine, excellent location with panoramic views, great service, 5 star restaurant. Perivola Restaurant in Artemonas 300m from the main square serves modern Greek cuisine in a beautiful location. Smaragdi in the main square in Artemonas Town serves modern Greek cuisine Maiolica Restaurant on Platy Yialos beach serves excellent innovative Mediterranean cuisine while the nearby Omega 3 Seafood Tapas serves superb seafood Tapas and has an excellent wine list. If you want simple traditional inexpensive Sifnos cooking and fresh fish I recommend To Steki, right on the sea. Limanaki Fish Tavern in Faros village, on the waterfront is a traditional fish taverna with fresh fish, sea food and local delicacies and is owned by a family fishermen. Excellent food, good service, family atmosphere. Psammos in the Elies Resort Hotel, Vathi is an elegant 5-star Mediterranean Cuisine and Fish Restaurant with rare wines from all over the world. In the small port/beach below Kastro is the gourmet sustainable restaurant Cantina, an exceptional restaurant in a beautiful location that serves Sifniot cuisine with a modern twist. Friendly staff and they use local produce and have organic wines. Make a reservation because it is popular. (+302284035395)
In the small port of Heronissos is the Ammoudia Fish Taverna famous for their lobster which is caught nearby and also for their variety of fresh fish. It is a twenty minute drive to Heronissos but worth it for the food and a swim in the small bay. It can get crowded on weekends with visitors from Apollonia and Kamares as well as people on sailboats and yachts. You can also try the Fish taverna Heronissos right next door where you can choose your lobster right out of the sea though at 95 euros for a lobster macaroni you may want to share it with your family and friends. There are dozens more restaurants all over the island. To find out more you will have to come and try them yourself. Sunset in Troulaki is on the road to Heronissos and as yyou may have gathered from the name has a beautiful view of the sunset and excellent grilled meats and Sifnos specialties.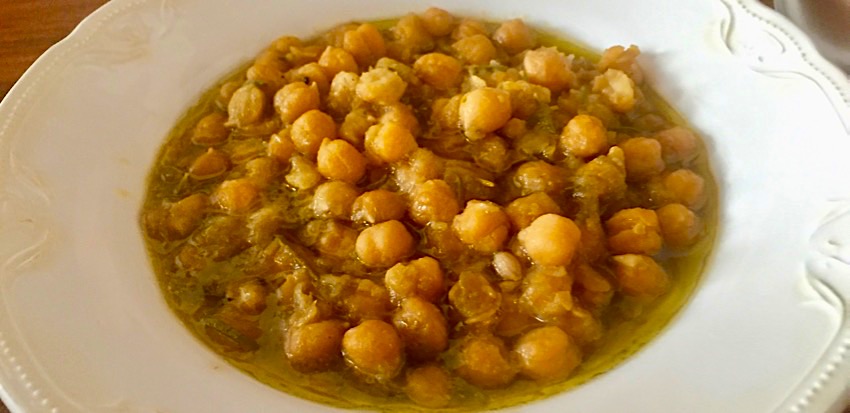 Revithia Day and other Important Things
Remember that Sunday is Revithia day and most of the restaurants in Kamares will have it. They may have it other days too but Sunday for sure. If you want to make it yourself see Matt's Sifnos Revithia Recipe.
Remember to order mizithra on your salad rather than feta or if you want get one in the salad and the other on the side.
Like anywhere in Greece fish can be expensive. The least expensive fish are gavros, marides, gopes, kolios and kalamaraki(frozen). The most expensive are barbounia (red mullet) and of course lobster. The barbounia are worth it. Lobster is better in the USA and cheaper too.

Also remember that the clay pot dishes that are cooked in the oven are some of the dishes the island is most widely known for. While the rest of the Mediterranean was eating hunks of meat cooked on a stick over a fire (or raw) the people of Sifnos were cooking in these same clay pots in ovens.
So when you get the menu ask if they have mastela.
These restaurants are not necessarily the best, just the ones I have been to and like. If you have a favorite let me know so I can eat there on my next visit.