The best way to get to Sifnos is by boat. In fact unless you have the money to rent a helicopter it is the only way to get to Sifnos. But it is a short and enjoyable trip and one I always look forword to.
Athens port of Pireaus is where you board the boat to Sifnos. To get here is easy. Take the Metro from Monistiraki, Thission or Omonia (Wherever is closer to your hotel) to Pireaus: the last stop. There are signs that point in the only two directions you can go: Towards Pireaus, or away from it to Kiffissia. When you get off the train keep walking straight out the front door and find a safe place to cross the street which is most likely the bridge that goes over the road and deposits you right in the port. The highspeeds are located to your left when you enter the port. Ask your travel agent or an agency in the port.

If you take a taxi just tell him you are going to Sifnos, or give him the name of the boat if you know it. He will know where to go. The surest way is to do a taxi transfer. It costs about 35 euros from your hotel and about 55 euros from the airport but if you are 4 people splitting it then it is worth it because the taxi arrives at the arranged time and takes you right to the boat. You can also get the conceirge at your hotel to call for a radio taxi for your trip to the island. See www.greecetravel.com/taxi
Buy your tickets in advance if you can. If you book your hotel through an agency you can ask them to book your ferry tickets too and they will be waiting in an envelope for you when you arrive at your Athens hotel or the airport. This will also save you the trouble of trying to find ferry schedules. The agency will tell you what times the boats go and you tell them which one you want. Otherwise there are ticket agencies in Pireaus, including one in the train station and at the boat and you can (or could) find the ferry schedules every day in the Kathemerini insert of the International Herald Tribune. Unfortunately they only list the schedules for that day and maybe the next so it is hard to plan more than a couple days in advance. But generally there is always a boat to Sifnos unles the weather is bad which is rare in the summer. If you have a car definitely get your ticket in advance. That goes for if you want a cabin too, or if you are traveling on a weekend in July or August. You can find a detailed step-by-step account on taking a ferry to a Greek island at www.greektravel.com/lesson1
Generally the boats stop at Kythnos first. Serifos is next and then comes Sifnos. A couple times a week the boats continue on to Santorini and then back. You will recognize Sifnos because you will sail into a long wide bay, not to be confused with Serifos which is also a long wide bay. The difference is that Serifos has a town that climbs up a mountain, while the town of Sifnos hugs the shore. The ferries will announce each stop and though they say it in English it is still hard to understand. But by the time you get to Sifnos you will have heard the message twice before and should be able to decipher it.

| | | |
| --- | --- | --- |
| Kithnos...not yet... | Serifos...almost there.. | Sifnos...get off quick! |
Occasionally you will find yourself on a direct boat to Sifnos. There is a sign on the back of the ferry when you get on that tells you the islands and the order you will be stopping at them.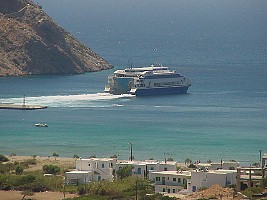 There are also a couple high speed Catamarans that leave from Pireaus. They cut the travel time almost in half and almost double the expense. Inside they are beautiful like giant airplanes with airconditioning, comfortable seats, televisions, snack bars and even a first class longe. There are no cabins because it is only a 3 hour trip to Sifnos. You can get tickets through Aegean Thesaurus when you book hotels or through Ferryhopper if you are booking on your own.

What islands you can connect to from Sifnos depends on the year and the whim of the ferry boat companies. Most years there is a connection to Paros, Naxos, Mykonos, Santorini and other popular islands through the local boat that originates in Syros and does a different route every day. If you want to see another island or two with Sifnos you can count on daily or almost daily boats to Kythnos, Serifos,and Milos and maybe Santorini in the summer. If you are planning on combining Sifnos with other islands I encourage you to try the Create-an-itinerary form and you will at least know what is possible.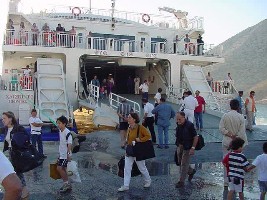 When you arrive in Sifnos you disembark from the back of the boat and just follow the people into town. There are buses to other parts of the island and taxis too. If you have reserved a hotel there may be someone waiting for you at the dock. As you walk through town Aegean Thesaurus Island Information Center is on the right, just past the two Italian restaurants. Don't be intimidated by the chaos of the arriving cars, trucks and people. It quiets down very quickly as people disperse around the island.

For leaving Sifnos you need to get your tickets at least a day or so in advance. You can't get on the boat without a ticket. Ferry schedules are posted all over town, on buildings and in shop windows as are any changes or added boats. Read the schedules carefully to find the best way to the next island and to make sure you are not confused by the times. For example a ferry leaving at 1:00 on a Friday is leaving in the morning. The afternoon is 13:00. There are several ticketing agencies in the port that represent different ferries. The Aegean Thesaurus Information Center is there too so if you have any questions ask them. Also ask if there are any holidays that may impact your travel, like is there a possibility your ferry might be full if you don't book it NOW!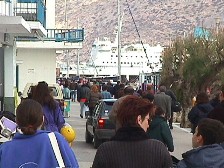 Most people hang out in the restaurants and cafes until they hear the horn of the arriving ferry and then rise as one and march to the end of the dock. From the moment you hear the horn (if the Captain decides to blow it) you have about 5 minutes to get to the boat if it is coming from or going to Athens. But the Mega Dolphins and Catamarans are in and out before you know it, as are some of the smaller boats or even an Athens boat at an off-peak hour. So check with the info or ticket agency. The general rule of thumb is that if there are a lot of people in the restaurants and a boat to Pireaus is due, then it is cool to hang out in the cafes. If you want to be sure you don't miss your boat there is a sheltered waiting area on the dock.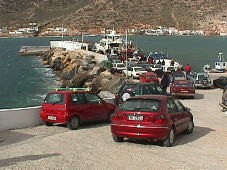 If you have an automobile you will need to get in the line of cars at the port. Usually there is a port policeman to give you instructions or you can ask when you buy your tickets. Be sure you get tickets for your car in advance, especially if you are returning to Athens on Sunday. Buy it before the weekend if possible. On Friday night the boats from Athens are full and many people book their Sunday return right away. Actually if you plan to leave on any Sunday, except possibly in the winter, you should buy your tickets as soon as you arrive on the island because anyone who has to be back at work in Athens on Monday will be leaving Sunday night.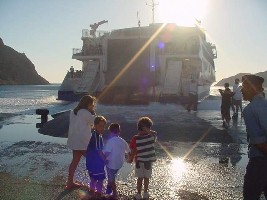 The boats leave at all different times of the day and night so find the departure time that is best for you. The trip to Pireaus is about five and a half hours by ferry and about 3 by highspeed. The food on the ferries is OK. The snack bars have tiropita (cheese pie) of the cheese-rationing variety (closer to a zeropita or a tipotatopita), potato chips, cookies and a pretty good selection of alcohol. But your best bet is to buy some bread at the bakery, some olives, cheese and sardines at the Stavros Supermarket and have yourself a little picnic on the deck or at one of the tables. Add a small bottle of ouzo or a bottle of wine and a gorgeous sunset and it can be a very memorable part of your holiday. You may decide you love ferries.