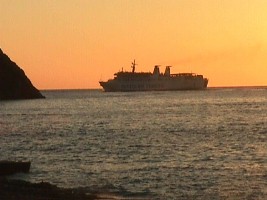 I usually find a nice comfortable rock on the jetty that protects the harbor. Then I sit and gaze out to sea, until the boat comes into view. Then I watch the entire drama as the ship makes a wide turn and backs in, lowering its ramp while the men on shore (usually Andreas Boulis and Andonis Kambourakis) wait to catch the balls that are tied to the massive rope. When they do, they rush to tie up the ship which uses its winches to pull itself up to the dock. Then people come pouring out, followed by motorcycles, cars, and trucks. Before the ship is empty the people who have been waiting on line to leave are released from their corral and charge forth just ahead of the cars, trucks and motorcycles. Its like total chaos and for twenty minutes, tiny, quiet Kamares feels and sounds like downtown Athens as all the people and vehicles converge upon it before spreading out around the island. In the meantime the boat has loaded up and released from the dock, using the anchor chains to draw it foreword. Then the propellers churn the sea and the boat gradually picks up speed and sails out of sight.
I try to watch it as long as I can which is usually until it goes around the bend either right to Athens, or left to Milos, Kimilos, Folegandros, Sikinos, Ios and Santorini. If there is someone on board that I know, I stand on the dock and wave until I am sure they can't see me anymore. It's a sign of friendship. In the old days we used to dive into the sea as a final gesture of farewell but I have not seen anyone do that in awhile. Maybe it is one of those traditions that has been forgotten.

The best time to watch the boats is on Friday night when two come in almost simultaneously, bringing with them all the weekend tourists from Athens. They arrive when there is still a red light of dusk, and leave when it is dark, their lights ablaze. Watching during roughweather is also great because the rise and fall of the ship with the waves makes it very difficult to load cars and especially difficult to load trucks.
Probably the ferry I least like to watch leave is the one that I am on when it is time to go home. The ferry to me is like a transitional world between the peace and beauty of Sifnos, and the noise and chaos of Athens. Watching the white houses of Kamares fade, not knowing when I will return is a sad feeling. By the time the ferry sails into Pireaus though I am a new man, full of energy, ready for whatever it is that Athens has in store for me this trip.