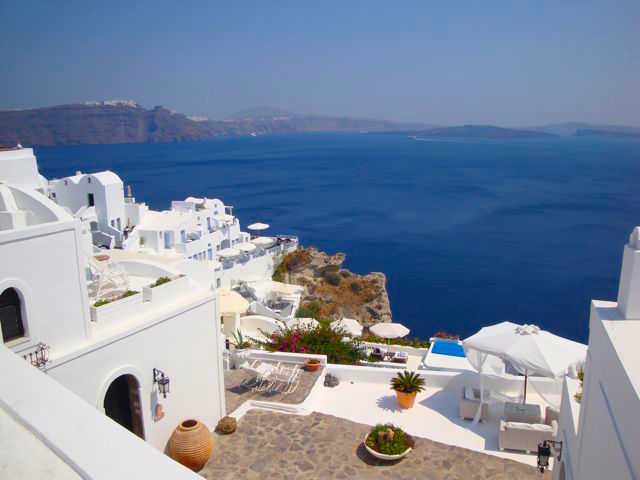 Most people who go to Greece go to Santorini. Maybe as many people go to Santorini as they do to Athens which is pretty amazing since most people who visit Greece have to at least stop in Athens to get wherever they are going. But this is not that surprising since there are direct flights to Santorini, any cruise that is worth taking stops here, and it is a part of just about every Greek island itinerary. I never really thought of myself as a Santorini type. I am the type of person who when I meet someone and they tell me they have been to Greece and I ask them where they went and they say Santorini I just sort of roll my eyes, as if to say if all you know of Greece is Santorini then you don't know Greece. I guess that makes me an anywhere-but-Santorini-snob, as opposed to a Santorini snob. But acting like visiting Santorini is beneath my real Greekness does not make it so, and after my visit in June of 2012 in which I had an amazing time, I decided to look back and came to the terrible realization that I had visited the island I would not be caught dead in six times (and counting-2 more times since I wrote this intro)! Obviously I am not above going to Santorini, as I pretended to be. So as a way of apology to all my friends in Santorini and all the people who I belittled because the only place they visited in Greece was Santorini I have decided to begin my new guide to the island (which replaces the old guide which I wrote in 2003) with a short description of my first five visits.
Santorini: First Impression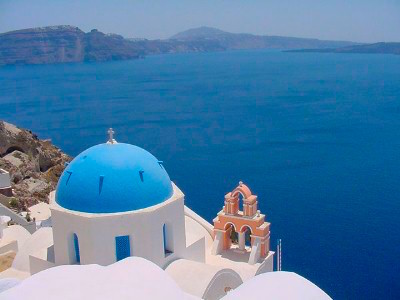 The first time I visited Santorini we came after a week or so in Ios around 1973. We arrived at night by boat to the port of Athinaos and my friends got on the bus to Thira but it was really crowded and I did not want to suffocate. Since my friends were getting on my nerves anyway I decided to walk to town, not realizing what the road from Porto Athinaos was like. If you have never been to Santorini the only way I can describe this road is to imagine a slinky toy stretched up a thousand foot cliff. For an hour I walked back and forth making my way to the top of the crater that I did not even know was a crater because I had never even looked at a picture of Santorini. (Don't laugh. I know Athenians who have never been to the Parthenon). I tried creating short cuts by cutting through, going straight up and dissecting the road but it was bloody and difficult to do, especially at night with a knapsack on my back. Finally after an hour I made it to the top. Totally exhausted, I walked a couple miles to a small church in the middle of an enormous field of grapes and fell asleep in my sleeping bag.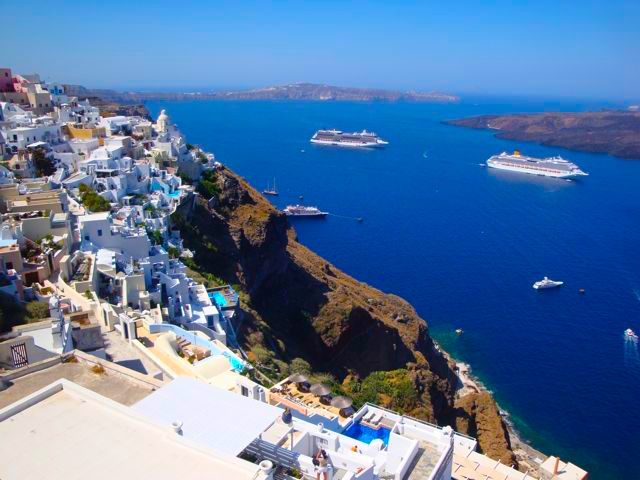 When I woke up I started walking towards Fira and that was the first time I saw the volcano. I had no idea there could be anything so spectacular. It was mind boggling and all I could do was stare at this enormous crater filled with sea, so high that the boats anchored below Thira looked like toys and the wind on the water looked like calligraphy.

When I got to the main platia of Fira it was the usual tourist island mass of confusion, with motorbike rental signs, fast food, ticket offices, travel agents and an atmosphere more like Orlando Florida then the Greece I was familiar with at the time. But when I walked up the main street from the square there it was again: that big awe inspiring hole that just makes everything else irrelevant when you stare at it. This was at 10 AM and I looked at all the cafes on the cliff with the tables and chairs facing west and came to the profound realization that this must be the best place in the world to watch the sunset. I was right. I ended up taking the bus to Kamari where I camped on the beach under the tamarisk trees. At the time there were hardly any hotels there anyway.
Santorini: Second and Third Impressions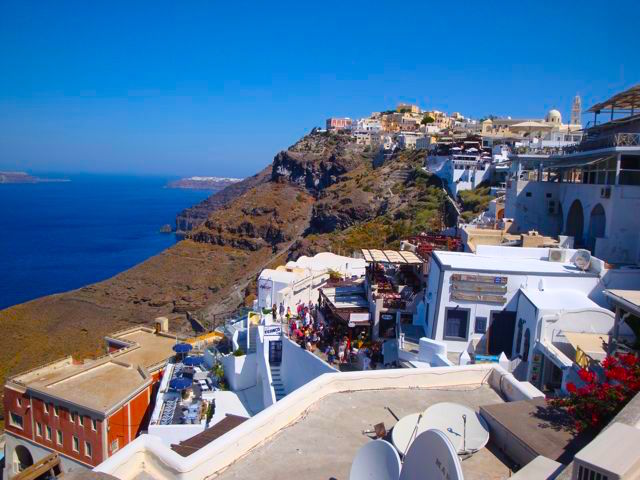 My second trip to Santorini was with my friend Pam who came to visit me from the USA. It was late September or early October and we were planning to go to Patmos but we were late for the ferry and missed it. I could have made it and I was actually standing on the ramp when the ship started leaving but Pam was on crutches and I could not really leave a crippled friend behind so I jumped back on to shore. The next boat leaving was going to Santorini so we took that. (In those days you could buy your tickets on the boat). Pam was amazed by the caldera, as anyone would be and we spent the next few days, which were unseasonably cold, getting drunk with some Australians in small simple tavernas of the sort that probably don't exist anymore. A third trip to Santorini in 1984 or so came about because I was in London and found a $100 direct r/t flight there. I took the bus into Fira and it had completely changed. There were hundreds of college age kids wandering around looking cool and I sat in one of the old tavernas I had been to previously trip but now it was a full-fledged tourist joint with big signs advertising mousaka and souvlaki and the ambiance of a high school cafeteria. My only desire was to get out of there fast, which I did, catching the next boat to Pireaus and spending a few days in my father's apartment in Athens before going to Sifnos for the summer, which seemed much nicer by comparison.
Santorini: Fourth Impression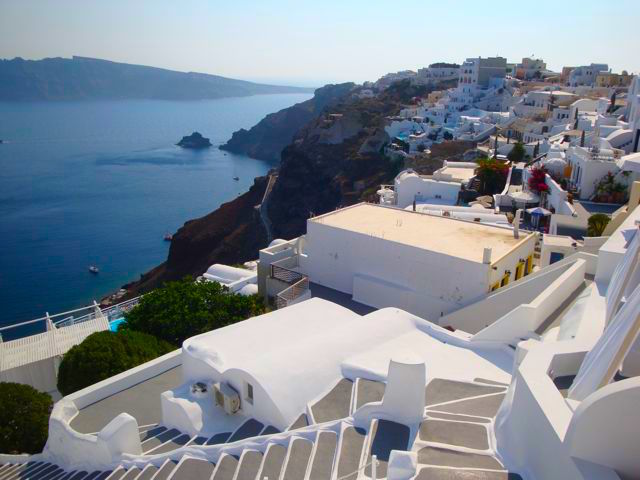 Trip number four was around 1986 and came about because my friend Tracy got a job as an au pair on Santorini. I had not known Tracy very long. She was this cute New Jersey girl who hung out in the same bars I did and it turned out she was planning to go to Greece so we decided to go together. Since I had done it so many times before she thought I might be a good person to travel with and we found flights for $150 on Airtech that got us as far as Stuttgart and then we took trains to Thessaloniki and Athens. It was one of those journeys that if you are a guy you play it safe and friendly with the hope that one night you will both get drunk and have amazing sex and then fall in love, at least for a couple weeks. But this did not happen. When we got to Athens she decided she needed to work and we found an ad in the Athens News from someone looking for an au pair that did not look like a trick ad from someone looking for a prostitute or a sneaky way of getting a girlfriend. It turned out that the people were living in a castle in Emborion so Tracy and I said goodbye in Naxos and she went to Santorini and I went to Sifnos. But on the way to Sifnos, while changing boats in Paros I met the most beautiful South African woman in the world and she was going to Santorini with her boyfriend who she made very clear was not her boyfriend, just a friend that she was using for protection from guys more aggressive than me. When I got to Sifnos I decided I was an idiot because I was rushing to engulf myself in familiar surroundings and meanwhile on Santorini was a beautiful woman who wanted me and Tracy as a second option, since if it were not for our mutual shyness, we probably would have had amazing sex and fallen in love already.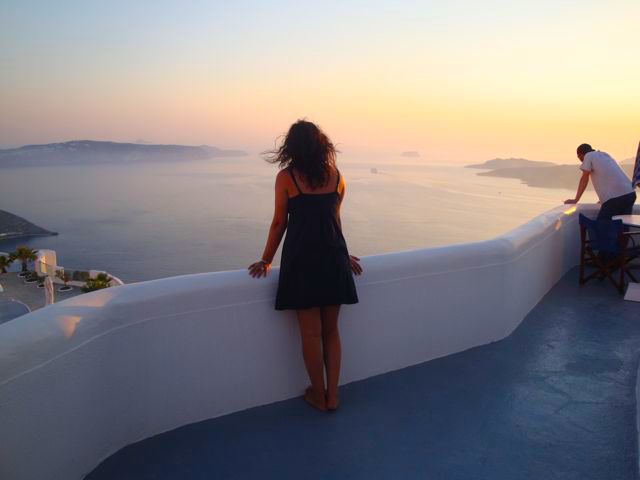 So the next day I turned around and went back to Santorini, rented a motobike and found Tracy, and then we drove to Fira to see the sunset from the caldera and the beautiful South African woman and I spotted each other in the crowd walking up the steps and it was love at first sight which totally impressed Tracy, though nothing happened because I had to take Tracy back to where she was staying. But the next day I met the beautiful South African woman on Perissa Beach and we went to my hotel room and had sex, and then it got weird as it sometimes does when you have sex with a total stranger, and then Tracy came over and she was upset with me but would not tell me why and I was thinking about how strange it is that a few days ago I was desperate for romance and now I have the urge to run away from it. It is disturbing how once your sexual desires are fulfilled you have the complusion to move on and it does not matter how beautiful or smart of funny the woman is you are leaving behind. I was also wondering if Tracy was mad at me because I slept with this woman instead of her even though she never gave any kind of sign that she wanted me to, which for me would have had to be a very clear sign since I was friends with her boyfriend. It was the classic situation where you have two choices, stick around and figure it out, or split. I decided to go back to Sifnos but not before ruining the lives of two young American college boys who I met at Perissa camping and the three of us got smashed on Santorini raki. They were planning to stay for two weeks but the next morning when I went to check up on them their tent was gone and a neighbor told me they had gone back to America.
At this point I decided that Santorini was probably not the place for me. I had broken at least one heart, scared two American kids off the island, Tracy was probably going back to America and tell all her friends that I am gay and somewhere in South Africa the most beautiful woman in the world, so beautiful I can't even remember her name, is probably pining for me and wondering where it all went wrong. When the movie Summer Lover's with Daryl Hannah came out and all these people told me I had to see it my reaction was fuck that.
Santorini: Fifth Impression
On my 5th visit to Santorini I was not a young bachelor looking for action or a newlywed looking for a place that would make my honeymoon as memorable as the courtship. I was a middle aged dude traveling with my wife, my daughter, my niece and my mother. So instead of staying at one of the fashionable cliff side hotels whose famous names are passed around on internet travel boards we went to the small village of Akrotiri on the southwestern tip of the island and stayed at a quaint family run hotel called The Villa Mathios (with AC, a bar, restaurant and two full-sized swimming pools). It was a good idea at the time because my daughter and her cousin were happy to spend their entire day in the pool and really after the first view of the caldera they could have cared less about it. I had actually played a kind of trick on them. Since we had arrived at night and then Andrea and I had gone off to explore the island the next morning leaving the girls with my mother who though not completely happy with her role as babysitter, did not know enough about Santorini to want to explore it anyway. When we returned to find the girls swimming in the pool I made them close their eyes and hold my hand while I walked them across the street to the edge of the caldera where I adjusted their position to get the best view. Then I said at the count of three open your eyes. They counted 1-2-3 and when they opened their eyes they went into shock at what they saw since they had no idea of what Santorini looked like and so opening their eyes to this view was something that was either unforgettable or could cause instantaneous dementia, like waking up on another planet. Then since I knew that they would never have an experience that would ever equal this I pushed them each off the cliff. No, I didn't. But I was pretty pleased with myself that I had bought them as close to Abraham Maslow's 'peak-experience' as they would be likely to have until they were teenagers and began experimenting with drugs many years later. The point being, your first view of the caldera of Santorini is likely to be a peak experience so you want to do it right. Having one person lead you to the edge and then telling you to open your eyes is a good way.
Our next visit showed us another. Continue to Caldera View or Return to Santorini Index
Help Support Matt's Greecetravel.com
Do you enjoy using my site? Have you found it entertaining as well as useful? If so please show your appreciation by booking hotels through the travel agencies and the links found on my Santorini Hotels page. The small commission I make on the bookings enable me to keep working and in most cases you won't find them any cheaper by searching elsewhere. You can also use the links to Booking.com's Santorini Page who also give me a small commission.
Join Matt Barrett's Greece Travel Guides Group on Facebook for comments, photos and other fun stuff. If you enjoy this website please share it with your friends on Facebook. If you are appreciative of all the free information you get on my websites you can send a donation through Paypal or Venmo