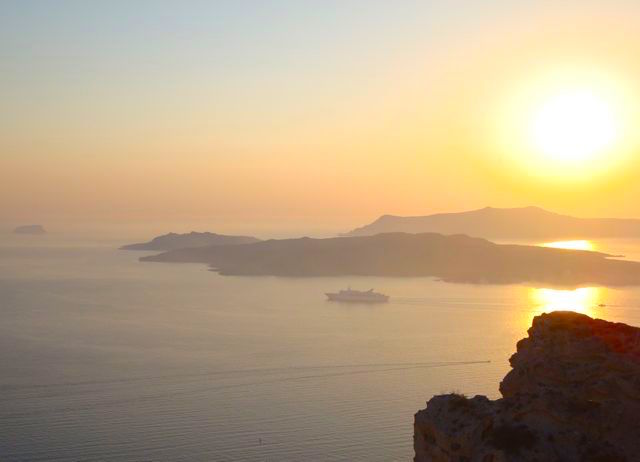 Santorini is like three islands, the part with caldera view (1), the beaches(2), and the rest of the island(3). The caldera view towns are Fira, Imerovigli, Firastefani and Oia, perched so far above the sea that it may as well be a painting. This is the commercial part of Santorini. This part of the island brings in most of the money and is completely dependent on its image to attract the visitors. They do a damn good job. You can say what you want about the changes tourism brings to a community but it is impossible to not be impressed with the beauty of these towns and if you stay here on the cliffs it will be an experience that you will never forget. Some say that like going to the Acropolis it is an essential experience for anyone going to Greece. Well, maybe if you plan to go once and never come back but most people who visit Greece do come back or at least they wish they could. I lived in Greece for ten years before going to Santorini and it is not as if I did not enjoy myself. However when I finally did visit Santorini I understood what all the fuss was about. So even someone looking for the 'unspoiled Greece' I would have to say you might consider including a couple days in Santorini, and stay in one of the caldera side villages. They are not unspoiled but that is eclipsed by how visually impressive they are.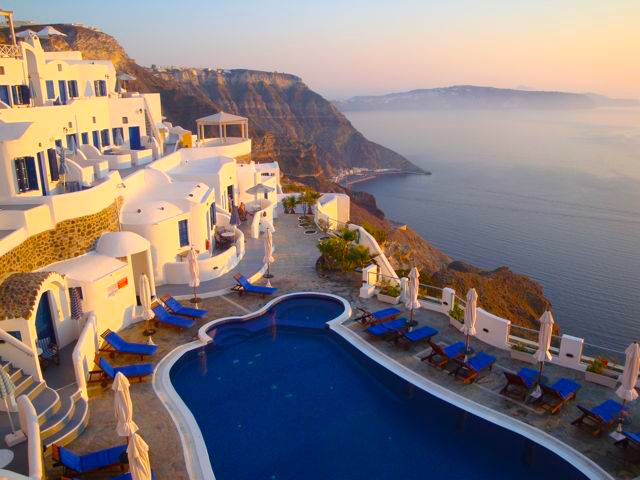 So knowing that, and being friends with the owner of Fantasy Travel, who was desperate to get me back to Santorini so I could stay at his favorite hotel we made plans to return. No wait, that is not exactly what happened. Actually my daughter went to Santorini with her boyfriend from North Carolina and so we sent her to the Hotel Volcano View Villas, the hotel Fantasy Travel represents. That way we could go to Ipirus or Ikaria or the kind of un-touristy places we prefer. But when Amarandi called and asked when we were coming we realized that there was trouble in paradise and we booked a flight to the island and asked George to put us in a hotel knowing he would put us in the Volcano View Villas since our daughter was there. The hotel sent a driver name Nikos to pick us up at the airport and we walked into the lobby which is on street level and did the checking in procedure. Then we followed Nick through the lobby and out the back door where the restaurant/cafe-bar and the rooms are and we were hit with the same peak-experience that I had given my daughter so many years before.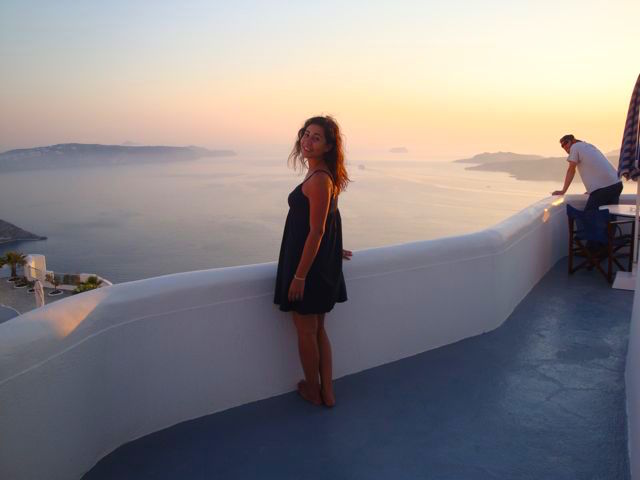 The hotel sits in a carved out area on the top of the cliffs of the caldera with a view of the entire crater, the lava islands in the middle, the large inhabited island of Thirasia in the distance, and the most beautiful sunset I had seen since, well since my last visit to Santorini. It literally took my breath away and at that moment I felt very small, yet at the same time very close to God as if it was an honor to be part of the same wonderful creation that I was seeing. The hotel rooms looked like a white pueblo village gathered in a semi-circle around a beautiful swimming pool and the guests were sitting on their porches drinking wine and watching the sun slowly go down behind the islands. I saw Amarandi and Ernie below and called her name and I have never seen her so happy to see us.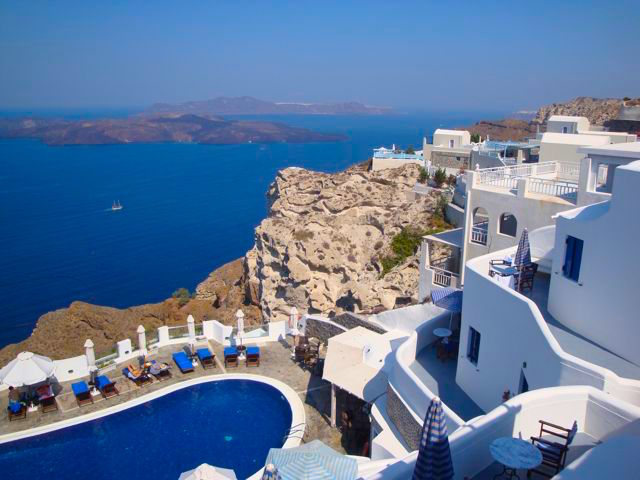 After we left our things in our room (more of a suite with two bedrooms, livingroom, kitchen, bathroom with giant jacuzzi-tub and my favorite part, a balcony-terrace with a day bed, table, a couple chairs and the same spectacular view we saw when we first walked out the back door of the hotel lobby. The terrace would get a lot of use from us and had I not felt the obligation to explore Santorini and update my website we probably would have not bothered leaving the hotel. That first night we ordered wine from the hotel bar and they brought down a carafe of whatever the local wine is that they buy in bulk and it was the best wine we had all summer to that point. The next day when a case of wine from Art Space Winery mysteriously appeared in our room I was ready to give up my job entirely and just sit on the balcony, drink wine, order food from the hotel restaurant and gaze at the view, taking an occasional dip in the pool to keep my muscles from atrophying.
Unfortunately I am the responsible type and we did rent a car so we could explore the island and take photos and we did feel the need to try various restaurants on the island, so our time hanging out on our balcony was limited to sunsets and in the three nights we spent there I don't think we consumed more than four bottles of wine in that spot with the glorious view of the sea a thousand feet below.
By the way, the hotel overlooks Porto Athinaos, the ferry port for Santorini and also the port where some of the cruise ships ferry their passengers by tender in the morning. Being a boat watcher I would get very excited when I woke up in the morning and saw a large cruise ship slowly sailing into the bay and then the tenders which use Nea Kamini (which means New Burnt) the uninhabited volcanic island in the middle of the caldera as a port, converge on the cruise ship like ants around a giant dead grasshopper, ferrying passengers to Porto Athinaos and picking them up later in the day or evening below Fira. I also watched the numerous ferries coming and going at all hours of the day and night as well as the small catamaran island cruises that explore the caldera.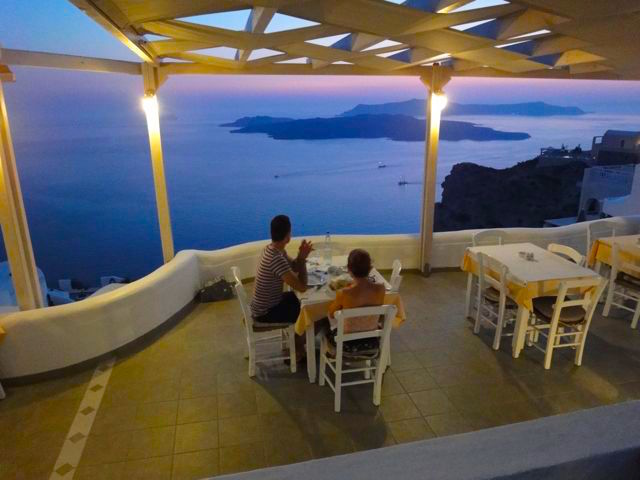 So the point of all these images and descriptions is to make it very clear that the reason to come to Santorini is to be on the caldera, whether your hotel is perched on the edge or you just spend your time in the cafes and bars that share similar views. The rest of the island is unspectacular by Cyclades standards. You take away the caldera and Santorini falls down the list of beautiful Greek islands to maybe around #20 or so. The area between the towns and the beaches is a clutter of cheap hotels, some farms, warehouses, failed shopping centers, some light industry, about a million summer homes, and a maze of roads that will have you lost in no time if you happen to miss a sign. Not that you can stay lost forever. Santorini is a small island. You can drive from end to end in about 45 minutes. To take a taxi from the Volcano View Hotel to Fira costs about 5 euros. You can actually walk there as it is one of the few roads in Santorini that they spent the money to build sidewalks all the way into town so you can walk there and back safely.
No matter, if you are coming to Santorini and you want to stay somewhere with caldera view you can't do much better than the Volcano View Villas. And if you want to spend a little more then there is always the Celestial Grand VIP Villas which are individual luxury houses each with its own swimming pool. For more hotels with and without Caldera View see my Santorini Hotels page. You can also see Matt's Recommended Hotels, Villas and Holiday Homes in Santorini on my Hotels of Greece Santorini Page and Matt's Villas of Greece Santorini Page. If you want to know which hotels on those pages have caldera view it is very simple. The first photo you will see will be of the view if the hotel has caldera view. If you have to search through the hotel's photos to find a view of the caldera then there is a good possibility that hotel does not have caldera view. In other words when a hotel has caldera view they do not hide this fact since they know that this is what most people want.
Help Support Matt's Greece Guides
Do you enjoy using my site? Have you found it entertaining as well as useful? If so please show your appreciation by booking hotels through the travel agencies who contribute to my website when you book or on my Hotels of Greece website. If you are appreciative of all the free information you get on my websites you can also send a donation through Paypal or Venmo
Join Matt Barrett's Greece Travel Guides Group on Facebook for comments, photos and other fun stuff. If you enjoy this website please share it with your friends on Facebook and other social media.