Cruise the Greek Island of Santorini with Captain Ted
Can you imagine a better way of exploring the volcanic coast of Greece's most beautiful and dramatic landscape? Captain Ted Stathis and his crew do half-day trips of the caldera and around the island of Santorini on luxurious catamarans. He also has a highspeed catamaran that can get you to nearby islands in record time.

Captain Ted Stathis and his staff will sail the boat, assist you with the water sports and equipment, implement your special activities, cook and serve your meals and beverages, and help you with anything you desire. The crew are highly-experienced sailors and provide knowledgeable, responsive service for all aspects of your adventure. Fluent in both, English and Greek they assure you of a well-organized, fun-filled and safe journey. Sailing the waters of Santorini and the Aegean the crew is very familar with surroundings and can suggest an excellent itinerary for those who are not familiar with area. Rather than making you "fit" into a predetermined itinerary, they let you set the pace and together arrange the tour whether it's for half a day or more...

What is your idea of the perfect Greek vacation?
Is it set in a Greek island paradise untouched by the crowds? Is it filled with excitement and adventure? Are you part of the action rather than just a spectator? Can you do absolutely everything, including nothing at all? Is the stress of civilization far behind you, perhaps gone forever?
If that fits the picture, then you owe it to yourself to experience the Greek Islands on board the luxury catamaran Blue Lagoon. It's the experience of a lifetime. One that will return to memory - again and again - long after you've returned to port.
Whether you are planning a romantic gateway for two or fun-filled family adventure or day at sea with good friends on BLUE LAGOON there is truly something for everyone and time for everything...

Plan your most special day with Santorini's most luxurious and most well equiped yacht. Captain Ted's expertise in coordinating functions for small and large groups will ensure that your day will be an event that all your guest will remember long after they leave beautiful Santorini.

BLUE LAGOON is an award winning catamaran design. This new luxurious yacht combines sailing performance with stability, safety and an abundance of guest comfort. Easy access swimming platforms, Surround sound CD stereo, Trampoline, Forward and aft rap around seating, Six cabins with private bathrooms, Sun protected deck space, Dinghy for shore exploration, Fully equipped galley and bar. BLUE LAGOON 2 has 4 spacious suites with specially designed partial glass hulls that enhances natural light while keeping summer heat out.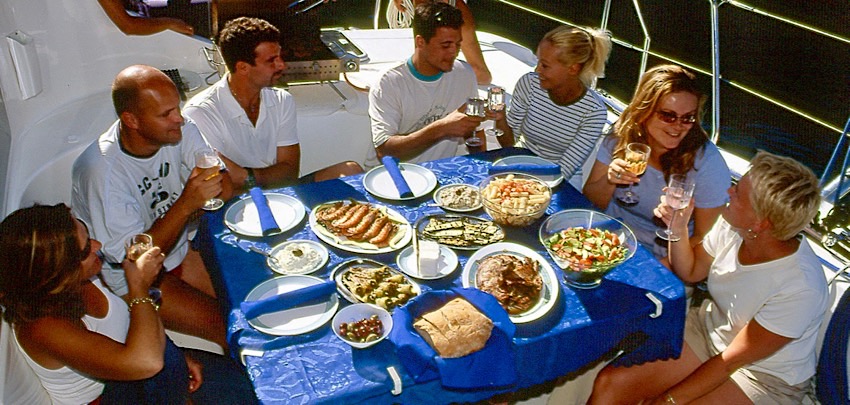 Indulge your taste buds with their famous selection of delicious Greek dishes reflecting our climate and lifestyle prepared freshly onboard. The sumptuous meals include but are not limited to tapas, BBQs, and lavish seafood buffets. Keeping up with their reknowed culinary reputation you are guaranteed to have a meal other guest have claimed to be "the best on the island of Santorini". Every detail of your adventure, including your meals, is custom-tailored to your preferences. The menu for your entire journey is planned with you in advance, and it's guaranteed to satisfy the most discriminating palates. Captain Ted and his crew specialize in healthful, high-energy dishes that enhance active lifestyles. The locals provide fresh seafood, prime meats, pastas, the freshest fruits and vegetables, fine wines and spirits, ensuring the best quality.
Experience the beauty of Santorini and the magic of sailing in the Aegean with a magnificent Caldera view. Swim and snorkel in quiet bays, visit the sulphur warm springs, sip refreshing drinks and enjoy a delicious and indulgent Greek meal prepared either on board or on a private beach. Captain Ted Stathis and his crew do daytime and sunset tours as well as overnights on their six luxurious catamarans. Choose the semi-private or private option, then sit back and enjoy. Semi private half day tours (4.5-5 hour) start at 105 euros per person. Private half day tours (4.5-5 hour) start at 1065 euros (this price covers up to six guests). Overnight charters, which can be used to get to other islands, start at 2200 euros (per day).
Triton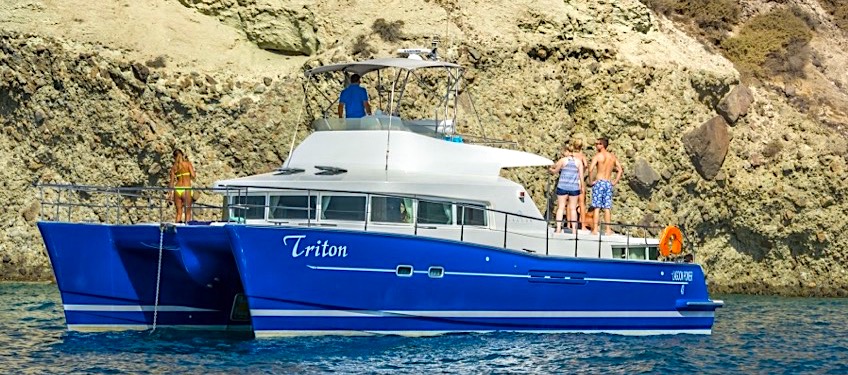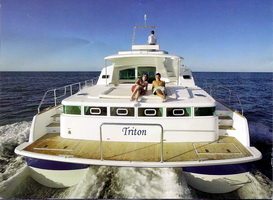 Triton is a 43 meter power luxury catamaran, the only one of its kind in Greece. With 800 square feet of deck space, and a 120 square foot superior cabin it is the most stable and quiet vessel in its class. Perfect for taking day-trips around the entire island and even to other islands like Koufonissia, Mykonos, Anafi, Folegandros, Ios, Sikinos and Crete. Like the sailing catamaran Blue Lagoon (and our new Blue Lagoon 2) Triton can be chartered for longer trips or even one-way journeys. Add to the mix the gourmet meals, mezedes and drinks you will be offered while on board or at stops in quiet coves and beaches and you have the makings of a holiday that would be hard to top.

Blue Lagoon Cruises have been called: The #1 Thing to Do in Santorini by Departures Magazine and Best Way to Spend a Day by New York Weddings Magazine. They have been featured on The Food Network with Giada, The Travel Channel, Passport to Europe with Samantha Brown and "Sail in Style with Captain Ted" by Travel Mail London.