Getting to Santorini: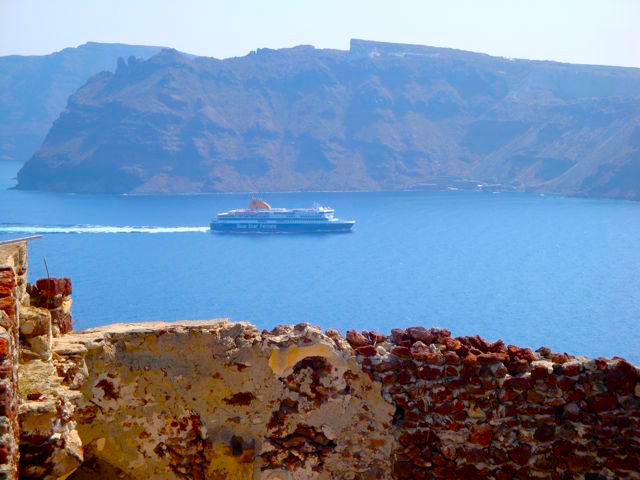 There are many ferries a day in the summer and usually one or two a day in the off-season. The ferries take about 8 or 9 hours to Santorini and stop at a couple other islands on the way, usually Paros, Naxos and Ios. There are a couple highspeed ferries that take half the time and cost twice as much. Making connections to other islands by boats can be tricky but usually there are daily boats to Paros, Naxos, Ios, and sometimes to Mykonos and Sifnos. There is an airport in Santorini with several flights a day to Mykonos and in the summer connections to Rhodes and Crete(maybe). There are even international charters from Europe in the summer. Ferry schedules can change, especially for some of the smaller boats between the islands. Unless you are a backpacker and don't mind having to improvise it is a good idea to have a travel agent book your ferries with your hotels because more than any other island Santorini's hotels fill up in July and August. You will get a packet when you arrive in Greece with your hotel vouchers, ferry tickets and timetable and when you arrive in Santorini there will be transportation to your hotel. You can pick up a weekly schedule at the Greek National Tourism Office near the Acropolis Museum except they never have the whole week and they always tell you to call the ferry company to make sure it is correct. If you go to ferryhopper.com the schedules will appear and you can actually book your ferry tickets though usually not more than a month or so in advance.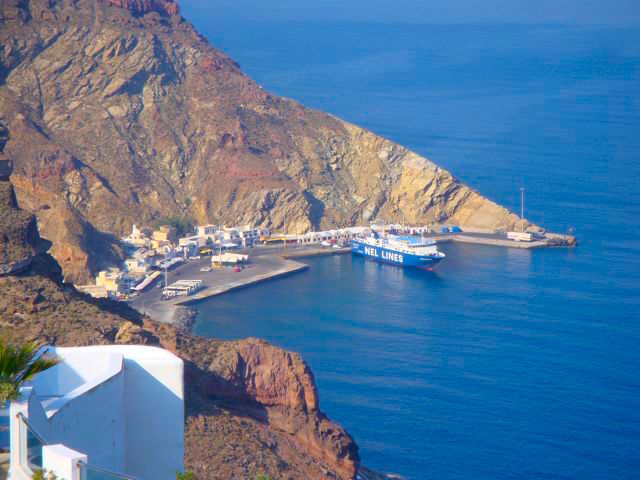 Don't be discouraged by the port of Santorini called Athenaios. Unlike most islands it is just there for coming and going and not hanging out in.
If you arrive by boat try to get there before sunset so you can dump your bags and run out to the caldera and see the sun go down. If you arrive by boat at night you will have no idea of how awsome the harbor is since you will be sailing into the crater of an enormous volcano. Be sure to visit Thira and Oia, at least once during your stay if you are not staying there, sit on the edge of the caldera and let your mind try to grasp the immensity of what you are looking at. You may come back a changed person. If you have any questions about Santorini, island connections, ferries, where to stay or if you are just generally confused about what to do you can always e-mail me
Flying to Santorini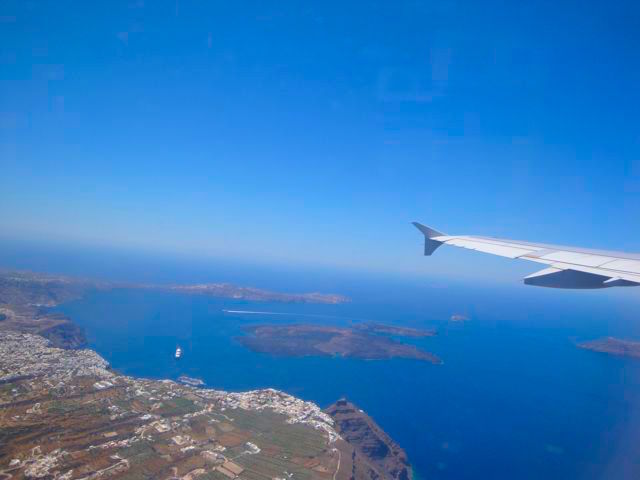 Though I usually prefer to take a ferry to an island, since I like to use my own car and I happen to like ferries, especially ones with nice cabins, I have to say that flying to Santorini is certainly the easy way to go. The flight is an hour, or at least they say it is an hour but actually you spend about half an hour in the air and ten minutes of it is taking off and another ten is landing and the rest is flying over your favorite islands and wishing you had more time to see more of them. If you are coming from the USA or any other country and you have two to five hours between your arrival and the next flight to Santorini then do it. Skip the crappy meal on your flight and in the time you have before the flight to Santorini leaves go to the Olive Tree restaurant in the airport in Athens and have a nice lunch and a glass of wine and check your e-mail on the free wireless and then leisurely make your way to the gate. Ask for a window seat and bring your camera. When you arrive in Santorini if you have booked through a travel agency in Greece chances are you will see a driver from your hotel holding a sign with your name on it. Santorini airport is not much bigger than your high school gymnasium so don't worry about missing him.
Cruises that Stop in Santorini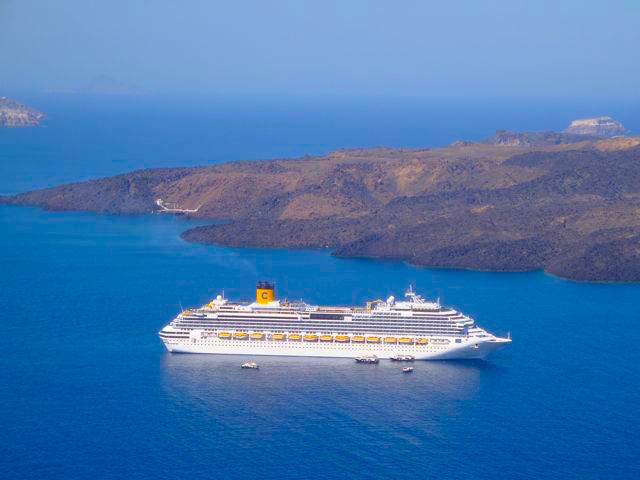 Most cruises of the Greek Islands include a stop in Santorini. They don't actually dock in Santorini, they anchor in the caldera and smaller boats come and pick you up and either take you to Porto Athinaos where you get a bus to Fira or wherever you go on the excursion you paid, or the boats take you to the port below Fira and you go up by cable car, donkey, or if you are completely nuts, on foot and find yourself right in the center of town. For more about cruises that go to Santorini see www.greecetravel.com/cruise or if you want my advice check out Fantasy Travel's Smart 7 Program which allows you to stay in Mykonos for 3 days, then take a Greek Island cruise, and then you get off in Santorini and stay there for three days, or more if you like. There is a lot to see and do on Santorini and the taste you get by visiting here for a few hours will make you wish you had more time, so why not just get off the ship and stay for a few days?
If you are doing a Greek island cruise that does not stop in Santorini then you should either find another cruise or take a ferry or flight to Santorini from wherever your cruise ends.
You can book ferries/flights and put together your own Greek Island itinerary by using my Create-an-itinerary Form
While in Santorini: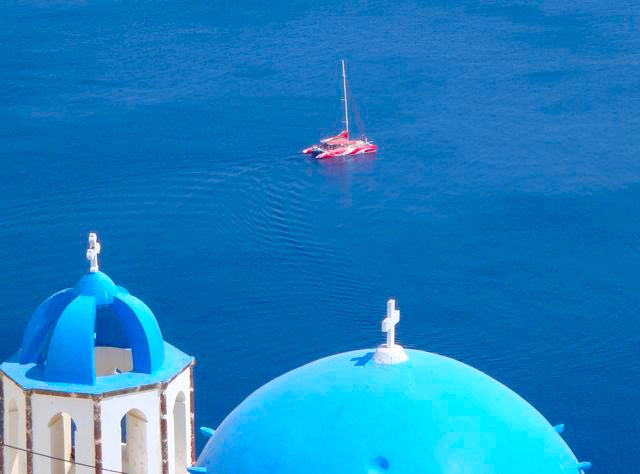 There are frequent buses all over the islands. There are also taxis. A rent a car is the best way to see the island. A jeep is fun but not essential. The roads are pretty good. They can be narrow in places and crowded at times so you need to be on your toes and don't drive when you have been drinking. You can rent motorbikes all over the island. Lots of people do and lots of people have accidents so be careful. You can go around the island by sea with Santorini Sailing and get a really unique view of the island and visit the volcano and hot spa. Ocean Wave Tours offers tours around the island and since the cruise ships all seem to arrive at the same time booking him his best done well in advance though he can refer you to someone else if he is not available. He knows the best places to go (and eat too) but if you have used this site and have specific things you want to see then he can squeeze them in for you.
Leaving Santorini:
Some hotels booked in advance will send a mini-bus to pick you up at the port or airport and take you there when it is time to leave as part of the deal staying there. Your Greek travel agent can tell you which and if you have booked a Santorini package through them then it is most likely included and you don't have to even worry about it. Otherwise take a taxi or bus if you live close enough to the bus station or there is a stop near your hotel. Usually the boats returning from Santorini are crowded especially in the summer. In the past there would have been five taxis waiting but now there are more like 500 in line waiting for a passenger so getting a taxi into Athens is not a problem. But if you want to feel secure and go with a recommended driver and do a pre-arranged transfer which will cost more see the web site of George the Famous Taxi Driver at www.greecetravel.com/taxi

Use Ferryhopper to find all direct and indirect ferry routes for the islands of Greece, Spain, Italy & Turkey, compare ferry companies & prices, and book cheap ferry tickets with no hidden fees in one go!
Help Support Matt's Greecetravel.com
Do you enjoy using my site? Have you found it entertaining as well as useful? If so please show your appreciation by booking hotels through the travel agencies and the links found on my Santorini Hotels page. The small commission I make on the bookings enable me to keep working and in most cases you won't find them any cheaper by searching elsewhere. You can also use the links to Booking.com's Santorini Page who also give me a small commission.
Join Matt Barrett's Greece Travel Guides Group on Facebook for comments, photos and other fun stuff. If you enjoy this website please share it with your friends on Facebook. If you are appreciative of all the free information you get on my websites you can send a donation through Paypal or Venmo