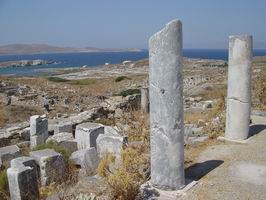 The island of Delos is a half an hour boat trip from Mykonos and yet many of the visitors to Mykonos never get there even though it is one of the most important archaeological sites in Greece. The reason is easy to understand. After a night of partying, eating, drinking and dancing til the wee hours of the morning only a total masochist would wake up at 7am to refuel and go to the dock to catch one of the small boats that leave every half hour. This is why if you have come to Mykonos for the nightlife try to take it easy one night and make the journey without a hangover because Delos is indeed one of the most remarkable places in Greece. If you are coming from Tinos which is a much more austere island you should not have any problem though unlike Mykonos where the boats go back and forth every half hour or so, there is only one boat from Tinos and the same goes for Naxos and Paros.
The problem with Delos is that the last boat comes back at 3pm which means you have to get an early start if you want to really see the site. I literally rushed around the small island for over three hours, taking photos, barely stopping to reflect on what it was I was seeing. If you are someone who has a deeper interest in archaeology you will need every minute from when the first boat arrives and the last one leaves.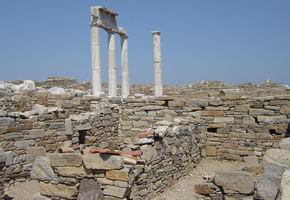 The fact that it took 33 years for me to finally visit Delos is not something I am proud of, nor that it took the gentle prodding of Dorian's ex-wife Francis to get me away from the Princess of Mykonos pool and onto the local bus before the coffee had a chance to take effect. But once aboard the Margarita, the oldest of the small boats that make the crossing, it certainly felt like an adventure and by the time I was wandering around the rubble of fifty centuries I was pretty proud of myself and amazed at the energy I was feeling, something that had been missing for most of the summer. Maybe it is the wind. Maybe it is the surroundings. Or maybe it is one of those super-charged sacred places that emanates the life-force. Whatever the cause I did not stop until I finally sat down on the boat to leave the island.
What did I see? I think it would be easier to just show you since I did not hire one of the guides (recommended) and was too lazy to carry a guidebook, much less stop to read it. But as Francis put it: "This is Greece at it's best. Total chaos and utter-destruction. " So I ran around taking pictures in a state of amazement, planning to figure it all out when I had the time to sit down and look at them and read one of the many books written about Delos. (And I will one of these days.)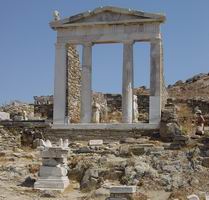 For those who need a little history to go with their awe you should know that Delos was the island of the God Apollo and though it had been inhabited since about 3000 BC it was not until the 8th Century that the first temples and shrines were built there. By the 5th Century when Athens began to control the Aegean they established the Delian League, an alliance of Greek City-States, and purified the island by kicking out the locals and putting the treasury there. During the Hellenistic period it became a center of commerce and one of the most important religious centers in Greece, attracting wealthy merchants, sailors and bankers from all over the Mediterranean who built more temples, shrines, homes and other buildings. In 167 BC it became a free port of the Romans with a market that sold 10,000 slaves a day. In the end it got trashed like everything else, by pirates, looters and early tourists. (Thanks to Lonely Planet for this history lesson.)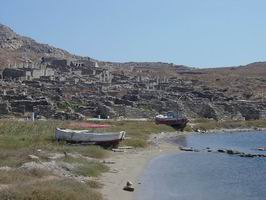 Besides the endless buildings, pieces of buildings, theaters, spectacular views and cisterns there is a museum with any of the statues and archaeological finds that were not taken to Athens, more than enough to keep you interested. There is a snack-bar and souvenir shop that makes the world's worst espresso and ran out of water by noon, got more and then ran out again. I think they need a bigger fridge. I had to drink my first Coca-cola in about ten years and was a nervous wreck on the boat ride home in noticeably rougher seas then the way there.
Try not to be on that last boat because they cram as many people on as possible since nobody can stay there and no excursion boat captain wants to make two trips when he can make one. Bring lots of sunscreen, water (just in case), a hat, comfortable shoes and don't overdress in the summer. If you are in Mykonos to party then visit Delos either at the beginning of your vacation before you are burned out or at the end when you feel guilty about not having done anything cultural. But don't be like me and take 33 years to visit.