Recommended Hotels on Mykonos
When you get hotel advice from me you must understand that it is from someone who went from living in caves in Mykonos to 5-star hotels in thirty years. These are the hotels I recommend, which are the hotels that Fantasy Travel uses in their Island-hopping Programs that feature Mykonos. They are all beautiful hotels. Below them I have listed the best of the rest which can be booked through other sources.
Princess of Mykonos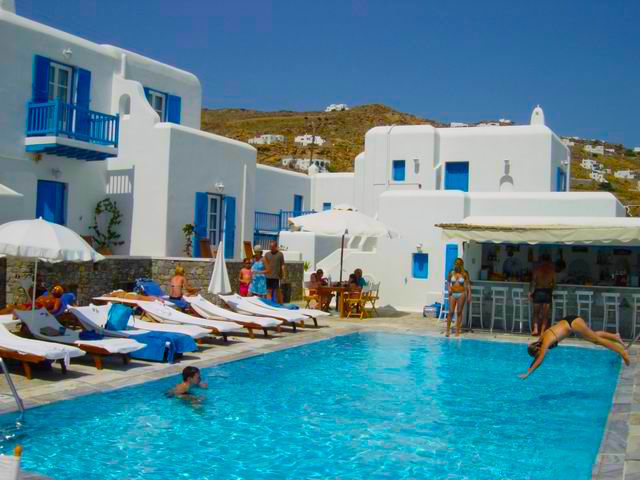 For Affordable Luxury on quiet Saint Stefanos Beach go to the 4-star Princess of Mykonos, now called the Mykonos Princess. I stayed here and it was great. The beach is family oriented for those who have a fear of running into nudists. There are several good restaurants in the area, buses and taxis into town and a pool bar and restaurant for those who want to stay close to home for their daily and evening entertainment. I think this is the best option for those who want to be outside of town. Families, honeymooners who don't want the distraction of being too close to the nightlife and the action of Mykonos town, and recovering alcoholics will find that they are less tempted if they stay here, which will also give them the illusion of being on a quiet Greek island. Fantasy Travel had discounted rates on this hotel which is why we were staying in such a nice place. Visit the Hotel Princess of Mykonos Website
Hotel Adonis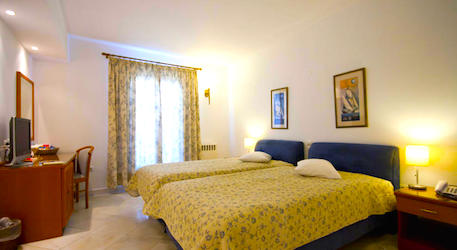 For an affordable hotel right in town, yet within walking distance of the beach I highly recommend the Hotel Adonis owned by a Greek/American couple, Ros and Michalis who are excellent hosts. The rooms are large and comfortable, with 2 double beds, and you can't beat the location. The hotel is located close to the bus stop so you can easily get to the beaches and it is a ten minute walk to the cafes in the harbor, and closer to the shopping and restaurant areas of Mykonos town. It is also a 5 minute walk to the nearest beach. This is one of those hotels that has the same customers come back year after year which makes it a fun place to stay but sometimes hard to find availability in July and August. But it does not hurt to try and if you are successful you are guaranteed to make friends with people who are smart, funny and know the island quite well. Some in fact who have even written books about it. This is where we stayed the last time we were in Mykonos, again because Fantasy Travel had discounted rates. Visit the Adonis Hotel website
Vencia Boutique Hotel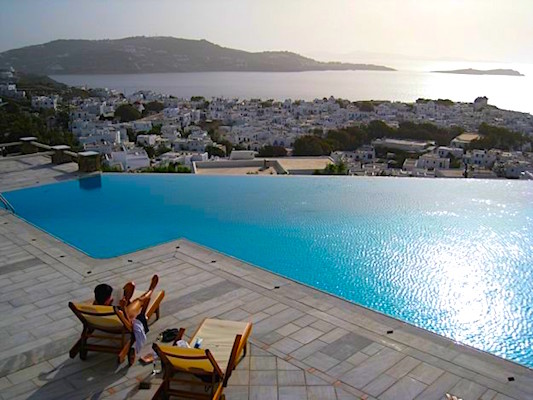 The Vencia Boutique Hotel is located on the slopes of Mykonos town and a ten minute walk down to the harbour. This delightful hotel has a superb pool deck with views to match. There are 31 air-conditioned bedrooms, all with radio and telephone, mini-fridge, shower room and balcony. Most have single beds. Breakfast and light meals are served on the lovely terrace overlooking the town and bay. Vencia Boutique Hotel, has been recently renovated and refurbished. All rooms have double beds, and in the case of triples a sofa bed or an additional bed. You will enjoy a spectacular view from your private veranda or balcony. Visit the Vencia Boutique Hotel website and use the option to book with Fantasy Travel for discounted rates and full assistance with all your hotel bookings, ferry tickets, transfers and whatever else you may need.
Mykonian Ambassador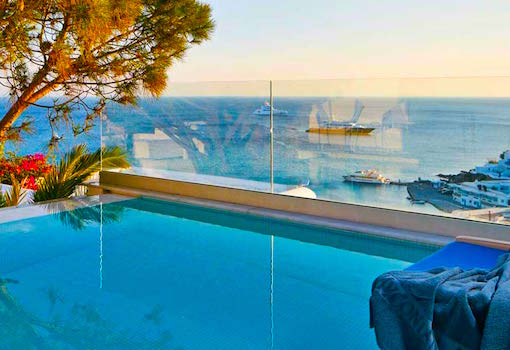 The Mykonian Ambassador is a 5-Star luxury hotel/spa on beautiful Plati Yialos beach just a few kilometers by bus or taxi from Mykonos town. All rooms are equipped with spacious marble bathrooms and private balconies with spectacular view of the sea, air conditioning, international direct dialing telephone, radio and color satellite television, fully stocked mini bar and hair dryer. Besides the beach the hotel also offers water skiing, wind surfing, scuba diving, boating, and other water sports. The hotel also has a fully equipped gymnasium and offers massage. There is also a salt-water swimming pool, jacuzzi-whirlpool, sauna, horse-back riding, tennis court, squash court, ping-pong, a chess area and mini-golf. Visit the Mykonian Ambassador Hotel website
Harmony Boutique Hotel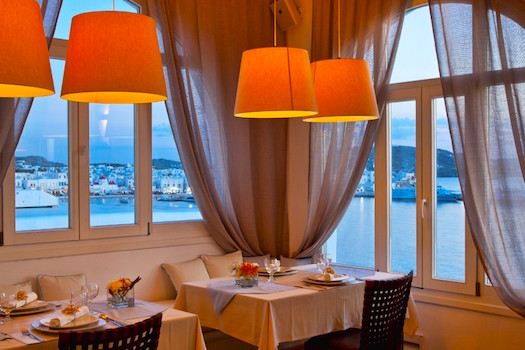 The Harmony Boutique Hotel is a newly built luxurious hotel right above the old port. Its location, at the heart of Mykonos Town makes it the meeting point for all people, guests and visitors. This hotel really justifies its name as it sets in a serene surrounding with bright colours and soft lighting. Each room and Suite has different decoration and style, still all of them have warm colours and soft fabrics. All textiles and bath towels are from famous fashion designers adding a touch of elegance. The setting here is very cozy and warm and offers an unforgettable accommodation to all guests. The rooms feature air conditioning, central individual heating, hairdryer, room service, mini bar, satellite TV, direct dial telephone, safe deposit boxes. Additional the Suites provide a Jacuzzi and designer bath amenities. Visit the Harmony Boutique Hotel website
The Grand Beach Hotel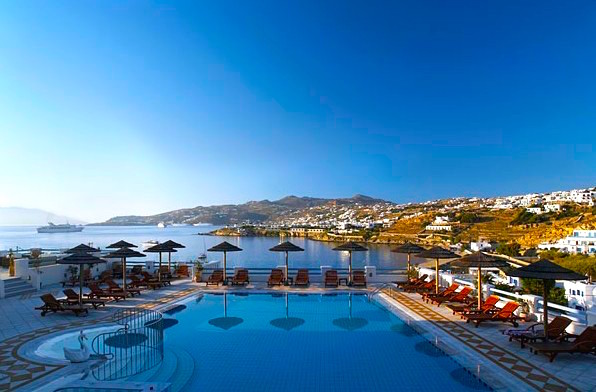 The Grand Beach Hotel is a brand new 4-star hotel in the outskirts of Mykonos town right on Megali Ammos Beach. An elegant residence in an ideal location. Enjoy beach life just a footstep away from the cosmopolitan town of Mykonos. Designed in style. Built with passion and desire in the year of 2006. Located just 400m from Mykonos town, on the beach of Megali Ammos with its golden sand and clear blue water. Hotel facilities include Outdoor Seawater Swimming Pool, Children's Pool, Outdoor Jacuzzi, Pool Area with Sunbeds, Poolside Bar, Fully equiped Gym, Breakfast Room with Breakfast buffet, Internet Corner, Elevator, Outdoor Sitting Area with a memorable view of the sea, Mykonos town and the windmills. Visit the Grand Beach Hotel website
Cavo Tagoo Hotel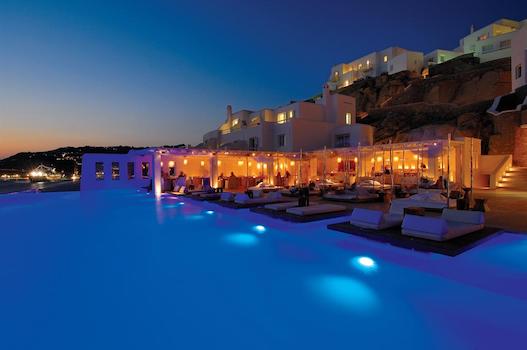 The Cavo Tagoo Hotel is a 4-star sea front hotel of superb quality located within walking distance of Mykonos town.Winner of the first prize of applied Architecture in the Aegean Sea region, the hotel is ideally situated by the sea and only a stone's throw from the town of Mykonos. Overlooking the deep blue sea, the rooms, the suites and the maisonettes are meticulously designed with sincere respect for the natural surrounding and the traditional architecture of Mykonos. The hotel is located on an old quarry site, covering a hillside with panoramic sea view and providing a perfect seat to view spectacular sunsets and the comings and goings of cruise ships and ferries. Visit the The Cavo Tagoo Hotel website
The above hotels are available at discounted rates from Fantasy Travel and are the ones in their packages. You can see the rest of the hotels they offer for Mykonos on the Fantasy Travel Hotels page. You can find more hotels and self-catering apartments listed by category or price with photos and reviews by going to Booking.com's Mykonos page and using some of the search options. Also see Matt Barrett's Best Hotels in Mykonos
More Mykonos Hotels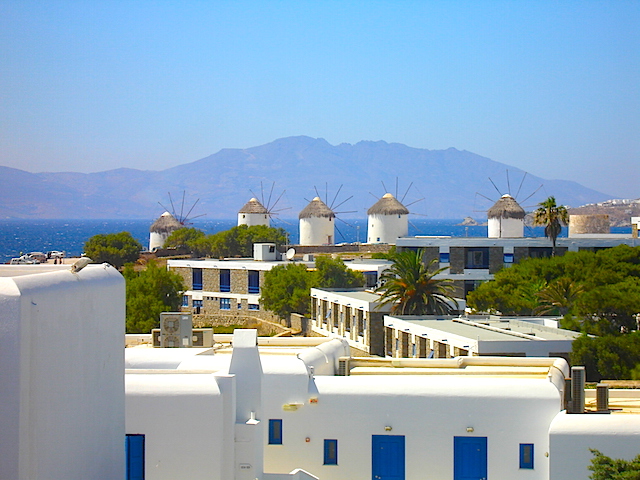 Mykonos is the most expensive island in Greece and hotel prices reflect this. However that does not mean you can't find inexpensive places to stay here. You may not be in the center of the action or right on the beach, but you will have more money to spend and as long as you don't have to take taxis everywhere you should be quite happy in one of these lower priced hotels. Some of them are self catering so you can save money eating at home too. Be aware that if a price looks to good to be true it may not be. My daughter and her friends got a room in Paradise Beach that was little more than a whitewashed cinder block hut, more like a kiln than a room, with a narrow slit for a window and no AC. Because she hated the room she could not wait to leave the island. So make sure your room has AC and that you see some photos of it before you book it. For this reason Booking.com's Mykonos Hotel Search is a good way to find and book your hotels. There will be photos, descriptions, guest reviews and in many cases you can book it and then cancel with no cancellation fee.
Hotels Within Walking Distance to Mykonos Town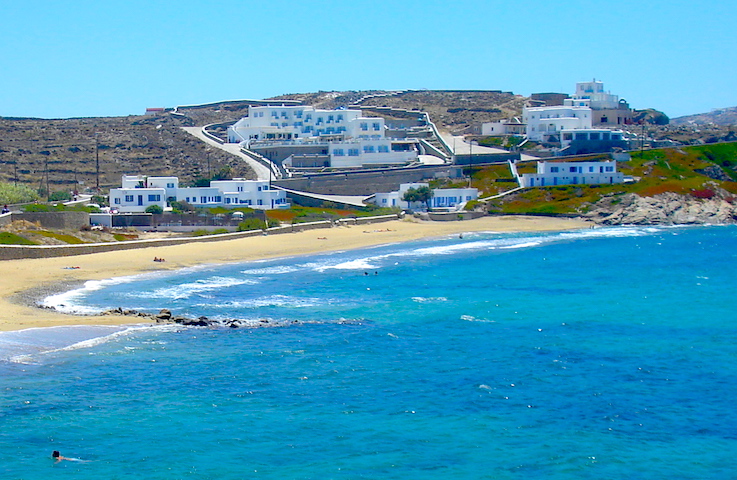 The Hotel Mykonos Beach is located on Megali Ammos Beach, just a ten minute walk into Mykonos town. The air-conditioned rooms have balconies overlooking the Aegean Sea. Free Wi-Fi and a buffet breakfast are offered. All rooms at hotel Mykonos Beach are simply decorated and include a satellite TV and a fridge. Also on Megali Ammos the Mykonos Bay Hotel offers a pool with views of the sunset, the sea and the windmills. The Karavas Apartments offers Cycladic-style accommodation with kitchenette facilities and private balcony. The whitewashed studios at Karavas are spacious and air conditioned, while some enjoy sea views. Guests can use the swimming pool of the sister property Mykonos Bay free of charge, located 350 feet away. The 5-star Bill & Coo Suites and Lounge offers sea-view suites, Mediterranean flavours and an infinity pool with views of the bay. Situated on Megali Ammos Beach of Mykonos, it is a member of the Leading Hotels of the World.
Hotels in Mykonos Town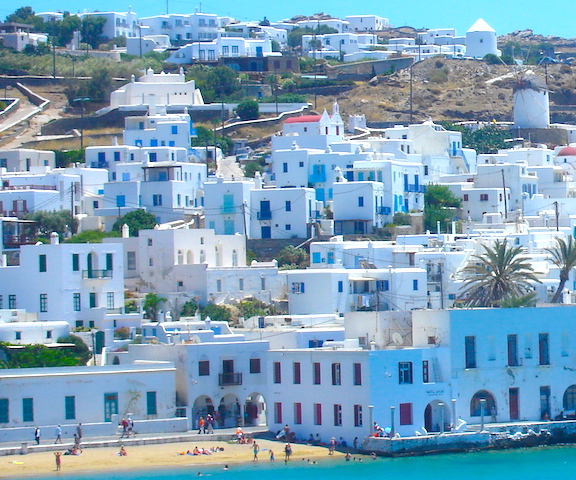 Nestled in the heart of Mykonos town, within easy reach of the islandís famous windmills and the popular Little Venice, Melangel Suites combines a contemporary, modern style with traditional Cycladic architecture. Completely renovated in 2016 and upgraded to the deluxe category, they offer guests an exclusive, relaxing experience and provide access to a range of personalized concierge services such as car rental, excursions, reservations, transfers, babysitting and private chef/cooking services, offering first-rate hospitality coupled with unrivalled privacy.
Located near the centre of Mykonos Town, Madres Studios & Apartments is housed in a Cycladic-style building with a stone paved courtyard and dark wooden elements. It offers self-catering accommodation just 500 metres from the sandy beach of Megali Ammos. The air-conditioned studios and apartments are traditionally decorated with wrought-iron or wooden beds. Each unit has a kitchenette with fridge and a dining area. Hotel Matina is located right in the heart of Mykonos Town. The hotel has a beautiful garden, offering tranquility day and night. Years of experience, the warm family atmosphere along with the excellent location guarantee you an unforgettable stay. Guests are within walking distance to several beaches, museums, restaurants, shops, banks, and transportation links. Close by and also in town Studio Eleni has a warm and friendly atmosphere and is built in the traditional style of Mykonian town houses. The hotel is inexpensive and the owners provide a personalised service to their guests and are more than happy to help with any information you may need. The centrally located Hotel Matogianni offers a variety of rooms, some classically furnished, and some in minimal Cycladic style. All rooms have a minibar, safe and satellite TV. Wi-Fi is free in all areas of the hotel. Enjoying a quiet, yet central location, in the heart of Mykonos Town, the family-run Carbonaki Hotel offers accommodation with free WiFi access. It includes an outdoor hot tub and a cocktail bar.
Mykonos Hotels on the Beaches
The Cycladic-style Petinos Beach Hotel is 650 feet from Platis Gialos beach. It offers an open-air lounge, outdoor swimming pool with bar, and guest rooms with balconies overlooking the Aegean Sea. The Petasos Beach Resort Hotel stands on a private peninsula between Platis Yialos and Psarou Beach. It offers a 500 square-metre spa & wellness centre, a fitness centre and 2-level swimming pool with waterfall. Just steps from the beach of Platis Gialos, Hotel Acrogiali offers rooms with free WiFi, spacious sea-view rooms, as well as rooms with garden view. The Mykonos Blu Grecotel Exclusive Resort boasts a spa, a 2-level infinity pool and luxurious sea-view accommodation. It stands on its private part of Psarou beach, offering free beach sun beds. Accommodation at Mykonos Blu consists of sophisticated bungalows and villas with built-in bathtubs or phototherapy showers. Some units have private pools, indoor or outdoor hot tubs.
Zephyros Hotel lies on a panoramic location overlooking the sandy beach of Paraga, offering a spectacular view to the sea. Zephyros offers tasteful accommodation ranging from standard rooms to apartments, each featuring private bathroom and balcony and equipped with air-conditioning, satellite TV and refrigerator. Nearby, the Agia Anna Studios offers air-conditioned rooms and studios with balconies facing the Aegean Sea. Free Wi-Fi is offered in communal hotel areas. Located on Super Paradise Beach, the Cycladic-style Super Paradise Rooms offers air-conditioned rooms with furnished, shared balcony. It includes one of the most popular beach bars of Mykonos and a restaurant. All Super Paradise rooms enjoy free WiFi access. The stone Nama Villas, also at Super Paradise, feature a private swimming pool with a sun terrace. All villas and suites offers Aegean or garden views, while free WiFi is available throughout. Located on the famous Paradise Beach, Tropicana is a white-washed complex featuring a swimming pool and a beach bar-restaurant. It offers self-catering accommodation with views over the Aegean Sea and reception facilities. Free Wi-Fi is provided.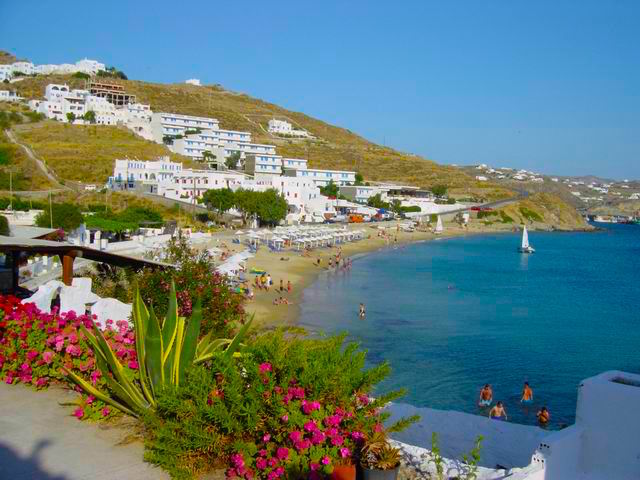 Overlooking the new port of Mykonos, 2 kilometers from town and 5 minutes from Agios Stefanos Beach, Makis Place features a bar-restaurant and a swimming pool with sun terrace and free Wi-Fi in its public areas. Rocabella Mykonos Art Hotel and Spa is located within walking distance of the sandy Agios Stefanos beach. It boasts a pool, fine dining, stylish rooms and a spa. The rooms of Rocabella feature free Internet access and a furnished sea-view balcony or terrace. Right above Agios Stefanos Beach, whitewashed Grace Mykonos features a spa centre and a pool area that overlooks the Aegean Sea. It offers champagne ŗ la carte breakfast throughout the day in its stylish restaurant. The elegant, white rooms feature balconies with views towards Delos island or the town while some include plunge pools. All rooms have free Wi-Fi. Just 250 metres from the sandy beach of Ornos and within 3 km from Mykonos Town, Hotel Eleftheria Studios is surrounded by a fragrant garden. The Cycladic-style property offers self-catering accommodation with free Wi-Fi and a balcony overlooking the Aegean Sea. Traditionally decorated with dark wooden furnishings and white-washed walls, the units of Eleftheria have a kitchenette with dining area. Each studio and apartment is equipped with air conditioning, fridge and cooking hobs. Set amidst a flower-and-palm-tree garden, Diogenis Studios is 700 metres form the famous Psarrou Beach in Mykonos. It offers air-conditioned accommodation with free Wi-FI throughout. A supermarket, bus stop and taverns are nearby. Each room includes a TV and safe. Some also come with a kitchenette with a fridge, cooking equipment and dining area.
You can find more inexpensive hotels and self-catering apartments with photos and reviews by going to Booking.com's Mykonos page and using some of the search options. Also see Matt Barrett's Best Hotels in Mykonos
Villas and Self-catering Apartments on Mykonos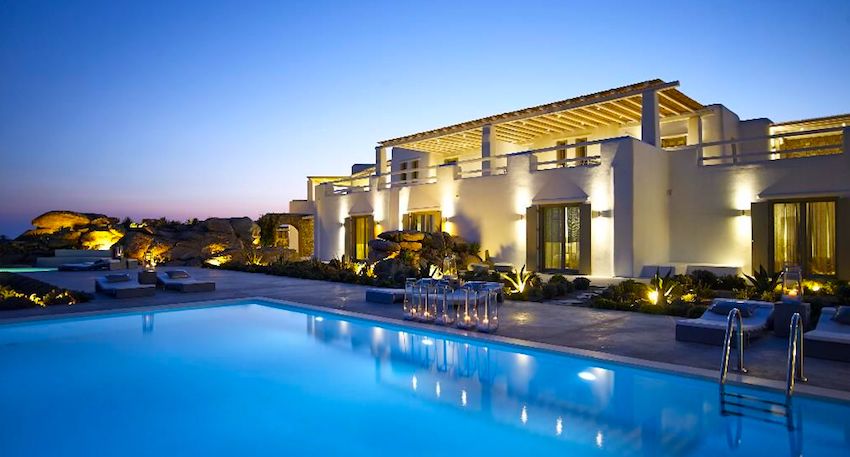 Mykonos Feelings Villas
Mykonos Feelings was formed in 2014 with the aim of being the Leader Villa Rental Specialist in the island of Mykonos. Mykonos Feelings has handpicked and proudly presents some of the most luxury properties in Mykonos. All the properties featured are constantly inspected in order to ensure that their strict quality criteria are met throughout all their guests' stays . Their close co-operation with the home owners guarantee that you turn your holiday into a Dream experience. Finally, Mykonos Feelings enhances your stay with a wide range of tailor made Concierge Services , in order for you to get the best out of your time in Mykonos . Their dedication to fullfiling each and every request you may have , along with a knowledge of the island and strong buying power , means that you will have the best services at a reasonable cost. Click for more info and booking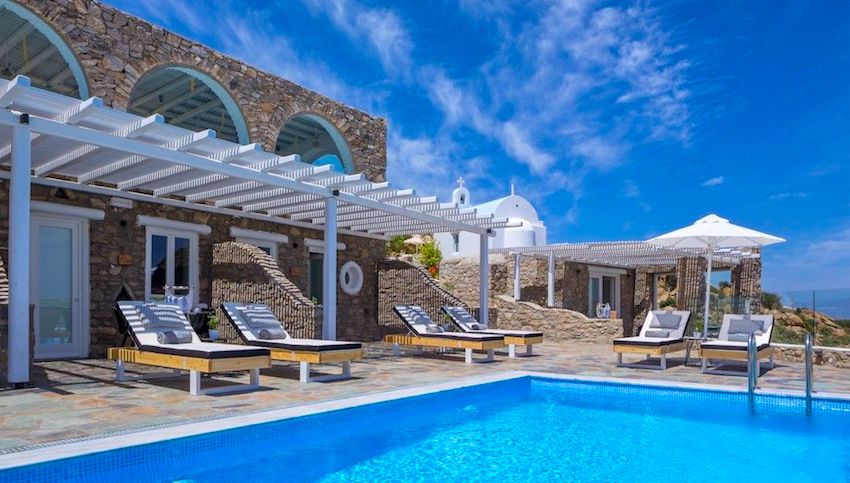 Mykonos No5 Villas
Built on a hill in Kanalia Village, Mykonos No5 Hotel and Villas invites you to discover the beaming jewel of Cyclades, through a unique experience of luxurious accommodation and exclusive services. A luxury boutique hotel and villas that is recognized for its unequalled splendor, an oasis of tranquility amid the vibrancy of Mykonos. Mykonos No5 is a cherished blend of place and space, an oasis-like experience amid the energy of the island. With our unique location and unobstructed views of the Aegean Sea, this boutique hotel and villas is the sought-after destination for those wishing to indulge in minimal luxury. Click for more info and booking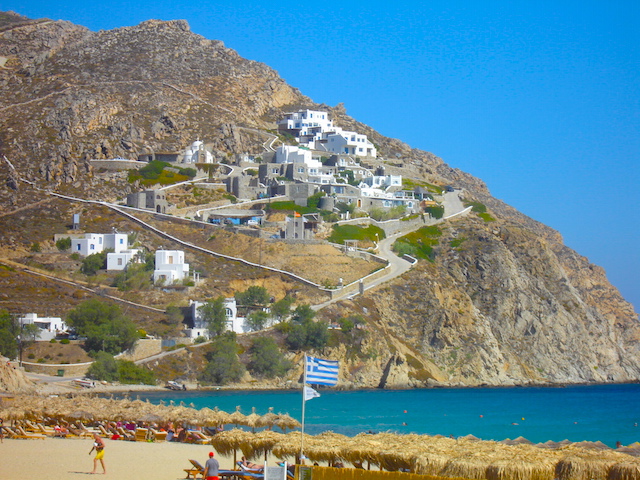 Villa Kampani is a self-catering accommodation located in Mykonos Town. Free WiFi access is available in all areas. Villa Kampani opens out to a balcony and terrace with Aegean Sea and Mykonos Town views. Located 650 feet from Super Paradise Beach, the stone Nama Villas feature a private swimming pool with a sun terrace. All villas and suites offers Aegean or garden views, while free WiFi is available throughout. Offering an outdoor pool and views of the Aegean Sea and Mykonos Town, Senses Luxury Villas & Suites are set in Elia Beach. They feature tastefully decorated accommodation with free WiFi access. Boasting a privileged location, just a 5-minute drive from Mykonos Town, Ammos Villas In Houlakia offers villas with private pools and unlimited views over the Aegean Sea and Delos Island. Located just metres from Elia Beach, Villa Panormos offers an outdoor pool, and a spa centre. Boasting unobstructed Aegean Sea views from its furnished balcony, it features free WiFi throughout, and an outdoor hot tub. Featuring a private swimming pool with a sun terrace and sun loungers, Thermes Mykonos Luxury Villas in Agios Ioannis offers unobstructed views of the Aegean Sea views. Villa Thalassa is a villa with a garden, situated in Ornos. Guests benefit from free WiFi and private parking available on site. Other facilities at Villa Thalassa include an outdoor pool. You can find more villas, houses and self-catering apartments by using the search options on Booking.com's Mykonos page. You can also find villas on Matt's Mykonos Villas page.
Booking Hotels on Mykonos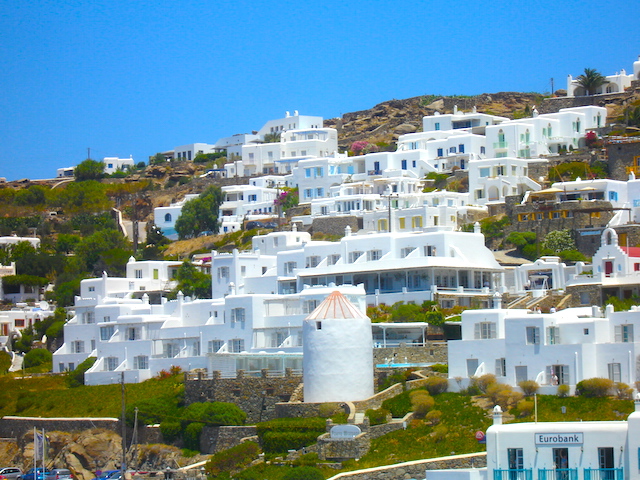 For Hotels in Mykonos and island combinations including Mykonos the best advice I can give you is to contact Fantasy Travel in Athens who have great rates on hotels and provide excellent service and can tell you the pros and cons of each hotel. From the moment you arrive in Athens and they meet you at the airport, til the day you fly home you will be well taken care of. If there are any problems they will be dealt with and you probably won't even know they existed. Their agents speak fluent English, French, Spanish, Italian, Portuguese, Russian and even work through the weekends. I also recommend Dolphin Hellas Travel in Athens or Aegean Thesaurus Travel in Sifnos. Both are excellent agencies that can take the uncertainty out of your travel arrangements. Don't show up in August and expect to just find a room. Besides being the busiest period for the tourists, all of Greece take their holidays and the majority of the people also go to the islands. For those who want to come to Mykonos and skip Athens altogether this can be done through any of the above mentioned agencies if you just ask. For more Mykonos hotels visit my Cyclades/Mykonos Hotels page or by going to Booking.com's Mykonos page and using the search options to find exactly what you want.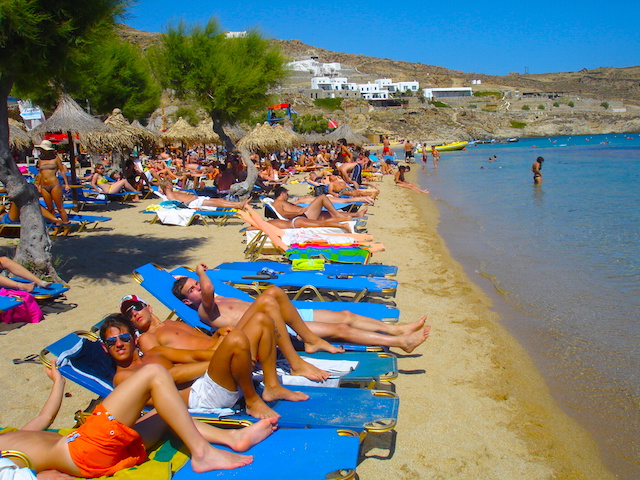 Budget travelers, backpackers and college students can visit my Budget Travel page for an itinerary that includes Mykonos and Santorini. Also Fantasy Travel has put together a number of packages that offer quality accommodation on Mykonos for economical prices. They feature hotels in and around the Plaka in Athens and are all good quality hotels. I recommend Fantasy Travel's program The Pursuit of Pleasure which is 12 Days and 11 nights in Athens, Mykonos and Santorini including hotels, ferries, transfers, tours, admission to archaeological sites and breakfast starting at 940 euros per person. You can't beat the price for these hotels and this itinerary. Visit Fantasy Travel's Special Offers Page.
You can also use my Create-an-itinerary form which allows you to choose islands, hotels, and tours and submit it and get a price for the whole thing within 24 hours. Try it.